This post may contain affiliate links. This means that if you click a link, we may make a small commission off any subsequent purchase, at no extra cost to you. For more information, please check our privacy policy.
Korčula is one of the most beautiful gems of Croatia, and over time, because of its remarkable beauty and its strategic position, everyone wanted to live there…. and now everyone wants to vacation there.
But first, a little history. First, it was settled by Mesolithic and Neolithic peoples (the evidence of which you can find at Vela Spila and Jakas Cave). After that, the Greeks formed two colonies on the island. Artifacts such as carved marble tombstones can be found at the Korčula town museum, and the oldest written stone monument was found in Lumbarda. Also, this little island was promised to Italy during the First World War (luckily, Croatia still has it!)
Amazing history, isn't it!? While Korčula was coveted in the past, now it's firmly part of the Croatian tourism scene, and it's on many tourists to Croatia's bucket list. So, before you start packing your bags: here I present you with the 13 best things to do in Korčula!
Can't read now? Pin for later!
>> Read Next: The Absolute Best Croatian Islands to Visit <<
Where to Stay in Korcula
Budget | Apartments Milion
Located right next to St. Mark's Church in the heart of Korcula's Old Town, Apartments Milion is a cozy place to stay in Korcula that won't break the bank, a mere 50 meters away from the ferry port.
Rooms have en-suite bathrooms with showers, cable TV, and bathing amenities like a hairdryer and toiletries. Some rooms even have a balcony or a small kitchen (or both), so do check the room types to ensure you're getting what you want.
Since it's so close to the heart of Korcula, you're surrounded by restaurants, bars, and wonderful sights worth seeing — the location can't be beaten, plus the hosts' kindness and hospitality were remarked on by nearly all previous guests! All that at a budget-friendly price, and you have a winner for budget-conscious travelers in Korcula.
>> Check prices, reviews, and availability here
Boutique | The Fabris
For a boutique stay in the heart of Korcula's Old Town, look to The Fabris Luxury Inn. This exquisite hotel has kept its historic features like stone walls and wooden elements, but it's modernized it to make it comfortable for the modern-day traveler who expects a touch of luxury, like flat-screen TVs and luxe linens.
Enjoy some time on the sun terrace, grab a coffee at the on-site coffee shop, or indulge in the delicious provided breakfast. And best of all, you're never far away from any of the beautiful attractions of the Old Town of Korcula, since you're literally right inside of it!
>> Check prices, availability, and reviews here
Luxury | Hotel Liburna
For an exquisite luxury hotel in Korcula, look no further than Hotel Liburna. Located just a 10-minute stroll from the Old Town of Korcula along a beautiful seafront promenade, you'll temporarily escape the crowds as you immerse yourself in total 4-star luxury.
Rooms offer a stunning seafront view, with modern furniture design and spacious layouts (this is something you won't get in an Old Town room, no matter how luxe!).
Amenities include a beautiful pool with sun loungers, a semi-private beach area, massage center. For the active among us, there are tennis courts and windsurfing schools nearby.
>> Check out prices, reviews, and availability here
What to Do & See in Korcula
Admire the towers of Korcula
Korčula was one of the finest fortified medieval towns in Croatia. Due to its strategic position, the town was built of thick stone walls and towers. You can still see the impressive defensive structures which dominate the skyline of the old town of Korčula.
On the edges of the town, you can see eight remaining towers (there used to be twelve towers) that were built in the Middle Ages. Heading from north to the west you can see Zakerjan Tower, Kanavelić (the name was given after poet from 16th century Petar Kanavelić), and Sea Gate Tower (a small, crumbling tower with inscription in Latin from 1592 declaring that Korčula was founded after the fall of Troy).
There is also the Small Governor's Tower and Large Governor's Tower (these two towers are in front of each and they were built in the 15th century to protect Governor's Palace), Revelin Tower (it represents the southern entrance into the old town), Tower of All Saints (nowadays, only basement has left of this tower that was built as part of twelve towers in 1493).
Lastly, on the hill above the Old Town of Korčula, is Forteca – the English name for the tower is Fort Wellington. The tower was built in 1813 in the place of the Venetian fortification from 1616.
Explore the remarkable Old Town of Korcula
This historical town was built up from local stones on a rocky peninsula, and it represents an outstanding symbiosis between man's work and the natural environment.
In this exceptional town, you can indulge in a stroll through streets designed in a fishbone pattern. The longest street is like a spine, and it is crossed by about a dozen shorter streets. This pattern allows free circulation of air but at the same time, it protects the town against strong winds.
One interesting thing about the Old Town of Korcula is that almost every street has steps and Charity Street (Ulica javne dobrotvornosti) is the only one without… for that reason, it's been given the nickname 'the Street of Thinkers' (I suppose because you can be lost in thought while walking, as you don't need to look out for stairs).
All those stone walls and picturesque streets will arouse your imagination and take you back to Korcula's olden days (plus, they make for great Instagram photos as well!)
Immerse yourself in the local culture
Korčula has a captivating history and culture. You can take a guided city walking tour, a day trip to the island, or you can just visit on your own the amusing museums or churches to learn something interesting and new about this charming place.
Korčula also has the longest tradition of knightly tournaments in the Mediterranean! Their moreška – a traditional sword dance and drama from the 12th and 13th century is something you have to experience as well as harmonious singing of klapa (a group of friends) – traditional a cappella singing which has earned a place on UNESCO's Representative List of the Intangible Cultural Heritage of Humanity.
Moreška has become a regular event during the summer season, held every Monday and Thursday in Ljetno Kino (summer cinema) – a small open-air stage right on the edge of the old town and on rainy days, it is held in the Dom Kulture (cultural center) in the heart of the town.
>> Read More: How to Smoothly Get from Dubrovnik to Kotor & Back By Bus <<
Visit Marco Polo's House and Museum
It is believed that the legendary explorer, writer, and traveler Marco Polo was born in Korčula. The house was rebuilt, but it preserved its old charm.
This museum allows you to delve into the life of this remarkable explorer and his travels. Through seven remarkable scenes and surprisingly realistic puppets, this museum showcases the life of Marco Polo.
Here you can also find shops with over four hundred authentic products. In addition, you can get some great views of Korčula here!
Visit St. Mark's Cathedral
An unmissable historical building, St. Mark's Cathedral is a Roman Catholic cathedral from the 15th century. It was built and painted by Italian and local masters (Tintoretto, Jacopo Bassano, and Bonino de Milano, to be specific) in a Gothic and Renaissance style.
On the door pillars, you will notice the naked figures of Adam and Eve, and on the triangular gable cornice at the very top, there is some intriguing detail, specifically a two-tailed mermaid and elephant.
Inside, you can find the sarcophagus of St. Theodore, the protector of Korčula, an icon of the Virgin from the 13th century, cannonballs and weapons from wars with the Ottomans, and paintings by the aforementioned Italian master Tintoretto.
The cathedral is located in the heart of the town, on the highest point which means it provides the most alluring view of Korčula and the Adriatic Sea. It is not easy to go up, but it is well worth the effort.
See the town museum
Just across from the cathedral, you will see the 16th-century Gabrielis Palace, which now houses the Town Museum. This museum traces the history and culture of Korčula from ancient history to nowadays.
The building has three floors. On the ground floor, you will find ceramics dredged up from ancient Greek and Roman shipwrecks, shipbuilding tools and drawings, etc. The most important display is a replica of a 4th century Greek stone tablet called the Psephism from Lumbarda. This is the oldest written document found on the territory of Croatia.
On the second floor, you can see furnishings through the ages, various artifacts from typical Korčula houses, portraits, drawings, and paintings. Finally, in the loft is a reconstruction of a traditional Korčula kitchen, as in the old days, it was common for kitchens to be situated in the loft.
Explore St. Anthony's Hill
From the heart of the city, the road along the sea leads to St. Anthony's Hill. At the top of the hill is St. Anthony's Church, dating back to the 14th century.
You need to go up two hundred steps through a wonderful cypress alley (planted in 1708) to reach the top… but you will be rewarded with stillness, peace, and a wonderful view. This hidden gem is a religious monument, but also a protected area of natural beauty.
Take a bike tour
If you are tired of walking you can just hop on the bike and explore the coastline or some other incredible part of this charming island.
From the heart of Korčula town, you can cycle in any direction of the coastline. One option is to head west towards the youngest settlements Račišće and follow the sinuous coastal road. On this route, you will find a great number of stunning places where you can take a break and enjoy the view or have a swim.
Or you can head east towards the small fishermen's village Lumbarda. On this road, you will pass through a picturesque area of pine woods, olive groves, and a lot of sandy vineyards.
If you are an adventurer (you will have a lot of hills to cope with), you can cycle towards the Defora region (a great area to savor the sunset) on the south-east side of the island and make your way to some of the most stunning hidden beaches of Korčula.
Rent a kayak or boat to explore the Adriatic
This part of the sea is wonderfully calm, crystal clear, and perfect for some water sports. You can rent a boat or kayak and enjoy stunning views or you can sail to one of the many charming archipelagoes where you can find a piece of paradise just for yourself.
The enchanting colors and clarity of the water will lure you to freshen up and explore the depths of the sea. So why don't you just dive in whilst you are here?
In addition, here you can have a sailing or windsurfing course, or you can book one of their many tours – sailing, kayaking, snorkeling, night boat tour, and more.
Enjoy the stunning beaches
This charming gem is blessed with plenty of alluring beaches. In the southern part of the island, you can find some sandy beaches nestled in isolated bays, or you can have one of the pebbly beaches on the northern side of Korčula.
If you like popular beaches with a lot of crowds, head to the Borak area where you will find the oldest beach in the town Banje beach, or Zakrjan Beach, a rocky beach in the center of Korčula.
But if you want to spend some quiet time away from the crowds, head to Lenga Beach located in the vicinity of Lumbarda. Nestled on the intact northeast coast of Korcula Island, this beach is made up of large white and golden rocks and slabs.
Lenga Beach is perfect for snorkeling as is Ražnjić Beach, located on the eastern horn of the island. Select the beach of your choice, and enjoy the warmth of the sun and the beauty of the sea while you are lounging on warm sand or rock.
Other beautiful beaches include Pupnatska Luka Cove (pictured above), Zitna, and Proizd, an island near Vela Luka.
Taste some of the best wines
What's better than a glass of good local wine after a long walk through the city?
It is well known that the southern Dalmatian region is the best wine-growing area…and Korčula can be proud of its heavenly white wine, Grk.
This wine is produced only in Lumbarda (which is a community of fishermen and farmers) and nowhere else in the world.
There are several wine tasting tours (like this one!) that will take you to various spots to try the local wines. And this wine goes best with some seafood. So, what are you waiting for?
>> Read Next: 16 Wine Experiences in Croatia: Top Croatian Wineries to Visit During Your Trip! <<
Feast on fresh seafood
It's time to savor the sea with all your senses!
If you want to indulge yourself in some delicious local dishes, it is best to start with fresh fish and makaruni – a unique island specialty, handmade pasta served with a rich sauce.
The most popular fish dish is lešada or popara – a special kind of fish stew…or you can try the octopus cooked in its juices!
The humming sound of the sea, a slight gentle breeze, crisp fresh flavors, and a heavenly wine… what else you can ask for on a summer day?
>> Read Next: Sensational Croatian Food: 7 Traditional Croatian Dishes You Simply Must Try! <<
Experience Korcula's nightlife
This may not be the most popular place for crazy parties and wild nightlife, but it certainly does have its unique charm.
If you want to loosen up a bit and dance head straight to Dos Locos – a popular open-air bar or Gaudi Night Bar – a disco located in one of the oldest arsenals on the Adriatic.
But if you want to chill and just have some wine or cocktail with friends, the perfect place for you is Massimo Cocktail Bar. This unique bar is located on the top of a 15th-century tower (Zakerjan or Berim Tower) and it has the most stunning view and fabulous drinks!
What to Pack for Korcula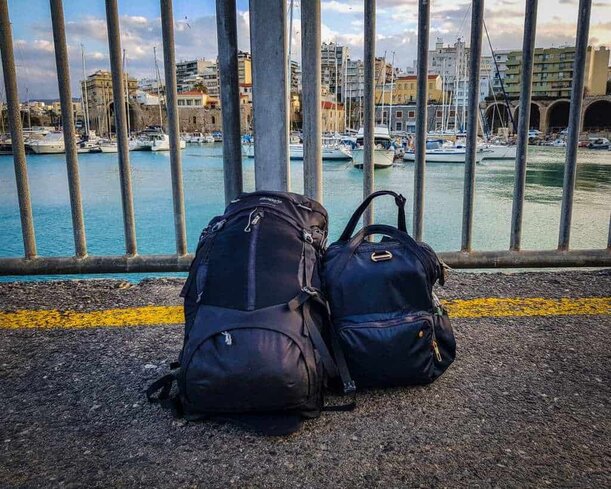 Mosquito repellent: Mosquitos in the summer can be nasty! You can bring ones with DEET or without DEET, or I love having some of these mosquito repellent wipes that I can keep in my bag in case I suddenly start to get swarmed and don't have my regular repellent with me.
Sunscreen: You can buy sunscreen in Croatia, but it's likely cheaper at home or bought online in advance. I love this solid Neutrogena sunscreen. Who doesn't love a good solid for liquid swap? Great to keep in your bag without worrying about sunscreen explosions.
Water shoes: Pebble beaches in Croatia are a double-edged sword. On the one hand, the pebble seafloor is what creates that gorgeous deep turquoise-colored water that is hard to beat, as the lack of sand means you have incredibly clear water. However, on the other hand, pebble beaches and rocky shores can be downright painful!
Our friend recently cut his foot on a rocky beach in Croatia; had he been wearing water shoes, he'd have avoided such unpleasantness! We suggest these unisex water shoes. They're not sexy, but they will make your trips to the beach far more pleasant!
A secure backpack: We both carry the CitySafe backpack by PacSafe not only on our travels but in our day-to-day lives. It's cute, it's functional, it's comfortable, and it's secure. We're talking about interlocking zippers (which you can then put through a second clasp for two layers of security), slash-proof wire mesh construction, and RFID blockers to keep your data safe.
It's neutral enough to be unisex, it's roomy enough to fit a small laptop, large camera, and tons of odds & ends, and it fits under the plane seat in front of you. We're obsessed. Check it out for yourself!
Grayl Water Filter: Tap water is generally safe to drink in Croatia, but if you're not used to drinking tap water from other countries, the typically harmless bacteria found in all water can cause some gut irritation.
To both be safe and not buy dozens of plastic water bottles, you can get a reusable water bottle that comes with a water filter so that you can stick to the tap water and reduce your plastic waste. If you'll be traveling outside of the major tourist cities, check locally before drinking from the tap without a filter.
Seabands: If you get seasick easily, pack some Seabands or seasickness pills so you don't miss out on the best parts of Croatia – being on the water! A trip to Croatia isn't complete without a quick boat trip, so make sure you're prepared to enjoy it to the fullest!
More Croatia Travel Resources
Headed to Croatia? We have some great travel resources to help you with your trip.
First read our guide to planning a trip to Croatia, which covers visas, budgets, vaccines, and much more. We also have a packing list for Croatia in all seasons that will surely be of help!
If you'll be visiting Dubrovnik, check our guide to the best Dubrovnik day trips and Instagram spots.
For Zagreb, check out our Instagram spots, as well as our guide to visiting Plitvice from Zagreb.
For Split, check out our guide to the best day trips from Split.
For Hvar, check out our guide to things to do in Hvar.
If you're still putting together your itinerary, here's a great list of places to visit in Croatia, our Croatian islands guide, and our Croatian waterfalls guide to help you choose.
Finally, you'll want to read our guide to shopping in Croatia so you know which souvenirs are truly local gems.
If this will be one of your first trips in the Balkans, check out our massive list of things to know before traveling the Balkans as well as our Balkan bus, road trip, and itinerary guides.
We publish new content nearly every day! Bookmark our pages on Croatia and the Balkans so that you don't miss out on any new info or resources that we publish before your trip!
Don't Forget About Travel Insurance!
I'm sure you're aware that travel insurance is a good idea for traveling in Croatia (or really, any part of the world)! We have both been paying customers of World Nomads for the last three years. We love the peace of mind it gives us in case of emergencies, accidents, illnesses, theft, or trip cancellation or disruption.
While the Balkans are perfectly safe to travel around, there's always a risk inherent in everyday travel, so it's better to play it safe.
>> Get a travel insurance quote for your trip here <<
Pin This Guide to Things to Do in Korcula
Born and raised in Serbia, Ana learned how to fight for her dreams. After finishing her Masters studies in Technical Science, she received an award and her science project "Advertising in the old Serbian press" was published. In 2015, she followed her heart and started a new life in Brussels. Her passion for travel started very early, when her parents took her to the Greek islands. From then on, she traveled through Europe and America. She loves to dance and enjoys cooking