This post may contain affiliate links. This means that if you click a link, we may make a small commission off any subsequent purchase, at no extra cost to you. For more information, please check our privacy policy.
Croatia has a whopping 1,200+ islands, but only 48 of them are inhabited. We've reviewed nearly half of those 48 options and picked the best Croatian islands to add to your bucket list.
From party islands to quiet seaside getaways few tourists know about, here are our top picks for a Croatian island getaway.
Can't read now? Pin for later!
Where to Stay in Croatia
Here are our recommendations for where to stay in Dubrovnik. We're in the process of creating comprehensive guides on where to stay in other Croatian cities, but for now, we recommend checking out Booking.com as early as possible since this is a popular time to visit. These are some of the places we suggest you check.
Budget: Apartment Larica Miha Pracata is a historic building in the heart of Dubrovnik Old Town. You can easily leave your apartment and instantly be at some of the best architectural and historical attractions Dubrovnik has to offer. Check out prices and availability at Apartment Larica Miha Pracata.
Mid-range: Soleil Luxury Rooms offers some of the most modern amenities you will find in the Old Town of Dubrovnik. Check out guest reviews, prices, and availability at Soleil Luxury Rooms Old Town.
Luxury: Boutique Hotel Stari Grad showcases elegant style and you can see plenty of designer accents all over the hotel. The interiors and arrangement of all furniture are well-executed, creating a comfortable and cozy place to stay in the Old Town of Dubrovnik. Check out guest reviews, prices, and availability at Boutique Hotel Stari Grad.
What Croatian Islands to Visit
In no particular order, we suggest you check some of the following islands in Croatia, take a look!
Brac
Known for its sandy beaches, traditional architecture, and limestone quarries, Brac is a Croatian island in the Adriatic Sea. When in Brac, head to the resort town of Bol to go swimming, snorkeling, and windsurfing.
The famous Golden Horn beach is also a must-see on the island. Before you leave, make sure to stop by the island's oldest limestone quarry in Rasohe, which dates back to ancient Rome. From Split, Brac is sixty minutes away by ferry.
Hvar
Hvar is a fortified island town in Croatia. It's a ninety-minute ferry ride from Split and is often part of island-hopping tours in the Adriatic Sea.
The city of Hvar is most known for its 13th-century walls and rich history. But this hilltop fortress is now a popular summer destination in the Dalmatian region, with about 20,000 people visiting the island every day during its peak season. Make the most of your day in Hvar by visiting St. Stephen's square and Fortica.
>> Read Next:11 Heavenly Things to Do in Hvar, Croatia's Island Paradise <<
Korcula
Korcula is the most populous island in the Adriatic Sea, with locals settling mostly in the Old Town. This gives you a lot of things to do and see when you visit the island.
First and foremost, the architecture that dates back to the Venetian Renaissance makes up for a great Instagram picture. You'll see local performers dressed in traditional folk costumes. Restaurants and cafes serve delicious Mediterranean food.
Of course, the beaches are also breathtaking.
Krk
Krk is a big island in the Adriatic Sea that's connected to mainland Croatia by the Krk Bridge. There are so many things to see when you visit the island, like Biserujka, a subterranean cave with interesting stalactite and stalagmite rock formations, and a great hall where concerts are sometimes held.
You can also go beach-hopping if you're spending a day in Krk. Malinska, Punat, and Njivice are just some of the popular beach destinations on the island. If you want to see Krk and more islands on the same day, this half-day tour will show you 5 different stunning Croatian islands for a convenient price!
Mljet
Mljet is Croatia's greenest island and home to the Mljet National Park, an island retreat in the Adriatic Sea. It was founded in 1960 and has since been a popular tourist spot in Croatia, with over 100,000 people visiting the park annually.
Aside from the park, you can also go to the island if you want to have a quiet day by the sea. Its pristine beach forests offer a kind of serenity that you won't find anywhere else. Sailing to Mljet can be a great idea too!
>> Read Next: 11 Awesome Things to Do in Mljet, Croatia <<
Lopud
Lopud is a small Croatian island in the Adriatic Sea, about a two-hour ferry ride from Dubrovnik. It belongs to the Elaphiti archipelago with other islands like Sipan and Kolocep.
When in Lopud, you can have a nice, relaxing day at one of its several beautiful beaches. The most popular beach destination in Lopud is Sunj bay. Its shallow waters make it a favorite spot for families traveling with kids. Here, you can go swimming, kayaking and sunbathing.
Solta
A quiet Mediterranean spot in the Adriatic Sea, Solta is like a fairytale village come to life. Its pristine natural surroundings, aquamarine waters, and quaint seaside houses make it a great destination for those who want a slow and relaxing day by the sea.
It's a two-hour ferry ride from the town of Split on mainland Croatia and is close to Hvar and Brac, two other bigger and popular island destinations in the Dalmatian region.
Losinj
There are about a thousand islands in the Croatian archipelago, and Losinj is one of them. This big island in the Adriatic Sea is of historical and natural interest.
If you're visiting Losinj, make sure to visit the two museums in the island's main town of Mali Losinj, Apoxymenos and Losinjski Muzej. But if a day of swimming and sunbathing by the sea is more of your thing, head to the Pileski, Veli Zal, and Zabodarski beaches.
Vis
Vis is a gorgeous island in the Adriatic Sea, about a two-hour ferry ride from the mainland town of Split. Its beautiful beaches and natural scenery are largely the backgrounds for the big Hollywood film Mamma Mia 2.
When in Vis, visit the Srebrna, Stoncica, Smokova, Zaglav, and Stiniva beaches. Stiniva, in particular, has a very interesting location. This small but pretty beach is situated on a tiny alcove between two cliffs, giving you a one-of-a-kind view.
Pag
Space travel might be beyond us regular folks, but you can take yourself to the moon when you visit Pag, Croatia. This island in the Adriatic Sea is most known for its barren, moonlike landscape and long coastline.
Pag has sand and pebble beaches that you can visit in a day, including the Ruccia and Beritnica beaches. Zrce Beach is also popular among tourists, slowly getting known as the Ibiza of Croatia with its fun parties every summer.
Rab
Rab is an island in the Adriatic Sea off the coast of Croatia. It carries the name of the historic old town that was established in the Middle Ages. Rab is popular for its pristine beaches and old buildings.
You can spend a lovely day on this island swimming in the clear blue waters of the Adriatic Sea or visiting some of its ancient structures, including the 16th-century Church of St. Justine, which is now a museum.
>> Read Next: 23 Best Places to Visit in Croatia: What to See & Do! <<
Silba
Silba is a tiny island in Croatia. It has a total area of just 5.8 mi2. Despite its small size, it carries a lot of natural beauty that tourists love.
So if you're planning on going island hopping among Croatia's beautiful isles, make sure to stop by Silba and explore its sandy beaches and rock formations. Toreta, an iconic observation tower on the island, should also be on your list of must-see sites in Silba.
If you'd like to see more than one island in a day, it can be a winning idea to join this island-hopping catamaran tour departing from Zagreb to explore not one but four islands in a day!
Kornat
Kornat is the largest island in the Kornati archipelago of Croatia. It is surrounded by the beautiful blue waters of the Adriatic Sea, which makes it a popular destination for diving and snorkeling enthusiasts.
Yachtsmen also love docking by the island just to enjoy a day at the sea. Interestingly, there are no permanent settlers on the island of Kornat. So, if you want a quiet getaway while in Croatia, take a boat ride to Kornat.
Dugi Otok
Dugi Otok is an elongated island off the Dalmatian Coast in Croatia. It is a breathtaking eco-tourism destination with its sandy beaches, bays, and cliffs. Here, tourists love to go swimming, hiking, and sailing.
When in Dugi Otok, make sure to visit the Saharun Beach, a seaside attraction surrounded by tall pine trees. Telascica Nature Park is also a popular destination on the island. Here you can observe a wide variety of flora and fauna.
Cres
Cres is an island in Croatia known for its rich history. It has ancient buildings that date back to the 16th century, including the Venetian Tower and Arsan Palace. Cres also has several villages which are connected by a long road that runs across the island.
If you're planning on stopping by Cres when you visit Croatia, make sure that you go see Lake Vrana, a highly guarded freshwater lake known for its great depth.
Lastovo
Lastovo is an island town in Croatia that is known for its scenic hillside villages and buildings that date back to the 15th and 16th centuries. These Renaissance structures mixed with Arab and Turkish influences give Lastovo a signature aesthetic.
If you're looking for a Croatian island to take pictures of for Instagram, then you should head to beautiful Lastovo. While on the island, have a taste of local wine at one of its many vineyards.
Susak
At only 1.5 mi2, Susak is one of the smallest islands in Croatia. However, tourists still love visiting the island for its beautiful sandy beaches, traditional and colorful folk costumes, and the quiet and serene getaway it offers.
Visitors love hiking, swimming, and scuba diving at Susak. You should check out one of its nine beautiful beaches, like Obis Bay where you can go cliff diving, and Punta Valica Bay where you can have the perfect sunset view.
Iž
Are you perhaps interested in pottery? Well, Iž is the perfect island for you to visit if you're in Croatia. It is an island town where most of the inhabitants are engaged in pottery.
You'll find a lot of authentic Croatian pottery tools and traditional pottery crafts on this island, which are now indicated as protected immaterial goods in the country. Aside from pottery, Iž is also home to beautiful natural spots, like its gorgeous beaches.
>> Reas Next: 9 Great Sandy Beaches in Croatia To Enjoy <<
Zlarin
Zlarin has the longest island port in Croatia, which makes it a favorite destination for yachtsmen and boat enthusiasts. Aside from its famous port, it is also known for its pristine beaches and natural spots, as well as its rich historical and cultural heritage.
When on the island of Zlarin, you can go sailing, swimming, hiking, and snorkeling for hours on end, thanks to the good amount of sun time that it receives every day.
Sipan
Sipan is the largest island in the Elaphiti archipelago in Croatia. Tourists who visit love to explore it via bicycles, which you can rent easily when you arrive on the island.
This Croatian island used to be a summer getaway for rich Dubrovnik families during the 15th century. Today, you can still see some of the structures that housed these families. During your bike tour, stop by the Sudurad village, a seaside village where a 16th-century tower still stands.
5 Things to Bring with You to Croatia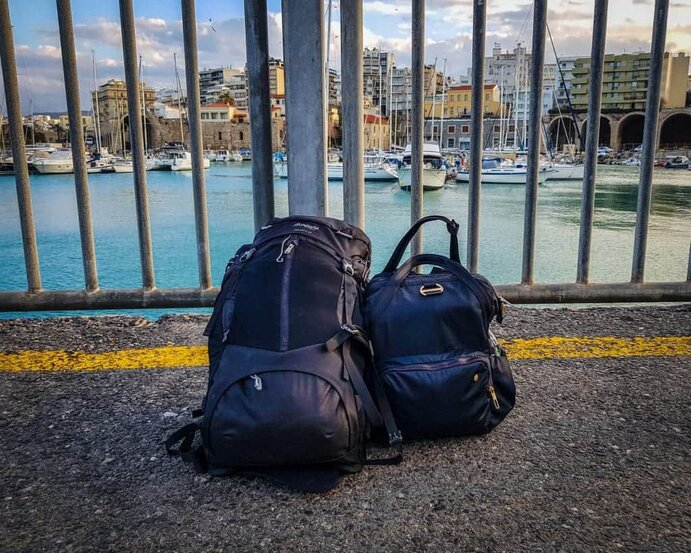 We have a full list of what to pack for Croatia, but here are five things you want to bring with you!
The Lonely Planet Croatia: a good guidebook can help you with the kinds of tips you need if you're out exploring Croatia and feel a bit lost, especially if you don't have internet or a cell signal. These also have recommendations for the major sites in Croatia, which will come in handy if you'll be visiting more than one Croatian city or island.
Unlocked Cell Phone: Allison and I both have unlocked cell phones that we bought in Europe (I use a Samsung and she uses an iPhone). This allows up to get sim cards when we travel so that we always have the internet.
Being able to pick up a Croatian sim card is a great way to stay in touch while on the road. If you don't have an unlocked cell phone that can use a Croatian sim card, you can buy a cheaper unlocked phone online and bring it with you! Note that Croatia is part of the EU so if you have an EU phone plan, your phone should work in Croatia
Pacsafe Citysafe or Other Anti-Theft Bag: This is the bag both Allison and I use. It has a pouch with RFID technology so our credit cards can't get scanned from afar, interlocking zippers to make it harder to pickpocket, and it's roomy enough to be a perfect sightseeing day bag. If you'd rather bring something smaller, you can pack a money belt instead.
This is especially handy in Dubrovnik and Split where tourist sites are crammed and anyone who looks like an obvious tourist is a potential target.
Grayl Water Filter: Being on the road means staying hydrated. If you want to avoid having to buy lots of single-use plastic water bottles, bring a reusable one with you. If you're concerned about drinking the local tap water (or you don't love the taste) grab one with a reusable water filter built right in. While water in Croatia is drinkable in general, there may be small islands where it's not recommended, so it can come in handy. I always ask a local about the tap water conditions and what they recommend.
Sea bands: If you get seasick easily, pack some Sea bands or seasickness pills so you can go island hopping without getting sick. A trip to Croatia isn't complete without at least one day spent in the islands, so make sure you're prepared to enjoy it to the fullest!
Read More: Essential Croatia Packing List: What to Wear & Pack for Croatia
More Croatia Travel Resources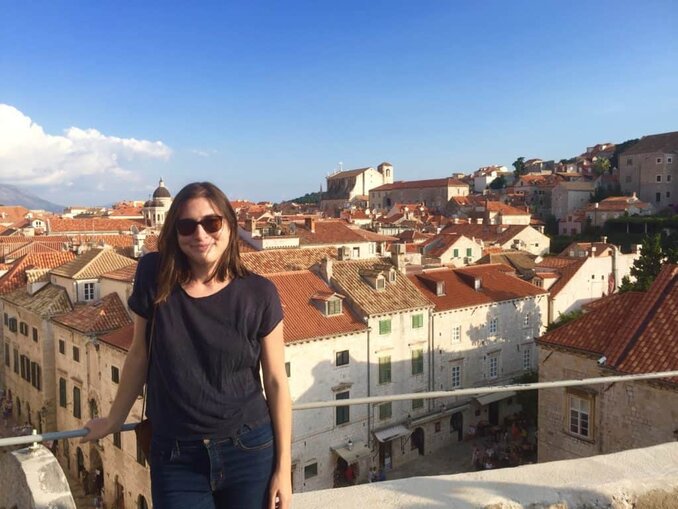 Headed to Croatia? We have some great travel resources to help you with your trip. First read our guide to planning a trip to Croatia, which covers visas, budgets, vaccines, and much more. We also have a packing list for Croatia in all seasons that will surely be of help!
We also have a Balkan currency guide that explains how the kuna, the local currency, works in Croatia and local tipping customs.
If you're still putting together your itinerary, here's a great list of places to visit in Croatia, our Croatian islands guide, and our Croatian waterfalls guide to help you choose. We also have a day trip guide for Dubrovnik, if you're visiting there as well. And of course, check out these silly Dubrovnik puns for your Instagram account.
Next, you'll want to read our guide to shopping in Croatia so you know which souvenirs are truly local gems.
If this will be one of your first trips in the Balkans, check out our massive list of things to know before traveling the Balkans as well as our Balkan bus, road trip, and itinerary guides.
We publish new content nearly every day! Bookmark our pages on Croatia and the Balkans so that you don't miss out on any new info or resources that we publish before your trip!
Don't Forget About Travel Insurance!
I'm sure you're aware that travel insurance is a good idea for traveling in Croatia (or really, any part of the world)! Allison and I have both been paying customers of World Nomads for the last three years. We love the peace of mind it gives us in case of emergencies, accidents, illnesses, theft, or trip cancellation or disruption.
While the Balkans are perfectly safe to travel around, there's always a risk inherent in everyday travel, so it's better to play it safe.
>> Get a travel insurance quote for your trip here <<
Pin this guide to the Best Islands in Croatia to Visit during Your Trip!
Originally from California, Allison has been living in Bulgaria for the last two years and is obsessed with traveling around the Balkans. She has been published in National Geographic, CNN Arabic, Matador Network, and the Huffington Post. She loves befriending dogs, drinking coffee, geeking out about wine, and cooking food from around the world.