This post may contain affiliate links. This means that if you click a link, we may make a small commission off any subsequent purchase, at no extra cost to you. For more information, please check our privacy policy.
Dubrovnik is one of the most Instagrammed places in all of Croatia, perhaps tied with the aquamarine lakes and waterfalls of Plitvice. It's no wonder: this city was absolutely beautiful for years before it met cult fandom thanks to its prominence in Game of Thrones.
A word of warning: Dubrovnik is crowded, and Croatia is hardly 'off the beaten path' any longer. I went in August and the crowds were nearly as sweltering as the heat. My friends Kate and Jeremy just went in late February and found the weather perfect – mid-60s Fahrenheit / high teens Celsius – with nary a person around to cramp their photo style. So, if you're an ultra-dedicated Instagrammer (or just crowd-phobic like me), perhaps consider a trip to Dubrovnik in the off-season, which stretches roughly from October until April.
That said, with some creativity and early wake-up times for the most Instagrammable places in Dubrovnik, you'll surely walk away with some beautiful Dubrovnik photos to cherish your time there (and flaunt on your feed).
Can't read now? Pin for later!
Where to Stay in Dubrovnik
Here are our recommendations for where to stay in Dubrovnik. We're in the process of creating comprehensive guides on where to stay in other Croatian cities, but for now, we recommend checking out Booking.com as early as possible since this is a popular time to visit. These are some of the places we suggest you check.
Budget: Apartment Larica Miha Pracata is a historic building in the heart of Dubrovnik Old Town. You can easily leave your apartment and instantly be at some of the best architectural and historical attractions Dubrovnik has to offer.
Budget: Apartment Larica Miha Pracata is a historic building in the heart of Dubrovnik Old Town. You can easily leave your apartment and instantly be at some of the best architectural and historical attractions Dubrovnik has to offer. Check out prices and availability at Apartment Larica Miha Pracata.
Mid-range: Soleil Luxury Rooms offers some of the most modern amenities you will find in the Old Town of Dubrovnik. Check out guest reviews, prices, and availability at Soleil Luxury Rooms Old Town.
Luxury: Boutique Hotel Stari Grad showcases elegant style and you can see plenty of designer accents all over the hotel. The interiors and arrangement of all furniture are well-executed, creating a comfortable and cozy place to stay in the Old Town of Dubrovnik. Check out guest reviews, prices, and availability at Boutique Hotel Stari Grad.
Instagrammable Hotels in Dubrovnik
Many Dubrovnik hotels are increasingly catering to the Insta-crazy crowds – and with 40% of millennial travelers citing Instagram as their primary reason for picking travel destinations, they're not foolish to do so. We've picked our top three hotels that go over the top in delivering a gorgeous Dubrovnik experience – here they are below:
Grand Villa Argentina
With exquisite views of Dubrovnik Old Town in the backdrop of a gorgeous infinity-style pool and plenty of loungers, I bet you can't think of a better photo to scream "Croatia vacation" than this!
With direct beach access, that gorgeous outdoor pool, a 5-minute walk to Old Town, a beautiful Mediterranean garden, this place is like a palace. And in a way, it is, combining bits of a historic villa with a modern building that's been lovingly renovated to provide 5* attention to detail.
Other perks include a sauna, spa center, gym, bars and restaurants on site, and a free delicious, generous breakfast!
Check photos, reviews, prices, and availability here!
Hotel Excelsior
You know you're in for quality when you are staying in a Small Luxury Hotels of the World property – my beautiful stay at Yemaya in Little Corn, Nicaragua will always be fresh in my mind.
With gorgeous views of the Old Town and the Adriatic – perfect for a morning cup of coffee or a sunset champagne or Instagram anytime! – the rooms are simple and beautiful so as not to take away from the natural beauty of their surroundings. And that hammock with a view of the Old Town? Swoon.
Additional amenities and perks like incredible al fresco dining, a gorgeous indoor pool, bathtubs in the rooms, and original artwork by local Croatian artists make this hotel a step above others in Dubrovnik.
Check out photos, prices, reviews, and availability here!
Hotel Kompas
Slightly outside the mayhem of Dubrovnik's Old Town in the quiet Lapad Bay, yet an easy 15-minute bus away, Hotel Kompas is the place to be if you want to get some true peace and solitude during your time in one of Croatia's busiest cities (as well as some killer IG shots).
With gorgeous interiors, access to a nearby pebble beach that'll feel almost all yours, balconies in each room, an outdoor swimming pool, a trendy bar, a spa and wellness center with indoor pool – you are truly in for a treat, just slightly off the beaten path but with easy access to lively Dubrovnik.
Check photos, prices, reviews, and availability here!
Instagram-worthy Places in Dubrovnik
Stradun
It's pretty much impossible to walk through Dubrovnik's Old Town without walking down Stradun, the main pedestarian walkway in the city. This The limestone-paved street runs approximately 300 meters directly through the Old Town.
Stradun has been an important street since the 13th century, although it was badly damaged in the 1667 earthquake and subsequent fire. The arcades and decorations which previously marked this street must have been gorgeous, but unfortunately, most of it was totally lost. It was rebuilt in a loving fashion and while different than its original design is still absolutely beautiful.
While yes, as the largest street in Dubrovnik it is touristy as all get out, it's still wide and full of charming details, so that you can easily find the perfect place to snap a photo. If you don't want people in your Instagram shot, you'll have to be the early bird to get the (Instagrammable) worm!

Location: Stradun 20000, Dubrovnik, Croatia (Inside the Walls).
Cost: Free!
Travel Tip: Wake up early for great pictures, or wait until you're on the City Walls to capture an aerial photo of the Stradun that is postcard-perfect.
Read next: 10 Gorgeous Quotes about Dubrovnik & Instagram Caption Inspiration
The City Walls
Perhaps the most iconic (and expensive) Instagram photo spot in Dubrovnik, you can't miss walking the City Walls despite the absurd expense. When I visited in 2016, it was a (still expensive) 100 kuna, about $15 USD. When my friends visited in February this year, the price had literally doubled to 200 kuna, or just over $30 USD!
Yes, it's a crazy price, but think of it this way: you will likely only be in Dubrovnik once, maybe twice, and it's the biggest attraction there, so you might as well splurge (and then take approximately eleventy billion Instagram photos of Dubrovnik's walls so you feel justified with the outrageous cost).
Location: Buy entrance tickets to the Walls near the Pile Gate, Ul. Vrata od Pila, 20000, Dubrovnik, Croatia
Cost: 200 kuna (equivalent to $30 USD). Credit cards and kuna are accepted, but other currencies such as euros or USD are not.
Travel Tip: Add a guide and skip the line for approximately $25 USD more (book here) – or, my even snazzier trick – buy the one day Dubrovnik card, save 20 kuna ($3 USD) and get admission to 8 other attractions and public transportation for free!
Minčeta Fortress
While walking the city walls, don't miss Minčeta Fortress (otherwise you're out of luck and will have to buy another ticket!).
Make like Daenerys and explore the structure that was featured in GoT as the House of the Undying. Come to think of it, add a straw hat and Daenerys would be a bomb AF Instagram girl.
It's is also possible to check out the city walls booking a sunset tour like this one.
Location: On the City Walls – it's the highest point, so you can't miss it!
Cost: Included in your City Walls ticket (that eye-watering 200 kuna)
Tip: Don't miss it or you'll have to pay to come back!
Read next: The Best Hotels & Accommodations in Dubrovnik Old Town
Views of Dubrovnik from Fort Lovrijenac
Sometimes it's hard to capture the scale of Dubrovnik's beauty from within the city walls – the trick is to get out and find a place where you can truly show its size and how beautiful it looks against the clash of the Adriatic behind it.
Head over the Fort Lovrijenac (which incidentally is included in the price of your Dubrovnik City Walls ticket, making the price a little less painful to swallow!) and make sure you stop before entering the fort to get plenty of beautiful views over the Walled City.
Location: Ul. od Tabakarije 29, 20000, Dubrovnik, Croatia
Cost: Free on the outside; entrance has a 50 kuna fee (~$7.50 USD) but it is free if you've already purchased a ticket to walk the city walls!
Tip: Be sure to head here on the same day (next day should be fine, too) that you've seen the city walls!
Inside Fort Lovrijenac
Of course, it'd be silly to make it all the way over to Fort Lovrijenac just to take a photo from the viewpoint and neglect going inside! This gorgeous fort is an important part of Dubrovnik's history and an unmissable part of any Dubrovnik trip.
There are plenty of places inside Fort Lovrijenac to get great photos, but I recommend playing around with the windows to get cool and unexpected framings like the one shown above!
Location: Ul. od Tabakarije 29, 20000, Dubrovnik, Croatia
Cost: Free on the outside; entrance has a 50 kuna fee (~$7.50 USD) but it is free if you've already purchased a ticket to walk the city walls!
Tip: Again, do so on the same or following day that you do the City Walls – and do that first! Also, if you plan on doing a Game of Thrones tour in Dubrovnik (and TBH you definitely should) this will be included so keep that in mind if you don't like repeating destinations.
Fort Lovrijenac itself
ANOTHER photo of Fort Lovrijenac? Well, I can't help it – it's freaking dreamy. That's what happens when you put a gorgeous fortress on a 37-meter high rock outcropping in the middle of the impossibly blue Adriatic Sea.
The best way to get a photo of Fort Lovrijenac is while you're walking the City Walls. You'll have the most unobstructed sea view of it from this vintage point. This tour combines a visit to the walls with a tour of the old town.
Location: There are plenty of places to snap nice photos of the Fort, but the best is undoubtedly from the City Walls.
Cost: Free on the outside or 200 kuna (~$30 USD) while walking the walls.
Tip: The middle of the day is actually one of the better times for photographing the blueness water – the golden hour tends to make the water look a bit dull. However, sunsets from the walls are also ace, so see if you can manage a little bit of both!
The "Hobbit Doors" of Dubrovnik West Harbor
A beautiful place, a not-so-beautiful moment in Game of Thrones history …. but this is a spoiler free zone! Still, if you love doors of all kinds (what Instagrammer doesn't?) you'll definitely want to make your way to these fun-sized doors perched on the edge of a cliff face in Dubrovnik.
What they're used for, I have no idea, but they sure as hell make an adorable Dubrovnik Instagram shot!
Location: Ul. Skalini dr. Marka Foteza 2, 20000, Dubrovnik, Croatia
Cost: Free!
Travel Tip: It is possible to walk on the stairs and get a photo from there – just make sure you have a travel partner slash Instagram husband to capture you on the other side of the harbor (a tripod and remote won't do for this distance!)
Pile Gate
First, admit that you'll never take an Instagram photo of Dubrovnik where you look nearly as cool as this cat.
Secondly, this is a hard one to miss…. unless you don't go through the City Walls of Dubrovnik at all (in that case, why even come?). You'll likely see Pile Gate at least twice on your trip, as it's the main way in or out of the Old City, as cars aren't allowed inside.
Location: Ul. Vrata od Pila, 20000, Dubrovnik, Croatia
Cost: Free!
Tip: Best shot during just before or after golden hour, as direct sunlight can make this quite harsh but true golden hour can cast weird shadows.
Jesuit Staircase
Shame, anyone? Perhaps the most famous scene of the later seasons of Game of Thrones was filmed here – and if you're a fan, you'll certainly know what I'm talking about!
While you won't find the same kind of mob that Cersei found here, you will likely find it swarming with GoT loving tourists… so be sure to wake up early (like… early early) to photograph it if you want a people-free shot like the gorgeous one above.
Location: The steps lead up to Poljana Ruđera Boškovića 7, 20000, Dubrovnik, Croatia
Cost: Free!
Tip: Again, you'll want to wake up early – we're talking sunrise in peak season – if you want a people-free shot. If you can handle having people in your photo, go anytime!
Saint Ignatius
While you're at the Jesuit Staircase, be sure to actually ascend the stairs and not just pose on them for the 'gram to see the beautiful Saint Ignatius Church at the top of the Baroque staircase.
The inside is ultra-ornate and definitely worth stopping into for a few photos, as it's one of the most photogenic places in Dubrovnik if you love interiors and churches!
Location: Poljana Ruđera Boškovića 7, 20000, Dubrovnik, Croatia
Cost: Free to enter
Tip: This church is notoriously difficult to photograph because of its size and the lack of a good vantage point, so get creative with your angles or bring out your widest angle lens!
Dubrovnik West Pier
About halfway between the City Walls and Fort Lovrijenac you'll find this famous GoT filming spot, Dubrovnik West Pier aka Blackwater Bay. A number of scenes took place here – basically, any time someone fled King's Landing by boat, which feels like a lot.
If you're not a GoT fan, though, surely you'll love the Instagram photo opportunities – the leading lines of the dock, the blue sea, and the cliffs and forts all around you offer a lot to play with!
Location: Dubrovnik West Pier, Ul. Skalini dr. Marka Foteza 2, 20000, Dubrovnik, Croatia
Price: Free
Tip: This is also part of the Game of Thrones tour. In fact, if you plan on doing a GoT tour, I recommend doing it first thing when you arrive in Dubrovnik. Afterward, you can fill in any Instagram spots in Dubrovnik you missed or return to any of those you want more time at!
The Rector's Palace
Swoon-worthy arches, gorgeous white marble, and some GoT fan history to boot? Sold on all three counts. The Rector's Palace is one of my favorite photography locations in Dubrovnik for all of the above.
This unique building dates back to the 14th century and incorporates Gothic, Baroque, and Renaissance elements into its beautiful structure. It's beautiful both on the outside and inside! Inside is the History Department of the Museum of Dubrovnik.
Location: Ul. Pred Dvorom 3, 20000, Dubrovnik, Croatia
Cost: Admission is 80 kuna ($12 USD) or it is included in the 180 kuna 1-day ($27 USD) museum pass.
Tip: It's a museum, so be sure to observe the operating hours (9 AM to 6 PM daily)
The Dominican Monastery
One of the highlights of the beautiful St. Dominic Street, one of the most precious streets in Dubrovnik, is the entryway to the Dominican Monastery.
Founded in 1225 and renovated after damages throughout the ages – from earthquake to fire to siege -this Dominican Monastery is still in stunning condition, home to both a Gothic-style church as well as a museum with art and other artifacts.
Location: Svetoga Dominika 4, Dubrovnik 20000, Croatia

Cost: Free from outside but entrance costs around 30 kuna / $5 USD. It is included in the 180-kuna 1 day Dubrovnik Card.
Tip: Don't skimp and be sure to pay to enter the monastery as well! The beautiful arches and columns are a great place to play with light, color, and shadow.
Ploče Gate
Pile Gate can get quite busy but Ploče Gate is often relatively calm by comparison simply because most people don't know about it!
Get some height for an interesting angle of the gate!
Location: Ul. Vrata od Ploča, 20000, Dubrovnik, Croatia
Cost: Free!
Tip: There are some fun clover-shaped 'keyholes' for lack of better word in the gate which can be fun to get some interestingly framed photos!
Read next: The Absolute Best Croatian Islands to Visit
Lokrum
A 15-minute ferry ride (or a bit of kayaking!) from Dubrovnik, this is a great place for an island escape, especially if it's hot and crowded during the summer season.
There are so many beautiful places on Lokrum just waiting to be explored and photographed with your unique angle!
Location: Lokrum Island
Price: 150 kuna (~$23 USD) return for the ferry; better yet, spend a bit more and do an affordable kayaking tour (click here for details and prices) going from Dubrovnik to Lokrum which will point out even more incredible Dubrovnik photography spots!
Tips: Be sure not to miss the Lokrum Visitor Center where you can get a photograph with the Iron Throne! Also, don't miss the Benedictine Monastery on the island, it is absolutely beautiful!
Banje Beach
In a country full of pebble beaches, Banje Beach is a rare delight with sort of soft sand and gorgeous blue waters! While it's not like, Caribbean soft, it's definitely a far cry from the ouch-inducing pebble beaches you'll find elsewhere along the Adriatic coast.
There are some beach chairs and loungers as well some seaside restaurants here giving you plenty of places to find a good Instagram shot.
Location: Banje Beach, 20000, Dubrovnik, Croatia
Price: Free to visit, extra for an umbrella/lounger or eat
Tip: It's quite popular in the summer so arrive early, like around 9 AM, to claim a lounger if you want one!
Buza Bar
What's more incredible than a cliff view? How about a cliff view with a bar! This is one of the best places to watch the sunset in Dubrovnik – I mean, look at those gorgeous colors!
It's also a place where a lot of people do cliff jumping… usually after drinking quite a bit. I'll let you use your judgment on that, but I'll stay nice and dry with a drink in hand, thanks.
Location: There are a few locations with a similar name but I think this one is the right one, or ought to be pretty close to it. Ul. Kralja Petra Kresimira IV 130, 23207, Sveti Filip i Jakov, Croatia
Price: Sitting is free but you'll need to order drinks, which are a tad bit on the pricy side.
Tip: If you're going to do cliff jumping, better be doubly sure you have travel insurance!
Mount Srd
Best accessed by a cable car, you can't miss a sunset at least once from Mount Srd, which overlooks Dubrovnik and the Adriatic beautifully.
A 4-minute ride will whirl you up a quick 778 meters and offer some of the most beautiful Instagram photo opps around!
Location: Ulica kralja Petra Krešimira IV, 20000, Dubrovnik, Croatia
Price: 150 kuna roundtrip ($23) plus anything you want to buy at the top (there's a restaurant)
Tip: The cable car runs 9 AM to midnight making it great for sunset! Also, the cable car is usually under maintenance in February so keep that in mind if you plan a trip then and visit their website first. However, you can always make the hike if you're feeling up to the exercise (or want to save your kuna in a pricy city like Dubrovnik)! Here's how.
Malvasija Wine Bar
There are plenty of romantic wine bars and small cafés tucked away in the neat little alleyways of Dubrovnik's Old Town and one of my favorites is Malvasija.
Dedicated to my favorite Croatian white wine grape – it is light, floral, and acidic, perfect for a hot summer's day – it's also quiet and charming and a welcome escape from the Dubrovnik crowds, and a perfect way to get an Instagram photo without a rush of people in your way.
Location: 4, Dropčeva ul., 20000, Dubrovnik, Croatia
Cost: Free to sit, but you must order something. Wine by the glass costs about 45 kuna per 200ml glass, about $7 USD – honestly a steal in pricy Dubrovnik, where a mere bottle of water the size you'd get on a plane costs about $4 USD at a restaurant #stillbitter
Travel Tip: Stay local and order only Croatian varietals – they are delicious! Save your chardonnays and cabernets for another day. And if the family offers you to try their own wines — definitely say yes!
What to Pack for Croatia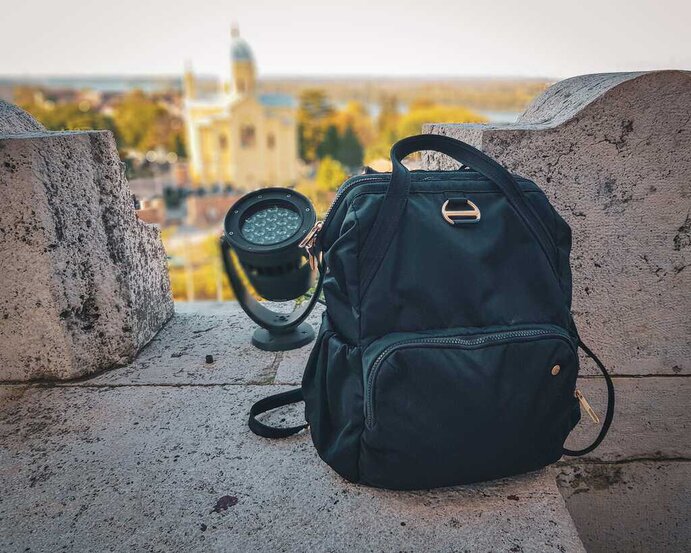 We have an entire Croatia packing list, but make sure you don't leave these items behind!
A Guidebook – While travel blogs are great, we also definitely see the benefit of having a good paper guidebook in hand to refer to in your on-the-ground travel. We recommend the Lonely Planet Croatia book.
Mosquito repellent: Mosquitos in the summer can be nasty! You can bring ones with DEET or without DEET, or I love having some of these mosquito repellent wipes that I can keep in my bag in case I suddenly start to get swarmed and don't have my regular repellent with me.
Sunscreen: You can buy sunscreen in Croatia, but it's likely cheaper at home or bought online in advance. I love this solid Neutrogena sunscreen. Who doesn't love a good solid for liquid swap? Great to keep in your bag without worrying about sunscreen explosions.
Water shoes: Pebble beaches in Croatia are a double-edged sword. On the one hand, the pebble seafloor is what creates that gorgeous deep turquoise-colored water that is hard to beat, as the lack of sand means you have incredibly clear water. However, on the other hand, pebble beaches and rocky shores can be downright painful!
Our friend recently cut his foot on a rocky beach in Croatia; had he been wearing water shoes, he'd have avoided such unpleasantness! We suggest these unisex water shoes. They're not sexy, but they will make your trips to the beach far more pleasant!
A secure backpack: We both carry the CitySafe backpack by PacSafe not only on our travels but in our day-to-day lives. It's cute, it's functional, it's comfortable, and it's secure. We're talking about interlocking zippers (which you can then put through a second clasp for two layers of security), slash-proof wire mesh construction, and RFID blockers to keep your data safe.
It's neutral enough to be unisex, it's roomy enough to fit a small laptop, a large camera, and tons of odds & ends, and it fits under the plane seat in front of you. We're obsessed. Check it out for yourself!
Grayl Water Filter: Tap water is generally safe to drink in Croatia, but if you're not used to drinking tap water from other countries, the typically harmless bacteria found in all water can cause some gut irritation. To both be safe and not buy dozens of plastic water bottles, you can get a reusable water bottle that comes with a water filter so that you can stick to the tap water and reduce your plastic waste. If you'll be traveling outside of the major tourist centers, check if the water is potable locally.
Sea bands: If you get seasick easily, pack some Sea bands or seasickness pills so you don't miss out on the best parts of Croatia – being on the water! A trip to Croatia isn't complete without a quick boat trip, so make sure you're prepared to enjoy it to the fullest!
Read more: Essential Croatia Packing List: What to Wear & Pack for Croatia
More Croatia Travel Resources
Headed to Croatia? We have some great travel resources to help you with your trip. First read our guide to planning a trip to Croatia, which covers visas, budgets, vaccines, and much more. We also have a Croatia packing list with a detailed section for all seasons.
While in Dubrovnik, check out our favorite Dubrovnik Instagram spots and the best Dubrovnik day trips.
If you're still putting together your itinerary, here's a great list of places to visit in Croatia, our Croatia national parks guide, and the Croatian waterfalls guide to help you choose. We also have a guide to the best day trips from Spit if you're to be visiting Split as well.
If you'll be spending time in Zagreb, check out our list of the city's best photo destinations. We also have a guide to visiting the famous Plitvice Lakes from Zagreb.
Next, check out our Balkan currency guide which explains how money works in Croatia and local tipping customs.
Of course, if you're coming to Croatia you'll have lots of opportunities to shop! Read our guide to shopping in Croatia so you know which souvenirs are truly local gems.
If this will be one of your first trips in the Balkans, check out our massive list of things to know before traveling the Balkans as well as our Balkan bus, road trip, and itinerary guides.
We publish new content nearly every day! Bookmark our pages on Croatia and the Balkans so that you don't miss out on any new info or resources that we publish before your trip!
Don't Forget About Travel Insurance!
I'm sure you're aware that travel insurance is a good idea for traveling in Croatia (or really, any part of the world)! We have both been paying customers of World Nomads for the last three years. We love the peace of mind it gives us in case of emergencies, accidents, illnesses, theft, or trip cancellation or disruption.
While the Balkans are perfectly safe to travel around, there's always a risk inherent in everyday travel – especially during the winter! – so it's better to play it safe.
>> Get a travel insurance quote for your trip here <<
Pin this Guide to the Most Instagrammable Places in Dubrovnik for Your Next Adventures in Croatia!
Originally from California, Allison has been living in Bulgaria for the last two years and is obsessed with traveling around the Balkans. She has been published in National Geographic, CNN Arabic, Matador Network, and the Huffington Post. She loves befriending dogs, drinking coffee, geeking out about wine, and cooking food from around the world.