This post may contain affiliate links. This means that if you click a link, we may make a small commission off any subsequent purchase, at no extra cost to you. For more information, please check our privacy policy.
If you've ever seen photos of Croatia, there's a good chance that you've seen photos of some of Croatia's waterfalls in Plitvice National Park or perhaps its slightly less famous sibling, Krka National Park.
While these two parks are the best places to chase waterfalls in Croatia, there are also several other waterfalls scattered around the country, perfect if you are planning a Balkan road trip that includes Croatia. We've gathered a list of some of the best Croatian waterfalls to help you plan an epic trip.
Combine this list with some of the best places to visit in Croatia or some of the most beautiful islands in Croatia to help you plan to see the best side of Croatia's mainland and islands.
So pack your camera and tripod, read up on the best long exposure photography tips for waterfalls, and hit the road!
Want to save this post for later? Click here to Pin it!
Map of the Best Croatian Waterfalls
While there are tours to some of these waterfalls in Croatia, without a doubt, the best way to see the best of Croatia's epic landscape is to rent a car and self-drive!
We've rented cars dozens of times in the Balkans through various search engines and have settled on Discover Cars as the best car rental search engine – it searches over 500 trusted rental companies to find the cheapest price for your rental! Compare prices for car rental in Croatia here.
Where to Stay in Croatia
When visiting Croatia, you will probably spend some days in Dubrovnik. Here are our recommendations for where to stay in Dubrovnik. We're in the process of creating comprehensive guides on where to stay in other Croatian cities, but for now, we recommend checking out Booking.com as early as possible since this is a popular time to visit. These are some of the places we suggest you check.
Budget: Apartment Larica Miha Pracata is a historic building in the heart of Dubrovnik Old Town. You can easily leave your apartment and instantly be at some of the best architectural and historical attractions Dubrovnik has to offer. Check out prices and availability at Apartment Larica Miha Pracata.
Mid-range: Soleil Luxury Rooms offers some of the most modern amenities you will find in the Old Town of Dubrovnik. Check out guest reviews, prices, and availability at Soleil Luxury Rooms Old Town.
Luxury: Boutique Hotel Stari Grad showcases elegant style and you can see plenty of designer accents all over the hotel. The interiors and arrangement of all furniture are well-executed, creating a comfortable and cozy place to stay in the Old Town of Dubrovnik. Check out guest reviews, prices, and availability at Boutique Hotel Stari Grad.
Skradinski Buk
Skradinski Buk is a beautiful natural pool at Krka National Park in the county of Sibenik-Knin in Croatia. Its clear aquamarine water comes from a series of waterfalls as tall as 39 feet high.
One of the main reasons to visit Krka National Park is to swim in the beautiful pools that form at Skradinski Buk. If you're driving from Sibenik, it only takes about 20 minutes from the city center to reach Skradinski Buk at the national park, making it a convenient place to stay when visiting Krka.
Rastočki Slapovi
Rastočki Slapovi, or the Rastoke Waterfalls, is a hidden gem in Croatia that is not often visited by touristed. It is located close to the city of Slunj in a remote area where two rivers, Slunj Cica and Korana, converge. In addition to the waterfalls, here, you'll also see an old flour mill that the waterfall powers to this day.
If you want to see this simple but beautiful body of water, you can take a short drive from the city center of Slunj heading to Rastoke. It's also on the road between Plitvice National Park and Zagreb, making it a great place to stop for a quick waterfall hit if you are road tripping Croatia in search of waterfalls.
Gubavica Vodopad
Gubavica Vodopad is a breathtaking waterfall in Zadvarje, Croatia. Here, a sheet of water drops from approximately 164 feet and falls into a small lagoon at the foot of a canyon.
The best way to travel to Gubavica Vodopad is to rent a car from the town of Split, Croatia, as public transportation can be a bit complicated. Zadvarje is approximately 38 miles from Split, which will require a 50-minute drive. Alternatively, you can also join a tour to be able to visit this gorgeous waterfall.
Slapovi Mrežnice
Slapovi Mrežnice is a short but wide waterfall in the Mrežnica River. It is located in Karlovac County, Croatia. The river is 39 miles long, and it occasionally drops in a series of waterfalls that adventurous water sports enthusiasts love! It's not particularly impressive to photograph due to its width and short drops, but it's extremely fun to raft down!
If you're into rafting, you can head to the Mrežnica river for a day and see Slapovi Mrežnice while you're there. You'll also enjoy the view of the beautiful and thick forests that surround the river while you raft down.
Sastavci Waterfalls
Sastavci Waterfalls is located inside the Plitvice Lakes National Park, a UNESCO World Heritage Site in Croatia. The national park is mostly known for its sixteen interconnected lakes, but there are also gorgeous waterfalls inside it, like Sastavci Waterfalls.
You can find this 85-foot waterfall on the edge of Novakovica Brod where the Korana river drops. Behind Sastavci, you'll also see the Great Waterfall, Veliki Slap, which is 256 feet high.
Strbacki Buk
Strbacki Buk is an 82-foot waterfall located on the border between Croatia and Bosnia and Herzegovina, along the gorgeous Una River. The water cascades down different heights, forming a beautiful subject to photograph from all different angles.
At the site of the waterfalls, you can also visit remnants of previous settlements in the area (particularly from the Japodes tribe). When you visit Strbacki Buk, you can combine learning about the region's prehistory while appreciating its natural beauty.
Gologoricki Dol
Gologoricki Dol is a waterfall located about 3 miles from the town of Cerovlje in Croatia. Both locals and tourists love visiting this gorgeous waterfall, especially in the summer.
The pool at the foot of Gologoricki Dol offers a cool place to take a dip in and swim during the hotter days of the year. If you plan to visit this waterfall, you should also take a hike around the surrounding historical little towns.
Sopot Waterfall
Located in the coastal town of Petrčane in Croatia, Sopot Waterfall is a breathtaking thing of natural beauty. The narrow waterfall drops from the side of a canyon and into the greenest brook your eyes have seen, all underneath a beautiful stone bridge.
There are hiking trails around the waterfall, so you can experience more of the surrounding nature. The great thing about Sopot Waterfall is that it's not a touristy spot, giving you plenty of privacy when you visit.
Slap Krčić
The best way to experience Slap Krčić is to stop by during your visit to Krka National Park. Slap Krčić is one of several Croatian waterfalls that springs from the Krka river at the Krka National Park in Knin, Croatia.
This 72-foot waterfall drops into a small green brook below in a beautiful sheet. Unfortunately, Slap Krčić sometimes dries up during the warmest days of the summer, so it's advisable to visit it before the weather gets really hot.
Manojlovački Slapovi
Manojlovački Slapovi is another waterfall inside the Krka National Park. It is the tallest in the reserve, measuring a total of 195.5 feet in height. The water cascades down a small pool and then falls down a shorter waterfall down the Krka River.
You'll see ruins of old water mills around the area. If you're visiting the Krka National Park during your vacation seeking waterfalls in Croatia, it is worthwhile to hike just to see this gorgeous waterfall.
Want to see more beautiful waterfalls and dreamy places in Croatia? Then check these tours:
What to Pack for Croatia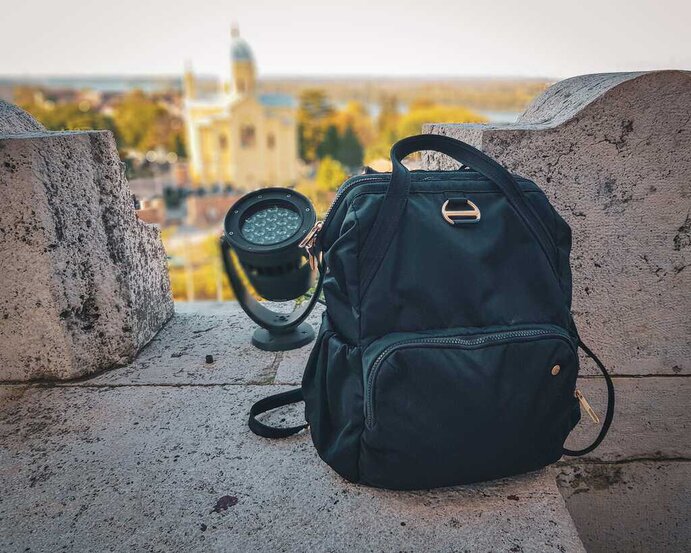 We have an entire Croatia packing list, but make sure you don't leave these items behind!
A Guidebook – While travel blogs are great, we also definitely see the benefit of having a good paper guidebook in hand to refer to in your on-the-ground travel. We recommend the Lonely Planet Croatia book.
Mosquito repellent: Mosquitos in the summer can be nasty! You can bring ones with DEET or without DEET, or I love having some of these mosquito repellent wipes that I can keep in my bag in case I suddenly start to get swarmed and don't have my regular repellent with me.
Sunscreen: You can buy sunscreen in Croatia, but it's likely cheaper at home or bought online in advance. I love this solid Neutrogena sunscreen. Who doesn't love a good solid for liquid swap? Great to keep in your bag without worrying about sunscreen explosions.
Water shoes: Pebble beaches in Croatia are a double-edged sword. On the one hand, the pebble seafloor is what creates that gorgeous deep turquoise-colored water that is hard to beat, as the lack of sand means you have incredibly clear water. However, on the other hand, pebble beaches and rocky shores can be downright painful!
Our friend recently cut his foot on a rocky beach in Croatia; had he been wearing water shoes, he'd have avoided such unpleasantness! We suggest these unisex water shoes. They're not sexy, but they will make your trips to the beach far more pleasant!
A secure backpack: We both carry the CitySafe backpack by PacSafe not only on our travels but in our day-to-day lives. It's cute, it's functional, it's comfortable, and it's secure. We're talking about interlocking zippers (which you can then put through a second clasp for two layers of security), slash-proof wire mesh construction, and RFID blockers to keep your data safe.
It's neutral enough to be unisex, it's roomy enough to fit a small laptop, a large camera, and tons of odds & ends, and it fits under the plane seat in front of you. We're obsessed. Check it out for yourself!
Grayl Water Filter: Tap water is generally safe to drink in Croatia, but if you're not used to drinking tap water from other countries, the typically harmless bacteria found in all water can cause some gut irritation. To both be safe and not buy dozens of plastic water bottles, you can get a reusable water bottle that comes with a water filter so that you can stick to the tap water and reduce your plastic waste. If you'll be traveling outside of the major tourist centers, check if the water is potable locally.
Sea bands: If you get seasick easily, pack some Sea bands or seasickness pills so you don't miss out on the best parts of Croatia – being on the water! A trip to Croatia isn't complete without a quick boat trip, so make sure you're prepared to enjoy it to the fullest!
Read more: Essential Croatia Packing List: What to Wear & Pack for Croatia
More Croatia Travel Resources
Headed to Croatia? We have some great travel resources to help you with your trip. First read our guide to planning a trip to Croatia, which covers visas, budgets, vaccines, and much more. We also have a Croatia packing list with a detailed section for all seasons.
While in Dubrovnik, check out our favorite Dubrovnik Instagram spots and the best Dubrovnik day trips.
If you're still putting together your itinerary, here's a great list of places to visit in Croatia, our Croatia national parks guide, and the Croatian waterfalls guide to help you choose. We also have a guide to the best day trips from Spit if you're to be visiting Split as well.
If you'll be spending time in Zagreb, check out our list of the city's best photo destinations. We also have a guide to visiting the famous Plitvice Lakes from Zagreb.
Next, check out our Balkan currency guide which explains how money works in Croatia and local tipping customs.
Of course, if you're coming to Croatia you'll have lots of opportunities to shop! Read our guide to shopping in Croatia so you know which souvenirs are truly local gems.
If this will be one of your first trips in the Balkans, check out our massive list of things to know before traveling the Balkans as well as our Balkan bus, road trip, and itinerary guides.
We publish new content nearly every day! Bookmark our pages on Croatia and the Balkans so that you don't miss out on any new info or resources that we publish before your trip!
Don't Forget About Travel Insurance!
I'm sure you're aware that travel insurance is a good idea for traveling in Croatia (or really, any part of the world)! We have both been paying customers of World Nomads for the last three years. We love the peace of mind it gives us in case of emergencies, accidents, illnesses, theft, or trip cancellation or disruption.
While the Balkans are perfectly safe to travel around, there's always a risk inherent in everyday travel – especially during the winter! – so it's better to play it safe.
>> Get a travel insurance quote for your trip here <<
Pin this Guide to the Most Amazing Waterfalls in Croatia for your Upcoming Travels!
Originally from California, Allison has been living in Bulgaria for the last two years and is obsessed with traveling around the Balkans. She has been published in National Geographic, CNN Arabic, Matador Network, and the Huffington Post. She loves befriending dogs, drinking coffee, geeking out about wine, and cooking food from around the world.