This post may contain affiliate links. This means that if you click a link, we may make a small commission off any subsequent purchase, at no extra cost to you. For more information, please check our privacy policy.
Planning a trip to Hvar, Croatia's beautiful island paradise?
Whether you need some Hvar puns to make your travel companions groan or some punny Hvar Instagram captions to make your followers giggle, here are our best (read: worst) puns about Hvar.
If you want more Croatia puns, we've got you covered here!
Can't read now? Pin for later!
Where to Stay in Hvar
Budget: If you're looking for an affordable place to stay in Hvar's Old Town, look to the beautiful City Center Room Olivia. With affordable en-suite doubles going for under $75 a night in high season, this is the place to go if you don't want to sacrifice privacy but you do want a charming, budget-friendly stay in a central location. Rooms feature flat-screen TVs (with Netflix!), A/C, and a patio area.
► Check prices, reviews, and availability here.
Boutique: For a guesthouse with a sleek sense of design at a mid-range price — under $200 a night in high season — History Hvar Design Heritage Suites is a fantastic choice. It's under a minute to much of Hvar's best attractions and offers gorgeous views of the fortress. The aesthetic is modern, yet it pays homage to its roots: built in 1529, this stone-mason house has been lovingly restored. There are only three apartments, each designed by Ana Vuckovic, one of Croatia's top designers.
► Check prices, reviews, and availability here.
Luxury: The chic 5-star hotel, Palace Elisabeth, is Hvar's oldest and is quite literally a restored 19th-century palace, set in a prime location between St. Stephen's Cathedral and the Hvar Theater on the Pjaca, Hvar's main square. Rooms offer striking sunset views over Hvar Bay and the islands surrounding Hvar. The hotel complex includes two delicious restaurants as well as a cocktail bar featuring jazz music, and complete spa facilities including a steam room, pool, massage center, fitness center, and sauna.
► Check prices, reviews, and availability here.
>> Read More: 17 Croatian Souvenirs too Fabulous to Leave Without <<
Our Best Hvar Puns
How Hvar from heaven?
I'm somewhere Hvar, Hvar away
All my troubles seem so Hvar away…
I don't mean to be Vrboska, but I could talk about Hvar for hours
>> Read More: 15 Beautiful Croatia Quotes and Quotes by Famous Croatians <<
Stop Stari-ng!
Underneath a Stari sky
Feeling like a Milna-yare
Don't be Jelsa that I'm in Croatia!
Gdinj a tan, back soon.
Zavala, so good.
Lavender fields forever
>> Read More: 11 Heavenly Things to Do in Hvar, Croatia's Island Paradise <<
What to Pack for Hvar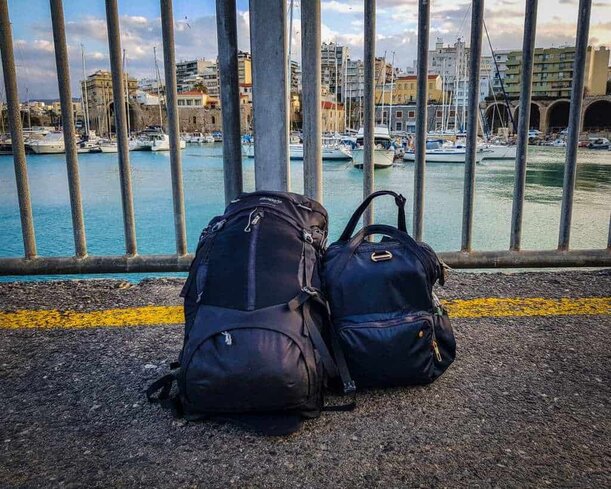 Mosquito repellent: Mosquitos in the summer can be nasty! You can bring ones with DEET or without DEET, or I love having some of these mosquito repellent wipes that I can keep in my bag in case I suddenly start to get swarmed and don't have my regular repellent with me.
Sunscreen: You can buy sunscreen in Croatia, but it's likely cheaper at home or bought online in advance. I love this solid Neutrogena sunscreen. Who doesn't love a good solid for liquid swap? Great to keep in your bag without worrying about sunscreen explosions.
Water shoes: Pebble beaches in Croatia are a double-edged sword. On the one hand, the pebble seafloor is what creates that gorgeous deep turquoise-colored water that is hard to beat, as the lack of sand means you have incredibly clear water. However, on the other hand, pebble beaches and rocky shores can be downright painful!
Our friend recently cut his foot on a rocky beach in Croatia; had he been wearing water shoes, he'd have avoided such unpleasantness! We suggest these unisex water shoes. They're not sexy, but they will make your trips to the beach far more pleasant!
A secure backpack: We both carry the CitySafe backpack by PacSafe not only on our travels but in our day-to-day lives. It's cute, it's functional, it's comfortable, and it's secure. We're talking about interlocking zippers (which you can then put through a second clasp for two layers of security), slash-proof wire mesh construction, and RFID blockers to keep your data safe.
It's neutral enough to be unisex, it's roomy enough to fit a small laptop, large camera, and tons of odds & ends, and it fits under the plane seat in front of you. We're obsessed. Check it out for yourself!
Grayl Water Filter: Tap water is generally safe to drink in Croatia, but if you're not used to drinking tap water from other countries, the typically harmless bacteria found in all water can cause some gut irritation. To both be safe and not buy dozens of plastic water bottles, you can get a reusable water bottle that comes with a water filter so that you can stick to the tap water and reduce your plastic waste. If you'll be traveling outside of the major tourist centers, check if the water is potable locally.
Seabands: If you get seasick easily, pack some Seabands or seasickness pills so you don't miss out on the best parts of Croatia – being on the water! A trip to Croatia isn't complete without a quick boat trip, so make sure you're prepared to enjoy it to the fullest!
More Croatia Travel Resources
Headed to Croatia? We have some great travel resources to help you with your trip.
First read our guide to planning a trip to Croatia, which covers visas, budgets, vaccines, and much more. We also have a packing list for Croatia in all seasons that will surely be of help!
If you'll be visiting Dubrovnik, check our guide to the best Dubrovnik day trips and Instagram spots.
For Zagreb, check out our Instagram spots, as well as our guide to visiting Plitvice from Zagreb.
For Split, check out our guide to the best day trips from Split.
We also have a Balkan currency guide that explains how the kuna, the local currency, works in Croatia and local tipping customs.
If you're still putting together your itinerary, here's a great list of places to visit in Croatia, our Croatian islands guide, and our Croatian waterfalls guide to help you choose. Always trust an official tour operator when joining a tour. Official guides are knowledgeable, speak more languages, and are up to date with all information. That's why we recommend booking through a service like GetYourGuide which ensures it works with accredited guides.
Finally, you'll want to read our guide to shopping in Croatia so you know which souvenirs are truly local gems.
If this will be one of your first trips in the Balkans, check out our massive list of things to know before traveling the Balkans as well as our Balkan bus, road trip, and itinerary guides.
We publish new content nearly every day! Bookmark our pages on Croatia and the Balkans so that you don't miss out on any new info or resources that we publish before your trip!
Don't Forget About Travel Insurance!
I'm sure you're aware that travel insurance is a good idea for traveling in Croatia (or really, any part of the world)! We have both been paying customers of World Nomads for the last three years. We love the peace of mind it gives us in case of emergencies, accidents, illnesses, theft, or trip cancellation or disruption.
While the Balkans are perfectly safe to travel around, there's always a risk inherent in everyday travel, so it's better to play it safe.
Pin these Hilarious Hvar puns & Instagram captions!
Originally from California, Allison has been living in Bulgaria for the last two years and is obsessed with traveling around the Balkans. She has been published in National Geographic, CNN Arabic, Matador Network, and the Huffington Post. She loves befriending dogs, drinking coffee, geeking out about wine, and cooking food from around the world.