There's enough in Dubrovnik to keep you busy for days on end, without ever needing to even leave the Old City walls. Still, its prime position in the Adriatic Sea near several beautiful islands as well as in the corner of the meeting place of three different countries means that Dubrovnik is made for day trips.
We're convinced that one of the best things about traveling to Dubrovnik is just how close it is to other Balkan countries. This makes it completely possible to visit as many as 3 countries in as little as a week without driving yourself crazy, just making day trips from Dubrovnik while basing yourself in the city.
However, there are a few quirks of Dubrovnik day trips as a result of its geographic position, so keep on reading to learn what to keep in mind before we get into our top picks for day tours from Dubrovnik.
Where to Stay in Croatia
Here are our recommendations for where to stay in Dubrovnik. We're in the process of creating comprehensive guides on where to stay in other Croatian cities, but for now, we recommend checking out Booking.com as early as possible since this is a popular time to visit. These are some of the places we suggest you check.
Budget: Apartment Larica Miha Pracata is a historic building in the heart of Dubrovnik Old Town. You can easily leave your apartment and instantly be at some of the best architectural and historical attractions Dubrovnik has to offer. Check out prices and availability at Apartment Larica Miha Pracata.
Mid-range: Soleil Luxury Rooms offer some of the most modern amenities you will find in the Old Town of Dubrovnik. Check out guest reviews, prices, and availability at Soleil Luxury Rooms Old Town.
Luxury: Boutique Hotel Stari Grad showcases elegant style and you can see plenty of designer accents all over the hotel. The interiors and arrangement of all furniture are well-executed, creating a comfortable and cozy place to stay in the Old Town of Dubrovnik. Check out guest reviews, prices, and availability at Boutique Hotel Stari Grad.
3 Key Things to Know Before Picking A Dubrovnik Day Trip
It's hard to avoid a border crossing
Dubrovnik is technically an exclave of Croatia, as it is separated from the rest of the country by the 9-kilometer stretch of the Adriatic Coast that Bosnia & Herzegovina controls.
Therefore, the Dubrovnik day trips in this post span three separate countries, so make sure you have your passport with you! Even when you stay in Croatia, if you are traveling by bus anywhere north of Dubrovnik-Neretva country, you will technically need to show your passport as you travel through Bosnia (though admittedly, this border crossing is rather loosely patrolled) before re-entering Croatia.
Keep border crossings in mind when planning any day trips from Dubrovnik. Factor in at least an extra 30 minutes in addition to driving time at every border crossing, though waits up to an hour are possible.
Check with your car rental company if renting a car for Dubrovnik day trips
Not all car rental companies are created equally, and many require you to pay an additional fee to prepare the Green Card paperwork that is necessary when traveling in much of the Balkans (for more information, read our Balkan road trip guide).
Bosnia & Herzegovina is one such country where you are required to show Green Card paperwork or purchase their insurance at the border. However, some rental car companies in the Balkans don't let you take the car out of the country.
While most Dubrovnik rental car companies likely won't have a problem with preparing the paperwork needed (especially given Dubrovnik's location and the inevitability of border crossings), it's still something you need to check on with your rental company rather than assuming.
We've rented cars dozens of times in the Balkans through various search engines and have settled on Discover Cars as the best car rental search engine – it searches over 500 trusted rental companies to find the cheapest price for your rental! Compare prices for car rental in Croatia here.
Keep in mind currency exchanges
As many Dubrovnik day trips are outside of Croatia, you will likely need to withdraw or convert cash when leaving the country (for more information, read our Balkan currency guide).
While Montenegro makes it easy by adopting the Euro, which is easily accessible outside the country, Bosnia & Herzegovina use the convertible Mark, which is difficult to source outside the country and near impossible to convert back to any other currency after leaving.
I recommend either bringing Euros from home or converting your Croatian Kunas into Euros to make it easier (and to get a better exchange rate!) when traveling to Montenegro or Bosnia on a day trip from Dubrovnik.
Alternately, you can try to use your credit card, but keep in mind that won't work at small cafés, paying for roadside bathrooms if traveling by bus, or buying souvenirs. I always recommend having a small number of Euros on hand as they are often accepted in a pinch!
The Best 13 Dubrovnik Day Trips
Lokrum, Croatia
The closest island to Dubrovnik, Lokrum is one of the most popular Dubrovnik day trips (if it can even really be considered a day trip!) The most scenic way to get to Lokrum is by kayak. There are departures leaving from Banje Beach in Dubrovnik with a guide twice a day – one around 9 AM and one around 4 PM, perfect timing to return at sunset! Exact timings vary depending on the season so check availability here.
On your way to Lokrum Island by kayak, you'll have a chance to see Dubrovnik's impressive fortifications from sea level – an incredible sight. While kayaking isn't the easiest way to get to Lokrum, it is certainly the most rewarding. And as this aerial view shows, it's not that far!
On the island on Lokrum itself, you'll find the beautiful botanical gardens and summer residence of Maximillian, an Austrian emperor who claimed the island in the late 1800s.
Lokrum also has another, more recent claim to fame: it was a stand-in for the city of Qarth in Game of Thrones, particularly the botanical gardens and the old monastery. Oh, and if you need to check out the "Iron Throne" — it's located right in the Lokrum Visitor's Center!
Besides kayaking and exploring the islands' historical slash cinematic places, you also shouldn't miss an opportunity to snorkel – Betina Cave has some marine life, and there are some cliff jumping opportunities nearby (do so carefully and always with travel insurance!).
How to Get Here on a Day Trip from Dubrovnik
The best way is with your own two arms, via a guided kayak tour of the island! It's an inexpensive way to combine a mini workout, sightseeing, and a day trip all in one fabulous side trip from Dubrovnik, and it's not much more expensive than taking the ferry independently.
If your mobility isn't up for a kayaking trip, there is a Dubrovnik-Lokrum ferry which takes 15 minutes and leaves a few times an hour. It costs 150 kuna return at the time of writing, about $23. Here is the timetable.
Mljet, Croatia
Mljet's nickname is the Green Island and it's the largest island in all of the Dubrovnik archipelago. The beautiful island of Mljet is one of Croatia's national parks, and it has a few settlements and two saltwater lakes nestled amongst green nature.
The largest town on Mljet is Pomena, mostly for the fact that is near both the Great and Little Lake (also called Veliko and Malo Jezero in Croatian). The Benedictine Monastery on St. Mary islet (in the middle of Great Lake) is well worth seeing. These are located within Mljet National Park.
The sandy bay of Saplunara is beloved by many but not easy to get to without a car or tour. Mljet is perhaps best known for Odysseus Cave, where according to legend Odysseus was seduced by Calypso to stay for seven whole years. However, these are best accessed with your rental car as most day trips won't take you here and instead focus on the national park and the twin saltwater lakes.
How to Go on a Day Trip from Dubrovnik
It is possible to visit Mljet independently, but you have to consider what port you'd like to visit and if your ferry is available that day.
It's also kind of hard to get around the island without a car due to the hilly terrain and large size, so it's best visited with a rental car. However, if you have a car, none of the Dubrovnik departures are car ferries, so you'd have to head to Prapratno, about 1 hour and 15 minutes away.
It may be easier to arrive at one of the ports on Mljet by ferry from Dubrovnik without a car, and then figure out car rental from there. There are three ports (Polace, Pomena, and Sobra) all with different departure and return times, so check the timetables here.
You can rent a car once you arrive at Mljet at MiniBrum near the Sobra ferry terminal – I'm not sure about the other ferries.
Also, keep in mind that Mljet National Park has an entrance fee of 125 kunas, about $20. Keep that in mind when budgeting out traveling independently by ferry and rental car vs. a tour!
Because of all these annoying quirks when it comes to getting to Mljet with a car (but also the helpfulness of having a car with you when you go) I suggest you may prefer to take a guided tour to make the most of your day.
This one departs at 8:30 AM, lasts 10 hours, and includes a transfer to Ston, ferry to Pomena, transportation to Mljet National Park (entry fee included), an all-day guide. Lunch is not included.
This tour is similar but includes a trip to the Benedictine Monastery on the islet inside Big Lake, so take your pick depending on what you prefer to see. Lunch is not included on this trip either.
Elafiti Islands, Croatia
This cluster of 13 islands and uninhabited islets near Dubrovnik is a beautiful escape from Dubrovnik, easily accessible by ferry or guided tour.
Lopud is the most popular island and sees a fair number of tourists, but because it's car-free, it has a relaxed vibe that sets it apart from Dubrovnik.
While you'll find a few tourist amenities, like beachside restaurants, sun loungers and umbrellas for hire, and snorkeling and kayak rentals, the island is much quieter than you'd expect for its proximity to one of Croatia's busiest tourist spots.
Croatia has several pebble beaches, which contribute to the beautiful turquoise and blue waters (as loose sand can cloud the vibrant colors), but sometimes, tourists are disappointed that there aren't more sandy beaches in popular tourist spots like Dubrovnik and Split.
Luckily, there are sandy beaches to be found near Dubrovnik, and Sunj Beach on Lopud offers exactly this: more than one kilometer of sandy beach, to be exact, so there's plenty of space to spread out with an umbrella and enjoy.
Have a delicious seafood lunch at Restaurant Obala, and be sure to walk around the village of Lopud and see some of its most famous sights, like the beautiful seaside Holy Mary of Spilice Church, the Franciscan Monastery, and the Church of St. Nicholas the Great.
If you're looking for a slightly more off-the-beaten-path island in the Elafiti cluster, I recommend Koločep – it's the smallest and closest to Dubrovnik, yet because it is also car-free (unlike Šipan, the largest of the six) it has a nice and quiet vibe.
It doesn't have the same stretch of sandy beach, but it does have a beautiful 3-kilometer walking trail between the island's two villages, Donje Celo and Gornje Celo.
How to Get There On a Day Trip From Dubrovnik
It's so easy! There are regular ferries departing Dubrovnik, depending on the season. You can find more information on departure times and travel times here.
If you prefer the guidance of a tour, there are several available. This one covers the villages of Koločep, the ruins on Šipan, and some beach time on Lopud (check more details on itinerary and rates here). Alternately, for a more special occasion, book yourself on a sunset sailing tour of the islands.
The absolute coolest, however, is this combination cruise tour that takes you on a pirate-looking Karaka ship with a delicious buffet lunch and even drinks served on board (extra charge), while also covering all three main Elafiti Islands on this 9-hour tour. Check out more details here.
Trsteno, Croatia
Yet another ultra-easy Dubrovnik day trip, you shouldn't miss Trsteno (particularly its Arboretum) if you're a lover of plants, Game of Thrones, Instagram, or anything good and beautiful in life.
The Trsteno Arboretum is the oldest of its kind in Eastern Europe and was built by the local nobility, the Gozze family, in the late 1400s.
Apparently, they requested the ship captains they knew to bring back a variety of seeds and plants from their travels (this predates the whole customs thing, obviously, and worries about invasive species). The result is an Edenic world of beautiful plants and gorgeous sculpture work a half-hour away from the business of Dubrovnik.
You can also check out a few churches in the tiny town of Trsteno, Sveti Jeronim, and Sveti Vid Church, worth a stop but the main draw is the beautiful Arboretum.
How to Do it as Day Trip
It's best in a rental car, if you have one, as it's only a 25-minute drive from central Dubrovnik. Otherwise, there are public buses which leave several times a day (you can find the timetable here) for about 3 euros each way.
The town is tiny, so you can easily walk to the Arboretum from the bus stop. You could also take a taxi.
Alternately, it's included on several guided tours that cover a larger swath of Croatia such as this Ston tour.
Trebinje, Bosnia & Herzegovina
Only 40 minutes from Dubrovnik by car (about 1 hour by bus) and yet not touristy in the slightest, I'm shocked that more Dubrovnik day-trippers don't visit beautiful Trebinje in Bosnia & Herzegovina.
Trebinje is particularly interesting if you are interested in Balkan culture and geopolitics, as it is located in Republika Srpska, a largely autonomous constitutional entity that is part of the country of Bosnia & Herzegovina (the other part is the Federation of BiH, which comprises the more well-known parts of Bosnia such as Mostar and Sarajevo).
What does that actually mean? While you won't have to show your passport to enter Srpska, since it's part of Bosnia and all, you will notice that the street signs will be in Serbian Cyrillic rather than Bosnian, and rather than seeing many mosques as you will in the rest of Bosnia, you will see primarily Orthodox churches.
But beyond its political and cultural quirkiness, Trebinje is just a beautiful town and is barely on most tourists' radar — unlike Mostar, which tends to be full of people on a day trip from Dubrovnik in the early afternoon.
I spent four days in Trebinje just relaxing and soaking up the city's culture and barely saw another tourist around – but that's not because there's not a lot to see or do!
Don't miss a walk through the Old Town, which is small but nearly tourist-free and refreshingly local, and stroll through the local market in the Main Square (tip: I recommend buying honey, rakija, fresh cheese, and ajvar here – they make amazing – and delicious – souvenirs). Have lunch at my favorite restaurant in town, Studenac.
The area around Trebinje is famous for its wines, so I recommend tasting the local wines. Check out Vinska galerija Vukoje which has an excellent selection of wines from Herzegovina, or organize a winery tour in the region.
You should also walk along the beautiful Trebišnjica River, stopping to take photos at the pristine Arslanagić Bridge, a beautiful arch bridge that is a true hidden gem – you won't see the likes of this spattered across your Instagram feed.
Finally, be sure to take a walk to the top of the hill in town, where you'll find the beautiful Hercegovačka Gračanica Church. If you have extra time and are feeling extra ambitious, you could even squeeze in a hike to one of the abandoned Austro-Hungarian forts – Ft. Strac is the most famous but there are several to choose from!
How to Get There On a Day Trip From Dubrovnik
Unfortunately, this is one of the more tricky routes despite the closeness (about 30 kilometers) of the two cities. If you have a car, it's an easy trip; by public transport, your options are limited.
There is a daily public bus departure at 6:40 PM but obviously, this is not ideal for day-trippers. I did this as a day trip in reverse (starting in Trebinje and going to Dubrovnik for the day) going with a local who works in Dubrovnik and provides a shuttle service on the way (inquire at Hostel Polako about this).
However, if you're going from Dubrovnik to Trebinje and you don't have a car, the best way is by taxi. It should cost approximately 40 euros each way (perhaps cheaper when leaving from Bosnia, but I can't confirm this). It's an expensive but worthwhile day trip if you're solo, but it's not bad if you're in a couple or group.
Konavle Valley, Croatia
Croatia has a wine region not far from Dubrovnik and if you're a wine lover you must add this day trip to your Dubrovnik itinerary!
The Konavle Valley is picturesque and filled with countless wineries and picturesque viewpoints. Even if not for the wine, the landscape is gorgeous, with karst mountains on the northern side and a lush green valley filled with vineyards all around, nicknamed "the Garden of Croatia."
You'll find international varietals like Cabernet Sauvignon and Chardonnay, but you'll also find local indigenous grapes like the Marastina and Dubrovacka Malvasija which make tasty, fragrant white wines (best taken home and enjoyed with some delicious Dubrovnik seafood!)
How to Do it As a Day Trip from Dubrovnik
Whenever alcohol is involved, I recommend a guided tour. DUI laws in the Balkans are strict and you never want to put yourself or others at risk to save a few dollars.
If you have a rental car and a designated driver you're good to go, but if you want your whole group to drink freely I recommend this guided winery tour that includes three wineries, a lunch, a ride on a scenic train, and transfers to and from Dubrovnik. More details here.
Kotor, Montenegro
Another popular Dubrovnik day trip choice, visiting Kotor is on many people's must-visit list and I can't say I blame them! I stayed in Kotor for three nights, but it is easily doable as a Dubrovnik day trip as long as you get a decently early start to your day.
The bus takes about two hours each way including the border crossing; if you have your car, you may be able to get there faster, as it's only 93 kilometers between the two cities.
You may want to check what days cruise ships dock in Kotor (2019 schedule here) and trying to plan your day trip there around it if at all possible.
The Old Town can turn into a bit of a Disneyworld hellscape when too many cruise ships dock all at once, especially in the peak summer season.
>> Read Next: 17 Awe-Inspiring Places to Visit in Montenegro <<
However, despite the crowds, Kotor is well worth a visit. The Old Town of Kotor is one of the best old towns in all the Balkans, and it's a UNESCO World Heritage Site for good reason.
If you're a church lover, you can't miss the Church of St. Luke (above) or the Cathedral of Saint Tryphon, both excellent and located in the heart of Kotor.
Also, don't miss the lovely Arms Square (Trg od Oruzja) and the delightfully quirky Cat Museum, which is only one euro to enter but helps support the friendly stray cat population in Kotor.
Be sure to walk along the City Walls, the fortifications of which date back to the 9th century and have been reinforced and taken over by several different empires.
If you have the stamina, I highly recommend walking the insane number of stairs to the beautiful Castle Of San Giovanni with the best views over the Bay of Kotor you can dream up.
This is not for the faint of heart – you'll need to climb 1,350 stairs to a height of 1,200 meters (nearly 4,000 feet) — keeping in mind that you are starting at sea level! It was hard – especially for me as I did it the day after ascending a 2,500-meter mountain in Durmitor National Park, which is not how I recommend you do things – but worth it.
It will take at least an hour of huffing and puffing over rapid elevation gain, so if you're not fit or if it's torturously hot, I wouldn't put yourself at risk. Bring plenty of water, and give yourself lots of stops if you need them (I saved my ego by considering them 'photo stops').
>> Read More: 10 Delightfully Instagrammable Places in Kotor <<
However, if you can make the hike, it's highly worth it – it has some of the best views.
Pro tip: Don't go for sunset – the mountains cast a shadow, which makes the photos not nearly as nice. If I was coming from Dubrovnik as a day trip, I would make this the very first thing I did in the morning before the sun got too hot, then treat myself to a nice lunch in the center before walking around for a more relaxing stroll the rest of the afternoon.
If that's too much of a hike for you, substitute it with a lovely stroll around the Bay of Kotor, which is just as lovely from eye level!
How to Get There On a Day Trip From Dubrovnik
Kotor is quite easy to get to by public bus in peak season, with roughly 8:30 AM and 10 AM departures (check exact times and book in advance during peak season at GetByBus). departure but it takes twice as long so I don't recommend it.
There are buses back around 5:30 PM, 7 PM, and 8:30 PM. These times were truly searching for mid-June 2019 as of early 2019, but please confirm by checking times online as this information may change. The bus costs 15-18 euros each way, depending on the bus company.
Another option is to do a guided Montenegro day trip which includes several charming towns and cities in Montenegro. It's not much more expensive than taking the bus independently and you get to see a lot more.
This Montenegro day trip includes not only Kotor but also Perast and the Our Lady of the Rocks island church, Budva, Sveti Stefan, and a ferry ride in the beautiful Bay of Kotor. If you have limited time but you want to see the best of the Montenegrin coast, this is the best way to do it. However, if you prefer the independence of a DIY day trip, Kotor is easy to visit independently.
Mostar, Bosnia & Herzegovina
This is the quintessential day trip from Dubrovnik but I didn't recommend it first as I think it warrants a few days' stay if you can manage it! Plus, the day trip crowds are at their worst during the peak hours, whereas if you stay overnight in Mostar, you can enjoy the Old Town without the crowd of day-trippers who are there mostly between noon and 4 PM.
Since Mostar to Dubrovnik by public transportation takes at least 3 hours and is usually closer to 4, I highly recommend going on an organized tour instead, as Balkan buses are not the most reliable (to put it nicely) and are often delayed.
Still, if all you have time for is a day trip to Mostar from Dubrovnik, by all means – you should go! It is easily one of the most beautiful cities in the Balkans and is well worth the visit.
>> Read Next: Mostar Instagram Inspiration: 10 Most Instagrammable Spots in Mostar <<
Don't miss walking across the historic Stari Most. While this word means "Old Bridge", it's a bit of a misnomer, as the actual original bridge was badly damaged in the war in the early 1990s and had to be completely rebuilt, finishing in 2004. Don't miss lunch at Tima-Irma if you can get a seat – it has the best meat plate in all of Bosnia!
Have a traditional Bosnian coffee at Cafe Alma nearby, then check out some of the souvenir shops lining the main street of the Old Town.
After that, you may want to hop around some of the most Instagrammable spots in Mostar, making sure to get your best photos!
At the very least, head to the Left Bank of the river for that iconic bridge shot, and hope that a brave bridge diver makes their 23-meter leap while you're there!
If you're more interested in the tragic history of this beautiful town, make your way up to Spanish Square, where you'll find the ruins of the Ljubljanska Bank, a former bank building that was used by Serbs and Croats as a sniper tower to kill their Bosniak neighbors during the ethnic violence in the 1990s.
Now, there is graffiti around the base of the building. Some intrepid explorers go inside but it's quite dangerous so I don't recommend it to all.
Mostar is a complicated city where context matters, which is why having a tour guide is helpful. I saw several tourists being disrespectful during my time in Mostar (selfies in front of a sniper tower, really?) so please read a bit about what happened in Mostar before coming and listen to what your guide says instead of just running around taking photos.
How to Get There On a Day Trip From Dubrovnik
From what I can find online, the first public bus to Mostar leaves at 4 PM each day, making a DIY day trip impossible, unless you have a rental car – therefore making a guided tour the only option.
Another benefit of going on a Mostar tour is that many tours combine a few interesting places in Bosnia that would be hard to do all together if you were coming to Bosnia from Dubrovnik for a day trip – such as this one, which combines Mostar, Kravice Waterfalls, and Počitelj, or this one, which combines Mostar, Medjugorje, Počitelj, and Neum.
Both are inexpensive and offer multiple cities on a single-day trip, great if you have limited time and want to see a slice of Bosnia and Herzegovina.
Sarajevo, Bosnia & Herzegovina
While I certainly recommend spending more than just a day trip in Sarajevo, if you want to see this unique city it is possible on a day trip from Dubrovnik on a guided tour or with your rental car!
Many of the guided tours such as this one cover several important Bosnian cities all in one day, such as Neum (the coastal gem), Pocitelj and its gorgeous bridge, Mostar and its famous Stari Most, and Jablanica, home to yet another famous bridge, before ending in Sarajevo.
>> Read More: 12 Essential Things to Do in Sarajevo, Bosnia <<
I have no idea why but Bosnia has got to be the country with the most famous (yet tragic) bridges in the world, often destroyed and rebuilt or – in the case of Sarajevo – the locus of acts of violence that will start literal World Wars.
That would be the Latin Bridge, where Archduke Franz Ferdinand was killed by a Serb insurgent, unintentionally sparking a series of events that would culminate in World War I.
In addition, you'll get the chance to check out the beautiful bohemian quarter of Bascarsija, an open-air bazaar selling gorgeous Bosnian souvenirs (I recommend picking up a Bosnian coffee maker – they are works of art), the interesting and colorful layer-cake-like City Hall, and learn about the troubled history of Sarajevo during the 4-year siege which left thousands dead and the city pockmarked with scars of remembrance such as the Sarajevo Roses, mortar shells scars painted red in remembrance of those innocent Sarajevans who lost their lives to violence.
Unfortunately, this tour is too short to include must-sees like the abandoned Sarajevo Bobsled Track or the Sarajevo Tunnel, so you'll have to plan a return trip or do it as a DYI day trip if these pique your interest!
How to Do It as a Day Trip From Dubrovnik
Take a guided tour (I recommend this one!) or drive. Each way is about 4 hours, which is why I recommend a guided tour as that is a loooong way to drive home if you DIY!
Perast, Montenegro
If you choose to go on a day trip to Kotor, it can easily be combined with a stop in Perast. This beautiful town on the Bay of Kotor has several prominent landmarks you'll want to see, the most important being the beautiful church and museum of Our Lady of the Rocks. This island church can be seen from Kotor and is accessible by either city.
The most common way to visit Perast from Kotor is to take one of the tour boats. These leave from Kotor and head first to Our Lady of the Rocks. You'll have enough time to visit the church and museum and get as many photographs of the beautiful island as your heart desires.
This island is not naturally occurring, it's manmade and constructed initially from rocks that sailors threw in this spot to honor the Madonna. Over time, these rocks piled up and emerged from the Bay. The rest of the base is made from ships that were full of rocks and then sunk.
The second islet in the Bay of Kotor is also a part of the city of Perast. Called Ostrvo Sveti Đorđe (the island of St. George), this is a naturally occurring island.
While the boats don't visit here, you can photograph this beautiful island from Our Lady of the Rocks and Perasts' shores. On this island, besides the beautiful trees, are the monastery of St. George and a small cemetery.
After spending time on the island, the boat drops tourists off in Perast with time to explore. If you fall in love with this charming town, you can stay longer and take the bus back to Kotor on your own.
Highlights of the town include eating at one of the beautiful waterfront restaurants, exploring the church and town square, and visiting Pirate Bar, the beach bar in town.
How to Get There On a Day Trip From Dubrovnik
Follow the instruction for getting from Dubrovnik to Kotor. In Kotor, you have several choices on how to get to Perast. If your goal is to tour the island, then you'll want to grab one of the tourist boats in Kotor.
You can go on one of the regularly scheduled tours or negotiate on your own with a local boat owner.
If you don't want to go by boat, you can hail a taxi or go by bus. Blue Line Minibuses run throughout the day from the Kotor Bus Station and the bus station outside of the walls of Kotor. The trip by bus takes about thirty minutes. Have cash to pay the driver. The cost of the bus is 1.5 Euros.
If you're looking to combine Kotor and Perast, another great way to go is to do a guided day trip. This is an economical option that also allows you to relax and enjoy the day since you won't be in charge of all the transportation decisions.
This Montenegro day trip includes Kotor, Perast and the Our Lady of the Rocks, Budva, Sveti Stefan, and a ride in the Bay of Kotor. This is also a great option for those who need to see as much of Montenegro as possible in one day.
Risan, Montenegro
If you want to explore the Bay of Kotor and get a little off the beaten path, spend some time in Risan. If you're looking to combine a day trip to Kotor with a trip to a beautiful sandy beach, you can visit this beautiful town on the Bay of Kotor.
There are far fewer tourists in Risan than the rest of the bay, so you can enjoy a peaceful lunch or dinner bayside without competing with a million tourists who only want to explore Kotor's old city and leave.
History lovers will want to stop by the preserved ancient Roman mosaics in the town's Roman Villa. These mosaics date to the second and third century AD when this was an important stop for the Roman military.
How to Get There On a Day Trip From Dubrovnik
Follow the instruction for getting from Dubrovnik to Kotor. In Kotor, you can switch to the local Blue Line buses that go around the bay. You'll need to have Euros to get on the bus. Rides on the Blue Line cost 1.50 Euros. The alternative is to take a taxi from Kotor to Risan.
Ston, Croatia
Ston is an impressive and beautiful historic city in Croatia that is a must-visit from Dubrovnik. It's home to the oldest salt pans in Europe (and possibly the world), with at least 4,000 years of ongoing usage.
They're incredibly beautiful and photogenic and well-worth stopping at during your time in Croatia!
Admission to the salt pans is quite cheap at 15 kunas per entry ticket, about $2, and it's well worth it – they're rich in both beauty and history.
Located on the scenic Pelješac Peninsula which is known for its wine, this isthmus stretches 65 kilometers starting at Ston and reaching its peak at Cape Lovišta.
The area around Ston is famous for its oyster farming and it's without a doubt the best place in Croatia if you want to taste the freshest oysters, that quite literally come from the sea to your plate in a matter of minutes.
If raw oysters aren't your thing, mussels come from Ston too – from farms like the one pictured below.
This peninsula is part of Dubrovnik-Neretva country, located before the border with Bosnia, so you don't have to worry about showing your passport on this trip.
Beyond its oyster farms and salt pans, there are also gorgeous streets and cafés to stroll around in Ston, as well as several restaurants serving up some of the freshest seafood you'll find in Croatia at far less than Dubrovnik prices.
Don't miss trying buzara, a traditional Croatian dish from this region made from ultra-fresh mussels, wine, garlic, and breadcrumbs.
Besides seeing the salt pans and trying delicious oysters, I recommend walking the historic city walls of Ston. They're much less crowded and less expensive than Dubrovnik, trust me!
Admission costs 70 kunas (about $11), as opposed to Dubrovnik's newly-steepened price of 200 kunas per person (over $30!)
These walls are made of stone and date back to the 14th century, and their ongoing strength has earned them the nickname of the "European Great Wall." There are about 7 kilometers of wall, so not quite the same as the Great Wall, but y'know how those nicknames go.
If you visit Ston independently and you have time and the weather isn't too brutal, you can make the pleasant 45-minute walk to its neighboring village, Mali Ston. Mali means 'small' in Croatian and it's certainly fitting here – there's not much to do in this village, but it's absolutely beautiful and the walk is so picturesque.
How to Get There on a Day Trip From Dubrovnik
Ston is easy to get to from Dubrovnik independently with a rental car, which would be the best way to explore the Pelješac peninsula at leisure beyond just Ston and also see the cute towns of Hodilje and Luka.
The drive to Ston takes approximately one hour and involves no border crossings. You can also take a bus if you don't have a car rented – here are the bus timetables. It takes about 1 hour and costs around 40 kunas each way depending on what company you go with.
However, I think the best way to enjoy it is on a combined food and city tour including Hodilje, the beautiful island of Ostrog, Ston, and the beautiful Trsteno Arboretum, where many garden scenes from Game of Thrones were shot.
This private Ston tour includes all transportation, takes you to a local mussel and oyster far near Hodilje, a delicious oyster and mussel lunch served from Croatian hosts on the island of Ostrog (Croatian wine included, obviously).
Afterward, you'll go on a guided walk of Ston town and the salt pans and have free time to explore Ston's town center or even go for a quick swim at the nearby sandy beach. Later on, you can go to the Arboretum, which dates back to the 15th century and is full of exotic plants from around the world.
Tara River, Montenegro
If you're looking for a thrilling day trip from Dubrovnik, head to the northeast corner of Montenegro where the beautiful Tara River weaves its way through the second deepest canyon in the world (after the Grand Canyon, of course) and the longest canyon in Europe.
The Tara River goes through both Montenegro and Bosnia and the gorge is a massive 78 kilometers long and 1,300 meters tall at its highest points. For its beauty and geological importance, it's also been named UNESCO World Heritage Site (great for our fellow UNESCO collectors out there).
Rafting is the name of the game in the Tara Canyon and while I certainly recommend spending some time in Durmitor National Park if you can, if you only have one day to experience Montenegro and you want it to be an adrenaline-soaked adventure, I highly recommend doing a rafting tour.
You'll pass gorgeous waterfalls while traversing the sometimes calm, sometimes rapid Tara River under the supervision of expert guides.
While it's not for the faint of heart, it is quite fun if you are brave enough (I, admittedly, am not!)
How to Do it As a Day Trip From Dubrovnik
There's no way to do this independently as a day trip (overnight, sure) so I recommend a guided tour. It's a long, grueling 13 hour day including driving time.
The tour leaves Dubrovnik early in the morning and takes you to the Tara River where you'll enjoy a beautiful breakfast, and then includes rafting down some 25 kilometers of the Tara River.
Finish the day with a much-needed warm shower and lunch before being driven back to Dubrovnik. Tours include transfers, two meals, rafting, and safety gear and can be booked here.
What to Pack for Croatia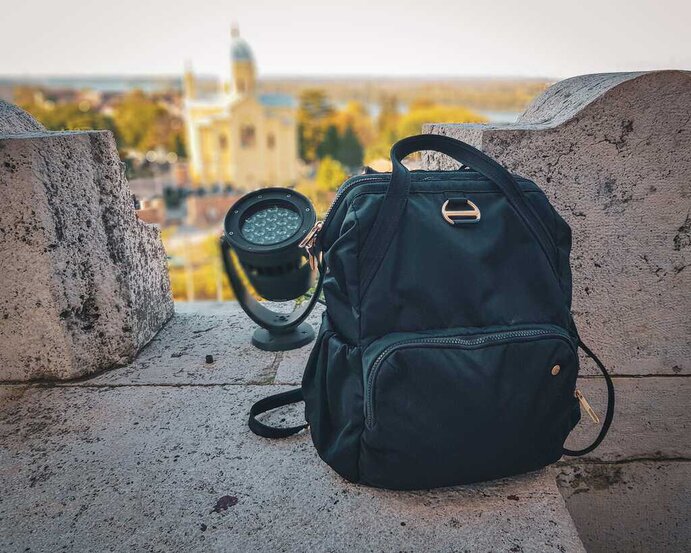 We have an entire Croatia packing list, but make sure you don't leave these items behind!
A Guidebook – While travel blogs are great, we also definitely see the benefit of having a good paper guidebook in hand to refer to in your on-the-ground travel. We recommend the Lonely Planet Croatia book.
Mosquito repellent: Mosquitos in the summer can be nasty! You can bring ones with DEET or without DEET, or I love having some of these mosquito repellent wipes that I can keep in my bag in case I suddenly start to get swarmed and don't have my regular repellent with me.
Sunscreen: You can buy sunscreen in Croatia, but it's likely cheaper at home or bought online in advance. I love this solid Neutrogena sunscreen. Who doesn't love a good solid for liquid swap? Great to keep in your bag without worrying about sunscreen explosions.
Water shoes: Pebble beaches in Croatia are a double-edged sword. On the one hand, the pebble seafloor is what creates that gorgeous deep turquoise-colored water that is hard to beat, as the lack of sand means you have incredibly clear water. However, on the other hand, pebble beaches and rocky shores can be downright painful!
Our friend recently cut his foot on a rocky beach in Croatia; had he been wearing water shoes, he'd have avoided such unpleasantness! We suggest these unisex water shoes. They're not sexy, but they will make your trips to the beach far more pleasant!
A secure backpack: We both carry the CitySafe backpack by PacSafe not only on our travels but in our day-to-day lives. It's cute, it's functional, it's comfortable, and it's secure. We're talking about interlocking zippers (which you can then put through a second clasp for two layers of security), slash-proof wire mesh construction, and RFID blockers to keep your data safe.
It's neutral enough to be unisex, it's roomy enough to fit a small laptop, a large camera, and tons of odds & ends, and it fits under the plane seat in front of you. We're obsessed. Check it out for yourself!
Grayl Water Filter: Tap water is generally safe to drink in Croatia, but if you're not used to drinking tap water from other countries, the typically harmless bacteria found in all water can cause some gut irritation. To both be safe and not buy dozens of plastic water bottles, you can get a reusable water bottle that comes with a water filter so that you can stick to the tap water and reduce your plastic waste. If you'll be traveling outside of the major tourist centers, check if the water is potable locally.
Sea bands: If you get seasick easily, pack some Sea bands or seasickness pills so you don't miss out on the best parts of Croatia – being on the water! A trip to Croatia isn't complete without a quick boat trip, so make sure you're prepared to enjoy it to the fullest!
Read more: Essential Croatia Packing List: What to Wear & Pack for Croatia
More Croatia Travel Resources
Headed to Croatia? We have some great travel resources to help you with your trip. First read our guide to planning a trip to Croatia, which covers visas, budgets, vaccines, and much more. We also have a Croatia packing list with a detailed section for all seasons.
While in Dubrovnik, check out our favorite Dubrovnik Instagram spots and the best Dubrovnik day trips.
If you're still putting together your itinerary, here's a great list of places to visit in Croatia, our Croatia national parks guide, and the Croatian waterfalls guide to help you choose. We also have a guide to the best day trips from Spit if you're to be visiting Split as well.
If you'll be spending time in Zagreb, check out our list of the city's best photo destinations. We also have a guide to visiting the famous Plitvice Lakes from Zagreb.
Next, check out our Balkan currency guide which explains how money works in Croatia and local tipping customs.
Of course, if you're coming to Croatia you'll have lots of opportunities to shop! Read our guide to shopping in Croatia so you know which souvenirs are truly local gems.
If this will be one of your first trips in the Balkans, check out our massive list of things to know before traveling the Balkans as well as our Balkan bus, road trip, and itinerary guides.
We publish new content nearly every day! Bookmark our pages on Croatia and the Balkans so that you don't miss out on any new info or resources that we publish before your trip!
Don't Forget About Travel Insurance!
I'm sure you're aware that travel insurance is a good idea for traveling in Croatia (or really, any part of the world)! We have both been paying customers of World Nomads for the last three years. We love the peace of mind it gives us in case of emergencies, accidents, illnesses, theft, or trip cancellation or disruption.
While the Balkans are perfectly safe to travel around, there's always a risk inherent in everyday travel – especially during the winter! – so it's better to play it safe.
Pin this guide to the best day trips from Dubrovnik for your next vacation in Croatia!