This post may contain affiliate links. This means that if you click a link, we may make a small commission off any subsequent purchase, at no extra cost to you. For more information, please check our privacy policy.
While traveling in the Balkans, you'll likely find yourself wanting to get between two cities that look fairly close together on the map, but a little research uncovers that the process is slightly more byzantine than anticipated.
Our friend Kate from Our Escape Clause dropped by to share the step-by-step instructions on how to get from Dubrovnik to Kotor by bus, plus the steps for getting from Kotor to Dubrovnik in case you want to get back.
No time to read now? Pin it for later!
Where to Stay in Croatia
Here are our recommendations for where to stay in Dubrovnik. We're in the process of creating comprehensive guides on where to stay in other Croatian cities, but for now, we recommend checking out Booking.com as early as possible since this is a popular time to visit. These are some of the places we suggest you check.
Budget: Apartment Larica Miha Pracata is a historic building in the heart of Dubrovnik Old Town. You can easily leave your apartment and instantly be at some of the best architectural and historical attractions Dubrovnik has to offer. Check out prices and availability at Apartment Larica Miha Pracata.
Mid-range: Soleil Luxury Rooms offers some of the most modern amenities you will find in the Old Town of Dubrovnik. Check out guest reviews, prices, and availability at Soleil Luxury Rooms Old Town.
Luxury: Boutique Hotel Stari Grad showcases elegant style and you can see plenty of designer accents all over the hotel. The interiors and arrangement of all furniture are well-executed, creating a comfortable and cozy place to stay in the Old Town of Dubrovnik. Check out guest reviews, prices, and availability at Boutique Hotel Stari Grad.
Where to Stay in Kotor
Check our accommodation guide for your stay in Kotor, Montenegro, it is packed with smart suggestions for budget, mid-range, and luxury hotels and places to stay. If you're short of time, check the following venues:
Budget hotels in Kotor: Right on the main square of the Old Town of Kotor, a UNESCO World Heritage Site, Hotel Rendez Vous is surprisingly affordable given the location. Otherwise, check the budget-friendly Hotel Galia, a bit outside the Kotor Old Town, about 15 minutes away by bus or car, but just 50 meters from a stunning pebble beach!
Mid-range accommodation in Kotor: The stunning Villa Old Mariner is one of the best places to stay in Kotor Bay if you're looking to enjoy a relaxed summer stay. Another option is Hotel Alkima, a perfect place for a stress-free holiday in Kotor.
Luxury accommodation in Kotor: Located in the Old Town, the Historic Boutique Hotel Cattarois true to its name, offering a unique boutique experience with tasteful decor in a beautifully restored building that dates back to the 18th century. Located in Prčanj, a short distance from Kotor, Art Hotel Galathea is a mere 11 meters from the beach — it doesn't get much closer to or beachfront than this! Do note, however, that you will have to take a bus or taxi into Kotor town.
How to Get from Dubrovnik to Kotor (By Bus)
Traveling from Dubrovnik to Kotor by bus is a great opportunity to save money when traveling in the Balkans: the process is fairly straightforward as far as Balkan bus rides go, the fares are inexpensive, and it's a great way to avoid booking a hostel shuttle or pricey taxi.
Here's the step-by-step guide for taking the bus to Kotor from Dubrovnik.
Getting to the Dubrovnik Bus Station
Dubrovnik's main bus station, literally named Main Bus Station in English or Autobusni Kolodvor in Croatian, services all international routes and is located about 3km from the Old Town.
You can take bus 1, 1A, 1B, or 3 from Pile Gate at the entrance of the Old Town to the Dubrovnik bus station.
We found that buses tend to run a bit late in Dubrovnik during both of our visits, so we recommend leaving a bit of extra time to reach the station.
When is the Bus from Dubrovnik to Kotor?
Luckily, the Dubrovnik to Kotor bus route is one of those rare Balkan bus gems that includes an actual timetable–you can find it here.
Prices range from 123-145 Croatian Kuna, the equivalent of roughly $19-23 USD/ticket.
Buses theoretically travel from Dubrovnik to Kotor at 7:15 AM, 11:00 AM, 3:00 PM, and 5:30 PM daily, but these times are, shall we say, flexible.
The buses that service these routes travel back and forth between the two cities, and traffic and border crossing shenanigans (more on that below) means that the times listed are essentially guidelines.
When we took the bus from Dubrovnik to Kotor, our 11:00 AM bus ended up pulling out of the station around 12:30 PM and the only answer we received to our questions while waiting for it to arrive was a shrug and an "it'll be here soon."
>> Read More: 10 Delightfully Instagrammable Places in Kotor <<
Online estimates put the travel time between Dubrovnik and Kotor to under 2 hours, but as it took us around 3 hours on a fairly light traffic day–and a light border crossing day–I'd take those estimates with a grain of salt as well.
In other words, don't make any time-sensitive plans in Kotor for the day you arrive!
Don't forget that, like anywhere in the Balkans, the bus times for this route are subject to change (especially seasonally), so if you're counting on taking the bus to Kotor from Dubrovnik, we recommend confirming your plans locally on the ground before your day of travel.
What is the Dubrovnik to Kotor Bus Like?
We found the bus from Dubrovnik to Kotor reasonably comfortable, which was helped along by the fact we were traveling in February and the bus was nearly empty.
The bus was old–think 90's style TVs attached to the ceiling which were mercifully silent during our ride.
The seats were in decent repair, and air conditioning was advertised, though obviously, we didn't need it during the winter.
The ride takes a few hours, give or take, and generally the only stop is at the border.
I will note that the route involves plenty of twists and turns, especially as you head into the Bay of Kotor. I get motion sick pretty easily and was very glad I had taken the time to pop some Dramamine before boarding–if you're privy to getting nauseous on buses, I recommend taking precautions.
The Border Crossing from Croatia to Montenegro
We found the border crossing between Croatia and Montenegro to be fairly uneventful–I think we exchanged a total of maybe 10 words with the Croatian and Montenegrin border officers combined–but be prepared to get off the bus to pass through the border.
We disembarked on both sides of the border to have our passports stamped, which took essentially no time given that our bus had three passengers on it, including us, but I imagine can be an enormous, time-consuming hassle during the busy summer months, so plan on delays if you're traveling then.
>> Read Next: 17 Awe-Inspiring Places to Visit in Montenegro <<
Arriving in Kotor
Kotor's main bus station is about a 10-minute walk away from the Old Town, so if you're staying in or near the Old Town, we recommend simply walking into town if you can.
Any taxis would need to stop at the entrance to the Old Town anyway, so you'd essentially be spending money to travel a short and flat distance.
Traveling from Kotor to Dubrovnik By Bus
Traveling from Kotor to Dubrovnik by bus is essentially the same as traveling the opposite route–as I mentioned above, the buses that service the Dubrovnik to Kotor route travel back and forth between the two cities, turning around to repeat the process when they reach their destination.
Online tools suggest that 6 routes run daily from Kotor to Dubrovnik, a few hours apart, with the first bus leaving a little after 7:00 AM and the final bus leaving around 6:00 PM.
There are also some hostels in Kotor which run their shuttles. You can check this website for more information on the schedules.
Like with traveling from Dubrovnik to Kotor, take the under-2-hour suggested travel time with a hefty grain of salt. Our route took 3 hours during the low season.
Author Bio: Kate Storm is the primary writer and adventure planner behind Our Escape Clause. She's also the duo's main list maker, dream chaser, budgeter, and the one who puts pen to paper to make their crazy shenanigans a reality. We love when Kate comes to Sofia to visit and binge-watch reality tv, work at our favorite local coffee shop, and hang out with us at the Sofia Opera. She also gives good puppy hugs (at least my dog thinks so).
>> Read Next: The 10 Dreamiest Beaches in Montenegro for Your Adriatic Getaway <<
Driving from Dubrovnik to Kotor
We haven't made the drive ourselves, but we've done a lot of Balkan driving over the past few years. Google Maps lists the drive as two hours, but expect delays. A lot of these roads are small mountain roads, so even minor traffic will cause a major jam.
If you decide to rent a car for the drive, you'll need to speak with your car rental company ahead of time to see if you need a green card to take the car from Croatia into Montenegro (or vice-versa).
Another thing to consider is that both cities have a serious lack of parking, due to their walled old-city nature. So check with your accommodations to see if parking is available.
We have more tips for creating a Balkan itinerary guide and Balkan road trip tips that will help you decide on whether to drive or go by bus.
Can I Take a Train from Dubrovnik to Kotor?
No, you can't take a train from Dubrovnik to Kotor because there is no railway connection between the two cities.
Should You Consider a Guided Tour Instead of Going By Bus?
Kotor is a popular day trip from Dubrovnik, so it is possible to see it on a guided tour instead of going by yourself. It's not much more expensive than taking the bus independently and you get to see a lot more.
This Montenegro day trip includes not only Kotor but also Perast and the Our Lady of the Rocks island church, Budva, Sveti Stefan, and a ferry ride in the beautiful Bay of Kotor. If you have limited time but you want to see the best of the Montenegrin coast, this is the best way to do it.
>Click here to check tour reviews & schedules or book a tour.<<

We've rented cars dozens of times in the Balkans through various search engines and have settled on Discover Cars as the best car rental search engine – it searches over 500 trusted rental companies to find the cheapest price for your rental! Compare prices for car rental in Croatia here.
More Dubrovnik & Kotor Travel Resources
Headed to Dubrovnik? If this is your first time in Croatia, check out our guide to planning a trip to Croatia, our favorite Croatian souvenirs, and our favorite places to visit in the country.
For ideas about what to do in the city, check out our guides to our favorite Dubrovnik Instagram spots and the best day trips from the city.
For Montenegro, we have a guide to the best places to visit and a one-week itinerary.
You will also want to check out our overview of Balkan currency, which describes how both the Croatian Kuna and the Euro in Montenegro work, plus tipping guidelines.
We publish new content almost every day! Bookmark our pages on Croatia, Montenegro, and the Balkans so you don't miss any posts that come out before your trip!
5 Things to Bring with You to Croatia and Kotor!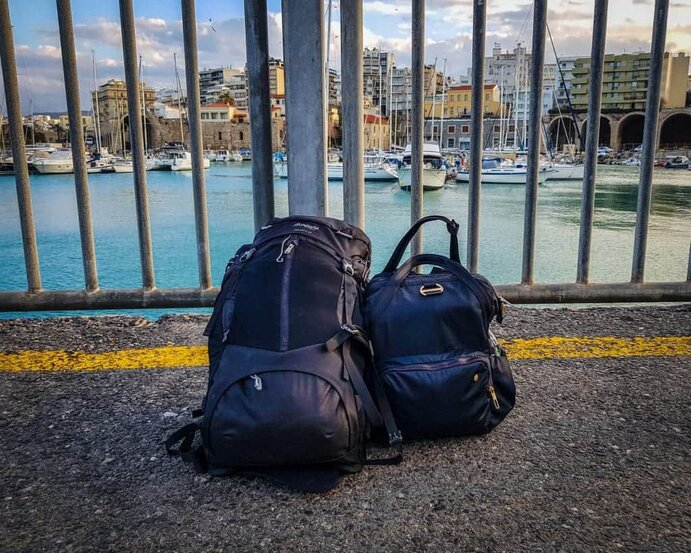 We have a full list of what to pack for Croatia, but here are five things you want to bring with you!
The Lonely Planet Croatia: a good guidebook can help you with the kinds of tips you need if you're out exploring Croatia and feel a bit lost, especially if you don't have internet or a cell signal. These also have recommendations for the major sites in Croatia, which will come in handy if you'll be visiting more than one Croatian city or island.
Unlocked Cell Phone: Allison and I both have unlocked cell phones that we bought in Europe (I use a Samsung and she uses an iPhone). This allows up to get sim cards when we travel so that we always have the internet.
Being able to pick up a Croatian sim card is a great way to stay in touch while on the road. If you don't have an unlocked cell phone that can use a Croatian sim card, you can buy a cheaper unlocked phone online and bring it with you! Note that Croatia is part of the EU so if you have an EU phone plan, your phone should work in Croatia
Pacsafe Citysafe or Other Anti-Theft Bag: This is the bag both Allison and I use. It has a pouch with RFID technology so our credit cards can't get scanned from afar, interlocking zippers to make it harder to pickpocket, and it's roomy enough to be a perfect sightseeing day bag. If you'd rather bring something smaller, you can pack a money belt instead.
This is especially handy in Dubrovnik and Split where tourist sites are crammed and anyone who looks like an obvious tourist is a potential target.
Grayl Water Filter: Being on the road means staying hydrated. If you want to avoid having to buy lots of single-use plastic water bottles, bring a reusable one with you. If you're concerned about drinking the local tap water (or you don't love the taste) grab one with a reusable water filter built right in. While water in Croatia is drinkable in general, there may be small islands where it's not recommended, so it can come in handy. I always ask a local about the tap water conditions and what they recommend.
Sea bands: If you get seasick easily, pack some Sea bands or seasickness pills so you can go island hopping without getting sick. A trip to Croatia isn't complete without at least one day spent in the islands, so make sure you're prepared to enjoy it to the fullest!
Read More: Essential Croatia Packing List: What to Wear & Pack for Croatia
Finally, Don't Forget About Travel Insurance!
If you're planning a trip to the Balkans, make sure to travel with a valid travel insurance policy. While we feel safe in both Croatia and Montenegro, you need to be covered in case of an emergency. Travel insurance covers you in case of theft or an accident, which can save your trip if there's an incident.
For travel insurance, we use World Nomads. I've been a happy customer of theirs for almost three years, and I've never had an issue when making a claim. I'm happy to refer them to anyone I meet.
>>Get a travel insurance quote for your trip here.<<
Pin this Guide for Getting from Dubrovnik to Kotor & Back for Your Trip
Stephanie has been living in and traveling around the Balkans for the past three years. She's written for National Geographic Online, appeared on CNN Arabic and in the New York Times, and ridden more Balkan buses than is good for a person.