This post may contain affiliate links. This means that if you click a link, we may make a small commission off any subsequent purchase, at no extra cost to you. For more information, please check our privacy policy.
If you're planning a trip to Croatia – or simply reminiscing about a past one – you're sure to enjoy this quick post which gathers together all the best Croatia quotes.
These quotes about Croatia cover everything from the landscapes to the culture of this gorgeous Balkan country from people who've visited it — from famous writers and actors to regular people and bloggers. Whether you just want to read some quotes about Croatia or you're looking for a Croatia Instagram caption, this post is for you!
I've also included some quotes by Croatian authors which aren't necessarily about Croatia but sum up the spirit and vibe of this beautiful, complex country.
Want to save this post for later? Pin it!
Where to Stay in Croatia
Here are our recommendations for where to stay in Dubrovnik. We're in the process of creating comprehensive guides on where to stay in other Croatian cities, but for now, we recommend checking out Booking.com as early as possible since this is a popular time to visit. These are some of the places we suggest you check.
Budget: Apartment Larica Miha Pracata is a historic building in the heart of Dubrovnik Old Town. You can easily leave your apartment and instantly be at some of the best architectural and historical attractions Dubrovnik has to offer. Check out prices and availability at Apartment Larica Miha Pracata.
Mid-range: Soleil Luxury Rooms offers some of the most modern amenities you will find in the Old Town of Dubrovnik. Check out guest reviews, prices, and availability at Soleil Luxury Rooms Old Town.
Luxury: Boutique Hotel Stari Grad showcases elegant style and you can see plenty of designer accents all over the hotel. The interiors and arrangement of all furniture are well-executed, creating a comfortable and cozy place to stay in the Old Town of Dubrovnik. Check out guest reviews, prices, and availability at Boutique Hotel Stari Grad.
Quotes about Croatia
If you want to see paradise on Earth, come to Dubrovnik.

George Bernard Shaw
If the city's parks and gardens are havens of tranquillity, Zagreb's squares, when not occupied by gardens, are places where the city's heartbeats are heard the loudest.

Anita Rao-Kashi
I realize that Zagreb's heart lies not in one place. And such is its charm and magnetism that it can ensnare every visitor. I think I will leave a bit of my own heart back in Zagreb. But then again, I buy a licitar heart, and a piece of Zagreb will now be with me, gently reminding me of the thrum of a place located thousands of miles away.

Anita Rao-Kashi
Dubrovnik is the pearl of the Adriatic

Unknown
Croatia has been glorious.

Emilia Clarke, actress on Game of Thrones
>> Read Next: 10 Gorgeous Quotes about Dubrovnik & Instagram Caption Inspiration <<
There is the endless coffee-drinking, there are dangers of mysterious drafts that lurk behind every open window, there are mothers-in-law, ubiquitous pillars of society and the absolute importance of wearing slippers, but there is also the meaning of friendship and life being lived in a slower, more connected way

Cody McClain Brown, author of Chasing a Croatian Girl
The biggest challenge to life in Croatia is hope…. It's as if there is some vague force of darkness trying to eclipse even the thinnest rays of optimism…. And while hope in Croatia is hard, its absence if offset by the strong personal relationships that tie individuals to the broader society. In Croatia it can be hopeless, but you never feel alone.

Cody McClain Brown, author of Croatia Strikes Back
We've rented cars dozens of times in the Balkans through various search engines and have settled on Discover Cars as the best car rental search engine – it searches over 500 trusted rental companies to find the cheapest price for your rental! Compare prices for car rental in Croatia here.
The pastel-colored seaside towns of Istria could be straight out of Liguria; the rustic hill towns are reminiscent of Umbria. Istria is rich in vineyards and olive groves, and wine and olive oil, along with truffles, are the most prominent exports. And yet Istria remains relatively undiscovered.

Kate McCulley
Cafes, cobbler's shops and polished stone alleyways. Pastel blocks pressed together, freshly washed linens billowing from every balcony. Wooden shutters thrown open to let the morning light in; the ring of church bells calling Rovinj's residents up the hill for Sunday service. This was the Rovinj we found in on a sleepy winter's morning in February.

Emily Lush
>> Read Next: 11 Hilarious Hvar Puns & Instagram Captions <<
Zadar has a charming old town, which is completely walled (dating back to the Roman days). The old town has gorgeous architecture and breathtaking views of the Adriatic sea. It also has that incredible "je ne sais quoi" that you get in some European cities: tiny, tight stone streets flanked by towering buildings, packed with outdoor bars, restaurants, and cafes. The old town is primarily car-free, which I think gives it an additional level of charm. It is the perfect place to get lost, and we had a lot of fun wandering around with no purpose.

Kate Storm
Quotes by Famous Croats
"What inspires me most to write is the act of traveling."

Tea Obreht, author of The Tiger Wife
"Come on, is your heart a sponge or a fist?"

Tea Obreht, author of The Tiger Wife
I am equally proud of my Serbian origin and my Croatian fatherland

Nikola Tesla, inventor of the tesla coil
Forgetfulness heals everything and song is the most beautiful manner of forgetting, for in song man feels only what he loves.

Ivo Andrić, author of The Bridge on the Drina
>> Read Next: 23 Best Places to Visit in Croatia: What to See & Do! <<
O beautiful, o beloved, o sweet freedom, God has given us all the treasures in you, you are the true source of all our glory, you are the only decoration of this Dubrava. All silver, all gold, all human lives cannot repay your pure beauty!

Ivan Gundulić, author of the play Dubravka. This is considered Dubrovnik's "unofficial motto"
>> Traveling to Croatia and having no idea how to get into town? Why not book this convenient transfer service from the airport to the city center, it's safe and affordable! <<
5 Things to Bring with You to Croatia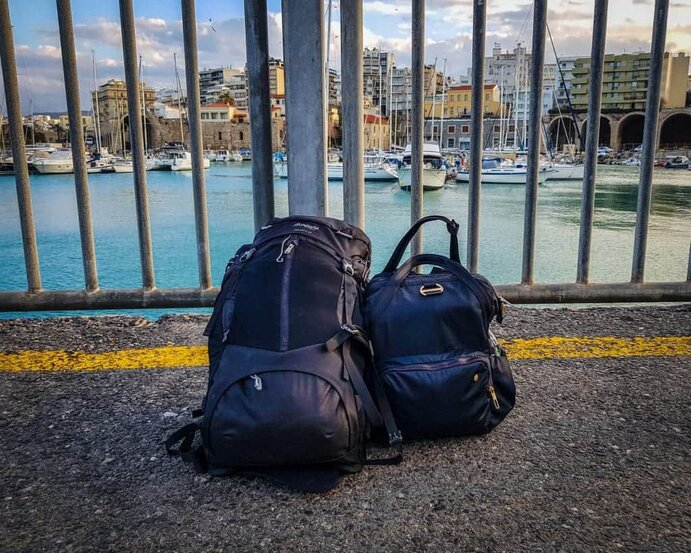 We're working on our full list of what to pack for Croatia, but here are five things you definitely want to bring with you!
The Lonely Planet Croatia: a good guidebook can help you with the kinds of tips you need if you're out exploring Croatia and feel a bit lost, especially if you don't have internet or a cell signal. These also have recommendations for the major sites in Croatia, which will come in handy if you'll be visiting more than one Croatian city or island.
Unlocked Cell Phone: Stephanie and I both have unlocked cell phones that we bought in Europe (I use a Samsung and she uses an iPhone). This allows up to get sim cards when we travel so that we always have the internet.
Being able to pick up a Croatian sim card is a great way to stay in touch while on the road. If you don't have an unlocked cell phone that can use a Croatian sim card, you can buy a cheaper unlocked phone online and bring it with you! Note that Croatia is part of the EU so if you have an EU phone plan, your phone should work in Croatia
Pacsafe Citysafe or Other Anti-Theft Bag: This is the bag both Stephanie and I use. It has a pouch with RFID technology so our credit cards can't get scanned from afar, interlocking zippers to make it harder to pickpocket, and it's roomy enough to be a perfect sightseeing day bag. If you'd rather bring something smaller, you can pack a money belt instead.
This is especially handy in Dubrovnik and Split where tourist sites are crammed and anyone who looks like an obvious tourist is a potential target.
Grayl Water Filter: Being on the road means staying hydrated. If you want to avoid having to buy lots of single-use plastic water bottles, bring a reusable one with you. If you're concerned about drinking the local tap water (or you don't love the taste) grab one with a reusable water filter built right in. While water in Croatia is drinkable in general, there may be small islands where it's not recommended, so it can come in handy. I always ask a local about the tap water conditions and what they recommend.
Seabands: If you get seasick easily, pack some Seabands or seasickness pills so you can go island hopping without getting sick. A trip to Croatia isn't complete without at least one day spent in the islands, so make sure you're prepared to enjoy it to the fullest!
Croatia Travel Resources
Headed to Croatia? We have some great travel resources to help you with your trip. First read our guide to planning a trip to Croatia, which covers visas, budgets, vaccines, and much more. We also have a Balkan currency guide that explains how money works in Croatia and local tipping customs.
If you're still putting together your itinerary, here's a great list of places to visit in Croatia, our Croatian Islands Guide, and Croatian Waterfalls Guide to help you choose. We also have a day trip guide for Dubrovnik, if you're visiting there as well.
Next, you'll want to read our guide to shopping in Croatia so you know which souvenirs are truly local gems.
If this will be one of your first trips in the Balkans, check out our massive list of things to know before traveling the Balkans as well as our Balkan bus, road trip, and itinerary guides.
We publish new articles and trip advice nearly daily! For more information about traveling to Croatia and the Balkans, bookmark our Croatia and Balkan travel pages, where you'll find our entire archive plus anything new we publish before you leave for your trip.
Finally, Don't Forget Your Travel Insurance!
I'm sure you're aware that travel insurance is a good idea for Croatia and travel in general! This is especially true when you're talking about traveling with your camera and smartphone because you don't want your trip ruined if they get lost, stolen, or fall in the sea!
Stephanie and I have both been paying customers of World Nomads for the last three years. We love the peace of mind it gives us in case of emergencies, accidents, illnesses, theft, or trip cancellation or disruption.
While Croatia is perfectly safe to travel around, there's always a risk inherent in everyday travel, so it's better to play it safe.
Pin these Croatia Quotes and Quotes by Famous Croatians to Inspire your Travels!
Originally from California, Allison has been living in Bulgaria for the last two years and is obsessed with traveling around the Balkans. She has been published in National Geographic, CNN Arabic, Matador Network, and the Huffington Post. She loves befriending dogs, drinking coffee, geeking out about wine, and cooking food from around the world.