This post may contain affiliate links. This means that if you click a link, we may make a small commission off any subsequent purchase, at no extra cost to you. For more information, please check our privacy policy.
While Croatia's beaches are stunning, many travelers are surprised to find that the majority of Croatian beaches are not sandy like they expect back home but rather made of pebbles.
This is part of what contributes to the aquamarine clarity of the water – sand can muddy the color, making blues less vibrant – but it can also make beach lounging far less comfortable. As a result, many people ask where are the best sandy beaches in Croatia: the answer requires a little more research than you'd expect.
We've done the legwork for you to find some of the best soft sand beaches in Croatia, though keep in mind that even the sandiest beaches in Croatia won't be nearly as soft and fine as you'll find in the Caribbean or other island destinations, as the waves of the Adriatic simply don't erode sand quite as finely as the Caribbean.
Can't read now? Pin for later!
Where to Stay in Croatia
Here are our recommendations for where to stay in Dubrovnik. We're in the process of creating comprehensive guides on where to stay in other Croatian cities, but for now, we recommend checking out Booking.com as early as possible since this is a popular time to visit. These are some of the places we suggest you check.
Budget: Apartment Larica Miha Pracata is a historic building in the heart of Dubrovnik Old Town. You can easily leave your apartment and instantly be at some of the best architectural and historical attractions Dubrovnik has to offer. Check out prices and availability at Apartment Larica Miha Pracata.
Mid-range: Soleil Luxury Rooms offers some of the most modern amenities you will find in the Old Town of Dubrovnik. Check out guest reviews, prices, and availability at Soleil Luxury Rooms Old Town.
Luxury: Boutique Hotel Stari Grad showcases elegant style and you can see plenty of designer accents all over the hotel. The interiors and arrangement of all furniture are well-executed, creating a comfortable and cozy place to stay in the Old Town of Dubrovnik. Check out guest reviews, prices, and availability at Boutique Hotel Stari Grad.
Map of the Best Sandy Beaches in Croatia
Sunj Beach, Lopud
This is a great family-friendly beach, in that it takes over 100 meters to reach slightly deeper waters. It's a very calm and relaxing beach located on the island of Lopud, which is part of the Elafiti island archipelago located a short ferry away from Dubrovnik.
It's backed by pinewoods and it has some decent restaurants, as well as a gorgeous town to enjoy when you're not enjoying the soft sandy beach. Its visitors enjoy activities like volleyball and tennis. It's considered the perfect day trip from Dubrovnik.
Saplunara Beach, Mljet
This Croatian sandy beach is a gorgeous lagoon filled with unique but endangered sea life species. The beach is part of a long cove that's split into two parts – Big and Small Saplunara.
The entire region is like a green-filled oasis (in fact, the island of Mljet is home to one of Croatia's eight national parks) that is known to have some of the finest waters around. Hence, the reason why this beach was awarded a blue star for its clean, pristine waters.
There is only a small café and a portable toilet here, so make sure to bring everything else you might need.
Omis Beach, Omis
The main beach on the Omis Riviera is – unsurprisingly named – Omis, a stunning 5-kilometer stretch of golden sands. It's the longest stretch in the entire country, whose rocky coastline often breaks up beaches into smaller stretches.
Here you'll find a few restaurants and cafés, as well as a large volleyball court in the middle of the beach. It's also quite known for the abundance of shellfish in the shallower parts of the beach (so be careful where you step!), which makes it an ideal pairing with nice Dalmatian wine at sunset while lounging near the beach.
Vela Przina Beach, Korcula
Considered one of the most popular sandy beaches in Croatia, this beach is located in the town of Lumbarda on Korcula Island.
It's very frequently visited, and even though it's a very large beach, it may be hard to find a spot at times. This family-friendly beach is perfect for kids to play on the warm, soft sands. Plus, it's a cove so the beach itself is protected by the winds.
If you want to get a good panoramic view of Korcula, discover its better spots and amazing beaches, we suggest you join a guided day tour like this one.
Zlatni Rat, Brac
As one of the world's most unique beaches, the beach on the Golden Horn – or Zlatni Rat – is an exceptionally beautiful destination, even more beautiful as seen from the sky (a perfect place for drone and aerial photography enthusiasts!).
It's a beach whose size and shape change whenever the tides change, and there is always one side of the beach that has perfectly calm waters. This long, horn-shaped beach with impeccable waters is located near the city of Bol.
Slanica Beach, Murter
This beautiful beach is found on the low-key island of Murter. It's a popular beach that offers a surprising amount of diversity in terms of activities and restaurants. There are all sorts of activities here, and it's also quite family-friendly.
There are bars and cafés, but there are also courts for tennis and volleyball, as well as an entertainment park for kids. The beach itself is pretty shallow for the first 30 meters, making it great to lounge and wade in. The waters are fantastic to swim in and do all sorts of watersports.
Paradise Beach, Rab
This 2-kilometer long stretch of golden sand is located on the island of Rab. It's part of a small low-key tourist resort, and it offers amazing services and great waters, which is why it's been awarded a blue flag.
Here you'll also find an entertainment park with fields for soccer, basketball, volleyball, tennis, and even miniature golf. This beach also has plenty of amenities on-site, as well as cafes and restaurants.
Queen's Beach, Nin
Located near the historical town of Nin, Queen's Beach is one of the most popular beaches in the entire wider region. It's known for a perfect family-friendly destination, most notably for its warm climate, soft sands, and shallow waters.
Here you'll find mud with restorative properties that you can slather on, as well as a great spot to camp for the night. Camping is a popular activity here, as well as badminton, kiting, volleyball, and all sorts of watersports.
Banje Beach, Dubrovnik
This beach is located in Dubrovnik, one of the most popular and visited cities in the Mediterranean. It's a beautiful and pristine beach, but it does have a downside. To reach it, you'll need to walk down a long flight of stairs, so it might not be easily accessible to everyone.
However, for those who can access Banje, it's the perfect sandy beach near Dubrovnik. The sand is a bit coarser than other sandy beaches, though, although it's finer than a pebble beach.
It's a wonderful spot for activities like paragliding, jet skiing, and diving. It has restaurants serving up classic Dalmatian delicacies with a focus on – what else? – seafood.
> Read Next: Your Ultimate 3 Days in Dubrovnik Itinerary <<

Traveling to Croatia and having no idea how to get into town? Why not booking this convenient transfer service from the airport to the city center, it's safe and affordable!
5 Things to Bring with You to Croatia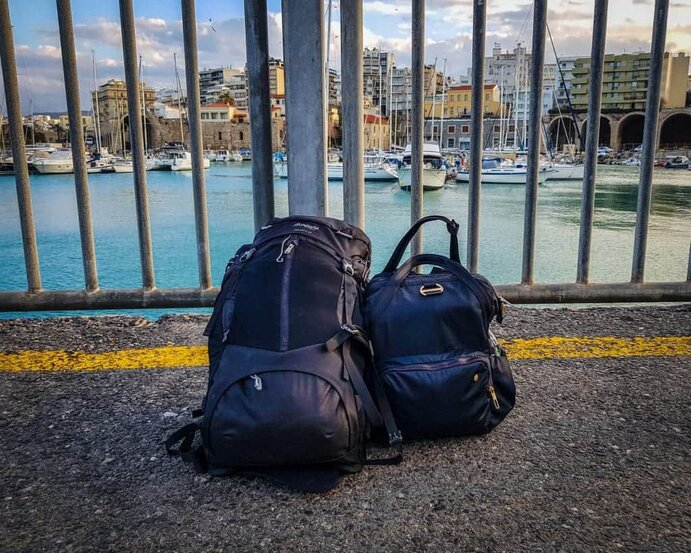 We have a full list of what to pack for Croatia, but here are five things you want to bring with you!
The Lonely Planet Croatia: a good guidebook can help you with the kinds of tips you need if you're out exploring Croatia and feel a bit lost, especially if you don't have internet or a cell signal. These also have recommendations for the major sites in Croatia, which will come in handy if you'll be visiting more than one Croatian city or island.
Unlocked Cell Phone: Allison and I both have unlocked cell phones that we bought in Europe (I use a Samsung and she uses an iPhone). This allows up to get sim cards when we travel so that we always have the internet.
Being able to pick up a Croatian sim card is a great way to stay in touch while on the road. If you don't have an unlocked cell phone that can use a Croatian sim card, you can buy a cheaper unlocked phone online and bring it with you! Note that Croatia is part of the EU so if you have an EU phone plan, your phone should work in Croatia
Pacsafe Citysafe or Other Anti-Theft Bag: This is the bag both Allison and I use. It has a pouch with RFID technology so our credit cards can't get scanned from afar, interlocking zippers to make it harder to pickpocket, and it's roomy enough to be a perfect sightseeing day bag. If you'd rather bring something smaller, you can pack a money belt instead.
This is especially handy in Dubrovnik and Split where tourist sites are crammed and anyone who looks like an obvious tourist is a potential target.
Grayl Water Filter: Being on the road means staying hydrated. If you want to avoid having to buy lots of single-use plastic water bottles, bring a reusable one with you. If you're concerned about drinking the local tap water (or you don't love the taste) grab one with a reusable water filter built right in. While water in Croatia is drinkable in general, there may be small islands where it's not recommended, so it can come in handy. I always ask a local about the tap water conditions and what they recommend.
Sea bands: If you get seasick easily, pack some Sea bands or seasickness pills so you can go island hopping without getting sick. A trip to Croatia isn't complete without at least one day spent in the islands, so make sure you're prepared to enjoy it to the fullest!
Read More: Essential Croatia Packing List: What to Wear & Pack for Croatia
More Croatia Travel Resources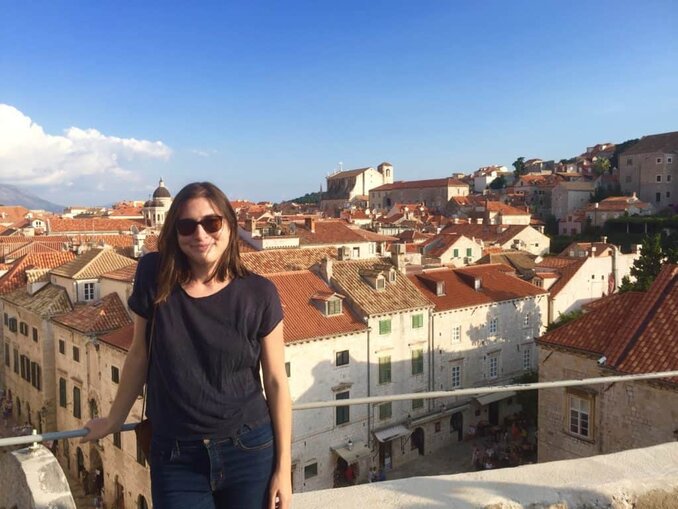 Headed to Croatia? We have some great travel resources to help you with your trip. First read our guide to planning a trip to Croatia, which covers visas, budgets, vaccines, and much more. We also have a packing list for Croatia in all seasons that will surely be of help!
We also have a Balkan currency guide that explains how the kuna, the local currency, works in Croatia and local tipping customs.
If you're still putting together your itinerary, here's a great list of places to visit in Croatia, our Croatian islands guide, and our Croatian waterfalls guide to help you choose. We also have a day trip guide for Dubrovnik, if you're visiting there as well. And of course, check out these silly Dubrovnik puns for your Instagram account.
Next, you'll want to read our guide to shopping in Croatia so you know which souvenirs are truly local gems.
If this will be one of your first trips in the Balkans, check out our massive list of things to know before traveling the Balkans as well as our Balkan bus, road trip, and itinerary guides.
We publish new content nearly every day! Bookmark our pages on Croatia and the Balkans so that you don't miss out on any new info or resources that we publish before your trip!
Don't Forget About Travel Insurance!
I'm sure you're aware that travel insurance is a good idea for traveling in Croatia (or really, any part of the world)! Allison and I have both been paying customers of World Nomads for the last three years. We love the peace of mind it gives us in case of emergencies, accidents, illnesses, theft, or trip cancellation or disruption.
While the Balkans are perfectly safe to travel around, there's always a risk inherent in everyday travel, so it's better to play it safe.
>> Get a travel insurance quote for your trip here <<
Pin this guide to the Best Beaches in Croatia to Visit during Your Trip!
Originally from California, Allison has been living in Bulgaria for the last two years and is obsessed with traveling around the Balkans. She has been published in National Geographic, CNN Arabic, Matador Network, and the Huffington Post. She loves befriending dogs, drinking coffee, geeking out about wine, and cooking food from around the world.