When most people think of the Balkans, Croatia is likely one of the first countries to come to mind. Sweeping Adriatic views, beautiful turquoise waters framed by pebble beaches, tantalizing fresh seafood meals, exquisite architecture, plus a whole lot of Game of Thrones filming locations and Instagram opportunities. It's safe to say Croatia ticks the boxes for basically any traveler.
Long and narrow, Croatia has the 5th longest coastline in Europe, trailing after Norway, Greece, the UK, and Italy. It has over a thousand islands – the official count is 1244 islands and islets, to be exact – though only a relatively small number of them are inhabited (48).
With so much coastline, it's impossible to see all the most quaint and adorable Croatian towns and villages while still giving time for its beautiful islands, stunning cities, and numerous national parks and world heritage sites. So we asked a bunch of bloggers to help us out!
No time to read now? Pin this post for later!
Where to Stay in Croatia
Here are our recommendations for where to stay in Dubrovnik. We're in the process of creating comprehensive guides on where to stay in other Croatian cities, but for now, we recommend checking out Booking.com as early as possible since this is a popular time to visit. These are some of the places we suggest you check.
Budget: Apartment Larica Miha Pracata is a historic building in the heart of Dubrovnik Old Town. You can easily leave your apartment and instantly be at some of the best architectural and historical attractions Dubrovnik has to offer. Check out prices and availability at Apartment Larica Miha Pracata.
Mid-range: Soleil Luxury Rooms offers some of the most modern amenities you will find in the Old Town of Dubrovnik. Check out guest reviews, prices, and availability at Soleil Luxury Rooms Old Town.
Luxury: Boutique Hotel Stari Grad showcases elegant style and you can see plenty of designer accents all over the hotel. The interiors and arrangement of all furniture are well-executed, creating a comfortable and cozy place to stay in the Old Town of Dubrovnik. Check out guest reviews, prices, and availability at Boutique Hotel Stari Grad.
Here are the best places to visit in Croatia
(as picked by travel experts!)
In no particular order, check these top places to visit in Croatia
Cavtat
Nestled far down Croatia's southern coast, this little gem is a smaller, quieter alternative to Dubrovnik just a short boat ride away. The shoreline of the deep blue Adriatic is lined with palm trees and a cobbled walking path that winds past terra-cotta roofed houses and through quiet, green parks.
The town is tiny and a perfect place to sneak away from the throngs of tourists, especially if you're a foodie. If you are, head to Bugenvila—a restaurant with a view of the Adriatic, a sunny patio, and incredible cuisine (try the chicken liver pate and the steak with truffle foam).
Just up the coast, a short taxi ride away, you'll find one of Croatia's eeriest attractions: the abandoned hotels of Kupari. Originally a military resort with five hotels, this beautiful coastal retreat was attacked during Croatia's recent war and the hotels were destroyed. Now, they stand along the coast covered in shrapnel and half falling-down—a strange, sad, yet beautiful sight.
Zagreb
Croatia's capital is often overlooked in favor of its admittedly appealing coastline, but we think Zagreb is well worth your time as well while in Croatia! The city is compact and walkable with several beautiful sites in Upper Town perfect for exploring on foot. Here is where you'll find many of Zagreb's most crucial sights: the Stone Gate, the Lotrscak Tower, the St. Marc Church, and the quirky but beloved Museum of Broken Relationships.
Heading beyond Zagreb's most touristic area, the downtown part of Zagreb centered around Jelacic Square is also well worth a visit. Check out the 19th-century buildings sumptuously built with Art Nouveau and Biedermaier influences.
Besides that, you'll find countless Instagrammable cafes, adorable farmers' markets, squares worth sitting, and streets worth strolling. Zagreb has quite a bit of charm if you give it the time to reveal itself!
>> Read Next: 28 Wonderful Things to Do in Zagreb in Winter <<
Split
Split has something to offer for everyone, for those into history Split is situated inside Diocletian's Retirement Villa. There are many Roman Ruins scattered throughout – even inside the local bank is a Roman column! I highly recommend a visit to the basement museum to actually take in the size and technology used for the immense structure.
For views, nothing beats the top of the Cathedral of St Domnius. The stairs can be a challenge but the view from the top is spectacular taking in the Riva and the islands in the distance.
The city has a diverse range of restaurants so foodies are well catered for with many serving local favorites such Crni Rizot – Black Risotto and Brujet fish stew. To finish your day, sit in the Riva, which is the perfect place to just sit and watch the world go as the locals dress up and promenade past as you sit with a drink in hand.
Split also has beautiful natural areas that you can access easily, Marjan Park is popular with both locals and visitors and near the entrance, you will find Vidilica, a popular coffee spot with views over the old city and the coast.
>> Read Next: Your Ultimate 3 Days in Dubrovnik Itinerary <<
Osijek
Croatia's fourth-largest city, Osijek is the main hub of the eastern Slavonia region. The local culinary and wine scene make it a perfect foodie destination, while the baroque old town appeals to architecture fans.
Known as Croatia's 'food bowl', Slavonia is where most of the country's produce is grown. This is showcased in Osijek's many restaurants (Kod Ruže being the most iconic) located in and around the Old Town precinct, Tvrđa (Citadel).
Tvrđa is home to the largest collection of Baroque buildings in Croatia. Here you can visit the 17th-century Habsburg fort, stroll along Europska Avenija to admire some of Osijek's most impressive heritage facades and visit the Muzej Slavonije to learn more about the area's history. From Tvrđa, it's a short walk to the Drava riverfront and Osijek's famous pedestrian bridge, which has become a symbol for the city.
The newer part of Osijek lies to the west, characterized by the looming Church of Saint Peter And Saint Paul on Ante Starcevic Square.
Modern history buffs are drawn to Osijek because of the role the city played in the Croatian War of Independence. Those interested should visit the Monument to the Croatian War Veterans, a modern sculpture that received a mixed response from locals, and the Fićo Stomping Tank!, another sculpture of sorts.
Erected at one of the city's main intersections, the tiny red Fiat mounting an army tank memorializes an Osijek resident who protested the Yugoslav People's Army in 1991 by parking his vehicle in front of approaching tanks.
Beyond the city, the Kopački Rit wetlands, one of Croatia's premier nature reserves, is easily reached from Osijek, as are the many wineries that dot Slavonia's countryside.
Pula
Pula on Croatia's Adriatic coast is a must-visit for history lovers.
A small city strategically located at the southern tip of the Istria peninsula, Pula's recent history includes periods of Illyrian, Ostrogoth, and Venetian rule. But it was the Romans—who conquered Istria in 177 BC and made Pula its administrative capital—who left the biggest mark.
Today, Pula is famous for one thing: Its Roman arena. The Pula Amphitheatre is one of the world's six largest preserved Roman stadiums. Built between 27 BC and 68 AD under Emperor Vespasian, it's as old as the Roman Colosseum and could comfortably sit up to 20,000 spectators for gladiatorial events.
The almost perfectly preserved stone amphitheater is still used today for music and theatre events in the summer. A small museum of historical displays and exhibits about modern-day Istria is located inside the stadium.
Aside from the arena, you can also see other Roman ruins in Pula, including the Arch of the Sergii (one of the old city gates), the Temple of Augustus, and the ruins of another, smaller amphitheater. The latter is located behind the Fortress Verudela, an Autro-Hungarian fortification built in 1886.
Pula is also well-known for its culinary scene and boasts a nice collection of restaurants and cafes. An easy 45-minute bus trip from Rovinj, Pula is ideal for a day trip.
>> Read Next: 17 Croatian Souvenirs too Fabulous to Leave Without <<
Brac
Brac is one of the most popular islands in Croatia, mostly so because of the world-famous beach of Zlatni Rat. However, the island has a lot to offer, and it is easy to reach by boat from Split or Makarska.
The island is also famous for its delicious wine and food such as lamb meat, sheep cheese, and olive oil. When it comes to tourist attractions in Brac, one shouldn't miss visiting Bol, Supetar, Skrip, Pucisca, Vidova Gora (highest summit), and Zmajeva Spilja (hermitage site).
Brac also has a lot of beautiful beaches, and if you rent a car it's easy to do some hopping between the beaches. One of the best things to do on this island is simply drive around and find your own hidden gems. Windsurfing, kitesurfing, hiking, mountain biking, and scuba diving/snorkeling are all popular activities on the island.
The reason why Brac has become so popular is that there are some well-developed hotels, and at the same time, visitors can rent Airbnb apartments, stay in a guesthouse, or even find a homestay with a local family. Much of the nature is still untouched, and the cities all have their old charm remaining — even though there has been an influx of tourists.
The beaches aren't overcrowded, except Zlatni Rat during the high season. This island is for everyone as it has such a wide range of activities, accommodations, and attractions to offer its visitors.
Hvar
Hvar is one of the most popular islands to visit in Croatia and it's not without good reason! It's most popular for its summery nightlife when the island can become a bit of a party hotspot. The area around Majerovića is popular amongst younger crowds who tend to flock to the seaside bar Hula Hula Hvar for sundowners, but the island is big and dispersed enough that surely you can find your own quiet part.
Beyond partying, there's a lot to do in Hvar. History geeks can learn about the history of the island – the oldest settlement in Croatia, dating back to 384 BC – at the Stari Grad Museum.
Wine lovers can sip local wines at Tri Pršuta, one of the best wine bars on the island. Instagrammers traveling in lavender season can head towards the fields of Velo Grablje, where lots of beautiful lavender (a great Croatian souvenir!) can be found. And of course, you won't want to miss Hvar's main sights like the gorgeous Tvrdalj residence or the St. Franciscan monastery.
>> Read Next: 11 Heavenly Things to Do in Hvar, Croatia's Island Paradise <<
Omis
Omis is a small town just 25km away from Split, located by the mouth of the Cetina River where it meets the Adriatic Sea. The town is very beautiful, with a picturesque Old Town center and steep mountainsides surrounding it.
In the center of the Old Town is a small fort that you can visit and climb to its rooftop, from here you can enjoy a stunning view over Omis and the surrounding landscape. There is a big beach very close to the city center where you can relax and swim in the clear water of the Dalmatian Coast.

However, while the town itself is worthy of a visit, Omis is visited especially by adventurous travelers who seek to explore the nearby Cetina Canyon. In this canyon, it's possible to go white water rafting, hiking and zip-lining.
The zip-line in the Cetina Canyon is one of the most famous in the world, with its 150 meters of height and 750 meters in length making it one of the longest and tallest zip-lines in the world. Whether you're seeking a relaxing beach vacation, a historic old town, or an adventurous getaway, Omiš can offer all these and more.
Paklenica National Park
If you are an avid rock climber and hiker, then this national park northeast of Zadar in Croatia is a must-visit. The park consists of high chalk-white limestone peaks, deep gorges, and lush pine and beech forests.
The highlight of Paklenica National Park is rock climbing, which is one of the top 3 in the Balkan region, with over 400 sport climbing routes, with its close competitor Montenegro which has nowhere as many routes as them. The view at this park during sunset is stunning and you can occasionally come in contact with some of the wildlife here like falcons and eagles.
Try to save at least 2 full days to rock climb during summer and you can swing by the beautiful beach with crystal clear waters near sunset, just a 10-minute drive away, to enjoy a lovely dip into the sea to wash off.
If climbing is not for you, you can also go hiking or caving. There are over 175 km of hiking trails to walk to your heart's content. If you want some cave experience, one cave to recommend would be Manita Pec Cave, however, the cave is only open during July/ August and September every year.
>> Read Next: 17 Awe-Inspiring Places to Visit in Montenegro <<
Rovinj
Rovinj is a charming small town located in the biggest Croatian peninsula – Istria. With its lovely beaches and a transparent blue sea, it's a great summer destination. However, it's also filled with culture and history and you're going to find some amazing restaurants there.
Its round-shaped medieval old town was located on a small island that was later on connected with the mainland, making it a peninsula today. Walking through its cobbled streets and passing next to the stone buildings is almost like you've stepped into the past.
On the top of the hill on which the old town is located, Saint Euphemia church is placed. There is a statue of that saint on the top of its tower, showing the direction in which the wind is blowing.
Beautiful Grisia Street goes all the way from the church to the old city gate, which is where you're going to find numerous small galleries and artists' ateliers.
Rovinj is a small town but you can visit some great museums and galleries there. Batana House, Civic Museum Rovinj, and Adris Gallery are among some of the best.
After exploring the town, try some local seafood, pasta, or truffles at one of its restaurants, while enjoying a beautiful sea view. Veli Jože and La Puntalina are listed as the best in the city for years already.
Korcula
Just twenty kilometers from the colorful Croatian coast is the island of Korcula, a dream place with white houses with red roofs, white marble streets, extensive vines, olive, orange and fig trees, coniferous forests, coastal line of caves and beaches bathed by transparent water, and historical monuments.
To get to know the best of Korcula, it is best to spend a day or two on a short trip from Dubrovnik. Once there, you can visit the supposed home of Marco Polo, the Gothic-Renaissance cathedral of San Marcos, the walls, and the palace of the abbey, where the treasure of the city is preserved. In addition to the capital, there are many villages and towns – inland and beside the sea – that are worth visiting like Lumbarda, Blato, and Vela Luka.
Korcula can only be reached by boat from mainland Croatia. From June to September, there is a catamaran from Split to Vela Luka, stopping at Hvar.
If this Croatian island is already in your traveling plans, take a look at the things to do in Korcula that you should not miss to maximize your time, know where to eat and sleep, and not miss any highlights. You are welcome!
Zadar
The city of Zadar is perfect for a weekend getaway in Croatia. Zadar is an amazing historical and cultural mecca with a mix of more modern sights. The Old Town is full of Roman ruins, historical buildings, and even a street that has existed since ancient times.
Explore the beautiful Old Town of Zadar with its city walls and gates still enveloping the city today. Walk along Kalelarga, one of the oldest streets in the world. Shop along this street for cool souvenirs, including amazingly well-made leather goods, beautiful stone magnets of local rock, and airplane-sized bottles of Croatian wine.
Check out the ruins of the Roman forum, located just off of the main street it is truly a unique walk through history. Located in the same plaza is the Church of St. Donatus, a cathedral built in Romanesque style that is now an event venue.
For a more modern experience, definitely explore the Riva promenade, there you'll find the Greetings to the Sun and the Sea Organ art installations. Don't forget to see the sunset from the promenade!
As you can see, Zadar has tons of things to do and if that's not enough you can always make it a jumping-off point to see Plitvice Lakes or Krka Waterfalls National Parks.
>> Read Next: How to Visit the Zadar Christmas Market for a Magical Advent in Zadar <<
Stiniva Beach
In 2016, Stiniva Beach was voted "the best beach in Europe", and now that I've visited for myself – I completely understand why. This secluded cove is honestly where your Adriatic Sea dreams are made, and you could easily spend all day relaxing on its tiny yet picturesque shore. While it does require a rather intense 25-minute hike to reach, it's entirely worth it! Plus, you get a pretty amazing view the entire time!
There's a small restaurant/ shop down there selling basic meals and (more importantly) fresh cold local beers, and it's simply one of the best places in the country! However, in recent years since its spike in popularity and rise of "Instagrammability", it can be a bit difficult to find the peace and quiet that makes Stiniva so incredible.
If you're visiting during the peak season over the summer, just be prepared for lots of other people searching for the same things you are. I'd recommend planning a trip during the slower shoulder season, and enjoying the crystal clear waters, wonderful snorkeling, and relaxing beauty found here at Stiniva Beach.
Krka National Park
Krka National Park is the perfect destination for travelers looking to explore some of Croatia's beautiful nature. The park is most famous for the stunning Skradinski buk falls.
This collection of 17 waterfalls spreads over a length of 800 meters and is not to be missed. During the warmer summer months, you can even swim at the base of the final waterfall, which is a truly magical experience – especially if you arrive before the crowds! In recent years the waterfall has become so popular that the park has had to introduce a limit on the number of people that can visit it at any one time.
Although most people only visit Krka for its most famous waterfall, there are a number of other spots worth visiting in the park. Manojlovacki slap is the park's tallest waterfall, with a total drop of around 60 meters. Despite the picturesque location, few tourists venture to this area of the park, but you can visit with an organized tour like this one.
Another beautiful spot is Visovac island. The tiny island is surrounded by stunning nature and is home to a monastery first established in 1445. Although it's possible to visit the island, it's best appreciated from a nearby viewpoint so that you can overlook the beautiful surroundings. With some truly wonderful nature, Krka National Park simply shouldn't be missed off of your Croatia itinerary!
Sibenik
Šibenik is one of the few perfect Croatian seaside towns. It's actually unique in the sense that it's the first city created by Croats, not the Romans or Greeks.
St. James Cathedral is Šibenik's number one landmark and can be spotted nearly anywhere in the town. The cathedral is breathtaking and once you learn more about it, you'll absolutely fall in love. It was an engineering wonder of its time, after all. Republike Hrvatske Square, where the Cathedral is located, has a few restaurants and you can have an absolutely magical experience dining by the cathedral at sunset.
Šibenik has a number of smaller churches, a perfect little monastery garden hiding right in the city center, and four (!) fortresses. A few of them can be easily reached by foot, while one is placed out on the sea, to serve as the first point of protection of the city.
And then there's the seaside, of course. What you might like even more about Šibenik, though, is the vast array of activities that you can do in the wider region. There are islands waiting to be explored, bike trails eager to be ridden, ancient settlements to be discovered… and the absolute gem: Kornati National Park, a set of 150 dispersed islands in the Adriatic Sea.
Plitvice National Park
Plitvice Lakes National Park is one of the biggest highlights of Croatia and it is popular for a reason. The karst area in the center of the country attracts over 1 million visitors each year who all want to enjoy the view of stunning waterfalls and walk around the numerous lakes.
It's not the cheapest place to visit, in the summer season the entrance fee costs up to 250 kunas ($38) but it's worth it. Once you get to the park you can choose from numerous paths, either short ones or those that take up to 8 hours of sightseeing. Exploring the park isn't too challenging and you don't have to be superfit to get to most of the places.
No matter which path you decided to walk you are in for a treat – Plitvice Lakes National Park lives up to its hype and the views are breathtaking.
There are also boat and train rides included in your ticket. You can visit Plitvice Lakes all year long and it is beautiful in every season. While you can stay in the area and spend more time visiting the national park, you can also go on a day trip to Plitvice Lakes from Zagreb or the seaside towns.
Want to visit Plitvice Lakes with an organized tour? Check this convenient option!
Dubrovnik
Often known as the Jewel of the Adriatic, Dubrovnik is easily one of the most popular tourist destinations in Croatia–and with good reason.
This small, walled city is known for its beautiful terracotta rooftops, stunning views of the Adriatic Sea, numerous day trip options (want to visit the beach, a national park, Montenegro, or Bosnia and Herzegovina? You can do it from Dubrovnik), and its role in the filming of Game of Thrones.
While you're there, be sure to take a cable car ride up Mount Srd for incredible views of the city, to pay a visit to nearby Lokrum Island, to hit the water (a kayaking trip is always a great way to admire views of the city, but simply laying out on the beach makes for a fabulous afternoon too), to stroll along the beautiful town walls, to pay a visit to Lovrijenac Fortress, and to grab a drink a Buza Cliff Bar.
While Dubrovnik can get quite congested in the summer due to the combination of its small size and popularity, it's an unmissable stop on any Croatia itinerary–just be sure to get up very early if you want to enjoy the city without crowds!
Trogir
Trogir is one of the best preserved medieval towns in Europe and has been listed as a UNESCO World Heritage Site. The town sits on a tiny island and is surrounded by 15th-century defensive walls. For anyone interested in history and architecture, Trogir's narrow alleyways filled with medieval buildings, towers, and gates are a must-visit.
Of the many beautiful buildings in Trogir, the most impressive is the Cathedral of St. Lovro. Built between the 13th and the 15th centuries, the Cathedral shows a mix of medieval and Renaissance art and architectural styles. On the outside, Master Radovan's AD 1240 Romanesque portal shows a lion (the symbol of Venice, which ruled Trogir at the time) and a nude Adam and Eve.
This is the first example of a nude sculpture in Dalmatia. On the inside are works of sculpture from later periods, including elaborate tombs and a baptistry filled with cherubs.
Be sure to walk along the top of the walls of Kamerlengo Fortress for stunning views out to the Mediterranean Sea. Trogir is an easy day trip from Split, but you might find that you want to stick around a bit longer.
If you stay for dinner, consider dining at Konoba TRS. The restaurant has a beautiful outdoor shaded garden, and it can also accommodate vegan and vegetarian visitors to Croatia.
Vis
Croatia can be extremely busy but once you get off the mainland, you'll want to make a direct beeline for the beautiful island of Vis. It's no wonder Mama Mia 2 was filmed on this island, for its absolutely stunning views, authenticity, and best of all, and its island location where tourism hasn't ruined or taken over the island as of yet.
It's a three-hour ferry ride from Split and if you're bringing your car, make sure you leave it at the waiting line either overnight or as early as possible to make sure you can get on the ferry you want to take.
When you arrive in Vis, either get the bus or drive over to Komiza (a 15-minute drive). The views driving down to the town are mesmerizing and Komiza itself is the real gem.
The chilled-out port is absolutely gorgeous, lined with restaurants and boats. But it's not overcrowded with tourists and perfect for a quiet holiday. (Don't expect dance parties or nightclubs here as you've come to the wrong island.)
Eat at Fabrika, a healthy restaurant perfect for breakfast, lunch, or dinner, or at the fanciest restaurant on Vis, Konoba Bako for the best seafood.
>> Read More: Essential Croatia Packing List: What to Wear & Pack for Croatia <<
Swim at Europe's number 1 beach, the beautiful Stivina. In fact, there are so many secluded beaches to enjoy around Vis if you have a car. If you're on foot, Komiza's Lucica and Nova Posta (make sure you take advantage of the sun loungers at Beach Club Lunatic) are both fantastic and within walking distance.
There's also loads to do on the island such as a military tour to visit the underground caves and tunnels used by Josip Tito's partisan fighters or visit the mesmerizing Blue Cave on Bisevo Island.
During the summer, Komiza also has an open-air cinema and if you're lucky, they might play Mama Mia 2, showcasing all of the beautiful parts of Vis you'll be staying in.
Umag
Umag is a beautiful coastal city laying on the very north of the Istria peninsula. Except for one week in August, Umag is not a typical destination for international tourists – that week, the international tennis tournament Coratia Open is happening and the city is full of people, sports fans, music and other events that are surely worth visiting.
If you visit Umag outside of this happening, there are still loads of things you can do and see. Besides beach time and typical seaside activities such as boat trips, sailing, and evening beachside walks, Umag also has a few specialties that you cannot find elsewhere.
If you have enough of lying on the beach watching other tourists doing the same, there are some truly amazing places in and near Umag you can visit.
Umag itself has a beautiful old town center with fortified town walls dating back to the 10th century. Besides that, only half an hour away are picturesque small towns Višnjan and Grožnjan, with amazing architecture and art galleries.
If you travel with kids, then one of your must-dos is the new Istralandia Aquapark full of fun water activities.
And if you still don't have enough, Umag is just a hop from beautiful Slovene coastal towns Piran, Koper, and Izola (30 km) and just another hop from another coastal city – the Italian port Trieste (45 km). This way, you can visit three countries in just one day!
Kastel Kambelovac
Located a mere 20 minutes from Split, Kastel Kambelovac is a quiet oasis with beautiful beaches, authentic Croatian life, and wonderful restaurants.
If you want to experience the "real" Croatia, then Kastel Kambelovac is the perfect place. It's a small fishing village that offers beautiful accommodation on the sea and a range of wonderful restaurants along the front.
You can walk for hours and discover castles, ruins, and beautiful spots to enjoy the sunset and a glass of local wine. The great thing about this area is the beautiful hidden beaches and coves that you can discover. This area is perfect for those who have their own car as it gives you the opportunity to explore all around.
Shop in the local markets, climb the surrounding mountains for fantastic views, and enjoy delicious coffee in the local coffee shops. You'll feel at home in Kastel Kambelovac, and you'll get to experience the wonderful charm of the Croatian people.
If you feel like exploring a city or even visiting a few clubs or a cinema, then it's an easy ride to Split, and Game of Thrones Fans can visit Dubrovnik on a day trip!
This is the perfect spot for couples looking for a romantic and tranquil break, or it's also a great spot for families. But, it's definitely recommended to rent a car to gain the most from the beautiful area.
Elaphiti Islands
The Elaphiti Islands in Croatia consist of several islands, but only three of them are inhabited. Visiting them makes a great day trip from Dubrovnik. You can hire a private boat with a skipper and explore the island at your own pace, however, this is a rather expensive trip. You can also book an organized boat trip.
If you prefer to visit the islands independently you can also take a ferry, which is the cheapest option. Lopud island has a lovely shallow, sandy beach, which is ideal for families.
The island is car-free, making it a very peaceful place. You can get around by bike or golf carts, but everything is accessible by just walking as well. Sipan is the biggest island with bus service and cars.
The beach here is perfect for snorkeling as there are lots of different fishes you can see. Another great way to explore the area is by kayaking around the Elaphiti Islands. This will allow you to see the islands from a completely different angle. You will have the chance to go cliff jumping and explore hidden bays and caves.
>> Read Next: The Absolute Best Croatian Islands to Visit <<
Brujini Islands
If your trip to Croatia includes a stop in the wonderful Istria region, then Brijuni Islands National Park is a place you cannot miss. Located off the southwest coast of Istria, not far from the city of Pula, the Brijuni Islands were once where the former leader of Yugoslavia, Josip Broz Tito, had his summer home.
Today, the island acts as a nature reserve and a wildlife park, the latter of which is a result of Tito's private zoo.
While it might seem you can reach the islands from virtually any coastal city on the peninsula, the only official ferry to the islands leaves from the town of Fažana, located about 10 kilometers north of Pula.
This is the only ferry that will actually take you to to the island, rather than just tour around them. While the tickets can be slightly pricey, they also include a tour on the "tourist train" which will take you around the island.
If you are keen to explore the island on your own rather than on the tourist train, then hiring a bicycle and pedaling around is an excellent option.
There are numerous cycling trails and the majority of the island is fairly flat, making this an appealing option for all skill and fitness levels. Seeing the island independently also gives you the opportunity to find some hidden beaches or to be able to hunt for the dinosaur footprints that are around the island.
5 Things to Bring with You to Croatia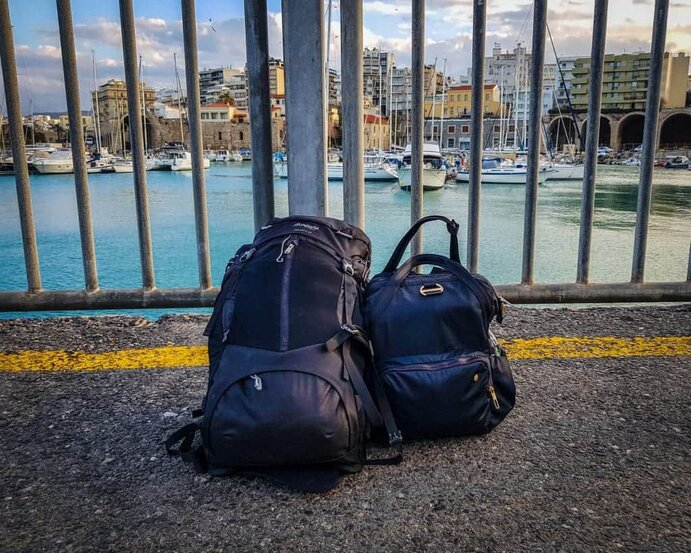 We have a full list of what to pack for Croatia, but here are five things you want to bring with you!
The Lonely Planet Croatia: a good guidebook can help you with the kinds of tips you need if you're out exploring Croatia and feel a bit lost, especially if you don't have internet or a cell signal. These also have recommendations for the major sites in Croatia, which will come in handy if you'll be visiting more than one Croatian city or island.
Unlocked Cell Phone: Allison and I both have unlocked cell phones that we bought in Europe (I use a Samsung and she uses an iPhone). This allows up to get sim cards when we travel so that we always have the internet.
Being able to pick up a Croatian sim card is a great way to stay in touch while on the road. If you don't have an unlocked cell phone that can use a Croatian sim card, you can buy a cheaper unlocked phone online and bring it with you! Note that Croatia is part of the EU so if you have an EU phone plan, your phone should work in Croatia
Pacsafe Citysafe or Other Anti-Theft Bag: This is the bag both Allison and I use. It has a pouch with RFID technology so our credit cards can't get scanned from afar, interlocking zippers to make it harder to pickpocket, and it's roomy enough to be a perfect sightseeing day bag. If you'd rather bring something smaller, you can pack a money belt instead.
This is especially handy in Dubrovnik and Split where tourist sites are crammed and anyone who looks like an obvious tourist is a potential target.
Grayl Water Filter: Being on the road means staying hydrated. If you want to avoid having to buy lots of single-use plastic water bottles, bring a reusable one with you. If you're concerned about drinking the local tap water (or you don't love the taste) grab one with a reusable water filter built right in. While water in Croatia is drinkable in general, there may be small islands where it's not recommended, so it can come in handy. I always ask a local about the tap water conditions and what they recommend.
Sea bands: If you get seasick easily, pack some Sea bands or seasickness pills so you can go island hopping without getting sick. A trip to Croatia isn't complete without at least one day spent in the islands, so make sure you're prepared to enjoy it to the fullest!
Read More: Essential Croatia Packing List: What to Wear & Pack for Croatia
More Croatia Travel Resources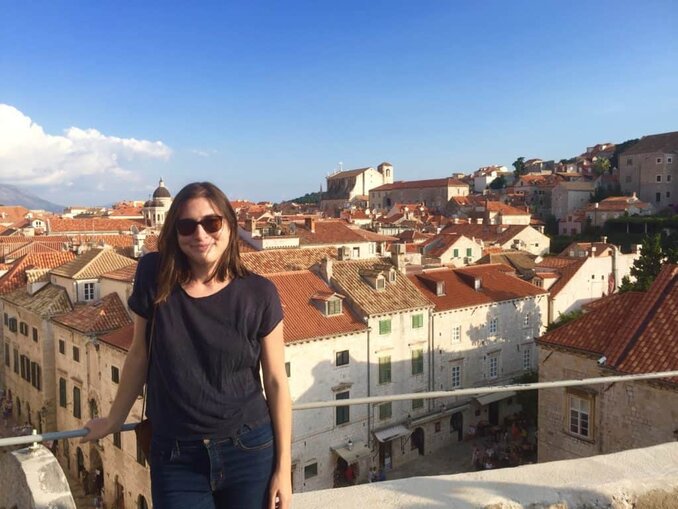 Headed to Croatia? We have some great travel resources to help you with your trip. First read our guide to planning a trip to Croatia, which covers visas, budgets, vaccines, and much more. We also have a packing list for Croatia in all seasons that will surely be of help!
We also have a Balkan currency guide that explains how the kuna, the local currency, works in Croatia and local tipping customs.
If you're still putting together your itinerary, here's a great list of places to visit in Croatia, our Croatian islands guide, and our Croatian waterfalls guide to help you choose. We also have a day trip guide for Dubrovnik, if you're visiting there as well. And of course, check out these silly Dubrovnik puns for your Instagram account.
Next, you'll want to read our guide to shopping in Croatia so you know which souvenirs are truly local gems.
If this will be one of your first trips in the Balkans, check out our massive list of things to know before traveling the Balkans as well as our Balkan bus, road trip, and itinerary guides.
We publish new content nearly every day! Bookmark our pages on Croatia and the Balkans so that you don't miss out on any new info or resources that we publish before your trip!
Headed to Croatia? Don't Forget Travel Insurance
If you're planning a trip to Croatia, make sure to travel with a valid travel insurance policy. If you'll be spending time in the city or doing any outdoor activities like hiking or swimming, you need to be covered in case of an emergency. Travel insurance covers you in case of theft or an accident, which can save your trip if there's an incident.
For travel insurance, I use World Nomads. I've been a happy customer of theirs for almost three years, and I've never had an issue when making a claim. I'm happy to refer them to anyone I meet.
Pin this Guide to the Best Things to Do in Croatia!