Welcome to Sofia!
Sofia is an intriguing city, with corners that show at various times a glint of the splendor of Vienna, the charm of Istanbul, the quirkiness of Budapest, and the brutalism of Moscow. You'll find Roman ruins in our subway stations, medieval icons in the church basements, and Thracian relics in the former presidential palace. Yet Sofia brings all of these seemingly disparate traditions together into one magical, inspiring city.
Have you ever visited a city and developed an instant connection with its striking architecture, bustling streets, and amazing vibe? This article is about the city that has the potential to make one fall utterly in love with it in just 24 hours: Istanbul.
Istanbul, the most populous city of Turkey, is celebrated as one of the most favorite tourist destinations around the world, offering a tangible meaning to the phrase where "the East meets the West": the city itself literally spans both Europe and Asia.
With a magnificent history, rich culture, compassionate people, and scrumptious cuisine, Istanbul has something for everyone.
Whether you're planning to make the most of a long layover in Istanbul or adding a while-stop one day in Istanbul during your European tour, this brief guide brings to you to the best of Istanbul in 24 hours!
Before It Begins: At the Airport
I am certainly not one of those who follow a strict itinerary when traveling, but it's best to plan a little ahead and have a rough idea about the places you would like to visit, especially when it's a race against time.
Getting the e-visa in advance and choosing to land on the New Istanbul Airport on the European side of the city instead of Sabiha Gokcen Airport in Kurtkoy on the Asian side is an important decision. Since almost all of the touristic spots are situated on the European side, this saves on transportation costs as well as time.
Google Maps is undoubtedly a traveler's best friend, but since one won't always have access to Wi-Fi, buying a tourist welcome SIM card pack with several GBs of internet is a good way to begin. At the airport, you'll find the three biggest mobile Internet providers of Turkey: Turkcell, Vodafone, and Turk Telekom. Check out their packages online and buy the cheapest one as you're here for just a day!
Also, don't forget to get your local currency exchanged into Turkish Liras, and if using a debit card, make sure the bank is notified of its use abroad. When taking out money from the ATM, beware of the extra ATM charges, which are deducted from your account. Make sure you have enough 5 TL, 10 TL, and 20 TL bills, as credit cards and bigger bills won't work in the local transport systems.
Another thing to sort before you finally go out to explore Istanbul is to get your hands on the super-useful Istanbul Kart! If you don't wish to spend all your hard-earned money on the taxi rides or get stuck in the crazy Istanbul traffic, spend 6 TL on an Istanbul Kart, load it with around 50 TL, and travel through the well-established public transportation system of the city. Keep in mind that you'll be exploring Istanbul majorly on foot so make sure to invest in a good pair of walking shoes!
First Stop: Sultanahmet Meydani
The New Istanbul airport is situated about 49 km from the famous Sultanahmet Meydani, the heart of the old city.
Also known as the Hippodrome of Constantinople, the square is often the first stop on any Istanbul itinerary, as most of the touristic sites are situated here at a walking distance from each other.
The best way to reach here is to take the airport shuttle service, Havaist. Take the bus that reads Sultanahmet, as its final destination and it will drop you at the Hagia Sofia in just 18 TL. The tramline here connects almost every touristy place!
Kahvaltı Platter or On-The-Go Breakfast? You Decide!
Being a true foodie at heart, I would recommend starting the journey early with authentic Turkish breakfast. The options are numerous! Depending on your preference you can either choose to eat at a restaurant or grab a quick bite.
Head Southwest and then take a left to reach the Dervish Café, a 24-hour open café located at the Kabasakal Caddesi.
Here you can enjoy a spectacular view of the Blue mosque and a delicious kahvaltı platter with ekmek (Turkish bread), eggs, olives, a variety of cheese, jam, butter, honey, sausages, ham, vegetables, and a steamy cup of Çay (Turkish tea).
However, if you are planning on treating yourself with a scrumptious kofte lunch, I would suggest sticking to the on-the-go breakfast staple, simit (a Turkish roll similar to a bagel covered in sesame seeds) and a cup of çay, available everywhere on mobile carts.
Walking Down History Lane
Arriving early for your one day in Istanbul will have its benefits. You can start from the magnificent Sultan Ahmed Camii, also known as the Blue Mosque.
This is the smartest way to begin as most sites and museums open at 9:00 AM, whereas the mosque with the six-minarets is open for visitors at all times (except during the five prayers).
Entering from the Hippodrome, which is at the West side of the mosque, you'll relish the peaceful ambiance of the glorious prayer hall adorned with 20,000 blue Iznik tiles.
Walk right across the mosque and in two minutes you'll reach the Hagia Sophia Museum – an architectural testament to the historic significance of Istanbul.
The grandiose of the chandeliers handing from the giant dome, the intricate Arabic calligraphy, well-preserved Biblical mosaics, and the beautiful paintings would surely get you some Instagrammable pictures!
As of 2020, the entrance fee is 100 TL. You can even buy the entrance tickets online by paying a little extra or invest in the Muze Kart (museum card) if you wish to visit Hagia Sophia, Topkapi Palace, Turkish and Islamic Arts Museum and the Istanbul Archaeological Museum for free for the whole year.
While Topkapi Palace is just 3 minutes away, I would not include it in my one-day tour, as exploring the palace alone would take half a day.
Instead, it's best to head northwest and add the ancient Basilica Cistern to your one day in Istanbul itinerary, as it's only a minute away and would cost you no more than 30 TL.
The eerie beauty of the underground Roman reservoir is accentuated with the dimly lit passageways and two blocks carved with Medusa's visage. You can notice several gleaming coins thrown by the tourists inside the little water that remains in the cistern!
A Mouth Full of Köfte and Souvenir Shopping
While walking out of the Cistern, you might hear your tummy grumbling and that's what I call the köfte-cry!
After all the sight-seeing, all you need is a hearty meal comprising of delectable Turkish meatballs doused in flavorful tomato sauce, served with pickled green peppers and crunchy ekmek bread. Match it up with a side of piyaz (Turkish bean salad) and a glass full of frothy ayran (a sour buttermilk-like drink) and you'll be good to go!
My favorite lunchtime spot is the Tarihi Sultanahmet Köftecisi Selim Usta, located alongside Divan Yolu. Don't be surprised to find this multi-floor restaurant full and buzzing, as it's as popular among tourists as among locals.
Assuming that it's NOT a Sunday, you should next be headed towards the largest covered bazaar of the world, the Grand Bazaar.
You can either opt for a short tram ride from Sultanahmet to Beyazit or take a 10-minute walk. My vote goes to walking, as it would give you a chance to explore the eye-catching gift shops and people-watch the crowd.
The crowded narrow streets of Grand Bazaar, bustling with energy, colors, and chaos, can easily make you lose the sense of time. Someone who knows the art of haggling would have a chance of finding everything from ceramics to jewelry and from spices to rugs to crockery!
If you're a fan of spices, pay a visit to the Mısır Çarşısı, also known as the Spice Bazaar in Fatih. But I would recommend saving some shopping for Istiklal Street!
Crossing the Galata Bridge
Sunsets are some of the city of Istanbul best views! Don't you believe me? Take a stroll across the Galata Bridge, spanning the Golden Horn or the inlet of the Bosphorus River.
Watching the reflection of the last of the sunrays into the twinkling river filled with ferries and fishing boats and the spectacular view of the Süleymaniye Camii from this bridge is surreal.
With an upper level lined with fishing lines and lower levels housing floating eateries, the Galata bridge takes you straight to the Beyoglyu district.
And, while you're there, don't forget to grab a Balik Ekmek (Fish Sandwich) from Osmanli Balikçisi.
The Panoramic View from the Galata Tower
A 10-minute walk from the Karakoy Station takes you to the skyscraping Galata Kulesi. The tower is a personal favorite as the view is like a dream!
You can go up the medieval stone tower and experience the most breathtaking panoramic view of Istanbul and its surroundings by paying an entrance fee of just 35 TL.
However, keep an eye on your wristwatch as the line to this hot tourist attraction can be pretty long!
Istiklal Caddesi – A Street Full of Music, Food, And Budget Shopping
To me, Istiklal is the street that never sleeps. In fact, it becomes alive just as the sun sets.
Lined with shops showcasing branded clothes and shoes, glittering, colorful Turkish lamps, hand-made leather products, customized t-shirts, gift items, books and stationery, fridge magnets, key chains, mugs, home décor products, musical instruments, paintings, ancient coins and maps, and what not!
Sprinkled among these shops are eateries offering Turkish fast food and cute cafes with the most amazing deserts and coffee! You can also have a look at the Madame Tussauds Istanbul on Istiklal Street for a touristy treat.
You can get a Turkish mosaic lamp perfect for your bedside table in less than 60 TL – a must buy! If planning to buy some cool and affordable clothes, drop by LC Waikiki or Koton, two popular shops on Istiklal Caddesi. You'll find brands like Zara and Mango here as well.
Even if you're running short on the shopping budget, you can appreciate the street musicians playing a variety of instruments and ensuring that the people have a good time.
Thanks to all the walking, you'll have some space for the melt-in-the-mouth favorite, a potato-based fast food called Kumpir. You'll find a couple of shops selling the best kumpirs – try them out!
In case you have a sweet tooth like me, try out the warm cheesy kunefe served with a quenelle of kaymaklı dondurma (Turkish ice cream) at MADO.
If you're in a mood to have a more traditional dinner, walk straight to the Hatay Medeniyetler Sofrası – a restaurant by the Internet celebrity chef, CZNBurak!
The restaurant is always full, but you might not have to wait if you get lucky. The food is finger-licking good, but the best part is the awesome music played by the servers with the spoons and plates to entertain the customers.
Be sure to click some pictures with the vintage tram moving along Istiklal Caddesi and with the Republic Monument in the middle of Taksim Square.
The Bosphorus Night Cruise – A Perfect End to the Perfect Day in Istanbul
The end to such a memorable journey has to be as unforgettable and I am sure you'll cherish the Bosphorus tour for the rest of your life.
You can choose a Bosphorus tour offered by a private company (will most probably offer pick and drop as well) or choose the light-on-the-pocket, moonlight cruise on the Bosphorus offered by Şehir Hatları, Istanbul's official ferry company.
You will have unlimited options when booking a private tour. If you haven't had your dinner, a Bosphorus dinner cruise would probably be the best. Many cruise tours offer Turkish Night Shows with belly dancing, traditional food tastings, and live performances.
If booking the Mehtap Gezi tour by Şehir Hatları, you can save big as it will cost you just 20 TL. You can check the schedule and other information on their website. The ferry leaves at 10:30 PM from Eminönü and takes you all the way to the Black Sea and back.
Last Words of Advice
Even though Istanbul is a dream destination throughout the year, the best time to visit the city is late spring, during May and June, as summer could get really hot and winter can be pretty cold.
When visiting mosques or other religious sites, please respect the dress code. Wear long skirts, pants, and full-sleeved shirts. Women are supposed to cover their head with a scarf as well. Also, don't forget to check the opening hours of the places you wish to visit beforehand.
You'll find the streets of Istanbul full of cute cats and dogs. These animals are vaccinated and are often pampered by tourists, so don't hesitate to pet them or share a bite with them.
Turkish people are extremely compassionate and welcoming, so return the warmth by smiling and saying 'Merhaba' (hello in Turkish)!
So, book your trip to Istanbul and let the magical city make you fall in love with it!
Where to Stay in Istanbul
We have a ton of resources to help you decide where to stay in Istanbul!
Check our giant neighborhood guide and hotel recommendations, or look specifically for our favorite Sultanahmet hotels near the Blue Mosque or our favorite Bosphorus view hotels.
If you just want our quick recommendations, here are our top picks for each budget category.
Budget: For a great budget-friendly hotel, you can stay in single or double rooms at the Dreamers B&B. Colorful and cozy, the B&B boasts a fabulous location in Beyoglu, less than a kilometer from Taksim Square. You can explore all of Beyoglu from here, and then head to Sultanahmet when you're ready to see the old city. Check pricing, reviews, and availability here.
Mid-Range: For an affordable, yet trendy boutique hotel, we recommend Peradays. It's perfect for all Istanbul visitors, from first-timers to Istanbul veterans. The lofted rooms are generously large, so you can spread out and relax after a long day of sightseeing. They also have two cats that live here, Pera and Daisy, which you'll be happy to greet after counting cats all day when out in the city. Check pricing, reviews, and availability here.
Luxury: Istanbul has no shortage of fabulous hotels, but we love Hammamhane, a boutique apartment-hotel that was originally a hammam, and the sister hotel of Peradays. Built in a historic hammam (Turkish bath), the suites are spacious and luxurious. Located in the heart of Cukurcuma, the antiques district, Hammamhane is within walking distance to art galleries, design stores, antique shops, and chic cafés. Check pricing, reviews, and availability here.
What to Pack for Istanbul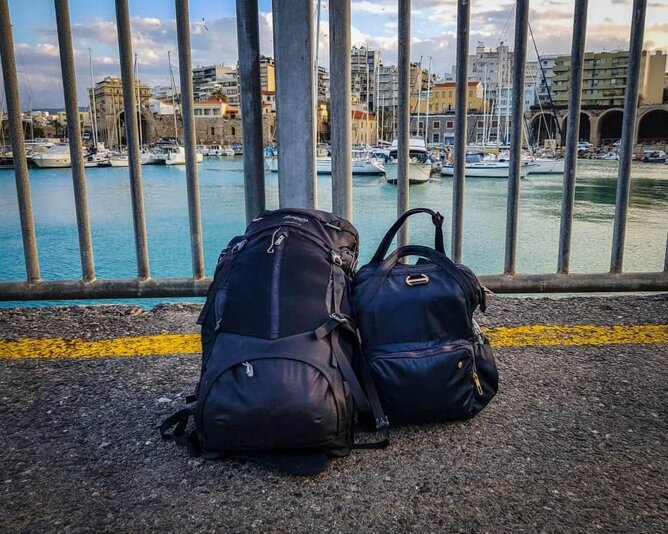 We have a guide of what to pack for Turkey, but here are five things you definitely want to bring with you!
The Lonely Planet Turkey: a good guidebook can help you with the kinds of safety tips you need if you're out in the city and feel a bit lost, especially if you don't have internet or a cell signal. These also have specific neighborhood information that will help you in different parts of the city, and it's a great supplement to blog posts like this one!
Unlocked Cell Phone: Stephanie and I both have unlocked cell phones that we bought in Europe (Stephanie uses a Samsung and I use an iPhone). This allows up to get sim cards when we travel so that we always have the internet. This has gotten us out of so many jams! If you don't have an unlocked cell phone that can use a Turkish sim card, you can buy a cheaper unlocked phone online and bring it with you!
Pacsafe Citysafe or Other Anti-Theft Bag: This is the bag both Stephanie and I use for all our travels. It has a pouch with RFID technology so our credit cards can't get scanned from afar, interlocking zippers to make it harder to pickpocket, and it's roomy enough to be a perfect sightseeing day bag, yet it's still quite stylish for all of its security features. If you'd rather bring something smaller, you can pack a money belt instead.
Grayl Water Filter: While the water is *technically* safe to drink in much of Turkey, I would still avoid it. If you don't want to be buying millions of plastic water bottles, you can get a reusable water bottle that comes with a water filter so that you can stick to the tap water and reduce your plastic waste. If you'll be traveling outside of the major tourist centers, check if the water is potable locally.
Seabands: If you get seasick easily, pack some Seabands or seasickness pills so you don't miss out on the best parts of Turkey – being on the water! A trip to Turkey isn't complete without a cruise or at least a quick boat trip, so make sure you're prepared to enjoy it to the fullest!
More Turkey Travel Resources
Headed to Turkey? We have some great travel resources to help you with your trip.
If this will be your first time traveling to Turkey, check out this guide to planning a trip to Turkey (including visa information) and this guide beautiful places to visit in Turkey. You can also check out our Balkan currency guide, which explains how the Turkish lira works and guidelines for tipping in Istanbul.
If you're heading to Istanbul, we have you covered. Start with our essential Istanbul Travel Tips and guide to staying safe in Istanbul
We're working on our massive things to do in Istanbul post, plus you can check out our guide to the best Instagram spots around Istanbul, tips for shopping in Istanbul, the best Turkish food to eat, how to plan an Istanbul honeymoon, and what to do in Istanbul at night.
If you will be visiting in winter, we have a special winter in Istanbul guide plus an overview of Istanbul weather in January.
If you want to be in the city for just a few days (four or less), check out our Istanbul city break guide, which breaks down the best of the city so you won't miss anything!
Headed to Cappadocia? If you're curious about the most Instagrammable places in Cappadocia, we've got you covered. We also have posts on the best things to do in Cappadocia, and how to plan a perfect 3 day Cappadocia itinerary, plus how to get to Cappadocia from Istanbul.
We have tons more Turkey and Balkans resources, and we publish new content nearly daily. Bookmark our Turkey and Balkans travel pages so you can find any new resources that come out before your trip!
Don't Forget About Travel Insurance!
I'm sure you're aware that travel insurance is a good idea for traveling in Turkey (or really, any part of the world)! We have both been paying customers of World Nomads for the last three years. We love the peace of mind it gives us in case of emergencies, accidents, illnesses, theft, or trip cancellation or disruption.
While Turkey is safe to travel around, there's always a risk inherent in everyday travel, so it's better to play it safe.
[/etf_pb_column]