This post may contain affiliate links. This means that if you click a link, we may make a small commission off any subsequent purchase, at no extra cost to you. For more information, please check our privacy policy.
Mljet is one of the most beautiful islands that you can visit in Croatia! If you're not a fan of endless crowds on the Croatian coastline, especially during the high season, then Mljet will be an absolute dash of fresh air for you!
The thing is, there is no mass tourism on Mljet, unlike most of the places on the Croatian coast, so you will be met with an authentic atmosphere unlike any island in Croatia… not to mention the natural wonders that Mljet has to offer for its visitors!
It is an amazing island for a short retreat from the busy Dalmatian coastline and its techno parties which bring many careless tourists to the coast. Aside from enjoying a sip of local wine with a beautiful view over the lush pine forests and turquoise water, here are 11 awesome things to do in Mljet!
Can't read now? Pin for later!
Where to Stay in Mljet, Croatia
If you're getting ready for your adventure in Mljet, you should start by checking the best places to stay on the island. These are some of the ones we recommend.
Budget: Apartments Lampalo in Okuklje is right in front of the beach and it offers an on-site restaurant, barbecue facilities, a garden, and a furnished terrace. Check reviews and prices for Apartments Lampalo here.
Mid-range: Guest House Busurelo is in Polače, the property is right on the waterfront, while the nearest sandy and pebbly beach is 200 m away. Check reviews and prices for Guest House Busurelo here.
Luxury: Pine Tree Boutique Apartments is located in Saplunara, a magnificent property with a private beach area. Check reviews and prices for Pine Tree Boutique Apartments here.
Kick off your Mljet journey in Sobra
If you visit Mljet from Dubrovnik, the ferry will take you to a tranquil, picturesque village called Sobra. The port is located some 2.5 kilometers from the village itself.
But if you visit Sobra from Pelješac instead, the ferry will take you directly to the middle of the Sobra Bay, where the village of the same name rests.
Sobra is a great place to kick off your journey in Mljet, as you can rent a car or a scooter by the ferry terminal. Look for the place called Mini Brum! In no time, you will be broom-brooming through the amazing nature that Mljet is known for!
Sobra is a small village that rests on the northwestern part of the island, surrounded by turquoise waters. There are no regular beaches here, but you can jump from the rocky shore if you're up for an adrenaline boost!
Although there are just 80 permanent residents in this village, there are enough places to find a place to sleep and eat in Sobra. You can find most guesthouses and apartments in the northern part of the village, where you can find amazing views over Sobra Bay.
We recommend Guesthouse Anita, it has an amazing staff, and is really close to the shore too!
For food, we wholeheartedly recommend you to check out Konoba Mungos! They have amazing seafood, really lovely and courteous staff, and you can even try the Croatian liquor delicacy, rakija, for free, during nighttime. Trust us, it's gonna fire you up!
Visit the beautiful bay at Prožurska Luka
This small bay and hamlet are simply breathtaking! Walk some 5 kilometers to the west of Sobra village, and you will find this beauty. The hamlet is a really tranquil place, as it has only 14 permanent inhabitants.
It gets more lively during the high season though, as the beauty of the bay is well-known with local tourists.
Not too many foreign tourists come here though. Most popularity to this place comes from the sailors, as they use this bay as their marina or a stopover point to Dubrovnik. Also, there is a wonderful pebble beach here that is really popular with Croatian tourists.
You can also enjoy the picturesque view over the bay, and the small Planjak island from a local restaurant. There are two restaurants that we would mention, Konoba Barba, and Konoba Marijina. Both of them offer amazing seafood, with a nice harmony of taste and ambiance.
Accommodation in Prožurska Luka is mainly located at the entrance of the village. Witnessing the sunrise or sunset from Villa Evita Apartments is one amazing experience you will remember for a while!
Experience a small piece of heaven in Okuklje
Just about 4 kilometers west of Prožurska Luka, there is another bay and the surrounding village called Okuklje.
It got its name from the sharp rocks topping the bay. This is a wonderful little bay with lots of nice swimming spots with crystal-clear water.
There are also few hills near Okuklje which offer some amazing viewpoints. If you have a bit of adventurer in you, this is one of the most amazing things to do in Mljet!
For food, we would recommend you to visit Konoba Maestral and Konoba Maran. These restaurants offer amazing seafood caught in the waters of Mljet and coupled with amazing staff, you will get an amazing culinary experience.
Also, you can find a lot of accommodation options in Okuklje, but we would go ahead with the Three Pines Apartments. You can't beat that view on the Okuklje Bay!
Travel back to the legends in the Odysseus Cave
Some believe that this is the authentic cave from the legendary story of the voyage of Odysseus. Well, Mljet is an immensely beautiful place, so it's no wonder that this legendary figure would stay here on the island for seven years!
You can find the cave near Babino Polje on the south of the island. After the Tommy supermarket, follow the road for a bit, and you will find the sign that points to the cave.
You will have a nice 45-minute hike to the cave through the rocky surface. Once you see the Hotel Penelopa, which has a bar too, you will know that you're at the Odysseus Cave.
Now, when you're above the cave, take a deep breath, and jump down in the water! It is an incredibly rewarding experience. Also, there is a rope sticking up from the cliff if you want to climb back to the spot you jumped off.
The Odysseus Cave is a popular snorkeling spot, as the water inside the cave goes down almost 80 meters!
If you value a non-touristy place with no entrance fee, look no further than this cave. That's why it's one of the most amazing things to do in Mljet!
Discover untouched nature in Mljet National Park
When you are wondering what to do in Mljet, one of the first things to do is visiting its national park!
It covers the entire northeastern part of Mljet island, which is about 5,300 hectares of land (or one-third of the entire island). Here, you can see many flooded bays and lush pinewoods filled with mongoose, animals that were brought to Mljet to get rid of snakes that used to be all over the island!
Also, here are some of the endemic species for the island, like Euphorbia dendroides, for example.
The most pronounced spots in the Mljet National Park are two salt lakes appropriately named the Big and Small Lake. These lakes stretch for four kilometers, and among them, you can walk or ride a bike on the designated trail.
Yeah, renting a bicycle here is very much recommended! You can do so in Pomena, Polače, and Mali Most.
In the middle of the Big Lake is a sight from a fairytale. There is a small island with a 12-century Benedictine Monastery, St. Mary Monastery. This monastery is now turned into a cafe and restaurant.
To get there, either take a boat that leaves every hour (from 9 AM to 7 PM) from Mali Most or Pristanište for 4€ (return ticket). You can also rent a kayak to get there, and the rowing experience is very enjoyable.
If you're eager about visiting the park but don't want to miss anything about it, it can be a good idea to join a guided visit like this one. To reach the island faster, you can board a speedboat cruise and get there in no time!
Keep in mind that if you swim to the island, you won't be able to buy anything on the small island!
During the high season, the park is open every day from 8 AM to 8 PM, while during the low season, it is open every day from 9 AM to 5 PM.
The entrance fees for the Mljet National Park are the following:
For adults, 70 Kunas during low season, and 125 Kunas during high season
For children and students, 50 Kunas during low season, and 70 Kunas during high season.
For children under age 7, the entrance is free of charge!
There is a lot to see and discover in the Mljet National Park, so it is undoubtedly one of the best things to do in Mljet!
Read next: The 8 National Parks in Croatia – Local Favorites & Hidden Gems
Go snorkeling at the Mljet coral reef
Mljet is renowned for its crystal clear waters that attract divers all over the region. One amazing spot that not many people know of is the actual coral reef! Actually, the coral reef on Mljet is the only one in Croatia, and because of that, we encourage you to experience this amazing sight!
You can find the coral reef on the inland side of the bridge, on the Big Lake in the Mljet National Park. The coral has been damaged during the years, because of invasive algae species, and the increasing temperature of the sea.
Still, between 4 and 18 meters of depth, you will be amazed by the biodiversity this coral reef still has to offer!
Don't forget to taste the amazing wine on Mljet!
Like many other Dalmatian islands, Mljet has over a thousand years of wine tradition, with amazing white and red wine coming from this island. Of course, one of the activities you shouldn't miss while you're visiting Mljet is tasting its wine! We have ancient Greek colonists to thank for that!
Don't mistake Mljet to be filled with grape fields though. When the Mljet National Park was established, the strict rule was that nature has to be kept untouched in that area.
That makes the supply of wine on Mljet limited, but also high in quality. You can find most wine fields on the numerous karst fields on Mljet.
On Mljet, you can find two types of wine; Maraština – a white varietal, and Plavac the Little – a red varietal. Both of these are endemic to the Adriatic region. If you are curious about wines in Croatia, head to this article about the best wineries in the country, or book a winery tour.
Any of these are just perfect complements with the Mljet cuisine. Or, if you want to ramp up the relaxation in your accommodation, or somewhere in nature, you can always bring a bottle or two with you! Just remember to respect nature on Mljet!
Discover Sutmiholjska off the beaten path
Just a 3-kilometer descent from the only national road on Mljet, road 120, is an almost hidden gem called Sutmiholjska. You can find this descent between Ropa and Babino Polje villages.
During the descent, you will pass between fragrant pine wood, with an amazing view of the open sea looking on the Italian coast.
Once you arrive on Sutmiholjska, you will see a small but tiny bay and a wonderful pebble beach. This place is still undiscovered by a lot of tourists, so it is certainly a nice place to enjoy the surface and the depths of the turquoise waters on the southern side of Mljet island.
Keep in mind that there is no public transportation to Sutmiholjska, so you will either need to walk there, rent a car or a scooter, or start from Babino Polje (pictured above). There is a local bus line that goes from Pomena to Sobra, and it stops in Babino Polje.
Just on the descent to the beach itself, you can find a small bar from which you can enjoy the sunny, tranquil days on Mljet!
The only accommodation option here is Apartments Rotim, which is a short walk away from the bay itself.
Sutmiholjska is one of the most beautiful beaches in Mljet, and one of the best things to do while you're on Mljet!
Relax in peaceful Kozarica
Kozarica is yet another small bay and hamlet, located on the north side of Mljet. It is a peaceful place, perfect for a holiday getaway. There are a few guesthouses and apartments around, but probably the most unique place to stay here is Lovor, which is a camping ground.
When you get tired of swimming in the bay, you can make a short walk to a strange field, with a small lake in the middle of it, called Slatina. Even though Kozarica is a small place, it houses some of the best things to do in Mljet!
Discover the peculiar Blatina Lakes
If you love spending time in nature, this is one of the things to do in Mljet that you shouldn't miss! There are three lakes like this, near Kozarica, Blato, and Sobra.
What makes these lakes unique is their formation. These lakes are formed from a mix of seawater with rainfall.
The end result is very picturesque; very small lakes that are quite deep, surrounded by karst hills. Also, the salinity levels of these lakes depend on the amount of rainfall that goes inside the lakes.
Go camping to experience the raw nature
One of the most popular things to do in Mljet is camping. As you already know by now, there is a lot of untouched nature on this island. What is the better thing to connect with nature here than camping? Also, a dash of adventuristic spirit is never a bad thing!
On Mljet, you can find only three camping sites. But don't be sad, as these sites are scattered in just the right places to be nice starting points to explore the island.
The smallest campsite is called Marina and is near Babino Polje. Camping Ground Lovor is located near Kozarica, and is a bit bigger than Marina, and has some amazing sunset spots for you to discover! The largest camping site on Mljet is called Mungos. It is located between the Odysseus Cave and Sutmiholjska. It even has a restaurant and can accommodate up to 250 people!
Actually, there are a lot of awesome things to do in Mljet, one of the most beautiful Croatian islands. From tasting the local cuisine to exploring the amazing nature, you will avoid the crowds that the Croatian coast is so infamous for during the high season!
Also, you will get transported in the local cultural experience like no other in the Croatian region of Dalmatia.
So, if you ever find yourself in this part of Croatia, make sure not to miss the amazing, yet often overlooked, Mljet!
What to Pack for Mljet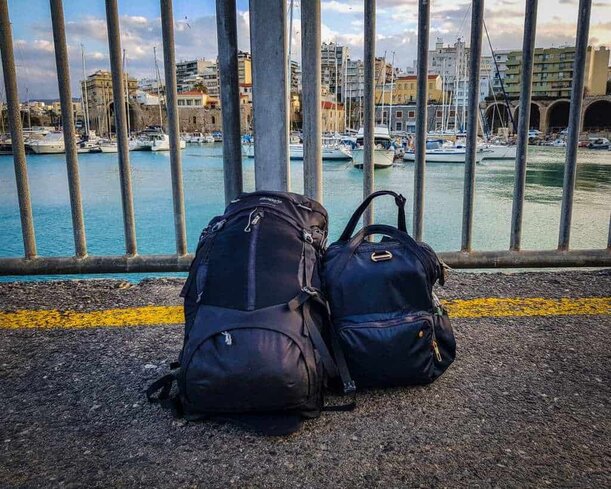 Mosquito repellent: Mosquitos in the summer can be nasty! You can bring ones with DEET or without DEET, or I love having some of these mosquito repellent wipes that I can keep in my bag in case I suddenly start to get swarmed and don't have my regular repellent with me.
Sunscreen: You can buy sunscreen in Croatia, but it's likely cheaper at home or bought online in advance. I love this solid Neutrogena sunscreen. Who doesn't love a good solid for liquid swap? Great to keep in your bag without worrying about sunscreen explosions. Note that if you snorkel near the coral reefs, you should be wearing reef-safe sunscreen.
Water shoes: Pebble beaches in Croatia are a double-edged sword. On the one hand, the pebble seafloor is what creates that gorgeous deep turquoise-colored water that is hard to beat, as the lack of sand means you have incredibly clear water. However, on the other hand, pebble beaches and rocky shores can be downright painful!
Our friend recently cut his foot on a rocky beach in Croatia; had he been wearing water shoes, he'd have avoided such unpleasantness! We suggest these unisex water shoes. They're not sexy, but they will make your trips to the beach far more pleasant!
A secure backpack: We both carry the CitySafe backpack by PacSafe not only on our travels but in our day-to-day lives. It's cute, it's functional, it's comfortable, and it's secure. We're talking about interlocking zippers (which you can then put through a second clasp for two layers of security), slash-proof wire mesh construction, and RFID blockers to keep your personal data safe.
It's neutral enough to be unisex, it's roomy enough to fit a small laptop, large camera, and tons of odds & ends, and it fits under the plane seat in front of you. We're obsessed. Check it out for yourself!
Grayl Water Filter: Tap water is generally safe to drink in Croatia, but if you're not used to drinking tap water from other countries, the typically harmless bacteria found in all water can cause some gut irritation.
To both be safe and not buy dozens of plastic water bottles, you can get a reusable water bottle that comes with a water filter so that you can stick to the tap water and reduce your plastic waste. If you'll be traveling outside of the major tourist cities, check locally before drinking from the tap without a filter.
Seabands: If you get seasick easily, pack some Seabands or seasickness pills so you don't miss out on the best parts of Croatia – being on the water! A trip to Croatia isn't complete without a quick boat trip (and you'll be hard-pressed to get to Mljet without taking a boat!) so make sure you're prepared to enjoy it to the fullest!
More Croatia Travel Resources
Headed to Croatia? We have some great travel resources to help you with your trip.
First read our guide to planning a trip to Croatia, which covers visas, budgets, vaccines, and much more. We also have a packing list for Croatia in all seasons that will surely be of help!
If you'll be visiting Dubrovnik, check our guide to the best Dubrovnik day trips and Instagram spots.
For Zagreb, check out our Instagram spots, as well as our guide to visiting Plitvice from Zagreb.
For Split, check out our guide to the best day trips from Split.
For Hvar, check out our guide to things to do in Hvar.
If you're still putting together your itinerary, here's a great list of places to visit in Croatia, our Croatian islands guide, and our Croatian waterfalls guide to help you choose.
Finally, you'll want to read our guide to shopping in Croatia so you know which souvenirs are truly local gems.
If this will be one of your first trips in the Balkans, check out our massive list of things to know before traveling the Balkans as well as our Balkan bus, road trip, and itinerary guides.
We publish new content nearly every day! Bookmark our pages on Croatia and the Balkans so that you don't miss out on any new info or resources that we publish before your trip!
Don't Forget About Travel Insurance!
I'm sure you're aware that travel insurance is a good idea for traveling in Croatia (or really, any part of the world)! We have both been paying customers of World Nomads for the last three years. We love the peace of mind it gives us in case of emergencies, accidents, illnesses, theft, or trip cancellation or disruption.
While the Balkans are perfectly safe to travel around, there's always a risk inherent in everyday travel, so it's better to play it safe.
>> Get a travel insurance quote for your trip here <<
Pin This Guide to Things to Do in Mljet
David is a Croatian IT student and a photography intermediate. He is addicted to exploring and adventure, and always up for a new experience. He enjoys spending time in nature and meeting new people from different cultures. He also runs a travel blog about traveling in Vietnam, which you can read at Vietnam Chronicles.