This post may contain affiliate links. This means that if you click a link, we may make a small commission off any subsequent purchase, at no extra cost to you. For more information, please check our privacy policy.
Croatia is a hip destination these days, with a reputation for being the perfect combination of off-the-beaten-path travel with a little bit of seaside luxury.
And while Croatia is famous for its lavender fields and picturesque Adriatic villages, it is not yet common knowledge just how wonderful shopping in Croatia can be.
No matter what kind of traveler you are, from budget to luxury, there's a perfect Croatian souvenir here waiting for you.
Can't read now? Pin for later!
>> Read Next: Planning a Trip to Croatia: Your Travel Checklist <<
Where to Stay in Croatia
Here are our recommendations for where to stay in Dubrovnik. We're in the process of creating comprehensive guides on where to stay in other Croatian cities, but for now, we recommend checking out Booking.com as early as possible since this is a popular time to visit. These are some of the places we suggest you check.
Budget: Apartment Larica Miha Pracata is a historic building in the heart of Dubrovnik Old Town. You can easily leave your apartment and instantly be at some of the best architectural and historical attractions Dubrovnik has to offer. Check out prices and availability at Apartment Larica Miha Pracata.
Mid-range: Soleil Luxury Rooms offers some of the most modern amenities you will find in the Old Town of Dubrovnik. Check out guest reviews, prices, and availability at Soleil Luxury Rooms Old Town.
Luxury: Boutique Hotel Stari Grad showcases elegant style and you can see plenty of designer accents all over the hotel. The interiors and arrangement of all furniture are well-executed, creating a comfortable and cozy place to stay in the Old Town of Dubrovnik. Check out guest reviews, prices, and availability at Boutique Hotel Stari Grad.
Our Favorite Croatian Souvenirs & Gifts
We've curated this list with the aim of sharing our favorite locally made Croatian goods, delicious treats, and items significant to Croatian heritage.
Whether you're looking for a Croatian gift for children, something delightfully alcoholic for a friend, or something elegant and refreshing for yourself, here are our picks for the best Croatian souvenirs.
Lavender Products
When I think of Croatia, one of the first things that come to mind is the sight of endless blossoming lavender fields. While I can't bring home an entire lavender field, I can fill my backpack up with locally made lavender products, especially soaps and other cosmetics that make getting ready in the morning extra soothing.
I also picked up some lavender essential oil, which I keep in my backpack to add to laundry on the road. By adding a few drops to boiling water, I can make my entire apartment smell like lavender. It is a spectacular way to reflect on my time in Croatia.
Another lavender souvenir I bought in Croatia and can't live without are small satchels of dried lavender. I keep one in my backpack to keep my clothes smelling fresh when I travel. I also threw a couple into my underwear drawer at home to brighten my day while getting dressed.
There really is no end to the kinds of lavender gifts you can bring back with you, so give yourself time in the shops to really look at the selection.
>> Read Next: How to Smoothly Get from Dubrovnik to Kotor & Back By Bus <<
Croatians have become very creative when it comes to infusing everyday items with lavender, so your trip will be an excellent opportunity to upgrade your day-to-day toiletries.
Wooden Toys
If you're looking for a toy to bring back as a gift from Croatia for a child, then it should be made of wood. The Wooden Toys of Hrvatsko Zagorje are protected as a UNESCO Intangible Cultural Heritage:
Villagers along the pilgrimage route to the Marian shrine of Our Lady of the Snow in Marija Bistrica in Hrvatsko Zagorje in northern Croatia developed a technique for traditional manufacturing of children's wooden toys that has now been handed down for generations.

The men in a family take soft willow, lime, beech and maple wood from the region and dry, hew, cut and carve it using traditional tools; the women then apply ecologically-friendly paint in improvisational floral or geometric patterns, painting 'from imagination'.

The whistles, horses, cars, tiny furniture, spinning dancers, jumping horses and flapping birds produced today are almost identical to those made more than a century ago – though no two toys are precisely the same, thanks to the handcrafted production process.
Šestine Umbrella
If the parasols of Dolac Market look familiar, its because they are a (much) larger version of the Šestine Umbrella, the bright and cheery red umbrellas you see women walking the streets of Zagreb with. The Umbrella's origins are thought to be highly romantic in nature:
A legend says a long time ago a young couple was hidden under a dark umbrella during a strong rain and the power of their love was so strong that it turned the color of the umbrella to red.

Šestine is a small, picaresque village inside (and slightly above) Zagreb and the umbrella is a part of their beautiful folk costume.
So while in Zagreb or the surrounding towns, you really must consider purchasing a Šestine of your own.
Traditional Croatian Folk Instruments
One of my favorite souvenirs I've ever bought was a local Irish drum. Do I play it? No. But I have it displayed in my apartment, and every time I see it I get happy. I think back to the wonderful lesson I took while in Dublin, and to all of the nights listening to traditional Irish music being played in pubs around the country.
That trip changed me, and now I'm quick to suggest that you consider buying a traditional instrument to bring home with you.
In Croatia, this means that after you see street performers playing their tamburas or attend a folk night with Croatian bagpipes, you should think about bringing one back home with you to cherish (and potentially learn to play, if you're musical..).
>> Read Next: How to Visit Plitvice Lakes from Zagreb on a Day Trip <<
A Cravat
Cravat, one of the original names for neckties, came from a French corruption for the pronunciation of the word Croat, since Croatian troops originated this trend.
While the earliest cravats were more simple than what we see today, the modern tailored necktie and its cousin the bowtie are direct descendants of these earlier Croatian fashion statements.
Maraschino Cherries & Liqueur
Maraschino cherries might be what Americans put in our Manhattans, but in Croatia, they're used in their own liqueur.
Originally made by Dominican monks in the fifteenth century, Maraschino liqueur is now one of the signature products of the Zadar region. Sip on some and you'll be drinking in the footsteps of Cassanova, Napoleon, and Alfred Hitchcock.
Glagolitic Souvenirs
Croatia may not use modern Cyrillic, but it is a Slavic language and shares an alphabetic history with its Slavic neighbors. Glagolitic, the original Slavic alphabet, was created by the Saints Cyril and Methodius.
But when the rest of the region moved to Cyrillic, Croatia continued to use Glagolitic in church settings until the eighteenth century. So if you find a souvenir with Glagolitic writing, know that its use is intimately tied to the history of Croatia.
Homemade Jam
Homemade or locally made fruit preservatives make great gifts for loved ones back home. They're practical and easy to fit into a suitcase (no matter how much shopping you do for yourself).
Just make sure to pack them carefully, and don't feel bad if they don't even make it out of the country with you. No one will fault you for being too eager and eating them before your trip is even over.
>> Read Next: 13 Traditional Croatian Breakfast Foods: What to Eat for Breakfast in Croatia <<
Dried Meat
Croatians love their cured meats, and six of them are on the EU's register of protected designations of origins. Unlike American beef jerky, Croatian cured meats like Kulen and Pršut are far more than road trip fare. These make great gifts for the carnivores in your life.
Traditional Croatian Lace
Lacemaking came to Croatia as from Austria and Germany, during the time when Croatia was part of the Hapsburg Empire. Another craft designated by UNESCO as an Intangible Cultural Heritage:
At least three distinct traditions of Lacemaking in Croatia persist today, centred on the towns of Pag on the Adriatic, Lepoglava in northern Croatia and Hvar on the Dalmatian island of the same name.

Pag needle-point lace was originally used to make ecclesiastical garments, tablecloths and ornaments for clothing. The process involves embellishing a spider web pattern with geometrical motifs and is transmitted today by older women who offer year-long courses.

Lepoglava bobbin lace is made by braiding thread wound on spindles, or bobbins; it is often used to make lace ribbons for folk costumes or is sold at village fairs. An International Lace Festival in Lepoglava celebrates the art every year.

Aloe lace is made in Croatia only by Benedictine nuns in the town of Hvar. Thin, white threads are obtained from the core of fresh aloe leaves and woven into a net or other pattern on a cardboard background. The resulting pieces are a symbol of Hvar.

Each variety of lace has long been created by rural women as a source of additional income and has left a permanent mark on the culture of its region. The craft both produces an important component of traditional clothes and is itself testimony to a living cultural tradition.
You can purchase Croatian lace in many forms. This would make a great Croatian gift for her if you're looking for something to bring back to a loved one at home.
Licitar Heart
An important symbol of the city of Zagreb, Licitar hearts are another one Croatia's protected Intangible Cultural Heritages. From UNESCO's inscription:
The tradition of gingerbread making appeared in certain European monasteries during the Middle Ages and came to Croatia where it became a craft. Gingerbread craftspeople, who also made honey and candles, worked in the area of Northern Croatia.

The process of making gingerbread requires skill and speed. The recipe is the same for all makers, utilizing flour, sugar, water and baking soda – plus the obligatory spices. The gingerbread is shaped into moulds, baked, dried and painted with edible colours.

Each craftsperson decorates gingerbread in a specific way, often with pictures, small mirrors and verses or messages.

The gingerbread heart is the most common motif, and is frequently prepared for marriages, decorated with the newlyweds' names and wedding date. Each gingerbread maker operates within a certain area without interfering with that of another craftsperson.

The craft has been passed on from one generation to another for centuries, initially to men, but now to both men and women.

Gingerbread has become one of the most recognizable symbols of Croatian identity. Today, gingerbread makers are essential participants in local festivities, events and gatherings, providing the local people with a sense of identity and continuity.
If you're looking for romantic Croatian gift ideas, a Licitar heart is the best way to go (other than traditional Croatian jewelry). This can be a gift for him or a gift for her. Take the extra step of having one made with your sweetheart's name on it for an extra dose of romance.
Olive Oil
An essential part of Mediterranean and Adriatic cuisine, Olive Oil is just better when it comes from this part of the world. During ancient times, olive oil from Istria was considered the benchmark for good olive oil, and Croatians like to think things haven't changed. Since Croatia doesn't export their oil to the extent that Italian and Greek oil is exported, you more than likely haven't had the pleasure of tasting it yet.
Kraš Chocolates
Who doesn't love chocolates? While in Croatia, skip over Milka and Snickers, and opt instead for some Bajadera or Griotte. Kraš was the first large chocolatier in the Balkans, starting out in Zagreb in 1911.
That's right, this modern chocolate and confections company dates back to when Croatia was still part of the Austro-Hungarian Empire and held "Imperial and Royal Warrant of Appointment to the Imperial Court in Vienna and the Royal Court in Budapest." Today you can find them all over Croatia.
Rakija
While rakija (or rakia) can be found across many countries in the Balkans, that doesn't mean you'll be allowed to escape Croatia without giving this fruit brandy (fire water) a try. Just be careful! Commercial rakija is usually 40% ABV, while the homemade variety can be up to 60%!
Šibenik Cap
While similar red caps are worn in many places in the Balkans, a Šibenik Cap is modified with additional black embroidery and comes from its namesake village of Šibenik. While in the country, it is known to symbolize the village and northern Dalmatia, but outside of the country, its become a symbol of Croatia. This would make a great Croatian gift for him if you're looking for that sort of thing.
Remember if you do choose to buy an item of clothing as a souvenir, especially something with cultural significance, be respectful when wearing it and photographing it.
Cheese
Croatian cheese may not be famous world-over, but they are global award winners. In 2017, six Croatian cheeses won gold medals at the World Cheese Awards (which exist, I promise).
Can't-miss Croatian cheeses include goat cheese from the island of Pag and Turoš from the northern Croatian region of Međimurje.
You might think transporting cheese back home would be difficult, and that's fair. This is more practical if you're going to be hopping a plane that takes just a few hours, which means its an easier souvenir for European travelers.
If you'll be traveling a lot longer before you get home, you can still enjoy the cheese, just eat it before you leave Croatia.
>> Read Next: 13 Incredible Day Trips from Dubrovnik <<
Honey
The Balkans are famous for their honey. Inexpensive and scrumptious, it's become something of a personal favorite of mine. You can find artisanal honey mixed with lavender and other local herbal infusions, or you can enjoy some honeycomb with your breakfast.
We've rented cars dozens of times in the Balkans through various search engines and have settled on Discover Cars as the best car rental search engine – it searches over 500 trusted rental companies to find the cheapest price for your rental! Compare prices for car rental in Croatia here.
Where to Buy Croatian Gifts & Souvenirs
While you'll most likely find opportunities to shop all over the country, here are some of our favorite places to go shopping in Croatia. No matter where you shop or what you buy, just make sure it was made in Croatia, and you really can't go wrong.
Local Markets
If you love crafts, produce, and people watching, then you need to set aside time to visit one of Croatia's open-air markets. In Zagreb, we make sure to hit up Dolac Market, while in Split we recommend visiting the Pazar Green Market. If you're in a Croatian city, chances are there's a fantastic market nearby.
Directly From the Producers
We love buying directly from the artisans and craftspeople whenever possible. This means buying wine or rakija on a vineyard tour, buying art from galleries that support local artists, and supporting small shops owned by craftspeople.
Museums
While some museums offer mostly international products in their gift shops, we always like to check because when you find one that sells local items they tend to be spectacular.
One of my favorite museum shops is in Zagreb's Museum of Broken Relationships. You can buy shirts, matchbooks, and refrigerator magnets celebrating the universal heartache of breaking up. That's not something you can find just anywhere in the world!
Souvenir Shops & Stands
The key to shopping at a traditional souvenir shop or stand is to follow these three rules:
Check prices at a few different places so you know you're not being ripped off.
Make sure the product was made in Croatia.
Compare the goods in a few different places so you know you're not buying the most generic options.
Some people hate shopping in souvenirs stores and stands, but I think this is silly. You just need to do so with your eyes open so that you make sure you're getting something that's still local and priced fairly.
Croatian Souvenirs Online
There are Croatian souvenirs available on Etsy and other online retailers, and you can find many Croatian books on Amazon. If you forget to bring something home with you, you can have it shipped directly to your house.
Traveling to Croatia and having no idea how to get into town? Why not book this convenient transfer service from the airport to the city center, it's safe and affordable!
5 Things to Bring with You to Croatia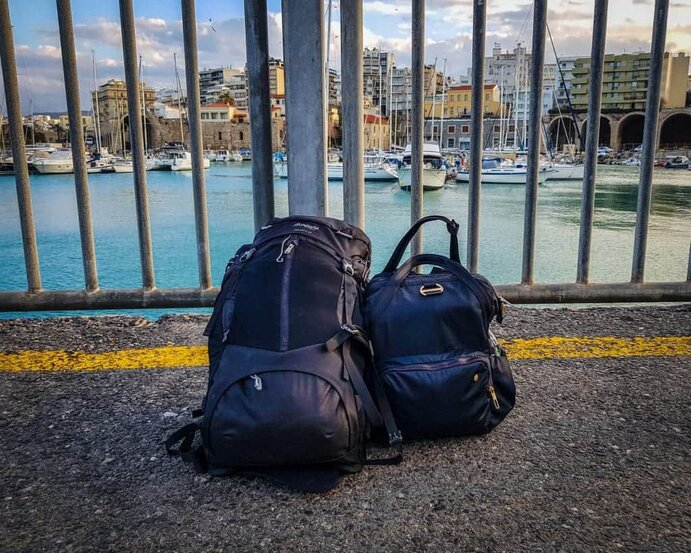 We have a full list of what to pack for Croatia, but here are five things you want to bring with you!
The Lonely Planet Croatia: a good guidebook can help you with the kinds of tips you need if you're out exploring Croatia and feel a bit lost, especially if you don't have internet or a cell signal. These also have recommendations for the major sites in Croatia, which will come in handy if you'll be visiting more than one Croatian city or island.
Unlocked Cell Phone: Allison and I both have unlocked cell phones that we bought in Europe (I use a Samsung and she uses an iPhone). This allows up to get sim cards when we travel so that we always have the internet.
Being able to pick up a Croatian sim card is a great way to stay in touch while on the road. If you don't have an unlocked cell phone that can use a Croatian sim card, you can buy a cheaper unlocked phone online and bring it with you! Note that Croatia is part of the EU so if you have an EU phone plan, your phone should work in Croatia
Pacsafe Citysafe or Other Anti-Theft Bag: This is the bag both Allison and I use. It has a pouch with RFID technology so our credit cards can't get scanned from afar, interlocking zippers to make it harder to pickpocket, and it's roomy enough to be a perfect sightseeing day bag. If you'd rather bring something smaller, you can pack a money belt instead.
This is especially handy in Dubrovnik and Split where tourist sites are crammed and anyone who looks like an obvious tourist is a potential target.
Grayl Water Filter: Being on the road means staying hydrated. If you want to avoid having to buy lots of single-use plastic water bottles, bring a reusable one with you. If you're concerned about drinking the local tap water (or you don't love the taste) grab one with a reusable water filter built right in. While water in Croatia is drinkable in general, there may be small islands where it's not recommended, so it can come in handy. I always ask a local about the tap water conditions and what they recommend.
Sea bands: If you get seasick easily, pack some Sea bands or seasickness pills so you can go island hopping without getting sick. A trip to Croatia isn't complete without at least one day spent in the islands, so make sure you're prepared to enjoy it to the fullest!
Read More: Essential Croatia Packing List: What to Wear & Pack for Croatia
More Croatia Travel Resources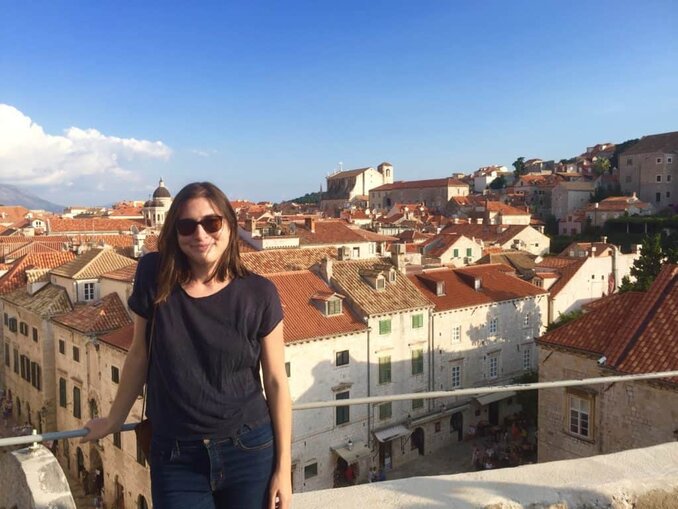 Headed to Croatia? We have some great travel resources to help you with your trip. First read our guide to planning a trip to Croatia, which covers visas, budgets, vaccines, and much more. We also have a packing list for Croatia in all seasons that will surely be of help!
We also have a Balkan currency guide that explains how the kuna, the local currency, works in Croatia and local tipping customs.
If you're still putting together your itinerary, here's a great list of places to visit in Croatia, our Croatian islands guide, and our Croatian waterfalls guide to help you choose. We also have a day trip guide for Dubrovnik, if you're visiting there as well. And of course, check out these silly Dubrovnik puns for your Instagram account.
Next, you'll want to read our guide to shopping in Croatia so you know which souvenirs are truly local gems.
If this will be one of your first trips in the Balkans, check out our massive list of things to know before traveling the Balkans as well as our Balkan bus, road trip, and itinerary guides.
We publish new content nearly every day! Bookmark our pages on Croatia and the Balkans so that you don't miss out on any new info or resources that we publish before your trip!
Finally, Don't Go without Travel Insurance!
Make sure you always travel to Croatian and the Balkans with a valid travel insurance policy. While the country is safe, accidents can happen anywhere. If you experience an accident or theft, travel insurance will help you recover your costs and enjoy the rest of your trip.
For travel insurance, I use World Nomads. I've been a happy customer of theirs for almost three years, and I've never had an issue when making a claim. I'm happy to refer them to anyone I meet.
Have you purchased any Croatian souvenirs while in the country or at home? Are you researching an upcoming trip? Let us know what your favorite souvenirs from Croatia are and leave any questions you have below!
Pin this Croatian Souvenir Guide for Your Trip
Stephanie has been living in and traveling around the Balkans for the past three years. She's written for National Geographic Online, appeared on CNN Arabic and in the New York Times, and ridden more Balkan buses than is good for a person.