This post may contain affiliate links. This means that if you click a link, we may make a small commission off any subsequent purchase, at no extra cost to you. For more information, please check our privacy policy.
When travelers decide to take their first trip to the Balkans, Croatia is high on everyone's wishlist. Between the stunning beaches, the plethora of UNESCO World Heritage Sites, and the gorgeous nature, there's so much to see here. However, it's a large country, and it is easy to get overwhelmed when creating your itinerary and preparing for your trip. Here's an eleven-point checklist to make planning a trip to Croatia a breeze.
Can't read now? Pin for later!
Where to Stay in Croatia
Here are our recommendations for where to stay in Dubrovnik. We're in the process of creating comprehensive guides on where to stay in other Croatian cities, but for now, we recommend checking out Booking.com as early as possible since this is a popular time to visit. These are some of the places we suggest you check.
Budget: Apartment Larica Miha Pracata is a historic building in the heart of Dubrovnik Old Town. You can easily leave your apartment and instantly be at some of the best architectural and historical attractions Dubrovnik has to offer. Check out prices and availability at Apartment Larica Miha Pracata.
Mid-range: Soleil Luxury Rooms offers some of the most modern amenities you will find in the Old Town of Dubrovnik. Check out guest reviews, prices, and availability at Soleil Luxury Rooms Old Town.
Luxury: Boutique Hotel Stari Grad showcases elegant style and you can see plenty of designer accents all over the hotel. The interiors and arrangement of all furniture are well-executed, creating a comfortable and cozy place to stay in the Old Town of Dubrovnik. Check out guest reviews, prices, and availability at Boutique Hotel Stari Grad.
How to Plan Your Croatia Trip
Check the following steps and guidelines to plan the most perfect Croatia adventure!
Step 1: Check to See if You Need a Visa
While passport holders from many countries do not need a visa to travel to Croatia, you always want to double check the entry requirements before you book anything. One important thing to note is that while Croatia is part of the European Union, it is not part of the Schengen Zone.
While we will do our best to ensure this page is updated, you should always check the MVEP website to confirm any visa information.
At present, this is the list of countries who do not need a visa to stay for 90 days or less in a 6-month period, but again, please double check at things may change!
Andorra, Argentine, Australia, Austria, Belgium, Bosnia and Herzegovina, Brazil, Brunei Darussalam, Bulgaria, Canada, Chile, Costa Rica, Cyprus, Czech, Denmark, Estonia, Finland, France, Germany, Guatemala, Honduras, Hungary, Iceland, Ireland, Israel, Italian, Japan, Republic of Korea, Latvia, Liechtenstein, Lithuania, Luxemburg, Macedonia, Malaysia, Malta, Mexico, Monaco, Nicaragua, Netherlands, New Zealand, Norway, Panama, Paraguay, Poland, Portuguese, Romania, El Salvador, San Marino, Singapore, Slovak, Slovenia, Spain, Sweden, Swiss, Turkey, UK, Uruguay, USA, Vatican, Venezuela.
In addition, holders of the following special passports also have Visa-free travel:
Hong Kong Special Administrative Region of the People's Republic of China, the Macao Special Administrative Region of the People's Republic of China, British Nationals (Overseas), British Overseas Territories Citizens who have the right of abode in the United Kingdom, and British Subjects who have the right of abode in the United Kingdom.
If your country is not on the list, you may be in luck if you have a valid Schengen visa, which would grant you the same 90 days in 3 months rule:
All third-country nationals who are holders of valid Schengen documents, as well as national visas and residence permits of Bulgaria, Cyprus, and Romania do not require an additional (Croatian) visa for Croatia.
There are also some exceptions for holders of permanent residence status in Schengen Zone countries.
Your passport must be valid for at least three months after you will leave Croatia.
>> Read Next: 13 Traditional Croatian Breakfast Foods: What to Eat for Breakfast in Croatia <<
Step 2. Book Your Tickets
If you're flying directly into Croatia, there are a number of airports you can fly into. The most common airports in Croatia for international arrivals are Zagreb, Split, and Dubrovnik, but there are also great flight deals available to Pula, Zadar, and Rijeka.
Croatia is an extremely long, narrow country, which means that you need to fly into the airport close to your destination (or first destination) to avoid long and expensive ground transportation options.
We usually use a combination of Skyscanner and Google Flights when we are searching for flights. Use Skyscanner's "Everywhere" feature, which is helpful for determining which cities fly to your destination. When looking for deals to Croatia, you can list your destination as the whole country. This will give you the options for all of the country's major airports.
If you know exactly which airport you need to fly from and into, then use Google Flights which has a nicer interface and updates with the correct prices faster, so there are no disappointments when you click through unlike Skyscanner sometimes has.
Step 3. Plan Your Itinerary
For the purpose of this article, we're going to assume that you are only visiting Croatia. If you are planning a multi-country Balkan trip, we have a whole post all about Balkan itineraries for you to read!
If you only have one weekend, then stick to just one city. We have several Croatian cities on our list of the best Balkan City breaks, but there are even more choices than that. The most popular cities for tourism in Croatia (in no particular order) are Dubrovnik, Split, Zagreb, Pula, Rovinj, Hvar, and Zadar.
>> Read Next: 11 Heavenly Things to Do in Hvar, Croatia's Island Paradise <<
If you have four days or less, pick one city and add a day trip if you want to see more of the country. If you have five or more days, then you can add additional destinations.
Remember that if you'll be traveling between cities on Balkan buses that you will end up spending long days on transportation. Croatia's trains are generally very good, and its one of the only places in the Balkans where trains are a true alternative to the buses for intercity travel.
Step 4. Plan Your Activities
Once you've determined what cities are on your itinerary, it's time to plan your activities! We are in the process of writing guides to many of Croatia's cities, so it's always a good idea to start with our Croatia travel page for ideas.
If you want to do any city tours or day trips, we recommend booking in advance, as sometimes tours book out especially in the peak season (May to September). We personally use and recommend GetYourGuide when searching for tours in Croatia and the Balkans in general.
We like that they have a best-price guarantee and that they tell you the name of the tour companies they partner with (unlike Viator), so you can research it and be sure it's worth your money! These are the company we recommend in our guides like the best day trips from Dubrovnik.
We've rented cars dozens of times in the Balkans through various search engines and have settled on Discover Cars as the best car rental search engine – it searches over 500 trusted rental companies to find the cheapest price for your rental! Compare prices for car rental in Croatia here.
Step 5. Budget Your Trip
Once you've planned how long you want to spend and where it's now time to budget your trip! Croatia is a bargain destination compared to Western Europe, but it's considerably more pricey than other Balkan countries. Keep this in mind while budgeting, especially if you want to backpack the country.
If you want to stay as a backpacker, staying in hostels, cooking for yourself and indulging in cheaper eats like sandwiches and pastries, you will find it easy to travel on a $50 USD a day budget. Of that, about $15 will go towards your hostel dorm bed; the other $35 can be spent on food, drink, activities, transportation, and Croatian souvenirs.
We personally feel that Croatia offers the best value to mid-range travelers. This means staying in a cheap but cheerful private room, eating out at a mix of local restaurants and higher-end restaurants, going out for drinks at the local bars, taking taxis, and indulging in a few guided tours. On this budget, you can have a fantastic time in Croatia for $60-90 USD per day, and that range largely has to do with whether you are traveling solo or with a travel partner (solo will be more expensive) and just how much exactly your accommodation costs. You can find private and double rooms in most Croatian cities for about $30 USD per night.
However, it is possible to do Croatia in absolute luxury and not spend too much money! This means the nicest hotel in town, no-holds-barred when you order, nice drinks, taxis galore, and guided tours. Even on a blow-out budget, you will spend between $100-200 USD per day tops.
A note about Dubrovnik: Game of Thrones fever and frequent cruise ship stops mean that Dubrovnik is crowded. And crowds mean increased prices. If you are trying to stick to a budget on the lower end of our recommendations, spend as little time in Dubrovnik as possible. You can enjoy the same Adriatic views up and down the coast with fighting to be in "the" Kings Landing.
Step 6. Book Your Accommodations
Once you've sorted out what you want to spend per night on accommodations, it's time to get booking! We use Booking.com because we like that they have free cancellation if you end up changing your plans and they have the widest selection and best prices.
We're in the process of creating comprehensive guides on where to stay in each Croatian city, but for now, we recommend checking out Booking.com as early as possible. Croatia is a popular travel destination and rooms have a tendency to sell-out during the high season, especially the ones that provide great value for the money in all price-tiers.
Step 7. Research Any Vaccinations You May Need
TL;DR – if you're a frequent traveler who is usually up-to-date on their vaccines, you'll be fine in Croatia.
There's really nothing that special that you need for Croatia. The CDC recommends being up-to-date on all your standard vaccines, which you should be anyway. This includes MMR, tetanus, chickenpox, polio – the usual. You may want to consider getting vaccinated for hepatitis A if you're not already vaccinated against it, as it can be spread by contaminated food or water. This is unlikely to happen as Croatia's water is clean and safe to drink in nearly all cities, but being vaccinated against hepatitis A is a good idea anyway for future travel.
The CDC also suggests possibly being vaccinated against hepatitis B if you, for example, want to get a medical procedure done or get a tattoo, and also possibly getting vaccinated against rabies. I think most travelers can safely skip both. Allison got bit by a cat in Ukraine last year and had to get post-exposure shots.
While it was a pain in the ass (not literally, anymore – the shots are now done in the arm, luckily!), it is 100% effective if the protocol is followed. And since you have to get post-exposure shots regardless of being vaccinated, it is not that much more of a burden in the extremely unlikely chance of an animal attack.
>> Read Next: 13 Incredible Day Trips from Dubrovnik <<
Step 8: Learn a Few Common Croatian Words and Phrases
Croatian (closely…ahem..very closely related to Serbian) is a Slavic language that uses that Latin alphabet with a series of diacritical marks that create new letters. This is called Gaj's alphabet, and it's the same one used in Serbia when Serbian is written in the Latin alphabet.
The Croatian alphabet has the following additional letters: č, ć, dž, đ, lj, nj, š and ž
The Croatian alphabet doesn't have the letters: q, w, x and y
Here's a pronunciation guide for these additional letters.
We think it's a nice idea to learn some basic words in the country you're traveling to! Luckily, while Croatian is a hard language to master, the basics are easy enough! :
Hi = Bok
Good day (more formal) = Dobar dan
Please = Molim
Thank you = Hvala Vam
Goodbye = Doviđenja
Excuse me = Ispričajte me
OK, Good = Dobro
Yes = Da
No = Ne
I don't understand = Ne razumijem
Do you speak English? = Govoriš li engleski ?
If you will traveling to Serbia, Bosnia, Bulgaria, or Macedonia after (or before) your time in Croatia, then you may want to consider learning the Cyrillic alphabet! However, if you will only be in Croatia (or Slovenia) then you will be fine with just your knowledge of the Latin alphabet. Don't let the diacritical marks get you down!
Traveling to Croatia and having no idea how to get into town? Why not book this convenient transfer service from the airport to the city center, it's safe and affordable!
Step 9. Pack Your Bags
What you should pack depends greatly on the time of year. We have some packing lists that we'll add soon to help you plan for your trip to Croatia, but for now, here are five things we don't recommend you visit without!
A Lonely Planet guidebook, to help you plan when on the ground
Your swimsuit, especially if you're headed to the Adriatic coast
An unlocked smartphone, so you can buy a cheap SIM card and use taxi apps
Wet wipes and hand sanitizer, in case of a poorly stocked bathroom
Comfortable walking and/or hiking shoes, so you can make the most of Croatia's cities and national parks
We have a full list of what to pack for Croatia, but here are five things you want to bring with you!
The Lonely Planet Croatia: a good guidebook can help you with the kinds of tips you need if you're out exploring Croatia and feel a bit lost, especially if you don't have internet or a cell signal. These also have recommendations for the major sites in Croatia, which will come in handy if you'll be visiting more than one Croatian city or island.
Unlocked Cell Phone: Allison and I both have unlocked cell phones that we bought in Europe (I use a Samsung and she uses an iPhone). This allows up to get sim cards when we travel so that we always have the internet.
Being able to pick up a Croatian sim card is a great way to stay in touch while on the road. If you don't have an unlocked cell phone that can use a Croatian sim card, you can buy a cheaper unlocked phone online and bring it with you! Note that Croatia is part of the EU so if you have an EU phone plan, your phone should work in Croatia
Pacsafe Citysafe or Other Anti-Theft Bag: This is the bag both Allison and I use. It has a pouch with RFID technology so our credit cards can't get scanned from afar, interlocking zippers to make it harder to pickpocket, and it's roomy enough to be a perfect sightseeing day bag. If you'd rather bring something smaller, you can pack a money belt instead.
This is especially handy in Dubrovnik and Split where tourist sites are crammed and anyone who looks like an obvious tourist is a potential target.
Grayl Water Filter: Being on the road means staying hydrated. If you want to avoid having to buy lots of single-use plastic water bottles, bring a reusable one with you. If you're concerned about drinking the local tap water (or you don't love the taste) grab one with a reusable water filter built right in. While water in Croatia is drinkable in general, there may be small islands where it's not recommended, so it can come in handy. I always ask a local about the tap water conditions and what they recommend.
Sea bands: If you get seasick easily, pack some Sea bands or seasickness pills so you can go island hopping without getting sick. A trip to Croatia isn't complete without at least one day spent in the islands, so make sure you're prepared to enjoy it to the fullest!
Read More: Essential Croatia Packing List: What to Wear & Pack for Croatia
Step 10. Prepare For Your Arrival
You're nearly done planning your trip to Croatia, but don't miss this last crucial step – planning what you do when you arrive!
Firstly, money – you'll either want to withdraw cash from the ATM at the airport or exchange your money. We recommend withdrawing cash instead, as you will get a better exchange rate at money-changers in the city. However, if you plan to use the ATM, you should probably call your bank to advise them of your travel. The last thing you want to happen is for your bank to deny your card when you arrive! I always advise carrying at least $50 USD/Euros as a backup in case of any card problems.
Once you're in Croatia, you'll use local currency since the country is not on the Euro. Check out our Balkan Currency Guide for an overview of how money works in Croatia and what to tip in the country.
Next, transportation. The best way to find out how to get to your accommodations is to ask your accommodations directly. Taxis are more expensive than in other parts of the Balkans, so you should ask them what the best public transportation options are if you are trying to stick to a strict budget. Be prepared to pay in local currency regardless of which form of transportation you choose.
Finally, be sure you have your hotel or Airbnb information (address and phone number) easily accessible so that you or your taxi driver can contact them if you have any trouble reaching them. We also recommend pre-downloading the local city map on your phone so that you can know your location if you get lost, even if you don't have wifi or data.
Step 11: Don't Forget Travel Insurance!
We put this last so it's fresh on your mind: travel insurance is essential for Croatia and for travel in general! Stephanie and I have both been paying customers of World Nomads for the last two years. We love the peace of mind it gives us in case of emergencies, accidents, illnesses, theft, or trip cancellation or disruption.
While Croatia is perfectly safe to travel around, there's always a risk inherent in everyday travel, so it's better to play it safe. The saying goes "if you can't afford travel insurance, you can't afford to travel" is true!
More Croatia Travel Resources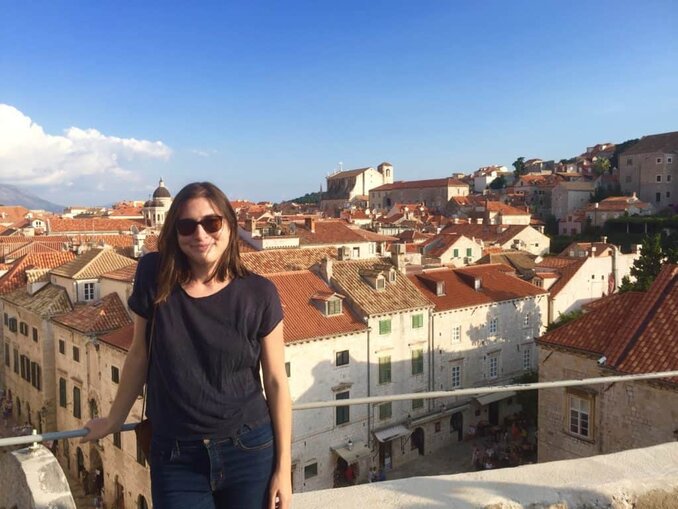 Headed to Croatia? We have some great travel resources to help you with your trip. First read our guide to planning a trip to Croatia, which covers visas, budgets, vaccines, and much more. We also have a packing list for Croatia in all seasons that will surely be of help!
We also have a Balkan currency guide that explains how the kuna, the local currency, works in Croatia and local tipping customs.
If you're still putting together your itinerary, here's a great list of places to visit in Croatia, our Croatian islands guide, and our Croatian waterfalls guide to help you choose. We also have a day trip guide for Dubrovnik, if you're visiting there as well. And of course, check out these silly Dubrovnik puns for your Instagram account.
Next, you'll want to read our guide to shopping in Croatia so you know which souvenirs are truly local gems.
If this will be one of your first trips in the Balkans, check out our massive list of things to know before traveling the Balkans as well as our Balkan bus, road trip, and itinerary guides.
We publish new content nearly every day! Bookmark our pages on Croatia and the Balkans so that you don't miss out on any new info or resources that we publish before your trip!
Pin This Croatia Trip Planning Checklist for Your Trip
Stephanie has been living in and traveling around the Balkans for the past three years. She's written for National Geographic Online, appeared on CNN Arabic and in the New York Times, and ridden more Balkan buses than is good for a person.