This post may contain affiliate links. This means that if you click a link, we may make a small commission off any subsequent purchase, at no extra cost to you. For more information, please check our privacy policy.
When it comes to Dubrovnik, one of the most popular Croatian cities, two things are certain. First, you'll be blown away by Dubrovnik's medieval beauty. And second, the city will be crowded… yes, even if you visit Dubrovnik in winter!
In the summer, it's almost impossible to walk the charming, narrow streets of Dubrovnik without pushing your way through hundreds of people. The high season in the city lasts from the beginning of spring to the last days of autumn, so the only season when you can experience Dubrovnik without huge crowds is in winter.
However, the last few seasons have shown that the city has become a popular winter destination. So, even though you probably won't be able to walk alone on the city's massive stone walls, you won't have to trample your way through the crowds to reach them. There will be crowds, but they won't be as massive.
So, if you decide to spend your winter holiday in Dubrovnik, here's what you need to know!
Can't read now? Pin for later!
Winter Weather in Dubrovnik
Dubrovnik enjoys a Mediterranean climate, which means that the summers are hot, and the winters are mild. Snow and low temperatures are a rarity.
The coldest month of the year is January, and even then the temperature rarely drops below 9° C (48° F). Still, it would be wise to pack some warmer clothes. Just last year in January, the city woke up covered in a thick blanket of snow!
Sadly, this idyllic scene didn't last, since snow soon turned to ice, and there were a lot of small traffic accidents, some broken bones, and a whole lot of chaos.
So, be sure to prepare for the worst and pack your winter essentials. We have a guide to packing for Croatia in all seasons, including winter, here!
Where to Stay in Dubrovnik
Here are our recommendations for where to stay in Dubrovnik. We're in the process of creating comprehensive guides on where to stay in other Croatian cities, but for now, we recommend checking out Booking.com as early as possible since this is a popular time to visit. These are some of the places we suggest you check.
Budget: Apartment Larica Miha Pracata is a historic building in the heart of Dubrovnik Old Town. You can easily leave your apartment and instantly be at some of the best architectural and historical attractions Dubrovnik has to offer. Check out prices and availability at Apartment Larica Miha Pracata.
Mid-range: Soleil Luxury Rooms offers some of the most modern amenities you will find in the Old Town of Dubrovnik. Check out guest reviews, prices, and availability at Soleil Luxury Rooms Old Town.
Luxury: Boutique Hotel Stari Grad showcases elegant style and you can see plenty of designer accents all over the hotel. The interiors and arrangement of all furniture are well-executed, creating a comfortable and cozy place to stay in the Old Town of Dubrovnik. Check out guest reviews, prices, and availability at Boutique Hotel Stari Grad.
Best Things to Do in Dubrovnik in Winter
Join the revelry at the Dubrovnik Winter Festival
Most cities in Croatia have a Christmas market during the holiday season (from the end of November to the 6th of January). The one in Dubrovnik is not the largest in Croatia, but it's incredibly unique.
The market is a part of the Dubrovnik Winter Festival, a festival that takes place all over the city, which is a creative blend of traditional and modern festivities. During this time, Dubrovnik transforms into a city of light since it's decorated with hundreds of thousands of Christmas lights and ornaments!
The main squares and streets are full of small wooden houses that offer amazing food and warm drinks. You can try out some of the traditional dishes, but you can also find modern gastronomical treats!
The program for the festival is super-rich. You'll be able to attend concerts, workshops, art exhibits, theater plays… Download the whole festival's program here, and have fun!
Experience Kolenda, a unique Dubrovnik custom
If you brave Dubrovnik in winter, you're in for some unique experiences you won't be able to enjoy any other time of year. For one, you'll be able to experience Kolenda, an old custom dating to the 13th century, which exists only in Dubrovnik.
A group of people called Kolendari, walk from house to house while playing the mandolin and singing traditional Kolenda songs. It's their way of wishing the citizens and visitors happy holidays.
Experience the one-of-a-kind Festivity of St. Blaise
Saint Blaise is the patron of Dubrovnik, and the city organizes a festival every year in his honor on February 3rd.
It's an incredibly popular celebration, and people come all over the world to witness this historical event. It's been going on continuously since 972 (that's right!), and in 2009 it was included in the UNESCO Intangible Cultural Heritage.
The festival starts with releasing of white doves as a symbol of peace and freedom. Then the procession starts, with people walking through Stradun, the main street of Dubrovnik.
The bishop and priests carry St. Blaise's relics and bless everyone gathered. They are followed by the guard, the trombunjeri, armed with rifles which they fire before entering the city, scaring away the enemies of Dubrovnik.
You will be able to see a lot of traditional costumes, listen to old songs, and join the folk dances. Just remember that a lot of museums, restaurants, and shops will be closed on this local holiday, so be prepared.
Have fun at the Dubrovnik Carnival
If you're visiting Dubrovnik at the end of February or early March, you'll have a chance to experience the funny side of the city.
The Carnival is an event when everyone puts on various costumes and masks, which somehow allow them to act crazier and sillier than usual. Everything goes, so prepare to witness some serious and funny pranks and good-hearted insults.
The festival mostly attracts kids and young adults, but grown-ups also use this chance to behave not-so-graciously. It's a great time to relax and forget the real world for a day.
Walk the walls at their least crowded
The main attraction of Dubrovnik is the city's medieval stone wall which entirely encompasses the Old Town. It's almost 2 kilometers long, and you can take a walk on them to witness the beauty of Dubrovnik from above.
During winter, the working hours are from 9.00 AM to 3.00 PM. The prices of tickets are 200 kunas ($30) for adults, and 50 kunas ($8) for children aged 7-18, and students. If you want a student discount, you would have to present a valid International Student Card or a European Youth Card. You can also join this historic tour of the city that includes a stop at the medieval wall.
Visit the marvelous Rector's Palace, now a museum
Be sure to visit the Rector's Palace, a 14th-century building and one of the most important relics of the glorious time when Dubrovnik was an independent Republic.
It was built in the Gothic style, but you'll notice the elements of the Baroque and Renaissance styles as well.
Today, the Palace is home to the Cultural History Museum, so buying a ticket will get you a tour of the Palace as well as the museum's collections and exhibitions. The working hours change depending on the season, so check them out here before you plan a visit.
The ticket price is 100 kuna ($16) for adults and 50 kunas ($8) for schoolchildren aged 12-18, and students. Children under the age of 12 have free entrance.
Marvel at Dubrovnik's cultural heritage
Dubrovnik is a small city but it has a long, rich history, so it's no wonder there are many museums you can visit inside its walls.
You can check the list of museums and their working hours here. There's something for everyone, from classical historical museums, to thematic ones, such as a Love Stories Museum.
But wait! If you're staying in Dubrovnik for a few days, and you want to check out the other museums, a good option would be to purchase a ticket that allows you entrance into a bunch of cultural institutions in the city.
>> Read Next: 11 Magical Things to Do in Croatia in Winter <<
You can buy the ticket at the Cultural History Museum, and it only costs about $5 more than their regular ticket! So, here's what you'll be able to visit if you pay a few extra dollars.
The ticket covers the entrance into the most important historical and archaeological museums in Dubrovnik (Cultural History Museum in the Rector's Palace, Maritime Museum in Fort St. John, Ethnographic Museum in the Rupe/Holes granary, and Archaeological exhibitions in Revelin Fort).
You'll also be able to visit the Natural History Museum. The ticket additionally covers the entrance for the House of Marin Držić, a famous renaissance writer, and art institutions such as The Museum of Modern Art, Studio Pulitika, and Gallery Dulčić Masle Pulitika.
The tickets are valid for 7 days from when you visit the first institution on that list, not from the day of purchase, which is great for planning your visit early.
Please remember that all of these institutions are situated in historical buildings, which means that their architecture prevents them from providing access to the disabled.
Only the Cultural History Museum has that option. However, it is possible to book an appropriate mode of transport at the Dubrovnik tour office, so you can manage to visit the churches and everything else that requires climbing steps.
Get to know Dubrovnik with local guides
You've probably heard that the Game of Thrones show was filmed in Dubrovnik, which served as a King's Landing, the capital of the Seven Kingdoms.
Numerous thematic tours offer to take you on filming locations, and local guides were often extras on the show so you'll get some insider info too. I'd recommend this walking Game of Thrones tour because you'll be able to see both the filming locations and some historical buildings.
>> Read Next: 28 Wonderful Things to Do in Zagreb in Winter <<
Compared to some of the other tours, this one is not as expensive (150 kuna / $23), and lasts for two hours, so you'll get your money's value. However, due to its excellent price, it often sells out early (yes, even in winter in Dubrovnik!), so be sure to book your ticket in advance!
If you want a guided tour of the city that is not necessarily Game of Thrones themed, check out this walking tour. Again, it's incredibly cheap for Dubrovnik prices, and it has raving reviews. Book in advance here.
Be careful when booking local guide services. There are a lot of unlicensed and illegal guides that operate in popular Croatian tour destinations. A licensed guide is obligated by law to wear a blue badge with his picture around the neck at all times.
If someone offers you a tour, ask to see their badge and a receipt for their services. If they decline, you know they're working illegally. You might be tempted to book their services if you're on a budget since they're often cheaper than official guides.
However, official tour guides are much more knowledgeable, speak more languages, and are up to date with all information. That's why we recommend booking through a service like GetYourGuide which ensures it works with accredited guides.
Try out the local restaurants and bars
The plus side of visiting Dubrovnik during winter, besides smaller crowds, is that you'll be able to experience almost everything Dubrovnik has to offer, but for a cheaper price. However, Dubrovnik is the most expensive city in Croatia, even off-season, so you'll still have to spend some serious cash.
If you're on a budget, avoid restaurants and bars on and around Stradun, the main street, and square. Those are the most expensive ones, where a cup of coffee can cost you more than what you would usually pay for a full meal.
You'll pay a little less if you go to a restaurant outside the city walls, but even then, make sure you get the price list before ordering, to avoid expensive surprises.
Not all restaurants are open during winter in Dubrovnik. Some of them operate only during the high season, so check out this list to find out which ones will be open. The list changes every year, so be sure to check it out at the Dubrovnik Tour Office website.
>> Read Next: 13 Incredible Day Trips from Dubrovnik <<
Get to know Dubrovnik's flora and fauna
The Sea Aquarium, run by the Institute for Marine and Coastal Research, is a place of peace and silence. Situated in St. Johns's medieval fortress, it is the home to many sea and freshwater creatures. Watching dozens of them slowly swimming around their tanks is both fascinating and relaxing.
During the winter season, November to March, the aquarium is opened Tuesday to Sunday, from 10:00 AM to 4:00 PM. The tickets cost from 60 kunas ($9) for adults to 30 kunas ($3) for children aged 4-12.
Visit the oldest pharmacy in the world that is still open today
The pharmacy was opened in 1317, as a part of the Franciscan Monastery. The monks wanted to be able to care for their ill brothers, so at first, the pharmacy was closed to the public, but that changed in the next century.
The pharmacy is still open today, and you can visit it and shop for incredible organic products such as lavender soap, essential oils, hand and face creams, etc.
If you visit the monastery, you'll discover a super interesting museum about the pharmaceutical works in Dubrovnik. You'll be able to see old manuscripts with recipes for the youth elixir, secret love potions, and various other preparations.
The tickets will cost you from 40 kunas ($6) for adults to 20 kunas ($3) for students and children. They are open all year long (except on some national holidays), Monday to Sunday. During winter their working hours are from 9:00 AM to 2:00 PM.
***
You'll enjoy Dubrovnik whenever you decide to visit it. However, winter in Dubrovnik can be especially nice, not only because you will save some money!
During winter, everything moves at a slower pace in Mediterranean cities, allowing you more time to relax and enjoy the views, the food, and the local customs. You might miss out on swimming and beaches, but you get the holiday festiveness and smaller crowds. So have fun and enjoy yourself!
Dubrovnik Accommodation
We've written a whole post on where to stay in Dubrovnik's Old Town, so check that out here. If you just want the quick version, here are our suggestions.
Budget: Guest House Luka
Guest House Luka is a historic retreat for guests, and it has been preserved today from its original structure which dates back to the 16th century. However, like the above apartment, accessibility can be an issue. The location is not for someone who hates stairs. There are steep steps just to reach the guest house (and even more inside, so be ready!).
However, if you don't mind all the stairs, you're in for a treat. Guest House Luka offers double and triple rooms to choose from, all furnished with vintage design with complements the rustic cobblestone walls. The rooms are definitely on the small side, but this is still one of the best places you can book to get within the budget price range, especially for accommodation inside Dubrovnik Old Town.
But what guests loved most about the property is its location: you can truly enjoy the charm of the old town without even having to leave the guest house. It is also a little bit on the off-the-beaten-path inside the Old Town, down a quiet alleyway – you will surely enjoy the tranquil location and the break from the tourist-filled streets!
» Check out guest reviews, prices, and availability at Guest House Luka «
Mid-Range: Dominus Old Palace
If you're looking for a luxurious place to stay but still somewhere in the mid-range price tier, you won't regret choosing Dominus Old Palace. It has beautiful and classic furniture and décor to make you feel as if you are royalty. Don't just think they added the word palace to make customers feel that way — it is an old palace that was renovated.
Unique embellishments were added to this historic building, adding interesting details that add flair to every room of the hotel. Once you step into your room, you'll be greeted by a room with modern décor.
You still see the historic rock walls of the hotel, but they juxtapose it with colorful quilted rugs on the floor. There's also a comfortable sofa and the views of the landmarks in the windows are stunning. They have a double room or an executive suite, both with ensuite bathrooms, and prices are a little on the higher mid-range price, but you do get your money's worth.
» Check out guest reviews, prices, and availability at Dominus Old Palace «
Luxury: Boutique Hotel Stari Grad
This Dubrovnik Old Town boutique hotel showcases elegant style and you can see plenty of designer accents all over the hotel. The interiors and arrangement of all furniture are well-executed, creating a comfortable and cozy place to stay in the Old Town of Dubrovnik. The hotel was previously owned by a nobleman, and it has stood the test of time since the 16th century!
You will have unforgettable views in their rooftop restaurant, Above5. There, you can dine in an alfresco setting while feeling the nice salty breeze blowing past you. Their breakfast is simply one of the best as well, with freshly baked goodies and other treats to help you start your day.
They also have Icona Spa, where you can indulge in one of the relaxing treatments they offer after a tiring day. If you have rented a car, they can help you with parking, but it would be outside of the Old Town (since cars aren't allowed).
» Check out guest reviews, prices, and availability at Boutique Hotel Stari Grad «
What to Pack for Croatia in Winter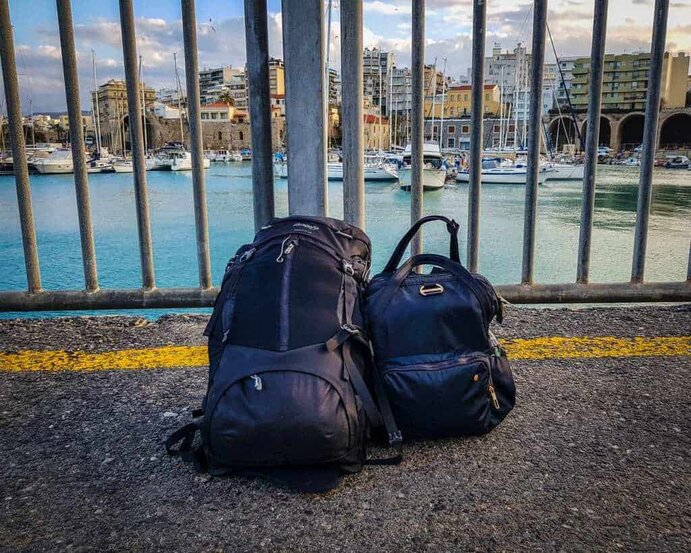 We have a full Croatia packing list here with winter sections for men and women, but here's the quick version!
A Guidebook – While travel blogs are great, we also definitely see the benefit of having a good paper guidebook in hand to refer to in your on-the-ground travel. We recommend the Lonely Planet Croatia book.
Winter accessories: Bring a winter scarf like this one (women's) or this cashmere scarf (men's) to help block out the wind. We recommend women's gloves like these which are compatible with your smartphone (for a men's version, check these). You also lose a lot of heat from the top of your head and ears, so a fleece-lined knit hat (women's) that you wear tight, like a beanie, is a fantastic choice. Pick a colorful one for cute photos! Here's a men's version as well.
An ultra-light down jacket: You can wear this on its own or pair it with a warmer jacket for colder days. This rolls up and packs easily in your day bag so it's good to bring along – I have one similar to this (women's) but there's a men's version as well. If you want to be warm, I recommend a winter jacket like this North Face parka which I've owned for years and years.
Winter boots: It can be snowy and icy throughout Croatia even at times in the south, as it can (rarely) snow in Dubrovnik and get below freezing. For snowy days and super cold weather when you still want to be comfortable, I love these knee-high waterproof Blondo boots and have owned them for over a decade. For men, I suggest a waterproof boot with good traction, like these Timberlands.
Motion sickness pills: Great for bus rides if you'll be visiting any mountains – I buy these non-drowsy ones. You can also try these natural motion sickness bands which use acupressure to reduce nausea – they work pretty well.
Read more: Essential Croatia Packing List: What to Wear & Pack for Croatia
More Croatia Travel Resources
Headed to Croatia? We have some great travel resources to help you with your trip. First read our guide to planning a trip to Croatia, which covers visas, budgets, vaccines, and much more. We also have a Croatia packing list with a detailed winter section.
If you want to add a few more delightful winter activities to your trip, check out our list of the best things to do in Croatia in winter.
We also have a winter guide to Split, and Zagreb is on the way! We also have a post on the Zadar Advent.
While in Dubrovnik, check out our favorite Dubrovnik Instagram spots and the best Dubrovnik day trips.
If you'll be spending time in Zagreb, check out our guide to Zagreb's Christmas Market and our list of the city's best photo destinations. Many of these are decorated even more lovely at Christmas! We also have a guide to visiting the famous Plitvice Lakes from Zagreb.
If you're still putting together your itinerary, here's a great list of places to visit in Croatia, our Croatia national parks guide, and the Croatian waterfalls guide to help you choose. We also have a guide to the best day trips from Spit if you're to be visiting Split as well.
Next, check out our Balkan currency guide which explains how money works in Croatia and local tipping customs.
Of course, if you're coming to a Christmas market you'll have lots of opportunities to shop! Read our guide to shopping in Croatia so you know which souvenirs are truly local gems.
If this will be one of your first trips in the Balkans, check out our massive list of things to know before traveling the Balkans as well as our Balkan bus, road trip, and itinerary guides.
We publish new content nearly every day! Bookmark our pages on Croatia and the Balkans so that you don't miss out on any new info or resources that we publish before your trip!
Don't Forget About Travel Insurance!
I'm sure you're aware that travel insurance is a good idea for traveling in Croatia (or really, any part of the world)! We have both been paying customers of World Nomads for the last three years. We love the peace of mind it gives us in case of emergencies, accidents, illnesses, theft, or trip cancellation or disruption.
While the Balkans are perfectly safe to travel around, there's always a risk inherent in everyday travel – especially during the winter! – so it's better to play it safe.
>> Get a travel insurance quote for your trip here <<
Pin This Guide to Dubrovnik in Winter!
Tea is a native Croatian and a passionate promoter of Croatia's cultural and historical heritage. She holds an MA in History and has been working as a tour guide and museum educator. She enjoys hiking and traveling with friends, and believes that there's no problem that can't be solved with Balkan food.