This post may contain affiliate links. This means that if you click a link, we may make a small commission off any subsequent purchase, at no extra cost to you. For more information, please check our privacy policy.
Especially in the peak season, the Old Town of Dubrovnik can be inundated with day-trippers and cruisers, which can take away the magic.
But if you stay overnight in Dubrovnik Old Town, there are times where you have the city almost on your own. Just wake up early for a morning walk before the cruise ships disembark, or go for a stroll late at night when everyone else has returned to their hotels outside the Old Town or back on board the cruise ship, and you'll see a different, almost peaceful side to Dubrovnik.
While Croatia may have been under the radar about a decade ago, times have changed. The Yacht Week and Game of Thrones have planted Croatia firmly on everyone's bucket list. While some parts of Croatia remain a bit off the beaten path, Dubrovnik is by far the most tourist-impacted city in Dubrovnik.
I'd never tell anyone not to go, but do visit with reasonable expectations. Dubrovnik can get extremely crowded, and prices in Dubrovnik are 3-4 times what you'll find in nearby towns in Montenegro, and likely double what you'd find elsewhere in Croatia.
While you'll certainly spend a lot if you choose to stay in a Dubrovnik Old Town hotel, you'll also get the rare chance to experience its moments of peace. And that's nearly as magical as anything you'd see on Game of Thrones.
Can't read now? Pin for later!
The Best Budget Hotels in Dubrovnik Old Town
A quick note about "budget" in Dubrovnik Old Town: staying in the Old Town of Dubrovnik is very expensive in the high season and quite a bit less in the low season.
However, since most people don't visit Croatia in the off-season, I created the budget categories based on what each hotel went for during the peak season (as there is a difference of two or three times the price!).
As a result, a "budget" hotel in Dubrovnik Old Town is roughly $100 per night. However, if you're visiting in the off-season, you might find a much better deal!
Apartment Larica Miha Pracata
This apartment is truly in the heart of Dubrovnik Old Town. You can easily leave your apartment and instantly be at some of the best architectural and historical attractions Dubrovnik has to offer.
Apartment Larica Miha Pracata is also a historic building itself, part of the Dubrovnik Old Town UNESCO site. As this historical building is protected, don't expect major modifications such as an elevator on-site (however, staff can assist you to carry your bags up to the apartment if needed, so fret not!).
However, if you can live without an elevator, you will surely fall in love with the old-world charm of this historic apartment. With Dubrovnik's Old Town at your feet, you will feel as if you are taken back to how life was like centuries ago — yet all without spending too much.
While the prices do spike quite high during the high season, this apartment stays priced lower compared to other accommodations inside the old town.
>> Read Next: 13 Incredible Day Trips from Dubrovnik <<
There's only one type of room available, and that is the 1-bedroom apartment. It can accommodate up to 3 guests and it is equipped with necessities like a sofa bed, mini kitchen, dining table, fridge, and a wardrobe. If you plan to eat a few meals in your accommodation to save money, this is a great choice: all that you need to prepare is a simple breakfast or dinner is available for your use.
However, do not expect a super stylish room; the furniture and décor are quite simple.
However, the windows are a bit high up, so for you to see the views outside, you would need to stand on a chair. For another, make sure that you have made your final decision when booking your stay because you might not be able to refund it.
Still, if you're on a budget, we're pretty sure there's no need because this is still one of the best apartments in Dubrovnik Old Town that you can get for a budget-friendly price during the high season.
»» Check out guest reviews, prices, and availability at Apartment Larica Miha Pracata ««
Guest House Luka
Guest House Luka is another historic retreat for guests, and it has been preserved today from its original structure which dates back to the 16th century. However, like the above apartment, accessibility can be an issue.
The location is not for someone who hates stairs. There are steep steps just to reach the guest house (and even more inside, so be ready!).
However, if you don't mind all the stairs, you're in for a treat. Guest House Luka offers double and triple rooms to choose from, all furnished with vintage design with complements the rustic cobblestone walls.
It also has A/C to keep you cool during the summer months – a huge perk in humid Dubrovnik! The rooms are definitely on the small side, but this is still one of the best places you can book get within the budget price range, especially for accommodation inside Dubrovnik Old Town.
There is one thing that you should note when booking this property: the kitchen and the bathroom is shared between the 3 rooms on the property. While privacy may be a concern, you don't have to worry about cleanliness because they keep the shared areas fresh and clean – this was never an issue with past guests.
>> Read Next: Planning a Trip to Croatia: Your Travel Checklist <<
There is a washing machine you can use — perfect if you've run out of fresh clothes and need to do some washing without paying a fortune at a hotel. The WiFi inside the property is very strong and you can easily connect without interruption.
Past guests have said that the host is truly wonderful and if you need any assistance, she's always there to attend to your needs.
But what guests loved most about the property is its location: you can truly enjoy the charm of the old town without even having to leave the guest house. It is also a little bit on the off-the-beaten-path inside the Old Town, down a quiet alleyway – you will surely enjoy the tranquil location and the break from the tourist-filled streets!
»» Check out guest reviews, prices, and availability at Guest House Luka ««
Apartman Lara
Apartman Lara is located close to the Onofria Fountain. The best part about its location inside the Old Town is that it is on an easily accessible road (not in one of those steep alleyways), rather than up many steep steps, which makes it easy for you if you have brought heavy luggage.
However, past guests have said it was a little tough to find since there is no sign, so be sure to have maps downloaded or be prepared to ask a local nearby!
The rooms are quite small, as you'd expect for an apartment in Old Town Dubrovnik, but it is packed with all of the things you will need for a comfortable stay.
You will love how neat the white beddings and linens are – white is known to create a bigger sense of space, and it was wise for them to use it to make the room feel bigger and more spacious. Inside the room, a clothes rack is provided, and there is a coffee machine so you can make a quick cup of coffee to jumpstart your morning or afternoon!
Do note that the bathroom is shared, but past guests were OK with this given the great location! However, a few people mentioned an issue that hot water could sometimes run out in between uses, so if someone has just taken a long shower, you're best off waiting a bit.
A lot of past guests have commended how wonderful the host is and how helpful she was in helping them sort things out for their itinerary of activities. She will truly make you feel as if you are part of the family and is happy to help make your stay as memorable as it should be!
»» Check out guest reviews, prices, and availability at Apartman Lara ««
Mid-Range Hotels in Dubrovnik Old Town
For this section of the post, we're considering "mid-range" to be roughly between $150 and $250 per night for an Old Town double room in the peak season
While we appreciate this is a pretty high price for what one would expect "mid-range" to be, note that Dubrovnik is the most expensive place to visit in Croatia, and it's hard to find Old Town Dubrovnik accommodations on a budget.
Still, these selected accommodations reflect the best options available in the middle of the price spectrum for Dubrovnik. Here are the best hotels we've found!
Dominus Rooms
Dominus Rooms is a guesthouse set in a beautiful old building. Staying here will take you back to how life was like a few centuries back. The guesthouse is completely furnished with unique and stylish vintage pieces that look timelessly classy.
It is located down a quiet alleyway inside the Old Town, and you will need to walk a bit inside the car-free Old Town. They do not serve breakfast at the property, but they will give you a discount coupon you can use in one of the restaurants nearby. However, you do have coffee and tea-making facilities in your room!
You can also store your important belongings in their safety deposit boxes – laptops can also fit, which is awesome for digital nomads or those who need to work on the road!
Electric sockets beside the bed are also available and it truly helps if you're tired and just want to relax, but your phone or device is about to die!
>> Read next: Your Ultimate 3 Days in Dubrovnik Itinerary <<
Past guests do love the beautiful décor in the entire house and the private bathroom, which has lovely fragrant bath and body products for you to use. Just remember that they do not provide conditioner, so if you need it, then it would be best to bring your own.
»» Check out guest reviews, prices, and availability at Dominus Rooms ««
Apartments Stajeva
If you book this charming apartment, you will get wonderful service from the time they meet you upon arrival up to the last day of your vacation. The host will take great care of you, and communicating with them is also very easy.
The best part is that you will stay in a prime location in the Old Town. It is also very close to the beautiful main street, but it's not noisy once you close the windows – you still get your peace! Inside your room, you have a mini kitchen with all you'd need for some light cooking.
The ensuite bathroom is not big, but it has what you need, and the wet and dry areas are separated by the enclosed shower.
The style of the rooms combines a country chic vibe and some useful yet retro pieces like the electric kettle, coffee machine, and so on. They also used bold blues and powder blues which compliment the crisp and clean white sheets.
Overall, the entire property is clean and stylish, with incredible views — you can even see the people walking to the City Walls (which is a bonus). If you need any help with discovering the Old Town itself, you can ask the host; they would love to give you insider tips.
»» Check out guest reviews, prices, and availability at Apartments Stajeva ««
Soleil Luxury Rooms Old Town
With upper mid-ranged priced rooms, Soleil Luxury Rooms offers some of the most modern amenities you will find in the Old Town. They also have small balconies in some of the rooms, which is quite hard to find in the area.
Charming city views can be seen from the windows of all rooms. You will also find several restaurants in a row right next to the hotel, so you're spoiled for choice!
They have several room options, but most have the same features like a flat-screen TV with Netflix (!), free WiFi in the entire property, and a wardrobe (this one is especially helpful due to the small space). You also have a minibar with coffee and tea-making facilities – there's also a small sink where you can wash your used cups.
All of their rooms are soundproof, hypoallergenic, and non-smoking. The interiors of the rooms are arranged perfectly to create a bigger sense of space. The private bathroom features a hairdryer, an enclosed shower, and free toiletries.
The host can also arrange an airport shuttle for you if you are in a hurry or just don't want the hassle to book one – just a reminder that taxis are not allowed inside the Old Town, so you'll have to walk a bit!
»» Check out guest reviews, prices, and availability at Soleil Luxury Rooms Old Town ««
Dominus Old Palace
If you're looking for a luxurious place to stay but still somewhere in the mid-range price tier, you won't regret choosing Dominus Old Palace. It has beautiful and classic furniture and décor to make you feel as if you are royalty. Don't just think they added the word palace to make customers feel that way — it is an old palace that was renovated.
>> Want to see the best of the old town? Check this convenient walking tour!<<
Unique embellishments were added to this historic building, adding interesting details that add flair to every room of the hotel. Once you step into your room, you'll be greeted by a room with modern décor.
You still see the historic rock walls of the hotel, but they juxtapose it with colorful quilted rugs on the floor. There's also a comfortable sofa and the views of the landmarks in the windows are stunning.
They have a double room or an executive suite, both with ensuite bathrooms, and prices are a little on the higher mid-range price, but you do get your money's worth.
If you need help in carrying your luggage, inform the hotel of your expected arrival and they can have someone help you out since the way to the hotel has several steep steps.
You may also seek help from their staff to book some tickets for attractions nearby! They can also help you get a shuttle for a hassle-free trip back to the airport.
»» Check out guest reviews, prices, and availability at Dominus Old Palace ««
Apartments More
Apartments More truly gives you something more for your stay! They have ornately adorned furniture with a little French inspiration, but it still is something modern. Some of the apartments have exposed wooden beams, which gives the rooms a magical feeling of warmth and coziness inside. Beautiful paintings are also hung on the walls to complete each room's look.
Depending on the type of room you book, there are leather and velvet sofas for you to comfortably lounge on. Not one room is furnished is alike in their property; everything is individualized, so you will see ornately adorned bed frames, tables, and chairs that match in an eclectic fashion.
Just beside your extra comfortable bed are electric sockets, great if you need to charge devices overnight. You can also choose to book the room with a window showing you Palmoticeva Street in its full glory! For bigger groups, you can get their 2-bedroom apartments.
It also has private bathrooms with luxurious showers and a vanity area.
Free toiletries, towels, bathrobes, and slippers are provided here. You may also cook in their mini kitchen, and there's also a small dining table.
Car rentals are also available, and their front desk can help you with that. If you need to get your dirty laundry washed, you can also get it done there for a fee. For a nice breakfast or dinner, you can try out some of the dishes available at the restaurant downstairs!
»» Check out guest reviews, prices, and availability at Apartments More ««
>> Arriving in Croatia soon and no idea how to reach the city center? Read more about airport transfer services here<<
Luxury ($250+ in high season)
Prijeko Palace
Prijeko is another palace that was transformed into a hotel that now provides luxurious Dubrovnik Old Town accommodation to guests. This chic boutique hotel in Dubrovnik Old Town has only nine rooms, creating an intimate experience where guests are well catered to.
It still has well-preserved architecture from the 16th century, combining different classic and sophisticated styles for its interiors. The building itself is a remarkably beautiful tall building with some snakelike vines crawling on the balconies for a romantic look.
The views are also to die for, especially at their rooftop restaurant, Stara Loza, which offers sumptuous meals and daily breakfast. The restaurant has 3 dining areas (all on different floors) also inside the building.
The owners of the hotel were influenced a lot by art, and so they named the 9 rooms after contemporary artists. Not one room is alike, so each room is artsy and fabulous yet well-executed.
All of their rooms have the same features (everything you need is here!) and the main difference is the size – the more expensive rooms have bigger spaces. They have double, king rooms, and family apartments with 2 bedrooms.
Do not be surprised by the prices, as they can inflate during the high season! However, for true luxury seekers, what matters most is you get the exclusivity and the royal treatment from this Dubrovnik Old Town hotel: that's what guests say makes their stay worth it!
They also have meeting and banquet facilities if you plan on using their restaurant for a delightful reception after a wedding. You may also check their wine cellar, which is a former water tank – the cellar looks amazing!
»» Check out guest reviews, prices, and availability at Prijeko Palace ««
Boutique Hotel Stari Grad
This Dubrovnik Old Town boutique hotel showcases elegant style and you can see plenty of designer accents all over the hotel. The interiors and arrangement of all furniture are well-executed, creating a comfortable and cozy place to stay in the Old Town of Dubrovnik. The hotel was previously owned by a nobleman, and it has stood the test of time since the 16th century!
The rooms have extra long beds with quilted leather headboards, and they provide extra throw pillows on top for an extra cozy bed to dive into after a long day of sightseeing. Despite the well-furnished features, you still get the old-world vibe to keep you feeling the vibe of the Old Town even when you turn in for the night!
You can choose from either a twin or deluxe double room – both are perfect for solo travelers or couples. No matter the room, they only give you luxury at their finest!
The room also has superb amenities in its private bathroom and it uses dark-colored tiles to create depth when you look at it. Overall, from the bathrooms to the room itself, it is extremely clean and modern as you'd expect from a hotel of this caliber.
You will have unforgettable views in their rooftop restaurant, Above5. There, you can dine in an alfresco setting while feeling the nice salty breeze blowing past you.
Their breakfast is simply one of the best as well, with freshly baked goodies and other treats to help you start your day.
They also have Icona Spa, where you can indulge in one of the relaxing treatments they offer after a tiring day. If you have rented a car, they can help you with parking, but it would be outside of the Old Town (since cars aren't allowed).
We've rented cars dozens of times in the Balkans through various search engines and have settled on Discover Cars as the best car rental search engine – it searches over 500 trusted rental companies to find the cheapest price for your rental! Compare prices for car rental in Croatia here.
»» Check out guest reviews, prices, and availability at Boutique Hotel Stari Grad ««
Dominus Little Palace
The owner of this hotel is the same as Dominus Rooms, and you will love how they completely renovated the old palace in 2016, but still managed to retain its former beauty.
They only have a total of 4 luxurious rooms (it is a 'little' palace, after all!), but all are well-furnished and have the same designer vibe as their Dominus Rooms guesthouse. The rooms feature statement pieces like unique lamps to add interesting pieces to the hotel and rooms.
Since the hotel only has four rooms, you'll find only premium doubles and executive suites. For a group of 3 or more, you can get their executive suite because it is more spacious.
You also get a discounted coupon you can use at their partner restaurant for a delicious breakfast that you won't forget! There's also plenty of restaurants nearby to help you dive into delicious Croatian cuisine. The hotel staff is also superbly helpful and they provide world-class service.
If you're staying in Dubrovnik in the off-season, note that they have floor heating, which works wonders during the cold winter months!
»» Check out guest reviews, prices, and availability at Dominus Little Palace ««
5 Things to Bring with You to Croatia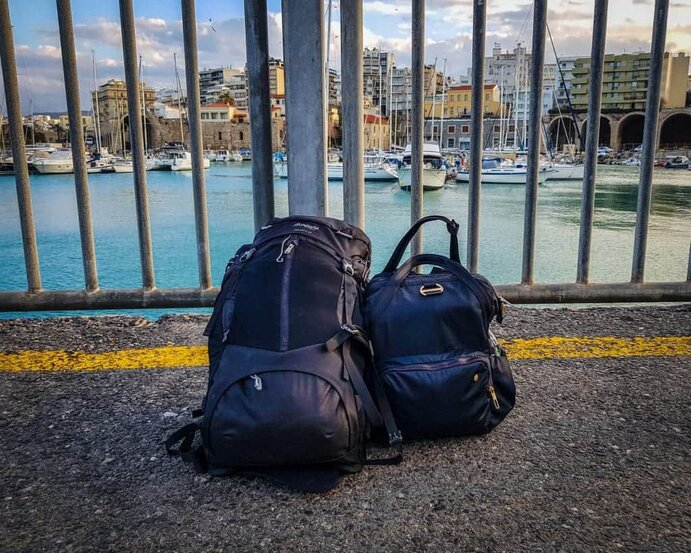 We have a full list of what to pack for Croatia, but here are five things you want to bring with you!
The Lonely Planet Croatia: a good guidebook can help you with the kinds of tips you need if you're out exploring Croatia and feel a bit lost, especially if you don't have internet or a cell signal. These also have recommendations for the major sites in Croatia, which will come in handy if you'll be visiting more than one Croatian city or island.
Unlocked Cell Phone: Allison and I both have unlocked cell phones that we bought in Europe (I use a Samsung and she uses an iPhone). This allows up to get sim cards when we travel so that we always have the internet.
Being able to pick up a Croatian sim card is a great way to stay in touch while on the road. If you don't have an unlocked cell phone that can use a Croatian sim card, you can buy a cheaper unlocked phone online and bring it with you! Note that Croatia is part of the EU so if you have an EU phone plan, your phone should work in Croatia
Pacsafe Citysafe or Other Anti-Theft Bag: This is the bag both Allison and I use. It has a pouch with RFID technology so our credit cards can't get scanned from afar, interlocking zippers to make it harder to pickpocket, and it's roomy enough to be a perfect sightseeing day bag. If you'd rather bring something smaller, you can pack a money belt instead.
This is especially handy in Dubrovnik and Split where tourist sites are crammed and anyone who looks like an obvious tourist is a potential target.
Grayl Water Filter: Being on the road means staying hydrated. If you want to avoid having to buy lots of single-use plastic water bottles, bring a reusable one with you. If you're concerned about drinking the local tap water (or you don't love the taste) grab one with a reusable water filter built right in. While water in Croatia is drinkable in general, there may be small islands where it's not recommended, so it can come in handy. I always ask a local about the tap water conditions and what they recommend.
Sea bands: If you get seasick easily, pack some Sea bands or seasickness pills so you can go island hopping without getting sick. A trip to Croatia isn't complete without at least one day spent in the islands, so make sure you're prepared to enjoy it to the fullest!
Read More: Essential Croatia Packing List: What to Wear & Pack for Croatia
More Dubrovnik & Croatia Travel Resources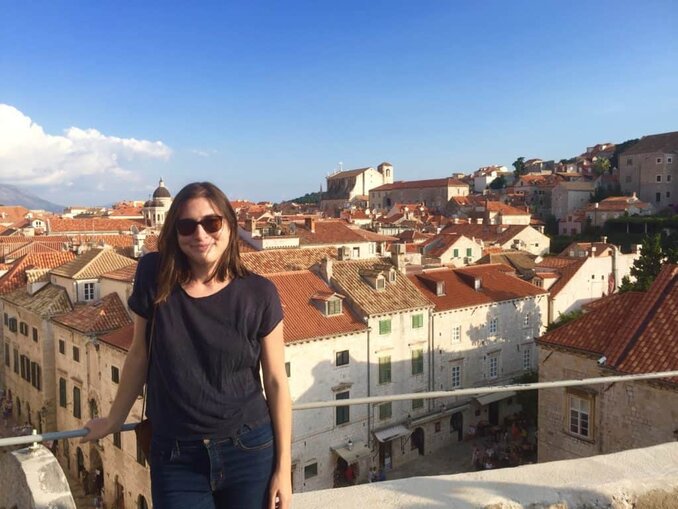 Headed to Croatia? We have some great travel resources to help you with your trip. First read our guide to planning a trip to Croatia, which covers visas, budgets, vaccines, and much more. We also have a packing list for Croatia in all seasons that will surely be of help!
For your Dubrovnik trip, check our guide to the best Dubrovnik day trips and Instagram spots. If you'll head to Kotor next, we have a transit guide ongoing between Kotor and Dubrovnik.
We also have a Balkan currency guide that explains how the kuna, the local currency, works in Croatia and local tipping customs.
If you're still putting together your itinerary, here's a great list of places to visit in Croatia, our Croatian islands guide, and our Croatian waterfalls guide to help you choose. We also have a day trip guide for Dubrovnik, if you're visiting there as well. And of course, check out these silly Dubrovnik puns for your Instagram account.
Next, you'll want to read our guide to shopping in Croatia so you know which souvenirs are truly local gems.
If this will be one of your first trips in the Balkans, check out our massive list of things to know before traveling the Balkans as well as our Balkan bus, road trip, and itinerary guides.
We publish new content nearly every day! Bookmark our pages on Croatia and the Balkans so that you don't miss out on any new info or resources that we publish before your trip!
Don't Forget About Travel Insurance!
I'm sure you're aware that travel insurance is a good idea for traveling in Croatia (or really, any part of the world)! Stephanie and I have both been paying customers of World Nomads for the last three years. We love the peace of mind it gives us in case of emergencies, accidents, illnesses, theft, or trip cancellation or disruption.
While the Balkans are perfectly safe to travel around, there's always a risk inherent in everyday travel, so it's better to play it safe.
Pin this guide to the Best Places to Stay in Dubrovnik Old Town!
Originally from California, Allison has been living in Bulgaria for the last two years and is obsessed with traveling around the Balkans. She has been published in National Geographic, CNN Arabic, Matador Network, and the Huffington Post. She loves befriending dogs, drinking coffee, geeking out about wine, and cooking food from around the world.