This post may contain affiliate links. This means that if you click a link, we may make a small commission off any subsequent purchase, at no extra cost to you. For more information, please check our privacy policy.
I'm certain you've already realized that wherever you may go in Greece, you're in for amazing waters, scenic beaches, beautiful sites, and ridiculously good food.
Neos Marmaras does not disappoint on any of these fronts, but it does have an additional bonus – it's the most perfect mix between quaint Greek seaside town and lively summer busyness.
Located on the second 'finger' of Chalkdiki's three peninsulas, Sithonia, Neos Marmaras is a wonderful getaway that is sure to get you off the beaten path in Greece.
Whether you've come to kick back and relax or explore and party, you'll find exactly what you're looking for in Neos Marmaras. Here are some of my favorite things to do in Neos Marmaras, the loveliest beach town in Greece, as well as some things to do in the Sithonia peninsula nearby.
Can't read now? Pin for later!
Where to Stay in Neos Marmaras
Rebekka Apartments – Located perfectly in between the town beach and town center, Rebekka Apartments offers comfortable and beautifully decorated living spaces, with a small kitchen and one to two bedrooms, as well as large and beautiful balconies for you to live your best Mediterranean life on.
The owners (the apartments are named after the owner's daughter who now runs the villa) are truly wonderful, generous and nice people (they always give my family a small parting gift when we leave), which enhances our stay every time. An additional plus is a whole parking lot for the eight apartments available (dedicated parking lots are extremely rare in Greece, and parking in Neos Marmaras can be very frustrating). I personally stay here every year.
Prices vary depending on the season you're visiting but are somewhere around 70 euro for a two-bedroom apartment in August. A little side note: neither Rebecca nor her mother speaks good English, but we haven't experienced any miscommunications with them as far as booking goes. The apartments are located near Neos Marmaras Exit D.
Contact information: +302375071883 +302373022644 +306976372111 +306975638865
What to Do in Neos Marmaras, Sithonia
Spend a day (or your whole vacation!) at Lagomandra Beach
Lagomandra isn't first on this list purely by coincidence. If you're in the neighborhood, you simply cannot miss this spectacular beach!
Much like the beaches of Hvar, these crystal clear, wonderfully turquoise waters (carrying the coveted Blue Flag designation for their cleanliness) are surrounded by tall old pine trees, providing not only cover from the scorching sun but also a lovely, pine-scented breeze. For when it gets a bit chilly in the afternoon, there is also a strip of pebble beach immediately by the water.
You'll find most people bring their own portable sunbeds or towels, but I would suggest bringing a mat since the fallen pine needles tend to be quite prickly. There are also sunbeds for hire (which is unusual for Greece since you typically get a sunbed for free if you order food or drinks at a beach bar).
There's a restaurant where you can get delicious gyros and other food and a small convenience store, but the prices are slightly higher than in the rest of the town. It also gets pretty busy because of the very limited parking space, so you'll have a harder time finding a spot after 10.30-ish AM, but despite all of this, it is so very worth it!
Explore Las Bandidas Beach
If you're looking for something off the beaten path, you'll love this beach.
It doesn't actually have a name, but locals refer to it as Las Bandidas because of the adorable beach bar here. Bonus points for the ridiculously scenic drive!
Visit Paradisos Beach and the Town Beach
These two beaches are both located in the town of Neos Marmaras, and both have Blue Flags. There is also an abundance of beach bars and restaurants where you can get a sunbed if you order food or drinks, but there is also a sunbed-free stretch of beach if you don't care much for sunbeds.
Cuteness Warning: You may be blessed with a view of adorable dolphins jumping in the distance!
Pro Tip: My family and I usually spend the morning and better part of the day at Lagomandra, go to our apartment and have lunch, and then spend until sundown at the town beach.
Chill out at Kohi Beach
While this beach does charge a 10 euro entrance fee (which is unusual for most Greek beaches), you do get sunbeds included in the price, and it does have a great reputation.
There's also a beach bar and restaurant with really nice staff.
Try your hand at water sports
Available at both the town beach and Lagomandra, you can try your hand at a variety of water sports.
You can try anything from water skis, sailing, or just holding on to a floatie for dear life as you're driven at high speed across the ocean. Best enjoyed with friends, because if you go down, at least you're going down together!
>> Read Next: 7 Lovely Things to Do in Thessaloniki in Winter <<
Get deep – try scuba diving!
You can explore the depths of the Aegean Sea with professional scuba divers, and enjoy some unique sights.
Dive shops are available both at Lagomandra and in the town center of Neos Marmaras.
Rent your own boat and explore
If you're the adventurous type, you might find renting your own boat and exploring some uncharted beaches is something you enjoy.
Sithonia is especially famous for spectacular tiny beaches inaccessible any way other than by boat. You can rent your own in the town center.
Find the most amazing souvenirs at the local shops
Some of the cooler items I've found are articles of clothing handmade in Greece, perfect for the beach, handmade cosmetics made with olive oil and Greece's specialty – leather items (Greece is known for its leather, so you can find amazing high-quality pieces for incredibly low prices).
The local jewelry stores also have amazing assortments of cute jewelry at great prices!
All of these shops (the names of which I cannot ever hope to be able to write) are located on the main street, near Okyalos Restaurant and Stefan's Ice Cream, and the leather shop is right opposite the church entrance.
Enjoy some sweets at Il Forno Bakery
This is my favorite zaharoplasteia (Greek for sweets shop) in Neos Marmaras, and even though it's a bit of a walk from my usual accommodation, it's so worth it.
I love a good kataifi, and these guys certainly kill it in that department, but honestly, anything coming from a zaharoplasteia is just amazing.
Some other favorite treats of mine include a mix between kataifi and baklava, pastes (basically little cakes) and kourabiedes (shortbread cookies with almonds and an icing sugar dusting), but I urge you to try other (possibly all of the other) items in the shops as well!
Savor the view and food at Okyalos Restaurant
I don't think you can beat this place's view, since it sits on a terrace right above the sea on one side, and next to the busy main street on the other.
As pretty much all of Neos Marmaras's restaurants, Okyalos specializes in seafood, and it is phenomenal!
Enjoy dinner at Ta Kymata Restaurant
I love this place! It sits right in the small port of Neos Marmaras, and some of the tables are literally by the water.
It has a wonderfully cozy and contemporary feel and a fantastic seafood menu, although you can also get the classics like souvlaki, gyros, or moussaka. The house red wine is also really, really good. This is my personal favorite restaurant in Neos Marmaras.
>> read next: 17 Best Santorini Cave Hotels & Suites You'll Love <<
Cool down with Stefan's Ice Cream
You can find ice cream at every corner, but I really like this place because of its wide array of flavors and just plain amazing ice cream. My favorite combo is pistachio and fig.
Party at Club Plwton
This is the most popular club in Neos Marmaras (I think it might even be the only one), and it's a lot of fun!
Beach bars also sometimes throw parties, if that's more your jam.
Shop around at the Neos Marmaras Market
The market takes place every Thursday and is located at the very edge of the village, at the end of the walking zone. It almost magically appears in the morning and disappears by the next day.
You can find tons of local produce, fish, wine, olive oil, cheese, and even sweets, but you can also find household items like pots, pans, handmade rugs, or clothes, accessories, and even souvenirs – to put it simply – you'll be able to find everything.
The prices of food are lower than in convenience stores, but things like olive oil and wine do cost more; however, you do have a certain degree of certainty you're getting high-quality stuff.
I like happenings like this market because it gives you a window into the lives of locals, and you can get some great deals as well. Don't forget to haggle!
Try some wine at Porto Carras Winery
Okay, you must have noticed by now that I'm a fan of wine, so you really shouldn't be surprised.
These vineyards (named Domaine Porto Carras), are the largest vineyards in all of Greece and one of the largest in Europe. The wines produced here are organic and are with Protected Designation of Origin (Meliton Slopes). Doesn't that sound amazing?
>> Read Next: 25 Snowy Photos of Meteora in Winter to Inspire Your Visit <<
On offer are wine tastings at quite affordable prices (about 1 euro per wine), as well as a vineyard tour including wine and local delicacies tastings (15 euro for adults). I hear the best wine coming from these 50-ish-year-old vineyards is the Chateau Porto Carras!
Treat yourself at the Porto Carras Spa
Aside from the winery, this luxury resort offers entrance to its spa, so if you're looking to take a break from the sun and sand, you could pamper yourself at this luxury spa.
They offer something called thalassotherapy (translating to wave therapy, but as far as I can tell some sort of treatment using saltwater, dating back to Hippocrates), but if that doesn't float your boat (get it?), you could indulge in one of many other treatments they offer.
Hike to Parthenonas village
The quaint (I know I use this word a lot, but this place is the definition of quaint) village, located just outside of Neos Marmaras, possibly dates back as far as the 10th century BC.
In the 1970s, as Neos Marmaras started becoming a tourist hub, people living here moved down to the coast in search of jobs, leaving Parthenonas a ghost town.
>> Read Next: 13 Spectacular Places to Visit in Crete: Local Favorites & Hidden Gems <<
After the government brought attention to the significant but decaying village, foreigners started purchasing property and restoring the houses built in an old Macedonian vernacular style, bringing life to this village once again.
You can spend the day hiking to Parthenonas, walking or biking through the olive orchards, exploring the beautiful (and ultra-Instagrammable) village, visiting the cool Folk Art museum and eating dinner while observing a beautiful view of the sunset over the sea, or just pop in for a quick visit.
You can also buy really good Parthenonas olive oil made from olives from the very orchards you must pass on your way here. The village is also accessible by car if hiking isn't your speed!
Climb Mount Itamos
This mountain range gets its name after the rare species of trees, called Ithamos trees, but another name for the mountain range is Dragoudeli.
Mount Itamos has some spectacular hiking trails, but you can also reach the top (highest peak at 811 meters) via car, and enjoy the magnificent view of the ocean and Mt. Athos, and you might even run into a deer or an adorable rabbit on your way up!
Go on a Mount Athos sightseeing cruise
There are usually organized day trips to Athos from anywhere in Greece, but Neos Marmaras is pretty close to Athos, so this is a great opportunity to make this trip.
The small cruise boats only circle around the peninsula of Athos, since actually going to the peninsula is a bit more complicated, and not to mention the fact that women aren't allowed to even step foot on the holy land.
Thankfully, you can still see and enjoy some of the most spectacular monasteries, not only Greek but also Serbian and otherwise, since Athos carries a lot of significance in the Orthodox world. In fact, the most cherished Serbian monastery of Hilandar is located here.
Spend a day at Sarti
Sarti is a similar town to Neos Marmaras, just on the opposite side of the "finger," and if you're nearby, why not pay it a visit?
Perhaps you'll like it enough to come to Sarti on your next visit (although I've been to both Sarti and Neos Marmaras and the latter absolutely takes the cake).
>> Read Next: 25 Gorgeous Quotes about Athens & Instagram Caption Inspiration <<
Explore the Toroneos Gulf
Cruises around the Toroneos Gulf include visiting tucked-away beaches around Halkidiki which are otherwise inaccessible.
You can visit on Kelyfos Island, an uninhabited isle shaped like a turtle, which is where it gets its name (you can see this island from the town beach). If you're a fan of uncharted wild beaches, this might be the thing for you!
***
Neos Marmaras is my personal pick of a summer vacation spot, and I've been visiting several years in a row now, since I find it to be very peaceful and relaxing, with fantastic beaches and food, but not at the cost of getting boring, which is so often the case with these small towns on the Greek coast.
Although it may not be the historical treasure trove other Greek spots are in, it has a great mix of fun and culture for you to enjoy during your summer vacation.
What to Pack for Neos Marmaras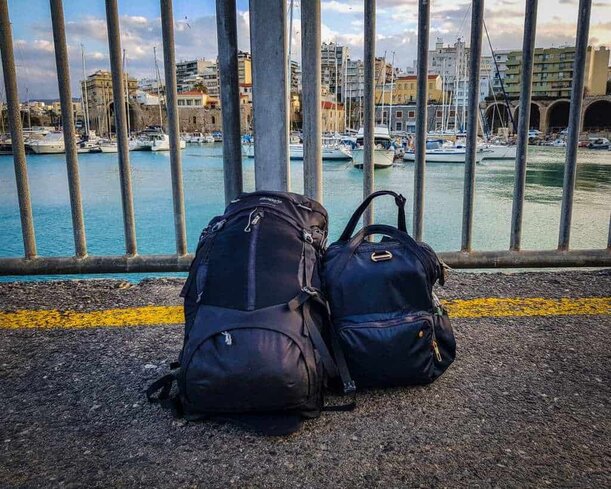 Mosquito repellent: Mosquitos in the summer can be nasty! You can bring ones with DEET or without DEET, or I love having some of these mosquito repellent wipes that I can keep in my bag in case I suddenly start to get swarmed and don't have my regular repellent with me.
Sunscreen: You can buy sunscreen in Greece, but it's likely cheaper at home or bought online in advance. I love this solid Neutrogena sunscreen. Who doesn't love a good solid for liquid swap? Great to keep in your bag without worrying about sunscreen explosions.
Water shoes: Chalkidiki has both sandy and rocky beaches. The thing is that pebble and rocky beaches in Greece are a double-edged sword. On the one hand, the pebble seafloor is what creates that gorgeous deep turquoise-colored water that is hard to beat, as the lack of sand means you have incredibly clear water. However, on the other hand, pebble beaches and rocky shores can be downright painful!
Our friend recently cut his foot on a rocky beach in Croatia; had he been wearing water shoes, he'd have avoided such unpleasantness! We suggest these unisex water shoes. They're not sexy, but they will make your trips to the beach far more pleasant!
A secure backpack: We both carry the CitySafe backpack by PacSafe not only on our travels but in our day-to-day lives. It's cute, it's functional, it's comfortable, and it's secure. We're talking about interlocking zippers (which you can then put through a second clasp for two layers of security), slash-proof wire mesh construction, and RFID blockers to keep your personal data safe.
It's neutral enough to be unisex, it's roomy enough to fit a small laptop, large camera, and tons of odds & ends, and it fits under the plane seat in front of you. We're obsessed. Check it out for yourself!
Grayl Water Filter: Tap water is not always safe to drink in Greece. In Chalkidiki, it's generally considered safe overall, but quality varies and therefore it's safer to drink filtered or bottled water. To both be safe and not buy dozens of plastic water bottles, you can get a reusable water bottle that comes with a water filter so that you can stick to the tap water and reduce your plastic waste.
Seabands: If you get seasick easily, pack some Seabands or seasickness pills so you don't miss out on the best parts of Greece – being on the water! A trip to Greece isn't complete without a quick boat trip, so make sure you're prepared to enjoy it to the fullest!
More Greece Resources
Headed to Greece? We have some great travel resources to help you with your trip. First read our guide to planning a trip to Greece, which covers visas, budgets, vaccines, and much more. Next, you'll want to read our all-season Greece packing list.
If you are still trying to figure out your Greece itinerary, check out our guides on where to go in Greece, the best places for island hopping in Greece, and when is the best time to visit.
Many people combine a trip to Chalkidiki with a trip to Thassos or Thessaloniki. We have a guide to Thassos, and you can also check out our Thessaloniki resources. We have guides on Thessaloniki Instagram spots and visiting Meteora from Thessaloniki, and more on the way.
We publish new content about the Balkans almost every day! For more information about traveling to Greece and the Balkans, bookmark our Greece and Balkan travel pages so you can find out what's new before your trip.
Pin This Guide to Things to Do in Neos Marmaras for Your Trip!
Marija was born and raised in Belgrade, where she is currently living and attending medical school. She listens to way too many podcasts, adores all furry creatures, cozy afternoons snuggled up with a book, and spending time with friends over really good wine.