This post may contain affiliate links. This means that if you click a link, we may make a small commission off any subsequent purchase, at no extra cost to you. For more information, please check our privacy policy.
Corfu is one of Greece's most-loved islands, one of the 7 Ionian islands in the very northern part of Greece. With a historic Old Town (which is also a UNESCO site), stunning aquamarine water, and a handful of islands an easy sail away, there are plenty of delightful things to do in Corfu which is why it's such a popular summer destination in Greece.
Corfu is popular as a destination in its own right, but it's also a place that people visit on their Balkan trips as it's an easy ferry ride away from Saranda, Albania: the gateway to the Albanian Riviera. After all, Corfu to Saranda is only 30 minutes away by fast ferry!
Can't read now? Pin for later!
General details about Corfu
Whether you're just planning to visit Corfu on your trip, or you're using Corfu as a stop on a larger Balkan itinerary, Corfu Town is a fantastic place to base yourself while in Corfu.
It's the largest town on the island by a long shot, so if you want to be in the heart of the action, it's where you should be. While there are other places to stay in Corfu if you are just looking for a beach trip, Corfu Town offers a unique blend of culture, history, and accessibility of day trips that other places on the island simply can't offer.
Where to stay in Corfu
So, if you want a chance to stay in Corfu Town, soaking up the historic atmosphere and lively Greek culture, there are a few things to know before booking. For one, Corfu Town is rather small and demand is high.
That means that you'll pay slightly more in Corfu Town than in other places on the island. For another, you'll want to book well in advance as the best places book up quickly, particularly in the high season.
However, the advantage to this is that you'll be right in the heart of the action, and many lovely beaches are a simple KTEL public bus ride away (Greek buses are fantastic), so you can save on transportation costs.
We've listed each of the best hotels in Corfu Town by budget category. However, keep in mind that these budget categories are no more than a rough estimate as the prices change dramatically depending on seasonality.
You will easily pay 2-3 times more for a room in July as you will in October. For this post, we used high season prices as a benchmark as we know this is when most people will travel.
For this post about hotels in Corfu Town, we defined each budget category as follows. For the budget end of the spectrum, we consider Corfu Town accommodations under $75 per night for a double room. For mid-range Corfu Town accommodations, we are talking about $75-150 per night for a double. When it comes to luxury accommodations in Corfu Town, you're looking upwards of $150 per night.
Budget Accommodations in Corfu Town
Local Hostel & Suites
This brand new hostel (with private rooms available) is small, offering an intimate and personal experience with only 10 rooms. You can choose from a dormitory-type room or a private room with an ensuite bathroom.
Location is the name of the game here: it is very close to the port (great for doing day trips to other islands or even Albania!), yet it's also located just 10 minutes from the heart of Old Town.
While it's easy to walk to the Old Town, there is also a nearby bus stop that can get you back and forth from the town easily — great as taxis in Corfu are crazy overpriced, similar to many other touristic Greek islands. The facilities are all brand new because they just opened around August of this year, so you'll enjoy comfortable and modern amenities.
All of their rooms have clean and crisp minimalist styles. They have a minibar that serves snacks during the day, and every morning, they offer coffee (with refills)! Past guests commended the cleanliness of the place – calling it squeaky clean! The only issue some guests found was that there can be some noise from the kitchen in the morning or at night.
However, be aware that their front desk is only available from 10 M until midnight. Do not forget to inform them if you will arrive at a later time, lest no-one be available to check you in! Guests who are renting a car in Corfu can safely park their cars in the spaces provided.
»» Check out guest reviews, prices, and availability at Local Hostel & Suites ««
Hotel Perama
If you want a stunning view of the sea, but you don't want to spend a fortune on your Corfu Town accommodation, then this hotel ticks the boxes!
The property is owned by a couple and they are very kind and attentive, catering to all the guests' needs. Past guests said they gave them plenty of insider tips, so you can enjoy the secrets that typically only Corfu locals enjoy.
It is very close to the beach: perfect if you want some sunshine and relaxation time. With just a 3-minute boat ride, you can already enjoy the beauty of the most photographed area on the island, Pontikonisi (also known as Mouse Island).
The rooms are fairly priced yet with the amenities you want, such as air conditioning (when Corfu can get unbearably humid). The hotel has twin and triple rooms available, and everything has a delightfully homey vibe to it. Simple and wooden furniture has been used to create a rustic look.
The best part about this hotel is its location: it's in a quiet and green area of Corfu where you can also just relax on the beach from behind the hotel.
The hotel has common areas where you can dine outdoors and indoors, and you can order some dishes and snacks from their menu. This is also where they serve breakfast, and they also have a bar area with beer and wine you can sip on and unwind. Guests can also enjoy taking a dip in the pool at the neighboring property for free!
»» Check out guest reviews, prices, and availability at Hotel Perama ««
Mid-Range Accommodations in Corfu Town ($75-150 USD)
Arcadion Hotel
Located in the center of the Old Town, Arcadion Hotel shows its history through its traditional design style with touches of classy vintage furnishings. You get the best of the Old Town's charm staying here!
The furniture they used all looks to be handmade, and they curated all fabrics used to create a lovely ambiance that's warm and cozy. Works of art also adorn the building, they are from the Corfiot School of Painting (as the building is also owned by the Corfiots).
Venetian and European influences are evident in each room of this fine hotel. They have single, double, and triple rooms. Some rooms have a view of the Liston (Corfu's gorgeous pedestrian square), though you have to request that specific room type (which is available in both double and triple rooms). For a more luxurious stay (still at a mid-range price!), you may want to opt for their Junior Suite.
Every detail of their rooms exudes an elegant charm, with metal-framed beds, cream-colored sheets, and extra comfortable mattresses. All of their rooms have an ensuite bathroom, minibar, and safes. Most rooms have balconies with views of the splendid Old Town and some of its famous landmarks. It also has another feature most modern guests love – sockets just beside the bed!
You will feel secure and catered to with their 24-hour front desk, available for any questions or requests you may have. They can also assist you with other needs, such as laundering and drying clothes, and they also have a business center if you need to print, fax, or photocopy any documents.
»» Check out guest reviews, prices, and availability at Arcadion Hotel ««
Corfu Mare Boutique Hotel
Despite being a short trip by bus or taxi to the heart of the Old Town from this hotel, it still gets plenty of guests for its phenomenal amenities. You should hurry if you see there's a room available – virtually every past guest of this hotel says that it is 100% worth staying here!
Corfu Mare has multiple room types and configurations (with a total of 51 total rooms). For a more modern room, look to their junior suite for stylish vibes. Most of the rooms have simple, classic decor elements to make each room look elegantly fabulous. Their beds use Coco-mats for the mattresses: they're made out of natural fibers, and they're also very comfortable and sturdy.
All of their rooms and suites are fully equipped with all the best features you can expect for a mid-range priced hotel. Interconnected rooms are also available if you are a large group of travelers. The hotel is tucked away from the main streets of Corfu Town. You will love how enclosed and exclusive the entire property is, and the fact that there's also free and secure parking.
Just be reminded that there's not much in the way of shops and restaurants nearby, so you'll have to head into the heart of the Old Town for more action. The main views of the hotel are its private pool, garden, and the sea nearby, so if you want Old Town vibes, other Corfu Town hotels may be a better fit. Still, it is a wonderful, classy, and affordable place to stay in Corfu Town — and that's one reason of many that so many guests return.
»» Check out guest reviews, prices, and availability at Corfu Mare Boutique Hotel ««
Cavalieri Hotel
Cavalieri Hotel is located inside the Old Town of Corfu. As is the entire Old Town is a UNESCO site, this hotel has the typical old style of the historic buildings in this area: tall, with balconies adorned with intricately decorated iron. You will love how this gives you a true historic Corfian feel – giving you a glimpse of what it was like back then, while still incorporating plenty of modern facilities for added comfort.
If you choose a room with a balcony, a lovely view of the sea and the city awaits you! All rooms are equipped with a minibar and private bathroom that have complete bath necessities inside (including fluffy towels and free toiletries).
Antique-looking furniture adorns the rooms and still life paintings of flowers hung on the walls all contribute to its historic vibe. There are even closets in the room, so you can organize and store your clothes hassle-free. The rooms are also soundproofed, so even though there are some busy streets in the Old Town, you won't hear a thing and you can sleep soundly.
You can also try some of the unique Corfian and international dishes served at their rooftop bar and restaurant! Note that the restaurant is closed during poor weather conditions and the off-season. The views from there are picturesque, and you can dine al fresco while sitting on their glazed iron garden chairs: a true Greek dream!
»» Check out guest reviews, prices, and availability at Cavalieri Hotel ««
Read more: The 17 Most Stunning Things to Do in Corfu (+ Bonus Best Beaches in Corfu!)
Royal Grand Hotel
The moment you step inside this hotel, you will be welcomed by the warmth of their service and a memorable fragrant scent. The hotel provides a romantic and modern retreat for its guests with magical sunset views over the sea in a renovated historic building. The entire property is spotlessly clean everywhere you look, creating a peaceful escape.
Guests can choose multiple room types depending on the number of people with them: there are rooms suitable for families, couples, and even solo travelers who want to travel in style. They even have different price tiers if you prefer a budget room, standard room, or luxe suite.
The rooms have a contemporary and modern style with added touches of local materials for their décor. Balconies also open to a lovely view that will truly make your entire stay more memorable – choices of views are also available, just make sure to send a request.
The rooms are all soundproofed and equipped with a wardrobe, sofas that can turn into an extra bed, A/C, a clothes iron, and so on – so much so that there's no need to reach out to their front desk for something! The private bathroom in each room is provided with toiletries, a hairdryer, and towels for your convenience.
Royal Grand also has both a restaurant and a café (the Royal Café). There aren't that many choices in their restaurant menu, but they have really good seafood dishes you have to try! Breakfast is also served in their café with a wonderful atmosphere from the beautiful nature surrounding the property. You can also take a cool dip at night in their pool and have some of the delightful drinks at their pool bar.
»» Check out guest reviews, prices, and availability at Royal Grand Hotel ««
Luxury ($100+ night)
Divani Corfu Palace
If you want to stay close to Corfu Town but in the peaceful suburb of Kanoni, then go for this gorgeous luxury hotel! This 4-star pet-friendly hotel has a remarkably adorable historic appeal. combined with world-class modern and luxurious features. Plus, it is only 3 kilometers away from the center of the Old Town.
Their rooms are crafted with delicate touches that will perfectly match the taste of those who love luxurious fine living. Some of their rooms have a balcony or terrace that opens to the garden and wonderful views of the on-site pool!
The airport is rather close by, but don't worry about the noise from the airport disturbing your sleep time. The double-glazed windows and soundproofing provide plenty of protection from outside noise.
They have plenty of rooms to offer with a variety of room configuration types, and the maximum number of people a room can fit is 4 guests. You can also opt for 2 single beds or a large bed. Each room has a sturdy work desk to keep you productive if you need to work while you're away.
The private bathroom has luxurious tiles, just like what you see in their common areas and the lobby. Local Greek bath and body products are provided and they smell so good!
They serve a scrumptious American and Greek breakfast for all guests – don't forget to try the local donuts, loukoumades — they're phenomenal!
»» Check out guest reviews, prices, and availability at Divani Corfu Palace ««
Siora Vittoria Boutique Hotel
Choosing a boutique hotel like Siora Vittoria ensures that you will have tons of picture-perfect stylish spots on the property where you can snap fantastic Instagram photos!
While the property has a lot of history dating back to 1823, the hotel was named after the owner's daughter, Victoria. It was only recently that they decided to transform their private property into a hotel – which took a while because they wanted to keep the authentic style of its Venetian architecture (and historically accurate restorations are quite tough!).
The rooms truly create a sophisticated and elegant ambiance with the combination of warm colors and subtle yet gorgeous patterns in the sheets and linens. The windows in each room are unique; they give you a feeling that you're on a balcony with its wide-open wooden windows and faux iron balconies. Choices of different room types are available and a special room has a view of the fortress – this is also their most expensive room, so perhaps best saved for a special occasion!
Aside from being close to the Old Town, there are also several other activities on Corfu that their tour desk can help arrange for you. You can also leave your kids under the supervision of a trained sitter, which they can help you arrange.
There are restaurants on-site if you're feeling tired after a long day of sightseeing around Corfu Town, catering to a variety of needs. Kids' meals are available for picky eaters, and the special dietary requirements of guests are also taken into consideration. Bringing your pets won't be a problem and you can even walk them in the garden in the morning!
»» Check out guest reviews, prices, and availability at Siora Vittoria Boutique Hotel ««
Bella Venezia
Bella Venezia is a luxury hotel in the Old Town of Corfu that showcases what a typical mansion looked like during the 18th century. It stands out from the other buildings in the town due to its peach-painted exterior. The location is also perfect, both nearby to the attractions in the Old Town plus easy access to a local beach.
It was recently renovated in just 2016, transforming it into the modern hotel is it now. It's a cozy hotel, with just 30 rooms and 1 suite, so service is individualized and personal. In terms of style, the interiors are decorated with exquisite furniture and embellishments. The lobby showcases pure elegance and class with its style choices.
Their rooms have parquet floors, and some bed frames are made out of wood and others from iron. One thing's for sure: the mattresses are soft and comfortable, and many of their past guests raved about it! The hotel mixes and matches different classic pieces to create that romantic and sophisticated style for all the rooms. Most of their rooms have a balcony and the views are mesmerizing!
Get to know Corfu Town on a fantastic walking tour with an English-speaking guide, you will stroll the charming alleyways and interact with the locals as you stop to taste the fantastic Corfiot food. Check this guided tour here.
Check out the fridge in the room for a complimentary bottle of wine or champagne, plus a bunch of gorgeous roses to welcome you on your first day! A/C and heating give you choice over the climate control to keep you comfortable regardless of the season.
You will love how they put tealight candles in the ensuite bathroom to make it even cozier, and toiletries and towels are for your disposal here as well. It also has an enclosed shower to keep the toilet area dry and comfortable.
»» Check out guest reviews, prices, and availability at Bella Venezia ««
Read more: 50 Fabulous Places to Visit in Greece: Local Favorites & Hidden Gems
5 Things to Bring with You to Greece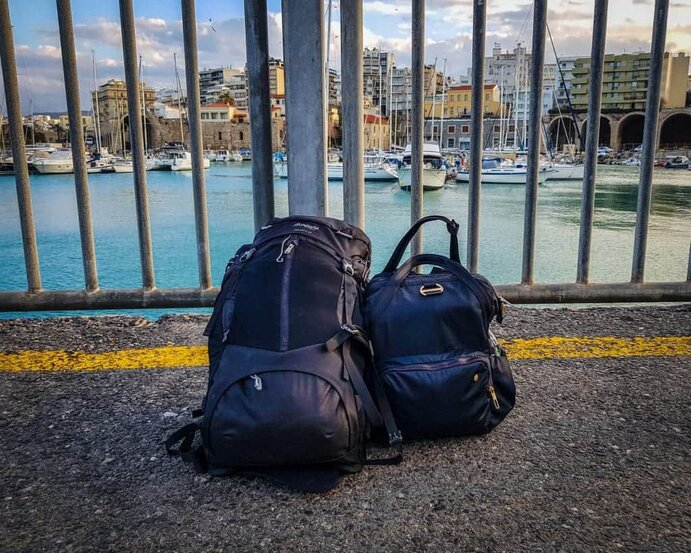 If you're planning a trip to Greece, you'll want to pack all the normal essentials, but here are a few things we strongly recommend bringing that may not have crossed your mind. For more packing tips, check out our complete Greece packing list.
– A physical guidebook, on paper or Kindle. We own and love Lonely Planet Greece for this region and strongly recommend it to supplement blogs. Blogs are great, but a combination of a blog and a guidebook is key to having the best access to information easily at your fingertips.
– A water bottle with a filter. While generally, the tap water in most of Greece is drinkable, we generally recommend using a water bottle with a purifying filter to reduce your plastic consumption and ensure you won't drink any funny-tasting water on your stomach that could make your trip unpleasant! There are places in Greece, especially on the islands, where the water tastes like minerals or has been desalinated and has a funky taste.
We recommend the GRAYL water bottle – it filters water perfectly in an instant so that you can even drink from lakes, bad taps, etc.
– Motion sickness pills. Often, Greek roads are winding, especially around the coast. If you have a weak stomach as we do, save yourself and bring some non-drowsy motion sickness pills.
– Travel safety items. We think Greece is safe to travel to, but at the same time, it never hurts to be prepared! Some people like to carry money belts, but neither Stephanie nor I use these. Instead, we both carry the same PacSafe anti-theft backpack (the small bag pictured above).
It has locking zippers, slash-proof construction with metal mesh hidden in the fabric, and tons of other smart security features — all while being cute and stylish enough to be our everyday bag. We recommend it highly for both male and female travelers, as it's neutral enough to be unisex. We also strongly recommend travel insurance! Our recommendation is at the bottom of the post.
Read More: Essential Greece Packing List: What to Wear & Pack for Greece
More Greece Travel Resources
First read our guide to planning a trip to Greece, which covers visas, budgets, vaccines, and much more. We also have a separate guide to tipping in Greece so you know what to give to different servers and staff while you're here.
Next, you'll want to read our all-season Greece packing list.
If you are still trying to figure out your Greece itinerary, check out our guides on where to go in Greece, the best places for island hopping in Greece, and when is the best time to visit.
If you know you'll be spending time in Athens, check out our Athens Instagram guide, the best Athens day trips, and our complete Athens hotel guide. We also have a guide to the best things to do in Athens in winter.
We also have Athens safety tips so your trip can be hassle-free. We are currently working on our mega-post of things to do in Athens as well as our itineraries, so stay tuned!
We publish new content about the Balkans almost every day! For more information about traveling to Greece and the Balkans, bookmark our Greece and Balkan travel pages so you can find out what's new before your trip.
Don't Forget About Travel Insurance!
I'm sure you're aware that it's a good idea to have travel insurance for traveling in Greece, the Balkans, or anywhere in the world!
Stephanie and I have both been paying customers of World Nomads for the last three years. We love the peace of mind it gives us in case of emergencies, accidents, illnesses, theft, or trip cancellation or disruption.
While Greece is safe, there's always a risk inherent in everyday travel like theft or injury, so it's better to play it safe.
>> Get a travel insurance quote for your trip here <<
Pin this Hotel Guide to Corfu Town for your next adventures!
Originally from California, Allison has been living in Bulgaria for the last two years and is obsessed with traveling around the Balkans. She has been published in National Geographic, CNN Arabic, Matador Network, and the Huffington Post. She loves befriending dogs, drinking coffee, geeking out about wine, and cooking food from around the world.