This post may contain affiliate links. This means that if you click a link, we may make a small commission off any subsequent purchase, at no extra cost to you. For more information, please check our privacy policy.
As far as records go, Thassos appears to have been originally inhabited as far back as 13th century BC by the Thracian tribes and was later colonized by the Greeks. It served as a trading center of ancient Greece, where gold and marble were produced and traded.
It wound up in Roman possession later on, before being returned to Greece, only to be taken by the Ottoman Empire in the 15th century, and then reunited with Greece in 1912.
In more recent times, Thassos has gained popularity for several reasons, including a perfect temperature throughout the summer (as opposed to the mainland, the ocean surrounding the island acts as a great temperature buffer, so temperatures never rise as high as in other parts of Greece), wonderful lush greenery and fantastic seas.
Thassos is a great place to kick back, relax and enjoy your holiday, but you can also find yourself an adventure here!
A Quick History of Thassos
According to Greek mythology, there once was an eastern Phoenician king named Agenor, who had three sons and one daughter, named Europa. Zeus transformed into an ox, kidnapped Europa and carried her on his back to a cave in Crete, and from that rendezvous three sons were born.
Agenor, in the meantime, called upon his sons and grandson, named Thassos, to search high and low for Europa, and not to return until they find her. None of them were able to find her, however, and Thassos, ending up on an island in Thracia (yup, you guessed it) and being captivated by its lush greenery and wonderful climate, and unable to return without Europa, decided to settle on the island, which bore his name ever since.
Additionally, Thassos is rumored to be home to sirens, devilishly beautiful half-women-half-fish that would lure seamen with their beautiful song, and then devour them whole. These were, in fact, the mermaids we see in the Wanderings of Ulysses!
15 Best Things to Do in Thassos
Visit the Ancient Theater of Thassos
Many theaters from the ancient period remain in Greece, peppered throughout the entire country. This is one of them, built into a natural concavity at the bottom of the Acropolis hill in Limenas, and it dates back as far as the 3rd century BC.
During the Roman rule, it served as an arena for gladiator and animal fights, but outside that period, it was a place for plays, concerts, philosophers to hold speeches and so on.
Go back in time at the Archaeological Museum
In the town of Limenaria, you can experience pieces of Greek history, dating from between the 7th century BC and 7th century AD.
You can see over 1,500 pieces, including traditional Greek Kouros, pieces of ceramics, pottery, coins and so on. There are also classical and Roman period ruins located in an underground space of the museum.
Marvel at the Monastery of Archangel Michael
Built on top of a cliff, and featuring a spectacular view, including a view of Athos, this monastery built in the 18th century is the most popular religious site on Thassos.
It is inhabited only by nuns, and its most prized treasure is part of a nail of the Crucifixion of Christ. The nuns insist on a dress code, so if you're visiting make sure you're wearing long trousers (for men) or a long skirt (for women) and a top with covered shoulders.
Wander around the ancient Agora
Built between the 6th and 2nd century BC, and located within walking distance from Limenas, this spot once served as the center of the ancient town of Thassos.
Featuring various buildings, including temples, administrative buildings as well as other markers of everyday life in ancient Greece, this is an unmissable sight on your list.
Explore the Ancient Site of Aliki
Located on the Aliki peninsula, this is an over 2,000-year old site broken up into two parts and featuring marble queries (more on that below) .
There's also a beach called Aliki, so you can relax after having an adventure!
Check out the ancient Aliki Marble Quarry
This site was a primary source of marble in ancient Greece, since it was very easy to access, and you can still see the artifacts of that operation.
The site operated for over 1,200 years, until the Slavic invasion of Greece in the 7th century AD, when it was abandoned.
Spend time in Kastro, Thassos' oldest village
Believed to be the oldest village on Thassos (it's unknown when exactly when it was founded), Kastro is named after a citadel or castle (kastro means castle in Greek) probably built in medieval times, the remains of which can still be seen today.
The center of the village features a church, dating back to 1804, which the sultan granted permission for… with a catch: only if it could be completed in forty days.
The entire town came together to build the church, and they succeeded, dedicating the church to St. Anastasije. This is a sleepy little village that serves as a window into Greek countryside life, as well as a little bit of history.
Visit the charming Theologos village
This beautiful village, dating back to the 13th century and featuring influences of Macedonian traditional architecture, is an unmissable feature of Thassos.
For part of its history it served as the capital of Thassos, and today it's protected as a cultural site. You can experience many pieces of Thassos traditions, including the Thassian folk wedding and amazing food characteristic to Theologos. There's also a folklore museum in the village to further delve into the history.
Check out the quirky Crown of Limenaria
This is a little circle formation consisting of 12 marble stones featuring all 12 signs of the Zodiac carved into them.
It's located in Limenaria, and, even though it might seem mythical, it was actually built in 2005 by a group of professors from Stuttgart University (I know, I was a bit disappointed too!).
Take a dip in the lovely natural 'infinity pool' at Giola Lagoon
This is a natural pool set at a height of about 8 meters above sea level.
You can swim in the beautifully blue pool and simultaneously get a fantastic view of the seas!
Climb Thassos' highest mountain, Ipsarion
Ipsarion is the highest peak on Thassos, standing at 1204 meters high, so naturally it offers the best view!
If you're a fan of hiking and nature, this might be the adventure for you! You have to get an early start, though, since the view becomes less clear when the sun starts shining brighter.
The summit is also accessible by car if you have difficulty hiking. At the top, you can sign your name into a guestbook to claim your accomplishment!
Visit the charming trio of springs, nicknamed the 'Love Springs'
Located in Panagia, the three springs are a must-visit if you're nearby. Apparently, this sight is where local men would come to wish for their wives to have boys.
There's a café right next to the springs, so you can enjoy a coffee next to the pretty sight!
Check the scenic Maries Lake and Waterfall
Located in the village Maries, under the Monastery of Archangel Michael, is Maries Lake, featuring its waterfalls. You can take a waterfall shower if you'd like, and then go right into the sea afterward!
You can also enjoy the village of Maries on your way to the lake. There are also Kastro and Apostoli waterfalls on Thassos, although they are a bit harder to get to.
Relax on Thassos' gorgeous beaches
If you're on holiday in Thassos, you've probably come for the relaxation and a swim or two. As you can imagine, Thassos has so many different beaches, all of them beautiful.
You can find sand, pebble or white sand beaches, and I'll recommend some of my favorites. Marble (Saliara) Beach, Paradise Beach, Golden Beach, Aliki (mentioned above), La Scala (if you're looking for something a bit fancier) and Notos Beach which is basically a small secluded alcove for the adventurers.
Shop until you drop in Thassos' boutiques
Thassos has some phenomenal shopping: here are my two favorite shops on the island.
Costis Pottery – This is a highly recommended little pottery shop with local handmade pieces great as a little souvenir from your trip.
Iris Gold Jewelry – Probably the biggest jewelry store you'll find, Iris Gold offers not only a huge variety of pieces but also a great view and a little cafe where you can rest from your shopping. Additionally, you can find many jewelry stores in Thassos itself, with really good prices and lovely gold and silver pieces.
6 Must-Try Foods in Thassos
Some of Greece's most famous dishes include gyros, moussaka, souvlaki and of course, fresh seafood.
As far as desserts go, kadaif (also written kataifi) is a classic you must try, as well as the traditional loukoumades, a delicious Greek donut. Additionally, Greek coffee is another sort of specialty.
You can always find things like pizza or pasta, but I really suggest you try traditional Greek food – you won't be disappointed! Don't forget that Greek wine is truly spectacular, and any house red is going to enhance every meal (although beer is a popular option with gyros)!
Gyros
Probably the most popular Greek specialty – not least because of the low price – you'll hardly be able to miss Gyros on your trip. You can find it everywhere – from fast food joints dedicated to the specialty to fancier plated versions in restaurants.
Gyros are usually served in a pita, with tzatziki (which is for some reason extra everywhere, but it's essential if you ask me), tomatoes, onion, French fries, small pieces of spiced meat (pork or chicken), ketchup, and mustard – or at least that's how I always order it.
You can of course opt out of any of these extras, but I always go for everything on my gyros. The backbone of the dish is the pita, meat and french fries, and you can choose everything else. A Greek beer pairs really well with gyros.
Moussaka
Moussaka is kind of like a casserole and is actually quite popular around the entire Balkans, but Greek Moussaka is quite specific.
It contains minced meat with loads of spices, grilled eggplant, tomato, and is covered with béchamel and feta cheese. It's very juicy and flavorful, traditionally featuring warm spices like nutmeg.
Souvlaki
Souvlaki is a traditional food consisting of small pieces of meat (traditionally pork, but most restaurants also offer chicken) grilled on a skewer sometimes alongside vegetables.
It's served with French fries, pita bread and/or a salad, and although it's meant to be eaten on its own (sometimes covered with lemon), you can also get some sauces for it.
Seafood
Since you're on an island in the middle of a fish-rich sea, you can rest assured that your seafood is perfectly fresh.
Your best bet is to ask the waiter what fish they have today, but the most common Greek fish menu items are anchovies, sardines, mackerel, bogue, and pike.
Loukoumades
Loukoumades are small doughnut balls, usually sold out of carts on every street corner in pretty much all of Greece. They're formed and fried on the spot, placed in a carton and covered with a variety of extras, from the traditional honey and cinnamon to things like chocolate syrup or fancier extras in more upscale locales.
As I've said, you can usually find a food cart somewhere along the way (and these are in my opinion the best), but Stamatis Patisserie is said to have amazing loukoumades as well.
Kadaif
Kadaif is a traditional Greek sweet, made with a special, noodle-like pastry made from wheat flour, traditionally filled with a mix of walnuts and pecans, although you can also find raisins in the filling and then flooded (metaphorically, but also kind of literally) with sugared water.
It's truly delectable, but, as all Greek sweets, very very sweet (have it with a bitter Greek coffee to tone it down). Os Ev Parestite has the best rep when it comes to traditional kadaif (and all desserts really!), so be sure to visit it when you're in Limenaria.
Best Restaurants in Thassos
Most Greek restaurants will serve all of the things listed above, unless they're specialized seafood restaurants or gyros joints. Some of the places I'd recommend are Tavernaki, Taverna Ai Giorgis, Taverna Lampiris, Restaurant Nisi for seafood, and Plus Minus if you're looking to get something other than Greek.
***
As you can see, there's plenty of great things to do in Thassos, whether you're looking to kick back, relax and enjoy the amazing beaches and food, or if you're looking to add a bit of adventure to your trip!
Where to Stay in Thassos
Budget: For a cheap yet cheerful stay in Thassos, look to Aphrodite of Thassos in Skala Marion. This hotel offers studios a mere 200 meters away from the beach, with epic sea views. Featuring A/C, en-suite bathrooms, room for up to 5 guests, and balconies with sweeping views, this is as good as it gets on a budget in Greece.
► Check prices, availability, and reviews here.
Boutique: For an affordable yet chic stay, check out the Meli Boutique Hotel just outside off Limenaria. Featuring stylish rooms with quirky design like funky ceiling lights and sleek lines, as well as modern amenities like A/C and flatscreen mounted TVs, you'll love the rooms as well as the views.
► Check prices, availability, and reviews here.
Luxury: For an adults-only getaway that's the ultimate in luxe sophistication, check out the 360ᵒ Luxury View Collection. This hotel features private pool suites with beautiful sea views, tons of open-air lounge areas, stylish rooms and suites with tons of personality, and all sorts of luxurious amenities like rain showers and lush Coco-mat mattresses for a perfect night's sleep.
► Check prices, availability, and reviews here.
What to Pack for Thassos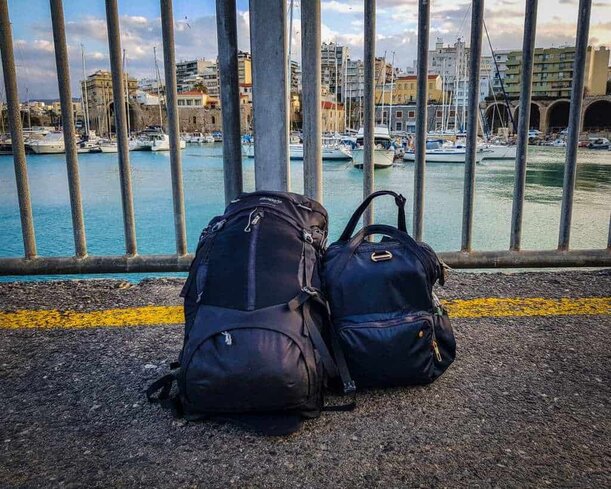 Mosquito repellent: Mosquitos in the summer can be nasty! You can bring ones with DEET or without DEET, or I love having some of these mosquito repellent wipes that I can keep in my bag in case I suddenly start to get swarmed and don't have my regular repellent with me.
Sunscreen: You can buy sunscreen in Greece, but it's likely cheaper at home or bought online in advance. I love this solid Neutrogena sunscreen. Who doesn't love a good solid for liquid swap? Great to keep in your bag without worrying about sunscreen explosions.
Water shoes: Thassos has both sandy and rocky beaches. The thing is that pebble and rocky beaches in Greece are a double-edged sword. On the one hand, the pebble seafloor is what creates that gorgeous deep turquoise-colored water that is hard to beat, as the lack of sand means you have incredibly clear water. However, on the other hand, pebble beaches and rocky shores can be downright painful!
Our friend recently cut his foot on a rocky beach in Croatia; had he been wearing water shoes, he'd have avoided such unpleasantness! We suggest these unisex water shoes. They're not sexy, but they will make your trips to the beach far more pleasant!
A secure backpack: We both carry the CitySafe backpack by PacSafe not only on our travels but in our day-to-day lives. It's cute, it's functional, it's comfortable, and it's secure. We're talking about interlocking zippers (which you can then put through a second clasp for two layers of security), slash-proof wire mesh construction, and RFID blockers to keep your personal data safe.
It's neutral enough to be unisex, it's roomy enough to fit a small laptop, large camera, and tons of odds & ends, and it fits under the plane seat in front of you. We're obsessed. Check it out for yourself!
Grayl Water Filter: Tap water is not always safe to drink in Greece. In Thassos, it's generally considered safe overall, but quality varies and therefore it's safer to drink filtered or bottled water. To both be safe and not buy dozens of plastic water bottles, you can get a reusable water bottle that comes with a water filter so that you can stick to the tap water and reduce your plastic waste.
Seabands: If you get seasick easily, pack some Seabands or seasickness pills so you don't miss out on the best parts of Greece – being on the water! A trip to Greece isn't complete without a quick boat trip, so make sure you're prepared to enjoy it to the fullest!
More Greece Resources
Headed to Greece? We have some great travel resources to help you with your trip. First read our guide to planning a trip to Greece, which covers visas, budgets, vaccines, and much more. Next, you'll want to read our all-season Greece packing list.
If you are still trying to figure out your Greece itinerary, check out our guides on where to go in Greece, the best places for island hopping in Greece, and when is the best time to visit.
Many people combine a trip to Thassos with a trip to Thessaloniki or Chalkidiki. We're still working on our Chalkidiki content, but in the meanwhile, you can check out our Thessaloniki resources. We have guides on Thessaloniki Instagram spots and visiting Meteora from Thessaloniki, and more on the way.
We publish new content about the Balkans almost every day! For more information about traveling to Greece and the Balkans, bookmark our Greece and Balkan travel pages so you can find out what's new before your trip.
Pin This Guide to Things to Do in Thassos for Your Trip!
Marija was born and raised in Belgrade, where she is currently living and attending medical school. She listens to way too many podcasts, adores all furry creatures, cozy afternoons snuggled up with a book, and spending time with friends over really good wine.