This post may contain affiliate links. This means that if you click a link, we may make a small commission off any subsequent purchase, at no extra cost to you. For more information, please check our privacy policy.
One of the best things to do during a trip to Crete is to take some time to discover the past of the island.
A complex series of events that span for centuries until the present date. Arguably one of the most important civilizations that lived and ruled on Crete were the Minoans, an advanced culture that left stunningly beautiful traces in several areas of the island.
Let's take a look at the most remarkable of them, the Minoan Palace of Knossos, an easy day trip from Heraklion.
Can't read now? Pin for later!
Where to Stay in Heraklion
We have a complete guide on where to stay in Heraklion here, with suggestions for every budget category and type of traveler, but we've chosen our favorites here for you to peruse when planning your Heraklion itinerary.
Budget: Intra Muros Boutique Hostel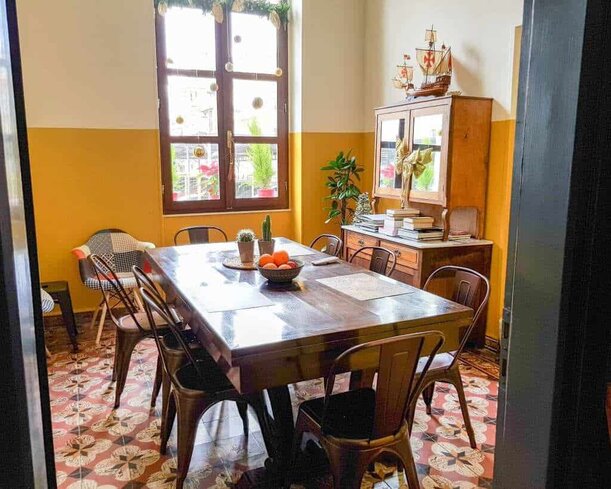 The hotel is named after the Latin phrase that translates as "within the walls," and you'll love how they work to make the space between their walls a home away from home.
Backpackers and group travelers will enjoy this boutique hostel; not only is it strategically located in the heart of the city (and close to most tourist spots) but it also has a nearby bus stop so you can save on transportation expenses. You can also walk to the port if in case you want to ride a ferry and go to other locations and dreamy islands near Crete.
They have dormitories with shared bathrooms available for as low as USD 13 for a night with bunk beds with privacy curtains. You can choose from a mixed or all-female dorm room.
There's also a shared kitchen equipped with a stove, oven, refrigerator, and utensils. You can cook quick meals here since there is a nearby mini market outside! The service desk is not open 24 hours, but if you inform them of your late arrival then they can arrange someone to meet you at the said time.
>>Check guest reviews, prices, availability, and more photos here.<<
Mid-Range: Infinity City Boutique Hotel
Infinity City Boutique Hotel is a very modern hotel that features contemporary style and comfort. The hotel is a bit narrow due to the building's structure, but it has spacious and soundproof rooms. It has 6 floors and a total of 21 rooms that have their own balcony with a view of the amazing blue sea plus a private bathroom with complete amenities.
Each room has flat wooden ceilings and tiled floors to match the contemporary and modern style of the hotel. Guests love how the hotel design balances style and comfort, with a mini-fridge and other in-room amenities. The private bathrooms are a bit small but comfortable, with toiletries included.
You can try their free continental breakfast and have some of their coffee, juice, and some tasty croissants. Of course, for many people, mornings aren't complete without eggs, which they make to order!
>>Check guest reviews, prices, availability, and more photos here.<<
Luxury: Stella Palace Resort and Spa
The pool view of this resort hotel is marvelous – actually, everything about the hotel is! It has its own water park, bars, spa, and so many more world-class features to offer its guests. They have rooms, suites, and maisonettes where you can even have your private pool or hot tub.
They have 4 restaurants on-site which means you have many options of what to eat (though every restaurant in Heraklion is delicious as well). Elia serves Greek dishes, Enso offers yummy authentic Asian dishes, La Veranda treats you to an Italian dinner or lunch plus a good selection of wines, and lastly, Poseidon, which offers a huge selection in their buffet. A night of fun won't be complete without checking their different bars where each offers a different ambiance and a different selection of drinks and snacks.
Fitness freaks will love their gym because it has everything you could ever look for when it comes to getting your daily exercise. You might not find some of the treatments they offer at their spa elsewhere, because most of the ingredients they use are locally sourced in Crete. Highly-skilled therapists and massage practitioners will bring you the ultimate relaxation experience here!
>>Check guest reviews, prices, availability, and more photos here.<<
Who were the Minoans?
The Minoan civilization flourished on the island of Crete and other islands of the Aegean during the Bronze Age from 2700 to 1450 BC. Their decline period started around that time and the civilization finally faded away in about 1100 BC.
It was a very advanced civilization, a maritime trading power maintaining commercial routes with other important cultures around the Mediterranean, exporting products such as wine and olive oil in places as far as Egypt and Syria.
Their palaces were more palatial complexes, buildings with areas dedicated to religious rituals, but also important workshops and spaces mainly devoted to the storage of goods produced.
Other places inside the complex included dwelling areas for the ruling and sacerdotal (religious) classes.
Buildings usually developed around a large open courtyard that would provide air and ventilation to other rooms and areas. They would have complex and advanced piping systems too.
The wall paintings and frescoes still surviving the period usually portray scenes related to nature and everyday life.
There are no battling or violent scenarios, which leads to deduce that it was a peaceful civilization: an idea also reinforced by the fact that no Minoan Palace ever had defensive walls.
Read More: 10 Big Mistakes to Avoid When Visiting the Acropolis
The Minoan Palaces of Crete: More than Just Knossos!
Four different palaces have been unearthed on the island, although it's believed that there were many more scattered in every region. They were probably powerful centers of different city-states ruling in every area.
In the region of Heraklion, three palaces have been discovered and excavated, and the three of them are open to the public.
The biggest and most important one is Knossos, followed in importance by the Minoan Palace of Festos, on the southern area of the region, and the smaller Minoan Palace of Malia, on the eastern coast of Heraklion, about 30 minutes away from the center of town.
In Lasithi, eastern Crete, the fourth palace that has been discovered is the Minoan Palace of Zakros, the smallest of the four. All of them can be visited.
A fifth Minoan Palace is believed to lie under the modern city of Chania, Ancient Kydonia.
Although some portions of it have been accidentally discovered following the Nazi bombing of the city, after WWII, the area has an extremely high number of inhabitants, and no further excavations are bound to take place.
There several are other archaeological sites worth a stop on Crete. However, many of them belong to different periods and civilizations.
The following are some of the ones worth a visit:
Chania region
The Archaeological Site of Aptera
The Ruins of Ancient Falassarna
The Archaeological Site of Polyrrenia
Rethymnon region
The Archaeological Site of Eleftherna
The Ancient City of Lappa
Heraklion region
The Archeological Site of Phaistos
The Archaeoligical Site of Malia
The Archaeological Site of Lato
The Ancient Ruins of Gortyn, 
The Ancient Port of Kommos, 
The Archaeological Site of Agia Triada  – The last three archaeological sites are relatively close to the Archaeological Palace of Festos.
Lasithi region
The Archaeological Site of Zakros
The Archaeological Town of Gournias
The Sunken City of Olous, 
The Archaeological Site of Spinalonga 
The Archaeological Site on the Islet of Mochlos
Read Next: What to Eat in Crete: the 11 Best-Kept Secrets of the Cretan Diet
Facts about the Archaeological Palace of Knossos
The first excavations in Knossos started around 1878; however, they were stopped for political reasons.
Formal works of excavations were later carried out by the Englishman Arthur Evans, who purchased the land in order to be able to excavate without interference.
Evans revealed the entire palace in 1931 and created important controversy in the archaeologic community due to the liberties he took to recreate the architecture of the palatial complex.
The Palace stands on Kefalas Hill, just a few kilometers away from the sea.
There are intricate corridors and staircases that shape a sort of labyrinth structure.

Things to See Inside the Minoan Palace of Knossos
Central court
This is a huge open space and the most important courtyard. It's located in the center of the complex. This might have been the place where the different religious ceremonies took place.
West court
This could have been a place for public meetings and it could also be the area where the marketplace stood. In this court, you can see three circular pits, probably used to store goods.
Throne room
One of the most visited places in the palace, a very reduced space with the throne probably used for sacerdotal rituals. You will have to queue to enter and take a good look, there's reduced time to see everything, so get your camera ready!
Grand staircase
An imposing staircase made of stone, clearly visible, takes you directly to the underground level to see the rest of the royal rooms. These rooms are closed to the public, but it's possible to observe their magnificent frescoes from the outside.
Royal apartments
These gorgeous rooms with ample spaces and probably comforts of all kinds were probably the residence of the members of the ruling class as well as other authorities since they are not big enough to be considered the rooms of the royalty.
Queen megaron
The suite known as the room of the Queen is the one housing the fantastic fresco with the dolphins (of which you can see the original in the Archaeological Museum of Heraklion).
King's room
It's located under the Queen megaron, and it has a personal chamber for the ruler known by the name of the Hall of the Double Axes.
Read Next: Chania or Heraklion: Which City in Crete is Right for You?
The Archaeological Museum of Heraklion
It's a great idea to visit the Archaeological Site right after or soon before having also seen the exhibits in the Archaeological Museum of Heraklion, which gathers objects coming from most Archaeological Sites on Crete, not just from Knossos.
The building has two floors devoted to the different civilizations that flourished on the island over the years, from the Minoan Period onwards, covering also the Mycenean, the Dorians, the Hellenistic Period, and the Roman Times, to name a few.
A visit to the Archaeological Museum is key to better understanding the complex structure of the Minoan civilization as well as to picture everyday life within the walls of the Minoan Palaces of Crete.
How to Visit Knossos Palace from Heraklion
You can get to the Archaeological Site of Knossos from the center of Heraklion by car or bus. The site is only 5 kilometers from Heraklion and the trip takes about 15 minutes.
If you choose to get there by bus, remember the following:
The bus leaves from the (old) public bus station of Heraklion.
The bus is number 2 – Knossos.
The bus runs 3-5 times per hour all year round.
Its final stop is Knossos. The ticket is 1.50 € one-way.
Running hours: from 8.00 to 19.00 in summer and from 8.00 to 15.00 in winter.
It's always better to visit early in the morning or just before sunset to avoid crowds and extreme heat.
Read Next: Greek Island Hopping: The Best Greek Islands for Your Trip
Things You Need to Bring with you to Knossos Palace
Plenty of water, the visit can last from 2 to 3 hours and once you pass the ticket control there's no place inside the complex to buy water.
Sun protection, especially if you visit between May and October. Most of the site is exposed to the elements, there's no shade or another way to protect yourself. The area is very hot too.
A hat and sunglasses for the same reasons stated above.
Comfortable walking shoes. Forget about heels or flipflops, you will be climbing stairs, walking on irregular soil and slippery rocks thousands of years old. Avoid incidents and wear closed shoes or hiking sandals.
More Tips for Visiting Knossos Palace
Set aside at least 2 hours to see the site, a bit more if you're seeing the place with a guided tour.
Likewise, allow enough time to visit the Archaeological Museum in Heraklion (at least 2 more hours). It's always better to combine both visits on the same day.
Visit early in the morning or late in the afternoon, around sunset time to avoid extreme heat and sun as well as to skip lines faster and avoid crowds. There are tours you can book to especially skip the line both in the site and the museum.
What does it cost and what are the hours of Knossos Palace?
Buy a combined ticket to save some money. The entrance to both places is €16. Otherwise, you will be paying €15 to enter the museum and another €15 to enter the site. The ticket is valid for 3 days.
The following are the hours for visiting Knossos Palace from Heraklion or elsewhere in Crete.
Archaeological Site

Winter: 8:00 – 17:00. Last admission at 16:45
Summer: 8:00 – 20:00. Last admission at 19:45
Archaeological Museum
Winter: 9:00 – 16:00.
Summer: 8:00 – 20:00.
Best Organized Tours of Knossos
Check any of the following tours to better learn about the Minoan civilization and enjoy a top-notch experience of the archaeological site:
What to Pack for a Crete Beach Vacation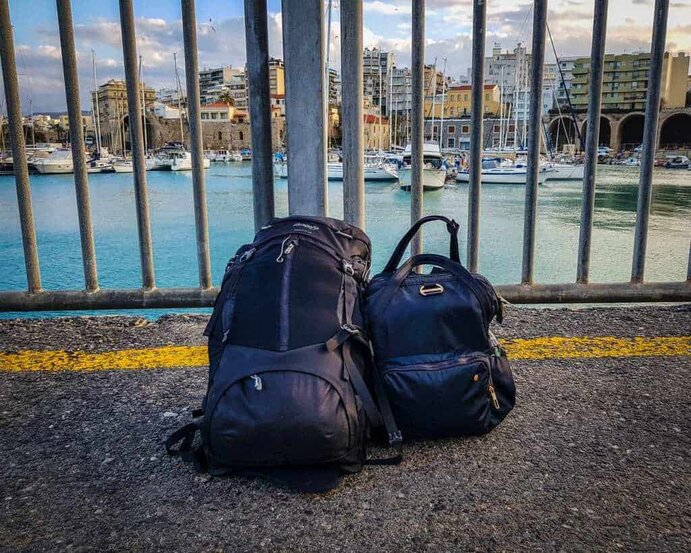 If you're planning a trip to Crete, you'll want to pack all the normal essentials, but here are a few things we strongly recommend bringing that may not have crossed your mind. For more, check out our Essential Crete Packing List.
– A Physical Guidebook – While travel blogs are great, we also definitely see the benefit of having a good paper guidebook in hand to refer to in your on-the-ground travel. We own and recommend the Lonely Planet Greece book as a starter, but you may also want to pick up the Lonely Planet Crete which covers the island more in-depth.
– A water bottle with a filter. While generally, the tap water in big cities on Crete is drinkable, we generally recommend using a water bottle with a purifying filter to reduce your plastic consumption and ensure you won't drink any funny-tasting water on your stomach that could make your trip unpleasant! We recommend the GRAYL water bottle – it filters water perfectly in an instant so that you can even drink from lakes, bad taps, etc.
– Motion sickness pills. Crete bus rides can cause motion sickness! If you have a weak stomach as we do, save yourself and bring some non-drowsy motion sickness pills.
– Wet wipes, hand sanitizer, TP & other Balkan transit needs. Bathrooms in the Balkans on trains and buses tend to be… how can we say it?… not so well-stocked. Save yourself the disappointment and bring a mini-rescue pack of wet wipes & hand sanitizer.
– Travel safety items. We think Crete is very safe to travel to, but at the same time, it never hurts to be prepared! Some people like to carry money belts, but neither Allison nor I use these.
Instead, we both carry the same PacSafe anti-theft backpack. It has locking zippers, slash-proof construction with metal mesh hidden in the fabric, and tons of other smart security features — all while being cute and stylish enough to be our everyday bag. We recommend it highly for both male and female travelers, as it's neutral enough to be unisex. We also strongly recommend travel insurance! Our recommendation is at the bottom of the post.
Read more: Essential Crete Packing List: What to Wear & Pack for Crete
More Crete Travel Resources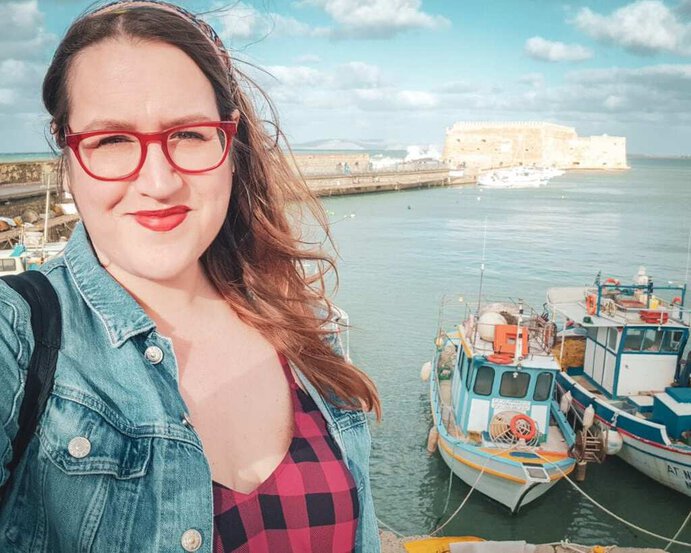 Headed to Crete? We have some great travel resources to help you with your trip. First read our guide to planning a trip to Greece, which covers visas, budgets, vaccines, and much more. We also have a Balkan currency guide that explains how money works in Greece and local tipping customs.
If you're still trying to work out where to go on the island, check out our guide to the best places to visit in Crete and our favorite Crete beaches.
If you'll also be spending a few days in Chania, here is our guide to visiting Seitan Limania from Chania (which is our favorite beach in Crete) and Chania's best Instagram spots.
If you will be spending time in Heraklion, check out our guides to the best Instagram spots in Heraklion and the city's best restaurants and cafes.
If you're interested in taking a day trip to Rethymnon, check out our Instagram guide to Rethymnon next, and perhaps our guide to things to do in Rethymnon and the best Rethymnon hotels.
If this will be one of your first trips to the Greek islands, check out our massive Greek Island hopping guide as well as our recommendations for where to go in Greece and when is the best time to visit.
We publish new content about the Balkans almost every day! For more information about traveling to Greece and the Balkans, bookmark our Greece and Balkan travel pages so you can find out what's new before your trip.
Don't Forget About Travel Insurance!
I'm sure you're aware that it's a good idea to have travel insurance for traveling in Crete, the Balkans, or anywhere in the world! We have both been paying customers of World Nomads for the last three years. We love the peace of mind it gives us in case of emergencies, accidents, illnesses, theft, or trip cancellation or disruption.
While Greece is safe, there's always a risk inherent in everyday travel like theft or injury, so it's better to play it safe.
>>Get a travel insurance quote for your trip here.<<
Pin this Guide to Visit the Archaeological Site of Knossos in Crete
Gabi Ancarola is a translator and travel journalist living in Crete. She regularly writes about the island for several magazines about travel, gastronomy, and hospitality. She has published several travel guides about Greece and runs a local gastronomy tour in Chania. She loves cooking local dishes, taking photos, and driving on the mountain roads of Crete.