This post may contain affiliate links. This means that if you click a link, we may make a small commission off any subsequent purchase, at no extra cost to you. For more information, please check our privacy policy.
The island of Corfu, known as Kerkyra by the Greeks, is located off the Northwest coast of Greece, right in the heart of the Ionian sea.
The island is a hot holiday destination in Europe, a favorite place to visit in Greece for its culture, history, and amazing beaches. In this article, we will explore more about Corfu, and discover the best things you can do on the island when spending a whole week over there. Are you ready? Let's go!
Can't read now? Pin for later!
Where to Stay in Corfu
We have a full post on where to stay in Corfu Town here, but if you want our quick and easy top 3 picks, you can find them below.
Budget: Local Hostel & Suites
This brand new hostel (with private rooms available) is small, offering an intimate and personal experience with only 10 rooms. You can choose from a dormitory-type room or a private room with an ensuite bathroom.
Location is the name of the game here: it is very close to the port (great for doing day trips to other islands or even Albania!), yet it's also located just 10 minutes from the heart of Old Town.
While it's easy to walk to the Old Town, there is also a nearby bus stop that can get you back and forth from the town easily — great as taxis in Corfu are crazy overpriced, similar to many other touristic Greek islands. The facilities are all brand new because they just opened around August of this year, so you'll enjoy comfortable and modern amenities.
All of their rooms have clean and crisp minimalist styles. They have a minibar that serves snacks during the day, and every morning, they offer coffee (with refills)! Past guests commended the cleanliness of the place – calling it squeaky clean! The only issue some guests found was that there can be some noise from the kitchen in the morning or at night.
»» Check out guest reviews, prices, and availability at Local Hostel & Suites ««
Mid-Range: Corfu Mare Boutique Hotel
Despite being a short trip by bus or taxi to the heart of the Old Town from this hotel, it still gets plenty of guests for its phenomenal amenities. You should hurry if you see there's a room available – virtually every past guest of this hotel says that it is 100% worth staying here!
Corfu Mare has multiple room types and configurations (with a total of 51 total rooms). For a more modern room, look to their junior suite for stylish vibes. Most of the rooms have simple, classic decor elements to make each room look elegantly fabulous. Their beds use Coco-mats for the mattresses: they're made out of natural fibers, and they're also very comfortable and sturdy.
All of their rooms and suites are fully equipped with all the best features you can expect for a mid-range priced hotel. Interconnected rooms are also available if you are a large group of travelers. The hotel is tucked away from the main streets of Corfu Town. You will love how enclosed and exclusive the entire property is, and the fact that there's also free and secure parking.
Just be reminded that there's not much in the way of shops and restaurants nearby, so you'll have to head into the heart of the Old Town for more action. The main views of the hotel are its private pool, garden, and the sea nearby, so if you want Old Town vibes, other Corfu Town hotels may be a better fit. Still, it is a wonderful, classy, and affordable place to stay in Corfu Town — and that's one reason of many that so many guests return.
»» Check out guest reviews, prices, and availability at Corfu Mare Boutique Hotel ««

Luxury: Bella Venezia
Bella Venezia is a luxury hotel in the Old Town of Corfu that showcases what a typical mansion looked like during the 18th century. It stands out from the other buildings in the town due to its peach-painted exterior. The location is also perfect, both nearby to the attractions in the Old Town plus easy access to a local beach.
It was recently renovated in just 2016, transforming it into the modern hotel is it now. It's a cozy hotel, with just 30 rooms and 1 suite, so service is individualized and personal. In terms of style, the interiors are decorated with exquisite furniture and embellishments. The lobby showcases pure elegance and class with its style choices.
Their rooms have parquet floors, and some bed frames are made out of wood and others from iron. One thing's for sure: the mattresses are soft and comfortable, and many of their past guests raved about it! The hotel mixes and matches different classic pieces to create that romantic and sophisticated style for all the rooms. Most of their rooms have a balcony and the views are mesmerizing!
Check out the fridge in the room for a complimentary bottle of wine or champagne, plus a bunch of gorgeous roses to welcome you on your first day! A/C and heating give you choice over the climate control to keep you comfortable regardless of the season.
You will love how they put tealight candles in the ensuite bathroom to make it even cozier, and toiletries and towels are for your disposal here as well. It also has an enclosed shower to keep the toilet area dry and comfortable.
»» Check out guest reviews, prices, and availability at Bella Venezia ««
About Corfu
Green and with a varied rugged landscape, the island is an excellent place to hike, practices water sports, and discover unique experiences.
Although Corfu presents itself as one of Greece's most popular holiday spots, the island is big enough to be able to find isolated sandy beaches. There are off-the-beaten-track regions that you can discover too if you have enough time and if that's the kind of vacation you're looking for.
In this article, though, we will focus on Corfu's best-known places. With this short but intense 2 day Corfu itinerary we want to give you a great first-timers guide to explore the island. Let's see some of the best things you can do in Corfu in two days.
Day 1 in Corfu
The Old Town
Devote your first morning to learning about the unique past of Corfu. The best place to start your day is in the picturesque old town, where you will bump into unique Venetian buildings and fortresses that have shaped the architecture of the city and the past of the island.
Corfu Old Town is still under the spell of the beautiful buildings left behind by the Venetian rulers which dominated the island from the 15th to the 18th centuries. The capital of the island is listed in UNESCO for its outstanding universal value. 
Take some time to visit the system of fortifications, some of which date back to the late Byzantine period (8th century). The city is, in fact, one of the many major Mediterranean fortified port cities.
Once you've wandered the romantic yet busy alleys of the old town, stop for a quick bite.
One of the most popular places to eat in town is Taverna Diporto, just a few steps away from the Catholic Church of Saint Giacomo. The restaurant has a relaxed, laid-back atmosphere, and it's a great place to try traditional Greek food at very convenient prices.
In the area, you can take a look at the fantastic Tower Bell of Annunziata, a remarkable monument that stands as a memory of the Church of Annunziata (the Italian for the Annunciation of the Virgin Mary).
Although the church was lost due to the German bombings in 1943 and later, it's still possible to admire the impressive tower dating back to the 14th century.
Paleokastritsa Beach and Monastery
One of Corfu's most enchanting beaches is Paleokastritsa, about half an hour from the old town.
Once you get there, it's a good idea to first head to the Monastery of Paleokastritsa.
You will not only get a magnificent view of the beautiful beach standing below, but you will also visit one of Corfu's most beloved religious centers.
Read more: The 3 Best Greek Islands Near Athens & How to See Them in One Day
The beautiful location rewards you with unique views of the spectacular sea of Corfu, breathtaking cliffs, and lush vegetation. 
Next up, head down to Paleokastritsa Beach to enjoy the cool pristine waters. Here it's also possible to rent a boat and explore the magnificent caves in the area.
Check this combined private tour to visit the best of the old town and discover the beaches in Paleokastritsa, all in one day!
Gastronomic staples of Corfu
End your day learning about local gastronomy. The island is known for its quality honey and extra virgin olive oil, however, nothing screams Corfu louder than Kumquat. So, it's our suggestion to book a tour that takes you right into the heart of Corfu's kumquat.
Kumquat originally comes from China, and its name means golden orange in Chinese.
The kumquat trees have a very old tradition on the island. The small, sweet fruit was first introduced on the island back in 1846 by an English botanist and the local climate has since then proved to be excellent for this plant to grow.
Some of Corfu's staple products are made from kumquat fruit, among them the liquor, the marmalade, and the unique spoon sweet that is served after every meal with a small portion of Greek yogurt. Interested in tasting more? Join a gastronomic tour like this one to sample more unique Corfiot dishes!
Day 2 in Corfu
Explore Canal D'Amour and Corfu Beaches
Pack your beach bag because you will be spending a fantastic day on some of the most famous beaches on the island.
Our beach day starts traveling North from the capital to reach the romantic Canal d'Amour, in the town of Sidari.
Also known as the Love Canal, the unique landscape is formed by clear rocky formations with quite odd shapes and textures.
You can simply lay on the sand and enjoy the dolce far niente in perfect Greek style, sipping a frappe (Greek cold coffee) or a chilly with a local beer.
Otherwise, you can also do what most people that get to the area come for: jumping off the cliff into the turquoise sea.
The canal that gives name to the beach leads you under the cliff above. And like everything in Greece, it comes with its legend.
According to popular belief, swimming through the canal is all you need to do to find a perfect match and get married in no time. It's quite easy to swim the canal as it is shallow and not very long. So there you go, it's up to you to include that swim among the things you must do in Corfu!
Bonus day trip: The nearby islands of Antipaxos and Paxos
If you're lucky to be able to add one more day to your Corfu itinerary, don't doubt it and jump on a boat.
A popular excursion in Corfu is the one that takes you along a whole day of adventure, sailing from Corfu's port to the nearby islands of Antipaxos and Paxos. And it can be easily done with a day boat tour like this one.
I bet that if you're reading this article it's because Corfu has been on your radar for a while now, Therefore, you've most probably already seen those fantastic shots in which sailing boats seem to be floating over an incredible light blue sea. Haven't you?
If the answer is yes, and you want to enjoy this view in person, a sailing trip around the island of Antipaxos is all you need. 
You will be able to jump off the boat and swim in such clear waters for a while. You will also find that such a trip is great for snorkeling too. The submarine landscape around this tiny island is colorful and truly gorgeous.
If you booked a full-day tour, your next stop will be the somewhat bigger island of Paxos, where you can spend a few hours exploring the coast as well as the old town, with its picturesque church, houses, and tavernas.
Visiting Corfu in cold weather? Check The Most Unique Things to Do in Corfu in Winter!
Choose any of them for a bite of local seafood, shop gastronomic souvenirs, such as honey or olive oil, and head back you Corfu island for a dinner in style.
There's a little bit of Italy all over Corfu. And there's definitely a lot of Italy on the menu you'll find at Pomo d'Oro. This cozy restaurant in the heart of the city center is not your regular Italian joint. Here, flavors are infused with Corfu's flavors and Mediterranean style.
5 Things to Bring with You to Greece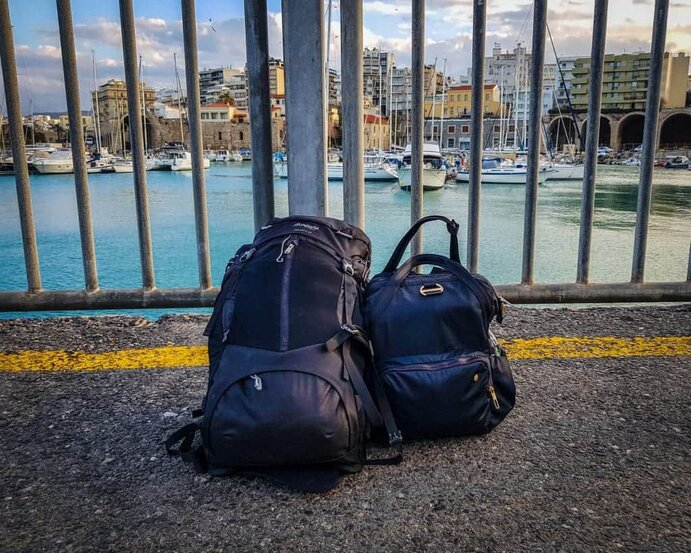 If you're planning a trip to Greece, you'll want to pack all the normal essentials, but here are a few things we strongly recommend bringing that may not have crossed your mind. For more packing tips, check out our complete Greece packing list.
– A physical guidebook, on paper or Kindle. We own and love Lonely Planet Greece for this region and strongly recommend it to supplement blogs. Blogs are great, but a combination of a blog and a guidebook is key to having the best access to information easily at your fingertips.
– A water bottle with a filter. While generally, the tap water in most of Greece is drinkable, we generally recommend using a water bottle with a purifying filter to reduce your plastic consumption and ensure you won't drink any funny-tasting water on your stomach that could make your trip unpleasant! There are places in Greece, especially on the islands, where the water tastes like minerals or has been desalinated and has a funky taste.
We recommend the GRAYL water bottle – it filters water perfectly in an instant so that you can even drink from lakes, bad taps, etc.
– Motion sickness pills. Often, Greek roads are winding, especially around the coast. If you have a weak stomach as we do, save yourself and bring some non-drowsy motion sickness pills.
– Travel safety items. We think Greece is safe to travel to, but at the same time, it never hurts to be prepared! Some people like to carry money belts, but neither Stephanie nor I use these. Instead, we both carry the same PacSafe anti-theft backpack (the small bag pictured above).
It has locking zippers, slash-proof construction with metal mesh hidden in the fabric, and tons of other smart security features — all while being cute and stylish enough to be our everyday bag. We recommend it highly for both male and female travelers, as it's neutral enough to be unisex. We also strongly recommend travel insurance! Our recommendation is at the bottom of the post.
Read More: Essential Greece Packing List: What to Wear & Pack for Greece
More Greece Travel Resources
First read our guide to planning a trip to Greece, which covers visas, budgets, vaccines, and much more. We also have a separate guide to tipping in Greece so you know what to give to different servers and staff while you're here.
Next, you'll want to read our all-season Greece packing list.
If you are still trying to figure out your Greece itinerary, check out our guides on where to go in Greece, the best places for island hopping in Greece, and when is the best time to visit.
We have more Corfu content on the way, but for now, check our guide to accommodations in Corfu Town.
Want more Greek itineraries? We have guides to 2 days in Mykonos, and 2 days in Chania, Rethymnon, and Heraklion (all on Crete).
If you know you'll be spending time in Athens, check out our Athens Instagram guide, the best Athens day trips, and our complete Athens hotel guide. We also have a guide to the best things to do in Athens in winter.
We also have Athens safety tips so your trip can be hassle-free. We are currently working on our mega-post of things to do in Athens as well as our itineraries, so stay tuned!
We publish new content about the Balkans almost every day! For more information about traveling to Greece and the Balkans, bookmark our Greece and Balkan travel pages so you can find out what's new before your trip.
Don't Forget About Travel Insurance!
I'm sure you're aware that it's a good idea to have travel insurance for traveling in Greece, the Balkans, or anywhere in the world!
Stephanie and I have both been paying customers of World Nomads for the last three years. We love the peace of mind it gives us in case of emergencies, accidents, illnesses, theft, or trip cancellation or disruption.
While Greece is safe, there's always a risk inherent in everyday travel like theft or injury, so it's better to play it safe.
>> Get a travel insurance quote for your trip here <<
Pin this 2-Day Corfu Itinerary for your next adventures on the Greek Islands!
Gabi Ancarola is a translator and travel journalist living in Crete. She regularly writes about the island for several magazines about travel, gastronomy, and hospitality. She has published several travel guides about Greece and runs a local gastronomy tour in Chania. She loves cooking local dishes, taking photos, and driving on the mountain roads of Crete.