This post may contain affiliate links. This means that if you click a link, we may make a small commission off any subsequent purchase, at no extra cost to you. For more information, please check our privacy policy.
It's almost impossible to go to Greece and not shop! While Mykonos is famous for its designers and Athens is beloved for its funky flea market, the entire country is a shopping paradise. Here are our picks for the best Greek souvenirs and ideas for Greek gifts to bring home to friends and family.
> Read Next: Planning a Trip to Greece: Your Travel Checklist<<
Can't read now? Pin for later!
Where to Stay in Greece
If you're visiting Greece any time soon, you'll probably spend some time in Athens before moving to discover other amazing places in the country. In that case, it's a good idea to check this accommodation guide to Athens to find the best places to stay in Greece's capital. Check this article as well, if you'd like to book a room with unforgettable Acropolis views. Remember that booking early is always the best way to get better prices and nicer rooms! We recommend checking out Booking.com as early as possible since this is a popular time to visit. These are some of the places we suggest you check.
Budget: If you're looking for a budget hotel in lively Monastiraki, book a stay at Fivos Hotel. Located right by Monastiraki Station, the hotel has free wifi and ensuite bathrooms. Check out prices and availability at Fivos Hotel here.
Mid-range: If you want more traditional accommodation, stay at the Kimons Athens Hotel in Plaka. The rooms are cozy and there's a roof terrace that guests can enjoy. Check out guest reviews, prices, and availability at Kimons Athens Hotel here.
Luxury: To enjoy a bit of luxury in Monastiraki, check into the four-star Emporikon Athens Hotel on Agia Irini Square. The rooms are sophisticated and swanky, with a traditional take on comfort. Check out guest reviews, prices, and availability at Emporikon Athens Hotel here.
The Best Greek Souvenirs & Gifts
Whether you're looking for something delicious, something you can wear, or something to decorate your home, here are our favorite Greek gifts and souvenirs!
Greek Coffee & Coffee Sets

While in Greece, it would be nearly impossible to spend more than a day without being offered some Greek coffee. If you fall for this style of coffee, you can bring home everything you need to make it right at home!
A Greek coffee pot is called a briki. You can also bring back some decorative Greek demitasse cups, which are the same thing as espresso cups.
Greek coffee is also a special blend, so if you know you're going to want to make some for yourself you will want to bring back a bag or two of ground Greek coffee blends.
Coffee accessories are a great option if you're looking to bring back a gift from Greece for a coworker or friend since they are easy to transport and practical.
>> Read Next: 25 Beautiful Greece Quotes to Inspire Your Greek Travels <<
Tavli (Greek Backgammon)

Tavli is a Greek version of the board game Backgammon, which is insanely popular in Greece and Cyprus. If you walk by cafes, it's common to see groups of young men playing an extremely competitive game of Tavli day or night.
This is a fabulous Greek gift to bring back for kids! You can teach them the game while telling them a bit about your time in Greece.
Leather Goods
I think leather goods make a delightful Greek gift for him or for her since there are handmade leather shops across the country that utilize locally sourced leather. I bought my fiance a leather cuff on my last trip to Greece, and he wears it all the time.
You can find hand-colored and hand-painted items large and small. I'm a particular fan of handmade leather sandals, wallets, and purses since they can be used daily once you're back home to remind you of your great trip.
Ancient Greek Archaeology Replicas
If you get inspired by the ancient Greek statues, helmets, and weapons on display at the country's fabulous museums, then why not bring home a replica. You can find all kinds – from beautiful and detailed models to plastics toys for kids.
The key here is to either go high-end – something lovely to display in your home – or something fun. Be honest with yourself about what you'll do with it to keep it from ending up as junk.
I have a beautiful replica Neolithic statue on my bookshelf (that only cost 8 euros!), and I've also given replica shields to my younger relatives.
There are many places you can buy archaeological replicas in Greece. I love shopping in museum gift shops (just look for a good deal and don't overpay) or small artisan shops. I avoid buying these items at typical souvenir shops.
Pro Tip: Check to make sure your replicas were made in Greece!
Pistachios
Greek pistachios have earned a reputation as the best pistachios in the world, and if you visit Hydra or Aegina they won't let you forget it!
While in Greece, you can sample (or gobble) pistachio gelato and pastries, and you can also bring some home with you. You can have a box of Greek honey cake or other sweets boxed up to bring back or you can buy a bag of nuts to munch on the plane.
>> Read Next: Where to Go in Greece: 27 Top Greece Vacation Destinations <<
Mati (Evil Eye)
While this item is popular around the Mediterranean (and we have it listed on our Turkish souvenir guide as well) the Evil Eye talisman, called Mati in Greek, is nonetheless integral to Greek culture.
Worn to ward off evil spirits and jealousy, you'll find it all over the country in nearly every souvenir stand and jewelry store. I prefer the beautiful glass ones myself, but I've seen people bring them home as souvenirs from Greece in the form of keychains, necklaces, and even earrings.
Honey
Whether you're enjoying Greek honey cake for dessert or a breakfast of honey and Greek yogurt, no doubt you'll sample some of Greece's local honey while you're here.
The Balkans are famous for the quality of honey produced here, and we tell people to sample it from Bulgaria to Slovenia to Greece. A small jar (packed snugly) will easily fit into your suitcase for the trip back!
Ouzo

Everywhere in the Balkans, you'll find a preferred local liquor and people who will proudly defend it as the best on Earth. In Greece (sans Crete) that is Ouzo.
Flavored with Anise, it's similar to Turkish Raki (but NOT similar to Bulgarian Rakia). The first to make ouzo were Greek monks in the fourteenth century, but it didn't become a commercial success and Greek staple until the nineteenth century.
On my last trip to Greece, I picked up a few bottles at the Duty-Free store to avoid having to cart them in the airport or checking them in my luggage.
>> Read Next: When Is the Best Time to Visit Greece? <<
Kalamata Olives
I'm obsessed with kalamata olives. I like to buy kalamata olive past to bring back and make my own kalamata olive hummus. However, the possibilities for what to do with a condensed jar of delicious olive paste really are endless.
You can also bring back a jar for friends or family as an easy and thoughtful gift from Greece.
Local Textiles
One of my favorite kinds of shops in Greece is the beautiful little textile stores and stands you see in all the towns and markets. I love bringing home a delicate lace table cloth or small pieces of fabric to remember my trip by.
Olive Oil & Olive Oil Beauty Products
If you're not into bringing back whole olives or olive paste like me, a fantastic alternative is to pick up a bottle of fancy Greek olive oil. The olive oil produced here can be of such great quality that it needs no accompaniment save for a plain piece of the break, but it goes even better on your homemade Greek salad.
Just make sure you get the good stuff. Read up here if you want some assistance finding the best Greek olive oil while you're here.
Modern & Traditional Greek Jewelry

A very touristy, but completely beautiful, piece of jewelry common in Greece is imitation gold wreaths. I mean, is your Athens Instagram pic complete without a fake gold laurel wreath to go with your maxi dress? Probably not.
If you want something less Athena-inspired, you can find tons of traditional Greek jewelry and modern looks made from all kinds of materials and sold at all price ranges.
Greek Ceramics & Pottery
Whether you want ceramics adorned with ancient Greek motifs or something more modern, you must admit that Greece and pottery go together like Apollo and Artemis. That is, they are practically inseparable.
If you do get ceramics, make sure to pack them well so they don't break. I've transported ceramic vases from Bulgaria to the USA with just one minor incident, so I know it can be done!
>> Read Next: Traditional Greek Food: 10 Tasty Greek Dishes, Desserts & Drinks <<
Local Chocolate
While chocolate is not indigenous to Greece, they do have their own local chocolate companies like Ion. I find that tucking a chocolate bar into my carryon on the way out of town makes a great gift to give someone if I accidentally left anyone off my list. If not, it's always wonderful to have a chocolate bar once I'm back home that reminds me of my trip!
These bars are inexpensive from local grocery stores, but of course, you can always opt for a fanciers box of chocolates from bakeries and candy shops.
Greek Orthodox Icons
Whether you're Orthodox or not, anyone can appreciate the beauty of Greek and Orthodox icons. They are for sale across the country, in museums and stores. Many of them are hand-painted with gold leaf by artisans who have studied the traditional painting methods that date back to Constantinople.
If you are not Orthodox, you can still buy an Icon to have as a souvenir. Just make sure to treat it with respect as a religious object that is important to the Greek Orthodox faith.
Olive Wood Products
The olive is an important part of Greek tradition, but so are olive trees. In Greek mythology, it was the goddess Athena who first brought Olive trees to Athens.
Today olive wood is used to make beautiful sculptures, artwork, and kitchenware. I fell in love with these olive wood honey pots, but the stores are literally chock full of different kinds of olive wood products to buy.
One thing you need to be aware of is to make sure anything you buy made of olive wood comes from Greece. There has been an influx of Tunisian olive wood. While I love Tunisia and find it to be a stunning country, I prefer my Greek souvenirs to come from Greece and to pick up my Tunisian souvenirs when I'm in Tunisia.
Traditional Greek Instruments
Traditional instruments are some of my favorite souvenirs to bring home from any country I visit since they are typically crafted by locals and are unique to a country or culture. When shopping in Greece, look for music stores and places that specialize in traditional Greek instruments like this specialty shop in Heraklion.
Instruments that make great souvenirs from Greece include the oud, the bouzouki, and the lyre, but there are dozens of different ones to choose from!
If you see a traditional music performance and fall in love with any of the instruments, don't be afraid to ask what is being played so you know which ones are your favorites!
Baklava
Never ask a Greek or a Turk which culture invented Baklava, but feel free to indulge in these delicious pastries in both countries.
I love to bring baklava back as a gift from Greece for friends or coworkers since they travel very well and have a shelf life long enough to endure the plane back.
There's no better souvenir than what you learn from your travels…
Would you like to learn more about Greek traditional food? Check this gourmet food tour in Athens!
Cookbooks & Cookware
After spending weeks getting spoiled on delicious Greek cuisine, you might start thinking you can't live without it. And if that's the case (which it is for me) then pick up a Greek cookbook so you can learn how to make some of these dishes yourself!
It can be a bit tricky finding cookbooks in English (I found my favorite Cretan cookbook in a music store of all places) so ask around at a few different stores.
Christmas Decorations
If you decide to visit Greece during December, you'll likely stop at one of the city Christmas Markets that can be found throughout Greece. I spent time at the Heraklion Christmas Market this past December, and it was delightful.
While Greece isn't known for its Christmas markets (like Germany and Austria are), if you do happen to see one then you should stop by!
There are all kinds of beautiful Christmas decorations for sale, and the prices at these markets tend to be very reasonable.
Traditional Kitch
If you have a particular souvenir that you buy in every place you visit, like a mug, spoon, or t-shirt, you'll be able to find them all over the country!
I like to pick up a refrigerator magnet on my trips, but you can find any "typical" souvenir with ease.
Where to Buy Greek Gifts & Souvenirs
While you'll most likely find opportunities to shop all over the country, here are some of our favorite places to go shopping in Greece. No matter where you shop or what you buy, just make sure it was made in Greece, and you really can't go wrong.
Local Markets
Directly From the Producers
We love buying directly from the artisans and craftspeople whenever possible. This means buying wine on a vineyard tour, buying art from galleries that support local artists, and supporting small shops owned by craftspeople.
Museum Gift Shops
While some museums offer mostly international products in their gift shops, we always like to check because when you find one that sells local items they tend to be spectacular.
These are a great place to find archeological reproductions and books in English about Greek literature and history.
Souvenir Shops & Stands
The key to shopping at a traditional souvenir shop or stand is to follow these three rules:
Check prices at a few different places so you know you're not being ripped off.
Make sure the product was made in Greece – even better if it's the part of Greece where you're traveling.
Compare the goods in a few different places so you know you're not buying the most generic options.
Some people hate shopping in souvenirs stores and stands, but I think this is silly. You just need to do so with your eyes open so that you make sure you're getting something that's still local and priced fairly.
Greek Souvenirs Online
Not enough room in your luggage to bring back all the Greek souvenirs you want? You can have a lot of them shipped directly to your house.
There are Greek souvenirs available on Etsy and other online retailers, and you can find many Greek books on Amazon. If you forget to bring something home with you, you can have it shipped directly to your house.
If you're planning to bring back gifts from Greece for friends and family, it's easier to opt for small items that can fit easily in your luggage. However, if there's a larger gift you want to buy for someone, many shops will ship items home for you. In this case, you can send the item to your house or to the home of the person you're shopping for!
More Greece Travel Resources
Headed to Greece? We have some great travel resources to help you with your trip. First read our guide to planning a trip to Greece, which covers visas, budgets, vaccines, and much more. We also have a Balkan currency guide that explains how money works in Greece and local tipping customs.
If you are still trying to figure out your itinerary, check out our guides on where to go in Greece and when is the best time to visit.
If you'll be spending time in Athens, check out our Athens Instagram Guide, the best Athens day trips, and our complete Athens hotel guide.
We publish new content about the Balkans almost every day! For more information about traveling to Greece and the Balkans, bookmark our Greece and Balkan travel pages so you can find out what's new before your trip.
What to Bring with You for a Greece Trip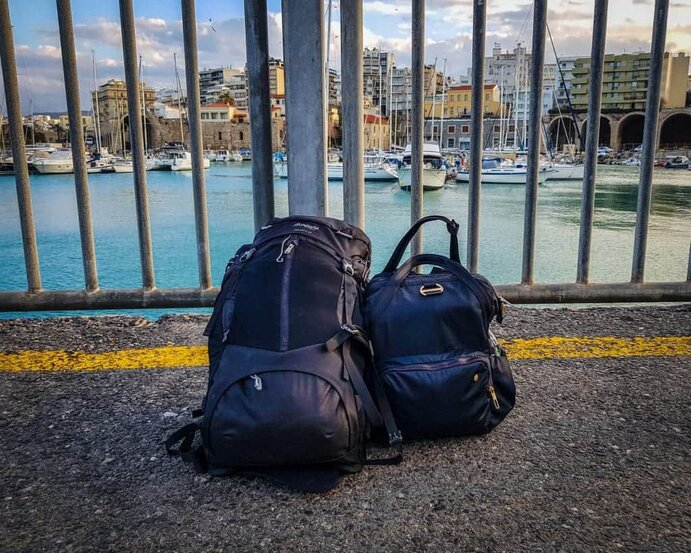 We have several Greece packing lists to help you decide what to bring with you to Greece, Rhodes, and Crete (with more on the way)! But here are five things you want to bring with you to any Greek beach vacation!
A Guidebook – While travel blogs are great, we also definitely see the benefit of having a good paper guidebook in hand to refer to in your on-the-ground travel. We own and recommend the Lonely Planet Greece for a great guidebook on the ground.
Sunscreen: Yes, you will want sunscreen in Greece, no matter the time of year. While you can buy it here, I suggest you buy the good stuff from recognizable brands or better yet, buy it online in advance. I love this solid Neutrogena sunscreen. Who doesn't love a good solid for liquid swap? Great to keep in your bag without worrying about sunscreen explosions.
Motion sickness pills: Great for ferry rides and bus rides especially on winding roads – I buy these non-drowsy ones. You can also try these natural motion sickness bands which use acupressure to reduce nausea – they work pretty well.
Hiking boots or sneakers with good grip: If you're looking for waterfalls in Greece, you may have to do some hiking to get to them! Be sure to wear some well broken-in hiking boots or at the very least, some grippy sneakers.
A water bottle with a filter. While often, the tap water in Greece is drinkable, there are places where it isn't. Always ask before drinking the water.
We generally recommend using a water bottle with a purifying filter to reduce your plastic consumption and ensure you won't drink any bad water that could make your trip unpleasant! We recommend the GRAYL water bottle – it filters water perfectly (literally – 99.999% free of viruses, bacteria, etc.) in an instant so that you can even drink from lakes, bad taps, etc. – basically everything but the sea itself.
Travel safety items. We think Greece is very safe to travel to, but at the same time, it never hurts to be prepared! Some people like to carry money belts, but neither Stephanie nor I use these.
Instead, we both carry the same PacSafe anti-theft backpack. It has locking zippers, slash-proof construction with metal mesh hidden in the fabric, and tons of other smart security features — all while being cute and stylish enough to be our everyday bag. We recommend it highly for both male and female travelers, as it's neutral enough to be unisex. We also recommend travel insurance! Our recommendation is at the bottom of the post.
Don't Forget about Travel Insurance!
I'm sure you're aware that it's a good idea to have travel insurance for traveling in Greece, the Balkans, or anywhere in the world! Allison and I have both been paying customers of World Nomads for the last three years. We love the peace of mind it gives us in case of emergencies, accidents, illnesses, theft, or trip cancellation or disruption.
While Greece is perfectly safe to travel around, there's always a risk inherent in everyday travel like theft or injury, so it's better to play it safe. The saying goes "if you can't afford travel insurance, you can't afford to travel" is true!
Pin This Guide to Greek Souvenirs & Greek Gifts for Your Trip
Stephanie has been living in and traveling around the Balkans for the past three years. She's written for National Geographic Online, appeared on CNN Arabic and in the New York Times, and ridden more Balkan buses than is good for a person.