Santorini is a beautiful and romantic island topping many travelers' bucket lists. And one of the most lusted-after Santorini experiences is to stay in a romantic cave suite or hotel!
While Cappadocia cave hotels are world-renowned, Santorini cave hotels and cave suites are also a magical experience that's well worth the splurge should your budget afford it.
Cave hotels in Santorini range from full-on hotels where every room is a cave, to more traditional hotels that offer cave suites as one option amongst others, as well as some hotels which even offer private cave pools!
We've listed the best cave suites and cave hotels in Santorini to help you streamline your choices and pick the best one for your budget and style. Keep in mind that staying in a cave hotel in Santorini is not a cheap affair, so you're looking at least $100 USD a night in Imerovigli and even more (upwards of $200 USD a night) if staying in more popular towns like Fira.
Mid-range Cave Hotels in Imerovigli ($100-200)
Annio Flats
This budget-friendly Santorini cave hotel follows the typical look of other hotels in Santorini, with stone beds in each room. It is also at the top of the caldera; as a result, there are steep roads, but the plus side of it is directly near the cliff walk paths! Of course, it also has spectacular views of the Aegean Sea and the blue-and-white domed buildings.
In case you have heavy luggage, you can ask their staff (be sure to make a special request when you book) to assist you. They can meet you at Malteza Square to help you. If staying at a cave hotel in Santorini on your bucket list, but you're on a tight budget, this is the place for you. As a result, make sure to pre-book at least two months ahead. you might just miss this property as it can be really high in demand due to its prime location and features!
They have different studios and apartments available for guests, all in a cave style, and you can snag a very good deal, as low as $130 USD per night for a double room. This is practically cheap considering the prime location of Imerovegli, one of the best areas to stay in Santorini — and we all know how people rave about Santorini!
Each of their rooms have a patio or balcony with some outdoor furniture, perfect in the morning and if you want to see a stunning sunset all to yourself away from the Oia crowds! It has rustic wooden furniture and all-white linens and curtains, in keeping with the sparse cave look.
The en-suite bathrooms are a bit small, but they have a really nice shower with a modern showerhead. The water pressure is excellent (not always easy to find on an island, even an island like Santorini) so you can feel relaxed. However, like many places in Greece, you have to turn the water heater on about 30 minutes before using the shower. Just ask their staff how to turn the shower heater on to avoid any confusion!
If you are looking to soak yourself in a nice warm tub, you can get the deluxe room with a jetted tub plus volcano view! It is quite expensive compared to the other suites, but at the same time, it is also usually sold out so it's definitely not a bad deal! Parking is also free nearby if you have rented a car. However, driving in Santorini can be quite complicated, so cars are not recommended, but there is space for you should you chose to brave driving on the island!
Check prices, availability, reviews, and photos here.
Caldera Premium Villas
If you are looking for a budget-friendly accommodation and the typical dug-out-looking cave studios and suites that Santorini is famous for, then Caldera Premium Villas is a wonderful place to stay.
It has all the basic features you need for your stay, and some even more so — some rooms even have private tubs for a more romantic feel. Most of the furniture used is wood and wicker, full of natural texture, and the rooms are painted in white to complement some modern pieces of décor. Each room has a working desk and a coffee table, so there's plenty of space to spread out. Couples celebrating a memorable anniversary or honeymoon can even get their special honeymoon cave suite!
The private bathrooms are really unique. It is almost like the walls are melting, and you are walking inside a mosaic-tiled shower area. The showerheads are also on the ceiling – the closest thing to a true 'rain shower' you can imagine!
Other amenities they have include an outdoor pool with sun loungers and a terrace where you can just sit and be mesmerized by the dreamy views. Another convenient feature of the property is its mini-market on-site, which is a lot less hassle than looking around for shops to buy something you need at the moment.
Check prices, availability, reviews, and photos here.
Kasimatis Suites
Kasimatis Suites offers a variety of room types to suit different styles and budgets. Be aware when booking that not all rooms here are cave suites, so pay attention when booking your specific room. However, they do have cave suites on offer, just in case you want to feel the unforgettable vibe of staying in one.
It is also one of the Santorini cave suite hotels located on top of the hill, so it gives you some of the best views of the gorgeous Aegean sea and the volcano. They have big and comfortable beds – some with round-shaped ones too! The rooms are not overly decorated to keep everything with a modern minimalist appeal.
It has an outdoor pool with a lovely deck overlooking the sea and the volcano – but who needs it when you can have a private tub in some of their Santorini cave suites?
The superb breakfast service every morning is appreciated by a lot of guests. They will even serve you your breakfast in your balcony daily – giving you that well-deserved royal treatment! The breakfast itself is good (with large portions), and you are sure to enjoy the choices.
However, since some of their rooms are natural caves dug out from the island rock, you should expect that sometimes there can be some moisture in the rooms and the floors can be a little damp. That's simply the nature of staying in a cave suite in Santorini! It is normal, and this is what makes cave suites particularly amazing, because they have a way to control temperature regardless of what the weather outside is.
Check prices, availability, reviews, and photos here.
Aeolos Studios & Suites
This hotel was named after the Greek keeper of the winds – which makes sense as Santorini can be quite a windswept island at times. The hotel's location is perfect and it is completely built on the side of the cliff – which means picturesque views. It is also a bit far from the street so noise levels are low and a lot of privacy is afforded the guests.
They offer a cave studio for those who want a typical Cycladic homey feel, but most of their studio rooms have a private tub – perfect for a relaxing night with a view of the stars and the sea!
There's a complimentary continental breakfast served every morning and you can enjoy this in your room – freshly made to your requests. They have choices from traditional Greek and continental options. Some guests noted that the choices can be a bit repetitive, but there's nothing to worry about since there are small markets and restaurants nearby if you desire a little variety. You can also check their refreshing and unique drinks at the bar.
Note that this is an adults-only hotel so you can really enjoy the peace and quiet away from kids. On the flip side, if you're a family, you'll want to look elsewhere for a place that caters to you!
Check prices, availability, reviews, and photos here.
Luxury Cave Hotels & Suites in Imerovigli ($200+)
Marizan Caves & Villas
Most of their rooms are cave suites (though some are not), and one of the unique things this property offers is that you can book a larger room for groups – perfect for traveling with your family or friends!
Some cave suites even have tubs that are illuminated at night. The perfect time to soak in their private tubs would be at sunset, so you can see the view when the sky turns into orange and paints the whitewashed houses a warm color – it's romantic and lovely at the same time!
Guests are free to use the luxurious pool just beside the property, Lioyerma, which has a bar with a good selection of cocktails and non-alcoholic drinks.
This is also where guests can park their cars freely, if you are brave enough to rent a car in Santorini! The host can also help take care of your car rental needs and arrange boat tours. We think it is a must-do to tour around on a boat if you are in Santorini, because the experience is just amazing.
There is an a la carte menu for breakfast and it is usually served on the balcony: a hearty Greek breakfast (with meats, bread, and fresh fruits) overlooking the sea and the Cycladic town. Spa treatments and massages are available for those who want to feel rejuvenated.
During winter, their outdoor fireplace is extremely cozy and makes being outside really peaceful. You can just sit back and relax in the seating areas, watching the beautiful stars and feeling the warmth of the fire.
Check prices, availability, reviews, and photos here.
Iconic Santorini
Awarded Greece's Leading Boutique Hotel several years in a row between 2014 and 2017 by the World Travel Awards and also as the Best Small Hotel in Greece and Best Boutique Hotel on a Global Level by the 2018 Haute Grandeur Awards, this hotel certainly deserves its accolades!
The hotel has five distinctive floors that feature amenities that honeymooners and couples will surely adore (plus, they also have romantic packages available, perfect for celebrating a special occasion).
The name itself speaks for what it is: the hotel is truly iconic, and the architecture and design are something that will truly amaze you. The furniture and decor screams "summer by the ocean," making ample use of rustic wooden styles. It is more than just the impressive views; the hotel itself showcases a boutique luxury vibe.
Many hotels in Santorini look quite similar, but Iconic Santorini is different. Their rooms incorporate stylish elements from the furniture and décor to create a personalized, unique vibe to each room. They also use Coco-Mat mattresses on their huge beds, perfect for a comfortable night's sleep!
Those who love to bring tons of clothes for Instagram photo shoots will love their huge closet with extra storage. A private terrace with a table and seating area is also attached to all rooms, and this is where you can get your daily a la carte breakfast served to you!
They probably have one of the greatest numbers of returning guests in the area – the location is secluded and facilities and amenities are everything you can ask for.
Check prices, availability, reviews, and photos here.
Aris Caves
Instead of the rich royal blue matched with whitewashed walls that is typical of Santorini cave hotels, this hotel takes on a lovely pastel blue as its main color scheme. At night, wooden lanterns are scattered all over the property to create a romantic ambiance. This is also one of the more authentic carved cave hotels in Imerovegli town in Santorini.
Make sure to inform the host if you need any assistance with your luggage or heavy bags, as they have free luggage porter service once you reach a nearby area. Generally, the host will email you personally to check if there are any additional requests you may have prior to arriving.
There are treatments and massages available if you want to have the complete relaxing experience. The hotel is luxurious but also kid-friendly with several amenities for families. Kids can play around with some puzzles and board games or you can also leave them with a sitter for a night out you don't want to bring them along while you have a romantic dinner with your partner.
Check prices, availability, reviews, and photos here.
Thea Apartments
The property offers studios, apartments, and rooms that embody the traditional cave suites with a stylish twist for discerning guests. Antique pieces were also added to complete the look. Some walls and arches have rocks piled to add some visual interest. Some rooms also have a vintage wood stove, made with copper for even more visual warmth.
You will truly experience the "filoxenia" (the act of being hospitable to a stranger) embodied in this property. The staff is really accommodating, and guests will love that the location is a bit far from the main path, which can have a lot of noise and traffic from people walking.
If you need any transport or airport shuttle services, they can also help you. Car rentals are also available for those who wish to go on a nice island road trip. They also have a swimming pool that has a stunning view and some sun loungers where you can just bathe in the sun all day. For those who want a more relaxing dip, you can try their hot tubs as well.
Check prices, availability, reviews, and photos here.
Zenith Blue
Zenith Blue offers authentic Santorini cave suites, and inside its rooms are perfectly polished and fully furnished. They have different cave room types to choose from — some even have a private tub or a terrace. Each room has a unique and modern style and not one is alike. They have stylish décor and linens used.
Past guests loved how clean the rooms were and how comfortable it is to sleep in their beds. They also change towels every day. The only thing guests have noticed is that the bathroom tends to be a bit humid and doesn't easily dry – however, this is normal since it is a cave room, and moisture is natural for the cave ambiance. They provide Paya toiletries – which use papaya extracts that promote a youthful appearance, and are all organic with no harmful chemicals!
There's an outdoor pool with sun loungers and beach towels so you can get a nice tan or take a cool dip during the summer. The pool is also very clean and well-maintained. Aside from the pool, they also have a hot tub with a nice view from their balcony – they also offer free wine sometimes!
However, free WiFi is only available in the common areas and inside their rooms, it can be expected to be sluggish or have no reception at all. You can always get a SIM card to fix this problem or just enjoy a mini digital detox — but if you plan to work on your trip to Santorini, this could be a problem.
Check prices, availability, reviews, and photos here.
Cave Suites in Fira ($200+ a night)
Aura Cave
This is probably one of the most authentic cave suites in Fira. Most of their caves were just renovated, and they used to be inhabited in the late 18th century. They only used local and traditional building materials to refurbish it into a hotel.
Once you enter the hotel, you will be greeted with a nice glass of wine and some cookies or flavored juices for kids — starting off the service on a personal and warm note.
The property is run by a family, and past guests have loved how they were extremely hospitable and attentive to their needs. Almost all guests have given them excellent feedback for their services. They can also give you recommendations for places and attractions if you haven't really planned your Santorini itinerary down to a T.
They have two types of cave rooms – the Passion Cave and Winery Cave. The first one is bigger and has its own private tub with 6 seats – perfect for a bigger family or group. It also has a kitchen, two double beds, and two sofas. The latter (Winery Cave) is a bit smaller but has two rooms perfect for a family of 4 or two couples. The walls and floors are covered with lavaplaster, which is a hard-wearing and waterproof material.
Check prices, availability, reviews, and photos here.
Porto Fira Suites
Porto Fira Suites is set in a quiet location in Fira with breathtaking views of the caldera and the sea.
The rooms have charcoal and sand-colored sofas and linens that match the simple and elegant style of each cave suite. You will also notice some areas where the volcanic rock is exposed to create interest in the whitewashed walls. All of the rooms have tiled floors and beds with comfortable headboards.
They have multiple room configurations (with a total of 14 suites) and some rooms have a tub where you can have a bubble bath. There are huge windows with a gorgeous view – which you can also get on the private balconies. You can also enjoy your breakfast here, which is delivered daily to your room. And the breakfast is ultra-Instagrammable!
If you have the budget for it and you want something more private and with a hot tub, you can get their signature Porto Fira Suite with a private hot tub. It has almost everything you can look for in a suite!
There is an outdoor pool surrounded with beach chairs and towels. There's also free public parking available for those who have rented cars. If you're with your family, there are also some family amenities you can take advantage of, such as hiring a trusted sitter if you need someone to look after the kids while you are away enjoying a romantic dinner in Santorini.
Check prices, availability, reviews, and photos here.
Athina Luxury Suites
This eco-friendly hotel has energy-saving and environmentally responsible practices. All of their rooms feature dual flush toilets, and they also have automatic outdoor lighting to help conserve energy. They also only use eco-friendly cleaning products to keep the property spotlessly clean. Hopefully, more hotels in Santorini will follow their steps so that they can help preserve the natural beauty of the island and keep travel there more sustainable!
All rooms are extra luxurious due to the designer labels you will find featured. Each private bathroom has Hermes and Guerlain bath and body products to make every bath a near-spa experience. The bed linens and towels are all from Guy Laroche, ultra-luxe and comfortable.
It is an extremely romantic hotel, perfect for honeymooners, couples, and those celebrating their anniversary. They have romantic private candlelight dinner packages, plus wedding planning and packages that will make every romantic experience magical and memorable.
If you feel hungry, you can check their on-site bar and restaurant Esperisma, which serves drinks, wine, and other expertly-mixed cocktails. If you're having a lazy day and you just feel like you don't want to go out of your room, you can also order at the restaurant and they'll send it right away to your room — the luxury!
Check prices, availability, reviews, and photos here.
Iriana Suites
Iriana Suites has cave-style rooms located in Fira. It also has a café that offers breakfast and coffee in the morning and refreshing cocktails and music at night. It also serves a la carte meals you can enjoy all day, with a 20% discount given to guests.
Most of their rooms feature a hot tub or a heated mini pool fit for couples and families. They use unfinished and raw furniture to create a somewhat rustic appeal. The beds and pillows are comfortable with clean and white linens.
Each private bathroom exudes the typical cave-like ambiance with naturally-finished ceilings and walls. The shower area is like a cave where rain falls down from the ceiling due to the rain showerhead.
There's also a spa and wellness area, where you can pamper yourself with massages, manicures, and pedicures or even just a soak in their hot tubs.
The front desk can help you with car, bike, yacht, helicopter (!) or ATV rentals, making dinner reservations, or anything else you need. For families, if you need a babysitter, you can easily get one to take care of your kids while you're away.
Check prices, availability, reviews, and photos here.
Kamares Apartments
The caves here have been existing for more than a century and transformed into fully-equipped apartments. The apartments also have balconies with beautiful views of the volcano and the sea. It allows guests to feel like a local Santorinean and make unforgettable memories, such as being served a generous breakfast on your balcony each morning.
The rooms are all furnished with wood and iron-glazed décor plus pops of color in the pillows and other design elements. The rooms are clean, carpeted, and spacious. There's perfect climate control due to the heating and A/C present. For extra luxury, you can also choose a room with a hot tub.
If you are on a road trip, they have free parking available on-site. No need to go in circles just to look for parking spaces – hard to find in Fira! You can also rent bicycles, and it is truly fun to ride one and check out the views, beside the sea.
After a long day of checking out some nice places nearby, you can soak in their swimming pool or indulge in one of their massages for a nice recharging moment. They also have laundry and dry-cleaning services, so you won't have to look for a nearby laundromat which can be quite difficult to find in Santorini.
Check prices, availability, reviews, and photos here.
Kavalari Hotel
This is a former captain's house that was transformed into beautiful Fira accommodations.
It has winding stairs with levels of balconies that showcase the breathtaking views of the sea and the volcano. It also makes use of traditional décor and wooden furniture. It also features a sunbathing terrace and a cool water Jacuzzi.
It has single, double (superior and executive), and cave apartments to choose from. A lot of their guests are couples due to the romantic atmosphere exuded here. The rooms all feature different styles, but the design is unified by playful and colorful pillows that accent the all-white rooms. Breakfast is included free with your stay, and you can enjoy their juices, fruits, and local dishes served at their breakfast terrace.
They have a concierge service where you can check available tours, shuttle services, or even get a babysitter if traveling with kids. There's also nearby parking spots (unfortunately, there's none on-site) with ample spaces for those who rented cars.
Check prices, availability, reviews, and photos here.
Nonis Apartments
Nonis Apartments claims to be at the quietest part of the caldera – meaning you can relax and listen for the sounds of nature and marvel at the breathtaking views.
All of their rooms feature a small kitchenette, coffee and tea making facilities, fridge, a flat screen TV, safety deposit boxes, laptops (you can borrow) and free WiFi.
It has 9 cave-style units, perfect for couples and families of 4 or fewer. Most of the rooms have a sea view, and they have balconies with comfortable seating and soft pillows to relax on.
The rooms have tiled floors, and the décor is kept minimalist with some interesting elements like lamps and chairs to add interest. It has private bathrooms with free toiletries, a mirror, and a separate wet and dry area.
You can use their open-air hot tubs and outdoor pool for free. Bridal suites are also available for newlyweds celebrating their honeymoon!
Their 24-hour service desk can arrange luggage storage and tours and provide travel information as well as car and bike rentals. Note that is also one of the popular wedding hotels in the area, and you might find it difficult to book during peak season!
Check prices, availability, reviews, and photos here.
Hotel Thireas
The property was a former traditional villa. All of their rooms are cave suites with whitewashed furniture and a big comfortable bed. Some rooms have a tub or a pool plus a balcony where you can witness the famous "Oia Sunset".
The hotel has a gorgeous pool area on the rooftop. It's a little small and the water can be a bit cold, but it is just perfect to beat the heat during the scorching summer days!
Each morning, you are sure to enjoy your breakfast served in your room with a nice warm cup of coffee or tea (aside from the pastries, eggs, and deli meats and cheeses provided). Guests with dietary requirements can inform the hotel so they can provide you with a special menu.
The hotel is also friendly to families with kids, and there are rooms available for them. They even have rooms that can accommodate up to 7 people – which makes it great for group travelers who want to all stay together comfortably.
The entire property has free WiFi with a good connection relative to the rest of Santorini. It also conveniently has an ATM on-site and you can also exchange currencies. Car rentals are also available, but there's no parking available on-site; you would need to check nearby for spaces and it can be quite a hassle to park in Santorini!
Check prices, availability, reviews, and photos here.
5 Things to Bring with You to Santorini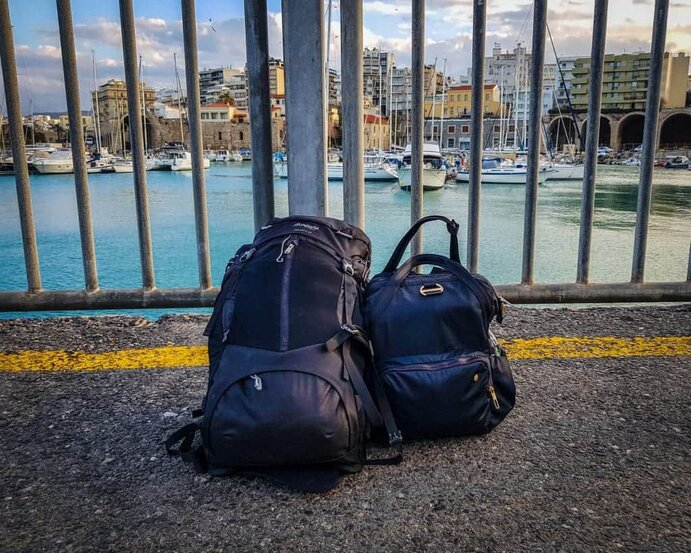 If you're planning a trip to Santorini, you'll want to pack all the normal essentials, but here are a few things we strongly recommend bringing that may not have crossed your mind. For more packing tips, check out our complete Greece packing list.
– A physical guidebook, in paper or on Kindle. We love Lonely Planet Greece for this region and strongly recommend it to supplement blogs. Blogs are great, but a combination of a blog and a guidebook is key to having the best access to information easily at your fingertips.
– A water bottle with a filter. While generally, the tap water in Santorini is drinkable, we generally recommend using a water bottle with a purifying filter to reduce your plastic consumption and ensure you won't drink any funny-tasting water on your stomach that could make your trip unpleasant! There are places on the island where the water tastes like minerals.
We recommend the GRAYL water bottle – it filters water perfectly in an instant so that you can even drink from lakes, bad taps, etc.
– Motion sickness pills. Santorini roads are winding, especially around the coast. If you have a weak stomach as we do, save yourself and bring some non-drowsy motion sickness pills.
– Wet wipes, hand sanitizer, TP & other Balkan transit needs. Bathrooms in the Balkans tend to be… how can we say it?… not so well-stocked. Save yourself the disappointment and bring a mini-rescue pack of wet wipes & hand sanitizer.
– Travel safety items. We think Santorini is very safe to travel, but at the same time, it never hurts to be prepared! Some people like to carry money belts, but neither Stephanie or I use these. Instead, we both carry the same PacSafe anti-theft backpack.
It has locking zippers, slash-proof construction with metal mesh hidden in the fabric, and tons of other smart security features — all while being cute and stylish enough to be our everyday bag. We recommend it highly for both male and female travelers, as it's neutral enough to be unisex. We also strongly recommend travel insurance! Our recommendation is at the bottom of the post.
More Greece Travel Resources
Headed to Greece? We have some great travel resources to help you with your trip.
First read our guide to planning a trip to Greece, which covers visas, budgets, vaccines, and much more.
Next, you'll want to read our all-season Greece packing list.
If you are still trying to figure out your Greece itinerary, check out our guides on where to go in Greece, the best places for island hopping in Greece, and when is the best time to visit.
If you'll be spending time in Athens, check out our Athens Instagram guide, the best Athens day trips, and our complete Athens hotel guide. We also have Athens safety tips so your trip can be hassle-free. We are currently working on our mega-post of things to do in Athens as well as our itineraries, so stay tuned!
We publish new content about the Balkans almost every day! For more information about traveling to Greece and the Balkans, bookmark our Greece and Balkan travel pages so you can find out what's new before your trip.
Finally, Make Sure You Come to Santorini with Travel Insurance!
I'm sure you're aware that it's a good idea to have travel insurance for traveling in Santorini, the Balkans, or anywhere in the world!
Stephanie and I have both been paying customers of World Nomads for the last three years. We love the peace of mind it gives us in case of emergencies, accidents, illnesses, theft, or trip cancellation or disruption. While Santorini is safe, there's always a risk inherent in everyday travel like theft or injury, so it's better to play it safe.
>> Get a travel insurance quote for your trip here <<
Pin this Guide to the Best Santorini Cave Hotels!