This post may contain affiliate links. This means that if you click a link, we may make a small commission off any subsequent purchase, at no extra cost to you. For more information, please check our privacy policy.
I loved every minute of my time in Santorini, but three things stick out in my head as true can't-miss itinerary items: seeing an Oia sunset, tasting crisp Santorini white wines, and visiting the Akrotiri archaeological site.
The ancient site of Akrotiri in Santorini is nearly 4,000 years old. It's in remarkable condition, especially given that the entire city was destroyed in one of the largest volcanic eruptions the Earth has ever seen.
If you're planning to visit Akrotiri from Fira or other places in Santorini, here's what you need to know to plan the perfect Akrotiri tour.
Here's What to Know Before Visiting Akrotiri, Santorini
Akrotiri is often called Greece's Pompeii – and the comparison is rather apt
Akrotiri and Pompeii are frequently compared, and it's not surprising why when you look at their histories.
Both are ancient civilizations that were destroyed by volcanoes, and the layer of volcanic ash which settled over them preserved the cities impeccably. They both had to be meticulously excavated from the ash, and huge remains of entire cities were found.
But there are some important differences between the two
There are several differences between Akrotiri and Pompeii, but there are two critical points to highlight here.
For one, Akrotiri is a far more ancient civilization than Pompeii. Akrotiri had its heyday in the 2nd millennium BC (around 1650-1550 BC), before the Minoan eruption — one of the largest recorded volcanic events in history — completely devastated it. Pompeii, on the other hand, was destroyed in 79 BC, nearly 2,000 years later.
Unlike Pompeii, though, the residents of Akrotiri had ample time to flee. Violent earthquakes proceeding the eruption tipped people off, and historians believe they fled in boats.
However, there's no evidence that anyone from Akrotiri survived the exodus, and it's likely that they died in a tsunami post-eruption while trying to flee. As a result, Akrotiri was stripped of nearly all of its valuables, and no human remains were found in Akrotiri, unlike Pompeii.
Akrotiri is mostly undiscovered, with much excavation work still ongoing
The ancient city of Akrotiri is enormous. To date, only 5% of the site has been excavated. This is wildly different than Pompeii, which is 70% excavated — nearly 15 times more completed!
Even though it was discovered over a hundred years ago, the work is still ongoing (and Balkan bureaucracy is likely not speeding up the process!). Pompeii was discovered nearly 300 years ago, so they've had a lot longer to uncover the sight.
As you can imagine, with only 5% excavated, there are many mysteries that have yet to be revealed at Akrotiri!
But even with only 5% excavated, it's an incredibly fascinating and rich archaeological site
You may hear "only 5% excavated" and assume there's nothing interesting to see at Akrotiri – but you'd be dead wrong.
Despite the small percentage of the site which has been discovered, the Akrotiri archaeological site has massive amount of findings. There are over 15,000 pots, the remains of two 'skyscrapers' which once formed the entrance to the city, and even one of the world's oldest toilets (with functional plumbing, apparently!)
The name of the original settlement is still a mystery
A lot is known about the Akrotiri archaeological site, but there are a few huge blank spots: namely, what the name of this massive city ever was in the first place.
There have been several ancient glyphs found preserved in the archaeological site, but no one has yet been able to decode it. So the name 'Akrotiri' actually comes from the village nearby, and it simply means "cape."
There's not a lot of placards or historical context, so a guide is key
I went to Akrotiri on a guided tour, and it was one of the best decisions I made on my trip.
The guided tour that I did covered a lot: visiting Akrotiri as well as the Mountain of Prophet Elias (and its monastery), the adorable traditional village of Megalochori, the Red Beach, Perissa Beach (the black sand beach), and wine tasting at Santo Wines. It was a wonderful day trip, covering basically all of southern Santorini in one hassle-free (but admittedly long) day.
I loved that it made seeing all of those sights in a single day without a car extremely easy, and after seeing Santorini roads, I wouldn't have wanted to drive much there anyway!
I also found that having a guide at Akrotiri was essential to getting the most out of my time there, as a lot of the site was not explained, and the informational placards were fairly limited. Our guide was phenomenal and had a tablet on hand to show us renderings of what certain places must have looked like, as well as photographs of parts of Akrotiri which had been moved in other museums to be better preserved.
I recommend adding value to your visit to Akrotiri with a guided tour — the simplified transportation and the added historical context offered a fantastic value. If you want to do the same tour that I did, this is the affordable group tour I did and loved. We had about 45 minutes to explore Akrotiri, which was ample time for me.
Book your group tour to Akrotiri & southern Santorini today!
If you're traveling in a group and prefer a private tour at your own pace, there are some options! This 1.5-hour tour is private and more in-depth than the tour I did, but you'd have to sort out transportation yourself. If you want a private tour with a transfer option, check out this tour here.
Alternately, you could take advantage of Akrotiri's proximity to some of Santorini's best wineries on this Akrotiri and wineries tour, which takes you to three of Santorini's best wineries on a 5-hour private group tour. Check tour itinerary and details here.
If you don't want to pay for a tour, it appears that you can hire a guide upon arrival at Akrotiri for 10 euros per person, plus the 12 euro entrance fee.
Pro tip: If you'll also be visiting Museum of Prehistoric Thira, the Ancient Thira site, the Icons Collection in Pyrgos, or any other of the major sites on Santorini, buy the pass for 14 euros. Even if you just visit the Museum of Prehistoric Thira (6 euro entrance) plus visit Akrotiri, you'll save 4 euros.
Be aware that many of the highlights of Akrotiri have been moved
In order to properly preserve the findings of Akrotiri, several of the most beautiful highlights of the archaeological site have been moved to places where they are less vulnerable to the elements. This includes the beautiful wall paintings, which indicate that Akrotiri was an incredibly rich and developed settlement.
I was glad that I had a guide at Akrotiri because she informed us that many of the wall paintings had been moved to the Thera Gallery in the National Archaeological Museum in Athens, as well as the local Museum of Prehistoric Thira (not to be confused with the Archaeological Museum of Thera, which is not even worth the 2 euro entry fee).
Essential Things to Bring with You to Santorini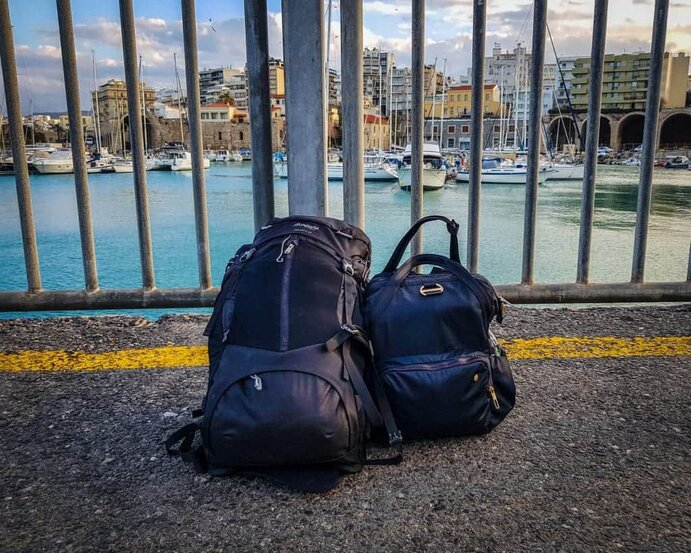 If you're planning a trip to Greece, you'll want to pack all the normal essentials, but here are a few things we strongly recommend bringing that may not have crossed your mind. For more packing tips, check out our complete Greece packing list.
– A physical guidebook, in paper or on Kindle. We love Lonely Planet Greece for this region and strongly recommend it to supplement blogs. Blogs are great, but a combination of a blog and a guidebook is key to having the best access to information easily at your fingertips.
– A water bottle with a filter. We generally recommend using a water bottle with a purifying filter to reduce your plastic consumption and ensure you won't drink any funny-tasting water on your stomach that could make your trip unpleasant! We recommend the GRAYL water bottle – it filters water perfectly in an instant so that you can even drink from lakes, bad taps, etc.
– Motion sickness pills. Santorini roads are winding, especially around the coast and hills! If you have a weak stomach like we both do, save yourself and bring some non-drowsy motion sickness pills. This will also come in handy on Greek ferries and other Santorini must-dos like a catamaran cruise!
– Travel safety items. We think Santorini is safe to travel, but at the same time, it never hurts to be prepared! Some people like to carry money belts, but neither Stephanie or I use these. Instead, we both carry the same PacSafe anti-theft backpack.
It has locking zippers, slash-proof construction with metal mesh hidden in the fabric, and tons of other smart security features — all while being cute and stylish enough to be our everyday bag. We recommend it highly for both male and female travelers, as it's neutral enough to be unisex. We also strongly recommend travel insurance! Our recommendation is at the bottom of the post.
Read More: Essential Greece Packing List: What to Wear & Pack for Greece
More Greece Resources
First read our guide to planning a trip to Greece, which covers visas, budgets, vaccines, and much more.
Next, you'll want to read our all-season Greece packing list.
If you're a lover of archaeological sites, we also have guides to visiting Delos from Mykonos and visiting the Acropolis in Athens.
We're still working on the rest of our Santorini content, but to get you started, we have a guide to the best Santorini cave hotels for all budgets.
If you are still trying to figure out your Greece itinerary, check out our guides on where to go in Greece, the best places for island hopping in Greece, and when is the best time to visit.
We publish new content about the Balkans almost every day! For more information about traveling to Greece and the Balkans, bookmark our Greece and Balkan travel pages so you can find out what's new before your trip.
Don't Forget About Travel Insurance!
I'm sure you're aware that it's a good idea to have travel insurance for traveling in Santorini, Greece in general, or anywhere in the world!
Stephanie and I have both been paying customers of World Nomads for the last three years. We love the peace of mind it gives us in case of emergencies, accidents, illnesses, theft, or trip cancellation or disruption.
While Santorini is safe, there's always a risk inherent in everyday travel like pickpockets or injury, so it's better to play it safe.
>> Get a travel insurance quote for your trip here <<
Pin this guide to visiting Akrotiri, Santorini!
Originally from California, Allison has been living in Bulgaria for the last two years and is obsessed with traveling around the Balkans. She has been published in National Geographic, CNN Arabic, Matador Network, and the Huffington Post. She loves befriending dogs, drinking coffee, geeking out about wine, and cooking food from around the world.