This post may contain affiliate links. This means that if you click a link, we may make a small commission off any subsequent purchase, at no extra cost to you. For more information, please check our privacy policy.
If you're planning a trip to Greece, you've likely already looked into what Greek destinations are most appealing and what you can do there. You've probably Pinned a ton of inspiration for your itinerary and scrolled around on Instagram to see what appeals to you.
Where to Stay in Greece
If you're visiting Greece any time soon, you'll probably spend some time in Athens before moving to discover other amazing places in the country. In that case, it's a good idea to check this accommodation guide to Athens to find the best places to stay in Greece's capital. Check this article as well, if you'd like to book a room with unforgettable Acropolis views. Remember that booking early is always the best way to get better prices and nicer rooms! We recommend checking out Booking.com as early as possible since this is a popular time to visit. These are some of the places we suggest you check.
Budget: If you're looking for a budget hotel in lively Monastiraki, book a stay at Fivos Hotel. Located right by Monastiraki Station, the hotel has free wifi and ensuite bathrooms. Check out prices and availability at Fivos Hotel here.
Mid-range: If you want more traditional accommodation, stay at the Kimons Athens Hotel in Plaka. The rooms are cozy and there's a roof terrace that guests can enjoy. Check out guest reviews, prices, and availability at Kimons Athens Hotel here.
Luxury: To enjoy a bit of luxury in Monastiraki, check into the four-star Emporikon Athens Hotel on Agia Irini Square. The rooms are sophisticated and swanky, with a traditional take on comfort. Check out guest reviews, prices, and availability at Emporikon Athens Hotel here.
>> Read Next: Planning a Trip to Greece: Your Travel Checklist <<
When is the best time to visit Greece? It depends.
There's no one clear answer, which makes sense: if there was truly one best time, everyone would be there, and then it would no longer be the best time.
I would say that the best time to go to Greece totally depends on what you want to do on your holiday. If you want a beach holiday, obviously you want to go in warmer weather.
If you want to ski, the middle of winter and early spring is great. If you want to see ruins and spend time in museums, early winter is actually a fantastic time to visit Greece.
I'm going to break down visiting Greece by season, so you can know what to expect. Between Stephanie and I, we've visited Greece in three different seasons: spring (mid-April), summer (August), and fall (October). We haven't visited yet in winter, but we're planning our visit in winter this year!
Summer (June-August)
Summer is probably the season most people think of when it comes to traveling to Greece. But if you're asking when is the best time to visit Greece, we actually don't think it's summer — it's too crowded and nearly twice as expensive.
August is the busiest month, followed by July, and then June. Here's why: August is the month that many European countries mandate their workers to take their annual holidays.
Mash that up with the fact that it also happens to coincide with North American school holidays, and you're in for crowded beaches, sold-out hotels, and much higher prices.
I would say that of the summer months, June is perhaps the best month to visit Greece. A lot of the North American schools haven't let out yet, so you have fewer overseas tourists to contend with, and much of the Western European visitors aren't taking their annual leave yet.
The risk of heatwaves in June is much lower than in July and August. While you'll have quite a few people traveling still, it's nothing like the crowds that will come in July.
If you have to travel to Greece in summer, either because of school schedules, your mandated annual leave, or you're just dying for a summer beach holiday, we recommend picking an off-the-beaten-path part of Greece.
This means you should definitely skip Santorini and Mykonos, which will be hellaciously crowded. In our guide to Greek destinations, we cover several different lesser-visited island groups.
We suggest picking something in the Ionian or Dodecanese Islands, though not Corfu or Rhodes. However, even Corfu was surprisingly pleasant and calm when I visited in August since I stayed outside of the Old Town, near Pelekas Beach.
Fall (September-November)
If I could pick a perfect time to visit Greece, it would be the end of September. All the kids have gone back to school, so the beaches are much quieter. Likewise, the Europeans on their summer break have mostly gone home and back to work.
This means you have a few isolated, one-off travelers, couples, and families here and there, but it's nothing like the late summer onslaught. If you want to visit a busy place, like Santorini or Mykonos, this is the best time to do it.
The other great thing about this time of year in Greece is that the daily temperatures haven't dropped that much, and the Mediterranean will have retained a lot of its warmth it spent all summer gaining, so it is lovely swimming weather.
However, there is a really short window between the weather being pleasant for swimming and it suddenly getting too cold – and that window usually closes right around October.
Stephanie spent the entire month of October living and working in Athens, and while it wasn't cold, she says it definitely wasn't beach weather. You could still walk around wearing sandals and not feel cold, and you didn't need a heavy jacket, but you definitely weren't about to go lay in the sun.
However, it was perfect for seeing all the ruins, and as a history lover, she enjoyed that archaeological sites weren't crowded and that it wasn't too hot to spend the entire day sightseeing. So, if you're into a history-themed trip, late fall or even early winter would be a good time to travel to Greece.
Winter (December-February)
While we haven't yet been to Greece in winter, we can definitely tell that this is not the time of year to lay on the beach! Greek winter is generally cool and rainy.
Average temperatures in Athens aren't that bad – ranging from highs of 56-59° F (around 15° C) and lows of 44-47° F (around 7°C), though of course, you can have outliers that are colder or warmer. It rains about 8-9 days a month, so it'd be hard to avoid the rain.
Crete may be a slight bit warmer, as it's the furthest south Greek island, but it would still not be warm by any means.
So, since beaches are out, winter would be all about culture. Athens would be a fantastic choice for a winter Greek trip, as there are so many museums that are worth seeing on rainy days, and then you could spend the nicer days doing day trips to nearly-deserted ruins with very few other tourists, get yourself a convenient ticket that includes the entrance to museums and excavations, like this one.
Alternately, if you're a winter sports enthusiast, there are actually a few places in Greece where you can go skiing!
Crete has some fantastic mountains that are capped in snow in the winter, making this island a fantastic skiing destination. Mainland Greece also has some good skiing spots, such as Mount Parnassos near Delphi, which is easily accessible from Athens.
Spring (March-May)
We love Greece in spring! In fact, after early fall, we think that mid to late spring is the best time to go to Greece. While March is still a bit too cool, Greece starts to warm up around mid-April.
In fact, we were even swimming in the Mediterranean in Crete before May even broke. The water was freezing, but the sun was so warm during the day that taking a few dips in the cold water was surprisingly pleasant!
We also swam in Rhodes and Agia Triada, and again, the water was cold but definitely swimmable if you were dedicated to it. By the end of May, we'd suspect it'd be downright lovely.
We had beaches nearly all to ourselves at this time of year, and we were able to rent a beautiful villa for a steal – we paid about $25 per person per night for a gorgeous villa outside of Chania.
One thing to keep in mind about visiting in early spring is that a lot of the tourist areas don't even really open up until the final weekend of April.
This can be great – fewer crowds! – but it also means that certain tours, activities, and hotels aren't open, especially on the smaller Greek islands. However, by May, pretty much everything should be open.
Festivals and Holidays in Greece
One other thing to consider when trying to decide the best time to visit Greece is the festival and holiday calendar. Traveling during festivals and holidays will mean a more exciting atmosphere and a chance to dive headfirst into Greek culture; however, it also means higher prices and bigger crowds. You will have to weigh the pros and cons yourself.
Here are a few of the Greek festivals to look out for.
Remember that Greece follows the Orthodox calendar and therefore certain celebrations occur at different times of the year than other Christian holidays. For example, Orthodox Easter falls on April 28th for 2019, whereas it's April 21st in Catholic and Protestant Christianity.
What to Bring with You for a Greece Trip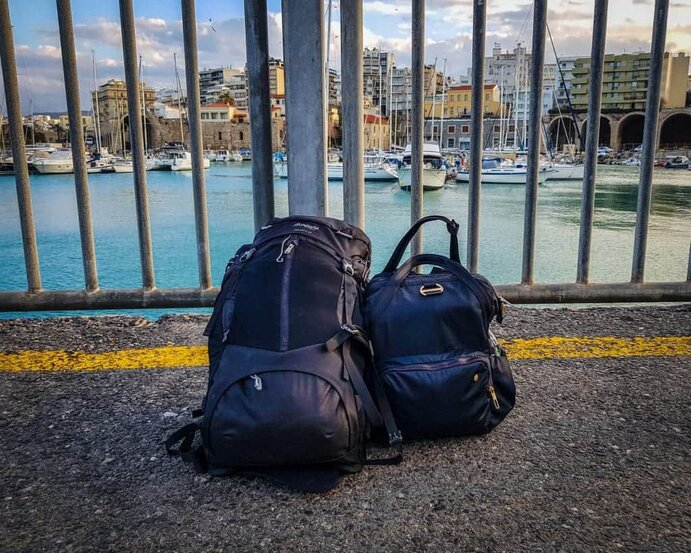 We have several Greece packing lists to help you decide what to bring with you to Greece, Rhodes, and Crete (with more on the way)! But here are five things you want to bring with you to any Greek beach vacation!
A Guidebook – While travel blogs are great, we also definitely see the benefit of having a good paper guidebook in hand to refer to in your on-the-ground travel. We own and recommend the Lonely Planet Greece for a great guidebook on the ground.
Sunscreen: Yes, you will want sunscreen in Greece, no matter the time of year. While you can buy it here, I suggest you buy the good stuff from recognizable brands or better yet, buy it online in advance. I love this solid Neutrogena sunscreen. Who doesn't love a good solid for liquid swap? Great to keep in your bag without worrying about sunscreen explosions.
Motion sickness pills: Great for ferry rides and bus rides especially on winding roads – I buy these non-drowsy ones. You can also try these natural motion sickness bands which use acupressure to reduce nausea – they work pretty well.
Hiking boots or sneakers with good grip: If you're looking for waterfalls in Greece, you may have to do some hiking to get to them! Be sure to wear some well broken-in hiking boots or at the very least, some grippy sneakers.
A water bottle with a filter. While often, the tap water in Greece is drinkable, there are places where it isn't. Always ask before drinking the water.
We generally recommend using a water bottle with a purifying filter to reduce your plastic consumption and ensure you won't drink any bad water that could make your trip unpleasant! We recommend the GRAYL water bottle – it filters water perfectly (literally – 99.999% free of viruses, bacteria, etc.) in an instant so that you can even drink from lakes, bad taps, etc. – basically everything but the sea itself.
Travel safety items. We think Greece is very safe to travel to, but at the same time, it never hurts to be prepared! Some people like to carry money belts, but neither Stephanie nor I use these.
Instead, we both carry the same PacSafe anti-theft backpack. It has locking zippers, slash-proof construction with metal mesh hidden in the fabric, and tons of other smart security features — all while being cute and stylish enough to be our everyday bag. We recommend it highly for both male and female travelers, as it's neutral enough to be unisex. We also recommend travel insurance! Our recommendation is at the bottom of the post.
Greece Travel Resources
Obviously, you don't just need Greece memes when planning a trip, but in case you are, here are some of our best Greece travel resources:
We publish new articles and trip advice nearly daily! For more information about traveling to Greece and the Balkans, bookmark our Greece and Balkan travel pages, where you'll find our entire archive plus anything new we publish before you leave for your trip.
Headed to Greece? Don't Forget Travel Insurance
If you're planning a trip to Greece, make sure to travel with a valid travel insurance policy. If you'll be spending time in the city or doing any outdoor activities like hiking or swimming, you need to be covered in case of an emergency. Travel insurance covers you in case of theft or an accident, which can save your trip if there's an incident.
For travel insurance, I use World Nomads. I've been a happy customer of theirs for almost three years, and I've never had an issue when making a claim. I'm happy to refer them to anyone I meet.
Originally from California, Allison has been living in Bulgaria for the last two years and is obsessed with traveling around the Balkans. She has been published in National Geographic, CNN Arabic, Matador Network, and the Huffington Post. She loves befriending dogs, drinking coffee, geeking out about wine, and cooking food from around the world.