This post may contain affiliate links. This means that if you click a link, we may make a small commission off any subsequent purchase, at no extra cost to you. For more information, please check our privacy policy.
Dubrovnik, popularly dubbed 'Pearl of the Adriatic', is a small coastal town with a big heart. You can see the highlights of this fantastic city on a long weekend. The city is not large, it has just over 40,000 inhabitants. But I spent 3 awesome days in Dubrovnik exploring its beauties and stunning views.
Dubrovnik has a reputation as one of the most popular travel destinations in Europe. It became a world travel hotspot after it was seen in the popular HBO series Game of Thrones as the backdrop for King's Landing. After such promotion, Dubrovnik is visited by millions of tourists every year.
It is now synonymous with over-tourism. Up to 15,000 cruise tourists walk through the compact Old Town on a summer day. It is not good for the economy as well, because those who only spend one day in Dubrovnik really do not help the local economy — so staying 3 days in Dubrovnik is a much more sustainable way to enjoy the city and help the locals.
Some say that Dubrovnik is one of the most beautiful Croatian cities to explore. You can explore its historic Old Town, or perhaps relax by the beach. One is certain, there are a plethora of things to do on your Dubrovnik itinerary that you have to experience during your visit! 
Can't read now? Pin for later!
Where to Stay in Duvrovnik
Here are our recommendations for where to stay in Dubrovnik. We're in the process of creating comprehensive guides on where to stay in other Croatian cities, but for now, we recommend checking out Booking.com as early as possible since this is a popular time to visit. These are some of the places we suggest you check.
Budget: Apartment Larica Miha Pracata is a historic building in the heart of Dubrovnik Old Town. You can easily leave your apartment and instantly be at some of the best architectural and historical attractions Dubrovnik has to offer. Check out prices and availability at Apartment Larica Miha Pracata.
Mid-range: Soleil Luxury Rooms offers some of the most modern amenities you will find in the Old Town of Dubrovnik. Check out guest reviews, prices, and availability at Soleil Luxury Rooms Old Town.
Luxury: Boutique Hotel Stari Grad showcases elegant style and you can see plenty of designer accents all over the hotel. The interiors and arrangement of all furniture are well-executed, creating a comfortable and cozy place to stay in the Old Town of Dubrovnik. Check out guest reviews, prices, and availability at Boutique Hotel Stari Grad.
A Brief History Lesson of Dubrovnik
Dubrovnik has a long and impressive yet also turbulent history. Initially, it was known as Ragusa. Its story begins with the attack of the Slavs in the 7th century. They annihilated the Roman city of Epidaurus, which is the site of the present-day Cavtat. During this period, the land south of Stradun (the main street of Dubrovnik's Old Town) actually was an island that served as protection. The famous walls also began its construction to provide security for the citizens of Ragusa.
Four centuries later, Ragusa significantly increased its coastal influence and prosperity thanks to the trade with other cities in the region. Venice managed to maintain control over it from 1205 to 1358, after which Ragusa got its independence again. By the 15th century, the Republic of Ragusa was a force to be reckoned with, as it was the only major rival of Venice when it came to the control of the Adriatic Sea. They kept their independence thanks to highly effective diplomacy and occasional bribes that would result in stronger political and cultural influence over the region.
In 1667, a devastating earthquake hit Dubrovnik, destroying the cathedral and many monasteries and killing over 5,000 people. Interestingly, only the Sponza Palace and the Rector's Palace survived this catastrophe. Actually, most of today's city is the direct result of rebuilding after this earthquake.
After this earthquake, Dubrovnik never shone as it had before. Its influence slowly but steadily faded. In 1806, the authorities made a huge mistake of giving free passage to the Napolean forces. This resulted in the abolishment of the Republic by the French.
During the 20th century, Dubrovnik changed its rulers, starting with the Austro-Hungarian Empire and ending with the Republic of Croatia. Nowadays, Dubrovnik is a shining example of Croatian culture and enormous heritage.
Day 1 of Your Dubrovnik Itinerary: Get To Know Dubrovnik
You should certainly start the first of your 3 days in Dubrovnik by exploring it on foot. Mainly, the Old Town – a beautiful, UNESCO-protected historical site that harkens back to the days of old glory. I will detail some things to do in Dubrovnik that you absolutely shouldn't miss on the first day of your stay!
Walk the City Walls and Wander Through the Old Town
The Old Town of Dubrovnik is surrounded by walls, and regardless of how much time you spend in Dubrovnik, this is the highlight of this city and that you shouldn't miss. My recommendation is to get up early because, by 10AM, walls are already taken over by tour groups and hot sun. You can also consider going in the afternoon.
Tickets cost 200 HRK (31,24 USD) from July 1st and include the entrance to Lovrijenac Fortress. There are only three entrance points: Inner Pile Gate, St. Lucas Fortress, and St. John's Fortress. The walk lasts around two hours, and it is a "one-way" street (imagine how messy it would get with people walking in opposite directions).
If you thought walls were impressive from the outside, wait to see the outstanding view from above.
After the walk, spend some time exploring the Old Town! Start off by heading to Stradun, the main street of Dubrovnik. You will instantly notice numerous restaurants and cafes along this street. Embrace the flow, and lose yourself in the countless picturesque narrow streets. Personally, I enjoyed exploring Stradun and getting a feel of how the locals live. If you love photography, don't miss these Instagrammable places in Dubrovnik.
It just takes one look, and you will understand why Dubrovnik's people are so proud of their city and its heritage.
Pro Tip: Dubrovnik Old Town has multiple fresh drinking water fountains, so you do not need to purchase expensive water bottles in shops! Just make sure to bring a refillable water bottle.
Experience a Small Piece Of Heaven at Mount Srđ
Probably all famous photos of Dubrovnik were made from this place. It's an ultimate view of Dubrovnik, which you can get by taking the Dubrovnik Cable Car, by bus/taxi, or if you are into hiking, there is a hiking trail. Srđ rises to a height of 1,352 feet (412 meters), and it looks directly over Dubrovnik, providing a perfect view down onto the city's Old Town.
The Cable Car takes around 5 minutes each way, and an adult ticket costs 100 HRK (15,62 USD). Once you get to the top, there's the Panorama Restaurant & Bar. It's quite exclusive, but Dubrovnik is kinda exclusive by itself. Also, the Museum of Contemporary History located there will give you all the information about the Croatian War of Independence (also known as the Homeland War).
Don't Miss the Game Of Thrones Tour
Winter is coming! I am sure that all of you (even if you didn't watch the show) know that Dubrovnik was the backdrop for the capital of the Seven Kingdoms – the King's Landing. If you are a fan of the GoT TV series, I recommend taking a walking tour.
Most of the tours last around 2.5 hours and cost 150 HRK (23,44 USD). You cannot miss the chance to see all the filming locations. It's interesting to see how many props they used and how many locals participated in the filming. You will see some of the GoT locations such as Cersei's Walk of Atonement, Palace of Qarth, The Red Keep, Palace Gardens, and many more!
Here is an amazing Game Of Thrones tour for you to enjoy!
Hit Up Banje Beach, a Perfect Place to Relax
After a day of historical sightseeing, it's time to relax! Banje Beach is one of the best Dubrovnik beaches. It's a small beach, but it certainly leaves an impression. It's a mix of sand and stones with amazingly clear water enclosed by a net. The scenery all around is just incredible! Lokrum Island, the City Walls, Mount Srđ, and transparent navy blue water. What can be better than that?
If you choose not to jump right into that water, there is a lovely beach & lounge bar with great cocktails and a restaurant with fresh and tasty seafood.
Up for a Party?
I decided to have 3 awesome days in Dubrovnik, and what is the word awesome without the party?
Dubrovnik sleeps peacefully through the cold winters, but as summers embark upon, it wakes up with a vengeance. I visited the club Revelin, which is located in the 500 years old Revelin fort. Rumors say it's the most significant place in Croatia where people can enjoy electronic music.
I want to mention a couple of names that performed there: Axwell, Sebastian Ingrosso, R3HAB, LMFAO, and many, many others. I can only recommend this place. I had great fun!
Day 2 of your Dubrovnik Itinerary: Relax And Have Some Fun
Temperatures in Dubrovnik during July can be unbearable, and walking around the city can become stressful. That is why we chose the second day for relaxation and fun. Trust me, after the first day, you will need to charge batteries for the third day.
Charge Your Batteries on the Island of Lokrum
Lokrum is one of the best islands to visit in Croatia. It sits just off the coast from Dubrovnik. I recommend you catch a 15-minute ferry from the Old Port early in the morning and spend the morning on the island. No need to buy tickets in advance. Simply purchase them on the dock. The price for the ferry and the entry is around 150 HRK (23,44 USD) per person.
Lokrum accommodates lots of bunnies and peacocks, beaches, and forests, as it is a nature reserve. The island is uninhabited, perfect for a day of exploring and swimming. Rustic paths will lead you to:
Deserted Benedictine monastery
Olive gardens
Botanical garden
Fort Royal – which was made by Napoleon, from there you can enjoy views back across the water to the Dubrovnik Old Town
Dead Sea – no, you can't float effortlessly, but it's a nice and safe place for cliff jumping
As there are no vehicles on the island, it's safe for kids and eco-friendly.
For GoT fans, you can find the Iron Throne there! It's not clear if the throne is from the actual show since different stories are being thrown around. Locals claim that it was donated to the island as a gift from the show and others claim it's a replica. Regardless if it's real or not, it's the best GoT prop I've ever seen. It's free to take photos of it!
There is a nice restaurant, Lacroma, but the prices are pretty spicy since it's the only one on the island. So, you might better bring your own food and drinks.
Do a Kayak Tour
You'll be delighted to find out that Dubrovnik offers some of the best sea kayaking experiences in the Mediterranean. Head on down to Dubrovnik West Harbour and arrange a tour. It's not only a fun way to get out on the water and get some exercise, but it also gives you a chance to see the city from a different point of view. Sea kayaking guides are highly professional and will ensure your safety while sharing some of the interesting tidbits of the history of Dubrovnik.
The tour is around 200 HRK (31,26 USD) per person and includes a sandwich during the tour and wine once it is over. It lasts for about 3 hours. If you are not into kayaking, I still recommend spending the afternoon on the water. There are private speed boats and sailboats that you can rent or just join one of the many boating tours they offer! If this adventure is not enough, why note checking these incredible day trips from Dubrovnik too?
Bask In Pasjaca, the Most Beautiful European Beach of 2019
This is an alternative if you think you should skip kayaking. Pasjaca beach was actually the best European beach in 2019 (courtesy of European Best Destinations). It is situated in the Konavle municipality, below the village of Popovici, about 30 km south of Dubrovnik.
There are no facilities at Pasjaca beach, making it ideal for those looking for relaxation around the wonderful nature and crystal-clear sea. Getting to and from this beach is a hiking adventure, as there are 200m of cliffs blocking the passage to the beach. The descent and the climb are quite stiff, so prepare accordingly! Don't go flopping about in the flip-flops!
Day 3 of your Dubrovnik Itinerary: Pick a Great Day Trip From Dubrovnik
After two days of experiencing the very best of Dubrovnik, it's time to experience some of the great places near Dubrovnik. There are many day trips from Dubrovnik that you can choose from, but the following are some of the most popular. Visiting the nearby areas is ideal to finish up your 3 days in Dubrovnik adventure!
Visit Korcula – Croatia's Wine Island
Korcula is often considered to be something of a mini-Dubrovnik, with its similar, well-preserved Old Town and a number of sights. If you are up for sightseeing, you can see the most in the Korcula Old Town.
Korcula is the supposed birthplace of explorer Marco Polo. So, of course, there is The Marco Polo Museum. The Museum is open from 9 AM – 11 PM with an entry fee of 60HRK (9,36USD). It takes you through a series of rooms with displays of Marco Polo's life that will give you lots of background into this historic traveler. Each room has a stamp that serves as a mark of your journey, connecting to the fact that Marco Polo was a true world traveler and an explorer full of heart.
Just strolling about in the numerous side streets of Korcula Town is a fantastic experience in itself. After a while, you will find yourself at St.Mark's Square, which is the center of the town. Here, you can explore more of the history at the Town Museum or check out the architecture of St. Mark's Cathedral.
You'll notice signs saying, "Welcome to Croatia's wine island" all over Korcula. Croatia has an incredible wine industry, and one of the finest places to sample this distinct wine is on this island. You can book different wine tours or just simply sit in any restaurant and enjoy the taste. I am a wine lover, so I rented a bike and cycled to Lumbarda, the island's main winemaking village. There you'll find famous wines from Korcula such as grk, rukatac, posip (white wine) and plavac (red wine). Any of these are just perfect complements with the Korcula cuisine.
Visit the Beautiful Elaphiti Islands
In the Old Town Harbour, you will see lots of stalls trying to sell you excursions and boat trips to the islands off the coast of Dubrovnik. The 3-island tour is a popular one. There are actually six islands in the archipelago, but the three main ones you'll visit are Kolocep, Lopud, and Sipan.
If you want to get out of the hustle and bustle of the Croatian islands during the season, you will be delighted to know that Kolocep and Lopud are totally car-free!
You can go for a swim in a crystal-clear sea, wander around in the shade of Mediterranean vegetation, explore attractive small villages or simply take a journey through the local cuisine!
The highlight of this day trip is the jaw-dropping beach Sunj on the Lopud island! It is a sandy beach opening into the amazingly clear part of the sea.  
If you value a non-touristy place with no entrance fee, look no further than this island tour. That's why this tour is one of the most amazing things to do while in Dubrovnik for 3 days! 
Where To Eat In Dubrovnik?
With 3 awesome days in Dubrovnik, you'll have plenty of opportunities to sample the local cuisine with lots of seafood in the selection! Dubrovnik offers various restaurants fit for any style or budget. You will find fine dining restaurants and simple taverns, fast food places, street food stands, and pizza huts.
Recommending a specific restaurant is very challenging as everyone has their own taste. Still, these restaurants prove to be the finest in all of Dubrovnik. If you are spending 3 days in Dubrovnik, you should at least visit one of these!
Panorama Restaurant is for sure on the top of my list. It serves Mediterranean cuisine, featuring fresh seafood and steak. The food and service are fantastic. It provides a great dining experience.
Taj Mahal serves authentic Bosnian food. You can find some of the best Bosnian food in Dubrovnik over here. If you don't know what to order, try Cevapi! You certainly won't regret them!
It is not a restaurant, but it deserves a mention. When you are walking down the Stradun on a hot, sunny day, why not pop into Gossip Ice CreamShop for the best ice cream in the city?
Restaurant Obala is located on island Lopud (one of the Elaphiti islands). Usually, the catch of the day is delicious, but you shouldn't miss out on the prawn and truffle risotto, a local specialty. If you're looking for the highest food quality in Dubrovnik, this is the place to go.
Congo Bar is a great place to start out your day with a cup of coffee or to spice up your afternoon with a cocktail. You can find it in Old Town, just in the middle of the bustling Stradun.
Where Should I Stay In Dubrovnik?
Personally, I enjoyed the Old Town, as it is the best place to stay in Dubrovnik if you want to be close to everything. Also, you can get a feel of Dubrovnik there. However, accommodation is much more expensive in that part of the city, so it definitely isn't fit for every budget!
You can find numerous rentals outside the Old Town that will provide breathtaking vistas on Dubrovnik and the surrounding sea. If you want to get there on foot, you will climb a lot of steep stairs. Not up for cardio? Order an Uber or go with public transportation then!
Getting Around Dubrovnik
If you're flying into Dubrovnik, you will arrive at Dubrovnik airport. The easiest option to get to the Old Town is to take the airport bus shuttle operated through Atlas. You can buy your bus ticket in advance or purchase on arrival (if traveling during the off-season). This is the most affordable option.
Concluding Thoughts on a Dubrovnik Itinerary
Even though it can certainly be intense, Dubrovnik in 3 days is a totally doable trip that features a great balance of nature, beaches, history lessons, and fantastic food!
Of course, there is so much more to see in Dubrovnik. And yes, I shouldn't forget to mention the Croatian people. I have only words of praise for the hospitality they will offer you.
I hope 3 awesome days in Dubrovnik will become your next travel experience!
What to Pack for Croatia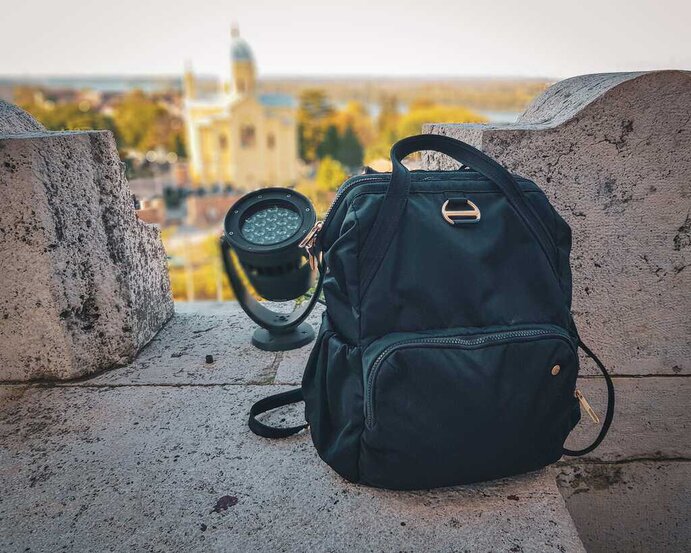 We have an entire Croatia packing list, but make sure you don't leave these items behind!
A Guidebook – While travel blogs are great, we also definitely see the benefit of having a good paper guidebook in hand to refer to in your on-the-ground travel. We recommend the Lonely Planet Croatia book.
Mosquito repellent: Mosquitos in the summer can be nasty! You can bring ones with DEET or without DEET, or I love having some of these mosquito repellent wipes that I can keep in my bag in case I suddenly start to get swarmed and don't have my regular repellent with me.
Sunscreen: You can buy sunscreen in Croatia, but it's likely cheaper at home or bought online in advance. I love this solid Neutrogena sunscreen. Who doesn't love a good solid for liquid swap? Great to keep in your bag without worrying about sunscreen explosions.
Water shoes: Pebble beaches in Croatia are a double-edged sword. On the one hand, the pebble seafloor is what creates that gorgeous deep turquoise-colored water that is hard to beat, as the lack of sand means you have incredibly clear water. However, on the other hand, pebble beaches and rocky shores can be downright painful!
Our friend recently cut his foot on a rocky beach in Croatia; had he been wearing water shoes, he'd have avoided such unpleasantness! We suggest these unisex water shoes. They're not sexy, but they will make your trips to the beach far more pleasant!
A secure backpack: We both carry the CitySafe backpack by PacSafe not only on our travels but in our day-to-day lives. It's cute, it's functional, it's comfortable, and it's secure. We're talking about interlocking zippers (which you can then put through a second clasp for two layers of security), slash-proof wire mesh construction, and RFID blockers to keep your data safe.
It's neutral enough to be unisex, it's roomy enough to fit a small laptop, a large camera, and tons of odds & ends, and it fits under the plane seat in front of you. We're obsessed. Check it out for yourself!
Grayl Water Filter: Tap water is generally safe to drink in Croatia, but if you're not used to drinking tap water from other countries, the typically harmless bacteria found in all water can cause some gut irritation. To both be safe and not buy dozens of plastic water bottles, you can get a reusable water bottle that comes with a water filter so that you can stick to the tap water and reduce your plastic waste. If you'll be traveling outside of the major tourist centers, check if the water is potable locally.
Sea bands: If you get seasick easily, pack some Sea bands or seasickness pills so you don't miss out on the best parts of Croatia – being on the water! A trip to Croatia isn't complete without a quick boat trip, so make sure you're prepared to enjoy it to the fullest!
Read more: Essential Croatia Packing List: What to Wear & Pack for Croatia
More Croatia Travel Resources
Headed to Croatia? We have some great travel resources to help you with your trip. First read our guide to planning a trip to Croatia, which covers visas, budgets, vaccines, and much more. We also have a Croatia packing list with a detailed section for all seasons.
While in Dubrovnik, check out our favorite Dubrovnik Instagram spots and the best Dubrovnik day trips.
If you're still putting together your itinerary, here's a great list of places to visit in Croatia, our Croatia national parks guide, and the Croatian waterfalls guide to help you choose. We also have a guide to the best day trips from Spit if you're to be visiting Split as well.
If you'll be spending time in Zagreb, check out our list of the city's best photo destinations. We also have a guide to visiting the famous Plitvice Lakes from Zagreb.
Next, check out our Balkan currency guide which explains how money works in Croatia and local tipping customs.
Of course, if you're coming to Croatia you'll have lots of opportunities to shop! Read our guide to shopping in Croatia so you know which souvenirs are truly local gems.
If this will be one of your first trips in the Balkans, check out our massive list of things to know before traveling the Balkans as well as our Balkan bus, road trip, and itinerary guides.
We publish new content nearly every day! Bookmark our pages on Croatia and the Balkans so that you don't miss out on any new info or resources that we publish before your trip!
Don't Forget About Travel Insurance!
I'm sure you're aware that travel insurance is a good idea for traveling in Croatia (or really, any part of the world)! We have both been paying customers of World Nomads for the last three years. We love the peace of mind it gives us in case of emergencies, accidents, illnesses, theft, or trip cancellation or disruption.
While the Balkans are perfectly safe to travel around, there's always a risk inherent in everyday travel – especially during the winter! – so it's better to play it safe.
>> Get a travel insurance quote for your trip here <<
Pin This 3 Days in Dubrovnik Itinerary!
David is a Croatian IT student and a photography intermediate. He is addicted to exploring and adventure, and always up for a new experience. He enjoys spending time in nature and meeting new people from different cultures. He also runs a travel blog about traveling in Vietnam, which you can read at Vietnam Chronicles.