This post may contain affiliate links. This means that if you click a link, we may make a small commission off any subsequent purchase, at no extra cost to you. For more information, please check our privacy policy.
NOTE: This is a guest post by Gabi Ancarola of The Tiny Book.
Lasithi is one of Crete's four regions, and it's located on the extreme east coast of the island. Often overlooked by first-time visitors who mostly focus on the western coast, Lasithi hides places of unique beauty.
Home to some of Crete's most gorgeous beaches, undiscovered mountain villages, and magnificent natural landscapes, a three-day visit to Lasithi in Eastern Crete will allow you to discover a completely different side to Crete that I'm sure you will fall in love with.
There's a lot to see and do in Lasithi, and you will need at least 3 days to have a first approach to the area, so let's waste no more time and start preparing the practical part of the trip.
How to Plan Your Eastern Crete Itinerary
Choose a big city as a base
There are three important cities where you can spend your days while touring Lasithi.
The first of them is Agios Nikolaos, which lies on the northern coast and it's also the capital of the region. Finding accommodation in Agios Nikolaos can be a bit tricky during the high season, but not so much in May, September, or October. From Agios Nikolaos, you can easily reach the best places to see in East Crete.
Best places to stay in Agios Nikolaos
Ierapetra, instead, is the biggest city on the southeastern coast. Staying in the South will allow you to check the unspoiled beaches on the Libyan Sea but also to reach the northern coast in a short time. Finding accommodation in Ierapetra and around should not be a problem all year round.
Best places to stay in Ierapetra
Eurohotel Arion Palace Hotel – Adults Only is a sustainable hotel in Ierapetra with a private beach area and two swimming pools. Check prices and reviews here.
Check the fancy but affordable NUMO Ierapetra Beach Resort, a 5-star hotel in Ierapetra featuring a Mediterranean restaurant, mini market, pool bar, outdoor cinema, and a tennis court. Check prices and reviews here.
Finally, you can choose to stay in the easternmost city of Crete, Sitia. Those staying in this town will be able to visit Vai Beach, the biggest natural palm tree forest in Europe, as well as beautiful monasteries and archaeological sites.
Best places to stay in Sitia
How to Get to Eastern Crete
When you travel to Crete, chances are that you will land in either Chania or Heraklion. There are daily buses departing from Heraklion Central Bus Station to Agios Nikolaos and the trip lasts about 1.5 hours.
If you land in Chania, you will have to take a bus to Heraklion and, once there, board a different bus to Agios Nikolaos. This way, the total travel time could be up to 5 hours. In both cases, you should seriously consider renting a car.
We've rented cars dozens of times in the Balkans through various search engines and have settled on Discover Cars as the best car rental search engine – it searches over 500 trusted rental companies to find the cheapest price for your rental! Compare prices for car rental in Crete here.
When is the Best Time to Tour Lasithi?
The best time to enjoy a road trip in Crete, no matter what region you visit, is outside the peak months of July and August. This way you will avoid crowded roads, overpriced accommodation, and endless waiting lines.
If you travel to Crete in May and October, you will still enjoy pleasant temperatures, warm enough to go to the beach, sunbathe, and swim, yet not as extreme as in summer. What's more, there's virtually no rain in Eastern Crete during those months.
Basic Tips for a Crete Road Trip
These are some of the basic things you should consider to enjoy a comfortable trip around Lasithi.
– Rent a car with free mileage and no excess policy for a stress-free vacation. Check these 10 Mistakes to avoid when driving in Crete to be ready for a seamless experience on the road.
– Feed your GPS with your planned itinerary or get a good road map to avoid getting lost.
– Grab a complete, yet not overwhelming, guide to East Crete.
– Don't forget your travel insurance
– Pack trekking shoes, a swimming suit, and a light raincoat. Chances are you'll be using the first two more than the third one, but better safe than sorry!
– Always carry a hat, sunscreen, and sunglasses. The sun on Crete can be merciless, even when it's not summer.
Now that we're ready, let's go to the East!
Day 1: Spinalonga, Elounda, and Agios Nikolaos
There are many things to do today but everything is concentrated within a fairly small area. Your first day of this Eastern Crete itinerary is packed with things that can be done just by relying on public transportation, so if you're on a budget, it could save you a day of car rental.
A 20-minute trip west from Agios Nikolaos takes you to the small fishing village of Plaka. Here, you can hire a boat that just in a few minutes sends you back in time to Crete's most terrible past, Spinalonga.
Spinalonga Island
The fortified island of Spinalonga lies less than 1 km from Plaka. This small islet has been occupied since the Minoan times and it was a strategic defensive point during the Venetian rule on Crete (1205-1669).
The fortifications built in 1579 allowed Spinalonga to resist the Ottoman invasion for long years (Spinalonga was taken by the Turks in 1715, while Crete was conquered in 1669). Its high walls and towers are still visible and well-preserved.
Spinalonga, however, is better known for being Greece's most important leper colony during part of the 20th century. Once diagnosed with the disease, and expecting a lifetime of misery, patients were taken to spend the rest of their days on the island. Yet, it often came as a surprise to discover that Spinalonga was not that bad after all.
Leper patients had a fairly normal life in Spinalonga since there was no social stigma. Besides, their organized political system allowed them to vote, have a school, and receive medical attention. Most of them were assigned a house, usually with a garden, and they grew vegetables, fruit, and aloe vera to treat their wounds.
Moreover, the Cretan government conceded them a regular money allowance, so they were able to buy in the local shops the goods arriving from the nearby village of Plaka, which economy also grew thanks to the commerce with the colony.
Above all, their condition kept them protected from external dangers and occupations. For instance, when the Nazis took over Crete, they wouldn't dare invade Spinalonga for obvious reasons. So while the rest of Crete lacked stability, resources, and security, leprosy patients had a rather normal life which included a cinema, their newspaper, and relative freedom.
A cure for the disease was found in 1957 and all the patients were transferred to mainland Greece to finish their treatment. The island was then abandoned until the '70s when, after restoration works, it was opened to the public for daily visits.
A boat trip to Spinalonga ranges from 10€ to 15€, but there are also daily cruises departing from Agios Nikolaos (about 40€). There's an entrance fee of 8€ that's paid on the island.
Elounda
After your visit to Spinalonga, you can choose to spend some time swimming in Plaka. Or, if you're still curious about Spinalonga, you can visit the traditional settlement of Elpano Elounda. The village was the filming set of To Nisi, Greece's record TV series about the Leper Colony and its tragic past. The series was based on Victoria Hislop's best-seller book "The Island".
In Elpano Elounda there are beautiful views of the coast and the island. Here, you can stop for a cup of Greek coffee in one of the small cafés or wander along the alleys and discover the old picturesque houses.
Your next stop is the town of Elounda. This fairly small village is home to Crete's most exclusive resorts and hotels, Here, you can choose to stroll along the port or to have a delicious and fresh seafood lunch by the sea.
In Elounda, you can also visit the ancient Minoan settlement of Olous, today partially sunken, or pay a visit to the municipal beach. After the swim, take some time to discover the artisan shops along the seaside.
Agios Nikolaos
Devote the rest of your afternoon to visit the city of Agios Nikolaos. The main point of interest in the town is the small Lake Voulismeni, which connects with the sea. It's located in the central area of Agios Nikolaos and it's the top meeting place for visitors and locals alike.
Lake Voulismeni is surrounded by trendy bars and restaurants, and it's very close to the main pedestrian road in town. Those eager to spend some more time by the sea can make it to Kitroplateia, Agios Nikolaos' most popular beach. However, my suggestion is to leave the beach for your next day and to visit some of the city's landmarks.
One of the things that will certainly catch your attention is Agios Nikolaos' stairs. Being built on hilly terrain, there are over 70 public stairs that connect the upper and lower neighborhoods in town. Some of them are part of the artistic project known as "The Spirit of the Stairs", a network of central staircases that have been decorated by students of the Academy of Visual Arts in Athens.
You can also spend some time visiting the small Folk Art Museum of Agios Nikolaos (admission fee: €3 for adults, children free) to learn about the local crafts and way of life.
After that, take a walk by the sea to admire the famous sculptures of The Abduction of Europa and The Horn of Almathea. Both of them depict the strong connection that the island of Crete has with Greek mythology and, especially with Zeus, the god supposedly born and raised in the region of Lasithi.
End your day with dinner by the lake. Karnagio is probably the most popular restaurant in town and any time waiting in line to eat here will be worth the traditional Cretan dishes you can try.
Day 2: Best Beaches on the Mirabello Gulf
There's a lot to do today, so the best suggestion I can give you is to set your alarm clock at an early hour and get ready to spend some time on the road.
On your second day, you will be exploring the beautiful beaches on the northern coast of Lasithi, many of which can easily fit inside any top 10 list of Cretan beaches.
The Mirabello Gulf is a wide bay on the north of Crete with calm seas most of the year, pristine turquoise waters, and wide sandy shores. There are many beaches you can visit in the area, but we will just focus on two of them on this day. This morning, you will visit the gorgeous beach of Almyros and, after a restoring lunch in a traditional taverna, you will spend the afternoon on the impressive Voulisma Beach.
Almyros
This stunning beach is less than 3 km east of Agios Nikolaos, so it's fairly easy to reach by car (public transport from Agios Nikolaos is also available).
Almyros is a wide-open bay, with super crystal clear waters and extra-fine golden sand. Since it's well organized, it's possible to rent sun lounges and umbrellas, but also to take advantage of beach facilities such as showers, bars, tavernas, and beach sports.
The main characteristic of Almyros, and what makes it a great scenic place to visit, is the small river that lies at one end of the beach.
The clear, small stream continuously flows into the sea creating a magnificent and surprising contrast between the warmer temperatures of the sea and the cold water from the river. There is a small bridge that crosses the stream and abundant vegetation.
This part of the beach is popular for those into photography, especially in the early hours of the morning when the reflection of the sun creates alluring games of light on the surface of the river.
Kalo Chorio
Kalo Chorio is a tiny but rather important village that stands close to the main road connecting the towns on the Mirabello Gulf. Its name means "good village" and there's a valid reason why.
This picturesque, green village is home to a stunning landscape of mountain springs, olive groves, and Mediterranean vegetation, and it enjoys a privileged upper position overlooking the Mirabello Bay. Kalo Chorio is known for the several Cretan tavernas, perfect to taste some of Crete's most authentic dishes made with fresh local products.
To reach Kalo Chorio from Almyros you will need to drive along the coastal road towards the East for about 10 kilometers. Kalo Chorio is located just above the area of Istron, home to the next beach you will visit later today.
So, enough said, Kalo Chorio shall be the place of choice for lunch. Kavousanos is a family-run taverna, famous in Crete both for their heartwarming hospitality and their Cretan flavors. As a regular visitor, I never get tired of recommending their swordfish and their Mediterranean salads seasoned with delicious homemade extra virgin olive oil.
After a restoring lunch and some time spent wandering the alleys of the village, it's time to get back on the road to check the next beach.
Voulisma
Voulisma, also known as Golden Beach, is one of Crete's most stunning beaches, and it's my favorite beach in the East.
Its central position on the Mirabello Gulf makes it easy to visit either if you're staying in Agios Nikolaos (12 km away) or the southern city of Ierapetra (22 km away).
This beach is surrounded by extremely lush vegetation, shady trees, and shrubs, and its main attraction remains the stunning turquoise waters as well as the extremely fine white sand.
Again, this is a fully organized beach, which can get pretty deserted if you visit in October. However, if you are traveling in the peak season, the best way to escape the crowds is to reach two other beaches of Istron, sharing the same beautiful characteristics, but fairly less popular.
The smaller beach towards the West is not only lesser-known but also better protected from the winds. This makes the sea surface completely flat and ideal to just float completely undisturbed.
For an even more secluded option, move to the east of Voulisma. Here, there is a tiny cove that you can access only on foot. This hidden beach is known as Prassonisi, it has deep blue waters and lies opposite a small paradisiac islet that you can reach by swimming.
Day 3: The Lasithi Plateau
No visit to the East can lack a one-day road trip around the Lasithi Plateau, and certainly not this itinerary. Today you will explore the traditional villages that dot the mountain scenario of the East, discover unique geological formations, and venture into one of the most fertile areas of the island.
Also known by the name of The Garden of the Gods, the Lasithi Plateau is a peaceful region surrounded by the majestic Dikti Mountains at about 850 m above sea level. This puts Lasithi among one of the few residential areas at such a high altitude in the Mediterranean.
The plateau is surrounded by 18 villages that prosper at the foot of the mountains, while the plains include cultivations of apples, potatoes, and cereals. There is a 23-kilometer circular road connecting all of the villages and it is a wonderfully scenic drive.
After about an hour you've left Agios Nikolaos, you will reach Mesa Lasithi and access the plateau. As you drive around, the first thing you notice is that there are only a few remaining windmills of the thousands that used to be the trademark of Lasithi.
The windmills were used to irrigate the land but, in the last years, they have been replaced by more modern systems. However, some of them can still be seen as they have been restored and are fully functional.
The villages of the Lasithi Plateau are popular during the summer when dozens of different gastronomic and religious festivals take place every weekend. The Diktaion Games are organized every year by the local authorities and they include a popular long-distance race around the plateau.
Tzermiado
Tzermiado is one of the villages worth a visit. The picturesque settlement lies on the slopes of Mount Selena and several excavations gave light to findings dating to the Minoan period.
When you stop at Tzermiado, take a walk along the tranquil streets of the village and have a coffee break in one of the many kafenia (traditional Greek cafés). You will be able to lower your pace and enjoy a completely different way of life, more relaxed, and with a timing of its own.
Old Giant Windmills
Among the most impressive sights of the plateau are the several massive old stone mills located close to the village of Kera.
The structures date back to the 19th century and were in a good functioning condition more or less until World War II. When visiting these windmills, it's a good idea to stop to visit the nearby Kera Monastery.
Psychro
Psychro is probably the most visited village in the area as well as the highlight of the plateau. It's home to one of Crete's top important religious centers of the island's remote Minoan past, the Cave of Zeus.
Also known as Diktaion Andron or Psychro Cave, Zeus Cave is located in the center of the plateau, about 1025 m above sea level. To reach the entrance of the cave you will have to follow one of the two paths up to the ticket booth.
The path towards the West is longer but milder, if you choose this road you will need about 25 minutes to get to the top. The path located to the East is much faster, but ten times steeper, so it's not my favorite.
People with mobility issues can count on a donkey ride. I know the use of animals for touristic transport remains a controversial issue all over Greece; however, it's also worth considering that people with mobility issues often can only count on this method to reach hard-to-access areas, in this case, the entrance to the cave.
Once at the top, you can purchase the entrance ticket (summer €6, winter: €3, free for students) and enter the cave using a modern staircase. The complete path and every chamber inside are lighted with suggestive colors that add a touch of mystery to the damp atmosphere.
The Myth of Diktaion Andron
The Cave of Zeus is closely connected to the ancient myth of Diktaion Andron. The Diktaion Andron was the place where Rhea, the mother of Zeus, hid to give birth to her son to escape the cruelties of her husband's, Kronos, known for eating his sons in fear of being overpowered.
Here, Zeus was grown and fed with honey by the goat Almathea, managing to survive his father and to, later on, become the most important god of the Greek pantheon.
The geological formations
There are different chambers to explore once inside. The upper cave is the first one you access, and it holds similarities with any mountain shelter, with no stalactites or any other impressive formation. However, it was here that archaeologists found ruins of what probably was a Minoan sanctuary.
As you make your way further inside, there are five more chambers with columns of stalagmites and stalactites, as well as a small lake. Findings discovered in this area include seals, female and masculine figurines, and Minoan axes, all of them probably offerings that pilgrims would leave when worshiping the god.
End your day in the Lasithi Plateau with a late afternoon lunch in the nearby Dictamus Taverna, right in front of the cave. After a restoring lunch and traditional pastries, usually of the house, slowly make your way back to the coast. During the ride, enjoy the sunset behind one of the prettiest mountainous landscapes of Crete.
Final Words
The area of Lasithi is one of Crete's most underrated regions. Visitors often prefer more popular regions, such as Chania and Heraklion, unaware of the endless collection of places to enjoy and discover in the East.
I'm certain that 3 days in Lasithi aren't enough to discover all there's to do and see in the area. However, I wanted to make this a laid-back itinerary, without any rush and allowing plenty of extra time to interact with the locals, admire the landscape, and taste the most authentic side of Crete.
Is there more to see? Of course! There's plenty to see in the East. There are unique churches and monasteries, archaeological sites, traditional villages, and heavenly beaches… And much, much more.
Having just one more day in the area you could venture to the extreme east and hike the spectacular gorge of Richtis, visit the ancient olive tree of Kavousi, or swim in the palm tree beach of Vai.
You could even go wine tasting in the solitary Toplou Monastery or explore the archaeological site of Itanos, right next to the sea. Crete is a land full of surprises, and the East of the island is no less than the rest of it.
More Crete Travel Resources
Headed to Crete? We have some great travel resources to help you with your trip. First read our guide to planning a trip to Greece, which covers visas, budgets, vaccines, and much more. We also have a Balkan currency guide that explains how money works in Greece and local tipping customs.
If you're still trying to work out where to go on the island, check out our guide to the best places to visit in Crete.
If you'll be spending a few days in Chania, here is our guide to visiting Seitan Limania from Chania (which is our favorite beach in Crete) and Chania's best Instagram spots.
If you will be spending time in Heraklion, check out our guides to the best Instagram spots in Heraklion and the city's best restaurants and cafes.
If you're interested in taking a day trip to Rethymnon, check out our Instagram guide to Rethymnon next, and perhaps our guide to things to do in Rethymnon and the best Rethymnon hotels.
If this will be one of your first trips to the Greek islands, check out our massive Greek Island hopping guide as well as our recommendations for where to go in Greece and when is the best time to visit.
We publish new content about the Balkans almost every day! For more information about traveling to Greece and the Balkans, bookmark our Greece and Balkan travel pages so you can find out what's new before your trip.
5 Things to Bring with You for a Crete Vacation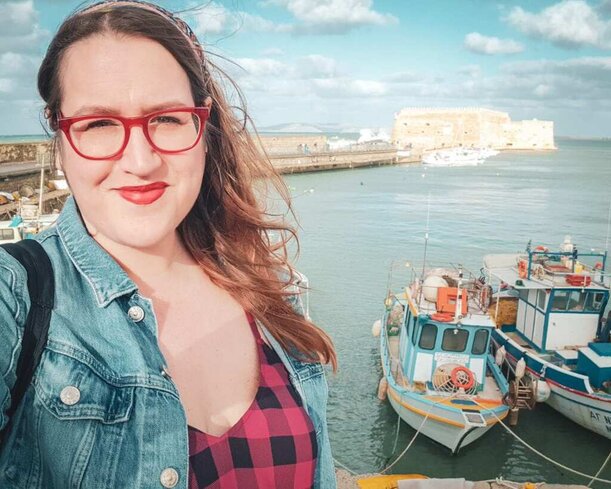 We have an entire Crete packing list that includes exactly what to bring to Crete, but here are some essentials you don't want to miss!
A Guidebook: While travel blogs are great, we also definitely see the benefit of having a good paper guidebook in hand to refer to in your on-the-ground travel. We own and recommend the Lonely Planet Greece book as a starter, but you may also want to pick up the Lonely Planet Crete which covers the island more in-depth.
Sunscreen: Yes, you will want sunscreen in Crete, even if you visit during the winter! While you can buy it here, I suggest you buy the good stuff from recognizable brands or better yet, buy it online in advance. I love this solid Neutrogena sunscreen. Who doesn't love a good solid for liquid swap? Great to keep in your bag without worrying about sunscreen explosions.
Motion sickness pills: Great for car rides especially on mountain or coastal roads – I buy these non-drowsy ones. You can also try these natural motion sickness bands which use acupressure to reduce nausea – they actually work pretty well. And these are a must if you're also taking ferries, as the sea can be really choppy depending on the weather!
– Travel safety items. We think Crete is very safe to travel to, but at the same time, it never hurts to be prepared! Some people like to carry money belts, but neither Stephanie nor I use these. Instead, we both carry the same PacSafe anti-theft backpack.
It has locking zippers, slash-proof construction with metal mesh hidden in the fabric, and tons of other smart security features — all while being cute and stylish enough to be our everyday bag. We recommend it highly for both male and female travelers, as it's neutral enough to be unisex. We also strongly recommend travel insurance! Our recommendation is at the bottom of the post.
– Sunglasses. No matter the time of year, Crete has plenty of sunshine! Keep your eyes protected with your favorite pair of sunglasses from home.
Read Next: Essential Crete Packing List: What to Wear & Pack for Crete
Don't Forget About Travel Insurance!
I'm sure you're aware that it's a good idea to have travel insurance (in addition to your car insurance) for traveling in Crete, the Balkans, or anywhere in the world, really!
We at Sofia Adventures have both been paying customers of World Nomads for the last three years. We love the peace of mind it gives us in case of emergencies, accidents, illnesses, theft, or trip cancellation or disruption.
While Greece is safe, there's always a risk inherent in everyday travel like theft or injury, so it's better to play it safe.
>> Get a travel insurance quote for your trip here <<
Pin this Guide to East Crete!
About the Author
Gabi Ancarola is a translator and travel journalist living in Crete. She regularly writes about the island for Greek Reporter, Greek TV, and Huffington Post. She has also published a book about travel on the Greek Islands and works in the local hospitality industry as a travel consultant and gastronomic guide.
You can visit her website at The Tiny Book or follow her Pinterest or Facebook
Gabi Ancarola is a translator and travel journalist living in Crete. She regularly writes about the island for several magazines about travel, gastronomy, and hospitality. She has published several travel guides about Greece and runs a local gastronomy tour in Chania. She loves cooking local dishes, taking photos, and driving on the mountain roads of Crete.