This post may contain affiliate links. This means that if you click a link, we may make a small commission off any subsequent purchase, at no extra cost to you. For more information, please check our privacy policy.
So, you've made up your mind and you're going for a custom-made itinerary of the island! Congratulations, visiting Crete on a road trip is one of the wisest decisions you could have made! It will allow you to discover unique hidden angles that you would otherwise certainly miss.
Besides, if you intend to visit the southern coast or regions like Lasithi, public transport is less frequent than in the North, which will eventually limit your holidays.
Let's see, then, some of the things you should avoid doing when driving in Crete, but first, let's focus on the documents you need to rent a car on Crete (or any other Greek island!).
Can't read now? Pin for later!
Where to Stay in Crete
The island of Crete is so big and diverse that it's almost impossible to make everyone happy when It comes to deciding on the best areas to stay on the island.
Since you will most probably be arriving at the capital, Heraklion, or spending some time in the wonderful western town of Chania, we have included here some of the top accommodations in both places. For more places to stay in Crete, check this site.
Here are our top suggestions for where to stay in Crete. In most cases, budget means hotel stays for around $40 a night, mid-range is from about $50-80 per night, and luxury will cost over $100 per night.
Budget: When it comes to Heraklion with a limited budget, check the great comfort of So Young Hostel. For Chania town, instead, we suggest Casa Latina, in the old town.
Mid-range: With a more generous budget, discover the comfortable Lato Annex Boutique Rooms in Heraklion and El Greco Hotel in Chania.
Luxury: Want to splurge in Crete? We recommend a stay at the magnificent Artion City Boutique Hotel in Heraklion and Consolato Boutique in Chania.
What documents do you need to rent a car in Crete?
License: Non-EU travelers need to have both an International Driving Permit (IDP) and a valid national driver's license. Both documents are necessary (as per a recent law) to rent a vehicle in Greece. It's fairly easy to get an IDP in almost any country. The cost varies from country to country, but the average ranges between $20-30.
EU travelers don't need an international permit but must travel with their own country's valid driver's license.
It's also necessary that you present your Passport or ID in order to rent a car in Greece.
A valid credit card is also a must that every rental office will require you to have (even if you pay in cash).
A few words about renting a car on Crete
First of all, it's necessary that you read what the insurance policy covers. Make sure you understand whether it covers glass and tires, if extra mileage is included, if you're allowed to drive on certain roads (for instance dirt tracks), and if a second driver is included.
If you're traveling with kids, make sure you request the mandatory seat according to your kid's age. Sometimes you'll need to pay a supplementary fee for this extra but don't opt-out. First of all, it's necessary for your kid's safety, but also because you can be heavily fined if the police find your child traveling without the required seat.
If you choose to rent a motorbike or scooter, make sure you have the necessary permit and always ask for a helmet (kranos in Greek). It's absolutely mandatory by law and you'd be risking heavy fines (not to mention your life!) if you don't wear one.
Before leaving the rental office in your new rental car, take photos of the car with the agent during the delivery, especially when they are noting down the damages your car might already have. This way you won't get charged for any pre-existing damages when you drop off your rental car in Crete.
If you're used to driving an automatic car, bear in mind that the standard car in Greece has a manual gearbox. If you think you can't cope with a manual gear car, please tell the car rental company in advance; remember that these cars aren't common, and it might be difficult to get it last minute.
Read Next: What to Eat in Crete: the 11 Best-Kept Secrets of the Cretan Diet
What company should I use when renting a car in Crete?
To get the best price on car rentals in Crete, we recommend not going with one particular car rental company but rather using a search aggregator to find the best car for your budget and travel style.
We've rented cars dozens of times in the Balkans through various search engines and have settled on Discover Cars as the best car rental search engine – it searches over 500 trusted rental companies to find the cheapest price for your rental! Compare prices for car rental in Crete here.
Top 10 mistakes to avoid when driving in Crete
Read Next: Your Super Useful Guide to Visiting Elafonisi Beach, Crete
1. Avoid speeding… or not speeding at all!
Locals on Crete have two different philosophies when it comes to driving in Crete. They're either always in a rush, or in no rush at all!
Avoid going over the speed limits 50 km per hour (30 mph) in built-up areas and 90 km/h (56 mph) on the highway.
Don't go to the other extreme either. if you don't keep up with regular speed, it'll be common to have lights flashed at you all the time.
2. Overtaking… let them do it!
The main (and only) highway on the island is mostly a one-way lane, except for some new portions in which there are two lanes. As a consequence, it's very common for locals to overtake other drivers.
To do so, the customary practice is to move a little towards the emergency lane (shoulder) and let them pass. Everybody does this, and this is something which you should too so as to avoid being flashed at… again!
3. Don't drink and drive!
Everyone who's ever been to Crete has learned to enjoy the joys of a shot of tsikoudia (or raki, the local strong spirit), after a meal, sometimes even two or three.
No matter how much the locals can be used to this drink, it's very strong and most tourists don't realize this until they're behind the wheel. If you have to drink, then add another designated driver to your Crete car rental agreement. If not, avoid drinking raki!
4. Don't get nervous!
The roads on Crete are generally in good condition, however, many people seem to forget that the island is mostly a land of mountains.
There are impressive peaks, stunning gorges, and bends… Lots of them. So if you're kind of easily impressed, relax and enjoy the landscape.
5. Don't forget to fill up!
Distances on Crete are really long, and when you set out to explore and go a bit off the beaten track, it can sometimes be difficult to find a gas station that's close enough, or that accepts a credit card, or that's open late at night.
As a rule, always carry some cash with you (about 20 euros can be enough) for this kind of emergency.
6. Don't (always) trust the signs!
Road signs on Crete are not always clear enough, or legible enough… nor do they appear soon enough. This might lead to you missing an exit or ending in a completely different place.
This is another good reason to hire a car with a GPS!
7. Don't forget about the goats!
Goat, but also sheep and other farm animals, are everywhere on Crete, which means roads included.
Be especially attentive on mountain roads when driving in Crete. It's not uncommon for a group of goats to be sitting in the middle of the road after a bend. Do slow down, take out your camera… and be patient!
Read Next: How to Visit the Minoan Palace of Knossos (from Heraklion + Elsewhere)
8. Don't trust you'll find a place to park!
This is especially true when it comes to parking in bigger cities such as Chania, Heraklio, Rethymnon, or Agios Nikolaos.
It's very difficult to find free parking spots close to pedestrian zones, old towns, and some attractions and archaeological sites.
It's always better to pay a small fee for parking your rental car in Crete in a private garage than a huge fine for parking in the wrong spot.
9. Don't think you won't get lost; you will!
Crete is a huge island, and unless you're keen on traveling old style (aka carrying a map), it's a great idea to pay for GPS equipment to be included in your car.
Besides, you've decided to rent a car in Crete, especially to discover hidden places on the island, right? Don't risk getting lost. Pay for that GPS!
10. Don't overpack… cars also have space limits!
When packing your bags before the trip, take into account that if you're renting an economic car, the room for luggage is usually very limited. Either pack lighter or upgrade your rental category.
Read Next: What to Eat in Crete: the 11 Best-Kept Secrets of the Cretan Diet
Final considerations for renting a car in Crete
Driving a car on Crete is not as difficult as it seems, you just need to keep those basic rules in mind and you'll be able to enjoy a fantastic holiday, and be free from schedules and timetables to discover Crete's unique amazing landscapes.
And if you do not feel like driving, join one of these tours to the most popular spots on the island…
More Crete Travel Resources
Headed to Crete? We have some great travel resources to help you with your trip. First read our guide to planning a trip to Greece, which covers visas, budgets, vaccines, and much more. We also have a Balkan currency guide that explains how money works in Greece and local tipping customs.
If you're still trying to work out where to go on the island, check out our guide to the best places to visit in Crete.
If you'll be spending a few days in Chania, here is our guide to visiting Seitan Limania from Chania (which is our favorite beach in Crete) and Chania's best Instagram spots.
If you will be spending time in Heraklion, check out our guides to the best Instagram spots in Heraklion and the city's best restaurants and cafes.
If you're interested in taking a day trip to Rethymnon, check out our Instagram guide to Rethymnon next, and perhaps our guide to things to do in Rethymnon and the best Rethymnon hotels.
If this will be one of your first trips to the Greek islands, check out our massive Greek Island hopping guide as well as our recommendations for where to go in Greece and when is the best time to visit.
We publish new content about the Balkans almost every day! For more information about traveling to Greece and the Balkans, bookmark our Greece and Balkan travel pages so you can find out what's new before your trip.
5 Things to Bring with You for a Crete Vacation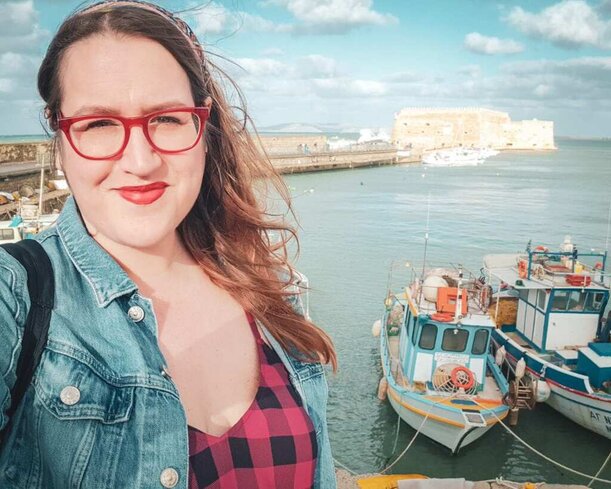 We have an entire Crete packing list that includes exactly what to bring to Crete, but here are some essentials you don't want to miss!
A Guidebook: While travel blogs are great, we also definitely see the benefit of having a good paper guidebook in hand to refer to in your on-the-ground travel. We own and recommend the Lonely Planet Greece book as a starter, but you may also want to pick up the Lonely Planet Crete which covers the island more in-depth.
Sunscreen: Yes, you will want sunscreen in Crete, even if you visit during the winter! While you can buy it here, I suggest you buy the good stuff from recognizable brands or better yet, buy it online in advance. I love this solid Neutrogena sunscreen. Who doesn't love a good solid for liquid swap? Great to keep in your bag without worrying about sunscreen explosions.
Motion sickness pills: Great for car rides especially on mountain or coastal roads – I buy these non-drowsy ones. You can also try these natural motion sickness bands which use acupressure to reduce nausea – they actually work pretty well. And these are a must if you're also taking ferries, as the sea can be really choppy depending on the weather!
– Travel safety items. We think Crete is very safe to travel to, but at the same time, it never hurts to be prepared! Some people like to carry money belts, but neither Stephanie nor I use these. Instead, we both carry the same PacSafe anti-theft backpack.
It has locking zippers, slash-proof construction with metal mesh hidden in the fabric, and tons of other smart security features — all while being cute and stylish enough to be our everyday bag. We recommend it highly for both male and female travelers, as it's neutral enough to be unisex. We also strongly recommend travel insurance! Our recommendation is at the bottom of the post.
– Sunglasses. No matter the time of year, Crete has plenty of sunshine! Keep your eyes protected with your favorite pair of sunglasses from home.
Read Next: Essential Crete Packing List: What to Wear & Pack for Crete
Don't Forget About Travel Insurance!
I'm sure you're aware that it's a good idea to have travel insurance (in addition to your car insurance) for traveling in Crete, the Balkans, or anywhere in the world, really!
We at Sofia Adventures have both been paying customers of World Nomads for the last three years. We love the peace of mind it gives us in case of emergencies, accidents, illnesses, theft, or trip cancellation or disruption.
While Greece is safe, there's always a risk inherent in everyday travel like theft or injury, so it's better to play it safe.
>> Get a travel insurance quote for your trip here <<
Pin this Guide to Driving in Crete!
Gabi Ancarola is a translator and travel journalist living in Crete. She regularly writes about the island for several magazines about travel, gastronomy, and hospitality. She has published several travel guides about Greece and runs a local gastronomy tour in Chania. She loves cooking local dishes, taking photos, and driving on the mountain roads of Crete.