This post may contain affiliate links. This means that if you click a link, we may make a small commission off any subsequent purchase, at no extra cost to you. For more information, please check our privacy policy.
The capital of Crete, Heraklion, is located on the northern coast, more or less in the middle portion of the island.
If you're flying to Crete from the rest of Europe, there's a good chance for you to be landing in this city, so why not take advantage of it and discover what is there do to in town?
Most travelers visiting Crete usually spend a quick day in Heraklion, thinking that the only thing worth doing in town is visiting the famous Minoan Palace of Knossos. Exactly for that reason, we've decided not to include that visit in this Heraklion itinerary.
It's easy to see how there's much more to Heraklion than just its most well-known archaeological site.
If you have an extra day to spend in the capital, you can choose one of the few bonus day trips. You can fit this 2 day Heraklion itinerary inside a bigger route of the island, combining stays in Chania or Rethymnon, or it can also be a city break on its own.
Can't read now? Pin for later!
Where to Stay in Heraklion
We have a complete guide on where to stay in Heraklion here, with suggestions for every budget category and type of traveler, but we've chosen our favorites here for you to peruse when planning your Heraklion itinerary.
Budget: Intra Muros Boutique Hostel
The hotel is named after the Latin phrase that translates as "within the walls," and you'll love how they work to make the space between their walls a home away from home.
Backpackers and group travelers will enjoy this boutique hostel; not only is it strategically located in the heart of the city (and close to most tourist spots) but it also has a nearby bus stop so you can save on transportation expenses. You can also walk to the port if in case you want to ride a ferry and go to other locations and dreamy islands near Crete.
They have dormitories with shared bathrooms available for as low as USD 13 for a night with bunk beds with privacy curtains. You can choose from a mixed or all-female dorm room.
There's also a shared kitchen equipped with a stove, oven, refrigerator, and utensils. You can cook quick meals here since there is a nearby mini market outside! The service desk is not open 24 hours, but if you inform them of your late arrival then they can arrange someone to meet you at the said time.
>>Check guest reviews, prices, availability, and more photos here.<<
Mid-Range: Infinity City Boutique Hotel
Infinity City Boutique Hotel is a very modern hotel that features contemporary style and comfort. The hotel is a bit narrow due to the building's structure, but it has spacious and soundproof rooms. It has 6 floors and a total of 21 rooms that have a balcony with a view of the amazing blue sea plus a private bathroom with complete amenities.
Each room has flat wooden ceilings and tiled floors to match the contemporary and modern style of the hotel. Guests love how the hotel design balances style and comfort, with a mini-fridge and other in-room amenities. The private bathrooms are a bit small but comfortable, with toiletries included.
You can try their free continental breakfast and have some of their coffee, juice, and some tasty croissants. Of course, for many people, mornings aren't complete without eggs, which they make to order!
>>Check guest reviews, prices, availability, and more photos here.<<
Luxury: Stella Palace Resort and Spa
The pool view of this resort hotel is marvelous – actually, everything about the hotel is! It has its water park, bars, spa, and so many more world-class features to offer its guests. They have rooms, suites, and maisonettes where you can even have your private pool or hot tub.
They have 4 restaurants on-site which means you have many options of what to eat (though every restaurant in Heraklion is delicious as well). Elia serves Greek dishes, Enso offers yummy authentic Asian dishes, La Veranda treats you to an Italian dinner or lunch plus a good selection of wines, and lastly, Poseidon, which offers a huge selection in their buffet. A night of fun won't be complete without checking their different bars where each offers a different ambiance and a different selection of drinks and snacks.
Fitness freaks will love their gym because it has everything you could ever look for when it comes to getting your daily exercise. You might not find some of the treatments they offer at their spa elsewhere, because most of the ingredients they use are locally sourced in Crete. Highly-skilled therapists and massage practitioners will bring you the ultimate relaxation experience here!
>>Check guest reviews, prices, availability, and more photos here.<<
Day 1 of Your Heraklion Itinerary
Start in the city center and the Koules
Your day in Heraklion could not start in a better way than enjoying breakfast in the city's central square, Liontaria, or just The Lions, as locals call it. On one corner of the square, there's a Venetian fountain dating back to 1628. 
It used to be the source of drinking water for the local inhabitants of Heraklion and it is still gushing water from the head of the four lions that decorate the fountain.
Choose one of the several bars around the area to enjoy a traditional pastry and some coffee. We discussed Cretan bougatsa in our Chania itinerary (a custard-filled flaky filo pastry enjoyed all times of day), and, as you might imagine, also Heraklion has its bougatsa place. It's called Kirkor, and it's a must-go place in town.
Next up, reach the pedestrian 25 August Street, and slowly make your way down to the port. This elegant street with Neoclassical buildings, such as the Venetian Loggia, is also home to one of Heraklion's most important churches, Agios Titos.
This impressive church was built during the Byzantine period of Crete (around the 9th century), but it was also transformed into a mosque while the Ottomans ruled on Crete. When the Turkish finally left the island, the Herakliots tore down the minaret to celebrate the end of the occupation.
Walk a bit further until you reach the waterfront. Over here, you can explore the Koules, a magnificent square fortress built by the Venetians. Visit the different rooms inside and head to the rooftop to get a panoramic view of Heraklion and the modern port.
Wander the Open Market on 1866 Street
Back to the city center from the fortress, walk past Liontaria to get to another landmark in town, the Open Market of Heraklion on 1866 Street.
Often crowded with locals and visitors alike, the market is the best place in town to shop for souvenirs and local delicacies. Among the best things to take back home as a memento of your trip, choose small bottles of Cretan extra virgin olive oil, jars of spoon sweet or marmalade, or local herbs and spices – they make wonderful Greek souvenirs.
Stop for a bite in Plateia Eleftheria, another popular meeting point in town. Our favorite place for a convenient lunch on the go is Krasas. This restaurant is a local's favorite! If you want more suggestions, we also have a Heraklion restaurant guide.
For a traditional Greek meal, grab an authentic gyro wrap for just a few euros; their menu has so many varieties to choose from that you'll probably come back for more.
Alternately, if you want to get a better sense of Heraklion's delicious culinary potential, check out a 2-hour food tour of the city. This tasty tour covers the basics of Cretan cuisine and gives you a perfect introduction to the unique offerings of Crete — with several tastings, of course! — which differ from generic Greek food. Book your food tour here.
Visit the marvelous Archaeological Museum of Heraklion
A great place to spend your afternoon, the Archaeological Museum of Heraklion has been placed on the list of best museums to visit in Greece.
It houses a magnificent collection mostly focused on the Minoan civilization, such as the Disc of Festos and findings from different archaeological sites on the island.
It's the place to go if you plan on visiting any of Crete's four Minoan palaces any time during your trip. For a complete insight, it's a great idea to book a guided visit.
The museum is in the center of town, close to Plateia Eleftheria. It opens every day from 8 am to 7 pm, (closing at 3 pm in winter). The entrance ticket is €6, but for €10 you can buy a combo ticket that will also allow you to access the Archaeological Palace of Knossos.
Enjoy the evening in Heraklion
Our favorite place to be at night is the area surrounded by Milatou, Meramveliou, and Aretoussas streets. All of them are pedestrian roads and are full of small restaurants, taverns, pubs, and clubs. 
Choose Plastelina for a cocktail in a cozy atmosphere and inventive drinks.
For dinner in the same area, O Tempelis serves the best mezedes in Heraklion.
Mezedes are small bites of traditional Greek dishes, including tzatziki, meatballs with cumin and herbs, spicy mushrooms in tomato sauce, or marinated fish.
We strongly suggest that you arrive early if you want to find a place to sit. Remember that in Greece it's customary to have dinner late, and this place is usually packed with locals.
Day 2 of Your Heraklion Itinerary
Spend the day in Hersonissos and Koutouloufari
Far from being a traditional or relaxing place, Hersonissos is, by far, the most popular beach resort on Crete, ideal for those interested in a day by the beach with plenty of music, cocktails, and pristine seas.
The atmosphere is young and a bit noisy, and if you feel you've had enough, move to a more tranquil shore, such as the area of Limanakia, also known as the Coves of Hersonissos.
These start in the beautiful Cape Sarandaris, a very calm and shallow bay, great for snorkeling. There are a few laid-back cafes in the area for a bite or a cold beer by the sea.
If you want to do something different from just lazily lounging on the beach, devote the afternoon to walking up to the quiet village of Koutouloufari.
Koutouloufari is a picturesque hamlet built on the rather low slopes of Mount Pirgia. Here you can discover the typical traits of Cretan architecture, walk along the tiny alleys, and relax in one of the many tavernas serving the local cuisine. 
Thanks to its elevated position, the village offers spectacular views of the bay of Hersonissos at sunset.
Bonus: Day Trips in the Heraklion Region
There are many places you can visit if you have extra time to spend in the region.
You can reach the south of the Heraklion region to visit one of Crete's most famous beaches, or you can also explore Crete's best wine area and wineries around the villages of Archanes and Peza.
Those who choose to stay on the northern coast can find an alternative to the more crowded Knossos in the less popular archaeological site of Malia. Read through these proposals and go for the one that best matches your travel style.
Matala
Matala is a famous village and beach in the south of Heraklion. The direct bus to Matala departs from Heraklion every 4 hours and the ticket is a little less than €10 and the trip lasts about 2.5 hours. You can get there by taxi or transfer (about €75) or drive.
Matala is a beach on the Libyan Sea, made popular back in the 60s when hippies all over the world used to come to Crete and live in the ancient caves on one of the sides of the bay.
If you enjoy trekking and outdoor hikes, it's a good idea to walk across the hill that separates Matala from the hidden Red Beach, with a natural corner, an even stronger flower power vibe, and excellent submarine landscapes for snorkeling.
Heraklion Wine Region
For the wine lover in you, there's no better region on Crete than Heraklion, where you can find some of the oldest vineyards in Europe, going as far back as the Bronze Age.
In the area, it's a good idea to make a stop in one of the many wineries of Heraklion. Some of them are open to the public all year round and offer wine tasting sessions, vineyard visits, and even local food sampling.
To have a good panorama of the local wine production, you can visit Lyrarakis winery, the biggest producer of Crete, in the village of Alagni.
If you prefer a more intimate atmosphere, check Gavalas Crete Wines, a family winery in the small villages of Vorias, or Silva Daskalaki, in the picturesque village of Siva.
Minoan Palace of Malia
If you have already seen the Minoan Palace of Knossos and are eager for more, or if, instead, you prefer to stay away from the crowds that every day visit the famous archaeological site, check the Minoan Palace of Malia, 34 km from the city center of Heraklion.
Malia is Crete's third-biggest Minoan Palace and it spreads across an area of about 750 square meters. According to archaeologists, the structure used to have two floors, magazines, workshops, theatres, and royal quarters. 
Archaeologists have also found the rest of a Minoan town around the palace area, part of it open to the public, where it is believed that the inhabitants were skilled in the production of pottery, seals, and large vases, known as pithoi, which can still be seen. 
It was in Malia that one of the most impressive pieces of jewelry from the Minoan times was unearthed in Crete. It's a magnificent gold pendant with bees holding a berry. The famous bee pendant of Malia is permanently exposed in the Archaeological Museum of Heraklion.
What to Pack for a Crete Beach Vacation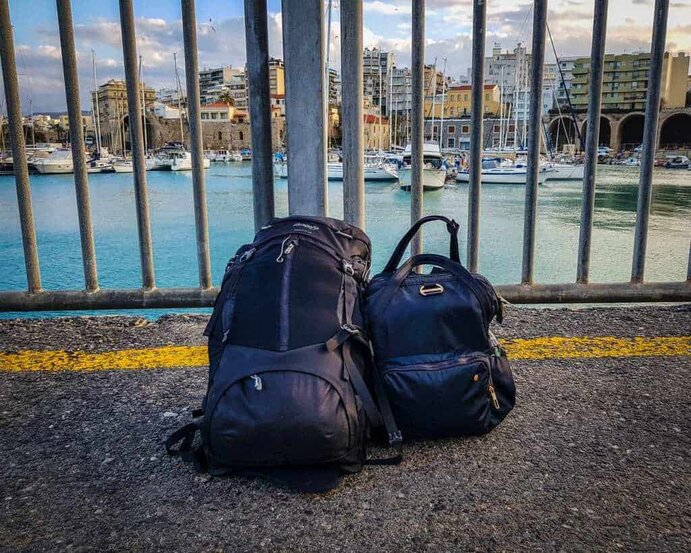 If you're planning a trip to Crete, you'll want to pack all the normal essentials, but here are a few things we strongly recommend bringing that may not have crossed your mind. For more, check out our Essential Crete Packing List.
– A Physical Guidebook – While travel blogs are great, we also definitely see the benefit of having a good paper guidebook in hand to refer to in your on-the-ground travel. We own and recommend the Lonely Planet Greece book as a starter, but you may also want to pick up the Lonely Planet Crete which covers the island more in-depth.
– A water bottle with a filter. While generally, the tap water in big cities on Crete is drinkable, we generally recommend using a water bottle with a purifying filter to reduce your plastic consumption and ensure you won't drink any funny-tasting water on your stomach that could make your trip unpleasant! We recommend the GRAYL water bottle – it filters water perfectly in an instant so that you can even drink from lakes, bad taps, etc.
– Motion sickness pills. Crete bus rides can cause motion sickness! If you have a weak stomach as we do, save yourself and bring some non-drowsy motion sickness pills.
– Wet wipes, hand sanitizer, TP & other Balkan transit needs. Bathrooms in the Balkans on trains and buses tend to be… how can we say it?… not so well-stocked. Save yourself the disappointment and bring a mini-rescue pack of wet wipes & hand sanitizer.
– Travel safety items. We think Crete is very safe to travel to, but at the same time, it never hurts to be prepared! Some people like to carry money belts, but neither Allison nor I use these.
Instead, we both carry the same PacSafe anti-theft backpack. It has locking zippers, slash-proof construction with metal mesh hidden in the fabric, and tons of other smart security features — all while being cute and stylish enough to be our everyday bag. We recommend it highly for both male and female travelers, as it's neutral enough to be unisex. We also strongly recommend travel insurance! Our recommendation is at the bottom of the post.
Read more: Essential Crete Packing List: What to Wear & Pack for Crete
More Crete Travel Resources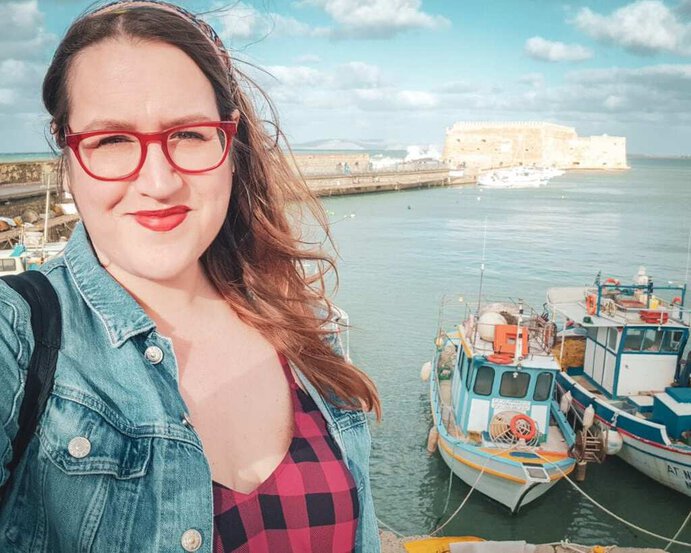 Headed to Crete? We have some great travel resources to help you with your trip. First read our guide to planning a trip to Greece, which covers visas, budgets, vaccines, and much more. We also have a Balkan currency guide that explains how money works in Greece and local tipping customs.
If you're still trying to work out where to go on the island, check out our guide to the best places to visit in Crete and our favorite Crete beaches.
If you'll also be spending a few days in Chania, here is our guide to visiting Seitan Limania from Chania (which is our favorite beach in Crete) and Chania's best Instagram spots.
If you will be spending time in Heraklion, check out our guides to the best Instagram spots in Heraklion and the city's best restaurants and cafes.
If you're interested in taking a day trip to Rethymnon, check out our Instagram guide to Rethymnon next, and perhaps our guide to things to do in Rethymnon and the best Rethymnon hotels.
If this will be one of your first trips to the Greek islands, check out our massive Greek Island hopping guide as well as our recommendations for where to go in Greece and when is the best time to visit.
We publish new content about the Balkans almost every day! For more information about traveling to Greece and the Balkans, bookmark our Greece and Balkan travel pages so you can find out what's new before your trip.
Don't Forget About Travel Insurance!
I'm sure you're aware that it's a good idea to have travel insurance for traveling in Crete, the Balkans, or anywhere in the world! We have both been paying customers of World Nomads for the last three years. We love the peace of mind it gives us in case of emergencies, accidents, illnesses, theft, or trip cancellation or disruption.
While Greece is safe, there's always a risk inherent in everyday travel like theft or injury, so it's better to play it safe.
>>Get a travel insurance quote for your trip here.<<
Pin this 2-Day in Heraklion Itinerary for your Upcoming Travels in Greece
Gabi Ancarola is a translator and travel journalist living in Crete. She regularly writes about the island for several magazines about travel, gastronomy, and hospitality. She has published several travel guides about Greece and runs a local gastronomy tour in Chania. She loves cooking local dishes, taking photos, and driving on the mountain roads of Crete.