This post may contain affiliate links. This means that if you click a link, we may make a small commission off any subsequent purchase, at no extra cost to you. For more information, please check our privacy policy.
Chania, the second most important city of Crete, is located in the western area of the island, and it is a perfect destination for a summer getaway.
There are plenty of things to see, so it sometimes might be hard to choose what to add to your Chania itinerary. Many people who visit Crete travel around the island trying to see the most of it, and it's common for visitors to devote two days to Chania.
For those who have some extra time to spare on Crete, we have included a few day trip ideas from Chania, which you can pick according to your different interests. You can choose just one or do even more if you're visiting Chania for more than just a couple of days.
All these ideas in this Chania itinerary can be perfectly included in a more extended trip to the island, combined with visits to cities such as Rethymnon or Heraklion, or even be a city break all on its own.
Can't read now? Pin for later!
Where to Stay in Chania
Budget: Doge Traditional Hotel
Doge Traditional Hotel is pretty much exactly that: a lovely historic Venetian traditional house. It was originally built in the 15th century with 8 rooms to offer guests and has been refurbished lovingly. It is an intimate and quiet hotel, perfect for couples and families up to five.
While this charming Chania hotel has many perks, I'd argue the best part of the hotel has to be the rooftop where you can gaze at the beautiful views of the sea – especially during sunset!
Each room has canopy beds set in a beautifully lit room with some nice lamps and chandeliers. This makes each room seem rustic and historic yet still warm and inviting due to the wooden elements in its interiors. Some walls have rough rocks to create an interesting focal point on the whitewashed walls. It also has wooden ceilings which also help in absorbing noise from outside, aside from adding some serious style points. There are also interesting paintings hung up on the walls to add visual interest.
If you want a bigger suite to accommodate a larger number of people, you can get their superior suite, which has a mezzanine that serves as an additional bedroom. All rooms feature a closet, heating, A/C, fridge, electric kettle, coffee and tea making facilities, sofa bed, and safety deposit boxes.
>> Check prices, availability, reviews, and more photos here.
Mid-Range: The48Suites
This chic hotel features the typical Venetian exterior, but inside it has modern features for the sophisticated traveler. The hotel follows a minimalist aesthetic, livened up with a little playful and artsy décor. Everything just harmonizes perfectly, typical of a boutique-style hotel. It is also located on the picturesque Theotokopoulo Street, where a ton of old houses are lined up – perfect for Instagramming your away around Chania.
It has 3 types of rooms to choose from (which are all suites and apartments). Their prices are somewhat on the lower mid-range, so you're going to get your money's worth here. The superior and deluxe suites offer a balcony (with stylish wicker furniture) and a mezzanine; this is great for families with older kids, but not for ones with small kids as the stairs can be quite dangerous for them.
All of the rooms still follow the minimalist aesthetic, but what's most important is that they are ridiculously clean (past guests have attested to that)! There's also a kitchen equipped with all the things you need to prepare a nice dish for your family should you tire of Greek food — if that's even possible! Coffee machines and a kettle are also provided so you can make your coffee or tea in the morning or afternoon (or when you feel like having one, which for me is basically always!).
>> Check prices, availability, reviews, and more photos here.
Luxury: Domus Renier Boutique Hotel
As part of the Historic Hotels Worldwide, this hotel doesn't just offer a historic Renaissance past, but also a truly luxurious experience you can't miss. This was once the residence of the Reniers, a noble Venetian family. It is a huge complex, and the main building was converted into a hotel: the exterior and interior of which will take you time traveling!
Their rooms are classy, sophisticated, and elegant: no two rooms are alike here. It is also spacious and you are sure to enjoy the simple details of their wooden furniture, adhering to the philosophy that less is more. You will surely love the rain shower in the private bathrooms that mimic the rain – bringing the spa experience to your room! For even more of that, you can even have masseuses come to your room for an in-room spa treatment.
>> Check prices, availability, reviews, and more photos here.
Day 1 of Your Chania Itinerary
Start the morning with a bougatsa
Start your day in Chania in the most traditional way: reach the center of town and head directly to enjoy one of the most delicious breakfasts in Crete: bougatsa!
This traditional dish is made with a very soft kind of local goat cheese, and it's one of the staples of the local cuisine.
The best place to taste bougatsa in Chania is Iordanis. This bakery started producing this sweet 95 years ago and it still remains a favorite for the locals. Iordanis Bougatsa is just a few meters from the old town, and it's plain yummy!
Visit the local market
After your breakfast, walk for a few more meters until you arrive at the local Municipal Market, or agora, in Greek.
The market first opened to the public back in 1913 and it's a must-visit on any Chania itinerary. Here, local producers sell their own cheese, honey, fresh bread, and olive oil. The agora is also very convenient for a quick lunch on the go.
Wander the alleys of the Old Town
Once you leave the market from the back door, you'll be entering the alleys of the old town. Devote at least two hours to walk the pedestrian streets of the Venetian quarter.
Once you reach the area known as Ebraiki, be sure to pay a visit to the only Synagogue still standing on Crete, Etz Hayim.
The building, abandoned after the years of the German occupation, was restructured in 1999 and is now open to the public. Inside, you can discover one of the oldest mikvah (ritual bath) in the Mediterranean basin.
To experience those sights, tastes, and a few more, it's a great idea to book a gastronomic walk of Chania that includes every mentioned stop!
Enjoy the afternoon by the waterfront with cocktails
Later on, walk along the stunning waterfront to see the Old Mosque of the Janissaries, the Egyptian lighthouse and the imposing arsenals built by the Venetians over 500 years ago.
A walk along Chalidon Street will allow you to see the Cathedral of the city and Archaeological Museum of Chania, right across the street.
If you're already in the mood for a bite, choose one of Chania's local restaurants from this list, you won't be disappointed.
End your evening having a cocktail on the old Venetian port, Pallas and Barbarossa are two trendy bars, serving very inventive drinks until very late at night. But don't overdo it, there's a lot to do on your next day!

Day 2 of Your Chania itinerary
Start your morning in Cape Akrotiri
We have a whole day in the Chania region and we want to make the most of it, so let's get on the road to visit the nearby Cape Akrotiri.
The area is less than 10 km away from the center of town and although renting a car for a day will be really convenient, you can also travel by taxi (about 15 euros from the center of town). If you're on a budget, the buses to the area depart from the bus stop right in front of the agora.
You can start your morning on the beach of Stavros. This is one of the prettiest bays of Akrotiri, with tranquil emerald waters, golden, soft sand, and very well sheltered from the northern winds.
Spend a few hours swimming and relaxing under the sun, and take a lunch break in the nearby Almyriki, a beautiful taverna by the sea, serving delicious fresh fish.
Combine it with a cold beer and take some time to soak in the views of the Stavros Mountain. Squeeze in one more swim, and head back in the direction of Chania.
Take in the sunset with a view
On your way back, make a detour to visit the Tombs of Venizelos, Crete's first prime minister. They are located in a park on top of a mild hill facing the bay of Chania.
The area offers spectacular views of the city, mostly at sunset, and it's an excellent way to see how large the whole picture is, literally! The view will take you from the sea to the top of the White Mountains.
If you are craving more, a few meters from this park, you can enjoy a coffee in the famous Koukoubaya, one of Chania's most traditional bars, especially popular for the unique views and delicious homemade cakes — if you like strawberries, do try their Pavlova!
End your two days in Chania back in the old town, enjoy a walk along the streets of the Turkish quarter of Splantzia, home of the most picturesque alleys of the city. You can stop for music at Monastiri tou Karolo, a former monastery which is now one of Chania's best wine bars.
Bonus: Day Trips in the Chania Region
There are plenty of things you can do if you have more than 2 days in Chania.
There are day trips for those who can't have enough of Crete's beaches, but also for those who want to indulge in the local tastes. There's also a proposal for lovers of outdoor experiences combined with Cretan history and traditions. Take a look and pick what suits you to best customize your Crete trip!
Balos Beach
The spectacular beach of Balos is located on the extreme western tip of the island, about an hour from Chania.
The exotic beach forms a shallow lagoon with magnificent turquoise waters and whitish fine sand. Balos is one of Crete's most visited places, so try to get there early. Also, be sure to pack a lunch and enough water for the day and the hike.
Those traveling with public transport can catch a bus to Kissamos from Chania Central Bus Station. Once there, reach the port of Kavonisi and jump on a day cruise to Balos (book in advance if you're traveling in the summer).
You can also travel by car, driving past the city of Kissamos until the village of Kalyviani. From there on, it follows an adventurous off-road trip on the Gramvousa Peninsula and a 15-minute hike to get to Balos Beach.
Another way to get there is via a shuttle to Kissamos, plus a €27 boat ticket which will cover your transit for the rest of the way.
Gorge of Therisso
Therisso is located a few kilometers from the center of Chania. You can get there by car or book a whole day excursion from a local tourist office.
The gorge of Therisso has impressive vertical cliffs where it's not odd to find wild goats jumping freely from one rock to the other. This spectacular drive lets you get a closer look at Chania's diverse landscape and nature. However, there's more to see and do.
The village was the theatre where the Therissso Revolt took place. This event played an important role during the years leading to Crete's independence and eventual union with Greece.
Therisso is also popular among locals who usually visit during the weekend. They come here to have a traditional Cretan lunch in one of the several great grill tavernas that stand along the main road.
Local Wineries
The island of Crete is home to 13 unique indigenous varieties of grapes that produce excellent wine labels. There are dozens of important wineries all over the island, especially in the region of Heraklion, but the wineries of Chania are also worth more than a visit.
If you're interested in the local tastes, it's easy to book a winery tour and visit, also combining it with a lunch at the winery itself. This is the winery tour we suggest, which offers an olive oil tasting a well as an introduction to delicious Cretan wines.
If you prefer to plan your own winery visits, we'll give you a few recommendations (just be sure to have a designated driver or hire a driver for the day!).
About 15 km from the city center, not far from the Omalos Plateau, it's possible to visit Manousakis Winery, which offers a visit to the premises, wine tasting sessions, cheese platters or delicious dinners.
Closer to the gorge of Imbros, instead, you can visit Dourakis Winery, where it's also possible to learn about the winemaking process, taste several labels, have lunch or dinner, go for a vineyard picnic, or even learn how to cook like a Cretan!
In the same area, take some time to visit the traditional village of Vryses, famous for their unique Greek yogurt production.
Finally, if you'd rather pair your wine visit to an interesting historical place, you can check the magnificent Monastery of Agia Triada, 16 km from the city center, and not far from Chania's International Airport.
The monastery has been producing wine as well as olive oil for years. You can taste all the products in its cellar, visit the museum, the church, and the green fields around the monastery as well.
If everyone in your party wants to drink, don't drive; remember, you can visit fantastic wineries in Chania trusting this local tour company. Whatever of them you choose, you'll be enjoying an unforgettable day full of unique Cretan flavors.
More Crete Travel Resources
Headed to Crete? We have some great travel resources to help you with your trip. First read our guide to planning a trip to Greece, which covers visas, budgets, vaccines, and much more. We also have a Balkan currency guide which explains how money works in Greece and local tipping customs.
If you're still trying to work out where to go on the island, check out our guide to the best places to visit in Crete.
If you'll be spending a few days in Chania, here is our guide to visiting Seitan Limania from Chania (which is our favorite beach in Crete) and Chania's best Instagram spots.
If you will be spending time in Heraklion, check out our guides to the best Instagram spots in Heraklion and the city's best restaurants and cafes.
If you're interested in taking a day trip to Rethymnon, check out our Instagram guide to Rethymnon next, and perhaps our guide to things to do in Rethymnon and the best Rethymnon hotels.
If this will be one of your first trips to the Greek islands, check out our massive Greek Island hopping guide as well as our recommendations for where to go in Greece and when is the best time to visit.
We publish new content about the Balkans almost every day! For more information about traveling to Greece and the Balkans, bookmark our Greece and Balkan travel pages so you can find out what's new before your trip.
5 Things to Bring with You for a Crete Vacation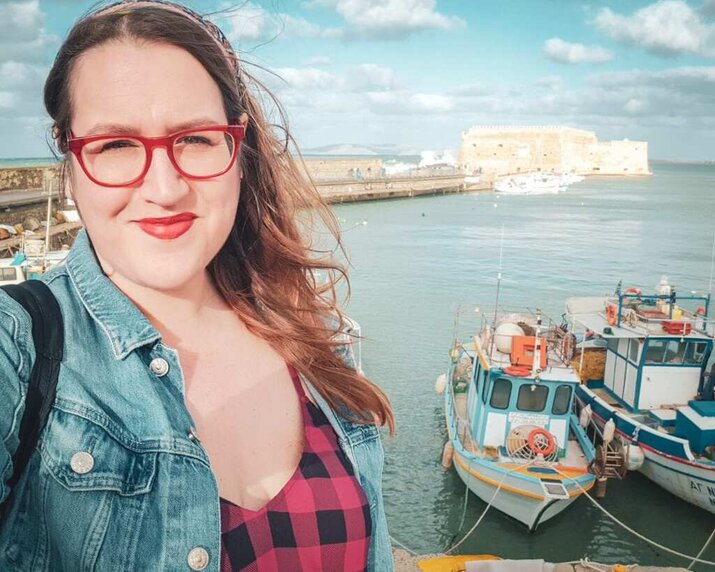 We have an entire Crete packing list that includes exactly what to bring to Crete, but here are some essentials you don't want to miss!
A Guidebook – While travel blogs are great, we also definitely see the benefit of having a good paper guidebook in hand to refer to in your on-the-ground travel. We own and recommend the Lonely Planet Greece book as a starter, but you may also want to pick up the Lonely Planet Crete which covers the island more in-depth.
Sunscreen: Yes, you will want sunscreen in Crete, even if you visit during the winter! While you can buy it here, I suggest you buy the good stuff from recognizable brands or better yet, buy it online in advance. I love this solid Neutrogena sunscreen. Who doesn't love a good solid for liquid swap? Great to keep in your bag without worrying about sunscreen explosions.
Motion sickness pills: Great for bus rides especially on mountain or coastal roads – I buy these non-drowsy ones. You can also try these natural motion sickness bands which use acupressure to reduce nausea – they actually work pretty well. And these are a must if you're also taking ferries, as the sea can be really choppy depending on the weather!
– Travel safety items. We think Crete is very safe to travel, but at the same time, it never hurts to be prepared! Some people like to carry money belts, but neither Stephanie or I use these. Instead, we both carry the same PacSafe anti-theft backpack.
It has locking zippers, slash-proof construction with metal mesh hidden in the fabric, and tons of other smart security features — all while being cute and stylish enough to be our everyday bag. We recommend it highly for both male and female travelers, as it's neutral enough to be unisex. We also strongly recommend travel insurance! Our recommendation is at the bottom of the post.
– Sunglasses. No matter the time of year, Crete has plenty of sunshine! Keep your eyes protected with your favorite pair of sunglasses from home.
Read Next: Essential Crete Packing List: What to Wear & Pack for Crete
Don't Forget About Travel Insurance!
I'm sure you're aware that it's a good idea to have travel insurance for traveling in Crete, the Balkans, or anywhere in the world!
We at Sofia Adventures have both been paying customers of World Nomads for the last three years. We love the peace of mind it gives us in case of emergencies, accidents, illnesses, theft, or trip cancellation or disruption.
While Greece is safe, there's always a risk inherent in everyday travel like theft or injury, so it's better to play it safe.
>> Get a travel insurance quote for your trip here
Pin This Chania Itinerary!
Gabi Ancarola is a translator and travel journalist living in Crete. She regularly writes about the island for several magazines about travel, gastronomy, and hospitality. She has published several travel guides about Greece and runs a local gastronomy tour in Chania. She loves cooking local dishes, taking photos, and driving on the mountain roads of Crete.