This post may contain affiliate links. This means that if you click a link, we may make a small commission off any subsequent purchase, at no extra cost to you. For more information, please check our privacy policy.
Is there any place that conjures up the image of romance faster than a sunset on a Greek isle? While Greece is full of amazing places to visit, some Greek islands and cities are more romantic than others. Here is our guide to picking the perfect place for you to go on your honeymoon in Greece.
Can't read now? Pin for later!
>> Read Next: 50 Fabulous Places to Visit in Greece: Local Favorites & Hidden Gems <<
Where to Stay in Greece
If you're visiting Greece any time soon, you'll probably spend some time in Athens before moving to discover other amazing places in the country. In that case, it's a good idea to check this accommodation guide to Athens to find the best places to stay in Greece's capital. Check this article as well, if you'd like to book a room with unforgettable Acropolis views. Remember that booking early is always the best way to get better prices and nicer rooms! We recommend checking out Booking.com as early as possible since this is a popular time to visit. These are some of the places we suggest you check.
Budget: If you're looking for a budget hotel in lively Monastiraki, book a stay at Fivos Hotel. Located right by Monastiraki Station, the hotel has free wifi and ensuite bathrooms. Check out prices and availability at Fivos Hotel here.
Mid-range: If you want more traditional accommodation, stay at the Kimons Athens Hotel in Plaka. The rooms are cozy and there's a roof terrace that guests can enjoy. Check out guest reviews, prices, and availability at Kimons Athens Hotel here.
Luxury: To enjoy a bit of luxury in Monastiraki, check into the four-star Emporikon Athens Hotel on Agia Irini Square. The rooms are sophisticated and swanky, with a traditional take on comfort. Check out guest reviews, prices, and availability at Emporikon Athens Hotel here.
Best Honeymoon Destinations in Greece
In no particular order, these are some of the best places in Greece for a dreamy honeymoon!
Crete
The largest of the Greek islands, Crete is a great place to spend a week or two relaxing with your love. Start with charming Chania, with an amazing Venetian harbor that is a great place to stroll hand-in-hand. The lighthouse also offers up romantic views and the dining options in town include restaurants overlooking the water. Another benefit of choosing Crete for your Greek honeymoon is that it's the furthest south you can go and still be in Greece. This means that the weather is perfect for longer, and the island boasts three hundred days of sunshine per year which you can spend on any number of Crete's amazing beaches. Romantic activities include horseback riding, luxury spas, and the option to stay in adults-only resorts.
>> Read Next: 15 Fabulous Things to Do in Spetses for an Authentic Island Experience <<
Santorini
The most popular honeymoon destination in Greece, Santorini is practically synonymous with romance. No honeymoon here is complete without enjoying the famous Santorini sunset before heading back to a stunning cave hotel to enjoy a little matrimonial bliss. Thrill-seekers will love the ability to go cliff jumping, hiking, and riding ATVs, while those looking to relax can head to one of the island's famous black sand beaches. However, nearly everyone can agree that a dip in the hot springs is a perfect Greek honeymoon activity. Because there's so much competition for those perfect honeymoon suites, make sure to book early if you have your eye on a specific room or a particular hotel.
>> Read Next: 17 Best Santorini Cave Hotels & Suites You'll Love <<
Mykonos
Mykonos has a reputation as Greece's premier party island, but it also offers a great opportunity for romantic escapes. You can get lost in Little Venice before enjoying a passionate dinner for two. Plus, who wouldn't want to spend their honeymoon relaxing in literal paradise on Paradise Beach? During the day, you can go scuba diving or take a day trip to the nearby island of Delos, designated a UNESCO World Heritage Site. For those who love luxury, Mykonos shopping is some of the best in the world, so leave some room in your suitcase!
Athens
Whether you prefer rooftop dining while viewing the Parthenon alight above the city, strolling hand-in-hand in the ancient Agora, or enjoying Athen's excellent nightlife, the city is a perfect honeymoon destination for couples looking for a mix of urban sophistication with world-class cultural experiences. The city is also a great base to visit some of the amazing sites in the surrounding area, like the gorgeous seaside temple in Cape Sounion or you can take a day trip to some of the other cities on this list like Delphi. If you want a mix of mainland Greece and Greek island life, you can visit one of the three islands closest to Athens either as a day cruise or as a second destination.
Corfu
For your Corfu honeymoon, you can start by enjoying the island's Adriatic beaches by day and wandering the Venetian city of Corfu Town by night. Known for its stunning hotels and scenic views of the Albanian coast across the water, Corfu offers a slightly different take on beautiful Greek island life. Enjoy the traditional Greek cuisine by going on an Olive Oil tasting tour, or get a taste of Greek culture at one of the islands' hundreds of beautiful Orthodox churches and monasteries. The best part of a Corfu honeymoon? You can take the ferry across to Sarande, Albania, for the day which means you can combine trips to two Balkan countries in one easy, relaxing trip. While in Albania, you'll have access to the beaches of the Albanian Riviera, including Ksamil, which is one of the most beautiful beaches in the Balkans.
Rhodes
For a Rhodes honeymoon, fly into Rhodes Town and then head to beautiful Lindos. This town is full of traditional white-washed cliffside houses and seriously stunning beaches. This town is a famous wedding destination for Brits who want to get married in the Greek isles, and there are tons of hidden romantic spots to explore here. You can tour the Acropolis of Lindos above the town and take day trips to the island's other important sites. If you choose to spend a day or two in Rhodes Town, you can visit the UNESCO World Heritage site there. This is one of our favorite things to do in Rhodes, but we also loved getting massages in the city and enjoying the up-and-coming food scene there. The island is one of the most popular with tourists, so book early if you want a specific resort or room.
Zakynthos (Zante)
When people think about taking a honeymoon in Zakynthos, they're typically picturing themselves relaxing and playing at the island's most famous beach. This beach is known in Greek as Navagio, also known as Shipwreck Cove, is named for the boat that wrecked on its shores in 1982. However, the beach is famous for far more than just the shipwreck, as its towering cliffs make it one of the most picturesque spots in the Balkans. The best part? To get there, you must arrive by boat, which adds an extra layer of adventure. Animal lovers will jump at the chance to go snorkeling with the island's famous loggerhead turtles, just make sure to go with an ethical company that keeps the animals safe. For a romantic evening, take in the sunset at the Kerri Cliffs. However, if you find yourself drawn to another island on this list, come back to Zakynthos in a few years! It's one of the best Greek islands for families with young kids, so you don't have to miss your chance!
Paros
Paros is a beautiful island (it's actually two islands connected by a bridge), located just a short ferry ride from Athens. You can enjoy the beautiful waterfront restaurants and cafes before taking a stroll up to Paros's most famous landmark, its beautiful white clock tower. You can hire a boat to enjoy a private boat ride to nearby Hydra or Aegina, or simply take a tour around the island itself. If you want to get a little off the beaten path, head to the small fishing village of Drios for some traditional Greek food and beautiful scenery. You can visit Poros on its own for a few days or you can visit on an island cruise from Athens.
Meteora
Many choose to visit Meteora as a day trip from Thessaloniki or Athens, but for those who want to really enjoy the scenery here, spend a few days in the nearby town of Kalabaka and take your time. You can visit as part of a larger mainland Greece itinerary (perhaps on a road trip), or you can make it the focal point of your honeymoon. Besides getting to see one of the most beautiful places in the world, there are great hiking and photography opportunities here. This is a great option to visit if you want to go on a Greek honeymoon in winter since winter in Meteora means you'll get to see these gorgeous monasteries covered in the snow!
Kefalonia
Compared to Santorini, Crete, Mykonos, etc., Kefalonia is less well-known outside of Greece. However, it's just as packed with opportunities for romantic escapades. It has gorgeous beaches galore, opportunities to see sea turtles, and a plethora of charming island villages to escape to. For those who need adventure, you can take advantage of the island's fantastic scuba diving, go horseback riding, or go hiking in Mount Ainos National Park. For those who are more into food tourism, you can enjoy a private food tour or visit the island's Kefalonian Brewery. It's easy to take a day trip to Zakynthos (Zante) from Kefalonia, making it a great base to explore not one, but two islands from.
Mount Parnassos & Delphi
Another popular day trip from Athens takes you to Delphi and Mount Parnassos. The visit offers so much more to visitors who choose to come for more than a day. If you have your honeymoon here, you must take the time to visit the Oracle at Delphi and the other ruins at the site, which also offer absolutely stunning views. Mount Parnassos is a beautiful ski resort town (one of the best ski towns in the Balkans), making this another fabulous option if you want to go on a honeymoon in Greece in winter.
Lesbos
This island has been a haven for lovers since the Greek poet Sappho penned her verses here over two thousand years ago. This is a great island for mature couples wanting a relaxing island getaway. Some of the best things to do in Lesbos include birdwatching at the Kalloni Salt Pans, touring Mytilene Castle, and exploring the island's famous Petrified Forrest. For a photographer's dream, head to Panagia Glykofilousa to take in the stunning views. This church's name translates as "Church of Our Lady of the Sweet Kiss." What a sweet way to celebrate your honeymoon! Make sure to visit the picturesque village of Molyvos, where you can go on a romantic stroll on the city's cobblestone streets.
Skopelos
Known primarily as the "Mama Mia!" island, this is the perfect place for you to live out your Dancing Queen dreams from your very own musical love story. While the island has a different name in the movie, this is where the majority of the film was shot, and you know the island is even more romantic in person. While here, explore the beautiful town of Chora, which boasts the best cuisine on the island. There are great beaches to pick from, including Velanio and Limnonari, and of course, you know you want to walk out to the seaside white church. Yes, that church. It's called Agios Ioannis, and it's located outside of the town of Glossa. Or you can go on a Mama Mia! tour if you can convince your significant other to come with you. Skopelos is a great honeymoon location for those who want to get off-the-beaten-path but still enjoy traditional Greek island culture. Because it's a tad bit harder to get to, there are far fewer tourists here than at more popular islands.
Greece Travel Tips
If this is going to be your first trip to Greece, there are things you need to know.
Planning Your Trip
Here are a few things to know before coming to Greece. First, you can read our article on planning a trip to Greece to make sure you've thought about each of the travel planning steps on our eleven-point checklist. Second, if you're planning to explore the islands as part of your trip here and want more options, we have expanded recommendations in our Greek Island Hopping Guide and our Greek Destinations Guide.
Arriving in Greece
For many, you'll be flying into Athens or Thessaloniki and then connecting to a flight in the islands. There are direct flights to the islands available from some parts of Europe, but most will still have a connecting flight. If your flight is delayed and you end up missing your connection, you have rights. You can learn more here about how to get compensation for a missed connection if your flight is delayed or canceled. Know your ground transportation options ahead of time, but also know what you need to do in case your flight is delayed.
How to Book a Greek Ferry
Sometimes the better option is to arrange your own ferry transfer to an island. If you fly into Athens or Thessaloniki, you can then take ferries to most of the major Greek islands directly. You can check ferry schedules and book them here.
How to Get Between Islands?
There are several options for getting between the islands if you decide to do your own Greek island hopping. Between major islands, you can fly. For example, I've flown directly from Crete to Rhodes without getting back to mainland Greece. You can also choose to take ferries in this situation. I would use a combination of Google Flights and the ferry schedule above to determine what's the most economical choice.
What to Bring with You for a Greece Trip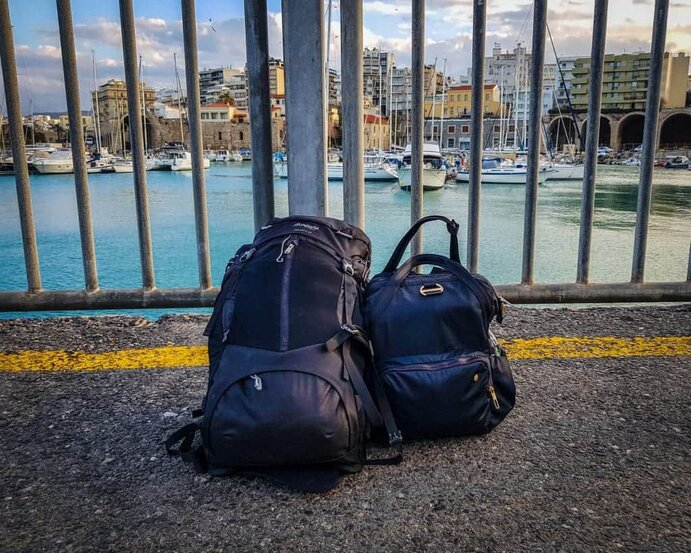 We have several Greece packing lists to help you decide what to bring with you to Greece, Rhodes, and Crete (with more on the way)! But here are five things you want to bring with you to any Greek beach vacation!
A Guidebook – While travel blogs are great, we also definitely see the benefit of having a good paper guidebook in hand to refer to in your on-the-ground travel. We own and recommend the Lonely Planet Greece for a great guidebook on the ground.
Sunscreen: Yes, you will want sunscreen in Greece, no matter the time of year. While you can buy it here, I suggest you buy the good stuff from recognizable brands or better yet, buy it online in advance. I love this solid Neutrogena sunscreen. Who doesn't love a good solid for liquid swap? Great to keep in your bag without worrying about sunscreen explosions.
Motion sickness pills: Great for ferry rides and bus rides especially on winding roads – I buy these non-drowsy ones. You can also try these natural motion sickness bands which use acupressure to reduce nausea – they work pretty well.
Hiking boots or sneakers with good grip: If you're looking for waterfalls in Greece, you may have to do some hiking to get to them! Be sure to wear some well broken-in hiking boots or at the very least, some grippy sneakers.
A water bottle with a filter. While often, the tap water in Greece is drinkable, there are places where it isn't. Always ask before drinking the water.
We generally recommend using a water bottle with a purifying filter to reduce your plastic consumption and ensure you won't drink any bad water that could make your trip unpleasant! We recommend the GRAYL water bottle – it filters water perfectly (literally – 99.999% free of viruses, bacteria, etc.) in an instant so that you can even drink from lakes, bad taps, etc. – basically everything but the sea itself.
Travel safety items. We think Greece is very safe to travel to, but at the same time, it never hurts to be prepared! Some people like to carry money belts, but neither Stephanie nor I use these.
Instead, we both carry the same PacSafe anti-theft backpack. It has locking zippers, slash-proof construction with metal mesh hidden in the fabric, and tons of other smart security features — all while being cute and stylish enough to be our everyday bag. We recommend it highly for both male and female travelers, as it's neutral enough to be unisex. We also recommend travel insurance! Our recommendation is at the bottom of the post.
More Greece Travel Resources
Headed to Greece? We have some great travel resources to help you with your trip.
First read our guide to planning a trip to Greece, which covers visas, budgets, vaccines, and much more.
Next, you'll want to read our all-season Greece packing list.
If you are still trying to figure out your Greece itinerary, check out our guides on where to go in Greece, the best places for island hopping in Greece, and when is the best time to visit.
If you'll be spending time in Athens, check out our Athens Instagram guide, the best Athens day trips, and our complete Athens hotel guide. We also have Athens safety tips so your trip can be hassle-free. We are currently working on our mega-post of things to do in Athens as well as our itineraries, so stay tuned!
We publish new content about the Balkans almost every day! For more information about traveling to Greece and the Balkans, bookmark our Greece and Balkan travel pages so you can find out what's new before your trip.
Don't Forget Your Travel Insurance
Finally, make sure you always travel to Greece or anywhere in Europe with a valid travel insurance policy. Greece is a very safe place to travel, but accidents and theft can easily ruin your trip if you don't have travel insurance coverage to recover the losses. Recently my aunt fell on a train in France and needed surgery, but luckily her travel insurance covered the costs in full. Thank goodness! For travel insurance, I use World Nomads. I've been a happy customer of theirs for almost three years, and I've never had an issue when making a claim. I'm happy to refer them to anyone I meet.
Get a travel insurance quote for your trip here.
Pin This For Your Honeymoon in Greece
Stephanie has been living in and traveling around the Balkans for the past three years. She's written for National Geographic Online, appeared on CNN Arabic and in the New York Times, and ridden more Balkan buses than is good for a person.