This post may contain affiliate links. This means that if you click a link, we may make a small commission off any subsequent purchase, at no extra cost to you. For more information, please check our privacy policy.
The island of Crete is a magnificent treasure that guards hundreds of traditions and rituals you cannot easily find anywhere else in Greece. One of these secrets is the local food.
You may be wondering what to eat in Crete. Well, the Cretan diet is a wonderful array of tastes and colors made of very healthy dishes that conquer everyone visiting the island. Cretan dishes are, indeed, one of the key elements you're bound to always remember whenever you look back at your holidays on the island.
Whether you dine in a modern or high-end restaurant in Chania or a lost taverna in the middle of the mountains, there's one characteristic that makes them all stand out, the complete adherence to the following main principles of the Cretan cuisine.
Can't read now? Pin for later!
Where to Stay in Crete
The island of Crete is so big and diverse that it's almost impossible to make everyone happy when It comes to deciding on the best areas to stay on the island.
Since you will most probably be arriving at the capital, Heraklion, or spending some time in the wonderful western town of Chania, we have included here some of the top accommodations in both places. For more places to stay in Crete, check this site.
Here are our top suggestions for where to stay in Crete. In most cases, budget means hotel stays for around $40 a night, mid-range is from about $50-80 per night, and luxury will cost over $100 per night.
Budget: When it comes to Heraklion with a limited budget, check the great comfort of So Young Hostel. For Chania town, instead, we suggest Casa Latina, in the old town.
Mid-range: With a more generous budget, discover the comfortable Lato Annex Boutique Rooms in Heraklion and El Greco Hotel in Chania.
Luxury: Want to splurge in Crete? We recommend a stay at the magnificent Artion City Boutique Hotel in Heraklion and Consolato Boutique in Chania.
Read Next: Top 10 Mistakes to Avoid when Driving on Crete
Basic principles of the Cretan Diet
If you want to eat like a local in Crete, here's what you need to keep in mind.
Olive oil rigorously extra virgin
Blessed with more than 2 million olive trees scattered around the whole territory, Crete remains one of the world's first producers of top-quality extra virgin olive oil. These trees not only cover the local needs of oil but much of it is exported worldwide.
Besides, Cretans are the top consumers of extra virgin olive oil in the world with more than 20 liters per person consumed yearly on the island, a huge number if compared with the 5 liters consumed yearly per person in other European countries, or the 1.7 liters used per year in a huge country such as Australia.
Olive oil is the main fat used in Cretan cuisine. It's used to prepare salads and to season any dish you can think of, but it's also added to bakery products and basic doughs used to cook pies, cookies, and even cakes.
Cretan Extra virgin olive oil is not only a magnificent superfood, but it is also a source of healthy fats that contribute to the control of food-related diseases such as diabetes or cholesterol. Moreover, olive oil is responsible for the unique freshness and taste that characterizes every Cretan dish.
Cretan olive oil is mainly produced from two different olive varieties, koroneiki and tsounato, known for being super resistant to the dry and hot weather of the long Cretan summers. Want to learn more about Cretan olive oil? Check this olive oil tasting and tour!
Read Next: Chania or Heraklion: Which City in Crete is Right for You?
Fresh herbs
Herbs grow abundantly in every region of Crete. Locals usually hike the mountains to gather fresh mint, oregano, dill, thyme, sage, or rosemary which never miss in any preparation.
They are key to introducing a note of freshness and flavor to Cretan dishes, either in salads or vegetarian preparations, but also as the main condiment for meats, fish, and sauces.
Fresh herbs are also chopped and added in big quantities to vegetable pies. The famous Greek spinach pie, locally known as spanakopita, for instance, usually has a completely different taste on Crete than what you may have tried on other Greek islands.
Seasonal ingredients
Every ingredient used on the island to prepare your meal is seasonal. Cretan cuisine has a well-known reputation for its dishes full of genuine flavors.
The secret to these is achieved by using strictly what the earth gives at any given moment of the year.
For example, you cannot beat the taste of courgettes and tomatoes in summer, and that's the only moment when you're bound to find them at the table, and the same applies to fruit.
While the best watermelons and plums are a favorite dessert during summer, oranges and tangerines will be the fruit of choice during colder months.
Quality wine
We have already discussed in our guide to Cretan wine the importance that grapes have always had on the island, even since the Bronze Age.
Crete has been continuously producing wine since the Minoan times and it is home to a fantastic vineyard with over 12 different native varieties.
But not everything is about Cretan wonderful wineries, home-made wine is another tradition pretty much preserved on Crete, so even in a small, modest tavern in a lost village, you will probably find great local wines you've never tried before.
Abundant greens
There are over 20 wild greens that grow only on the island of Crete. These have made it to the local collection of dishes that are characteristic of the Cretan diets.
Greens which are often disregarded and even considered as a worthless weed in other Mediterranean countries are central to Cretan cooking and can sometimes be served as a side dish of greens to go with your meat of choice.
The fantastic variety of wild greens used in the Cretan cuisine is a source of vitamins and taste that are of primary importance when putting the Cretan diet among the healthiest diets in the world.
Read Next: Where to Stay in Chania: 13 Accommodations & Hotels We Love!
Simple cooking methods

Less is more when it comes to Cretan cuisine. Simplicity is key when it comes to preferred cooking methods.
An abundant dose of extra virgin olive oil, a bunch of fresh wild herbs, some lemon juice, and some sea salt are the four key elements that are going to enhance the original flavor of the main ingredients without masking or hiding its taste and freshness
When visiting Crete, forget everything about Greek salad, gyros, or souvlaki, and instead, try some unique traditional dishes.
The following five dishes are some of the best and most authentic plates you can find on Crete. Try them all and then tell us what you think about them!
Xortopites
Green pies are one of Crete's staples when it comes to the use of wild greens in Cretan cuisine, either in the form of Kalitsounia, small fried pies with greens and sometimes cheese inside, or shaped as bigger pies, winter and spring are the best moments to try greens in pastry due to the abundance of greens in this period.
The quantity of green pies is endless, and they vary from east to west and from region to region. Their taste is always unique since the greens are often combined with a wide variety of aromatic herbs that donate a unique fragrance and distinct flavor to each Cretan pie.
The most common pastry used to prepare them is phyllo dough, which is made with an outstanding ancient technique and abundant olive oil. Extra virgin olive oil also adds to the final taste and healthy characteristics of every pie.
Snails
Snails are a Cretan specialty and there are over 40 different known ways in which the Cretans prepare one of their favorite dishes! Combining snails with vegetables, herbs, and xondros (ground wheat) gives excellent results and some of the best-known recipes.
Snails are a typical dish in every Cretan region and have been eaten on the island since the Minoan times. Snails have also been one of the main ingredients in times of foreign occupations, when, together with wild greens, they were the only available food for the poor.
Both ingredients were abundant and free so housewives all over Crete used their imagination to combine them in original and delicious dishes.
Nowadays, snails fried in olive oil or "Kochli boubouritsi" is one of the most popular ways of serving snails and are a great meze (small Greek dishes) component on any Cretan table.
Read Next: 7 Best Beaches in Crete: Picking the Perfect Cretan Beaches for Your Vacation
Goat or lamb in kokkini (red) sauce
I've often encountered tourists on my food tour that usually ask me "Where can I try the best fish on the island?"
It's a common belief that since Crete is an island, the most common food you're supposed to try is fish. I hate to disappoint you, but although we do have fish dishes and we eat fish, Crete's main source of meat is in the mountains and not at sea.
Out top meats are lamb or goat cooked in several different ways. egg-lemon sauce, fried in olive oil, in white wine, or with vegetables are very popular ways to find meat on Crete. Also on the spit or cooked in a delicious tomato sauce with onions and peppers.
Goat or Lamb in red sauce, as locals call it, is a typical dish to be found during the colder months, often the stew includes small whole onions that add a unique sweetness to the dish. A very tasty variation of the dish can include artichokes, beans, or okra too.
Dakos
One of the best-known Cretan appetizers is the dako, in many places also called koukouvaia. The very simple preparation is typical during the hotter months, as it is a dish that requires very little preparation and no cooking.
The Cretan dako consists of a base of Cretan rusks, locally known as paximadia, which is a hard bread that undergoes a double baking process to last for long times.
This hard bread is hydrated with an abundant quantity of olive oil that won't only provide taste but that will also make the bread softer and easier to eat.
On top, a generous quantity of fresh chopped tomato, more olive oil, oregano, and a good spoonful of sour goat cheese (either myzithra or xynomyzithra, but also pichtogalo cheese, or even crumbled feta cheese can do).
Read Next: How to Visit the Heraklion Christmas Market this Christmastime
Spoon sweets
When it comes to desserts, Cretans have a really sweet tooth. You won't easily find rich chocolate cakes. Instead, the extreme sweetness is reached using abundant local thick and fragrant thyme honey, different nuts, and a spread use of cinnamon.
In summer, though, a very common dessert on any Cretan table is a simple cot with yogurt combined with a different variety of sweet spoons made with local fruit during winter and preserved like a treasure in every Cretan home.
Sweet spoons can be made with almost any ingredient, on Crete you will easily find citrus, fig, or grape spoon sweets, but also carrot spoon sweet and even walnut spoon sweet.
The basic key to making these fantastic colorful jars is to clean and cut the fruit of choice in small pieces, make it boil for hours in a homemade syrup of water, sugar, cinnamon, and vanilla, make it cool and preserve it in sterile jars to condiment a dish of thick Greek yogurt and easily create a dessert out of nowhere.
Key Things to Pack on Your Trip to Crete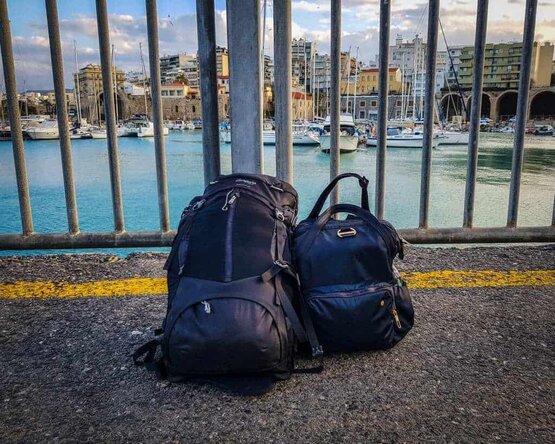 If you're planning a trip to Greece, you'll want to pack all the normal essentials, but here are a few things we strongly recommend bringing that may not have crossed your mind. For more packing tips, check out our complete Essential Crete Packing List: What to Wear & Pack for Crete
– A physical guidebook, on paper or Kindle. We love Lonely Planet Greece for this region and strongly recommend it to supplement blogs. Blogs are great, but a combination of a blog and a guidebook is key to having the best access to information easily at your fingertips.
– A water bottle with a filter. While often, the tap water in Greece is drinkable, there are places where it isn't, including some popular tourist destinations like Santorini.
We generally recommend using a water bottle with a purifying filter to reduce your plastic consumption and ensure you won't drink any funny-tasting water on your stomach that could make your trip unpleasant!
We recommend the GRAYL water bottle – it filters water perfectly in an instant so that you can even drink from lakes, bad taps, etc.
– Motion sickness pills. Many Greek roads are winding, especially around the coast. Not to mention how choppy the ferries can be if you're not lucky with the weather! If you have a weak stomach as we do, save yourself and bring some non-drowsy motion sickness pills.
– Wet wipes, hand sanitizer, TP & other Balkan transit needs. Bathrooms in Greece aren't always well-stocked. Save yourself the disappointment and bring a mini-rescue pack of wet wipes & hand sanitizer.
– Travel safety items. We think Greece is very safe to travel to, but at the same time, it never hurts to be prepared! Some people like to carry money belts, but neither Stephanie nor I use these. Instead, we both carry the same PacSafe anti-theft backpack.
It has locking zippers, slash-proof construction with metal mesh hidden in the fabric, and tons of other smart security features — all while being cute and stylish enough to be our everyday bag. We recommend it highly for both male and female travelers, as it's neutral enough to be unisex. We also strongly recommend travel insurance! Our recommendation is at the bottom of the post.
Crete Travel Resources
Most people who come to Rethymnon also explore other parts of this beautiful island. Here are additional Crete travel resources to help you with your trip.
We have some great travel resources to help you with your trip. First read our guide to planning a trip to Greece, which covers visas, budgets, vaccines, and much more. We also have a Balkan currency guide that explains how money works in Greece and local tipping customs.
Since you'll be in Rethymnon, check out our Instagram guide to Rethymnon next, our guide to things to do in Rethymnon, and the best Rethymnon hotels.
We also have Chania, Heraklion, and Rethymnon itineraries.
If you're still trying to work out where to go on the island, check out our guide to the best places to visit in Crete and our favorite Crete beaches.
If this will be one of your first trips to the Greek islands, check out our massive Greek Island hopping guide as well as our recommendations for where to go in Greece and when is the best time to visit.
We publish new content about the Balkans almost every day! For more information about traveling to Greece and the Balkans, bookmark our Greece and Balkan travel pages so you can find out what's new before your trip.
Don't Travel to Crete without Travel Insurance
Finally, make sure you always travel to Crete with a valid travel insurance policy. While Rethymnon is a very safe place to travel, you want to make sure you have your possessions covered if they're stolen and your medical bills covered if you get sick or injured.
For travel insurance, I use World Nomads. I've been a happy customer of theirs for almost three years, and I've never had an issue when making a claim. I'm happy to refer them to anyone I meet.
Get a travel insurance quote for your trip here.
Pin this Guide to What to Eat in Crete for Your Trip!
Gabi Ancarola is a translator and travel journalist living in Crete. She regularly writes about the island for several magazines about travel, gastronomy, and hospitality. She has published several travel guides about Greece and runs a local gastronomy tour in Chania. She loves cooking local dishes, taking photos, and driving on the mountain roads of Crete.