This post may contain affiliate links. This means that if you click a link, we may make a small commission off any subsequent purchase, at no extra cost to you. For more information, please check our privacy policy.
The Danube itself is a majestic river. Over the millennia, it divided the empires and regions, and today, it is a waterway that connects peoples and has enormous tourist potential.
It passes through 10 European countries; a fascinating fact is that four European capitals, one of which is Belgrade, are located on the riversides of the Danube.
I will not sound biased to say that the most exciting journey along this river is through Serbia, where the Danube is navigable all along its course (almost 600 kilometers or 370 miles). Up to Belgrade, the river lazily wades through the plain areas, and from the capital of Serbia, it passes through beautiful hilly landscapes.
This river has always fascinated people. Many of the earliest European cultures and settlements, such as the Vinča or Starčevo, originated on the banks of the Danube.
During the various periods of rule on the Balkan peninsula, the Danube was used as a critical navigable route, but also for military purposes. On its shores, various fortifications have arisen, and one of them that attracts a lot of attention is the Golubac Fortress: which, incidentally, is a perfect day trip from Belgrade.
A Brief History of Golubac Fortress
Considering that this stone building was a military stronghold, it is no surprise that the Golubac Fortress has an extremely strategic position. Right near the small town of Golubac, the Danube is quite wide, which means that the visibility from the fort was excellent.
This area is symbolically called the Iron Gate, the longest and the trickiest gorge in Europe. It represents a natural entrance to the Djerdap National Park. In front of the fort was a civilian settlement, as evidenced today by only some partially investigated buildings.
There is no closer information as to who and when built the Golubac Fortress. This part of Serbia was under the Hungarians during the 14th century. It is one of the assumptions that this structure was the heritage of their rule.
However, ownership of the Golubac Fort has changed over the centuries, depending on who won the battles. The final dominance of the Serbs over this fortification occurred in the mid-19th century when the current authorities advocated the return of this fortress to Serbia.
Underestimating the Tourist Potential of Golubac Fortress
Golubac Fortress is just another addition to Serbia's already rich tourist offerings. Still, until a couple of years ago, that wasn't the case. The state seems to have neglected Golubac Fortress, apparently underestimating its tourist potential.
When the situation on the Balkan peninsula calmed down at the beginning of the 20th century, Serbian people initiated the demilitarization of Golubac Fortress. For a long time, it was neglected. But Serbian authorities comprehended the significance of the fortress and declared it a monument of culture of exceptional importance… and that was about it.
At first, tourists didn't pay much attention to the Golubac Fortress, although you couldn't miss it if you were passing through this area. Through one of the gates of the fortress, the path of the Danube motorway was created.
In the early 2000s, what is now a monumental building was a mockery. The walls have resisted the test of time, but not human culture. This monument of culture of exceptional importance was covered in trash and overgrown with weeds. Still, it is fascinating that Golubac fortress, even in such poor condition, attracted enthusiasts to visit it.
The 21st Century Brought New Life to this Area
Until the 2010s, it was only possible (and safe) to do sightseeing from the outside without entering the fort. Fortunately, various funds succeeded in collecting the money for the reconstruction of the Golubac fortress. It was about time for this monument to restore its old splendor.
But the reconstruction of Golubac Fortress lasted much, much longer than it was planned. Maybe the 'culprit' for these deadlocks was archaeological research. Experts conducted them in parallel with the reconstruction process.
Deadlines were continually missed, and with that, the opening of the fort for visitors. It all ended just last year (April of 2019) when Golubac Fortress was officially open for tourists. Locals could hardly wait for this to happen – could you just imagine all that potential (and profit) wasted over all those years?
After reconstruction, people in charge of this complex decided to make a walkway with accompanying structures in a rather large area around the fortress. They built a pier, allowing tourists to access the fortress from the Danube river as well.
The motorway that passed through the fort was relocated. When this road was made, maybe five decades ago, it significantly contributed to the destruction of the Golubac Fortress. That has been solved now. Also, the walls have been renovated, and the safety of visitors is now at the highest level.
The Excitement of the Golubac Fortress
The locals call this fortress the jewel of the Danube. When you first see it in person, you will understand why. At first sight, this monument seems much smaller than it really is. But once you enter it, you'll be stunned by its size and unique structure.
The first thing that will catch your eye when you come to this place is the view of the Danube River and the landscape around it. You will undoubtedly want to spend some time enjoying the nature that surrounds this fort. No matter you come individually or with an organized tour, you should dedicate the part of your visit to an 'outside' tour of the fort.
The first builder of the Golubac Fortress designed a fort with nine towers located in the front, back, and upper parts of the fortification. Five towers belong to the first, oldest phase of the fort's construction, while the other four were added later. The Turks also added one more tower, and at the same time, strengthened the entire fortification with openings for cannons.
All the towers are in the shape of a quadrangle except the donjon (Tower No. 1), which represents the safest and most reliable place in the fort. I assume it was the last line of defense in case of attack. This tower has a polygonal base, and the upper part is cylindrical, which is why it is called 'Hat Tower.'
After reconstruction, and as part of increased security, Golubac Fortress was divided into four zones. Before you enter the fortress, you'll get the instructions on where, when, and how to tour this sight. There is a section for children and the elderly, and there are paths where you shouldn't step without a guide.
Know Which Zone of Golubac Fortress to Visit
The Green Zone is accessible to all categories of tourists and includes three towers (out of 9) and the palace. That is an ideal place to get acquainted with the medieval culture of the area, and kids will be delighted with the permanent display of the Knights Exhibition. The green zone is the only part of the fort that allows individual visits. For entering all other zones, you need a guide.
In the Blue, Red, and Black zones, minors are not allowed to enter. Touring of these parts of the fort is not recommended for people who are not in good physical shape. In the Red and Black zones, the trails are pretty steep – if you're not in athletic wear and sneakers, don't even think about climbing there.
In these areas, after reconstruction, builders installed bridges and crossings to make certain parts of the fortress accessible. But these constructions are not supposed to withstand a lot of weight. Therefore, a maximum of 5 people (plus guide) can enter these zones at the same time.
So be extremely careful when taking photos from these places in the Golubac Fortress; don't fool around looking for the best light and angle for your Instagram photos. The view itself is phenomenal; there is no need for photo sessions that can be dangerous, especially from that height.
If you have a heart problem, nothing but a Green Zone is suggested. Climbing towers in Red and Black, even in the Blue Zone, requires a high level of physical stamina. And you certainly shouldn't test the limits of your body just to get an attractive Instagram photo! You can be satisfied with the Green Zone and the canteen located within the fort. Coffee with the view of the Danube and fortress is a photogenic scene as well.
How to Get to Golubac Fortress from Belgrade
Serbia is not a large country in terms of its size. From the capital city, Belgrade, wherever you go, you reach the border in a maximum of 3 hours. Golubac town is located in the east of Serbia, on the border with Romania.
The main road, known as the Danube Motorway, leads there. The distance from Belgrade to Golubac Fortress is about 130 kilometers (about 80 miles) by land, and about 200 kilometers (125 miles) if you plan to get to the Golubac by the river, which is my sincere recommendation.
Bus Tours
If you choose to visit the Golubac Fortress by bus, get ready for a two-hour long journey if you take one of the direct bus lines. However, if you decide to take organized tours, which include a visit to some other sights by the way, such as Smederevska Fortress and Viminacium, the trip will be prolonged significantly.
But it's worth every second, and frankly, it's not that painful. If you find a trustworthy agency like this recommended company, you'll ride in high-end and quite comfortable buses with a live tour guide. And if you take a great crowd with you, the journey goes on in the blink of an eye.
A top-rated bus tour brings together visits to medieval buildings and remains of Roman rule. For less than $100 USD, you get a full-day historical tour and the opportunity to enjoy the beautiful nature that surrounds Golubac Fortress.
It's your unique chance to visit the nearby locality of Lepenski Vir, which is the oldest urban settlement in Europe. This landmark takes place in the heart of Djerdap National Park, surrounded by untouched, state-protected nature.
In general, the whole area around Golubac is quite rich in viewpoints, which offer a magnificent view of the Fortress, Danube River, and Romanian mountains. Here are the opportunities for amazing landscape photos, Instagram fans!
Boat and Cruise Tours to Golubac
Those who have had the opportunity to cruise the Danube say that its beauty cannot be described, but it can be experienced. Note that unlike bus tours, boat trips do not have additional stops. From Belgrade, you go straight to Golubac Fortress. The marina in Golubac was reconstructed during the restoration of the Fortress. Now it's capable of accommodating speedboats, boats, and river cruisers.
If you are coming by boat, you will have the opportunity to see the Golubac Fortress from a different perspective. Only when one looks at it from the river does one notice its imposingness. You will sail through the areas where the Danube is widest in its entire length. Near the Fortress, this river is about 7 kilometers wide. For a moment, you will lose the feeling of being on the river and feel as if you are at sea.
Some boat tours, in addition to Golubac Fortress, also go deeper into the Iron Gate gorge. In this place, the Danube is the most beautiful, given the wild beauty that surrounds it throughout the entire Djerdap National Park.
Besides the fortification near the Golubac, if you come by boat or cruiser, it is possible to see the ruins of the Roman Castel, Trajan's Plaque, and the Stone Statue of Decebal Rex. Interestingly, Trajan's
Plaque can only be seen from the river. So if you are interested in Roman culture and archaeological sites, this boat tour is your cup of tea – book it today!
When You're Already There, Don't Miss…
… Local fish specialties. After visiting the Golubac Fort, you will likely be hungry. Still, it is not easy to go around all those towers and check every steep path. And what could be better for regaining the strength than home-made fish soup, barbecue, and red wine?
In one of the fish restaurants on the renovated promenade along Danube River, you can take one last glance at the Fortress at dusk, soak up every dawn of the sun, and remember every detail of this unique excursion to Golubac from Belgrade.
What to Pack for Serbia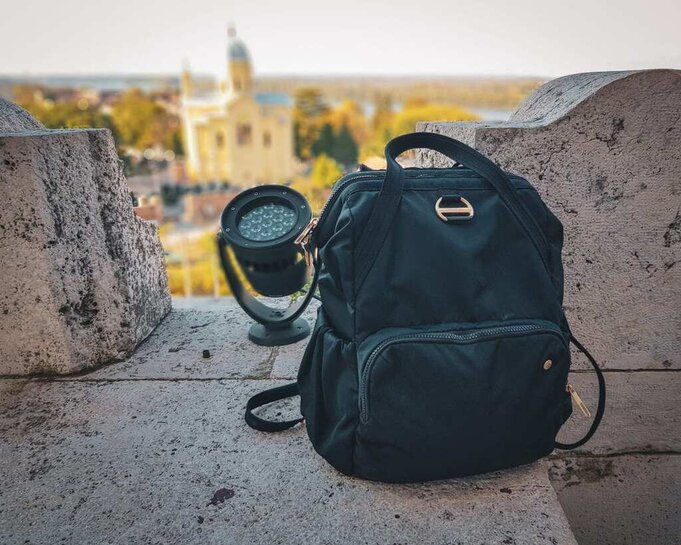 We have a full Serbia packing list, but in case you just want the quick version, here are a few essentials you shouldn't forget to pack!
A good guidebook: While travel blogs are great, we still think a good guidebook is always handy. Lonely Planet Western Balkans is the main guidebook we recommend for Serbia, as it covers the country well plus others in the region.
Pacsafe Citysafe or Other Anti-Theft Bag: This is the bag both Stephanie and I use. It has a pouch with RFID technology so our credit cards can't get scanned from afar, interlocking zippers to make it harder to pickpocket, and it's roomy enough to be a perfect sightseeing day bag. If you'd rather bring something smaller, you can pack a money belt instead.
We feel quite safe in Belgrade, which is not overly touristic and full of pickpockets, but we wear it and suggest it all the same.
Unlocked Cell Phone: Stephanie and I both have unlocked cell phones that we bought in Europe (She uses a Samsung and I use an iPhone). This allows up to get sim cards when we travel so that we always have the internet. We wrote a guide to picking up SIM cards in Serbia, as it's really quite simple!
Being able to pick up a Serbian SIM card is a great way to stay in touch while on the road. If you don't have an unlocked cell phone that can use a Serbian SIM card, you can buy a cheaper unlocked phone online and bring it with you!
Travel Insurance: We recommend it for everywhere we go! We suggest World Nomads and go into more detail about why at the end of the post.
More Serbia Travel Resources
If this is your first trip to Serbia, check out our guide to planning a trip to Serbia and Serbia travel advice.
Since you're likely visiting Belgrade, check out our resources! We have this mega-guide to 101 things to do in Belgrade, the most Instagrammable spots in Belgrade, what to do in Belgrade in winter, and the best Belgrade street art. We also have a Serbian souvenir guide and Serbian wine guide if you want to do some shopping.
Headed to nearby Novi Sad? Start with our guide to the best things to do in Novi Sad and our 2-day Novi Sad itinerary. We also have a guide of the best Instagram spots in Novi Sad as well as what to do in Novi Sad in winter and how to visit the Novi Sad Christmas Market.
If you love guided tours, here are eleven great Belgrade tours to pick from. If you want to get out of the city for a day, here are our guide to Belgrade day trips and what you should know before renting a car in Serbia. We also have lists of our favorite places to visit in Serbia and the best Serbian towns and cities if you need more day trip inspiration.
We have tons more Serbia and Balkans resources, and we publish new content nearly daily. Bookmark our Serbia and Balkans travel pages so you can find any new resources that come out before your trip!
Don't Forget About Travel Insurance!
If you're planning a trip to Serbia, it's a good idea to travel with a valid travel insurance policy, so that you will be covered in case of an emergency. Travel insurance covers you in case of theft or an accident, which can save your trip if there's an incident, or cancellation or trip interruption.
For travel insurance, I use World Nomads. I've been a happy customer of theirs for almost three years, and I've never had an issue when making a claim. I'm happy to refer them to anyone I meet.
>>Get a travel insurance quote for your trip here.<<
Pin This Guide to Visiting Golubac Fortress!
A full-time mom and part-time freelance writer from Serbia, passionate about traveling and learning about new cultures, customs, and all the beautiful destinations that the third rock from the Sun offers. By doing what she loved, she gained valuable working experience and was able to keep her travel memories in written form.