This post may contain affiliate links. This means that if you click a link, we may make a small commission off any subsequent purchase, at no extra cost to you. For more information, please check our privacy policy.
Although Novi Sad and Belgrade usually get the most attention from domestic and international travelers to Serbia, the city of Subotica has its own singular identity and charm that makes it just as exciting. Subotica, the northernmost city in Serbia, only 10 kilometers away from the Hungarian border, contains a wealth of fascinating places suitable for fans of nature, architecture, history, and great food. Here are eleven awesome things to do in Subotica.
Can't read now? Pin for later!

The Best Things to Do in Subotica
Here are the best Subotica activities for your trip.
Subotica City Hall

Subotica downtown is filled with incredible sights, all within walking distance from one another. At the very center of the city is the grandiose art nouveau City Hall, the symbol of Subotica.
Built between 1908 and 1910, it was designed by renowned Budapest architects, Marcell Komor and Deszö Jakab, in Art Nouveau style, and enriched with a romantic nuance of the Hungarian folklore, with floral elements made of ceramics and wrought ironwork forging.
A guided tour of the building starts at noon (Tuesdays – Fridays) for 150 dinars (around 1.3 Euro), and the Grand Hall, decorated with sixteen stained-glass windows, famous Zsolnay ceramics, and elaborate décor, is an absolute must.
You can also climb the 45-meter high observatory, which provides an unforgettable view of the whole city and its outskirts for only 300 dinars (around 2.5 Euros). Today, the City Hall is used for Assembly sessions, concerts, important gatherings, and weddings. So, if you're so inclined, you could do worse than exchange your wows here.
National Theatre in Subotica

Just across the street from the City Hall is the National Theatre in Subotica. The original building of the theater was built in 1854 as the first monumental public building in Subotica, and it's the second oldest theater building in Serbia.
Unfortunately, despite widespread protests, it was razed in 2007 with the purpose of reconstruction by the city authorities, due to its poor condition and the dilapidated main stage. The reconstruction of the interior continues to this day, but the exterior, accentuated by six Corinthian pillars and a simple classicist tympanum, is now back to its old glory.
Currently, two stages operate inside the theatre: Jadran Cinema Scene (which allows for 266 theatergoers) and Soltis Studio (60 theatergoers). Every year, four new dramas premiere at the theatre, some in Serbian and some in Hungarian, and the tickets are available for 350 dinars (around 3 Euros).
Once you've seen the Theatre, walk down the city center's main pedestrian street, popularly known as Korzo, where you can enjoy monumental buildings and palaces, built in Renaissance Revival, Classical, Eclecticism, Secession, and Modern architectural styles.
Boss Caffé
After all that walking, you've earned a well-deserved break. Only a 7-minute stroll from the National Theatre in Subotica is Boss Caffé, the most popular place for locals to hang out, enjoy sipping coffee, Serbian wine, or eat one of the many distinctive Serbian food delicacies.
Opened in 1986, it has gradually grown from a basement to include a covered glass terrace, and then extended to the opposite side of the street.
Today, Boss Caffé is a must-visit for both locals and tourists. For seafood aficionados, I particularly recommend grilled sea bream or grilled squid with vegetables.
Meat lovers should try chicken goujons fingers with tartar sauce, beefsteak with pepper sauce, or turkey with homemade pastry.
As far as sides are concerned, you can't go wrong with grilled mushrooms or spicy potato wedges.
And to top it all off, healthy cake or pistachio and raspberry cake make for a perfect dessert – yummy!
Raichle Palace

Take a 3-minute walk from Boss Caffe to find the marvelous Raichle Palace, a true trademark of Subotica.
Built in 1904 by the architect Ferenc Raichle, it's an exceptional example of the Art Nouveau architecture style, with its unusual combination of colors, the vibrancy of forms, rich details, masterful decorations, and a variety of materials used for the lavish interior.
The giant vault is decorated with Zsolnay ceramics, while the lower part wavy line of the fence is holding metal gates decorated with heart ornaments, exuding a feeling of perfect harmony.
Currently, the building hosts a modern art gallery Likovni Susret, which contains a wealth of artworks of the most influential former Yugoslavian artists from the 20th century.
It's open to visitors every business day from 8 am to 7 pm and every Saturday from 9 am to 1 pm, and the entrance fee is just 100 dinars (less than 1 Euro).
Subotica Synagogue

Next, walk 10 minutes to another stunning example of the Art Nouveau architecture style that perfectly complements Raichle Palace, the Subotica Synagogue.
Built in 1901-1902 based on the plans of Komor and Jakab (the same architects responsible for the City Hall), it's the second-largest synagogue in Europe. It was designated a Monument of Culture of Exceptional Importance in 1990 and protected by the Republic of Serbia.
Fully renovated in a multi-million renovation project financed by Hungarian and Serbian governments, the synagogue was opened to the public in March 2018 and is now visited by more than 10,000 tourists each year.
The building's dominant architectural feature is the central dome supported by eight steel columns, while the interior dome is constructed of light concrete and built-in an unusual shell-construction technique, while the building's roof is covered with elaborate Zsolnay-glazed roof tiles.
It's open to visitors every day (except Monday) from 10 am to 6 pm and weekends from 10 am to 2 pm. The outside garden visit is free, and the visit to the interior costs 250 dinars (a little over 2 Euros).
Every May, the synagogue is included in the Long Night of the Museums, a very popular event during which Subotica museums are free to all visitors for one night.
St. Theresa of Avila Cathedral
One more stop on the tour of historical buildings of Subotica must include Saint Theresa of Avila Cathedral, which is a short 8-minute walk from the synagogue. This Roman Catholic cathedral and minor basilica, built between 1773 and 1779 and renovated several times since then, is known to the locals as "The Big Church."
Built-in the baroque style with two big towers and minimal decorations at windows and pilasters, it's devoted to Saint Teresa of Avila, one of the key figures of Catholic reformation, whose face was put on the stamp and coat of arms of Subotica. Its visiting hours are daily from 6:30 am to noon and 5:30 pm to 8:40 pm.
Subotica Flea Market
If you're worn out from Subotica's architectural marvels, perhaps you could go for a change of pace and visit Subotica Flea Market, popularly known to the locals as "Buvljak."
This so-called alternative department store is famous for plenty of character and a wide variety of diverse offerings of everything from clothes to furniture to fresh fruit and vegetables from local growers.
The best part is – prices are very cheap, and most of the sellers are willing to bargain with you. What's more, many of the products are imported from Hungary and sold for much less than in the department stores.
Even if you don't feel like shopping, visiting this massive flea market is an experience in and of itself, and part of the fun is observing all the sellers, buyers, and browsers, as well as the chaotic energy, particularly during the Sunday morning rush.
Spend Time on Lake Palić
Let's start with the largest natural lake in Serbia, Lake Palić, which is just eight kilometers away from downtown Subotica and near the town of Palić. The lake is accessible by public transportation if needed.
According to the local legend, Lake Palić was created when shepherd Pavle lost his lamb with the golden fleece and cried so much that his tears flooded the pasture, causing the saltiness of the water. But the only tears you are likely to shed here is from the sheer beauty of this place.
The lakeshore is seventeen kilometers long and affords stunning views, as well as opportunities for fishing, bird watching, sports, bike riding, sailing, and open-air and covered swimming pools with thermal waters.
In July, Lake Palićhosts the European Film Festival, now in its 27th year, bringing together filmmakers, actors, and critics from all over the continent. The Festival is held out in the open, and it's unique in its mission to promote and celebrate the achievements in European film.
In addition, if you visit in September, you shouldn't miss Berbenski Dani, a festival celebrating wine and grapes from the region. Whew, that's already a lot, but it's not all you could do at LakePalić.
Visit the Palić Zoo
If you're visiting with kids, the nearby Palić Zoo offers a chance to see animals who are free to walk in fenced areas rather than being caged. This zoo, spreading across 15 hectares of land, hosts more than 150 species of animals, including monkeys, zebras, giraffes, lions, elephants, camels, tigers, wolves, polar bears, emus, snakes, reptiles, and tarantulas.
Just as important, the Zoo has an animal shelter with more than 800 animals. And if that's not enough, it also provides access to botanical gardens, ponds, fountains, and many species of trees and shrubs, including the majestic sequoias, popularly known as redwoods.
Palić Zoo is visited by more than 150,000 tourists a year and is open 365 days a year, 9 am to 3 pm. And the best part is: the price of the adult ticket is a mere 250 dinars (a little over 2 Euros), while children under 15 pay only 200 dinars (around 1.7 Euros). That's a deal you won't find in most European zoos, so don't miss visiting this gorgeous place.
Zvonko Bogdan Winery
For wine connoisseurs among you, you can't go wrong with Zvonko Bogdan Winery.
This winery, owned by Zvonimir "Zvonko" Bogdan, a Serbian performer of traditional Balkan folk music, is located less than 3 kilometers away from Palić Zoo in the traditional wine area.
The winery building consists of the production area, a club hall for tourist rounds, and a wine-tasting hall overlooking the Barrique cellar. The winery itself is equipped with high-end technology that produces wines made exclusively from the grapes from these vineyards, and these exquisite wines have won numerous awards in cities like Vienna, London, San Francisco, and Tokyo.
Zvonko Bogdan Winery is open every day from 10 am to 10 pm, except Sundays when it closes at 2 pm. It offers daily tours in English, Serbian, and Hungarian, which include a tour of the winery, as well as tasting of three types of wines for 800 dinars (a little less than 7 Euros), four types of wines for 1200 dinars (around 12 Euros), or if you really want to go all out, six types of wines for 1700 dinars (around 14.50 Euros). So, what are you still waiting for? Get your buzz on!
Read Next: Your Ultimate Guide to Serbian Wine
Gostiona Gurinovic
Finally, end your day at restaurant Gostiona Gurinovic, just outside of Subotica city center, and a 12-minute walk from St. Theresa of Avila Cathedral.
This is the best Subotica restaurant, famous not only for its beautifully prepared traditional foods but also for its warm, cozy atmosphere.
In addition to a variety of wines and rakija (a fruit brandy extremely popular in Serbia), you can try some of their specials, like paprikash, a paprika-based meat stew, or shopska salad, popular throughout the Balkans.
I particularly recommend Karadjordje's steak, a rolled veal or pork steak, stuffed with kajmak (a creamy dairy product), then breaded and fried. I can guarantee you won't regret trying it! The restaurant is open every day, except Sunday, from 10 am to 10 pm.
From magnificent nature, activities for both children and adults, to architectural wonders, and delicious wines and foods, Subotica is a city that truly offers something for everyone. So, plan out your visit and check out this hidden Serbian gem!
More Things to Do in Subotica
If you have more time, here are a few more wonderful things to do in Subotica if you will be in town a little bit longer.
Tour the Orthodox Church of the Ascension of Our Lord

Visit the City Museum
Stop by the Beautiful Chapel of St. Roka
Appreciate the Architecture of the City Library
See a Glimpse of Subotica's Communist Past at the Memorial to the Victim's of Fascism
Finally, if you're visiting in Winter, stop by the Christmas Market
Read Next: How to Visit the Subotica Christmas Market for an Art Nouveau Christmas
Where to stay in Subotica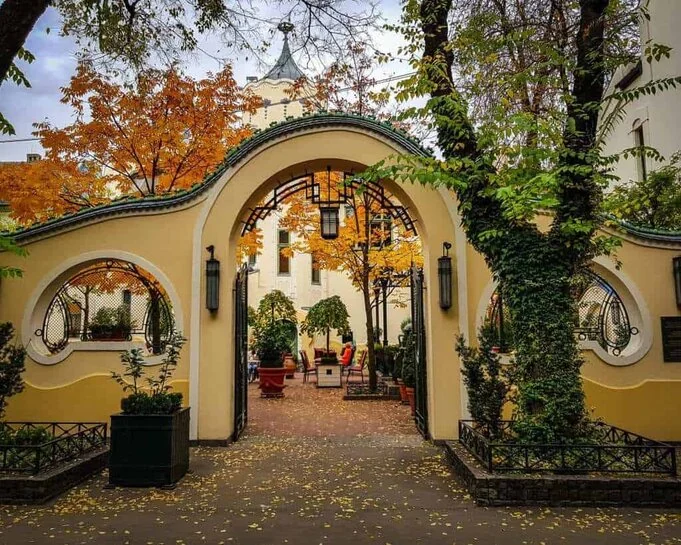 We're in the process of creating comprehensive guides on where to stay in various Serbian cities, but for now, we recommend checking out Booking.com as early as possible since this is a popular time to visit the city.
If you'll also be spending time in other parts of Serbia, here are our recommendations for where to stay in Belgrade and Kopaonik.
What to Pack for Serbia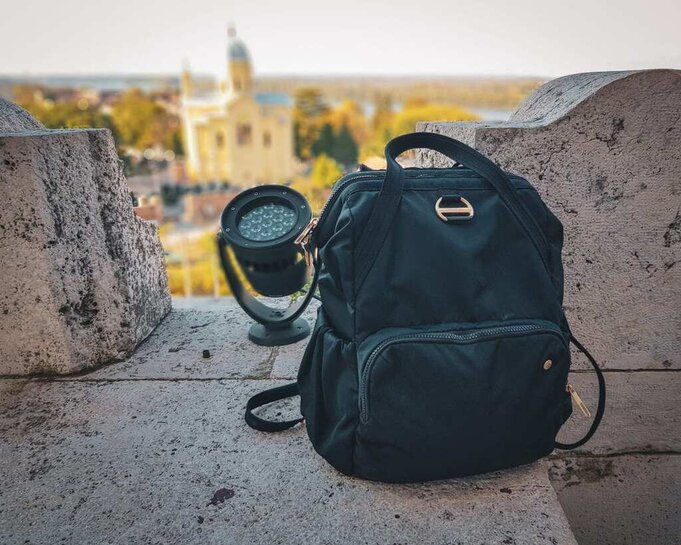 We have a full Serbia packing list, but in case you just want the quick version, here are a few essentials you shouldn't forget to pack!
A good guidebook: While travel blogs are great, we still think a good guidebook is always handy. Lonely Planet Western Balkans is the main guidebook we recommend for Serbia, as it covers the country well plus others in the region.
Pacsafe Citysafe or Other Anti-Theft Bag: This is the bag both Stephanie and I use. It has a pouch with RFID technology so our credit cards can't get scanned from afar, interlocking zippers to make it harder to pickpocket, and it's roomy enough to be a perfect sightseeing day bag. If you'd rather bring something smaller, you can pack a money belt instead.
We feel quite safe in Belgrade, which is not overly touristic and full of pickpockets, but we wear it and suggest it all the same.
Unlocked Cell Phone: Stephanie and I both have unlocked cell phones that we bought in Europe (She uses a Samsung and I use an iPhone). This allows up to get sim cards when we travel so that we always have the internet. We wrote a guide to picking up SIM cards in Serbia, as it's really quite simple!
Being able to pick up a Serbian SIM card is a great way to stay in touch while on the road. If you don't have an unlocked cell phone that can use a Serbian SIM card, you can buy a cheaper unlocked phone online and bring it with you!
Travel Insurance: We recommend it for everywhere we go! We suggest World Nomads and go into more detail about why at the end of the post.
More Serbia Travel Resources
If this is your first trip to Serbia, check out our guide to planning a trip to Serbia and Serbia travel advice.
If you'll be in Subotica in winter, check out our guide to the Subotica Christmas Market.
Headed to nearby Novi Sad? Start with our guide to the best things to do in Novi Sad and our 2-day Novi Sad itinerary. We also have a guide of the best Instagram spots in Novi Sad as well as what to do in Novi Sad in winter and how to visit the Novi Sad Christmas Market.
Most people also allocate some time for Belgrade – where we have tons of resources. We have this mega-guide to 101 things to do in Belgrade, the most Instagrammable spots in Belgrade, what to do in Belgrade in winter, and the best Belgrade street art. We also have a Serbian souvenir guide and Serbian wine guide if you want to do some shopping.
If you love guided tours, here are eleven great Belgrade tours to pick from. If you want to get out of the city for a day, here are our guide to Belgrade day trips and what you should know before renting a car in Serbia. We also have lists of our favorite places to visit in Serbia and the best Serbian towns and cities if you need more day trip inspiration.
We have tons more Serbia and Balkans resources, and we publish new content nearly daily. Bookmark our Serbia and Balkans travel pages so you can find any new resources that come out before your trip!
Don't Forget About Travel Insurance!
If you're planning a trip to Serbia, it's a good idea to travel with a valid travel insurance policy, so that you will be covered in case of an emergency. Travel insurance covers you in case of theft or an accident, which can save your trip if there's an incident, fall (a big winter risk!), or cancellation or trip interruption.
For travel insurance, I use World Nomads. I've been a happy customer of theirs for almost three years, and I've never had an issue when making a claim. I'm happy to refer them to anyone I meet.
>>Get a travel insurance quote for your trip here.<<
Pin this Guide to the Best Things to Do in Subotica for Your Trip!
Ivan was born and raised in Serbia and received his BFA and MFA in Film in New York City. He is a writer, director, editor, and a huge fan of traveling and visiting famous filming locations. He's been obsessed with David Lynch and Twin Peaks since the age of 10.