This post may contain affiliate links. This means that if you click a link, we may make a small commission off any subsequent purchase, at no extra cost to you. For more information, please check our privacy policy.
Winelovers and wine aficionados should make a point to discover different local wineries and labels when visiting the Greek island of Crete.
Local wine production can be considered among one of the most striving industries on the island with an important development of wine tourism as well.
In this article, you'll be able to read about the history of wine on the island, as well as about the different characteristics of Cretan wine in the different regions of Crete.
Can't read now? Pin for later!
Where to Stay in Crete
Staying in Heraklion is probably the best idea when focusing on Cretan wine. Heraklion is the capital of the region (also named Heraklion) with the most important wine production on the island.
We have a complete guide on where to stay in Heraklion here, with suggestions for every budget category and type of traveler, but we've chosen our favorites here for you to peruse when planning your Heraklion itinerary.
Budget: Intra Muros Boutique Hostel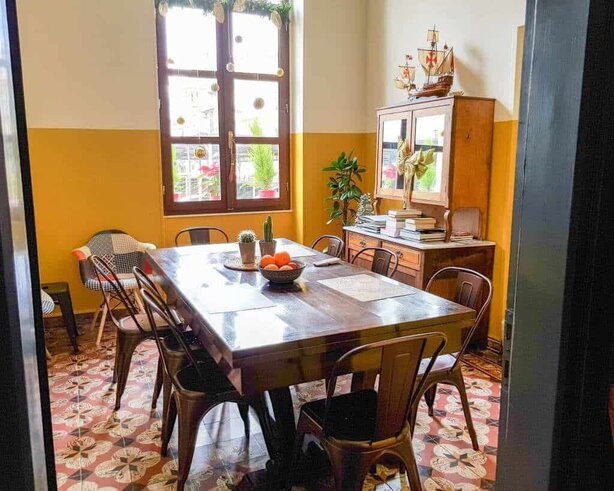 The hotel is named after the Latin phrase that translates as "within the walls," and you'll love how they work to make the space between their walls a home away from home.
Backpackers and group travelers will enjoy this boutique hostel; not only is it strategically located in the heart of the city (and close to most tourist spots) but it also has a nearby bus stop so you can save on transportation expenses. You can also walk to the port if in case you want to ride a ferry and go to other locations and dreamy islands near Crete.
They have dormitories with shared bathrooms available for as low as $13 for a night with bunk beds with privacy curtains. You can choose from a mixed or all-female dorm room.
There's also a shared kitchen equipped with a stove, oven, refrigerator, and utensils. You can cook quick meals here since there is a nearby mini market outside! The service desk is not open 24 hours, but if you inform them of your late arrival then they can arrange someone to meet you at the said time.
>>Check guest reviews, prices, availability, and more photos here.<<
Mid-Range: Infinity City Boutique Hotel
Infinity City Boutique Hotel is a very modern hotel that features contemporary style and comfort. The hotel is a bit narrow due to the building's structure, but it has spacious and soundproof rooms. It has 6 floors and a total of 21 rooms that have their balcony with a view of the amazing blue sea plus a private bathroom with complete amenities.
Each room has flat wooden ceilings and tiled floors to match the contemporary and modern style of the hotel. Guests love how the hotel design balances style and comfort, with a mini-fridge and other in-room amenities. The private bathrooms are a bit small but comfortable, with toiletries included.
You can try their free continental breakfast and have some of their coffee, juice, and some tasty croissants. Of course, for many people, mornings aren't complete without eggs, which they make to order!
>>Check guest reviews, prices, availability, and more photos here.<<
Luxury: Stella Palace Resort and Spa
The pool view of this resort hotel is marvelous – actually, everything about the hotel is! It has its water park, bars, spa, and so many more world-class features to offer its guests. They have rooms, suites, and maisonettes where you can even have your private pool or hot tub.
They have 4 restaurants on-site which means you have many options of what to eat (though every restaurant in Heraklion is delicious as well). Elia serves Greek dishes, Enso offers yummy authentic Asian dishes, La Veranda treats you to an Italian dinner or lunch plus a good selection of wines, and lastly, Poseidon, which offers a huge selection in their buffet. A night of fun won't be complete without checking their different bars where each offers a different ambiance and a different selection of drinks and snacks.
Fitness freaks will love their gym because it has everything you could ever look for when it comes to getting your daily exercise. You might not find some of the treatments they offer at their spa elsewhere, because most of the ingredients they use are locally sourced in Crete. Highly-skilled therapists and massage practitioners will bring you the ultimate relaxation experience here!
>>Check guest reviews, prices, availability, and more photos here.<<
Cretan Wine Guide
Discover everything there is to know about wine on Crete.
Minoan Wine in the Ancient World
Wine history spans way back in time on the Greek island of Crete, dating back to the Minoan period, a time when this advanced civilization not only created impressive palatial complexes but also traded with different other cultures in the Mediterranean.
The Minoans were also engaged in agricultural activities, raising livestock, cultivating cereals, olives, and grapes on the fertile land of Crete. Therefore, both wine and olive oil were the products that made their economy flourish and that brought prosperity to the Minoans.
The wine made in Crete was well known and appreciated in the Mediterranean basin, reaching places such as Egypt, modern Syria, and Turkey.
One of the world's oldest wine-press was found in Crete and it has been proved to be about 3500 years old. Wine also played a key role during the Roman period of Crete, with Cretan wine being exported to other centers of the Roman Empire.
Wines of Crete during the Venetian and Ottoman Times
The Byzantine period was a dark time all over Europe, with wars being fought not just on Crete. It was not until the conquest of Crete by the Venetians (1204 AD) that the wine industry on the island began to flourish once again.
Powerful Venetian merchants dominated the trade of the Mediterranean sea, and it didn't take long for Crete to be once again a leader in the winemaking industry of those times.
By the end of the Venetian rule and before the Ottomans conquered the island, Crete was responsible for the sales of over 60.000 barrels of top-quality wine to the rest of Europe.
Everything came to a sudden end when, in 1669, the Ottoman Empire took possession of the island. Crete was now under Muslim domination, a fact that put a stop to the thriving wine industry on Crete.
Cretan Wine in the 20th Century
The Turkish rule over Crete came to an end in 1898, after 267 years of oppression and continuous battles for freedom. Independence also brought along a desire to grow and to improve ancient cultivation techniques that have not been updated for ages.
Crete became part of the Greek State in 1913, however, Greece's turbulent and continuous wars did not help in the further development of the Cretan wine industry.
The business remained a family affair in which homemade wine was produced as one more of the family traditions and for everyday use. Massive tourism made it to Crete in the early 70s when travelers from different parts of the world discovered the beauty of the island.
To please the foreign palates, Cretan producers introduced foreign grape varieties in the belief that visitors wouldn't have found Cretan grapes up to their standards.
That's how Crete still produces excellent Syrah, Cabernet Sauvignon, Sauvignon Blanc, and other varieties that little have to do with Crete's wine identity.
A New Generation of Cretan Wines
Many of those winemakers from the 70s are the parents of a young generation of winemakers, many of which studied abroad but returned to Crete with new ideas and fresh enthusiasm for their land.
Those who left as wine passionates came back as technicians, viticulturists, enologists, chemists, and -most importantly- they came back winemakers with a renovated passion.
They had understood that Crete's unique soil and climate were a key valuable resource that couldn't go lost. A unique land, a deep winemaking tradition, and a large number of local varieties were a set of unique premises to create amazing wines.
It took very little for the rest of the world to notice what a wonderful wine Renaissance was taking place on the island of Crete.
Cretan Varieties
There are 12 different indigenous varieties of wine grapes on Crete. Among the whites, the most famous are Vidiano, Vilana, Malvasia di Candia, and Dafni, while the reds include varieties such as Liatiko, Kotsifali, and Mandilari.
The special climate of Crete has also created good conditions for international varieties such as Sauvignon Blanc and Chardonnay among the whites, and reds such as Merlot, Cabernet Sauvignon, and Syrah, among others.
Wine Tourism on Crete
It was not going to take long for wine tourism to start booming on an island where there's such a thriving wine panorama and where tourism remains one of the most important sources of economic growth.
Today, there are over 30 wineries open to the public offering wine tasting experiences that can include anything you can imagine. They go from simple cheese degustation and wine pairing to three-course dinners, picnics, vineyard visits, wine and food pairing courses. You can also go for cooking classes in wineries, wedding celebrations in wineries, and some of the most creative wine tours you could imagine.
Wineries and Regions
It would be impossible to mention every winery worth a visit to Crete, and we are aware that it's not fair to mention just a few.
There are island four other PDO appellations (Peza, Dafnes, Archanes, and Sitia), as well as six more regional appellations (Chania, Rethymno, Lasithi, Kissamos, Heraklion, and the island of Crete itself).
We will simply outline the ones you should take the time to visit, and then it's up to you to discover more. And if you do… well, let us know sown in the comments section below!
Wines of Heraklion
Heraklion is the most important wine region of Crete. It is home to a unique microclimate which makes it one of the regions with more wineries to visit.
The best places in Heraklion include the PDO regions of Peza, Dafnes, and Archanes. In the area, we strongly recommend visiting the following places.
Minos Cretan Wines – Miliarakis Winery (Peza village)
Gavalas Crete Wines (Vorias village)
Silva Daskalaki (Siva village)
Paraskevas Winery (Sarchos village)
Stilianou Winery (Kounavai village)
Wines of Rethymnon
Rethymnon plays an important role in the wine panorama of the island as it's the region where Crete's best-known grape, Vidiano, comes from.
These are the wineries you can check in the area.
Klados Winery (Panormos village)
Zoumperakis (Kali Sikia village)
Kurkoulos Winery (Patsos village)
Wines of Chania
Chania is home to the regional appellation of Kissamos. Chania's predominant variety is Romeiko, however, the area also sees the cultivation of both local and international varieties, including Santorini's Assyrtiko, Sirah, and Grenache.
Dourakis Winery (Alikampos village)
Manousakis Winery (Vatolakkos)
Anoskeli Olive Mill and Winery (Anoskeli village)
Karavitakis Winery (Pontikiana village)
Agia Triada Winery (Agia Triada Tzagaroli Monastery, Akrotiri Peninsula)
Wines of Lasithi
Despite being a region with just a handful of wineries, some of the best wines of Crete belong to these two producers.
Moni Toplou Winery (Toplou village)
Domaine Economou (Ziros plateau)
Best Wine Tours on Crete
Here's a list of some of the most interesting tours you can book on Crete if you're curious to learn more about the wines of Crete. Take a look
Wine Pairing and Lunch: check this tour proposing a unique pairing of wine and brunch, a tour of the winery and the vineyards.
Heraklion Cretan Wine Tasting Tour and Gourmet Lunch: in this tour, you can taste 15 different wines from Crete at a private wine tasting and an olive oil tasting in a gourmet restaurant.
Minoan Paths and Wine Experiences: this tour includes a meeting at the Minoan Palace of Knossos, a winery visit in the region of Peza, and a visit to a folklore museum.
Toplou and Vai Palm Beach Day Trip: on this day you will visit the palm tree beach of Vay, visit the Holy Monastery of Toplou for wine tasting, and discover other beaches of East Crete. Check the itinerary here.
Full-Day Herbs, Tea, and Wine Tour: This tour takes place in the region of Chania and includes a visit to an organic herb garden, a breathtaking natural attraction, and a famous winery.
What to Pack for a Crete Beach Vacation
If you're planning a trip to Crete, you'll want to pack all the normal essentials, but here are a few things we strongly recommend bringing that may not have crossed your mind. For more, check out our Essential Crete Packing List.
– A Physical Guidebook – While travel blogs are great, we also definitely see the benefit of having a good paper guidebook in hand to refer to in your on-the-ground travel. We own and recommend the Lonely Planet Greece book as a starter, but you may also want to pick up the Lonely Planet Crete which covers the island more in-depth.
– A water bottle with a filter. While generally, the tap water in big cities on Crete is drinkable, we generally recommend using a water bottle with a purifying filter to reduce your plastic consumption and ensure you won't drink any funny-tasting water on your stomach that could make your trip unpleasant! We recommend the GRAYL water bottle – it filters water perfectly in an instant so that you can even drink from lakes, bad taps, etc.
– Motion sickness pills. Crete bus rides can cause motion sickness! If you have a weak stomach like we do, save yourself and bring some non-drowsy motion sickness pills.
– Wet wipes, hand sanitizer, TP & other Balkan transit needs. Bathrooms in the Balkans on trains and buses tend to be… how can we say it?… not so well-stocked. Save yourself the disappointment and bring a mini-rescue pack of wet wipes & hand sanitizer.
– Travel safety items. We think Crete is very safe to travel, but at the same time, it never hurts to be prepared! Some people like to carry money belts, but neither Allison or I use these.
Instead, we both carry the same PacSafe anti-theft backpack. It has locking zippers, slash-proof construction with metal mesh hidden in the fabric, and tons of other smart security features — all while being cute and stylish enough to be our everyday bag. We recommend it highly for both male and female travelers, as it's neutral enough to be unisex. We also strongly recommend travel insurance! Our recommendation is at the bottom of the post.
Read more: Essential Crete Packing List: What to Wear & Pack for Crete
More Crete Travel Resources
Headed to Crete? We have some great travel resources to help you with your trip. First read our guide to planning a trip to Greece, which covers visas, budgets, vaccines, and much more. We also have a Balkan currency guide that explains how money works in Greece and local tipping customs.
If you're still trying to work out where to go on the island, check out this perfect 2 days Heraklion itinerary as well as our guide to the best places to visit in Crete and our favorite Crete beaches.
If you'll also be spending a few days in Chania, here is our guide to visiting Seitan Limania from Chania (which is our favorite beach in Crete) and Chania's best Instagram spots.
If you will be spending time in Heraklion, check out our guides to the best Instagram spots in Heraklion and the city's best restaurants and cafes.
If you're interested in taking a day trip to Rethymnon, check out our Instagram guide to Rethymnon next, and perhaps our guide to things to do in Rethymnon and the best Rethymnon hotels.
If this will be one of your first trips to the Greek islands, check out our massive Greek Island hopping guide as well as our recommendations for where to go in Greece and when is the best time to visit.
We publish new content about the Balkans almost every day! For more information about traveling to Greece and the Balkans, bookmark our Greece and Balkan travel pages so you can find out what's new before your trip.
Don't Forget About Travel Insurance!
I'm sure you're aware that it's a good idea to have travel insurance for traveling in Crete, the Balkans, or anywhere in the world! We have both been paying customers of World Nomads for the last three years. We love the peace of mind it gives us in case of emergencies, accidents, illnesses, theft, or trip cancellation or disruption.
Pin this Cretan Wine Guide for Your Next Greece Adventure!
Gabi Ancarola is a translator and travel journalist living in Crete. She regularly writes about the island for several magazines about travel, gastronomy, and hospitality. She has published several travel guides about Greece and runs a local gastronomy tour in Chania. She loves cooking local dishes, taking photos, and driving on the mountain roads of Crete.