This post may contain affiliate links. This means that if you click a link, we may make a small commission off any subsequent purchase, at no extra cost to you. For more information, please check our privacy policy.
The beach of Elafonisi, on the Southwest coast of Crete, has been often ranked as one of the prettiest beaches in Europe, and it is certainly one of the top attractions you can visit on the island. It is known for the alluring color of the sea, the fantastic white flowers that grow in the dunes, the unique juniper trees, and its wonderful pink sand!
In this post, we will tell you about the landscape and the delicate ecosystem of the beach, as well as about the real secret behind Elafonisi's pink sand beach.
We will also show you different ways how to get to Elafonisi Beach from Crete's most popular destinations. Finally, we will include some important tips to prepare for the visit and to enjoy one of Crete's most beautiful beaches!
Can't read now? Pin for later!
Where to Stay in Chania
If you're visiting Elafonisi Beach from Chania, here are our accommodation suggestions!
Budget: Doge Traditional Hotel
Doge Traditional Hotel is pretty much exactly that: a lovely historic Venetian traditional house. It was originally built in the 15th century with 8 rooms to offer guests and has been refurbished lovingly. It is an intimate and quiet hotel, perfect for couples and families up to five.
While this charming Chania hotel has many perks, I'd argue the best part of the hotel has to be the rooftop where you can gaze at the beautiful views of the sea – especially during sunset!
If you want a bigger suite to accommodate a larger number of people, you can get their superior suite, which has a mezzanine that serves as an additional bedroom. All rooms feature a closet, heating, A/C, fridge, electric kettle, coffee and tea making facilities, sofa bed, and safety deposit boxes.
>> Check prices, availability, reviews, and more photos here.
Mid-Range: The48Suites
This chic hotel features the typical Venetian exterior, but inside it has modern features for the sophisticated traveler. The hotel follows a minimalist aesthetic, livened up with a little playful and artsy décor. Everything just harmonizes perfectly, typical of a boutique-style hotel. It is also located on the picturesque Theotokopoulo Street, where a ton of old houses are lined up – perfect for Instagramming your away around Chania.
All of the rooms still follow the minimalist aesthetic, but what's most important is that they are ridiculously clean (past guests have attested to that)! There's also a kitchen equipped with all the things you need to prepare a nice dish for your family should you tire of Greek food — if that's even possible! Coffee machines and a kettle are also provided so you can make your coffee or tea in the morning or afternoon (or when you feel like having one, which for me is basically always!).
>> Check prices, availability, reviews, and more photos here.
Luxury: Domus Renier Boutique Hotel
As part of the Historic Hotels Worldwide, this hotel doesn't just offer a historic Renaissance past, but also a truly luxurious experience you can't miss. This was once the residence of the Reniers, a noble Venetian family. It is a huge complex, and the main building was converted into a hotel: the exterior and interior of which will take you time traveling!
Their rooms are classy, sophisticated, and elegant: no two rooms are alike here. It is also spacious and you are sure to enjoy the simple details of their wooden furniture, adhering to the philosophy that less is more. You will surely love the rain shower in the private bathrooms that mimic the rain – bringing the spa experience to your room! For even more of that, you can even have masseuses come to your room for an in-room spa treatment.
>> Check prices, availability, reviews, and more photos here.
How to Get to Elafonisi Beach
Elafonisi is in the Chania region of Crete, on the West coast of the island, 75k km south of the closest town, Chania. Chania is one of the best places to stay in Crete if you plan to visit this beach as a one-day excursion.
Undoubtedly, the best way to get there is by car, and if you're planning on touring the island in a rental car, do check our guide to driving on Crete.
Instead, if you prefer to rely on public transport, it's also possible to reach Elafonisi from any major city in Crete. If you're staying in Agios Nikolaos, Heraklion, or Rethymnon, the first thing you must know is that public buses to Elafonisi depart only from Chania, so that's the first place you must reach.
Buses to Chania depart from Crete's major towns every hour at quite affordable prices. For instance, the price of a one-way ticket Heraklion-Chania is about €15, it's about €8.50 from Rethymnon.
Once at Chania's Central Bust Station, you will need to check the bus schedule for Elafonisi (which is updated not only annually but also seasonally). To be certain that you get the latest and most accurate information, check Chania's official public transport website (KTEL) here.
The rates for the upcoming season have yet to be published. However, the ticket is around €9 (one-way). Last summer, the company was offering 3 departures per day.
The journey by bus lasts about an hour and a half. If you're going to be traveling any time between July and September, it's better to book online at least one day before the departure.
If you prefer to go on a tour, there are several options. The most economic is a group tour that departs from Chania, which will take you to and from Elafonisi Beach without the hassle of figuring out public transit or braving Crete's mountain roads. Similar tours also leave from Rethymno and Heraklion, but travel days are longer as a result.
Alternately, you can go on a private tour of Elafonisi and its surroundings, discovering some unexpected stops along the way, on a custom Elafonisi tour led by a Crete travel writer.
Why You Should Visit Elafonisi Beach
The main reason to visit Elafonisi is the unique beauty you will be able to witness on this small corner of Crete. Not everybody is aware, but Elafonisi is not simply a beach, but a very tiny islet about 200 meters from the mainland of Crete. What's more, due to its unique natural characteristics, Elafonisi is also a protected area.
You can reach this islet walking when the tides are low, or wading from the shore to the island when the tides are high. The walking path is not dangerous or particularly hit by currents, and it rarely reaches more than a meter in depth.
Once you're on the islet, you'll be accessing a Nature 2000 protected area, which means that you should in every possible way avoid damaging the natural environment.
Every flora and fauna specimen on Elafonisi is protected, especially because some of them are only found in this area of Crete. You shouldn't cut any flowers, litter the beach, or light a fire. (But we will say it anyway because it's important)
It's also important to remember that Elafonisi is very popular, so the local environment is subject to massive tourism arrivals from May to October; this has a tremendously negative impact on the beach and its ecological balance. Do everything you can to leave no trace behind.
What's the Deal with Elafonisi's Pink Sand Beach?
Most people come to Elafonisi to find the stunning pink sand beach that has made it so well-known. This is an irresistible reason to visit.
However, a few things should be made clear about this issue, mostly because not many will tell you about this. The sad truth is that most pictures you've seen online are fake (or at least, extremely heavily edited)! The "pink sand" is never as pink as you see it online. If you're going to visit Elafonisi expecting to see that stunning color, you'll be disappointed.
The sand on Elafonisi beach is by no means pink. The sand is very clear and fine, and it's populated by thousands of microorganisms that have a pink tone on their shell. This makes the sand a bit pink, at times!
The truth is that only a few areas get a pink shade and only from time to time. And that color is very much subject to change according to several factors, such as tides, the hour of the day, the atmospheric conditions, the winds, and more.
To be honest, you should focus more on the spectacular shades of the sea (from deep blue to light emerald green), instead of desperately seeking pink sand!
Staying in Elafonisi
Elafonisi is located between the municipalities of Kissamos and Kantanos-Selino, and that means only one thing: it is super isolated. There's pretty much nothing to do in the area other than lazily lounging on the beach.
There are just a few available structures (two hotels and a few private studios and rooms to let). These certainly do not cover the demand in such a popular area, if you would like to visit for a bit more than a day, it's better to book well in advance as they will book up quickly due to low supply and high demand.
If you want to stay in Elafonisi, we suggest looking at the Elafonisi Resort which is 650 meters away from the beach. It offers gorgeously modern rooms in a variety of sizes and price points. It boasts an unbeatable location amid an olive grove and has a restaurant underneath to make dining out in this rather remote part of Crete hassle-free. Some rooms have kitchenettes, perfect for a longer stay.
>> Book your stay, read reviews and check prices here
Roads to Elafonisi
Those who want to visit Elafonisi Beach and go back on the same day should know that the last bus leaves at around 4 in the afternoon (though check the timetable for the season to know the exact time)
Instead, if you're driving there, the best advice we can give you is to get on your way back to Chania early in the day.
There are two main roads to get to Elafonisi (and of course, to go back to Chania). Both are equally narrow and a bit dangerous as in some parts you are practically driving on the edge of cliffs. 
One of these roads crosses the gorge of Topolia, while the other borders the westernmost coast of Crete, passing in front of another famous beach, Falassarna.
Both roads are in a fairly good state, but they're not advisable at night. Apart from being very narrow, there are several blind bends, free-roaming animals, and sometimes rocks falling from the mountains, mostly when the island had a very wet winter season.
Unfortunately, that's so far the case for 2020, when Crete got the whole rainfall expected for a year in only two weeks!
What You Need for a Day in Elafonisi
As mentioned above, the area is isolated. The beach offers a few bars and kiosks that sell drinks, ice cream, sandwiches, and salads.
Some also sell sunscreen and a few other basics such as beach towels, goggles, and even cigarettes. In general, these tend to be expensive if compared to Crete's standard of prices.
There are a few convenience stores a few kilometers before reaching the actual beach so, if you're not packing your lunch, you can stop and stock up there for drinks and food.
There is also a couple of restaurants on the same main road. The one we utterly recommend is Glykeria. It tends to be packed in the afternoon, but that is only because the food is really good, the views are spectacular, and the prices quite convenient.
The Weather in Elafonisi
Another thing that only a few will tell you about this beach is that it tends to be extremely windy, and there's not much you can do about it. Always check the weather report before planning your visit and if you're already in the area, look for alternatives if it gets too windy.
The best nearby beach you can visit in case of wind is Paleochora, which thanks to its geographic position is well-protected from gusts. Paleochora is about 48 km from Elafonisi and the trip by car lasts about an hour. There are no buses connecting both resorts.
The winds that affect Elafonisi, however, have made the beach a favorite place for those interested in practicing kitesurfing and windsurfing.
There are a few operators on the beach from whom you can rent the necessary equipment. It's also possible to practice canoeing or to rent paddle boats.
Things to See Nearby Elafonisi Beach
Cave of Agia Sophia
If you're traveling to Elafonissi going through the gorge of Topolia, it's a good idea to stop at the exit of the gorge to pay a visit to the Cave of Agia Sophia (or Holy Wisdom).
This cave is located about 285 meters above sea level, and you'll need to climb about 150 steps to get to its entrance. Inside this spectacular formation, you will be able to get magnificent views of the gorge, but also discover the impressive stalactites and stalagmites that have given the cave the nickname of "The Cathedral", due to its shape and the wide spaces inside it.
In the cave, you will also find a very small chapel, built on the side of the rock, also dedicated to the Holy Wisdom of God.
Chrisoskalitissa Monastery
The other must-visit place in the area is the Holy Monastery of Panagia Chrisoskalitissa, about 15 minutes away from the beach. The monastery is located in an elevated position and offers unique views of the Libyan sea and the nearby area.
On the premises of the monastery, it's also possible to visit their small museum with an interesting collection of folk objects and religious icons as well.
The monastery became famous due to the legend regarding its stairs. It is said that out of the 99 steps to reach the monastery, one of them is made of gold, but only those people with a truly pure heart are able to see the golden step shine before their eyes, the rest of us, simply see another common stone step!
More Crete Travel Resources
Headed to Crete? We have some great travel resources to help you with your trip. First read our guide to planning a trip to Greece, which covers visas, budgets, vaccines, and much more. We also have a Balkan currency guide that explains how money works in Greece and local tipping customs.
If you're still trying to work out where to go on the island, check out our guide to the best places to visit in Crete.
If you'll be spending a few days in Chania, here is our guide to visiting Seitan Limania from Chania (which is another favorite beach in Crete) and Chania's best Instagram spots.
If you will be spending time in Heraklion, check out our guides to the best Instagram spots in Heraklion and the city's best restaurants and cafes.
If you're interested in taking a day trip to Rethymnon, check out our Instagram guide to Rethymnon next, and perhaps our guide to things to do in Rethymnon and the best Rethymnon hotels.
If this will be one of your first trips to the Greek islands, check out our massive Greek Island hopping guide as well as our recommendations for where to go in Greece and when is the best time to visit.
We publish new content about the Balkans almost every day! For more information about traveling to Greece and the Balkans, bookmark our Greece and Balkan travel pages so you can find out what's new before your trip.
5 Things to Bring with You for a Crete Vacation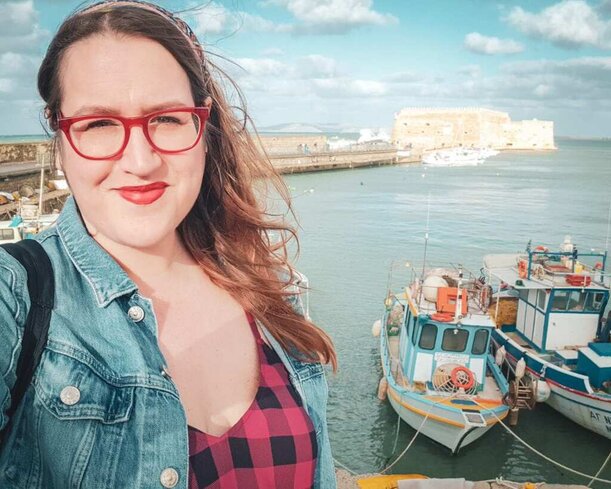 We have an entire Crete packing list that includes exactly what to bring to Crete, but here are some essentials you don't want to miss!
A Guidebook – While travel blogs are great, we also definitely see the benefit of having a good paper guidebook in hand to refer to in your on-the-ground travel. We own and recommend the Lonely Planet Greece book as a starter, but you may also want to pick up the Lonely Planet Crete which covers the island more in-depth.
Sunscreen: Yes, you will want sunscreen in Crete, even if you visit during the winter! While you can buy it here, I suggest you buy the good stuff from recognizable brands or better yet, buy it online in advance. I love this solid Neutrogena sunscreen. Who doesn't love a good solid for liquid swap? Great to keep in your bag without worrying about sunscreen explosions.
Motion sickness pills: Great for bus rides especially on mountain or coastal roads – I buy these non-drowsy ones. You can also try these natural motion sickness bands which use acupressure to reduce nausea – they work pretty well. And these are a must if you're also taking ferries, as the sea can be choppy depending on the weather!
Travel safety items. We think Crete is very safe to travel to, but at the same time, it never hurts to be prepared! Some people like to carry money belts, but neither Stephanie nor I use these. Instead, we both carry the same PacSafe anti-theft backpack.
It has locking zippers, slash-proof construction with metal mesh hidden in the fabric, and tons of other smart security features — all while being cute and stylish enough to be our everyday bag. We recommend it highly for both male and female travelers, as it's neutral enough to be unisex. We also strongly recommend travel insurance! Our recommendation is at the bottom of the post.
– Sunglasses. No matter the time of year, Crete has plenty of sunshine! Keep your eyes protected with your favorite pair of sunglasses from home.
Read Next: Essential Crete Packing List: What to Wear & Pack for Crete
Don't Forget About Travel Insurance!
I'm sure you're aware that it's a good idea to have travel insurance for traveling in Crete, the Balkans, or anywhere in the world!
We at Sofia Adventures have both been paying customers of World Nomads for the last three years. We love the peace of mind it gives us in case of emergencies, accidents, illnesses, theft, or trip cancellation or disruption.
While Greece is safe, there's always a risk inherent in everyday travel like theft or injury, so it's better to play it safe.
>> Get a travel insurance quote for your trip here
Pin this Elafonisi Beach Travel Guide!
Gabi Ancarola is a translator and travel journalist living in Crete. She regularly writes about the island for several magazines about travel, gastronomy, and hospitality. She has published several travel guides about Greece and runs a local gastronomy tour in Chania. She loves cooking local dishes, taking photos, and driving on the mountain roads of Crete.