This post may contain affiliate links. This means that if you click a link, we may make a small commission off any subsequent purchase, at no extra cost to you. For more information, please check our privacy policy.
While anyone pondering a trip to Albania is probably looking to escape the crowds and travel a bit more "off-the-path," if you will, travelers may not know which cities in Albania are worth the time. But that doesn't have to mean simply seeing the most famous Albanian cities since places like Tirana and Saranda are quite well known to avid Balkan travelers.
So we asked a group of professional travel writers what cities in Albania are worth visiting, who came up with a whopping eleven cities in Albania that you should consider when putting together your Albania itinerary.
Of course, you'll want to consider a mix of cities and other great places to visit in Albania like the country's many fabulous beaches. At the end of the day, Albania may look like a small country on a map but there is an insane amount to do here – you may find it nearly impossible to leave!
Read Next: The Ultimate Albania Itinerary: 1 Week, 2 Week, and 3 Week Options
Can't read now? Pin for later!
Where to Stay in Albania
We're in the process of creating comprehensive guides on where to stay in various Albanian cities, but for now, we recommend checking out Booking.com as early as possible since many of the best hotels in Albania sell-out early (especially in the summer).
The Best Towns and Cities in Albania
Here are the picks for the best cities in Albania, in no particular order…
Berat
Famously dubbed the 'City of a Thousand Windows', Berat in central Albania is home to one of the country's two UNESCO-listed Historic Centres. The old town perfectly captures the blend of cultural and religious influences that have molded Albania into the country it is today.
With the Osum River running down its center, Berat is split into two halves: Mangalemi Old Town, traditionally the Ottoman quarter, and Gorica, which was home to the city's Christian community. One of the best things to do in Berat is to get out and explore the two (now united) neighborhoods on foot, weaving between the high-set alabaster houses and tracing the roughly cobbled paths down to the river bank. Cross over the stone Gorica Bridge and climb the opposing hill to look back on Mangalemi and you'll soon see how Berat earned its moniker – the tiny glass windows of the Ottoman houses resemble a sea of eyes.
The centerpiece of Berat is its 13th-century castle, which is enveloped by a walled citadel. Foundations for the complex were laid as early as the 4th Century BC. Featuring Byzantine churches, mosques and the remains of an underground water cistern, the area is a mosaic of different influences and epochs. Incredibly, families still live inside the stone citadel today – when you walk up the steep hill to visit, you'll often encounter women selling lace tablecloths or men shepherding their flocks amongst the ruins.
The National Ethnographic Museum is worth visiting if you want to learn more about the area's history. Leave yourself ample time to dine at some of Berat's best restaurants, including the ever-popular Homemade Food Lili, which is set in the courtyard of a family home. Check this Berat day trip to visit Berat in a day!
Contributed by Emily from Wander-Lush.
Read Next: How to Choose the Best Berat Hotels & Hostels for any Budget!
Shkodra
Shkodra is an Albanian city located near the Montenegro border. You can easily get there by bus from Budva or Podgorica in Montenegro. The route Budva / Podgorica – Shkodra is served only by one bus a day.  In our opinion, visiting Shkodra is an excellent idea for a one or two-day trip.
Our recommendation is to start your stroll from the city center. Walk along the main street (Rruga Kole Idromeno), which is pedestrian-free. There are lots of Italian-style cafes and restaurants in the city center.  If you look for a good coffee, go to Café Bar. A cup of good quality espresso costs there less than 1 euro.
Shkodra's main tourist attraction is the Rozafa Castle, which ruins are located on a hill. To get there, you can walk from the city center or take a bus. Admission to the castle costs 1.5 euros. It is worth climbing the mountain and enjoying the view of the city! Unserure about hot to plan the visit? An organized day trip can be a good idea!
The next place worth visiting is the Venice Art Mask Factory. You can not only watch the process of creating masks and learn about their history but also buy one as a souvenir (the prices, however, are quite high).
If you have more time, it is worth going to Skadar Lake. It is the largest lake on the Balkan Peninsula, located on the border between Montenegro and Albania. You can relax in the countryside, explore the nearby National Park or rent a boat and explore the area on your own.
Contributed by Marta & Milosz from Backpackers Wro.
Tirana
If you're looking for a unique and funky city, you'll love Tirana. Albania's cool capital city is full of cafes (the most in the world per capita, in fact), tasty restaurants, chic bars, and quirky sights.
Whether you're checking out a museum in a bunker built for a former dictator, learning about the secret police at the poetically-named House of Leaves, exploring the burgeoning fine dining and wine scene, or checking out the strange 'Pyramid' of Tirana, you're sure to be surprised and delighted by this eclectic city.
While not beautiful by traditional European standards, Tirana is something else entirely: a youthful city reinventing itself frequently, changing rapidly and for the better. Whether it's walking around the peaceful artificial lake, zooming up the cable car to Mount Dajti, or browsing market goods at the brand-new, brightly-painted Pazar I Ri, you'll find something to suit your interests in Tirana.
There's nothing like walking around to discover the local hidden gems and joining an organized tour like this one can be a winning move to explore the best of Tirana.
Editor's Choice
Read Next: 27 Incredible Things to Do in Tirana, Albania
Gijrokastra
Gjirokaster is a must-see town on any Albanian itinerary, a UNESCO world heritage site with a history dating back to the 12th century, it is as interesting as it is picturesque.
Gjirokaster has a unique look which has earned it a nickname of 'the city of stone', this is due to the construction of the building out of large blocks of stone with flat stone tiles covering the rooves. The town is built on a plateau overlooking a beautiful mountain valley and rises to the domineering fortress that sits high above the town.
Gjirokaster can be easily visited as a day trip from Saranda but also makes a great stop on a road trip through this beautiful country. There are several accommodation options for those wishing to spend a little more time however the town can be seen in only a few hours.
While in Gjirokaster you can walk the streets of the old city, taking in the unique and appealing architecture as well as an old Ottoman bazaar and mosque. You can tour the inside of some of the best-preserved houses with beautiful interiors kept much the same way for around 300 years. Make your way up to the fortress for sweeping views over the old town and down the beautiful river valley far below. The fortress also houses a small military museum.
Don't miss the excellent restaurants serving delicious local cuisine which hits the spot after all the hard work of hiking up and down the steep slope to the fortress!
Contributed by Rick van Brakel from The Road Is Life.
Korce
Korce is one of the lesser-known cities in Albania but it is well worth a visit. It has a chilled vibe and the cobbled streets of the town center are packed with bars and restaurants, making it a great place to wander. There are a few attractions to see in Korce which can easily fill up 2-3 relaxed days in the city.
The main attraction is the Orthodox Cathedral in the center of town which appears to have historic significance but was only built in the 90s. The real history is further along the main street where you can visit the first school taught in the Albanian language. The schoolhouse is now a small museum and can be visited by tourists.
Continuing down the pedestrianized main boulevard you'll come to one of the more obscure things to do in Albania. Standing in the middle of the street is a tall thin tower that seems to have no other great significance than as a viewing platform for the city. Pay at the booth at the bottom and ride the elevator for some great views. The martyrs' cemetery is an interesting place to walk to just outside of the city and has some great views of the whole city and the surrounding landscape.
Contributed by Rohan Cahill-Fleury from Travels of a Bookpacker.
Durres
If you're a beach bum craving for some vitamin sea while in Tirana, Durres is the closest option to the capital. Yet you shouldn't only visit this coastal city for the surf, it is also packed with a culturally rich heritage to explore.
Starting as a port city led by the Greeks in the 7th century BC, Durres joined the Roman Empire in the 3rd century where it became a naval and military base. Even though the walls have fallen and been rebuilt many times, you can still see some of the ancient ruins that date back centuries and have been weathered by time.
Outside the summer months and weekends, you will have a quiet visit with limited tourist interactions. The best way to explore the ancient city is by taking either a 5 or 10-hour guided tour which is extremely informative.
The top sites include the Roman Amphitheater which was recently discovered in 1966 and therefore surrounded by apartment blocks (an interesting contrast), the Venetian Tower which is by the beach and houses a bar and restaurant called Torre Venciane, and a visit to the Durres Archeological Museum.
While Durres doesn't have the most beautiful beach in Albania, it is super close to Tirana and is shallow and very long, measuring almost 10km. So it's a nice break if you're only spending time in the capital.
Contributed by Mar Pages from Once in a Lifetime Journey.
Read Next: 23 Best Beaches in Albania (Plus Secret & Island Beaches!)
Vlore
When you think of gorgeous beach destinations in Europe, many people automatically think of Greece, Southern Spain, or islands like Sardinia or Corsica. However, If you're looking to explore beautiful beaches in a country that isn't as packed with tourists, you need to head to Vlorë, Albania.
Located in the southwest part of the country, Vlorë sits on the gorgeous Bay of Vlorë, where the Adriatic Sea and the Ionian Sea meet. It is also the northern-most city of the region known as the "Albanian Riviera", a stretch of towns with beach access and waterfront restaurants and hotels along the coast. The white sand of Vlorë extends for miles, making the city a frequent vacation spot for local Albanians. 
Rent a boat to skim across the bright blue waters along the coast or just spend your day lying in the sun. The nearby Karaburun-Sazan Marine Park is also a fantastic place to venture if you want to snorkel or scuba dive in the Albanian Seas. Sea turtles, bottlenose dolphins, and even sperm whales have been sighted in the waters that lie within the protected boundaries of the park.
For an even more authentic Albanian experience, rent a car and head just outside of town, where you can wind along thrilling mountain roads with unbelievable views of the water. With many more amazing small towns that are easily accessible by car, Vlorë is the perfect centralized location to relax during your trip to Albania.
Contributed by Laura Wilkens from Adrift Aesthetic.
Ksamil
Perhaps one of the most beautiful beach towns on the Adriatic, Ksamil is tucked away between vibrant Saranda and the Greek island of Corfu. So while it's not exactly a secret Albanian destination, it's more likely to be packed with Albanians than foreigners looking for an easy getaway. That keeps this lovely beach town a bit more relaxing than other, easier to reach resort towns.
Ksamil is an easy ride (bus or taxi) from Saranda, but once you're here you may just want to stay glued to your beach chair. Don't skip sunrise or sunset – they're both truly stunning here and are enhanced by the natural beauty you can see off the coast.
This is a great place to base yourself if you want to visit Butrint (below).
Editor's Choice
Theth
Theth is a small mountain village located at the foot of what the locals call "The Albanian Alps". It's an excellent place to base yourself if you are looking to get some hiking done.
The main trek goes from Theth to Valbona, and is quite tough, crossing a high mountain pass. However, as one of our favorite inspirational travel quotes goes: The best view comes after the hardest climb! In this case, that is true because this hike is probably the most scenic in all of the Balkans.
An alternative route takes you to the famous "Blue Eye of Theth" which is a lake that, as the name suggests, boasts a bright blue color. Another trail leads to a striking waterfall – and we could go on and on. Located in a beautiful valley, Theth is nestled beneath some impressive mountain peaks and looks particularly gorgeous during the autumn.
The town itself is very small but authentic, with its main attraction being a curiously looking stone church. There's not much else to see or do, but that's part of the charm. When you are done hiking, you should come back and do nothing at all, except enjoy the warm hospitality of the Albanians and try some authentic food in your local guest house.
Getting to Theth is straight forward, but the trip can be a bit of an adventure. Minivans drive out daily from Shkoder, costing just 10 euros, but taking over 3 hours. Half of that time is spent on bumpy gravel roads.
Rather than going back the same way, you should hike over the mountain to Valbona. Here you can grab the Komani Lake Ferry for an unforgettable trip down the fjord. As you dock, plenty of taxis wait to take you back to Shkoder.
Contributed by Nick from The Danish Nomads
Butrint
Butrint is a UNESCO World Heritage Site and historic town in Southern Albania, about 1 hour south of Saranda. Originally it was an ancient Greek city that later became a Roman city, that even Julius Caesar himself saw as a strategic location. It has one of the most important archaeological sites in Albania.
For some time it was also a bishopric and under Byzantine administration as well as a short rule under Venetians. Visitors will need to pay 700 Lek to enter, and after that, you can wander around freely within the historic city and surrounding natural area.
Butrint has also been a part of a national park since the year 2000, and some of the closest settlements are Ksamil, Shëndëlli, Vrinë, and Xarrë, which are located within walking distance from the historic site of Butrint.
There are several interesting sites to visit in the ancient city of Butrint. Some of the most notable attractions include the old theater and the Ali Pasha Castle.
It's very easy to get to Butrint from Saranda and Ksamil, and there are frequent buses that departure year-round, especially during the summer months. You can also take a taxi here, which would cost about 10-20 Euro.
Contributed by Alexander Waltner from Swedish Nomad.
Saranda
If you want a wonderful coastal getaway in Albania, Saranda is as good of a base as any. This large city in southern Albania has pristine beaches of its own. Some of the most popular Saranda beaches are Pasqyra (also known as Mirror Beach), Pulebardha Beach, and Monastery Beach. However, Saranda also makes a fantastic gateway to other incredible beaches nearby, like Borsh and Itan Kreyziu and Ksamil.
However, beyond its beaches, Saranda is well worth visiting for its urban charms. It has a gorgeous boardwalk with lots of wonderful seafood restaurants serving up delicious fresh seafood for a steal. The Monastery of 40 Saints, a beautiful monastery ruin in Saranda, offers stunning views, as does Lekursi Castle, which is a phenomenal place to watch the sunset. Finally, Saranda makes an excellent base for visiting other places in Albania, like Ksamil, Butrint, Gjirokastra, and the Blue Eye
Editor's Choice
5 Things to Pack to Travel Hassle-Free in Albania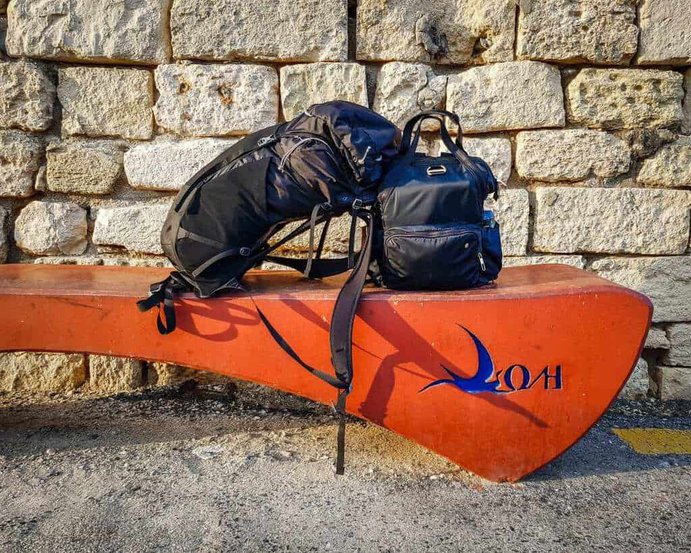 We have a complete packing list for Albania, but make sure you bring these five items with you!
Lonely Planet Western Balkans is a great guidebook for your visit to Albania, and it's great if you're also visiting any combination of the following countries: North Macedonia, Kosovo, Bosnia, Serbia, Croatia, Montenegro, and Slovenia. It can be hard (sometimes impossible) to buy a physical guidebook in English once you're in Albania, so if you like having your guidebook in your hands you will need to bring it with you from home.
Unlocked Cell Phone: Stephanie and I both have unlocked cell phones that we bought in Europe (I use a Samsung and Allison uses an iPhone). This allows up to get SIM cards when we travel so that we always have the internet. This has gotten us out of so many jams!
If you don't have an unlocked cell phone that can use an Albanian sim card, you can buy a cheaper unlocked phone online and bring it with you!
Pacsafe Citysafe or Other Anti-Theft Bag: This is the bag both Allison and I use (and they also make men's versions). It has a pouch with RFID technology so our credit cards can't get scanned from afar, interlocking zippers to make it harder to pickpocket, and it's roomy enough to be a perfect sightseeing day bag. It's also aesthetically pleasing and stylish enough to be used as an everyday bag, which is unusual for a bag with so many safety features.
A Sturdy Moneybelt: If you don't want to get a new bag with anti-theft features as I use, you can use a money belt instead. I prefer to have these features built into my bag instead, but I know for a lot of people a money belt is a less expensive investment than a new bag.
Grayl Water Filter: While the water is safe to drink in the country's larger cities, you need to avoid it in the small towns and villages inland and on the coast. If you don't want to be buying millions of plastic water bottles, you can get a reusable water bottle that comes with a water filter so that you can stick to the tap water and reduce your plastic waste.
Wet wipes, hand sanitizer, TP & other Balkan transit needs. Bathrooms in the Balkans tend to be… how can we say it?… not so well-stocked. Save yourself the disappointment and bring a mini-rescue pack of wet wipes & hand sanitizer.
Read next: Essential Albania Packing List: What to Wear & Pack for Albania
More Albania Travel Resources
First, start by reading our post on planning a trip to Albania. It covers everything from visas to vaccinations to what to pack, so it's a great jumping-off point for your travel plans. If you're curious about what to do to make sure you have a safe trip, read our guide to Albanian travel safety tips.
Next, check out our Albania packing list and our suggested one, two, and three week Albania itineraries. Still, looking? Check out 7 Marvelous Things to See in Albania.
If you're curious about the currency used in Albania (the lek) and how tipping works, we recommend our Albania tipping guide and our Balkan currency guide to learn all about the Albanian lek and tipping culture. We also have a post on Albanian cuisine!
If you're looking for even more places to add to your Albania itinerary, we have a bunch of ideas for you from us and other bloggers in this collaborative post about the 15 best places to visit in Albania! If you love UNESCO sites, make sure to check out Gjirokastra and Butrint!
We are working on all of our Tirana guides, but for now, we have this major post on things to do in Tirana, as well as smaller posts on the best restaurants in Tirana, the best Tirana cafes, and the best Instagram spots in Tirana, plus how to visit the Tirana Christmas Market.
We add new content almost daily! We recommend you bookmark our homepage, our Albania page, or our general Balkans page to refer to when planning your trip.
Don't Forget About Travel Insurance!
If you're planning a trip to Albania, make sure to travel with a valid travel insurance policy. While we feel safe in Albania, it's a good idea to be covered in case of an emergency. Travel insurance covers you in case of theft or an accident, which can save your trip if there's an incident.
For travel insurance, Stephanie and I use World Nomads. I've been a happy customer of theirs for almost three years, and I've never had an issue when making a claim. I'm happy to refer them to anyone I meet.
>> Get a travel insurance quote for your trip here. << 
Pin this Guide to the Best Cities in Albania for Your Trip
Stephanie has been living in and traveling around the Balkans for the past three years. She's written for National Geographic Online, appeared on CNN Arabic and in the New York Times, and ridden more Balkan buses than is good for a person.