This post may contain affiliate links. This means that if you click a link, we may make a small commission off any subsequent purchase, at no extra cost to you. For more information, please check our privacy policy.
Albania is a beautiful and beguiling country with an intriguingly long history, cataloged through stories, literature, art, and poems.
Here are some of our favorite quotes about Albania, one of our favorite Balkan countries, as well as some quotes by famous Albanians (I'm sure you've heard of quite a few of them!)
The Best Albania Quotes and Albania Instagram Caption Inspiration
Quotes by Albanians
"My Albanian people are always in my heart. I pray very much to our Lord that His peace may come to our hearts, in our families and in all the world. I pray for Albania, that the Lord may help its leaders to see clearly because if they want to live in peace, they should love one another."
— Mother Teresa
"The Albanian culture is elusive to me. I think this has to do with leaving the country at such an early age, as well as the country rediscovering her roots after many decades of repression. What I can say about the Albanian culture is what runs through my limbs and what carries my philosophy in life. There's a condensed softness about the Albanian people, and I've witnessed examples of their hospitality that have been famously engraved in history for centuries. Maybe I'm soaking memories of my homeland in sentimental syrup that grows thicker and sweeter with time, but there is something truly noble about the Albanian people and their culture of purity and keeping promises.
— Masiela Lusha
"The founding father of Albanian literature is the nineteenth-century writer Naim Frasheri. Without having the greatness of Dante or Shakespeare, he is nonetheless the founder, the emblematic character. He wrote long epic poems, as well as lyrical poetry, to awaken the national consciousness of Albania."
— Ismail Kadare
"If I manage to write something that I consider good and valuable in a particular place, that spot automatically has a special aura for me. In Albania, there are two cities where I have written the majority of my work: Gjirokaster, my home city, and Tirana."
— Ismail Kadare
For me, my aim is to just be as good as possible. If people do look up to me, I have to set the best example I can.
— Dua Lipa
"Spread love everywhere you go. Let no one ever come to you without leaving happier."
— Mother Teresa
"If you judge people, you have no time to love them."
— Mother Teresa
"True beauty is knowing who you are and believing in yourself. Happy people know their purpose, have courage to fight for it and strength to keep going."
— Rita Ora
Albania Quotes from Poems
"Morn dawns: and with it stern Albania's hills…
Robed half in mist, bedewed with snowy rills."
— Lord Byron, Childe Harold
"Anon from the castle walls
The crescent banner falls,
And the crowd beholds instead,
Like a portent in the sky,
Iskander's banner fly,
The Black Eagle with double head;
And a shout ascends on high,
For men's souls are tired of the Turks,
And their wicked ways and works,
That have made of Ak-Hissar
A city of the plague;
And the loud, exultant cry
That echoes wide and far
Is: "Long live Scanderbeg!"
— Henry Wadsworth Longfellow
"Poetry,
How did you find your way to me?
My mother does not know Albanian well,
She writes letters like Aragon, without commas and periods,
My father roamed the seas in his youth,
But you have come,
Walking down the pavement of my quiet city of stone,
And knocked timidly at the door of my three-storey house,
At Number 16."
— Ismail Kadare
"Albanians, you are killing kinfolk,
You're split in a hundred factions,
Some believe in God or Allah,
Say "I'm Turk," or "I am Latin,"
Say "I'm Greek," or "I am Slavic,"
But you're brothers, hapless people!
You have been duped by priests and hodjas
To divide you, keep you wretched….
Who has the heart to let her perish,
Once a heroine, now so weakened!
Well-loved mother, dare we leave her
To fall under foreign boot heels ?…
Wake, Albanian, from your slumber,
Let us, brothers, swear in common
And not look to church or mosque,
The Albanian's faith is Albanianism!"
— Pashko Vasa
General Albania Quotes
"They are strewn with the wreckage of dead Empires – past Powers – only the Albanian 'goes on for ever.'"
— Edith Durham, High Albania
"Albania is a country within sight of Italy, which is less known than the interior of America."
— Edward Gibbon, Albania: The Rock Garden of Europe
"The true history of mankind will be written only when Albanians participate in its writing."
— Maximilian Lambertz, Albanien Erzählt
"He sat down with a dour face. "Ah, Shqipëria!" he said dropping his head. "Albania will never become Albania with Albanians in it!" He glanced at Jude. "Don't ask."
— Paul Alkazraji, The Silencer
"Albania is located sixty miles across the Adriatic Sea from Italy. It borders Montenegro and Kosovo to the north, Macedonia to the east, and Greece to the south. If you know nothing about 'the Land of the Eagles,' relax. You're not alone."
— Michael Paterniti
5 Things to Bring to Albania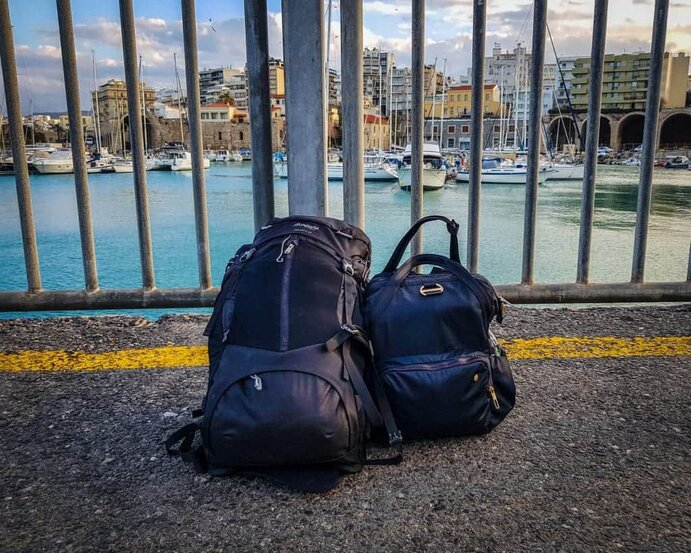 We have a complete packing list for Albania, but make sure you bring these five items with you!
Lonely Planet Western Balkans is a great guidebook for your visit to Albania, and it's great if you're also visiting any combination of the following countries: North Macedonia, Kosovo, Bosnia, Serbia, Croatia, Montenegro, and Slovenia. It can be really hard (sometimes impossible) to buy a physical guidebook in English once you're in Albania, so if you like having your guidebook in your hands you will need to bring it with you from home.
A water bottle with a filter. While generally, the tap water in big cities in Albania is drinkable, such as in Tirana and Sarande, we generally recommend using a water bottle with a purifying filter to reduce your plastic consumption and ensure you won't drink any funny-tasting water on your stomach that could make your trip unpleasant! Albanian water has a notoriously high amount of chlorine that affects the taste.
We recommend the GRAYL water bottle – it filters water perfectly in an instant so that you can even drink from lakes, bad taps, etc.
Wet wipes, hand sanitizer, TP & other Balkan transit needs. Bathrooms in the Balkans tend to be… how can we say it?… not so well-stocked. Save yourself the disappointment and bring a mini-rescue pack of wet wipes & hand sanitizer.
Unlocked Cell Phone: Steph and I both have unlocked cell phones that we bought in Europe (Steph uses a Samsung and I use an iPhone). This allows up to get sim cards when we travel so that we always have the internet. This has gotten us out of so many jams! If you don't have an unlocked cell phone that can use an Albanian sim card, you can buy a cheaper unlocked phone online and bring it with you!
Travel safety items. We think Albania is very safe to travel, but at the same time, it never hurts to be prepared! Some people like to carry money belts, but neither Steph or I use these. Instead, we both carry the same PacSafe anti-theft backpack. It has locking zippers, slash-proof construction with metal mesh hidden in the fabric, and tons of other smart security features — all while being cute and stylish enough to be our everyday bag. We recommend it highly for both male and female travelers, as it's neutral enough to be unisex. We also strongly recommend travel insurance! Our recommendation is at the bottom of the post.
Read next: Essential Albania Packing List: What to Wear & Pack for Albania
Where to Stay in Albania
We're in the process of creating comprehensive guides on where to stay in various Albanian cities, but for now, we recommend checking out Booking.com as early as possible. While Albania is underrated by international travelers, many of the best places can book early during the high season because Albanians know where to go.
More Albania Travel Resources
First, start by reading our post on planning a trip to Albania. It covers everything from visas to vaccinations to what to pack, so it's a great jumping-off point for your travel plans.
Next, check out our Albania packing list and our suggested one, two, and three week Albania itineraries.
If you're curious about the currency used in Albania and how tipping works, we recommend our Balkan currency guide to learn all about the Albanian lek and tipping culture. We also have a post on Albanian cuisine!
If you're looking for even more places to add to your Albania itinerary, we have a bunch of ideas for you from us and other bloggers in this collaborative post about the 15 best places to visit in Albania!
We are working on all of our Tirana guides, but for now, we have posts on the best restaurants in Tirana, the best Tirana cafes, and the best Instagram spots in Tirana.
We add new content almost daily! We recommend you bookmark our homepage, our Albania page, or our general Balkans page to refer to when planning your trip.
Don't Forget About Travel Insurance!
If you're planning a trip to Albania, make sure to travel with a valid travel insurance policy. While we feel safe in Albania, it's a good idea to be covered in case of an emergency. Travel insurance covers you in case of theft or an accident, which can save your trip if there's an incident.
For travel insurance, Steph and I use World Nomads. I've been a happy customer of theirs for almost three years, and I've never had an issue when making a claim. I'm happy to refer them to anyone I meet.
>> Get a travel insurance quote for your trip here. <<
Originally from California, Allison has been living in Bulgaria for the last two years and is obsessed with traveling around the Balkans. She has been published in National Geographic, CNN Arabic, Matador Network, and the Huffington Post. She loves befriending dogs, drinking coffee, geeking out about wine, and cooking food from around the world.