This post may contain affiliate links. This means that if you click a link, we may make a small commission off any subsequent purchase, at no extra cost to you. For more information, please check our privacy policy.
Gjirokastra (alternately written Gjirokastër because, Albania) is a UNESCO World Heritage gem, thanks to its gorgeous Ottoman-era stone architecture. In fact, Gjirokastra is lovingly nicknamed "the city of stones" due to its unique building style.
While Gjirokastra is twinned with Berat as a UNESCO site, they are both so unique and different from one another that you can't visit just one and get the whole effect. It's really worth your effort to visit both. And if asked to pick a favorite, I don't think I could: they are both so unique, each with something distinct to offer.
The majority of the houses in Gjirokastra are composed entirely of stones, right down the roofs, which are made of carefully composed layers of flat stone tiles. It's really beautiful to walk around the city, and you can go inside a few of the old houses, which have been preserved perfectly and turned into museum houses.
Things to Do in Gjirokastra
Check out the traditional houses for a firsthand look into the past
There are several traditional house museums in Gjirokastra, but if you have to pick just one to visit, I'd opt for the lovely Zekate House, which is one of the oldest such tower-houses in the city which used to belong tot he city's elite. It was built in 1812 and is in fantastic condition to this day.
You can visit for 200 lek (~$2 USD) and the owners of the house will show you around each and every room on the four levels of the house, giving you details about each room's function and history. They speak Albanian, Italian, and some English.
If you want to visit more than one house museum, I also suggest Skenduli House, which is just around the corner from the Ethnographic Museum.
Check out the Gjirokaster Fortress and its marvelous views
The castle at the top of Gjirokastra is quite a climb, but it's absolutely worth the effort spent and the 200 lek (less than $2 USD) entrance fee!
In addition to the crazy views of the entire city you get, you can learn about its dark history. More often than functioning as a castle, it was used as a prison by various regimes, from Albanian kings to the brief occupation of the Nazis to Enver Hoxha's communist party.
Now, it's home to lots of different military equipment, including a decrepit U.S. Air Force plane that was supposedly captured by the Communists.
It's a fascinating place to walk around, mostly because when I visited, it was super empty and almost gave me that Indiana Jones feel of exploring a place lost to time.
There are a few other points of interest: the clock tower, theW arms museum, abandoned tanks from WWII, and the lovely concert stage (pictured later in this article) are all well worth your time, but my personal favorite part was wandering aimlessly amongst the crumbling walls.
Photograph Gjirokaster's distinctive bell tower
The icon of Gjirokaster, it'd be silly to leave the beautiful city without snapping at least one photo of its gorgeous belltower. It's located at the edge of the castle complex, near the concert area.
I suggest snapping photos from it from a variety of angles – and if you have more than one lens, you can vary between wide-angle shots getting in the entire landscape and zoomed-in shots that compress the belltower beautifully against a mountain backdrop.
Go underground in Gjirokastra's tunnels
There's a network of tunnels beneath Gjirokastra's castle that date back to its use as a castle.
These tunnels were converted into a bunker during the Communist era, complete with rooms used for interrogating enemies of the state and tunnels to escape from in case of an enemy invasion.
It costs 200 lek for a brief guided tour of the tunnels.
Visit Viroit Lake (Liqeni i Viroit)
For a break from the stone architecture and castle exploring, check out the beautiful nature at Liqeni i Viroit (Viroit Lake) just a few kilometers outside the Old Town of Gjirokastra.
I recommend taking a taxi and having them wait for you as it won't be easy to get here from the Old Town on the hill otherwise. It's not a particularly large lake, but it's still quite beautiful. There are three small restaurants in the area, so you can get lunch while overlooking the lake if you get hungry.
Shop at the Ottoman Bazaar
We love shopping for souvenirs in Albania, and I make it a point to visit a bazaar (marketplace) in every Albanian city I visit!
You'll find rugs, handworked lace, ceramics, jams, honey, and other small handworked souvenirs.
Visit the birthplace of Enver Hoxha, now an ethnographic museum
The shadow of Enver Hoxha's reign looms large in Albania, and you can't visit this country and ignore its past. Albania's past has a way of confronting you, from the bunkers that dot the landscape to the museums dedicated to Hoxha's decades of paranoid control.
Some of the informational placards give information on the house's most famous former resident. However, in general, the museum is a celebration of Albanian textiles and tradition, preserving the history of the 18th-century Ottoman architecture and interior design.
Do a day trip to the Blue Eye (Syri i Kalter)
The beautiful Blue Eye (Syri i Kalter in Albanian) is just about 45 minutes' drive from Gjirokastra, and it's actually a convenient halfway point between Gjirokastra and Saranda should you be heading between those cities at any point on your Albania itinerary.
There, the freezing cold water gushes up from a freshwater spring of unknown depth — divers have yet to be able to determine where exactly the bottom is, but it's more than 50 meters deep.
It's one of the most beautiful sites in Southern Albania, and while not in Gjirokastra proper, it's so close it'd be an utter shame to skip it.
Keep an ear out for iso-polyphonic singing, a UNESCO-listed piece of Albanian heritage
Occurring only once every five years, the National Folklore Festival occurs in Gjirokastra and is well-worth shifting around your schedule for if it so happens to align! I can't find details on when the next festival will be, but there are still other opportunities to find it — ask a local or your hotel/guesthouse owner for information if you're keen to find out more.
Even if you're unable to find the singing yourself (I didn't find it during my visit to the city), you can see the stage where the festival takes place, set beautifully in the Gjirokaster fortress complex with a backdrop of the mountains.
How to Get to Gjirokastra from Saranda
From Saranda, locate the furgon (bus) station. The one to Gjirokastra is located outside the ruins within Saranda's city limits, which is around the intersection of Rruga Flamurit and Rruga Skenderbeu. Your host, or pretty much any Albanian person, should be able to direct you to the bus to Gjirokastra. It should cost about 300 lek (less than $3 USD).
Tell them you want to get off in the Old Town of Gjirokastra. Make sure you specify Old Town or it will take you further away, to the New Town. It takes a little over an hour to get there. They will drop you off by a gas station at the bottom of a huge hill, which, yes, you will have to climb (or wait for a mercurial blue public bus, which never seemed to show on my ascent, but was everywhere as I walked down).
If you're lazy or impatient, there are taxis available or you could hitch a ride up to the top – Albanians are super friendly and often willing to give you a ride, usually in a kickass Mercedes.
Where to Stay in Gjirokastra
Budget: The best hostel in town is by far Stone City Hostel! It has a cozy, homey feel with comfortable shared spaces and a social but not too party-focused atmosphere. The hosts are really kind and welcoming and offer a wealth of information about the region.
>> Check prices, reviews, and availability here.
Mid-Range: For a more private option, Hotel Kalemi is a great choice. It's beautifully designed, almost more of a boutique hotel vibe, while still offering rooms well under $50 USD a night. The rooms are ornately beautiful, some with intricately designed ceilings and regal-feeling furniture.
>> Check prices, reviews, and availability here.
Luxury: Gjirokastra isn't a particularly fancy city, but if you are looking for a dose of luxury in your stay, you'll get fantastic value for your money at Old Bazaar 1790. It truly feels like its own palace, especially the Deluxe King Suite with its beautifully carved woodwork, painted walls, and soaring high ceilings.
>> Check prices, reviews, and availability here.
5 Things to Bring to Albania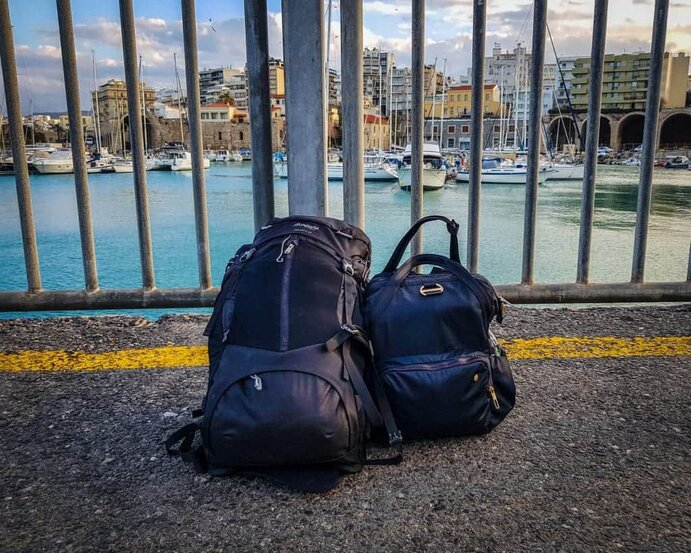 We have a complete packing list for Albania, but make sure you bring these five items with you!
Lonely Planet Western Balkans is a great guidebook for your visit to Albania, and it's great if you're also visiting any combination of the following countries: North Macedonia, Kosovo, Bosnia, Serbia, Croatia, Montenegro, and Slovenia. It can be really hard (sometimes impossible) to buy a physical guidebook in English once you're in Albania, so if you like having your guidebook in your hands you will need to bring it with you from home.
A water bottle with a filter. While generally, the tap water in big cities in Albania is drinkable, such as in Tirana and Sarande, we generally recommend using a water bottle with a purifying filter to reduce your plastic consumption and ensure you won't drink any funny-tasting water on your stomach that could make your trip unpleasant! Albanian water has a notoriously high amount of chlorine that affects the taste.
We recommend the GRAYL water bottle – it filters water perfectly in an instant so that you can even drink from lakes, bad taps, etc.
Wet wipes, hand sanitizer, TP & other Balkan transit needs. Bathrooms in the Balkans tend to be… how can we say it?… not so well-stocked. Save yourself the disappointment and bring a mini-rescue pack of wet wipes & hand sanitizer.
Unlocked Cell Phone: Steph and I both have unlocked cell phones that we bought in Europe (Steph uses a Samsung and I use an iPhone). This allows up to get sim cards when we travel so that we always have the internet. This has gotten us out of so many jams! If you don't have an unlocked cell phone that can use an Albanian sim card, you can buy a cheaper unlocked phone online and bring it with you!
Travel safety items. We think Albania is very safe to travel, but at the same time, it never hurts to be prepared! Some people like to carry money belts, but neither Steph or I use these. Instead, we both carry the same PacSafe anti-theft backpack. It has locking zippers, slash-proof construction with metal mesh hidden in the fabric, and tons of other smart security features — all while being cute and stylish enough to be our everyday bag. We recommend it highly for both male and female travelers, as it's neutral enough to be unisex. We also strongly recommend travel insurance! Our recommendation is at the bottom of the post.
Read next: Essential Albania Packing List: What to Wear & Pack for Albania
More Albania Travel Resources
First, start by reading our post on planning a trip to Albania. It covers everything from visas to vaccinations to what to pack, so it's a great jumping-off point for your travel plans.
Next, check out our Albania packing list and our suggested one, two, and three week Albania itineraries.
If you're curious about the currency used in Albania and how tipping works, we recommend our Balkan currency guide to learn all about the Albanian lek and tipping culture. We also have a post on Albanian cuisine!
If you're looking for even more places to add to your Albania itinerary, we have a bunch of ideas for you from us and other bloggers in this collaborative post about the 15 best places to visit in Albania!
We are working on all of our Tirana guides, but for now, we have posts on the best restaurants in Tirana, the best Tirana cafes, and the best Instagram spots in Tirana.
We add new content almost daily! We recommend you bookmark our homepage, our Albania page, or our general Balkans page to refer to when planning your trip.
Don't Forget About Travel Insurance!
If you're planning a trip to Albania, make sure to travel with a valid travel insurance policy. While we feel safe in Albania, it's a good idea to be covered in case of an emergency. Travel insurance covers you in case of theft or an accident, which can save your trip if there's an incident.
For travel insurance, Steph and I use World Nomads. I've been a happy customer of theirs for almost three years, and I've never had an issue when making a claim. I'm happy to refer them to anyone I meet.
>> Get a travel insurance quote for your trip here. <<
Originally from California, Allison has been living in Bulgaria for the last two years and is obsessed with traveling around the Balkans. She has been published in National Geographic, CNN Arabic, Matador Network, and the Huffington Post. She loves befriending dogs, drinking coffee, geeking out about wine, and cooking food from around the world.