This post may contain affiliate links. This means that if you click a link, we may make a small commission off any subsequent purchase, at no extra cost to you. For more information, please check our privacy policy.
Romania is one of the largest countries in the Balkans, and it's endlessly impressive how many wonderful things to do in Romania there are.
The country has it all, from spellbinding alpine lakes to impressive wildlife along the Danube Delta to enchanting Transylvanian towns and otherworldly castles.
You can ski in the winter at charming resort cities, marvel at flowers bursting from the ground in the cities in the spring, sun yourself along the Black Sea in summer, and chase fall foliage amongst castles in the autumn. Romania is truly an all-season destination (provided you pack appropriately!).
Here are all of our favorite things to do in Romania, collected from our highlights after several trips to this beautiful country.
The Best Things to Do in Romania: The Classics
Marvel at the stunning architecture of Peleș Castle
The impressive Peleș Castle is one of the most beautiful castles in all of Romania — a hard title to bestow, considering how beautiful castles in Romania are.
Located in the picturesque Transylvanian town of Sinaia, and a popular day trip from nearby Brașov, Peleș Castle is remarkable for its unique neo-Renaissance style that separates it from other castles in Europe.
The palace dates back to 1873 and was commissioned by King Carol as a royal residence and summer home. Yet for a summer home, it's no slouch: the palace houses a whopping 160 rooms, each with its own distinctive aesthetic and theme. It's even home one of the first movie theaters in Romania, adorned with gorgeous frescoes done by the famed artist Gustav Klimt.
Learn the truth of "Dracula's" Castle
Romania is famous for Dracula, and surely, that's one of the first things that people think of when they think of Romania. However, the story of Dracula is really just that – a story. One told by an Irishman, who had never in fact stepped foot in Transylvania, or even Romania, for that matter.
So, that being said, "Dracula's" Castle never belonged to a Count Dracula. Nor did it ever even belong to the man who was said to be the inspiration for Dracula, Vlad the Impaler. Historically, Vlad may have spent a night or two in this castle while defending this part of Romania from invaders, but he never actually called it home.
As you can see, "Dracula's" Castle – more correctly known as Bran Castle – is really just a big case of mistaken identity.
That said, Bran Castle is still well worth visiting, manufactured history notwithstanding. It's beautifully done, its setting is in a pristine and slightly spooky forest, and it still has a somewhat haunting appearance, despite the fact that almost certainly no vampires ever called it home.
Wander the charming Old Town of Brasov
Brașov is one of the most important cities in Romania and one of its most photogenic – we find it to be infinitely Instagrammable!
From its picturesque Piața Sfatului and the Old Town Hall, which forms the heart of the city, to its medieval city walls, Brașov simply oozes with charm. There are countless wonderful viewpoints where you can get a stunning view of the city: the White and Black Tower, the cable car up Tampa Hill, and the Brașov citadel to start with.
You also can't miss the Black Church (Biserica Neagră), snapping photos of the cheeky Hollywood-style 'Brașov' sign on Tampa Hill, stopping for coffee at some of the coziest cafés in Brașov.
Of course, Brașov also makes a phenomenal base for some of the best day trips around Transylvania, including Peleș and Bran Castles as well as Rașnov Citadel.
See the impressive remains of the Rașnov Citadel
Just a few kilometers from Brașov is the picturesque city of Rașnov, complete with its own citadel as well as its own Hollywood-style sign proclaiming its name proudly.
The city is charming and well worth walking around, but the real reason people come is to visit the impressively preserved Rașnov Citadel, which is especially impressive from a drone's eye view.
Visit the most colorful village in Romania, the UNESCO-listed Sighisoara
Who would have guessed that Romania's most colorful city was actually the birthplace of one of its darkest residents? The delightful, UNESCO-recognized town of Sighisoara is a beautifully preserved historic town and citadel.
However, it's also the birthplace of Vlad Dracul, aka Vlad the Impaler, whose favorite way of eliminating his enemies is rather heavy-handedly suggested by his name. He is considered by many to be the inspiration for Dracula, though how connected the two figures are is a bit contentious.
You can visit his birthplace, which has been converted into a cheesy museum (I happened to visit Sighisoara on Halloween, of all days). It's a bit tacky, so know that going in or be disappointed: I still think it's worth it if you're curious to visit the room he was born in.
Besides that, there are several other worthwhile things to do in Romania's cutest small town:
Drive the Transfăgărășan, one of the most famous roads in Europe
Road trip lovers, rejoice: Romania is home to some of the most beautiful roads in all of Europe, if not the world. The Transfăgărășan is 150 kilometers of pure beauty. Its winding roads through dramatic mountainscapes, lush green forests, and epic viewpoints all make Romania a contender for one of the best countries to road trip in the Balkans.
Note that the roads in Romania are a bit rough for wear in many parts of the country; however, the Transfăgărășan (as well as one of the other famous highways, the Transalpina) is usually prioritized for road work and is therefore usually a delight to drive.
Amble around the scenic old town of Sibiu
The lovely city of Sibiu is known for many things: its impressive Piata Mare, its beautiful churches (particularly its Lutheran Church, unusual in this part of the world), and its distinctive architecture in which the roofs have windows that look like squinting eyes.
Don't miss the picturesque Bridge of Lies, which connects Upper Sibiu to Lower Sibiu – both of which are worth exploring, as they're equally photogenic, although Upper Sibiu is the more developed of the two.
Sibiu also has a phenomenal dining scene, with a focus on gastronomy that is lacking elsewhere in Romania – so foodies, take note and be sure to visit some of Sibiu's most innovative restaurants while you're visiting this charming Transylvanian city.
Get lost in the buzz of Bucharest, Romania's vibrant capital
Bucharest is the heart of modern Romania and it's easy to see why. Formerly called "Paris of the East," one walk down Bucharest's main boulevard, Calea Victoriei, will show you why. While largely worn down by decades of neglect during the Communist era, you can still see the grandeur even in the grittiest parts of the city.
There are several important places to visit in Bucharest, which could very well take up an entire article, so I'll be brief here. A few must-see sights are the Palace of the Parliament, the largest administrative building in the world (after the Pentagon in the U.S.).
It was constructed by the dictator who ruled over Romania with an iron fist for decades, Nicolae Ceauşescu, and as such, the legacy of the building is controversial. I still think it's well-worth visiting, though you should balance your admiration of its architectural accomplishment with an acknowledgment of the many thousands of lives lost at the hands of Ceauşescu's regime.
Other important places to visit in Bucharest include the Museum of the Romanian Peasant, Lipscani Street and the 'Old Town', and the Curtea Veche Palace which was once the actual seat of Vlad the Impaler (rather than Bran Castle, which everyone thinks).
Explore Bucharest's incredible bar and café scene
Bucharest is one of those cities that hides its tricks up its sleeves: tucked away in alleyways, behind closed doors and ivy-covered gates, hidden just away from view so that you need to be in the know to make the most of the city.
We've covered many of these places in our guide to offbeat Bucharest, but I'll list a few of my favorite bars and coffee shops in Bucharest here. Serendipity Tea House is a charming place to while away a few hours; Gradina Verona next to the Piata Romana branch of Carturesti is also lovely and not far away.
Near the Old Town, I love Origo for coffee and the many wine bars in the center of the city, particularly Industry and Abel's.
Find all of the most photogenic spots in Bucharest
There are so many Instagrammable places in Bucharest that we can't hope to list them all in this giant post of things to do in Romania, so we'll leave you with this Instagram guide to the city.
It includes several places you've likely seen on Instagram as well – Carturesti and the Umbrella Street, for one – as well as several off-the-beaten path and in-the-know locations.
See Bucharest's stunning street art scene
One thing that has dramatically changed Bucharest's gritty exterior is the street art scene, which has blossomed greatly over the last decade or so.
The area around Piata Romana has become a huge hub for street art in Bucharest, and street art tours taking you around some in-the-know-only spots in Bucharest have become rather popular for tourists seeking an alternative side to the city.
This street art tour by Open Doors Travel is highly regarded by fellow travelers, covering all of Bucharest's best hidden street art in a 2.5-hour guided walking tour. Check reviews and book here.
Learn about communist history in Bucharest
Romania's history is fascinating and complex, and it's a history that many people are only vaguely familiar with before visiting Romania (if at all).
Romanians lived for decades under a shroud of secrecy and paranoia under the rule of the communist dictator, Nicolae Ceaușescu, before overthrowing him in a violent revolution that took the lives of over a thousand people. That's not even counting the innumerable (and unknowable) deaths of dissidents that took place during Ceaușescu's rule.
I think it's important to pay homage to the places we visit and learn about their tragedies as well as their triumphs. In a country like Romania, where the past is viscerally remembered by many living today and with many remnants visible in people's daily lives, I think it's especially important.
It's easy to get lost in the whimsical old towns of Sibiu and Brasov and not consider Romania's tragic decades of communism – but that's not so easy in Bucharest, where the history confronts you visually around every other corner. I suggest you make the most of it by informing yourself with a communism tour. This tour is highly regarded and affordable, with over a hundred 5-star reviews, and it's what we'd suggest to get an overview of Bucharest's communist history.
Unique Things to Do in Romania: Off the Beaten Path
See the marvelous painted monasteries of Moldavia
Moldavia is part of Romania and is not to be confused with the nation of Moldova, which borders Romania, speaks Romanian, and historically was a part of Romania.
Bucovina is a smaller subsection of the region of Moldavia and this is where you'll find many of the most impressive painted monasteries, including our personal favorite, Voroneț. This stunning church is painted a blue so beautiful that it actually spawned a color named after it, Voroneț blue, and it's still a mystery how the rich blue color was created.
This church is often called "The Sistine Chapel of the East" for its phenomenal frescos which have been impressively preserved over more than four centuries.
Voroneț is not the only monastery worth seeing in this part of Romania: other impressive ones include Humor, Moldovita, and Sucevita. This part of Romania is rather rural and rather difficult to get around, so it's best visited with a car or taxi.
Stephanie and I visited Bucovina as part of a guided tour around Romania. If you do the same, we suggest going with a tour company like TravelMaker, which offers a 3-day Bucovina and Transylvania tour for an affordable price: great if you don't feel up to (or can't) renting a car in Romania. Check details and tour itinerary here.
Visit the fairytale-esque Clay Castle
The so-called "Clay Castle" is not really a castle at all, but rather a whimsical creation of a couple who left the bustle of Bucharest for a more charming, simple life in the countryside. They envisioned a home that was at one with nature, in the middle of Romania's beautiful countryside, made with only natural materials: and then they breathed life into that idea, and Castelul de Lut Valea Zanelor was born.
The so-called 'castle' is actually a hotel in the making, which will have 10 rooms, each with their own entrance, when they are ready to open. That said, it's still possible to visit now and enjoy the beautiful castle in its stunning setting — which is called 'Valley of the Fairies' for a reason. There is a small admission fee to visit and take photos, but it's reasonable and entirely worth the price.
It's located near Sibiu, but be aware that the roads leading there are quite bad so it may take some time to get to, despite what Google Maps may say. That said, the beautiful views often come after the hardest roads, and in this case, it's true.
Visit the highest lake in Romania, Bâlea Lake
Bâlea Lake is one of those places so perfect it almost looks fake. Bâlea is a picturesque glacial lake stranded in the middle of mountains, over 2,000 meters in altitude, with only a few buildings and minimal infrastructure surrounding it.
In the late spring through early fall, it's a wonderful place to hike – you can even hike to a nearby waterfall, if the lake isn't enough photography magic for you! In the winter, visiting gets a little more difficult as the road to Bâlea Lake is closed, so you can only access it by cable car, but you'll have the chance to stay at the only Ice Hotel in Romania (more on that later!)
Ride back in time on the Mocănita steam train
One of the highlights of our time in Bucovina was getting to take a ride on the region's historic Mocănita, a narrow-gauge steam train that takes you through the gorgeous rural countryside of Romania.
The train is over a century old and is an absolute delight to ride. While undoubtedly a touristy activity, it's in such a remote part of the country that there are few other tourists to share the experience with, which greatly adds to the magic.
Learn the charming history of Romania's egg painting tradition
Romania – as well as some other countries in the region – have a centuries-old tradition of painting eggs with intricate patterns.
When in Bucovina, we visited an egg painting museum – the Egg Museum Vama-Bukovina – where we got to witness how these beautiful eggs are painted meticulously by hand using wax, dye, and tiny tools to create impeccable details.
It was easily one of the highlights of our time in Romania, so if you're visiting Bucovina, make sure you visit.
Visit the marvelous painted houses of Ciocanesti
One more reason to visit Bucovina? The painted egg fervor doesn't just extend to eggs, but even whole houses!
Yes, the village of Ciocanesti has been painted entirely to look like delightfully quirky eggs (and it's literally the law that the houses have to be painted as such, so there's no danger of this changing).
It's a small town with not too much to see, but it's well worth an hour or two of your time for sure. There's an egg museum here as well – you can read more about the adorable town here.
Shop Romania's beautiful Horezu pottery from its source
The town of Horezu is the center of the Romanian ceramics tradition. In fact, Horezu pottery is on UNESCO's list of protected intangible heritage.
Steph picked one up while she was visiting Horezu Monastery (which is a UNESCO World Heritage Site) on a day trip from Bucharest, but you can find it all over the country in shops and markets. Horezu ceramics come in many forms, from rustic pitchers to decorative plates to beautiful cups.
See the incredible horse riders of Potcoava
If you're an animal lover, you'll want to make sure you stop in Potcoava, a delightful rural community about halfway between Bucharest and Brașov.
There's a horseriding school here where you can learn horseback riding, or better yet, marvel at the incredible trick riding of the talented riders at Potcoava Mountain Hideaway, where the riders train beautiful Haflinger horses and coordinate whimsical and breathtaking tricks on horseback.
Breathe easy at one of Romania's salt mines
If you've never experienced a salt mine before, get ready: your lungs will feel brand new after even just an hour or two enjoying it.
There are a handful of salt mines in Romania, some more… pleasant than others. We don't recommend the one outside of Targu Mures, Salina Praid – it was like a school field trip on steroids. Instead, we suggest Salina Turda outside of the vibrant city of Cluj-Napoca, the largest city in Transylvania — which is a city well-worth a trip on its own as well.
Enjoy a lovely stay in the relaxed town of Târgu Mureș
The city of Târgu Mureș in Transylvania doesn't get much attention, but we think that's a shame.
It's right in the heart of Romanian wine country, and one of the best wine cellars in Romania is located at Hotel Privo – which also, coincidentally, has a phenomenal spa, a delicious restaurant, and fantastic futuristic yet minimalist design.
There are a handful of things to do in Târgu Mureș – visit the elegant Palace of Culture, explore the nearby fortified church of Târgu Mureș, wander the medieval fortress – but it's also just a fantastic, offbeat place to rest a few days in one of Romania's best hotels for a fantastically affordable price.
The Top Things to Do in Romania: Summer Edition
Spend your summer sunning in Mamaia, Romania's main beach resort
In the summer, the resort town of Mamaia – not far from the city of Constanța – pops off. In the summer months, the town becomes basically an all-day party, with vibey beach clubs and beautiful waters by day and bumping nightclubs with fantastic DJs at night.
Even if you're not into the party scene, Mamaia has a lot of all-inclusive resorts that are great for families or couples looking for a relaxing yet inexpensive getaway on the Romanian Black Sea Riviera.
Or relax on the border of Bulgaria in the laid-back beach town of Vama Veche
The all-night party scene of Mamaia not quite your scene? Check out the relaxed beachfront town of Vama Veche, which is just a few kilometers from the Bulgarian borders.
We may be biased, because we love the Bulgarian Riviera, but we think Vama Veche has one of the nicest stretches of the Romanian Riviera – and we like the quieter vibe, which attracts more backpackers and hippies, as opposed to the party people that Mamaia brings in each year.
Explore the Danube Delta by boat or kayak
This marvelous section of the Romanian Black Sea is one of our major oversights – and it's the one we're most excited to correct in the future.
At the point where the Danube River – which snakes through several important Central and Eastern European capitals – meets its endpoint, the Black Sea, is the pristine wildlife reserve called the Danube Delta.
The delta is a heaven for birdwatchers, nature seekers, and lovers of soft adventure. Start your day with a kayak through the delta at sunrise, then follow up with a boat tour searching for birds and other animals by day, and then follow up with a relaxing late afternoon at a peaceful resort.
Marvel at the beautifully abandoned Constanța Casino
One of the most famous buildings alongside the Romanian Riviera is the Constanța Casino, a now-defunct casino on Elisabeta Boulevard in the heart of Constanța.
An art nouveau masterpiece, the Constanța Casino was commissioned by King Carol I, who also commissioned the beautiful Peleș Castle in Transylvania. It's been neglected for most of its lifetime – the tumultuous 20th century was not kind to Romania, and maintaining an opulent casino was not at the top of anyone's priorities – but it's still beautiful to visit nonetheless.
Relax on one of the lesser-known Romanian beaches
Want to go to the Romanian Riviera yet avoid the crowds of Mamaia, Constanța, and Vama Veche?
There are dozens of fantastic beaches in Romania with a fraction of the crowds and prices, yet just as beautiful views and sand. We've picked out a few of our favorites in our post on Romanian beaches, but rent a car and hit up the coastline and you're sure to find some favorites of your own.
The Best Things to Do in Romania: Winter Edition
Ski the stunning slopes of Poiana Brașov
If you're looking for a winter getaway in Eastern Europe that won't put a dent in your wallet, look to Poiana Brașov. It's about 30 minutes away from the historic, UNESCO-listed old town of Brașov, yet it feels a world away in terms of its snowpack, ski resorts, and pristine mountain air.
It boasts dozens of kilometers of ski pistes, but it's also nearby plenty of other Transylvanian sights worth visiting: Rașnov Citadel, Bran Castle, and Peleș Castle.
Or just relax in one of its spa hotels
There are several affordable and relaxing ski resorts in Poiana Brasov. Most offer delightful spa facilities and restaurants.
Having visited a few places in Poiana Brașov, the best ski resort I can say, hands down, is Hotel Teleferic. Its spa and restaurant are the highest quality in the city.
The spa center at Teleferic alone is well-worth a day pass – I enjoyed a fantastic massage there and adored the steam room and outdoor jacuzzis – but what really took the cake was the restaurant. After a week of nonstop polenta, I would have fought someone tooth and nail for another plate of those spring rolls.
Shop and stroll the cozy Christmas Markets
Romania may not come immediately to mind when you think of Christmas markets in Europe, but you'd be mistaken! Because Transylvania was historically linked with Hungary, there's a lot of overlap in architecture – and that becomes even more apparent during the Christmas market season!
Sibiu has one of the loveliest Christmas markets in Romania, as do Brașov and Bucharest. But virtually all major Romanian cities will have some festivities in late November through December.
Stay in Romania's only Ice Hotel
Want one of the coolest things to do in Romania in winter – literally? Check out the Ice Hotel at Lake Bâlea, an ice hotel like you'd find in Scandinavia yet nestled in the mountains of Romania.
Accessible only by cable car, Ice Hotel Bâlea is a romantic getaway that will have you feeling like the rest of the world is miles and miles away. There's a well-reviewed restaurant on-site (which is good… seeing as you're a lengthy cable car ride away from civilization) plus buffet breakfast, as well as a bar which serves drinks – in glasses made of ice, no less!
I haven't gotten the chance to stay here yet, but trust me, it's on my winter in Romania bucket list! Check out prices and availability here, if you're curious!
Things to Do in Romania: Foodie Edition
Sample țuică, Romania's traditional beverage
Rakia is king in the Balkans, but in Romania, țuică is queen. Pronounced "swee-ka," this moonshine is typically served to guests in ceramic cups upon their arrival, typically alongside some bread and salt as per centuries of Romanian hospitality tradition.
We think it's quite fiery, but overall, we really like it and actually prefer it to rakia (sorry, Bulgaria!).
Learn about Romania's traditional cuisine
If you're visiting Romania, you will undoubtedly get a crash course in Romanian cuisine! Composed primarily of meat, dairy, and more polenta than should be allowed as per the Geneva Convention, Romanian food is hearty, dense, and memorable.
My favorite dish is sarmale with sour cream, which is a cabbage roll stuffed with rice, pork, and sometimes bacon. It's Romania's national dish and actually goes quite well with some cheesy polenta on the side.
However, do note that when you get out into rural Romania, your choices become rather limited, so plan your meals accordingly.
Eat Romania's most delicious dessert, the papanași
While on the whole, I could never eat another plate of polenta again and die a happy woman, I cannot say the same for papanași.
What is a papanași, you ask? It's a giant fried doughnut, filled with a soft cheese or sour cream, topped with jam (usually sour cherry), powdered sugar, and a tiny doughnut hat. It is incredible, and you will leave Romania wanting more.
What to Bring with You to Romania
If you're planning a trip to Romania, you'll want to pack all the normal essentials, but here are a few things we strongly recommend bringing that may not have crossed your mind. For more, check out our complete Romania packing list.
– A physical guidebook, in paper or on Kindle. We love Lonely Planet Bulgaria & Romania for this region and strongly recommend it to supplement blogs. Blogs are great, but a combination of a blog and a guidebook is key to having the best access to information easily at your fingertips.
– A water bottle with a filter. While generally, the tap water in big cities in Romania is drinkable, such as in Bucharest and Brasov, we generally recommend using a water bottle with a purifying filter to reduce your plastic consumption and ensure you won't drink any funny-tasting water on your stomach that could make your trip unpleasant! We recommend the GRAYL water bottle – it filters water perfectly in an instant so that you can even drink from lakes, bad taps, etc.
– Motion sickness pills. Romanian roads are winding and road conditions are not good – not even getting into the drivers, either. If you have a weak stomach as we do, save yourself and bring some non-drowsy motion sickness pills.
– Wet wipes, hand sanitizer, TP & other Balkan transit needs. Bathrooms in the Balkans tend to be… how can we say it?… not so well-stocked. Save yourself the disappointment and bring a mini-rescue pack of wet wipes & hand sanitizer.
– Travel safety items. We think Romania is very safe to travel, but at the same time, it never hurts to be prepared! Some people like to carry money belts, but neither Allison or I use these.
Instead, we both carry the same PacSafe anti-theft backpack. It has locking zippers, slash-proof construction with metal mesh hidden in the fabric, and tons of other smart security features — all while being cute and stylish enough to be our everyday bag. We recommend it highly for both male and female travelers, as it's neutral enough to be unisex. We also strongly recommend travel insurance! Our recommendation is at the bottom of the post.
Read more: Essential Romania Packing List: What to Wear & Pack for Romania
Where to Stay in Romania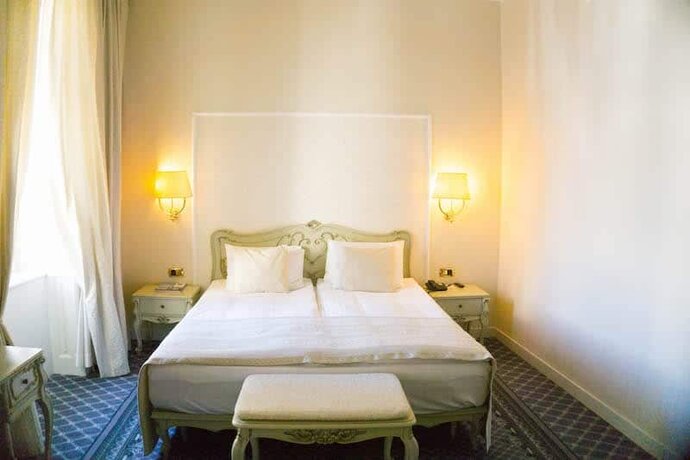 We're in the process of creating comprehensive guides on where to stay in various Romanian cities.
We recommend checking out Booking.com as early as possible. There are some great hotel deals available in Romania, but many of the most popular hotels do sell-out.
Romania Travel Resources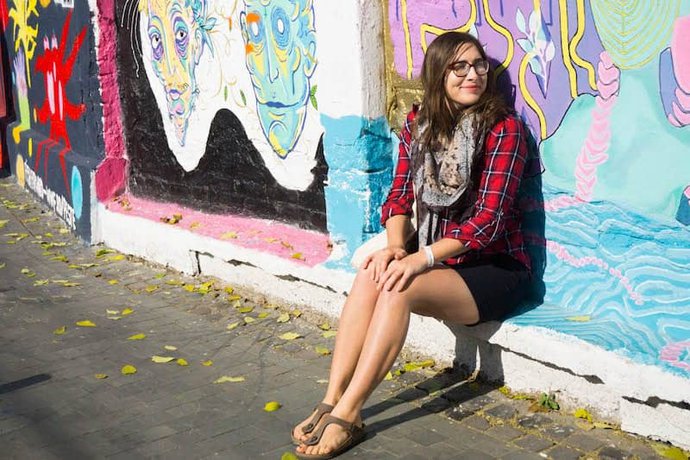 If you're going to Romania, we have a goldmine of resources for you to take advantage of! First, check out this guide to planning a trip to Romania. It's a good starting point for planning your trip.
Next, check out all the things to do in Transylvania and things to do in Bucharest. You can also check out our Instagram guides to Sibiu, Brasov, and Bucharest – more are on the way.
You can also read about the best Romanian castles, the Romanian food you should try on your trip, the best Romanian souvenirs, and inspirational travel quotes about Romania. Plus, how to plan some epic day trips from Bucharest.
We publish new content nearly every day! Bookmark our pages on Romania and the Balkans so that you don't miss out on any new info or resources that we publish before your trip!
Don't Forget About Travel Insurance!
I'm sure you're aware that travel insurance is a good idea for traveling in Romania (or really, any part of the world)! Stephanie and I have both been paying customers of World Nomads for the last three years. We love the peace of mind it gives us in case of emergencies, accidents, illnesses, theft, or trip cancellation or disruption.
While the Balkans are perfectly safe to travel around, there's always a risk inherent in everyday travel, so it's better to play it safe.
>> Get a travel insurance quote for your trip here <<
Originally from California, Allison has been living in Bulgaria for the last two years and is obsessed with traveling around the Balkans. She has been published in National Geographic, CNN Arabic, Matador Network, and the Huffington Post. She loves befriending dogs, drinking coffee, geeking out about wine, and cooking food from around the world.