This post may contain affiliate links. This means that if you click a link, we may make a small commission off any subsequent purchase, at no extra cost to you. For more information, please check our privacy policy.
Visiting the lovely second city of Bulgaria, Plovdiv? This city is well-known for being the cultural heart of Bulgaria, and it's a charming stop on many people's Bulgaria itineraries.
There are two main areas to stay in Plovdiv that we recommend: the historic Old Town, with its adorable Bulgarian National Revival Architecture and the Center, with shopping, modern restaurants, and it's prime location next to the hippest part of town, Kapana (there are not a lot of accommodations here, mostly bars and restaurants, which is why we haven't included it).
Of course, if you have a car, it may be better to stay outside of Plovdiv Center as it is impossible to park in Plovdiv's Old Town and parking is limited in the center. In that case, we've also suggested two fabulous hotels on the fringes of Plovdiv – one on a literal farm/park just a few kilometers from the city! – that offer fantastic places to stay in the Plovdiv region.
Where to Stay in Plovdiv Old Town
Budget Hotels in Plovdiv Old Town
Saborna 25 Guest House
Perfectly situated just beside a Roman wall and overlooking the Old Town of Plovdiv, Saborna 25 Guest House offers every guest a memorable experience plus a traditional accommodation.
The prices are really affordable and you get a boutique style that's unique and truly Plovdivian. You will see colorful quilts, glowing glass lamps and plenty of wood furnishings – making you feel a little bit of its country-chic vibe. The budget rooms can be quite small but you get almost everything you need, so you can't complain!
They offer choices of a twin room, quad room, and an executive room. The twin room has a bunk bed and the corner has a work desk. It is quite small but perfect for two travelers on a budget who still want complete privacy and a private bathroom – all for only $30 USD per night. The economy quad room has 4 bunk beds and also a corner table.
It also has some dinnerware you can use if you plan to bring home some local food from the markets in Plovdiv (especially the farmer's markets, you need to check them!).
The executive rooms are a bit on the lower mid-range price tier, but they offer a huge space for 2-4 people. These rooms are the most stylish in the house and it has completely unique décor, with mostly antique-looking wooden furniture. It has an indoor viewing area with a wooden bench so you can just sit back and relax with a view of the old town.
The moment you step outside of this guest house, you have plenty of restaurants, pubs and cafés to try (aside from the nearby tourist attractions). It is also located right in the Old Town, but not on a noisy street, so you still get a peaceful and quiet experience inside the property.
»» Check out guest reviews, prices, and availability at Saborna 25 Guest House ««
Green Rooms
This is literally an old-style building, painted a lovely shade of green, that's right inside the Old Town. A solo traveler or a couple seeking an affordable and exclusive room with complete amenities can find Green Rooms perfect. You can also bring your pets with you with proper notice to the hosts!
The walls and floors of each room are made of parquet, and there is ample lighting with stylish lamps. What past guests like the most is the socket just beside the bed, you can leave your devices to charge while you're in bed. The private bathroom is extremely clean and the use of white tiles makes it look even more sparkling clean!
However, do not expect that there is always staff on the property. It would be best to inform them of your arrival, so they can greet and assist you with any of your requests.
There's also a pub above the hotel that you can try out for a few drinks at night. It can get a little noisy and that's why they soundproofed all the rooms.
Although there are plenty of restaurants outside, you can check out their rooftop terrace for some views and a nice breakfast.
»» Check out guest reviews, prices, and availability at Green Rooms ««
Mid-Range Hotels in Plovdiv Old Town ($50-75 USD/Night)
HillHouse Plovdiv
This lovely guest house, Hillhouse Plovdiv, perfectly embodies the country-chic style with its mix of modern and contemporary furniture. The house also stands out with its bright pink exteriors and architecture.
All of their facilities are in superb condition. A few indoor plants are in the rooms and common areas to add a fresh green vibe. Doodled murals can be seen in some of the rooms, which depicts artistic images of the city.
This hotel has options for solo travelers, couples, and groups. The rooms have their own ensuite bathrooms, plus a patio where you can check out the charming views of the Old Town. A unique feature of its rooms is the music that you can play music in their ensuite bathroom – you can really soothe yourself while taking a shower!
The use of vibrant yellows in the linens and sheets makes the wooden floors, beams, and furniture stand out. It also has hardwood floors and tiny details like small pebbles and plants on the side of the bed to make it extra special – you will also find sockets here (everybody needs that nowadays!).
Past guests recommend this hotel due to the excellent service they provide to guests. The owner and host ensure that you will have the best stay you will ever have in a quiet and perfect location in the Old Town. If you have a car, you can also park for 20 BGN (around $11 USD) per day on-site (a good rate as it's impossible to park inside the Old Town)
»» Check out guest reviews, prices, and availability at HillHouse Plovdiv ««
Where to Stay in Plovdiv Center
Mid-Range Hotels in Plovdiv Center
The Stay Hotel Plovdiv
You just can't beat this location! Located right off of Knayz Alexander I and across from Stefan Stombolov Square, the hotel is located at the most important spot in downtown Plovdiv.
From here, you're a few minutes walk to the Roman stadium, the statue of Milyo, and the Together Monument. There are also great restaurants within a few blocks like Hemingways and fun bars like the Temple Bar.
Unlike some hotels in Europe, the Stay Hotel isn't stingy when it comes to electrical outlets in the room, plus many of the outlets are updated with USB ports.
If you forget your charger, there's a stand in the lobby with different chargers so you won't get stuck without access to that sweet, sweet cell phone battery.
The rooms are stylish and modern, like a West Elm catalog come to life. They're also very spacious, so you can spread out your belongings without feeling cramped — great if you're not a particularly neat traveler, like neither of us are!
»» Check reviews, prices, and availability at the Stay Hotel Plovdiv here ««
Luxury Hotels in Plovdiv Center
8 ½ Art Guest House
Huge and spacious suites, all with perfectly artsy and classic styles embody the entire property of 8 ½ Art Guest House. You will love how they combine prints, vibrant colors, and luxurious materials to complete its look. Every room has its own patio (that has outdoor furniture) and private bathroom.
You won't even have to ask their front desk for anything (which is such a relief, even though their front desk is available 24/7) – because you are provided with most of the things you will need for a convenient experience for your stay.
All of their rooms have the best features you can see in most luxurious rooms. The floors are carpeted and it has elegant and comfortable furniture with a little touch of French provincial style. It does play around with some textures and lines to create a sense of direction inside the suite. There are also comfortable velvet bed covers to make your sleep as cozy as possible. The doors opening to the patio allow natural light to get into the suite every morning. Not one room is alike, but they're all beautifully decorated.
From toiletries to slippers, most of their bath amenities are provided to you for your disposal at no extra cost. The huge vanity mirror in the bathroom is amazing and it is backlit to create a glowing frame. The dry area of the bathroom has glazed hardwood floors while the shower area has tiles for its floors.
There's also a café called Dolce Fellini downstairs which has a very cozy ambiance, and this is where you will get your free breakfast in the morning. Past guests have loved it so much and even said that it has the best breakfast in the area! You can also check their restaurant, Hemingway (Stephanie's favorite!) for a cool retro vibe and some a la carte dishes, and this is just across the street.
»» Check out guest reviews, prices, and availability at 8 ½ Art Guest House ««
Where to Stay in Plovdiv: Outside the Center
Mid-Range Hotels in Plovdiv ($50-75 USD/Night)
Landmark Creek Hotel & Spa
The Landmark Creek Hotel & Spa has 4* world-class facilities so they can offer the best features and amenities to any guest from anywhere in the world. It is a huge hotel with modern facilities, and it is located in Rowing Channel, which they say is the greenest area near the Old Town.
Even if it is not in the town center, it is very easy to get there from the property's location – taxis are also very cheap to get there, so it's truly a wonderful escape from the crowded city center.
Most of the rooms have a balcony and you have many options to choose from. They have a total of 52 rooms and 2 luxury apartments that are perfect for couples and they're pretty much on the lower mid-price range. So, you're really getting your money's worth from the superb facilities here. Each room has a minibar where you can pay extra for some snacks or drinks.
What's so convenient about staying at this hotel is that the breakfast is already included, you don't have to go outside just to look for a café. There's a selection of meats, bread, fruits and so on – you won't have a problem and you will surely enjoy it from healthy to indulgent choices like honey with honeycomb!
For lunch or dinner, the restaurant on-site has lovely music and delicious dishes you can pair with some of their local and international wines (for other choices of alcoholic drinks you can check their Lobby Bar). The restaurant also has a good view of the garden outdoors with its glass windows that will remind you of British-style sunrooms.
The spa services and treatments just give you the best Zen moment you are looking for after a tiring day. If you are not familiar with some of the treatments, you can ask their therapists and they can even give you recommendations to suit your needs or aching body parts. They have an infrared sauna, steam bath, whirlpool bath and so much more! If you want to work out, you can try the equipment available at their fitness center.
»» Check out guest reviews, prices, and availability at Landmark Creek Hotel & Spa ««
Luxury Hotels in Plovdiv [Outside the Center] ($75+Night)
Park & Spa Hotel Markovo
The Park & Spa Hotel Markovo offers luxurious and modern accommodation for guests who want to level up their stay in Plovdiv.
It has a very grand fountain in its huge garden and park (which has some ducks and donkeys) plus a huge outdoor swimming pool offers a refreshing dip during the summer aside from the warm indoor pool.
Depending on the number of guests, they have rooms suited for your needs. A sumptuous breakfast served in the morning is included in your stay – you also get to make your own fresh fruit juice (or Lavazza espresso for coffee lovers) and there's a variety!
Couples can get their Standard Double Room or Deluxe Double room while families or groups of 4 travelers can book their Deluxe Apartment. All of their rooms are fully furnished to make each room as cozy and comfortable as possible. You will adore the turquoise linen and sheets – they just make everything look vibrant and lively! Everything you need is given, plus a private and clean bathroom complete with free fragrant bath and body products.
Kids will enjoy the safe and secure indoor playground because it has plenty of toys to keep them entertained, and adults can go to their entertainment room and have fun or simply feel young at heart! There's also an outdoor playground for kids with slides protected by colorful fences.
Ladies (and men!) who wish to pamper themselves can book a relaxing treatment at their spa. They have a sauna, hammam, solarium and hot tubs for an extra. There are also ready-made packages you can check so you can save some money if you plan on getting multiple treatments or services.
»» Check out guest reviews, prices, and availability at Park & Spa Hotel Markovo ««
5 Things to Pack for Plovdiv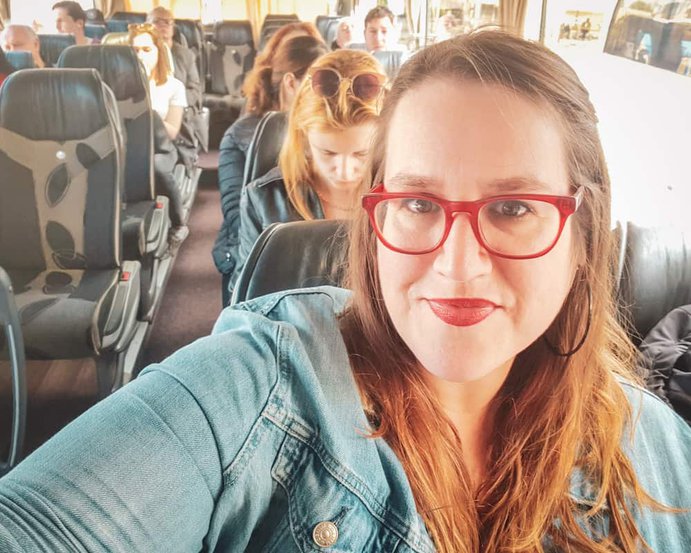 We have a complete Bulgaria packing list, but here are a few things you don't want to forget!
– A physical guidebook, in paper or on Kindle. We own and love Lonely Planet Bulgaria & Romania for this region and strongly recommend it to supplement blogs. Blogs are great, but a combination of a blog and a guidebook is key to having the best access to information easily at your fingertips.
– A water bottle with a filter. While generally, the tap water in big cities in Bulgaria is drinkable, such as in Sofia and Plovdiv, we generally recommend using a water bottle with a purifying filter to reduce your plastic consumption and ensure you won't drink any funny-tasting water on your stomach that could make your trip unpleasant! We recommend the GRAYL water bottle – it filters water perfectly in an instant so that you can even drink from lakes, bad taps, etc.
– Motion sickness pills. Bulgarian bus rides can be hot and stuffy in the summer and cause motion sickness! If you have a weak stomach as we do, save yourself and bring some non-drowsy motion sickness pills.
– Wet wipes, hand sanitizer, TP & other Balkan transit needs. Bathrooms in the Balkans tend to be… how can we say it?… not so well-stocked. Save yourself the disappointment (and germs!) and bring a mini-rescue pack of wet wipes & hand sanitizer.
– Travel safety items. We think Bulgaria is very safe to travel, but at the same time, it never hurts to be prepared! Some people like to carry money belts, but neither Stephanie or I use these. Instead, we both carry the same PacSafe anti-theft backpack.
It has locking zippers, slash-proof construction with metal mesh hidden in the fabric, and tons of other smart security features — all while being cute and stylish enough to be our everyday bag. We recommend it highly for both male and female travelers, as it's neutral enough to be unisex. We also strongly recommend travel insurance! Our recommendation is at the bottom of the post.
Read more: Essential Bulgaria Packing List: What to Wear & Pack for Bulgaria
More Plovdiv Travel Resources
Headed to Plovdiv? If this will be your first time in the country, then start with our guide to planning a trip to Bulgaria.
Next, check out our guide to the best things to do in Plovdiv and our favorite Plovdiv Instagram spots.
If you'll also be visiting Sofia on your trip, we have guides on how to get from Sofia to Plovdiv and from Plovdiv to Sofia, plus recommendations for where to stay and what to do in Sofia plus the best Sofia nightlife and our favorite restaurants and bars.
You will also want to check out our overview of Balkan currency, which describes Bulgarian leva and how to tip in Bulgaria.
Don't Forget About Travel Insurance!
It's always a good idea to travel to Bulgaria with a valid travel insurance policy. Travel here includes outdoor activities and travel to highly touristed sites. It's great to be covered in case you have an accident or fall victim to theft. Travel insurance can help you recover your expenses and continue to enjoy your trip.
For travel insurance, I use World Nomads. I've been a happy customer of theirs for almost three years, and I'm happy to refer them to anyone I meet.
Pin this Guide to Where to Stay in Plovdiv for Your Trip
Originally from California, Allison has been living in Bulgaria for the last two years and is obsessed with traveling around the Balkans. She has been published in National Geographic, CNN Arabic, Matador Network, and the Huffington Post. She loves befriending dogs, drinking coffee, geeking out about wine, and cooking food from around the world.