This post may contain affiliate links. This means that if you click a link, we may make a small commission off any subsequent purchase, at no extra cost to you. For more information, please check our privacy policy.
Maribor is beloved for its proximity to wine country and several of Slovenia's most beautiful natural wonders, and it makes a natural base for road tripping around Slovenia as well as people who want to soak up a bit of Slovenia's urban life without the crowds of Ljubljana.
As it's close to many of Slovenia's most majestic mountains, it's also a popular spot for skiers who don't want to stay in a mountain ski resort but want the amenities of a modern and lively city.
Maribor has a small and compact city center with many bars, restaurants, and other places of interest for tourists, so we've focused our picks in the area of the main square of the Old Town, Glavni Trg.
This is where you'll find many of the main attractions of Maribor, including Mariborski Rotovž, the Town Hall done in an exquisite Renaissance style, dating back to the early 16th century.
Budget Hotels in Maribor
For the purposes of this post, we've described the category of budget hotels in Maribor to be under $75 USD per night for a double room in the high season.
However, keep in mind that this is an estimated price and can vary depending on how full the hotel is, what the holidays are, and other fluctuations.
Anna House
Anna House has rooms that are perfectly fitted for couples and families; you can choose from a double, triple or apartment room. They also feature shared spaces dedicated to cooking and laundry, in case you need to take care of any errands while on the road, as well as a shared bathroom for some of the budget rooms.
The design of its interiors is kept simple with a focus on functionality. Each room is equipped with a work desk and a comfortable modern chair — great if you need to do some work on your laptop in between sightseeing! The rooms have sturdy wooden beds and soft mattresses; the beds have electric sockets just beside them, so you can leave your phone charging as you rest — something I never take for granted!
While many rooms have a shared bathroom, if you prefer to have a private bathroom in your room, you may choose their family rooms. It's really not going to break your budget if you choose this room, even if you are only a group of three or less!
The shared bathrooms are clean, and the toilet and the shower areas are separate so you don't have to worry about wet bathroom floors in the toilet area (something I always resented in shared bathroom plans during my hostel days!).
This hotel offers pet-friendly accommodations, and if you're visiting Maribor in winter, you can also easily access the ski area and use their ski storage facilities for your equipment. If you need assistance with parking, you can ask their front desk about their affiliated parking spaces. They can also assist you if you need any shuttle service or to rent a bicycle!
»» Check out guest reviews, prices, and availability at Anna House ««
Baščaršija Etno House
If you want a strategic location that's only 2 minutes away from the famous spots in the Old Town, Baščaršija Etno House is a great choice. You will also love the charming shabby-chic rustic inspiration of the entire house – which is also very evident in the cute café downstairs!
If you're visiting Maribor during ski season, you can easily buy ski tickets on-site, and they also have a partner school just in case you need to refresh your skills or learn the basics. You may also bring your furry friends with you for an additional charge, just don't forget to send in a request if you do!
All of their rooms give the best value for what you pay; not only will you get an exclusive room with a private bathroom, but each room is also fully equipped with all the things that will make your stay as convenient as it should be.
You will love the ensuite bathrooms because they have a concrete tiled walk-in shower with a door, making you feel like there's another small room inside your bathroom. You may choose from a studio or an apartment, but both also have tiers within those categories to cater to more guests, depending on whether they prioritize budget or space.
The studio rooms have the loveliest printed and patterned textiles on the upholstery of the chairs and the sheets, whereas the apartment rooms explode with floral patterns. All rooms have matching wooden floors and uniquely decorated furniture plus some wooden beams are visible as well for that beautiful vintage look.
»» Check out guest reviews, prices, and availability at Baščaršija Etno House ««
Maister Rooms Maribor
Maister Rooms has prices set at the lower budget range in the area, with both triple and queen rooms. Everything inside is modern (brand new too!) with a minimalist flair – making it have more space but still with functional pieces that look neat!
Common areas include a kitchen with a dining area and 2 bathrooms (with all the bath essentials you need); both are kept ridiculously clean so they're pleasant to share with your fellow guests.
They have a total of six rooms and you will be happy to know that if you there are times you need to work in your room – you will find peace and a literal work desk to help you!
They also provide a drawer and a closet are in your room to allow you to store and organize all your clothes and accessories (or anything else so you don't have to always make a mess taking your stuff out from your luggage).
You can park your bikes on-site, but if you have a car, then you would need to coordinate with them so they can inform you of their partner parking space so it doesn't cost you as much – great if you're using Maribor as your ski base!
»» Check out guest reviews, prices, and availability at Maister Rooms Maribor ««
Best Mid-Range Hotels in Maribor
For this section of the article of where to stay in Maribor, we're focusing on affordable luxury.
By that, we're talking a price range of about $75-150 USD per night for a double room. However, as always, prices range depending on room type, availability, and several other factors.
We looked at prices about six months in advance, so that plays a role as well – some Maribor hotels may get more expensive over time as the budget rooms get taken up, whereas some won't fill up and will sell their rooms at a lower rate.
We always suggest snapping up a room you like as early as possible in case it sells out in the future, especially if rooms have free cancellation so it's not a risk!
Mercure Maribor City Center
Someone who is visiting Maribor for a business trip can truly enjoy the features of this hotel – it even has a dedicated business club and center!
With that being said, it doesn't mean leisure travelers won't be able to enjoy its convenient facilities and amenities as well. They also carefully included facilities for guests with disabilities, so they too can have a hassle-free experience.
In keeping with Slovenia's identity as one of the greenest countries in the world, this stylish hotel also has green procedures implemented for waste management and utilizing energy. For one, they use eco-friendly cleaning products to keep the property clean, as well as several other eco initiatives.
If you have allergies or are just simply picky when it comes to your pillow, you can choose from their 10 kinds of pillows – from medical, artificial or natural fiber, feather type, and all different sizes.
The rooms have modern contemporary furnishings to keep the rooms elegant and sophisticated. You will see some walls with printed wallpapers that create an interesting visual focal point in the room behind the bed. You can also have a few snacks and prepare your own coffee and tea according to your liking at the minibar.
Someone who needs a totally relaxing vacation before heading back home can try their therapeutic body rituals and massages. You can also check the art café and the restaurant for some nice dishes or maybe just for an afternoon you just want to just read a book or chill.
Other activities can also be arranged by their front desk and you can also get tickets so you can ski (plus they provide ski storage for your equipment if needed).
»» Check out guest reviews, prices, and availability at Mercure Maribor City Center ««
Ibis Styles
This pet-friendly hotel belongs to a chain of hotels from Accor, and it provides 3-star features to all guests. They have a total of 71 rooms plus a restaurant and bar on-site while still bringing the signature service and amenities you can expect from an Ibis hotel: modern and comfortable yet relaxed.
Modern and artsy decals are placed on the walls, in keeping with the color palette of the room – purples and greens. This keeps the modern vibe of the room alive and it blends well with the simple furniture used.
Safety storage units are also available for you, so you can keep your important stuff secure while you spend the day sightseeing or skiing. Heating and A/C keep the room temperature perfectly suited to your taste in all seasons. Family rooms are also available for larger groups, and all rooms have a private bathroom complete with your bathing essentials.
There's an on-site restaurant, but if you feel a little lazy (or tired from all the touring), you can just buy something from their vending machines as well.
Note that parking on-site is not free, but it is only €6 per night (around $7 USD). They can also assist you with car rentals if you need one. During the winter season, you can directly buy your ski tickets from the hotel and store your equipment for free in their ski storages.
»» Check out guest reviews, prices, and availability at Ibis Styles ««
Hotel Maribor (Garden Rooms)
This is one of the Hotel Maribors in the area and it lives up to its promise of a gorgeous garden and courtyard! You can even hang out here and just listen to the sound of the birds in the morning, relaxing while having some tea and sitting on their garden chairs.
Everything about this hotel communicates simplicity and sophistication, making it a good choice for those who have refined tastes.
Most of the furnishings used are uniform throughout the hotel with a modern and minimal flair, so that you know exactly what your room will look like. They have options of a single, double or triple room with superior versions if you need a bigger room for more guests.
All rooms are soundproofed and come with an ensuite bathroom that has floor heating, and comes with perks with an in-room coffee machine to make you feel at home. Even if there aren't balconies in their rooms, you still get great views from your windows — you might not want to use the blackout curtains so you can spoil yourself with all the Old Town gorgeousness you see!
The rooms also have plenty of electric sockets, when you need to charge plenty of gadgets, especially for those who want to record plenty of fun memories.
They also have a sauna, just in case you want to unwind and release yourself from any stress of traveling, loosen tense muscles from days of sightseeing, or warm up from a day hitting the ski slopes.
Past guests have loved that it is still very central yet it is in a quiet location with all the features to make you feel at home! They have paid parking on-site and you can also charge electric vehicles here!
»» Check out guest reviews, prices, and availability at Hotel Maribor (Garden Rooms) ««
Luxury Hotels in Maribor
Maribor is a small city, so don't expect big-name hotels like the Ritz and Four Seasons. Instead, luxury hotels in Marbor are about taste, elegance, and amenities, without the emphasis on brand-names or 5-star features.
That said, you can get a gorgeous hotel room in Maribor for a little over $150 USD a night and up for a more basic room, though you can definitely creep well above that if opting for one of the more premium suites.
Hotel Maribor (City Apartments)
Hotel Maribor (City Apartments) gives you modern Italian styles and sleek furnishings that prove that they deserve a 4-star rating. Everything is well-polished and executed, and you really get your money's worth from all the features and amenities included in your stay.
They offer apartment-type rooms with tiers based on the number of bedrooms for each (with a maximum of up to 8 guests per apartment); it also has private bathrooms and a work desk. There's also a mini kitchen with a dishwasher, microwave and coffee machine in case you'd like to prepare something light in your accommodations.
The balconies with outdoor furniture are really charming decks where you can have a nice lunch or dinner. The oakwood floors are kept polished and the entire apartments are kept clean with daily housekeeping. Leather couches keep everyone comfortable as you watch TV or just simply sit and read a book.
All of their apartments are spacious, soundproof, and hypoallergenic. If you have brought only a few clothes (light packers can relate!), you can use their washing machine to keep your clothes clean and smelling fresh. The private bathrooms have free toiletries, and the staff always makes sure that your bath necessities always are well stocked.
Everything about this accommodation feels premium, and despite the modern features, you will be surprised that the building was a former bourgeois house! This is what sets it apart from other properties in the area and that's also one of the many reasons past guests have enjoyed their stay and even wanting to stay longer!
You can also check their restaurant, Gostilna Maribor, for authentic Styrian dishes, which is the local regional cuisine. They also have three other restaurants serving a variety of food, from pizza to steak to Mediterranean dishes.
Their spa has luxurious Meraki cosmetics used for the treatments and you can zen out and enjoy some peace and quiet as you indulge in their other spa amenities.
»» Check out guest reviews, prices, and availability at Hotel Maribor (City Apartments) ««
Habakuk Wellness Hotel
While picking where to stay in Maribor, if you want a hotel where you can not only regain your energy to rest but also recharge from amazing wellness facilities, then you should choose the luxurious Habakuk Wellness Hotel.
No one will feel bored staying here, as there are programs available for kids and adults to improve their well-being. It is also set in a quiet location on the outskirts of Maribor, perfect for if you want to get away from the urban bustle but still be a short taxi ride away from the city's restaurants and attractions.
There are many rooms in this hotel (134 rooms to be exact) and options include a double, quad, and suite variation. It has a consistent style throughout its rooms, where you see royal blues, vibrant scarlets and soft caramels in its rich but understated color palette.
The wooden furniture has simple yet timeless designs to complement the modern yet classy decor. Floors are covered with a simple printed carpet that complements the room colors. All of its spacious bathrooms have an enclosed shower and marble floors and walls, plus a large half-body mirror just above the wide sink.
The a la carte restaurant offers creative dishes so you can have a culinary exploration that even those with dietary requirements or kids can still enjoy.
Winter sport enthusiasts can also conveniently buy lift tickets or go to the ski slopes and keep their equipment with the storages provided. There are also other services you can ask their 24-hour front desk aside from tours, laundry or car rentals!
»» Check out guest reviews, prices, and availability at Habakuk Wellness Hotel ««
Hotel City Maribor
This luxury business hotel right in the heart of the old town (and just beside the river) welcomes you with panoramic views of the town and the lush green rolling hills.
They have 78 rooms where you can choose from a standard, superior, economy, family, or suite type accommodation. Their business facilities are also one of the best in the area with a huge conference hall that can be used for meetings and events; it can also accommodate up to 450 people.
All of their rooms have fine and carefully selected designer pillows, mattresses and linens, carefully selected to give you the best comfort you deserve.
The huge windows give you different lovely views of the town and other sights you will see by the river. Restaurant City Terasa has the best view in the property and it also serves delicious dishes that you can enjoy as you marvel at the sight of the peaceful river. It is also a perfect place for a wedding reception or even banquets for business-related matters.
Start your day right by working out at their fitness center (which is open 24/7) just before you head on to get your free buffet breakfast at their restaurant.
They also have an underground garage where you can park your car or charge your electric cars. For pet lovers, note that just like many hotels in the area, you can also bring your pets by sending in an advance request!
»» Check out guest reviews, prices, and availability at Hotel City Maribor ««
5 Things to Pack for Slovenia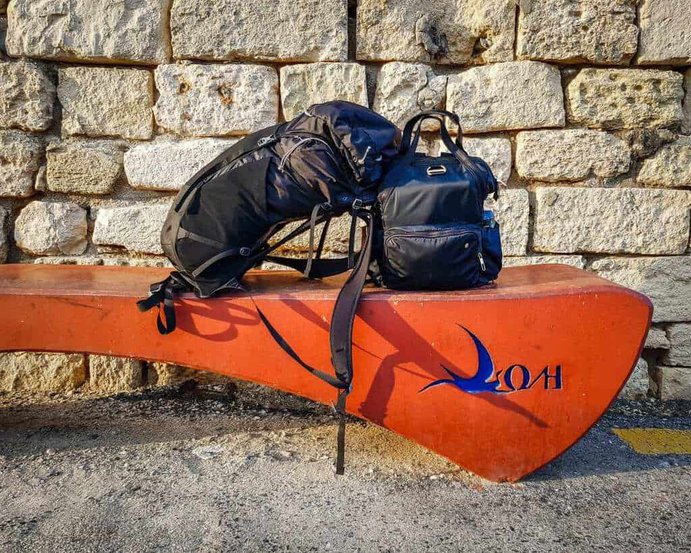 We have a full Slovenia packing list, but in case you just want the quick version, here are a few essentials you shouldn't forget to pack!
A good guidebook: While travel blogs are great, we still think a good guidebook is always handy. We suggest Lonely Planet Slovenia if you'll be traveling quite a bit around the country, or if you are planning a multi-country Balkan trip, Lonely Planet Western Balkans includes Slovenia and many of its neighbors.
Pacsafe Citysafe or Other Anti-Theft Bag: This is the bag both Allison and I use (it's unisex, so even men can enjoy it). It has a pouch with RFID technology so our credit cards can't get scanned from afar, interlocking zippers to make it harder to pickpocket, slash-proof mesh inside, and it's roomy enough to be a perfect sightseeing day bag. We also think it's stylish enough that it's just our everyday bag!
A Sturdy Moneybelt: If you don't want to get a new bag with anti-theft features as I use, you can use a money belt instead. I prefer to have these features built into my bag instead, but I know for a lot of people a money belt is a less expensive investment than a new bag.
Grayl Water Filter: While the water in Slovenia is safe to drink, you'll want this if you plan to do a lot of hiking or you'll be spending a lot of time outdoors (or if your stomach is sensitive to tap water from different countries). If you don't want to be buying millions of plastic water bottles, you can get a reusable water bottle that comes with a water filter so that you can stick to the tap water and reduce your plastic waste. 
Rain jacket: Did you know Ljubljana is one of the wettest cities in Europe? It's also quite rainy in Maribor and other destinations around Slovenia, so pack wisely! I strongly recommend this Marmot PreCip jacket (here's the women's version; here's the men's), which is totally waterproof and will keep you going strong throughout whatever weather is thrown your way. If you don't want to carry a rain jacket, at least pack a travel umbrella.
Read Next: Essential Slovenia Packing List: What to Wear & Pack for Slovenia
Where to Stay in Slovenia
We are working on hotel guides for Slovenia's major cities – after all, you've just read one! Ljubljana is still on the way, but if you're visiting Bled, you can start with our guide to where to stay at Lake Bled and the best hotels near the Straza Lift in Bled. 
When traveling to Slovenia, we recommend checking out Booking.com as early as possible. The country is gaining in popularity as a tourist destination, so some of the best spots do sell-out early!
More Slovenia Travel Resources
If you're just starting to prepare for your trip to Slovenia, read our guide to planning a trip to Slovenia which features an 11-step checklist!
If you're an avid photographer, you'll find our Instagram guide to Bled helpful (Ljubljana on the way!).
If you need more Slovenia travel inspiration, check out the best places to visit in Slovenia, the best Slovenian castles, the most breath-taking Slovenian waterfalls, and what Slovenian souvenirs you should bring home.
If you're headed to Slovenia in the off-season, check out our guide to what to do in Slovenia in winter. We also have a guide to visiting the Lake Bled Christmas Market and the best Lake Bled winter activities if you'll be here from the end of November through the beginning of January!
We publish new content nearly every day! Bookmark our pages on Slovenia and the Balkans so that you don't miss out on any new info or resources that we publish before your trip!
Don't Forget About Travel Insurance!
I'm sure you're aware that travel insurance is a good idea for traveling in Slovenia (or really, any part of the world)! Stephanie and I have both been paying customers of World Nomads for the last three years. We love the peace of mind it gives us in case of emergencies, accidents, illnesses, theft, or trip cancellation or disruption.
While the Balkans are perfectly safe to travel around, there's always a risk inherent in everyday travel – so it's better to play it safe.
>> Get a travel insurance quote for your trip here << 
Pin this Guide to Where to Stay in Maribor
Originally from California, Allison has been living in Bulgaria for the last two years and is obsessed with traveling around the Balkans. She has been published in National Geographic, CNN Arabic, Matador Network, and the Huffington Post. She loves befriending dogs, drinking coffee, geeking out about wine, and cooking food from around the world.