This post may contain affiliate links. This means that if you click a link, we may make a small commission off any subsequent purchase, at no extra cost to you. For more information, please check our privacy policy.
Sibiu is a gorgeous Transylvanian city with so much to offer, and it's a great base for heading out on a Romania road trip around the Transylvania region.
It's also drop-dead gorgeous, with tons of Instagrammable places in the city and within just a few hours' drive of it as well.
The other great thing about Sibiu is its compact size, meaning that basically no location is a bad location! We generally recommend staying near the Great Square or the Bridge of Lies, which are not far from one another but make good reference points for looking for accommodation in Sibiu.
So, if you're wondering where to stay in Sibiu, read on — we've picked our favorite places to stay in Sibiu in each budget category for you to choose from!
Want to save this post for later? Click to Pin!
Budget Hotels in Sibiu (Under $75 USD)
This stylish aparthotel is located right in the heart of Sibiu, a mere 10 minute walk from the photogenic Bridge of Lies.
Style Residence Sibiu features larger units perfect for people planning to self-cater and cook for themselve during their stay, as many of the rooms have a dining area and kitchenette for use. If you've had your fill of polenta and Romanian food, you're staying in Sibiu for a longer stay, or you're just trying to travel on a budget, this can be a fantastic option!
As an aparthotel, it's a bit different than your standard hotel, as it's more like a set of studio apartments collected together in a lovely modern building. There is a receptionist who will meet you on-site and explain how everything works and get you checked in. However, if you're looking for a more standard hotel experience, this may not be the place to stay in Sibiu for you.
The rooms feature big, spacious beds, flat-screen televisions, big windows with effective blackout curtains in case you want to sleep in, floating beside shelves, a desk area in case you need to work, wardrobe space for unpacking, and a couch area to lounge in. Check prices, guest reviews, photos, and availability here.
Another fantastic aparthotel option, this is great for people who wish to cook for themselves and settle in in style. There's a fully-equipped small kitchen in each unit, with plenty of utensils and cooking equipment, as well as a reasonably-priced minibar in case you're tired upon checking in and need some refreshment.
Plaza35 is close to several important Sibiu landmarks, such as the Council Tower of Sibiu and the picturesque Albert Huet Square, so nothing is ever a far walk from your accommodation – no public transit or taxis needed.
The rooms are large and modern, well-equipped with all the creature comforts you'd need to enjoy a longer stay in Sibiu or just feel at home while you're on the road, such as large wardrobes, balcony, dining/seating areas in most units, etc. While the price is affordable, previous guests have said that they feel like they've had a 5-star experience!
Keep in mind that this is an apartment hotel and therefore there is no breakfast included, nor is there a traditional "front desk"; however, past guests have said the staff has been incredibly helpful with any needs that arose! Check prices, guest reviews, photos, and availability here.
Perfectly located right between the Little Square and the Great Square — 100 meters from the former and 200 meters from the latter — this hotel definitely puts the central in Blumenhaus Central Apartments!
With a quiet interior courtyard, this aparthotel is in the heart of all the action of Sibiu yet quite peaceful. It features air-conditioned rooms and colorful, floral-inspired decor.
Rooms feature kitchenettes with small fridges, cutlery, tableware, and basic cooking needs provided for – perfect for a longer stay in Sibiu. The furnishings are modern and unique, perfect for people who like rooms with a little personality.
The rooms feature pull-out windows which let a lot of natural light into the apartment, perfect for people who thrive off sunlight and bright spaces. Each unit features a small seating and lounge area to relax on in the room when you want to take a break from exploring the cute, meandering streets of Sibiu. Check prices, guest reviews, photos, and availability here.

Mid-Range Hotels in Sibiu ($75-$150 USD)
The exquisite 5-star Noblesse Boutique Resort is located just 500 meters from the beautiful Council Tower of Sibiu, and is about a 10-minute walk from the historical center of this beautiful Transylvanian city.
This is truly a hotel for art lovers and connoisseurs, as the whole property is full of beautiful paintings that will inspire you throughout your visit. The rooms are air-conditioned, spacious, and cozy, with all the things you didn't even know you craved — like black-out curtains, feather pillows, heated floors in winter, and more!
It has modern hotel amenities as well such as a fitness center, which you can access freely with your stay. Each room is personalized beautifully to make your stay in Sibiu feel unique and memorable, yet tasteful in keeping with the name and style of the hotel. Desk space is provided in case you need to work while on the road.
Guests loved the breakfast options, which had a buffet of continental options as well as local traditional food that you can try. The hotel also has a terrace, garden, daily housekeeping, a restaurant serving international and local fare, and a massage and wellness center. Check prices, availability, photos, and past guest reviews here.
This lush hotel is located just 800 meters from the Bridge of Lies. Exclusive Hotel & More is a little outside of the historical center, so it's perfect for people who prefer their hotel on the quiet side and to be an oasis from the sightseeing they do during the day will find it.
The hotel features air-conditioned units with lovely Sibiu city views. Each room is equipped with a flatscreen TV, desk, and minibar. There's a restaurant on-site serving Italian and international cuisine if you want a break from the local food (though the Sibiu gastronomy scene is quite delicious!). Rooms are carpeted with a clean, modern aesthetic and seating areas provided in some of the larger units.
If you're traveling with kids, they'll love this hotel as it has an indoor playroom specifically dedicated for the little ones! Meanwhile, parents will love the sophisticated style, 24/7 front desk ready to answer all your Sibiu questions, and sunset views from the terrace. Check prices, reviews, photos, and availability here.
The lush and gorgeous Cetatea Medievala is a beautiful and unique place to stay in Sibiu, one you'll hardly want to leave — especially since every unit has a spa bath you can soak and unwind in after a long day of sightseeing!
The guesthouse décor is beautiful and tasteful, not overdone in the slightest, with bright whites, wood details, and lots of old traditional glamorous furniture that is vintage without being dated in the slightest.
It's a mere 200 meters from the Great Square, so you're never far from the heart of the action in Sibiu. It's a small guesthouse with a lot of heart and refined sensibilities, so it's perfect for people who love boutique hotels and want a unique stay filled with personality and little details. Check photos, reviews, prices, and availability here.
Luxury Hotels in Sibiu ($150 USD+)
This is where Stephanie and I stayed during our time in Sibiu and we were definitely impressed — most of all by the sky-high restaurant on the top floor with stunning views over all of Sibiu!
We were there in Sibiu just after an early fall snow, and seeing the traditional rooftops all dusted in white powder and the mountains in the background was an absolute treat. You won't get this kind of view staying anywhere else in Sibiu!
It's a small walk from the center – about a 15-minute walk away from the beautiful Grand Square – but that's why the vibe is so peaceful and the view so exquisite. A hotel of this size and height wouldn't be allowed in the UNESCO limits of Sibiu, hence its location.
We enjoyed eating at the 585 Fusion restaurant, where you can enjoy tasty fusion cuisine from the 11th floor — aka 585 meters (hence the name!) above the ground. The breakfast here was fantastic and varied, one of our best breakfasts in Romania.
The rooms are well-equipped and modern, with up-to-date technology, spacious bathrooms, gorgeous mountain or city views from large windows, and comfortable beds. The look is a little dated, we admit, but we found it quite comfortable.
There is also a spa with sauna that you can visit, as well as a massage center, but do note that there is a surcharge for spa services. Check prices, reviews, photos, and availability here.
Talk about location! The Ramada Sibiu is right smack-dab in the historical city center of Sibiu, a mere 50 meters from the main pedestrian area and main city square. If you like to be in the heart of it all, this is the hotel for you!
This modern hotel boasts 4 stars and has panoramic views from the elevator — from which you can marvel at the views over the Old Town! The décor is very new and elegant, with spacious rooms and good soundproofing so that it is surprisingly quiet despite the central location. There is a lot of natural light, and some of the rooms have stunning city views.
There are a variety of eating and dining options at the hotel, the delicious Atrium Restaurant as well as two 2 sleek bars. Breakfast is provided daily and offers a wide selection of traditional favorites.
Note that this is a great option if you are seeking an accessible hotel in Sibiu as it has accommodations in place to suit travelers who use wheelchairs or have other mobility, health, or vision impairments. The restaurant also has special menus to accommodate a variety of dietary requirements.
Location, fantastic views, delicious dining, and convenience for all — that's what we call a great place to stay in Sibiu. Check prices, reviews, photos, and availability here.
The Hilton name has long been associated with luxury (OK, and ditzy heiresses) and you'll find just that in Sibiu as well. The Hilton Sibiu boasts free pool and spa access, perfect if you're looking to unwind after a long day of sightseeing!
Now let's talk about that spa: we're talking an indoor swimming pool, saunas, a steam room, a Cleopatra bath (I don't know what that is, to be honest, but I'm pretty sure I'd love it), a meditation and relaxation room, and a gym area with state-of-the-art equipment.
The hotel has balconies that offer stunning views of the Carpathian Mountains which surround Sibiu. Rooms are spacious and modern, with all the amenities you'd need, and unique and opulent décor in line with the Hilton Brand. Work desks are available in the rooms for those who need to work on the road.
Guests raved about the breakfast, as well as the presentation of the food at the restaurant. While Stephanie and I didn't stay at the Hilton during our time in Sibiu, we did have the opportunity to eat at its Romanian restaurant during our stay (there are also two other options) and found it to be very high quality traditional Romanian food.
Do note that it's located quite a bit outside of the city center, about 50 meters away from the stunning ASTRA Folk Museum. You'll want to get a taxi or take public transportation into town to do your sightseeing. However, this is what gives it its solitude, peacefulness, and space for its many amenities — such as its two tennis courts, outdoor pool and sun lounging area, kids outdoor play area, and sun terrace! Check prices, guest reviews, availability, and photos here.
5 Things To Pack for Sibiu
The Lonely Planet Romania & Bulgaria: A good guidebook can help you with the kinds of tips you need if you're out in the city and feel a bit lost, especially if you don't have internet or a cell signal. These also have specific neighborhood information that will help you in different parts of the city, and it's a great supplement to blog posts like this one!
Unlocked Cell Phone: Stephanie and I both have unlocked cell phones that we bought in Europe (Stephanie uses a Samsung and I use an iPhone). This allows up to get sim cards when we travel so that we always have the internet. This has gotten us out of so many jams! If you don't have an unlocked cell phone that can use a Romanian sim card, you can buy a cheaper unlocked phone online and bring it with you!
Pacsafe Citysafe or Other Anti-Theft Bag: This is the bag both Stephanie and I use for all our travels. It has a pouch with RFID technology so our credit cards can't get scanned from afar, interlocking zippers to make it harder to pickpocket, and it's roomy enough to be a perfect sightseeing day bag, yet it's still quite stylish for all of its security features. If you'd rather bring something smaller, you can pack a money belt instead.
Grayl Water Filter: While the water is *technically* safe to drink, I would still filter it. If you don't want to be buying millions of plastic water bottles, you can get a reusable water bottle that comes with a water filter so that you can stick to the tap water and reduce your plastic waste. If you'll be traveling outside of Sibiu, check if the water is potable locally.
Waterproof Jacket / Layers: Romania's weather can be quite unpredictable — we actually ran into an early snowstorm in Sibiu when we visited in late October and I had to run to H&M and do a major winter shopping blitz! Not ideal for your vacation. We definitely recommend bringing proper layers that are versatile and pair well with other things in your luggage.
We love this Marmot PreCip rain jacket (here's a woman's version and a men's version) which pairs well with other layers or can be worn on its own. If you're visiting in fall or spring, we suggest a warm under layer, and if visiting in winter, upgrade that rain jacket to a parka! I own and love this North Face Parka and have had it for nearly a decade and know I'll own it for decades to come thanks to its lifetime guarantee.
Romania Travel Resources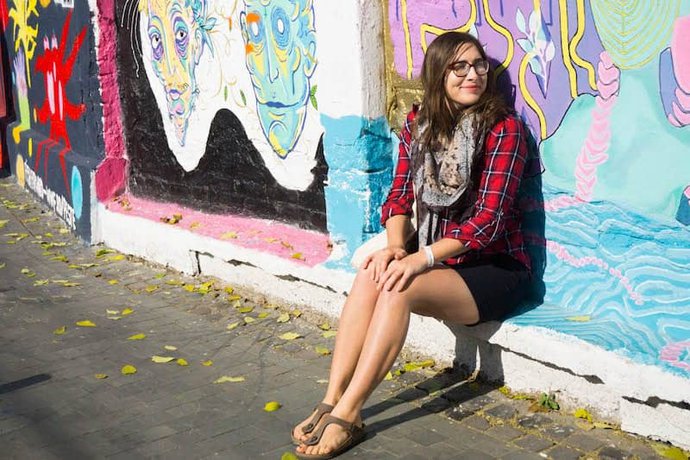 If you're going to Romania, we have a goldmine of resources for you to take advantage of! First, check out this guide to planning a trip to Romania. It's a good starting point for planning your trip. Next up, be sure to check our Romania packing list which features what to wear for every season, including winter.
Next, check out all the things to do in Transylvania and things to do in Bucharest. You can also check out our Instagram guides to Sibiu, Brasov, and Bucharest – more are on the way.
You can also read about the best Romanian castles, the Romanian food you should try on your trip, the best Romanian souvenirs, and inspirational travel quotes about Romania. Plus, how to plan some epic day trips from Bucharest!
We publish new content nearly every day! Bookmark our pages on Romania and the Balkans so that you don't miss out on any new info or resources that we publish before your trip!
Don't Forget About Travel Insurance!
I'm sure you're aware that travel insurance is a good idea for traveling in Romania (or really, any part of the world)! Stephanie and I have both been paying customers of World Nomads for the last three years. We love the peace of mind it gives us in case of emergencies, accidents, illnesses, theft, or trip cancellation or disruption.
While the Balkans are perfectly safe to travel around, there's always a risk inherent in everyday travel, so it's better to play it safe.
>> Get a travel insurance quote for your trip here <<

Originally from California, Allison has been living in Bulgaria for the last two years and is obsessed with traveling around the Balkans. She has been published in National Geographic, CNN Arabic, Matador Network, and the Huffington Post. She loves befriending dogs, drinking coffee, geeking out about wine, and cooking food from around the world.