This post may contain affiliate links. This means that if you click a link, we may make a small commission off any subsequent purchase, at no extra cost to you. For more information, please check our privacy policy.
If you're planning to visit Istanbul, you may be a bit overwhelmed by how many neighborhoods there are to stay in. (We've listed a few of our favorites here!)
One of the best is Kadikoy. It's on the Asian side of Istanbul, yet easily connected to Sultanahmet by a fast, frequent, and stunningly beautiful ferry (that costs only 5 lira, about $1 USD, each way!). It's far less touristic than the European side, offering more of a look into local life.
It's also a great area for business travelers, people who prefer to be a bit off the beaten path, and those who love nightlife – which Kadikoy is famous for.
Pin this Kadikoy Hotel Guide for the Future!
Budget Hotels in Kadikoy ($50 USD and less)
Melek Hotels Moda
Couples looking for a nice budget-friendly accommodation will love the services and amenities of Melek Hotels. From the bold red-themed common areas to the streamlined room design, you'll be surprised to find that you can book a room for even as low as $40 USD.
It doesn't just end with the best price — each room is also fully equipped with a minibar, safety deposit boxes, private bathroom with bath and body products, and most important of all, extra-long and comfortable beds so you can sleep comfortably all night!
Breakfast is optional, and adding it on will cost $11 USD. They serve traditional breakfast, but the only thing past guests found a little off was that it doesn't start being served until 9 AM. If you are an early bird, you can just try to find breakfast outside your Kadikoy hotel. There are many nearby shops and cafés, which offer cheaper options.
Sometimes, the WiFi connection can be a little sluggish, which might be a problem if you are traveling for business. However, if you're looking forward to a central location near a park in the heart of Kadikoy, without spending a ton, it's a wonderful choice.
»» Check out reviews, prices, and availability here ««
Loka Suites
The hotel is a small building with a café vibe on its ground floor, while also showcasing a transformed historical building that appeals to modern guests.
It is also very central to all of the sights and places in Kadikoy, and you can definitely walk around the neighboring street and see several markets, bars, restaurants and cafés – plus, public transportation is always easily available, including an airport bus.
The rooms make use of French provincial-meets-rustic style furniture which completes its cozy feel perfectly. The beds have wooden headboards with quilted fabric to ensure you have something to lean on comfortably while you sit in bed and read or use your phone or laptop. There are also closets available, so you can store your clothes and other belongings in an organized manner.
Each private bathroom has a shower cabin enclosed in glass walls to protect the toilet area from getting wet. You will also like how clean and fresh the bathroom features are. Despite being a budget hotel, the bathroom design is not dated at all – something hard to find with some cheaper-priced hotels.
You can get your breakfast for free, since it is included in your stay! However, some past guests think that there wasn't much variety, just a few continental breakfast options. However, returning guests have continued to patronize this hotel because of its superb boutique-style facilities and their hospitality is at a personal level – making everyone feel safe and comfortable — at a budget price!
»» Check out reviews, prices, and availability here ««
Pandora Hotel
Quite like Pandora's box, this hotel has some secrets you may want to find out… Luckily, here the surprise is actually something great! It offers a total of 19 rooms at budget prices. It is perfect for solo travelers and couples who don't wish to splurge all their money on their accommodation, but still get the comfortable night's sleep that a mid-range priced hotel can offer. Solo travelers can even steal a deal as low as $35 USD per night!
There's a service desk in the lobby as soon as you enter, ready to help you make the most of your stay in Kadikoy. The lobby looks like an ordinary building's entrance, but they have neat shared areas where you can dine or simply hang out with other fellow travelers. You will also notice a wall with a huge mural of a woman on one side of the building's exterior walls.
All rooms have hardwood floors and large windows with curtains that cover the entire wall. The decor is streamlined, with not too much in the way of bells and whistles, but offering the basics you need.
Breakfast is served in the room and optional (it's also expensive and it costs $38 USD which is even higher than the rate of their large single room). Each room has its own private bathroom and the door's opening is a little bit near the side of the bed. If you keep the door open, you might hear the shower a bit, but you can close the sliding door so it won't bother you.
»» Check out reviews, prices, and availability here ««
Mid-Range Hotels in Kadikoy ($50-100 USD a Night)
Holiday Inn Istanbul
Holiday Inn is a chain of hotels found all over the world. They also have one in Kadikoy, and its well-known name speaks for itself. The hotel is on the lower end of the mid-range prices, but you get really good value with the signature Holiday Inn facilities' and services.
You will enjoy the sumptuous choices of their breakfast, from deli meats and cheeses, breads, and jams. You can also pair it with fresh fruits and a nice hot cup of coffee or tea. There are multiple choices of rooms from singles, doubles, deluxe, and queen sizes, some with balconies. It would be better if there were balconies in each room; however, the window views are still spectacular!
Upon entering your room, you will notice a lot of wood detail used in the interiors, plus the floors are carpeted. There's no headboard on their bed, but they have huge pillows you can move and lean on if you want to sit in bed and read or scroll on your phone. The paintings also add a fun focal point with the use of vivid colors and an abstract painting style.
The private bathrooms are spacious – really spacious! They also have marble tiled walls and hardwood floors which add a luxurious feel to it. You will also see towel racks where you can hang your wet towels as well as a spacious sink where you can organize your toiletries without the risk of getting them wet.
If you book earlier you can actually get a really good price, sometimes even below $50 USD for the smaller rooms. Not bad, knowing you are getting mid-ranged amenities for a lower price – you're not losing out here!
»» Check out reviews, prices, and availability here ««
Parkhouse Hotel & Spa
This hotel is very modern, yet you can see some bits of retro inspiration in some of its style. What's so unique about the hotel is how it was constructed. They did not use any cement or concrete – everything is made out of steel!
The rooms showcase a play of lines and prints – and sometimes a little pop of vibrant color in the rugs, sheets, or curtains. They have wide beds with headboards that have double foam, perfect for resting your back while sitting in bed.
The best room they can offer guests is their penthouse suite. It has a lot of retro elements in the furniture. It is really spacious, plus it has its own terrace – and it is still within the mid-range price bracket!
Of course, with the word "spa" attached to the hotel's name, you shouldn't expect mediocre wellness amenities. You can freely use their public bath, Hammam, hot tubs, sauna, and fitness center.
It offers authentic Turkish dishes at their restaurant, so you can indulge within the comfort of your own Kadikoy hotel, without spending too much. They also serve breakfast until 11 AM and during weekends until noon should you feel like sleeping in after a wild night out in Kadikoy's Barlar Sokak!
»» Check out reviews, prices, and availability here ««
Istanbul Life Hotel
The hotel is a dainty white building that has been converted into a small hotel with three main floors. It has a 24-hour service desk if in case you need anything off hours – they are there to assist you with any concerns or questions you have.
They offer rooms perfect for solo travelers, couples, or families of 3; however, larger families may find the hotel a bit small for their needs.
The main features of their rooms include A/C, work desk, wooden bed with a headboard, and a private bathroom. The bathrooms are new and modern, but a bit on the small side. Clothes rack and hangers are provided so you can organize your towels and clothing. If you want a balcony in your room, then you need to book the classic suite room for that special view!
»» Check out reviews, prices, and availability here ««
Hilton Istanbul Kozyatagi
Hilton Istanbul Kozyagati is at the upper end of the mid-range budget category. This modern international hotel is located in the middle of the business district of Kadikoy, a bit away from the popular nightlife areas so it's better for business travelers than leisure seekers.
They have contemporary-styled modern rooms with great choices and tiers you can choose according to your budget or features wanted. Most of their rooms are perfect for business travelers as well as couples, families, and bigger groups. Each spacious private bathroom is completed with Crabtree & Evelyn bath and body products plus a dresser, a vanity mirror, and a separate shower and dry area.
You have the option to include breakfast when you book, but you can optionally get it for $16 USD on the property. There are 5 restaurants on-site, and it all depends on what type of food or ambiance you are in the mood for! The main restaurant, Brasserie Restaurant, is where you can take your buffet breakfast, lunch or dinner. It serves one of the best authentic Turkish breakfasts in the area prepared by skilled chefs.
VIPs who booked their executive rooms have a separate hall where they can take their fancier breakfast, lunch, or dinner. There's also a bar and club at Nispet, and if you want a more Middle Eastern and Turkish vibe with a hookah menu, then Al Sharq is for you! Kids can explore the yummy and colorful desserts they have at the Patisserie. For a simple dining experience, you can try their Ziyade Fasil tavern.
»» Check out reviews, prices, and availability here ««
Luxury Hotels in Kadikoy ($100+ USD a night)
Wyndham Grand Istanbul Kalamış Marina Hotel
The Wyndham Grand Istanbul is a huge building with world-class 5-star amenities. The best views in the hotel can be seen on their public terrace – where you can also take a dip in their pool!
Every room is like a work of art – you will see bold prints, colors, and architectural furniture. Everything looks extravagant, and you are surely paying what it's worth.
They used different materials for the curtains, linens and bed covers – and everything fits and matches perfectly. Most of the rooms have a view of the Marmara Sea from its windows, but the ones with a balcony are quite pricey and can go up to $1900 just for a night. Luckily, the other rooms are much, much cheaper!
The bathrooms are spotlessly clean, and the sink has an embellished mirror on the wall with dim light from behind (so it's not too bright). Framed photos are also on the walls to give you a chic vibe inside the bathroom.
The best way to recharge your senses is at their Harmony Spa, where you can get massage therapies and relaxing rituals. Their fitness center, Shape Club, has complete fitness equipment, and you can also join in on some of their group activities and classes.
Parking is free and you can also rent a car directly at their service desk (though driving in Istanbul is not for the faint of heart!). For families traveling together, don't worry if you need to go out and do something and can't leave your kids in the room alone — you can always get one of their babysitters for an extra fee.
»» Check out reviews, prices, and availability here ««
DoubleTree By Hilton Istanbul – Moda
DoubleTree by Hilton Istanbul is located in one of the busy streets of Kadikoy, nearby to a lot of attractions you can explore. Upon entering the hotel, you will be welcomed by their staff with a nice yummy chocolate chip cookie. This is a signature courtesy of DoubleTrees all over the globe — and it's a reason I often book a DoubleTree when I see a good deal!
The lobby is also very modern and you will see leather-covered seats where you can wait if the front desk is a bit busy, or just relax outside of your room.
From the outside, you can really tell this modern luxury building has 5-star amenities to offer you! Despite its big size, it only offers a total of 40 rooms for guests – you're really going to get spacious and large rooms here. The room types all have availability for a solo traveler, couple, or group travelers – which is good because you can easily select a room based on your personal taste, requirements, and budget.
There are often moments, especially when you're on a long vacation, and you don't know what else to do, or you just want to relax inside the hotel. To kill your boredom, you can check their wellness facilities. There's an indoor and outdoor pool as well as a fitness center, massage center, sauna, Hammam, and a steam room.
You have so many options for breakfast here – dietary requirements and restrictions are considered (gluten-free, halal, vegetarian, and so on) and provided for. This hotel perfectly ticks the boxes for cleanliness, warm and helpful staff, great location, and world-class facilities!
»» Check out reviews, prices, and availability here ««
The Suadiye Residence
The Suadiye Residence looks like a condo that was converted into a hotel. It has apartment units with contemporary and comfortable furniture. It is also very close to the harbor, which makes it a great choice for some really pristine views of the Bosphorus!
All units are complete with a printed and upholstered sofa in the living room plus a flat-screen TV. They also covered the walls with curtains to create a more relaxing atmosphere. Just beside the living area is the dining area, with all the basic things you might need when you cook meals just like at home.
It also features an ensuite bathroom with a nice circular sink. Most of the bathroom amenities are space-saving – creating a larger sense of space inside while you're bathing.
This is a practical and good choice for guests who plan on staying for more than a week in Istanbul. While it's in the luxury tier, it's at the lower end of it, with rooms just about $100 USD a night.
It also has its own restaurant and bar which is located on its ground floor entrance – it sometimes can get a little noisy, but the noise doesn't reach the rooms, thankfully!
»» Check out reviews, prices, and availability here ««
One Istanbul Hotel Suadiye
Located perfectly with a view of the Princes' Islands, this luxury boutique hotel boasts modern facilities and style that matches the private, practical and comfort requirements of travelers. It opened its doors to international and local guests in 2012.
Their suites are fully equipped with almost everything you would need for your stay in Kadikoy. There's a total of 17 suites with 3 types to choose from – a standard suite, suite with sea view, and a 2-bedroom suite. Every room's furniture and décor is simple, with more focus on comfort than fanciness.
You will also see a huge fridge where you can store all your drinks and food in, aside from the cupboards in the kitchen. There's also no need to look for a laundromat nearby, you have your own washing machine and there are racks where you can dry them inside!
The bathroom is quite narrow, but the wet and dry area are separated plus the shower has a barrier to keep the water from going onto the toilet floor.
Past guests loved how the entire property is very clean and the staff were really cordial – anytime they needed anything, they seemed very eager to help with sincerity.
»» Check out reviews, prices, and availability here ««
What to Pack for Istanbul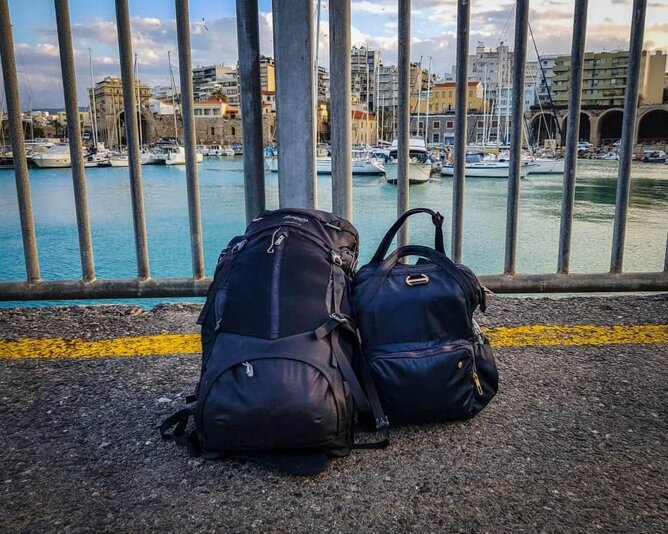 We have a guide of what to pack for Turkey, but here are five things you definitely want to bring with you!
The Lonely Planet Turkey: a good guidebook can help you with the kinds of safety tips you need if you're out in the city and feel a bit lost, especially if you don't have internet or a cell signal. These also have specific neighborhood information that will help you in different parts of the city, and it's a great supplement to blog posts like this one!
Unlocked Cell Phone: Stephanie and I both have unlocked cell phones that we bought in Europe (Stephanie uses a Samsung and I use an iPhone). This allows up to get sim cards when we travel so that we always have the internet. This has gotten us out of so many jams! If you don't have an unlocked cell phone that can use a Turkish sim card, you can buy a cheaper unlocked phone online and bring it with you!
Pacsafe Citysafe or Other Anti-Theft Bag: This is the bag both Stephanie and I use for all our travels. It has a pouch with RFID technology so our credit cards can't get scanned from afar, interlocking zippers to make it harder to pickpocket, and it's roomy enough to be a perfect sightseeing day bag, yet it's still quite stylish for all of its security features. If you'd rather bring something smaller, you can pack a money belt instead.
Grayl Water Filter: While the water is *technically* safe to drink now, I would still avoid it. If you don't want to be buying millions of plastic water bottles, you can get a reusable water bottle that comes with a water filter so that you can stick to the tap water and reduce your plastic waste. If you'll be traveling outside of the major tourist centers, check if the water is potable locally.
Seabands: If you get seasick easily, pack some Seabands or seasickness pills so you don't miss out on the best parts of Turkey – being on the water! A trip to Turkey isn't complete without a cruise or at least a quick boat trip, so make sure you're prepared to enjoy it to the fullest!
More Turkey Travel Resources
We have a ton of resources to help you plan your trip to Turkey!
If this will be your first time traveling to Turkey, check out this guide to planning a trip to Turkey (including visa information) and this guide beautiful places to visit in Turkey. You can also check out our Balkan currency guide, which explains how the Turkish lira works and guidelines for tipping in Istanbul.
If you're heading to Istanbul, we have you covered. Start with our essential Istanbul Travel Tips and guide to staying safe in Istanbul
We're working on our massive things to do in Istanbul post, plus you can check out our guide to the best Instagram spots around Istanbul, tips for shopping in Istanbul, the best Turkish food to eat, how to plan an Istanbul honeymoon, and what to do in Istanbul at night.
If you will be visiting in winter, we have a special winter in Istanbul guide plus an overview of Istanbul weather in January.
If you want to be in the city for just a few days (four or less), check out our Istanbul city break guide, which breaks down the best of the city so you won't miss anything!
Headed to Cappadocia? If you're curious about the most Instagrammable places in Cappadocia, we've got you covered. We also have posts on the best things to do in Cappadocia, and how to plan a perfect 3 day Cappadocia itinerary, plus how to get to Cappadocia from Istanbul.
We have tons more Turkey and Balkans resources, and we publish new content nearly daily. Bookmark our Turkey and Balkans travel pages so you can find any new resources that come out before your trip!
Don't Forget About Travel Insurance!
If you're planning a trip to Turkey, make sure to travel with a valid travel insurance policy. While we feel safe in Turkey, it's a good idea to be covered in case of an emergency. Travel insurance covers you in case of theft or an accident, which can save your trip if there's an incident.
For travel insurance, Stephanie and I use World Nomads. I've been a happy customer of theirs for almost three years, and I've never had an issue when making a claim. I'm happy to refer them to anyone I meet.
Originally from California, Allison has been living in Bulgaria for the last two years and is obsessed with traveling around the Balkans. She has been published in National Geographic, CNN Arabic, Matador Network, and the Huffington Post. She loves befriending dogs, drinking coffee, geeking out about wine, and cooking food from around the world.