This post may contain affiliate links. This means that if you click a link, we may make a small commission off any subsequent purchase, at no extra cost to you. For more information, please check our privacy policy.
Chania is one of the two major cities in Crete, and it's the obvious choice for where to stay in Crete for people flying into Chania airport (the other airport being Heraklion).
Chania is also located near many of the best beaches in Crete – it's a mere 30-minute drive from Seitan Limania, one of our favorites – as well as having a wonderful vibe and plentiful history all of its own.
We've picked our top choices for where to stay in Chania for each budget category (budget, mid-range, and luxury). Note that staying in the Old Town of Chania will inevitably be pricier.
If you are renting a car and staying outside of the city center of Chania, you may be able to find some better deals! However, this post will focus on the best places to stay in Chania Old Town and New Town.
Can't read now? Pin for later!
Where to Stay in Chania on a Budget ($50 USD/Night and Less)
Doge Traditional Hotel
Doge Traditional Hotel is pretty much exactly that: a lovely historic Venetian traditional house. It was originally built in the 15th century with 8 rooms to offer guests and has been refurbished lovingly. It is an intimate and quiet hotel, perfect for couples and families up to five.
While this charming Chania hotel has many perks, I'd argue the best part of the hotel has to be the rooftop where you can gaze at the beautiful views of the sea – especially during sunset!
Each room has canopy beds set in a beautifully lit room with some nice lamps and chandeliers. This makes each room seem rustic and historic yet still warm and inviting due to the wooden elements in its interiors. Some walls have rough rocks to create an interesting focal point on the whitewashed walls. It also has wooden ceilings which also helps in absorbing noise from outside, aside from adding some serious style points. There are also interesting paintings hung up on the walls to add visual interest.
If you want a bigger suite to accommodate a larger number of people, you can get their superior suite, which has a mezzanine that serves as an additional bedroom. All rooms feature a closet, heating, A/C, fridge, electric kettle, coffee and tea making facilities, sofa bed and safety deposit boxes.
The rooms have private bathrooms, where you can have towels replaced daily by the housekeeping, plus all other areas of your suite are cleaned and maintained daily. One to note is that past guests thought that the bathrooms had dim lighting, but this isn't a major issue given the price and overall quality of the rooms.
If you'd like to have breakfast at the hotel, there is an additional fee of $7 USD. For that price, you will get a surprisingly large choice for breakfast – perfect for those who have a big appetite!
Check prices, availability, reviews, and more photos here.
Read Next: Where to Stay in Heraklion: Hotels & Accommodations for Every Budget!
11City Rooms
This is another traditional house in Chania that was built somewhere between the 15th and 17th century. However, despite its age, it's been modernized to adjust to the present-day needs of guests.
It has a total of 5 apartments which all feature a kitchen (complete with utensils), private bathroom, fridge, and free WiFi. You will also love that you can allow the natural sea breeze to flow through the doors or windows, which are fitted with screens to keep out bugs. Printed artworks depicting sea life are also hung on the walls to complete its charming seaside look.
You also have ample room choices; whether you are a big group or a family, there's enough space for everyone. Each room also has its ceiling fan, which is not common in most rooms in Chania, which tend to rely only on A/C. This is actually very effective in reducing heat during the summer if you don't want the A/C blasting all day and night (and it's more eco-friendly to boot!).
You will love their rooftop relaxation area, which is fitted with some flowering plants and seating areas where you can marvel at the picturesque Cretan seascapes surrounding you.
This family-run hotel has been operating for 30 years — with that many years in hospitality, they really know how to welcome guests! This property is really worth checking out, especially if you are traveling on a tight budget or you're traveling in a group.
Check prices, availability, reviews, and more photos here.
Read Next: How to Visit the Minoan Palace of Knossos (from Heraklion + Elsewhere)
Porto Antico
While slightly on the upper end of the budget price range, this beautiful Chania hotel has a handful of wallet-friendly rooms perfect for couples or solo travelers who want fully furnished and equipped rooms for a fraction of the cost! The higher-tier rooms are more in the mid-range price tier, but you're surely getting your money's worth – they do look luxurious!
This hotel is perfectly suited for a variety of travelers, as they offer singles, doubles, triples, and apartment-style rooms. What's great about their rooms is that most have a nice view of the stunning Mediterranean Sea. However, there are also rooms with a view of the Old Town if this is your preference! All rooms have a nice flat-screen TV on the wall, safety deposit boxes, A/Cs, fridge, and a closet.
You can opt to include your breakfast when making your booking or buy it at their café for $9 USD per day. For that price, you will enjoy a nice hot coffee and some fresh fruits and other local treats. However, during winter, which is their off-peak season, they do not serve breakfast at the café downstairs, so be aware of that (though it's definitely still worth visiting Crete in winter!). Bonus perk: if you book one of the rooms with the balcony, someone from the café will bring a nice breakfast to your room for you!
Do note that when it's windy, the sea can be a bit noisy since the hotel is located beside the beach! However, with closed windows, the rooms are nice and quiet and you are surely going to get a good night's sleep, since you can run the A/C if it gets a bit stuffy inside.
Check prices, availability, reviews, and more photos here.
Nostos Hotel
Upon entering Nostos Hotel, you will see their rustic main lobby that has a touch of that charming nostalgic vibe. The rooms are simple and have that provincial chic style, complete with wooden floors and ceilings. They also use wooden furniture with a little bit of glazed iron to complete the aesthetic. Some old photos are hung up on the walls, transporting you back in time to a simpler time in Crete.
They have a good choice of rooms perfect for a solo traveler, couples, or even families. Some of the rooms have a romantic fireplace that will remind you of a traditional wood-fired stove or furnace – great if you're visiting in the cooler winter or spring months! One thing you will find in common in all rooms are the basic amenities, including an A/C, fridge, flat-screen TV, closets, and safety deposit boxes. Another feature of some rooms is the mini kitchen, which is only available in the higher tier rooms.
The private bathroom is quite small, and the only thing that separates the shower area from the toilet is the curtain, so it can be a bit of a hassle having wet floors after a shower. There is a sink and a mirror, but no seating areas or vanity in the bathroom.
You can also try the snacks and coffee available at their café. If you choose not to include your breakfast when you book, you can still get it there for $7 USD for a nice continental breakfast. For some relaxing time outside of your room, you can visit their roof so you can enjoy the views under the shady vines.
Check prices, availability, reviews, and more photos here.
Read Next: Your Super Useful Guide to Visiting Elafonisi Beach, Crete
Where to Stay in Chania on a Mid-Range Budget ($50-150 USD)
The48Suites
This chic hotel features the typical Venetian exterior, but inside it has modern features for the sophisticated traveler. The hotel follows a minimalist aesthetic, livened up with a little playful and artsy décor. Everything just harmonizes perfectly, typical of a boutique-style hotel. It is also located on the picturesque Theotokopoulo Street, where a ton of old houses are lined up – perfect for Instagramming your away around Chania.
It has 3 types of rooms to choose from (which are all suites and apartments). Their prices are somewhat on the lower mid-range, so you're really going to get your money's worth here. The superior and deluxe suites offer a balcony (with stylish wicker furniture) and a mezzanine; this is great for families with older kids, but not for ones with small kids as the stairs can be quite dangerous for them.
All of the rooms still follow the minimalist aesthetic, but what's most important is that they are ridiculously clean (past guests have attested to that)! There's also a kitchen equipped with all the things you need to prepare a nice dish for your family should you tire of Greek food — if that's even possible! Coffee machines and a kettle are also provided so you can make your own coffee or tea in the morning or afternoon (or when you feel like having one, which for me is basically always!).
Check prices, availability, reviews, and more photos here.
Elia Bettolo Hotel
This lovely mid-range hotel in the Old Town of Chania is just at the back of the town's cathedral and nearby to a lot of shops, museums, and the Venetian harbor. It's especially close to the main leather shopping street, so you can buy some nice leather goods just beside the hotel. It has a total of 20 modern rooms for guests, so the service has a personalized vibe.
They have single, double, and triple rooms, plus suites you can choose from. You will love the huge doors that you can leave open for some nice fresh air (which also leads to the balcony, perfect for enjoying a beautiful view of the sea). Actually, all of their rooms feature a balcony where you can see breathtaking views – unfortunately, they don't have any seating here (a missed opportunity to be sure!) but you can always bring the work desk chair out if you want to relax on your balcony.
The beds are huge and comfortable, and it also has a nice striped headboard that you can rest your back against when you're sitting in bed. Just above the headboard are some dim lamps to help you see at night without the need to turn on the main lights – great for some reading just for bed.
Breakfast served in the morning is a yummy selection of yummy Greek food. It is also included in your stay, so you might as well enjoy it since it is free! It is freshly made and slightly different each day – no repetition, so you won't get tired of having the same thing daily.
A lot of exciting activities in Crete can be arranged by their friendly 24-hour front desk if you'd like to explore the island. They can also assist you in renting bicycles or cars if you want to travel around Crete more rapidly. However, I would not recommend renting a car for longer than a day trip, since cars aren't allowed inside the Old Town – it can be a bit of a hassle if you need to find parking outside of the Old Town at night!
Check prices, availability, reviews, and more photos here.
Palazzo Duca
The name means 'palace' and you're not far off! This gorgeous Chania hotel has both rooms and several types of suites (where you can choose from a junior, superior, or ultra-luxurious one with a spa bath).
It's a pleasant surprise that their smallest rooms, the double rooms, are actually not that small at all! It is definitely spacious enough for 2 people, and it is also fully furnished just like their other rooms, though a little more simply done. In general, the higher the level of the room, the more elevated the furnishings are in terms of taste and quality.
Each of the rooms features coffee and tea making facilities, A/C, heating, kitchenette, refrigerator, work desk, and safety deposit boxes. The private bathrooms have a cabin shower to help keep the entire bathroom dry (a blessing in this part of the world, where this isn't always the case!).
There are also free toiletries, a hairdryer, freshly laundered towels, and pairs of slippers included in each private en-suite bathroom. Couples can get their fancy suite with a spa bath for only around $120 USD at times– which is definitely a good price, considering the amenities and the really nice room they give you!
Not all rooms have a balcony, so if this is something you want, you should submit a request. The beds are big and long, so you can have a totally relaxing night's sleep. If you want to get your breakfast at the hotel, it's optional at an extra charge; they serve local Cretan dishes along with some bread and fresh fruits. If you need to leave early for a day trip or early flight, and want your breakfast served earlier, you can simply inform them and they can prepare it for you!
Read Next: Top 10 Mistakes to Avoid when Driving on Crete
Check prices, availability, reviews, and more photos here.
Want to discover the highlights of the old town of Chania while visiting the area? Nothing like a walking tour like this one to learn everything about this wonderful coastal town.
Samaria Hotel
This is a 4-star hotel in Chania with top-notch amenities. It was completely renovated to accommodate guests and finished its renovations in 2013, so everything still feels relatively new. This is one of the best choices for solo travelers, business travelers, couples, and families – there's truly something for everyone.
It is also just beside the bus station, so you can skip renting a car and so you can conveniently save on transportation expenses — save your budget for something else uniquely Cretan, whether it be souvenirs or epic experiences! However, sometimes the balcony area (each room has its own balcony) can have some noises from the bus station just beside the hotel, so its location is both a pro and a con.
All of their rooms have a balcony with a view of Chania Town. Breakfast is also free, and you can enjoy the unique Cretan flavors – different than standard Greek food – to start your day. The higher-tier rooms are completely luxurious if you want to splurge a bit on your stay, but you can still stay close to the mid-range price tier!
They also have hardwood floors, and the A/C temperature is controllable – perfect for those who always want the just-right temperature. Their beds are extremely comfortable with Coco-mat mattresses. Guests with disabilities will enjoy their stay here because their facilities were carefully made to consider their needs, including an accessible elevator.
You may take a dip in their pool or bathe in the sun on their sun loungers. The outdoor pool is seasonal and is closed during winter. There is also a small but functional gym should you feel the need to burn some calories off after all those delicious Cretan meals!
The hotel has a newly opened restaurant where you can explore Mediterranean and Cretan dishes. Meanwhile, their 1866 Café is a perfect spot to chill and sip on some nice drinks or a glass of wine, due to its really stylish ambiance. And of course, it's so close to town that all of the excellent bars and restaurants in Chania are just a short walk away!
Check prices, availability, reviews, and more photos here.
Hotel Off
Hotel Off wants to help its guests 'turn off' and get away from the hustle and bustle of life. The house is in a complex that is believed to have been built in the 13th century. Before it was transformed into a hotel, there were ruins of a Turkish hammam in the house, showing its centuries-old roots and history.
There are multiple room choices, perfect for groups up to 3 people or couples. Each room has a hypoallergenic mattress and sturdy bed frames. The ensuite bathrooms come with bath and products made from locally produced and organic ingredients.
All of their rooms have the complete amenities you'd expect from a mid-range room and offer views of the town or garden from the windows. Some rooms even have a patio or balcony where you can also check out the lovely views and scenic spots. Couples, take note: their Exclusive Suite has its own private hammam, true to its historic roots!
To relax, you can attend one of their yoga classes or even treat yourself to a nice massage for an extra optional charge. What's not optional, however, is checking out the lovely rooftop terrace with a panoramic view of the old town!
Check prices, availability, reviews, and more photos here.
Luxury ($150+)
Residenza Vranas Boutique Hotel
The pictures you see online do not do justice to what you will truly see in this hotel once you enter! Residenza Vranas is one of those designer boutique hotels with luxe amenities and stylish features complete with thoughtful touches everywhere you look.
In terms of rooms offered, they have a regular suite, 2-bedroom suite, and a penthouse suite, which are fuse together traditional Cretan architecture with modern design elements. All rooms are also spacious, and you are surely going to feel comfortable whether you are booked in for a short or long stay!
Each room has its own work desk, coffee machine, toaster, electric kettle, laptop safe, fridge and so on – everything you need actually! There's also a sofa that you can convert into a bed if you have extra guests. You will love the Japanese style wooden windows that have a custom desk created so you can view the sea while sitting there – great if you need to squeeze in a bit of laptop time while in Chania.
Breakfast is included in your stay, and you are sure to enjoy the superb luxury having it delivered to your room in the morning!
Check prices, availability, reviews, and more photos here.
Ambassadors Residence Boutique Hotel
The Ambassadors Residence Boutique Hotel is set in a 1890s house that was restored and transformed into a hotel. It was also once the residence of the German Ambassador, R. Krüger! At night when the lights are lit, you will surely adore how charming the hotel looks.
The rooms are stylish and make use of different materials to create texture and a play of lines that make each room interesting and beautiful. Every private bathroom has a unique sink and L'Occitane bath and body products to make your shower experience just like a spa!
The rooms have rock walls and brick ceilings plus hardwood floors that give you the old house vibe. Everything you need is here, with stylish features too.
There is a 24-hour front desk to assist you with any urgent need or even simple requests that you may have. Tours and car rentals can also be organized by their staff. Other conveniences include an on-site ATM and babysitter services if you need someone to watch over your kids for a few hours.
However, the breakfast is served at a nearby café outside of the hotel. It is free, but since you are already going out, then you can have other options if in case you feel like trying nearby cafés or restaurants.
After you have visited a ton of scenic spots and you just want to rest and relax, you can try their in-room massages and treatments which are performed by a physiotherapist. Since it's in your room, you can even drift into a peaceful sleep after the session!
Check prices, availability, reviews, and more photos here.
Read Next: Where to Stay in Rethymnon: Best Hotels & Hostels in Rethymnon
Porto Veneziano Hotel
This hotel is perfect for solo travelers and couples who have the budget to splurge for a really nice, relaxing, and modern hotel. It offers 51 rooms and 6 suites, all smoke-free. It also boasts being an ISO certified establishment and this ensures that high standards are complied with.
The rooms have double mattress beds to give you the best sleep you could ever imagine. They also have a nice selection of pillows you can choose from – cotton, rubber, anatomic and scented!
All of their rooms have a balcony that opens to a view of the town, the mountains and the sea. Regardless of the room type, you are sure to have features like a minibar, safety deposit boxes, work desk, and a closet.
You will also notice that they only use parquet floors and a streamlined color palette, featuring white walls, wooden furniture, and touches of blue for the covers and curtains (which will remind you of the sea).
A nice free Greek breakfast is served in the morning to get you ready for the day. You can also borrow their retro bicycles for free – just inform reception and they'll provide you a key. After a long day of touring, you may also sit back and have some drinks at their bar located on the ground floor. You can also order drinks directly to your room if you want to enjoy the sunset from your own balcony!
Check prices, availability, reviews, and more photos here.
Domus Renier Boutique Hotel
As part of the Historic Hotels Worldwide, this hotel doesn't just offer a historic Renaissance past, but also a truly luxurious experience you can't miss. This was once the residence of the Reniers, a noble Venetian family. It is a huge complex, and the main building was converted into a hotel: the exterior and interior of which will basically take you time traveling!
Their rooms are classy, sophisticated, and elegant: no two rooms are alike here. It is also spacious and you are sure to enjoy the simple details of their wooden furniture, adhering to the philosophy that less is more. You will surely love the rain shower in the private bathrooms that totally mimic the rain – bringing the spa experience to your room!
If you wish to stay in a room that has a cabin feel, you can get their Master Suite – from the walls, floors and to the ceilings, everything is wooden. You will also marvel at how each space in the room has a unique feel to it because of the geometric patterns the wooden beams create. For newlyweds, they can get the honeymoon suite, which has a tub in the bathroom!
All of their relaxing massages and treatments are serviced in-room. You can even have a haircut, manicure, or facial done in the comfort of your private room or suite! Gourmet dishes can also be ordered from your room. They conveniently make things available to be delivered straight to your room so you can just feel like a king or a queen!
It is very typical of Greek hospitality to provide the best services, and Domus Renier is also one of them. You will surely enjoy feeling like one of their family members at this lovely hotel.
Check prices, availability, reviews, and more photos here.
5 Things to Bring with You for a Crete Vacation
We have an entire Crete packing list that includes exactly what to bring to Crete, but here are some essentials you don't want to miss!
A Guidebook – While travel blogs are great, we also definitely see the benefit of having a good paper guidebook in hand to refer to in your on-the-ground travel. We own and recommend the Lonely Planet Greece book as a starter, but you may also want to pick up the Lonely Planet Crete which covers the island more in-depth.
Sunscreen: Yes, you will want sunscreen in Crete, even if you visit during the winter! While you can buy it here, I suggest you buy the good stuff from recognizable brands or better yet, buy it online in advance. I love this solid Neutrogena sunscreen. Who doesn't love a good solid for liquid swap? Great to keep in your bag without worrying about sunscreen explosions.
Motion sickness pills: Great for bus rides especially on mountain or coastal roads – I buy these non-drowsy ones. You can also try these natural motion sickness bands which use acupressure to reduce nausea – they actually work pretty well. And these are a must if you're also taking ferries, as the sea can be really choppy depending on the weather!
– Travel safety items. We think Crete is very safe to travel, but at the same time, it never hurts to be prepared! Some people like to carry money belts, but neither Stephanie or I use these. Instead, we both carry the same PacSafe anti-theft backpack.
It has locking zippers, slash-proof construction with metal mesh hidden in the fabric, and tons of other smart security features — all while being cute and stylish enough to be our everyday bag. We recommend it highly for both male and female travelers, as it's neutral enough to be unisex. We also strongly recommend travel insurance! Our recommendation is at the bottom of the post.
– Sunglasses. No matter the time of year, Crete has plenty of sunshine! Keep your eyes protected with your favorite pair of sunglasses from home.
Read Next: Essential Crete Packing List: What to Wear & Pack for Crete
More Crete Travel Resources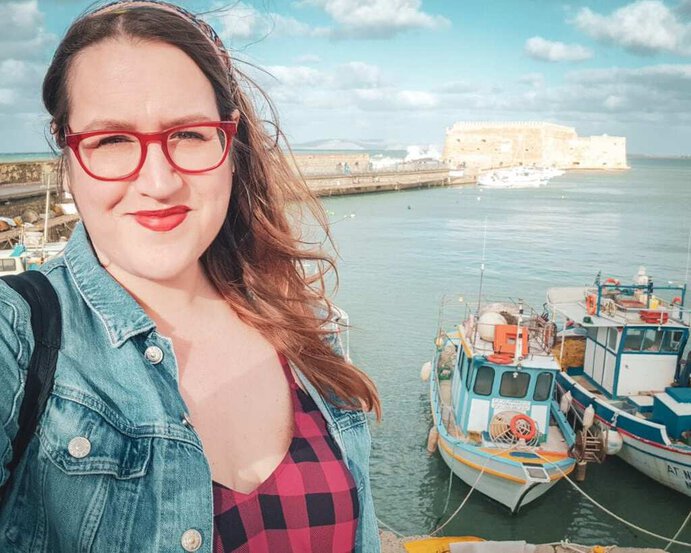 Headed to Crete? We have some great travel resources to help you with your trip. First read our guide to planning a trip to Greece, which covers visas, budgets, vaccines, and much more. We also have a Balkan currency guide which explains how money works in Greece and local tipping customs.
If you're still trying to work out where to go on the island, check out our guide to the best places to visit in Crete and our favorite Crete beaches.
If you'll be spending a few days in Chania, here is our guide to visiting Seitan Limania from Chania (which is our favorite beach in Crete) and the Chania's best Instagram spots.
If you will be spending time in Heraklion, check out our guides to the best Instagram spots in Heraklion and the city's best restaurants and cafes.
If you're interested in taking a day trip to Rethymnon, check out our Instagram guide to Rethymnon next, and perhaps our guide to things to do in Rethymnon and the best Rethymnon hotels.
If this will be one of your first trips to the Greek islands, check out our massive Greek Island hopping guide as well as our recommendations for where to go in Greece and when is the best time to visit.
We publish new content about the Balkans almost every day! For more information about traveling to Greece and the Balkans, bookmark our Greece and Balkan travel pages so you can find out what's new before your trip.
Don't Forget About Travel Insurance!
I'm sure you're aware that it's a good idea to have travel insurance for traveling in Crete, the Balkans, or anywhere in the world!
Stephanie and I have both been paying customers of World Nomads for the last three years. We love the peace of mind it gives us in case of emergencies, accidents, illnesses, theft, or trip cancellation or disruption.
While Greece is safe, there's always a risk inherent in everyday travel like theft or injury, so it's better to play it safe.
>>Get a travel insurance quote for your trip here.<<
Pin this Guide to Where to Stay in Chania!
Originally from California, Allison has been living in Bulgaria for the last two years and is obsessed with traveling around the Balkans. She has been published in National Geographic, CNN Arabic, Matador Network, and the Huffington Post. She loves befriending dogs, drinking coffee, geeking out about wine, and cooking food from around the world.