This post may contain affiliate links. This means that if you click a link, we may make a small commission off any subsequent purchase, at no extra cost to you. For more information, please check our privacy policy.
People don't associate Greece with waterfalls. Perhaps it's because people tend to forget that Greece is more than just its islands and beaches, or maybe it's just that Greece already has so many amazing tourist destinations that it hardly needs waterfalls to compel tourists to come and visit.
Regardless of the reason, there are a handful of truly beautiful waterfalls in Greece, particularly on the mainland but also on the islands as well. If you're looking for a nature escape in Greece and want to get off the beaten path a bit, check out one of these beautiful waterfalls in Greece to refresh yourself and get lost in the stunning natural wonders of Greece.
Can't read now? Pin for later!
>> Read Next: 50 Fabulous Places to Visit in Greece: Local Favorites & Hidden Gems <<
Where to Stay in Greece
If you're visiting Greece any time soon, you'll probably spend some time in Athens before moving to discover other amazing places in the country. In that case, it's a good idea to check this accommodation guide to Athens to find the best places to stay in Greece's capital. Check this article as well, if you'd like to book a room with unforgettable Acropolis views.
Remember that booking early is always the best way to get better prices and nicer rooms! We recommend checking out Booking.com as early as possible since this is a popular time to visit. These are some of the places we suggest you check.
Budget: If you're looking for a budget hotel in lively Monastiraki, book a stay at Fivos Hotel. Located right by Monastiraki Station, the hotel has free wifi and ensuite bathrooms. Check out prices and availability at Fivos Hotel here.
Mid-range: If you want more traditional accommodation, stay at the Kimons Athens Hotel in Plaka. The rooms are cozy and there's a roof terrace that guests can enjoy. Check out guest reviews, prices, and availability at Kimons Athens Hotel here.
Luxury: To enjoy a bit of luxury in Monastiraki, check into the four-star Emporikon Athens Hotel on Agia Irini Square. The rooms are sophisticated and swanky, with a traditional take on comfort. Check out guest reviews, prices, and availability at Emporikon Athens Hotel here.
Panta Vrexei (Evritania)
The Panta Vrexei waterfall is located in Evritania (between the villages of Roska and Doliana), in Central Greece. It's around 30 kilometers from Karpenisi (the capital of the region of Evrytania), and it is quite a rugged road to get there!
The hike starts at the Krikeliotis river. After you pass the small village of Stournara, you will leave your car near a small bridge before you start your journey.
A lot of trekking will also be involved (about 1-2 hours depending on your pace) and you will be amazed by the mossy rocks and boulders alongside a lush and mysterious green forest as you discover this Greek waterfall.
While on your way to the waterfall, you will also see small smaller waterfalls and streams. The water can get a bit cold (thankfully not freezing!) and some small cool water pools form on the sides of the river where the water falls.
You can visit independently or on a group tour with over travelers who want to see the waterfall or enjoy some hydrotherapy with the pressure of the cold water falling from above once you reach the falls! There are also other activities you can do here, like kayaking and rafting.
Kalipso Waterfall (Larissa)
Considered as one of the best canyoning places in Greece, Kalipso Waterfall is also an off-the-beaten-path gem. It is best to go with someone who knows the place, or you might end up getting lost! It is located near the coastal village of Kokkino Nero, which is best known for its high forest canopy (not something you think of in Greece, but Greece is full of surprises).
Once you reach the waterfall, you will see how beautiful and relaxing the sound of the water falling is. Huge rock formations are reflected in the crystal-clear water of the river, making it a beautiful sight.
However, it's best not to visit here around summer, as the river can be a bit dry (therefore no waterfall), and it can be quite humid to trek. The best time to go here would be fall – you will marvel at the warm colors of the leaves and the view!
Locals say that just below the main waterfall, there's also another mini waterfall you can check.
Should you plan to visit this beautiful waterfall, it is best to go from somewhere between September and October.
Karonos Waterfall (Edessa)
Edessa Town is popular for its Macedonian architectural houses and Byzantine churches that date back to the 14th century. If you are planning to visit this town, then it is a must that you also check the Edessa Waterfalls as well.
The town is home to a series of several waterfalls. It is also one of the easiest Greek waterfalls to visit, and it is considered as one of the most visited waterfalls in the Balkans (hence why there is a café and some shops near the waterfall).
It's a common day trip from Thessaloniki. If you have time, you can also check out the historical ruins (an ancient city) just nearby.
At night, the main waterfall (Karonos) is illuminated with rainbow colors. But if you are looking for real rainbows, then the best time to visit would be in the morning – you will see that the water turns into a prism which then reflects the beautiful colors of the rainbow!
If you don't have a car, the most convenient way to get to Edessa Waterfall is with a guide and a private transfer from Thessaloniki; you can check availability and rates here. There is another convenient tour that also includes some free time in the springs at Pozar.
Fonias Waterfall (Samothrace Island)
Greece has tons of islands that don't get enough attention. Fonias Waterfall is a hidden gem inside the small island of Samothrace (also written Samothraki, located in the Northern Aegean Sea).
On this island, beyond just Fonias Waterfall, you can also find beautiful beaches, rock pools, and the original location of the famous Winged Victory of Samothrace (aka the goddess Nike) sculpture. It is a laid-back location and one of the most off-the-beaten-path waterfalls in Greece.
The biggest waterfall's (which is the first waterfall) height is 20 meters and the water is really clear. There are also other small waterfalls and cascades as you continue walking.
You will also notice how untouched and well-preserved the location is. Rockpools with still, cold water are available so you can take a cold dip, relax, and breathe in the nice fresh air.
Do not be surprised if you see someone skinny dipping in one of the pools – which is quite popular due to its very secluded setting!
Papingo Rockpools & Waterfalls (Epirus)
The series of rock pools and waterfalls is quite small, but it is truly amazing. The rock formations are stunning; they almost resemble rice terraces, due to their layer of rock that looks like someone stacked them together!
The rocks can be a bit slippery, so be very careful if you want to take a dip or dive into one of the rock pools. The water can be very cold, so it is best to visit during summer.
However, crowds can flock to these pools (especially on weekends) and the water can occasionally dry out a bit during this time.
It usually takes an hour of hiking to reach upstream, and you may need to jump from rock to rock — no well-trodden paths here! You may also see hundreds of tadpoles and frogs in some of the pools!
It is also a great location to go for a picnic because the trees provide nice shade and a breeze. It's a quiet location beloved by locals but not so known with tourists.
Palaiokarya Bridge and Waterfall (Thessaly)
If you were to imagine a scene in a fantasy movie where they would need to cross the bridge to get into another kingdom – this is what Palaiokarya Bridge looks like. Some people say it looks like something from the set of Lord of the Rings, and I can't help but agree!
The bridge was been built in the 16th century by the Ottomans (hence why it looks a bit like other Ottoman bridges like Devil's Bridge in Bulgaria and Stari Most in Mostar, Bosnia). The already-beautiful bridge spans over two waterfalls – making the waterfall behind look more majestic as it rushes water that passes through the bridge down to the smaller waterfall. It was once used as a passageway for the two towns, Epirus and Thessaly.
The place is also perfect for a picnic or camping, especially in the fall when the leaves turn brilliant colors and the heat is not so severe. You can sit on one of the nearby benches or borrow some of the barbeque facilities.
If you are planning to do this there, you should bring everything since there are no shops nearby where you can buy something to eat.
However, the village near to the bridge offers restaurants and cafés where you can dine. It is close to the monasteries of Meteora, as well as the villages of Trikala and Elati – so it is a nice stop to include in your day trip from Thessaloniki or on a road trip to Northern Greece.
Neda Waterfall (Kyparissia)
Neda Waterfall was named after one of the water nymphs who took care of the infant Zeus before he was sent to Crete. Another fun bit of trivia about the Neda River is that it is one of the two rivers in Greece that has been given a female name (the only other one is the Arapitsa river).
Some people say that the starting point to trek this waterfall is quite hard to find, but all you need to do is just find the store selling some snacks and drink at the end of the Figaleia road (where you will also park) and you will see a sign just beside it showing you the way.
Trekking this waterfall will require some skill because sometimes you have to swim a bit. Note that the water currents can be strong, the paths can be rocky, and the sun can be scorching hot during summer.
Even in shallow areas, you can also still feel the pressure of the water. It is best to wear proper protective gear and clothing so you won't experience any danger as you go along or to go with a guide.
On your first destination you will see a small waterfall, then a rock chapel. After a bit more walking, you will reach Neda Waterfall. There are piles of rocks where you can sit, but sometimes there can be a crowd here, and honestly, it is not a nice place for a picnic due to the lack of places to sit. If you still have time, you should also check the nearby Temple of Bassae.
Polylimnio Waterfalls (Messinia)
The word Polylimnio means multiple lakes in Greek and that is basically what you will see before you reach this beautiful waterfall! The location is near Charavgi; this is where you will see a sign that will show the direction to Polylimnio until you reach the car park area where you can't drive any further.
The water here is fresh from the mountains, so it will be a very recharging (read: cold!) dip. Each mini-lake or pool has a wonderful waterfall that drops down to a turquoise blue lake. You will also see stunning wooden bridges and paradise-like vegetation surrounding you: it's truly like a fairytale setting.
Taking a dip in its cool blue waters might make you chicken out — it's cold but perfect after a hot sweaty trek during the summer! The hike can be a bit dangerous, as there are a lot of uphill and downhill slopes, so be sure to wear shoes with a good grip.
>> Read Next: 10 Hilarious Greece Memes for When You Need a Vacation <<
It is free to visit the waterfalls, and you will notice some shops and cafés upon entering the starting location for the trek — so grab some snacks for a picnic at the waterfalls.
The average time it takes to reach the largest waterfall would be around 20-30 minutes from the car park, so it's great for those who don't want to do a long trek.
Some people try to jump from the cliff and dive into the pool – it's not recommended here (or anywhere without proper guidance and supervision, really). Supposedly, a man once died after hitting a rock in the river, so don't take any risks!
Loutra Pozar Thermal Baths & Waterfalls (Loutraki)
If you can't decide whether you want to dip in a freshwater pool or a hot spring and you are in the area of Edessa (home to another beautiful waterfall), then Loutra Pozar should be your destination! It offers both, and you can alternately soak or dip — contrast bath therapy at its finest!
The water in the hot springs usually is around 38 degrees. It is just the right warmth to soothe and relax tired muscles, plus it has rich natural minerals believed to contain healing properties. Some people go here just for the health benefits — it is much cheaper than going to a spa! Entry fees are inexpensive, around 2-3 euros per person.
The waterfalls here are not the main draw, but they're beautiful nonetheless. These small streams of water flow from one elevation to a lower one.
The rockpools are man-made but still very relaxing and beautiful to visit. You can hear the nice rush of the current and the sound of the leaves rustling in the breeze. If you feel like staying here for the night, there are many properties nearby accepting guests.
However, due to the presence of many tourists (especially during its peak season around January, when it's a popular escape from winter in Thessaloniki), the site needs a little more TLC so it looks less neglected.
Since it is a tourist destination (even for locals), a lot of shops and cafés are nearby. Be sure not to spoil it or litter, so people can still enjoy this natural wonder for future generations!
Livaditis Waterfall (Thrace)
This waterfall located in the South Peloponnese is 40 meters high. Going there is a bit difficult, so it is best that you are in proper shape to make the hike and that necessary preparations are made.
However, trekking to the waterfall will give you views of a beautiful and dense forest filled with different trees and shrubs along the way. There're also chances you might see wild animals like deers – hopefully not a bear!
The moment you see the signage between Darma and Xanthi, that's when you start the journey. From Xanthi, you will arrive at the small town of Stavroupoli, where you end up at the village of Livaditi.
Signboards are present as well as red and white marks on rocks and trees to help lead you to the waterfall. There are some activities you can do near the falls, but having a picnic is probably the best.
Autumn is the best time to visit the waterfall, so you can see the forest showcasing beautiful fiery-colored foliage as well as the mountains from the nearby region.
Nidri Waterfall (Lefkada Island)
Lefkada Island in the Ionian Sea is famous for its pristine, exotic, and crystal-clear beaches. However, little to most tourists' knowledge, there is a treasure here hidden in this beautiful island – Nidri Waterfall.
The island is connected by a bridge from the mainland, so traveling by car is not a problem (but you can also get boat tours).
To get there you need to drive to Rachi (which has a nice restaurant with a really beautiful view from its deck). Don't worry about getting lost as you go along, because you will see signs that will lead you to the waterfall. You can also park your car at this restaurant as you take a brief 15-20 minute walk to the waterfall.
The waterfall is only 12 meters high, and you can swim at the lower pool (if you're brave — the water can get freezing cold). You won't be able to enjoy the waterfall during summertime, though, as there is very little water streaming down from the top.
You will return to the Rachi Restaurant on your way back, so be sure to try their delicious coffee!
What to Bring with You for a Greece Trip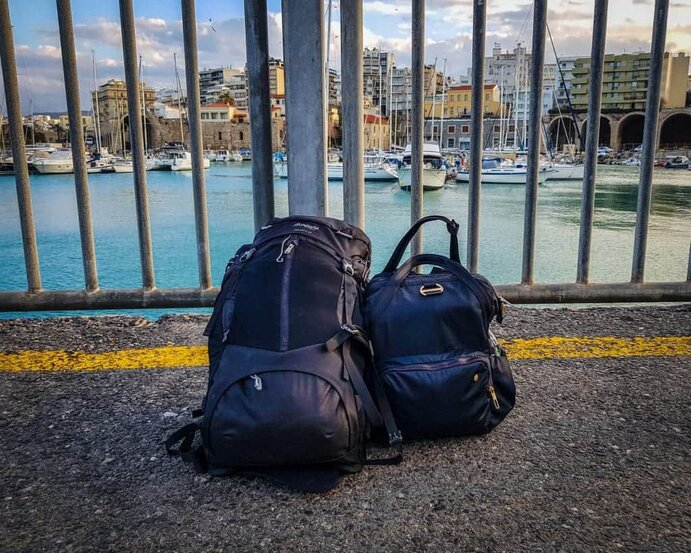 We have several Greece packing lists to help you decide what to bring with you to Greece, Rhodes, and Crete (with more on the way)! But here are five things you want to bring with you to any Greek beach vacation!
A Guidebook – While travel blogs are great, we also definitely see the benefit of having a good paper guidebook in hand to refer to in your on-the-ground travel. We own and recommend the Lonely Planet Greece for a great guidebook on the ground.
Sunscreen: Yes, you will want sunscreen in Greece, no matter the time of year. While you can buy it here, I suggest you buy the good stuff from recognizable brands or better yet, buy it online in advance. I love this solid Neutrogena sunscreen. Who doesn't love a good solid for liquid swap? Great to keep in your bag without worrying about sunscreen explosions.
Motion sickness pills: Great for ferry rides and bus rides especially on winding roads – I buy these non-drowsy ones. You can also try these natural motion sickness bands which use acupressure to reduce nausea – they work pretty well.
Hiking boots or sneakers with good grip: If you're looking for waterfalls in Greece, you may have to do some hiking to get to them! Be sure to wear some well broken-in hiking boots or at the very least, some grippy sneakers.
A water bottle with a filter. While often, the tap water in Greece is drinkable, there are places where it isn't. Always ask before drinking the water.
We generally recommend using a water bottle with a purifying filter to reduce your plastic consumption and ensure you won't drink any bad water that could make your trip unpleasant! We recommend the GRAYL water bottle – it filters water perfectly (literally – 99.999% free of viruses, bacteria, etc.) in an instant so that you can even drink from lakes, bad taps, etc. – basically everything but the sea itself.
Travel safety items. We think Greece is very safe to travel to, but at the same time, it never hurts to be prepared! Some people like to carry money belts, but neither Stephanie nor I use these.
Instead, we both carry the same PacSafe anti-theft backpack. It has locking zippers, slash-proof construction with metal mesh hidden in the fabric, and tons of other smart security features — all while being cute and stylish enough to be our everyday bag. We recommend it highly for both male and female travelers, as it's neutral enough to be unisex. We also recommend travel insurance! Our recommendation is at the bottom of the post.
More Places to Stay in Greece
Our villa in Crete…heaven on Earth!
We are still working on guides to where to stay in many Greek cities. We currently have guides to:
If you're looking for where to stay in a city we haven't covered yet, we like to use Booking.com. Make sure to book as early as possible. Greece is a popular beach destination, so rooms can sell out earlier than expected.
More Greece Travel Resources
Headed to Greece? We have some great travel resources to help you with your trip.
First read our guide to planning a trip to Greece, which covers visas, budgets, vaccines, and much more.
Next, you'll want to read our all-season Greece packing list.
If you are still trying to figure out your Greece itinerary, check out our guides on where to go in Greece, the best places for island hopping in Greece, and when is the best time to visit.
If you'll be spending time in Athens, check out our Athens Instagram guide, the best Athens day trips, and our complete Athens hotel guide. We also have Athens safety tips so your trip can be hassle-free. We are currently working on our mega-post of things to do in Athens as well as our itineraries, so stay tuned!
We publish new content about the Balkans almost every day! For more information about traveling to Greece and the Balkans, bookmark our Greece and Balkan travel pages so you can find out what's new before your trip.
Finally, Make Sure You Come to Greece with Travel Insurance
I'm sure you're aware that it's a good idea to have travel insurance for traveling in Greece or anywhere in the world! This is especially true on a waterfall chasing and hiking trip, where you'll be outdoors and in nature more than back home.
Stephanie and I have both been paying customers of World Nomads for the last three years. We love the peace of mind it gives us in case of emergencies, accidents, illnesses, theft, or trip cancellation or disruption.
While Greece is very safe, there's always a risk inherent in everyday travel like theft or injury, so it's better to play it safe.
Pin this Guide to Greece's Most Beautiful Waterfalls for Your Adventures!
Originally from California, Allison has been living in Bulgaria for the last two years and is obsessed with traveling around the Balkans. She has been published in National Geographic, CNN Arabic, Matador Network, and the Huffington Post. She loves befriending dogs, drinking coffee, geeking out about wine, and cooking food from around the world.