This post may contain affiliate links. This means that if you click a link, we may make a small commission off any subsequent purchase, at no extra cost to you. For more information, please check our privacy policy.
Getting to Gjipe Beach is not an easy task – and that's exactly why it's so worth it.
This stunning beach takes up prime real estate on the beautiful Albanian Riviera — yet it has none of the crowds of neighboring Himara or Drymades. The reason? A 45-minute hike up and down each way, unshaded by the hot sun, stands between you and the beautiful Ionian Sea (though that are a few ways around that).
If you have rented a 4×4, you can drive down all the way to the beach, but this post is going to assume you haven't and give you directions for how to get to Gjipe Beach from Himara and Dhermi, two of the more popular choices for where to stay on the Albanian Riviera, as well as a few other alternatives, such as taking a boat from a nearby beach.
Getting to Gjipe Beach by Car
If you've rented a car to travel around Albania, it's not too hard to get to Gjipe Beach. You can simply drive to the main parking lot, which is located a few kilometers away from the beach itself. The road all the way down to the beach is unpaved, sandy, and full of hairpin turns. It is only suitable for 4-wheel drive vehicles, so don't attempt it without one!
The fee to park is 200 lek (about $2 USD), and your car will be looked over by an attendant so you don't have to worry about leaving things in your car that you don't want to take down to the beach with you.
From the parking lot, you'll make about a 2-kilometer hike down to Gjipe Beach, which takes about 30 minutes to one hour depending on your pace… and how many photos you stop to take along the way!
How to Get to Gjipe Beach by Boat
The most scenic (and expensive) option to get to Gjipe Beach is by boat. You can arrange a private transfer from Himara to Gjipe or Dhermi to Gjipe at your guesthouse. You can also arrange a boat transfer at Jala Beach and visit two of Albania's most beautiful beaches in one day.
There is no set price, as each boat driver sets their own, but expect to pay roughly 2,000 lek ($20 USD) per person for a roundtrip transfer from either Himara or Dhermi.
You can also arrange for a boat transfer at Jala Beach by hiring a local with a boat. I'm not sure what the fees would be, but they would be less than from Himara or Dhermi as Jala is much closer.
If you want a more active way to get to Gjipe Beach, but don't feel like hiking, you can rent a kayak at Jala to go to Gjipe. It'll take about 40 minutes to 1 hour to kayak from Jala to Gjipe, though I only recommend doing this if the waves are minimal.
Getting to Gjipe Beach by Bus
There are several minibuses (furgons) that go up and down along the main coastal road. You can flag down and hop on any furgon that connects major cities along the coast, such as the buses between Himara and Vlora, which make several runs a day. The timetables depend on the season, so you'll want to ask your guesthouse or hotel owner for the most recent times, but generally there is at least one early morning option, one mid-morning option, and one afternoon option.
Note that if you go to Gjipe Beach by bus, as I did, it may be a bit difficult to time your return journey by bus as well. The hike back up the hill is a lot more difficult than the way down, especially if you're battling high sun and fatigue from being in the sun all day… or if you were betrayed and sunburned by your Albanian sun milk (how could I have ever possibly thought that wouldn't go wrong?).
Due to taking longer to hike back up the hill and the questionable bus schedule, I ended up having to hitchhike back, which is extremely easy to do in Albania, but I don't recommend hitchhiking this solo if you can help it (I had another person hitchhiking back with me).
Albania is a safe country full of hospitable and lovely people, and hitchhiking is relatively common around these parts. However, I still don't suggest doing it solo, especially if you're a woman, just as a precaution.
How to Get to Gjipe Beach by Walking
If you don't mind a little extra exercise, there are several ways to get to Gjipe Beach all on foot! Gjipe Beach is conveniently only 4 kilometers from Dhermi and 5 kilometers from Vuno, and there are trails that connect them.
Walking paths are laid out on Maps.me, which is extremely helpful to have pre-downloaded in advance as some trails, like the Vuno-Gjipe path, are not well-marked.
If you choose to do this (or any way you choose to get to Gjipe Beach short of 4×4 or boat, honestly) be sure to bring a ton of water, as there is virtually no shade on these paths and you're looking at at least a 2-3 hour hike each way at a minimum.
Camping at Gjipe Beach
There is a small campsite at Gjipe Beach, Gjipe Eco Camping, with very basic facilities but an unbeatable location. You can book online here to save your spot. You can bring your own tent or use the one they provide. You may want to bring your own sleeping bag liner for added cleanliness.
What to Do at Gjipe Beach
Besides lay and bake in the sun (bring that SPF!), there are a few things you can do to pass the time at lovely Gjipe Beach.
Swim or kayak by the caves
There are a few caves on the lefthand side of Gjipe Beach (facing the ocean) that you can explore! The people I was visiting Gjipe Beach with were brave enough to explore them, but I'm not a very strong swimmer and the waves were a little rough when I visited Gjipe Beach so I didn't get a chance to see them for myself.
Be extremely cautious when visiting these caves as waves can surprise you, and unless you're a very strong swimmer, I wouldn't visit these alone.
Rent a chair & umbrella
Albania in the summer is hot, and the sun at Gjipe Beach is particularly punishing. I got one of the worst sunburns in my life at Gjipe Beach – so bad that I actually think I had sun poisoning and felt sick for days afterwards.
Beat the heat and rent a beach chair with umbrella to get a little shelter from the sun (and don't put your faith in Albanian sunscreen — bring some from home, seriously). You can get a pair of two chairs plus an umbrella for 1,000 lek ($10 USD) for the day — expensive by Albanian standards, but in my opinion, a total steal for this pristine patch of coastline.
Explore Gjipe Canyon and Waterfall
Once you arrive down on the beach, you can explore the Gjipe Canyon area on foot for a bit more of an active day, though it's best suited for people comfortable with rocky terrains.
I didn't explore this area as I was already pretty tuckered out from the hike down, which was more challenging than I expected in the heat, but supposedly there is a beautiful waterfall here as well. Ask a local staffing the bar or restaurants on Gjipe for directions.
Sip on an ice cold beer
There's a small 'bar' at Gjipe Beach which offers cold beers, water, sodas, and a few snacks.
Prices are a bit inflated here due to the difficulty of bringing things in, but buying yourself a beer after a tough hike down to Gjipe is well worth the slight upcharge. Expect to pay about 300 lek ($3 USD) for a beer.
Dine on fresh seafood
There are a handful of restaurants at Gjipe Beach, if you didn't bring your own food for a picnic.
Like the bar, the prices are inflated — about twice what you'll find back in Himara or Dhermi — but for the convenience, it's surely worth it. Go for the seafood, which is as fresh as can be along the Riviera.
5 Things to Bring to Albania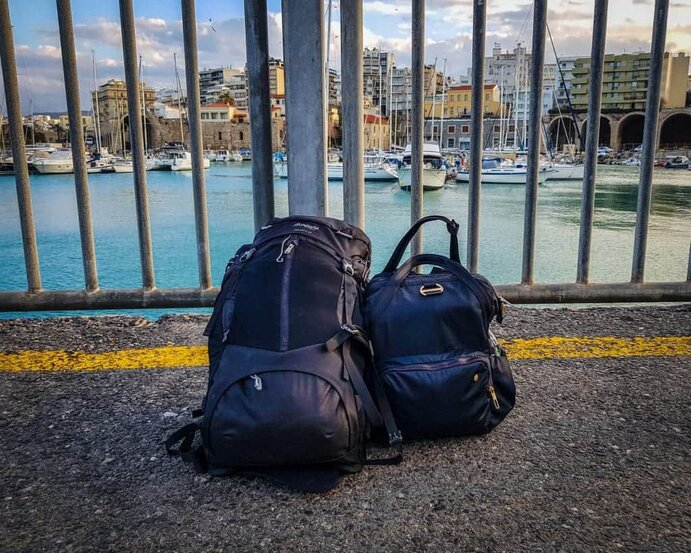 We have a complete packing list for Albania, but make sure you bring these five items with you!
Lonely Planet Western Balkans is a great guidebook for your visit to Albania, and it's great if you're also visiting any combination of the following countries: North Macedonia, Kosovo, Bosnia, Serbia, Croatia, Montenegro, and Slovenia. It can be really hard (sometimes impossible) to buy a physical guidebook in English once you're in Albania, so if you like having your guidebook in your hands you will need to bring it with you from home.
A water bottle with a filter. While generally, the tap water in big cities in Albania is drinkable, such as in Tirana and Sarande, we generally recommend using a water bottle with a purifying filter to reduce your plastic consumption and ensure you won't drink any funny-tasting water on your stomach that could make your trip unpleasant! Albanian water has a notoriously high amount of chlorine that affects the taste.
We recommend the GRAYL water bottle – it filters water perfectly in an instant so that you can even drink from lakes, bad taps, etc.
Wet wipes, hand sanitizer, TP & other Balkan transit needs. Bathrooms in the Balkans tend to be… how can we say it?… not so well-stocked. Save yourself the disappointment and bring a mini-rescue pack of wet wipes & hand sanitizer.
Unlocked Cell Phone: Steph and I both have unlocked cell phones that we bought in Europe (Steph uses a Samsung and I use an iPhone). This allows up to get sim cards when we travel so that we always have the internet. This has gotten us out of so many jams! If you don't have an unlocked cell phone that can use an Albanian sim card, you can buy a cheaper unlocked phone online and bring it with you!
Travel safety items. We think Albania is very safe to travel, but at the same time, it never hurts to be prepared! Some people like to carry money belts, but neither Steph or I use these. Instead, we both carry the same PacSafe anti-theft backpack. It has locking zippers, slash-proof construction with metal mesh hidden in the fabric, and tons of other smart security features — all while being cute and stylish enough to be our everyday bag. We recommend it highly for both male and female travelers, as it's neutral enough to be unisex. We also strongly recommend travel insurance! Our recommendation is at the bottom of the post.
Read next: Essential Albania Packing List: What to Wear & Pack for Albania
More Albania Travel Resources
First, start by reading our post on planning a trip to Albania. It covers everything from visas to vaccinations to what to pack, so it's a great jumping-off point for your travel plans.
Next, check out our Albania packing list and our suggested one, two, and three week Albania itineraries.
If you're curious about the currency used in Albania and how tipping works, we recommend our Balkan currency guide to learn all about the Albanian lek and tipping culture. We also have a post on Albanian cuisine!
If you're looking for even more places to add to your Albania itinerary, we have a bunch of ideas for you from us and other bloggers in this collaborative post about the 15 best places to visit in Albania!
We are working on all of our Tirana guides, but for now, we have posts on the best restaurants in Tirana, the best Tirana cafes, and the best Instagram spots in Tirana.
We add new content almost daily! We recommend you bookmark our homepage, our Albania page, or our general Balkans page to refer to when planning your trip.
Don't Forget About Travel Insurance!
If you're planning a trip to Albania, make sure to travel with a valid travel insurance policy. While we feel safe in Albania, it's a good idea to be covered in case of an emergency. Travel insurance covers you in case of theft or an accident, which can save your trip if there's an incident.
For travel insurance, Steph and I use World Nomads. I've been a happy customer of theirs for almost three years, and I've never had an issue when making a claim. I'm happy to refer them to anyone I meet.
>> Get a travel insurance quote for your trip here. <<
Originally from California, Allison has been living in Bulgaria for the last two years and is obsessed with traveling around the Balkans. She has been published in National Geographic, CNN Arabic, Matador Network, and the Huffington Post. She loves befriending dogs, drinking coffee, geeking out about wine, and cooking food from around the world.