This post may contain affiliate links. This means that if you click a link, we may make a small commission off any subsequent purchase, at no extra cost to you. For more information, please check our privacy policy.
One of the best perks of a trip to Mykonos is its proximity to so many beautiful islands. Luckily, the closest island to Mykonos is also one of the most interesting and beautiful: the beautiful island of Delos, a UNESCO World Heritage Site.
The island of Delos ticks all the boxes for a perfect day trip from Mykonos. Frequent connections by ferry, a beautiful setting, a stunning and well-preserved set of ruins: a day trip to Delos from Mykonos is as easy as it is rewarding.
While it can be hard to peel yourself away from the beautiful Mykonos beaches, I really recommend you do. Delos offers an incredible insight into ancient Greek civilization at its peak, and taking a tour of Delos reveals the hints of what life was like back in Delos' heyday, more than 2,000 years ago.
Visiting Delos was one of the highlights of my recent trip to Greece, and I'd put Delos as one of my top 5 archaeological sites in Greece for history lovers. It's right up there with the Acropolis, the Oracle of Delphi, and Akrotiri as must-visit sites. And since it's only a 30-minute boat ride to Delos from Mykonos, you'd be a fool to skip it.
Getting to Delos from Mykonos
Truly, planning a day trip to Delos from Mykonos couldn't be simpler. Boat connections leave from Mykonos Town (Chora) multiple times a day.
A ferry with Delos Tours is the most common way to get to Delos from Mykonos, and it's what I personally did and recommend because they have phenomenal tour guides.
I did this tour with Delos Tours, and my guide, Athena, was fantastic. She's an archaeologist and historian as well as being a guide, so she was able to bring so many of the structure to life for us and give us an insight into what clues were left behind by this ancient civilization.
To get to the port where they leave to Delos, walk to the Delos Tours ticket office at the Delos port. This is about a 10-minute walk from the Old Port, or a 5-minute walk from the restaurants on the harbor.
Alternately, if you are visiting Mykonos on a cruise, you'll be coming from the New Port. In this case, you should take the sea bus for only two euros all the way to the Delos departure area.
The Delos to Mykonos Ferry Timetable
On Mondays, there is a ferry from Mykonos to Delos at 10 AM from May 2nd to October 31st, with a return ferry at 1:30 PM.
The Monday afternoon tour differs depending on the sunset time. From May 2nd to September 15, the ferry leaves at 5 PM and returns at 7:30 PM. From September 15 to September 30, the ferry leaves at 4:30 PM and returns at 7 PM.
From October 1 to October 14, the ferry leaves at 4 PM and comes back from Delos at 6:30 PM. From October 15 to October 31, the ferry leaves at 3:30 PM and returns at 6 PM.
On Tuesdays through Sunday, the schedule has many more options for morning tours, all between May 2nd and October 31st. There are morning departures at 9 AM, 10 AM, and 11:30 AM, with returns at noon, 1:30 PM, and 3 PM respectively.
The evening tours are staggered and follow the same timeline as the Monday afternoon tours listed above.
How far is Delos from Mykonos?
The boat to Delos to Mykonos is blissfully short. It's only 15 kilometers, and the boat takes only 30 minutes. The ride is absolutely beautiful!
Can you stay overnight on Delos?
You cannot – Delos is strictly an archaeological site, and there are no hotels or any capacity to stay on the island overnight.
How much is the ferry from Mykonos to Delos?
The ferry costs 20 euros return, which does not include the 12 euro entrance fee, for a total of 32 euros.
I strongly recommend adding on a guide. For 50 euros, you get a return ticket, the entrance fee, and a roughly 2-hour guided tour of Delos. This is the half-day tour I booked: The Original Morning Delos Guided Tour. If you'd rather visit in the evening, you can check the Evening Tour offered by the same company.
Alternately, you can visit Delos as part of a full-day yacht sailing cruise which also includes Rhenia Island, so you can drink white wine, eat lunch, relax in the sun, swim and snorkel with the provided equipment, and enjoy a two-hour guided tour of Delos Island. This is the yacht cruise I recommend if you have the time!
What to See When You Visit Delos Archaeological Site
The Delos Archaeological Site is pretty big and spread out. Going on a tour will ensure you see all the highlights, which is why I chose to do it that way. Here are the top 5 things you should keep an eye out for when you visit.
The Temples of Apollo. There are three temples which were dedicated to Apollo, which now stand largely in ruins. The statues from these temples have been moved to the inner museum.
The Archaeological Museum of Delos: Many of the statues you'll find in Delos have been moved inside, and replicas now stand in their place to protect the originals from Delos' strong winds.
The Terrace of the Lions: This row of lion statues made of the finest Naxian marble is one of the most iconic sights of Delos. The originals have been moved into the museum to protect them from the elements, but replicas of the lions are placed where they originally stood for millennia.
The House of Dionysus: Best known for its beautiful mosaic floor and the remains of plaster stucco wall paintings, the House of Dionysus is a wonderful insight into the lives of the extremely wealthy who lived on Delos many millennia ago.
The Odeon. The ancient theater of Delos has been damaged quite a bit over the centuries, but it's an impressive site nonetheless.
5 Big Mistakes People Make When They Visit Delos
Not bringing sun and wind protection. Delos is an open archaeology site, with virtually no protection from the elements. You will want to bring, at the very least, a large bottle of water, a sun hat, sunscreen, and sunglasses. At the same time, be sure to bring some sort of sweater or windbreaker in case the wind picks up, as Delos can get incredibly windy.
Not wearing the right shoes. Delos is rocky and unpaved. Unlike Akrotiri, which has a boardwalk around the whole perimeter and through the town, you are walking outdoors on uneven terrain the entire time at Delos. I recommend walking shoes like sneakers or a really sturdy pair of sandals. I do not recommend cute flats that you don't want to get gravel in with every other step…
Not going with a guide. While you can save some money by not going with a guide, I really don't recommend skimping on this. Most of the interesting sites such as the Odeon and the House of Dionysus have very little information about them on placards, so you won't really know what you are seeing.
A guide will help bring not only these important structures to life, but the everyday structures — the taverns, the houses, the fish markets, etc. – to give you the full imagining of what life on Delos would have been life.
Stepping on the marble. There are many marble blocks strewn on the ground at Delos, which is incredibly soft and porous. Do not step on the marble, as you risk damaging it and wearing it down over time.
Not eating beforehand. Delos is strictly an archaeological site, so there's really not much in the way of infrastructure. It's just a ticket booth, a museum shop (which was closed when I went), and a bathroom with just two stalls. Be sure to eat beforehand — you can buy snacks on the boat or grab something to eat before you leave Mykonos harbor.
Delos Tours Mentioned in the Post
For a quick list of the Delos tours I mentioned in this post, here they are:
Pin This Guide to Visiting Delos from Mykonos Here
5 Things to Bring with You to Greece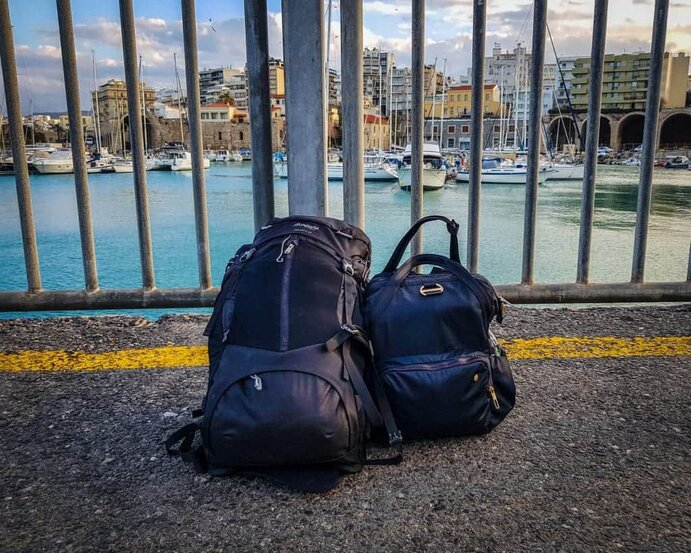 If you're planning a trip to Greece, you'll want to pack all the normal essentials, but here are a few things we strongly recommend bringing that may not have crossed your mind. For more packing tips, check out our complete Greece packing list.
– A physical guidebook, in paper or on Kindle. We love Lonely Planet Greece for this region and strongly recommend it to supplement blogs. Blogs are great, but a combination of a blog and a guidebook is key to having the best access to information easily at your fingertips.
– A water bottle with a filter. We generally recommend using a water bottle with a purifying filter to reduce your plastic consumption and ensure you won't drink any funny-tasting water on your stomach that could make your trip unpleasant! We recommend the GRAYL water bottle – it filters water perfectly in an instant so that you can even drink from lakes, bad taps, etc.
– Motion sickness pills. Mykonos roads are winding, especially around the coast. If you have a weak stomach as we do, save yourself and bring some non-drowsy motion sickness pills.
– Travel safety items. We think Athens is safe to travel, but at the same time, it never hurts to be prepared! Some people like to carry money belts, but neither Stephanie or I use these. Instead, we both carry the same PacSafe anti-theft backpack.
It has locking zippers, slash-proof construction with metal mesh hidden in the fabric, and tons of other smart security features — all while being cute and stylish enough to be our everyday bag. We recommend it highly for both male and female travelers, as it's neutral enough to be unisex. We also strongly recommend travel insurance! Our recommendation is at the bottom of the post.
Read More: Essential Greece Packing List: What to Wear & Pack for Greece
More Greece Resources
First read our guide to planning a trip to Greece, which covers visas, budgets, vaccines, and much more.
Next, you'll want to read our all-season Greece packing list.
If you are still trying to figure out your Greece itinerary, check out our guides on where to go in Greece, the best places for island hopping in Greece, and when is the best time to visit.
We publish new content about the Balkans almost every day! For more information about traveling to Greece and the Balkans, bookmark our Greece and Balkan travel pages so you can find out what's new before your trip.
Don't Forget About Travel Insurance!
I'm sure you're aware that it's a good idea to have travel insurance for traveling in Mykonos, Greece in general, or anywhere in the world!
Stephanie and I have both been paying customers of World Nomads for the last three years. We love the peace of mind it gives us in case of emergencies, accidents, illnesses, theft, or trip cancellation or disruption. 
While Mykonos is safe, there's always a risk inherent in everyday travel like theft or injury, so it's better to play it safe.
>> Get a travel insurance quote for your trip here <<
Originally from California, Allison has been living in Bulgaria for the last two years and is obsessed with traveling around the Balkans. She has been published in National Geographic, CNN Arabic, Matador Network, and the Huffington Post. She loves befriending dogs, drinking coffee, geeking out about wine, and cooking food from around the world.