This post may contain affiliate links. This means that if you click a link, we may make a small commission off any subsequent purchase, at no extra cost to you. For more information, please check our privacy policy.
Croatia is a small country known for its rich history and culture, as well as for its beautiful coast and more than 1000 islands. When it comes to its gastronomic scene, it is enriched with traditional and autochthonous recipes and dishes. While you might arrive familiar with Croatian cuisine, you might be wondering what are the best traditional Croatian breakfast foods. In other words, what do Croatians eat for breakfast?
Read Next: 7 Traditional Croatian Dishes that You Simply Must Try
Can't read now? Pin for later!
Where to Stay in Croatia
Here are our recommendations for where to stay in Dubrovnik. We're in the process of creating comprehensive guides on where to stay in other Croatian cities, but for now, we recommend checking out Booking.com as early as possible since this is a popular time to visit. These are some of the places we suggest you check.
Budget: Apartment Larica Miha Pracata is a historic building in the heart of Dubrovnik Old Town. You can easily leave your apartment and instantly be at some of the best architectural and historical attractions Dubrovnik has to offer. Check out prices and availability at Apartment Larica Miha Pracata.
Mid-range: Soleil Luxury Rooms offers some of the most modern amenities you will find in the Old Town of Dubrovnik. Check out guest reviews, prices, and availability at Soleil Luxury Rooms Old Town.
Luxury: Boutique Hotel Stari Grad showcases elegant style and you can see plenty of designer accents all over the hotel. The interiors and arrangement of all furniture are well-executed, creating a comfortable and cozy place to stay in the Old Town of Dubrovnik. Check out guest reviews, prices, and availability at Boutique Hotel Stari Grad.
A Bit of Croatian Culinary History
If we look at Croatian history, its cuisine was influenced by many countries which offer a nice basis for the Croatian tradition in gastronomy.
Even though Croatia has a lot of recipes that are specific and traditional for each region, when it comes to breakfast, tradition is almost lost out of sight. Discovering the national culinary traditions can be a lot easier by joining a tour like this one in Split or this food and wine tour in Dubrovnik.
The dishes for breakfast vary not only from region to region but from one person to the other. Everyone created their cooking habits based on their childhood memories, job, sleeping time, schedule, and more.
With that being said, Croats for example don't have a classic traditional breakfast known in the entire country. They may have it in their own families, but still, every breakfast idea varies from one family to another.
Croatian Breakfast: Traditional Roots & Modern Ideas
In the past, the Croats who lived in continental Croatia had a breakfast made of polenta, cornbread, and coffee substitute (kavovina). In Dalmatia, people tend to eat bread with butter and jam or anchovies, while in Istria, the most popular breakfast was (and still is, we've mentioned it a few paragraphs down) frittata with asparagus.
Today, the situation has changed. Breakfast is adapted to the Croats' everyday habits, life, and schedule (which is quite normal, of course), so they go for easy, simple, and light recipes. Naturally, the coffee goes with any type of breakfast, whether it is coffee to go or homemade. Tea is not so popular for an early start of the day, but some find it quite relaxing to drink it in the morning.
To present a bit of Croatian breakfast cuisine, we sum up 13 things, dishes, and meals, which can usually be found on the Croatian tables early in the morning. They are delicious and easy to do or buy!
Read next: Sensational Croatian Food: 7 Traditional Croatian Dishes You Simply Must Try!
Bread & Spread
This is a good dish for breakfast and a nice snack throughout the day. Croats usually eat a couple of pieces of bread smeared with Margo nova, pašteta, cheese, or Nutella.
Margo is margarine which is easily spreadable and enriched with vitamin A, D, and E. It is great in the combination with jam.
Pašteta is a meat spread made of pork, chicken, fish, or other ingredients.
Cheese spread perfectly combines with fresh or baked bread, while Nutella is a favorite spread for all generations.
Burek & Yogurt
When we talk about the most popular breakfast in Croatia, I believe this would hit the jackpot. Burek is, to put it simply, a pie made of stretch dough and filled with minced meat. It is a bit greasy, but it is delicious, crispy, and juicy.
Croats eat it in the combination with yogurt. Besides meat, burek can also be filled with cheese (then it is called "sirnica"), greens or spinach ("zeljanica"), potatoes ("krumpiruša"), vegetables, and apples.
Cereals
There is always a big dilemma in Croatia when it comes to cereals and the key question of this dilemma is how to eat them – with milk or with yogurt?
Whichever the answer, Croats enjoy their cereals. The most popular ones are probably classic cornflakes and chocolate cereals from Kraš Express. Of course, there are also many variations, integral, healthy, fit, and others.
Cheese & Cream
This is a traditional breakfast – a favorite to every generation. Cheese and cream are best if they are homemade but, of course, there are a lot of trusty shops and households that make top-quality ingredients.
This breakfast is made of fresh cow cheese and homemade sour cream. Once it is served, it needs just a bit of salt and wheat bread.
Some Croats also add kulen, češnjovke, ham, and other meat produces, as well as some type of vegetables such as tomatoes.
Čokolino
It doesn't matter if Croats are big or small, young or old, they are true fans of Čokolino. This dish is a favorite food for kids, as well as those who feel young so yes, all generations eat Čokolino.
A classic Čokolino is made of chocolate and warm milk and it is a great and delicious breakfast (of course, there are a lot of variations to fit everyone's taste). The measurement of milk decides whether the mixture is light or dense, so everyone can make this breakfast according to their preferences.
Frittata With Asparagus
Croats may reach for easy-to-prepare breakfasts but don't be fooled – they are truly delicious! And that's the case with frittata too.
This is a simple and healthy meal made of eggs, asparagus, onions, mushrooms, and prosciutto.
This dish is most popular in Istria. Due to the mentioned ingredients, the frittata is enriched with vitamins A, E, and K. Also, asparagus and mushrooms are great for the body and they have numerous positive impacts.
Once they are all combined, they present a rich and nutritious breakfast.
Kajgana
Eggs are quite usual in Croatian cuisine, especially when it comes to their breakfast. They are eaten scrambled or boiled, but they are also prepared as a delicious kajgana.
This dish is easy to make, and the result comes with a beautiful creamy texture. Kajgana can be made with vegetables, different cheeses, bacon, mushrooms, pork rinds (čvarci), and more. Since it offers so many variations of the preparations, it is no wonder Croats love it so much!
Meat Products
Croatia is known for its tradition of making kulen, češnjovke, ham, and prosciutto, so naturally, these products (along with other meat such as salami) can easily be found on the breakfast table.
The mentioned meats are salty or spicy and they are great with fresh bread, pastries, and more. Besides that, the Croats love luncheon meat which is a famous canned meat product ideal as a breakfast, snack, or dinner.
Oatmeal
When Croats need something quick, simple, and easy for breakfast, they go for oatmeal.
Oatmeal is quite a popular dish in the world, and in Croatia, it is prepared with boiling water and fruit, sometimes with yogurt and nuts too. The exact recipe and ingredients greatly depend on individual preferences.
Pastries
Today, life is quite quick, and everyone rushes everywhere. Due to that, the breakfast needed to be adjusted to those conditions, so the Croats found the best and most convenient solution – pastries.
They go to the bakery, choose, and they're already on their way with breakfast in their hands. Croats have a lot of favorite pastries such as kajzerica, kifla, slanci, perec, pletenica, brioš, croissants made of butter or filled with jam and chocolate, žemlja, and more.
There are also a lot of variations of small pastries filled with salty ingredients such as a mixture for pizza, cheese, and others.
Read next: Planning a Trip to Croatia: Your Travel Checklist
Polenta With Cream
This is a bit more traditional breakfast for every rural household. It was prepared every morning before leaving for the hard work on the land. Today, this breakfast is still around but not that much.
Polenta or "žganci" in Croatian, is made of cornflour and it's served warm. It's excellent with homemade cream or yogurt (this ingredient is more popular with the younger generations though). Besides the cream, polenta can also be made with bacon.
Popara
Older generations certainly brought to use some tasty breakfasts which are so simple and easy to make, yet tasty. Popara is an old dish ideal for both breakfast and dinner. It's still prepared in some regions, while younger generations remember it thanks to their grandparents.
This dish requires boiled water with butter, white onion, salt, and old bread cut into pieces. Before serving, the ingredients are drained. Popara goes great with cheese and other dairy products.
Read next: How to Visit the St. Vincent's Day Wine Festival in Štrigova, Croatia
White Coffee With Bread
This breakfast is a bit old, but it is still around in some households, especially among older generations. This is a quick, simple, and light dish ideal for breakfast, and it is prepared with warm white coffee and bread.
Once the coffee is done, the bread is torn into small pieces and put inside the coffee. The bread is then soaked in coffee so together, they create nice flavors which are ideal for starting the day on the right foot!
Croatia may not have a famous Croatian breakfast, but it surely has some unique ideas suitable for every type of morning.
Croats have simple and easy-to-make recipes and ideas, as well as good bakeries which allow them to buy delicious breakfast when they are in the rush. If you're interested in their "more complicated" and traditional recipes which are known in the world, check out this post about Croatian autochthonous dishes.
What to Pack for Croatia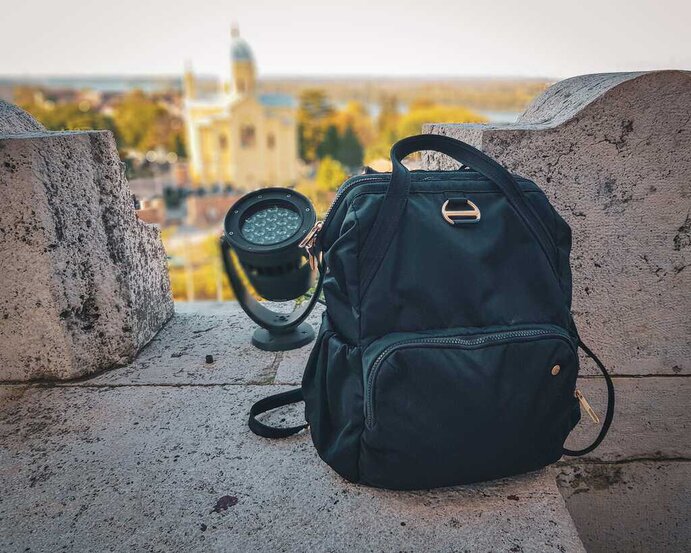 We have an entire Croatia packing list, but make sure you don't leave these items behind!
A Guidebook – While travel blogs are great, we also definitely see the benefit of having a good paper guidebook in hand to refer to in your on-the-ground travel. We recommend the Lonely Planet Croatia book.
Mosquito repellent: Mosquitos in the summer can be nasty! You can bring ones with DEET or without DEET, or I love having some of these mosquito repellent wipes that I can keep in my bag in case I suddenly start to get swarmed and don't have my regular repellent with me.
Sunscreen: You can buy sunscreen in Croatia, but it's likely cheaper at home or bought online in advance. I love this solid Neutrogena sunscreen. Who doesn't love a good solid for liquid swap? Great to keep in your bag without worrying about sunscreen explosions.
Water shoes: Pebble beaches in Croatia are a double-edged sword. On the one hand, the pebble seafloor is what creates that gorgeous deep turquoise-colored water that is hard to beat, as the lack of sand means you have incredibly clear water. However, on the other hand, pebble beaches and rocky shores can be downright painful!
Our friend recently cut his foot on a rocky beach in Croatia; had he been wearing water shoes, he'd have avoided such unpleasantness! We suggest these unisex water shoes. They're not sexy, but they will make your trips to the beach far more pleasant!
A secure backpack: We both carry the CitySafe backpack by PacSafe not only on our travels but in our day-to-day lives. It's cute, it's functional, it's comfortable, and it's secure. We're talking about interlocking zippers (which you can then put through a second clasp for two layers of security), slash-proof wire mesh construction, and RFID blockers to keep your data safe.
It's neutral enough to be unisex, it's roomy enough to fit a small laptop, a large camera, and tons of odds & ends, and it fits under the plane seat in front of you. We're obsessed. Check it out for yourself!
Grayl Water Filter: Tap water is generally safe to drink in Croatia, but if you're not used to drinking tap water from other countries, the typically harmless bacteria found in all water can cause some gut irritation. To both be safe and not buy dozens of plastic water bottles, you can get a reusable water bottle that comes with a water filter so that you can stick to the tap water and reduce your plastic waste. If you'll be traveling outside of the major tourist centers, check if the water is potable locally.
Sea bands: If you get seasick easily, pack some Sea bands or seasickness pills so you don't miss out on the best parts of Croatia – being on the water! A trip to Croatia isn't complete without a quick boat trip, so make sure you're prepared to enjoy it to the fullest!
Read more: Essential Croatia Packing List: What to Wear & Pack for Croatia
More Croatia Travel Resources
Headed to Croatia? We have some great travel resources to help you with your trip. First read our guide to planning a trip to Croatia, which covers visas, budgets, vaccines, and much more. We also have a Croatia packing list with a detailed section for all seasons.
While in Dubrovnik, check out our favorite Dubrovnik Instagram spots and the best Dubrovnik day trips.
If you're still putting together your itinerary, here's a great list of places to visit in Croatia, our Croatia national parks guide, and the Croatian waterfalls guide to help you choose. We also have a guide to the best day trips from Spit if you're to be visiting Split as well.
If you'll be spending time in Zagreb, check out our list of the city's best photo destinations. We also have a guide to visiting the famous Plitvice Lakes from Zagreb.
Next, check out our Balkan currency guide which explains how money works in Croatia and local tipping customs.
Of course, if you're coming to Croatia you'll have lots of opportunities to shop! Read our guide to shopping in Croatia so you know which souvenirs are truly local gems.
If this will be one of your first trips in the Balkans, check out our massive list of things to know before traveling the Balkans as well as our Balkan bus, road trip, and itinerary guides.
We publish new content nearly every day! Bookmark our pages on Croatia and the Balkans so that you don't miss out on any new info or resources that we publish before your trip!
Don't Forget About Travel Insurance!
I'm sure you're aware that travel insurance is a good idea for traveling in Croatia (or really, any part of the world)! We have both been paying customers of World Nomads for the last three years. We love the peace of mind it gives us in case of emergencies, accidents, illnesses, theft, or trip cancellation or disruption.
While the Balkans are perfectly safe to travel around, there's always a risk inherent in everyday travel – especially during the winter! – so it's better to play it safe.
>> Get a travel insurance quote for your trip here <<
Pin This Guide to Croatian Breakfast for Your Trip!
Gabi Ancarola is a translator and travel journalist living in Crete. She regularly writes about the island for several magazines about travel, gastronomy, and hospitality. She has published several travel guides about Greece and runs a local gastronomy tour in Chania. She loves cooking local dishes, taking photos, and driving on the mountain roads of Crete.