This post may contain affiliate links. This means that if you click a link, we may make a small commission off any subsequent purchase, at no extra cost to you. For more information, please check our privacy policy.
The ancient city of Hierapolis otherwise known as 'sacred city' was a spa city built by the Romans. It was built around the world-famous warm-water spring, known as Pamukkale (in Turkish, 'cotton castle').
The town is located 18 kilometers north of Denizli in the southwest of Turkey. The town of Pamukkale is now the town center for tourism around both the natural springs and the ancient ruins of Hierapolis.
Pamukkale is often considered the eighth wonder of the world and has also been a world heritage site since 1988.
But What is Pamukkale Exactly?
Well, it is a natural spa, located in the River Menderes valley; the carbonate minerals left by the flowing water makes an unbelievably relaxing natural bath. Many weary travelers have passed through Hierapolis over many thousands of years to experience the wonders of this natural beauty and profit from the health benefits.
When you first see this geological phenomenon, you will just stand back and stare. How can this be natural? Man must have had a hand in making it. Well, the answer is no!
So how did this great wonder come about? There are lots of hot springs in this area, around 17 to be precise. When the water from the hot springs comes to the surface, it moves to the travertine. Wait, travertine?
Travertines are a kind of limestone, which are formed with the minerals from the hot spring water. The calcium from the hot spring cools when it reaches the surface, and when mixed with the soil, it creates travertines. Travertine is a strong material, and did you know that it was used to build? The Romans used travertine to build St Peter's Basilica and square in Vatican City!
The Modern History of Pamukkale
Many modern hotels were built in the area in the 1960s. These hotels were draining the water from the hot springs into their swimming pools and were causing damage to the area. The hotels were then knocked down. In 1988 UNESCO placed Pamukkale on the world heritage site list.
One of the main reasons for this is that the area is free of modern-day buildings. Some of the buildings in Hierapolis are being used again today as a theater since this site was put on the list. Locals have taken great pride in this area and have stopped people from walking on the travertines in shoes. So, be prepared to be barefoot! You have to keep to the designated path so that the travertines are not damaged. There are still many archaeological digs taking place in this area, and many more buildings and sites are being discovered.
In recent years Pamukkale has become a huge tourist attraction. There are lots of hotels and small bed and breakfast places situated in the village of Pamukkale. There are also some nice restaurants in the town, so arrive the day before and take a wander around the town, spent the night, set your alarm clock early and visit the site as soon as it opens in the morning. The day trippers usually arrive around lunchtime so any time before that you will find that you can walk around with a lot more freedom and have a dip in the pools with a lot less people.
There are scheduled opening times for the different parts of the site. The travertine pools are open all hours but stay on the path!
Things to Do in Pamukkale
Bathe in the waters of Pamukkale
You can't miss the chance to bathe in these health-boosting waters!
So, we talked about the health benefits of these pools but what does that actually mean? Because of the high level of minerals in the water as well as calcium and sodium bicarbonate the water help blood circulation.
After a dip in the pool, you may find that you want a nap, as the hot spring helps reduce stress as well as help you if you are sleep deprived. It is also said that the water can help with aches and pains such as rheumatism and arthritis and for the people who have skin problems such as acne then the minerals can help clear up any problems. The full benefits of hot springs are still being investigated but be sure you will feel great when you get out!
Hot springs have become much more popular over the years, not only because of the health benefits but also because they are a great place to relax, destress, and take in the beautiful scenery. Just be aware that at Pamukkale you will never be alone, there will always be others enjoying the experience as well – this is one of the most popular places to visit in Turkey, after all.
To enter Pamukkale, adults have to pay 50 Turkish lira (around $8 USD) and this fee gives you access to the travertines, the ancient city (and stadium) and the pools. It's worth it; this is one of the best things to do in Pamukkale, and the whole reason you likely came here!
Note that Cleopatra's Pool is an additional fee. This attraction is open all year round, but the times change according to the season. In the summer the attraction opens at 6:30 AM until 9 AM and in the colder months from 6:30 AM until 7 PM.
Walk up Pamukkale Plateau
Pamukkale Plateau is where the travertines have formed. There are three different entrances to the plateau. Please note that walking in this area can be difficult for small children or people not so steady on their feet; there is no railing or steps. This is an archaeological site so the paths can be uneven and a little rocky.
To get to the plateau, you can enter through the town entrance and walk up to the plateau, shoes off of course to avoid damaging the travertines! It is about a 20 to 30 minutes' walk. You can park your car in the town.
The other two entrances have a car parking area with a fee. The north entrance is the best entrance to get to the plateau and the other attractions. You can park your car then either take a shuttle bus or walk the 20 or 30 minutes to the attractions. The south entrance is not the best. You can park your car in the large car park but then you have to walk for 30 minutes under the hot sun.
Want to see the 'Cotton Castle' from another angle? Try a hot air balloon! This hot air balloon ride gives you a birds-eye view of the marvelous travertines below.

Feeling even braver? Why not paraglide over it – book your tandem paragliding experience here!
Soak like royalty in Cleopatra's Pool
The place where everyone wants to go is the Antique Pool, also known as Cleopatra's Pool. This is the prime bathing spot and one of the best things to do in Pamukkale! This pool is situated between the ruins, which were the columns of the Temple of Apollo. The last entrance is at 6:15 pm, so don't be late!
This is the cleanest pool you have ever been in, as it is constantly refreshed with water from the hot spring. Surrounded by pines trees and ancient columns, you could almost think you have traveled back to the Roman times.
Don't worry if the pool looks a little muddy at times, this is due to the volume of foot traffic in the pool. As it is a hot spring, the water is pleasant and warm.
There are shallow ends for kids and deeper parts for adults, but nowhere ist so deep that you can't stand up in the water.
There is a fee for this pool for around 50 Turkish lira for adults (about $8 USD) and 13 lira ($2 USD) for children aged between 6 and 12. Please note that the pool is not open all year round. Swimming is only allowed between the middle of April until the start of October.
One thing to remember is a towel! They are not supplied; you can buy one there, though! There are changing rooms and lockers for your belongings. Note that you are only supposed to stay in the pool for two hours, but no one really checks or enforces this.
Marvel at the ancient theater of Hierapolis
One of the main attractions of this area is the Hierapolis theater which is in incredible shape. You can't fail to miss this!
You need to walk up a small hill to get to the entrance, but it is worth it. The entrance leads you to the highest part of the theater where you can look down onto the stage, which is still intact but with a little damage — but what do you expect after all these years!
The theater was built by the Romans, Hadrian (who also built a very famous wall in England) and Septimus Severus (Harry Potter fans, anyone?). This theatre could hold 15,000 people at one time; it has been well restored and is well worth a visit.
Visit the area surrounding the Theater
Unfortunately, not all of this area has survived the test of time. The Cathedral at Hierapolis has very little left. You need to use your imagination to imagine what it looked like. Not many visitors make this short walk on the Roman road to the remaining arch, but it still an important part of history.
Someone who visited this area but reportedly was not so lucky was St. Philip. He was supposedly martyred; it was said that he was hung upside down from a tree, after challenging the snake-worshippers at the nearby temple. His body was found buried about 40 meters away from the church, the Martyrium of St Philip the Apostle.
Tours don't really visit this area; you have to head uphill from the Roman theater, where you'll find the Martyrium of St Philip the Apostle, which is a strange octagonal shape. As well as this great ruin, you also have some of the best views of Hierapolis from this site
Visit the Hierapolis Archaeological Museum
The Hierapolis Archaeological Museum is housed inside the ancient Roman Baths. With many artifacts from ancient times remaining, it is an interesting place to visit. There are many items found from the local digs, which include lamps, coins, jewelry and stamp seals. Walk around and remember to look up at the great ceilings, where a large sphinx guards one of the rooms.
You can smell the ancient history as you walk around. Rest assured that this museum will have new items every year, as it moves in relics that have been discovered at the dig sites. Remember to visit the beautiful garden, also located in the museum.
The museum is located in Sümer area of the town very close to the natural park and the amphitheater. Open all year round, the museum is open later in the summer months. There is a very small entrance fee of around 10 Turkish lira, less than $2 USD.
Take a day trip from Pamukkale
If you fancy a little trip outside of Pamukkale, about 10 kilometers away is the small village of Karahayit. This village houses the 5-star spa hotels; unfortunately, a few too many hotels were built and have ruined the area a little. There is a fountain in the center, which shows off the iron minerals which have left behind a rust-colored hot spring.
Another place worth visiting outside of Pamukkale is Laodicea; this is another ancient city that is still being discovered. As it is set in an earthquake zone, it has been destroyed and rebuilt many times. Slowly this ancient city is being rediscovered and is becoming a place of interest.
Tips for Visiting Pamukkale
This part of Turkey is certainly a fantastic place to visit, but before you go, be prepared.
Think about your footwear, as you will have to take off your shoes. You have to carry everything, so don't wear heavy shoes; take a backpack so that they are easy to carry.
In that backpack add water, especially if you are visiting during the summer months.
Keep in mind that because everything is white, everything is bright and sunglasses are a must! Sun cream is also a must as the water will reflect the sun and if you have fair skin you will certainly burn
Finally, remember your swimsuits and towels, as you absolutely have to take a dip. Enjoy the water and the scenery, as there is no other place like it on Earth!
Where to Stay in Pamukkale
Our Top Choice: For an affordable yet comfortable place to stay that won't break the budget, we suggest Venus Suite Hotel. The whole property was renovated in 2015, so it has that new new feel to it. It has a gorgeous garden, luxe terrace, and an outdoor pool (y'know, in case you're tired of sharing the pools with everyone at Pamukkale). The rooms are tastefully decorated with modern conveniences like A/C, room service, private parking, and daily breakfast — all with a free shuttle to Pamukkale's North Gate.
Budget Choice: The cheap but cheerful choice is Bellamaritimo Hotel, which offers budget-friendly rooms with perks like a A/C, an outdoor pool, a central location near the restaurants and sights of Pamukkale, and an on-site restaurant. The rooms are clean and modern, though a bit on the small side.
What to Pack for Turkey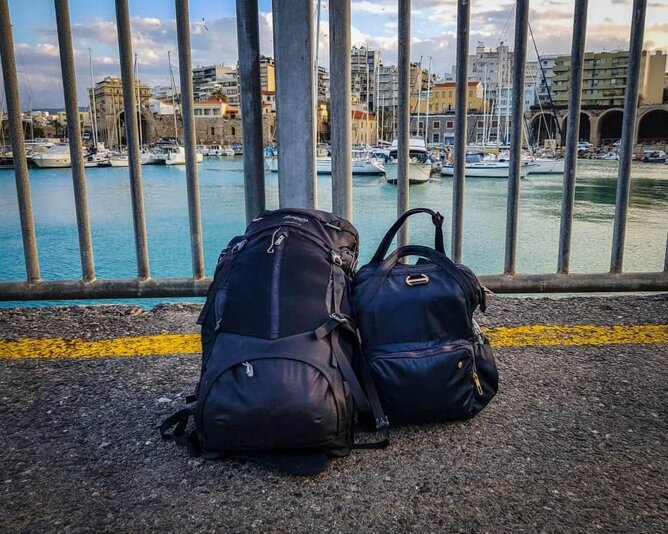 We have a guide of what to pack for Turkey, but here are five things you definitely want to bring with you!
The Lonely Planet Turkey: a good guidebook can help you with the kinds of safety tips you need if you're out in the city and feel a bit lost, especially if you don't have internet or a cell signal. These also have specific neighborhood information that will help you in different parts of the city, and it's a great supplement to blog posts like this one!
Unlocked Cell Phone: Stephanie and I both have unlocked cell phones that we bought in Europe (Stephanie uses a Samsung and I use an iPhone). This allows up to get sim cards when we travel so that we always have the internet. This has gotten us out of so many jams! If you don't have an unlocked cell phone that can use a Turkish sim card, you can buy a cheaper unlocked phone online and bring it with you!
Pacsafe Citysafe or Other Anti-Theft Bag: This is the bag both Stephanie and I use for all our travels. It has a pouch with RFID technology so our credit cards can't get scanned from afar, interlocking zippers to make it harder to pickpocket, and it's roomy enough to be a perfect sightseeing day bag, yet it's still quite stylish for all of its security features. If you'd rather bring something smaller, you can pack a money belt instead.
Grayl Water Filter: While the water is *technically* safe to drink in much of Turkey, I would still avoid it. If you don't want to be buying millions of plastic water bottles, you can get a reusable water bottle that comes with a water filter so that you can stick to the tap water and reduce your plastic waste. If you'll be traveling outside of the major tourist centers, check if the water is potable locally.
Seabands: If you get seasick easily, pack some Seabands or seasickness pills so you don't miss out on the best parts of Turkey – being on the water! A trip to Turkey isn't complete without a cruise or at least a quick boat trip, so make sure you're prepared to enjoy it to the fullest!
More Turkey Travel Resources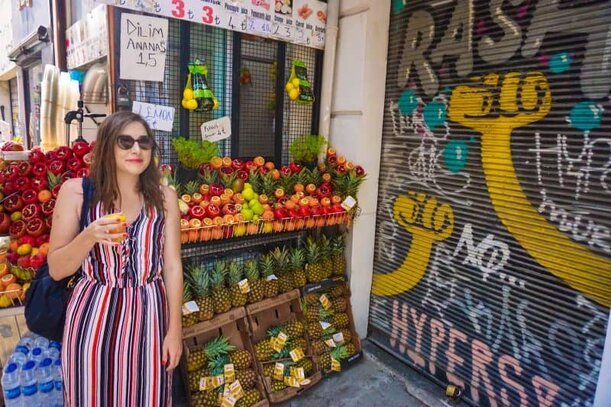 We have a ton of resources to help you plan your trip to Turkey!
If this will be your first time traveling to Turkey, check out this guide to planning a trip to Turkey (including visa information) and this guide beautiful places to visit in Turkey. You can also check out our Balkan currency guide, which explains how the Turkish lira works and guidelines for tipping in Istanbul.
If you're spending time on the coast, we have guides to Antalya, Alanya, Fethiye, and more on the way!
If you're heading to Istanbul, we have you covered. Start with our essential Istanbul Travel Tips and guide to staying safe in Istanbul
We're working on our massive things to do in Istanbul post, plus you can check out our guide to the best Instagram spots around Istanbul, tips for shopping in Istanbul, the best Turkish food to eat, how to plan an Istanbul honeymoon, and what to do in Istanbul at night.
If you want to be in the city for just a few days (four or less), check out our Istanbul city break guide, which breaks down the best of the city so you won't miss anything!
Headed to Cappadocia? If you're curious about the most Instagrammable places in Cappadocia, we've got you covered. We also have posts on the best things to do in Cappadocia, and how to plan a perfect 3 day Cappadocia itinerary, plus how to get to Cappadocia from Istanbul.
We have tons more Turkey and Balkans resources, and we publish new content nearly daily. Bookmark our Turkey and Balkans travel pages so you can find any new resources that come out before your trip!
Don't Forget About Travel Insurance!
If you're planning a trip to Turkey, make sure to travel with a valid travel insurance policy. While we feel safe in Turkey, it's a good idea to be covered in case of an emergency. Travel insurance covers you in case of theft or an accident, which can save your trip if there's an incident.
For travel insurance, we both use World Nomads. I've been a happy customer of theirs for almost three years, and I'm happy to refer them to anyone I meet.
>> Get your free quote from World Nomads here <<
Pin this Guide to Things to Do in Pamukkale!
After studying literature, Dize started to work as a freelance blog writer. She is the mother of a baby girl and 2 dogs. She lives in Istanbul with her family.